In today's culture, it's getting increasingly tougher to get ahead. The ultra-competitive nature of probably every market means that you either must be immensely prepared or incredibly lucky to get ahead. Since we can't, unfortunately, affect your luck, we've decided to give you some tips on how to raise your preparedness level.
If the intro is a bit vague, don't worry, we'll be talking about one of the simplest and yet most important things to keep in mind while publishing content – headlines. There is strong advocacy running around that you should put 80% of your time into coming up with the perfect headline, opposed to 20% that you would spend on the actual content you're publishing. Just to emphasize the importance of the headline, you don't need to look any further than the term "clickbait" coined specifically because of the sensationalism movement that just wants clicks and nothing more.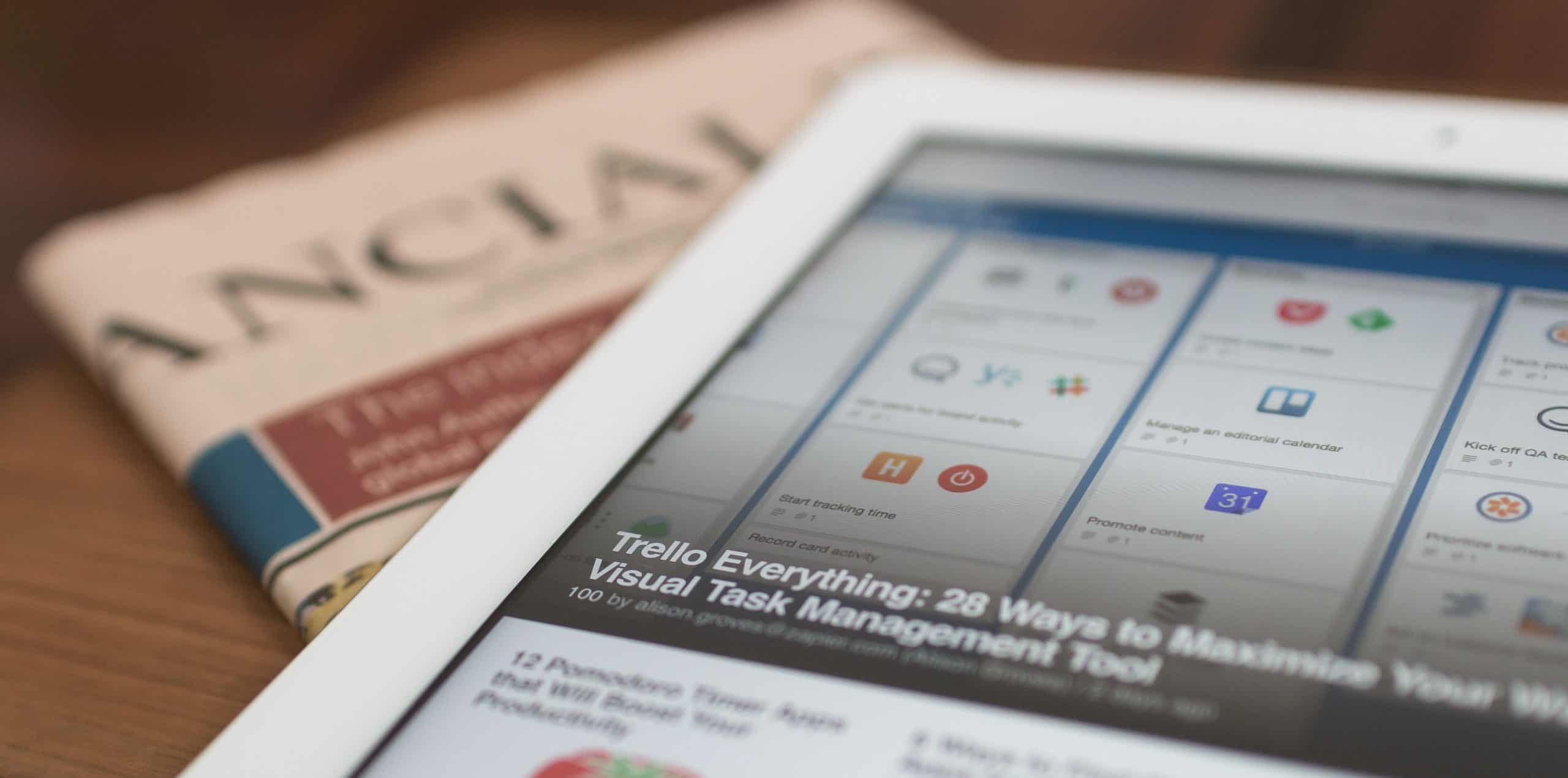 In order to make the content you publish immune to being designated clickbait but still attractive enough to be clicked on, we've compiled a list of seven headline analyzer tools that will help you get the most out of the thing your potential visitors see first. Keep in mind that a great, but hollow headline that isn't followed by quality content can't help you long-term. To keep your visitors coming back, you'll need to offer them the full package.
Without further ado and in no particular order, let's get started…
Sharethrough headline analyzer
If you've ever dived into headline analyzing of any kind, you surely came upon Sharethrough. It's a fantastic tool that will enable you to get an extensive amount of feedback on your input. The way it works is quite simple. All you need to do is write your headline in the designated text box. After you've done so, you'll get back an overall score of your headline along with a detailed overview of various attributes and suggestions on how to raise the said score.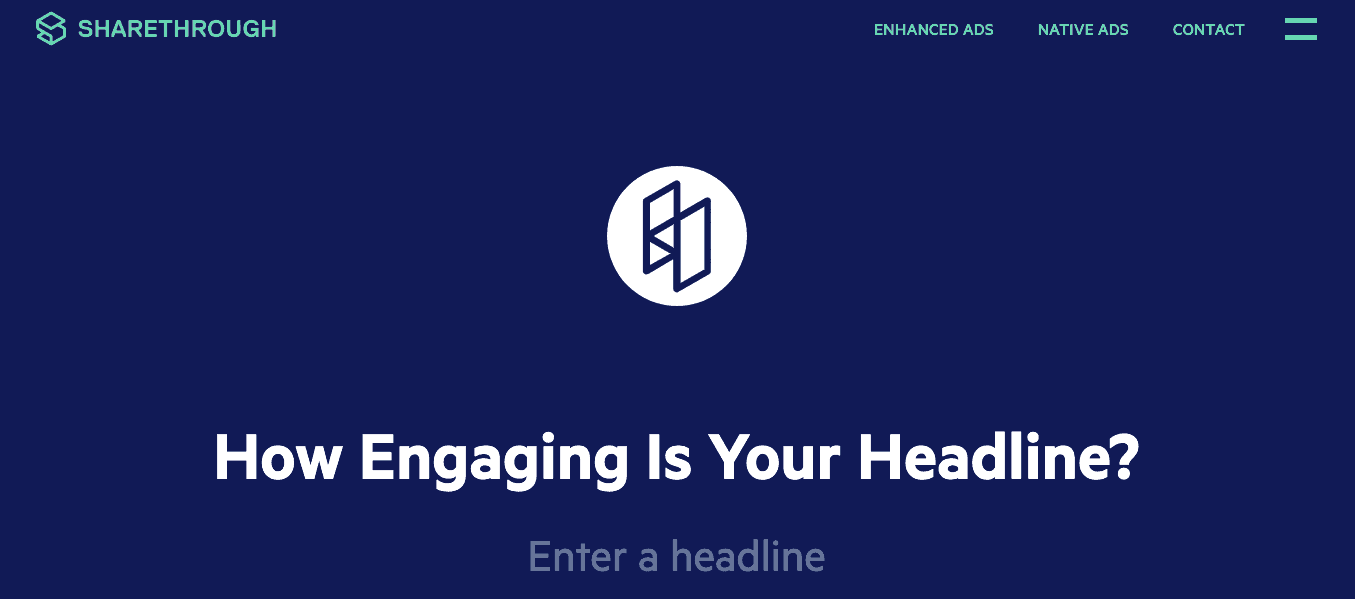 Taking from their own disclaimer – the algorithm used is based on the Behavior model theory and their own extensive neuroscience and advertising research and takes into consideration over 300 variables when calculating the overall score. Basically, you'll get to see how your headline performs in several key categories like engagement and impression.
Sharethrough doesn't stop there, though. Once you see how your idea is doing, you can then improve it by referring to the numerous suggestions on offer – things like inserting a brand, using alert words, and/or context words. The great thing about these suggestions is that they aren't theoretical. You'll get a quick explanation of why you should do something or use certain words along with some examples to help you out even more.
We haven't even mentioned the best thing about Sharethrough yet – it's free. There are no tiers or locked functions; instead, everything is available to everyone, making it, without a doubt, one of the first places you should look for your headline analyses.
CoSchedule headline analyzer
The CoSchedule headline analyzer works similarly to the Sharethrough in the sense that everything you need to do is input the headline of your choice. Once you do that, you'll get a comprehensive analysis of how it stacks up. The similarities pretty much end at this point, since the data you get back is covering a somewhat different angle.

First of all, the overall score is primarily derived from the construction of the headline itself, focusing on word balance. The words are divided into four categories – common, uncommon, emotional, and power. Using a combination of all four types, you'll want to create a unique headline that stands out from all the generic stuff already out there. The further analysis gives you insight on sentiment, length, and keyword usage. Every section also comes with suggestions on what to do in order to improve your score.
A great little additional feature is the section where you can see how your headline would be displayed as a Google search result. It really is just a preview, and there is no real data behind it, but it's nice to see how your page will look to others trying to find it.
In case you're ever trying to get clear feedback on the words you're using, definitely give this a try. If anything, you'll be able to get a feel on how you're using your vocabulary and tips on how to enrichen it.
SEOPressor blog title generator
The first two tools we presented have been headline analyzer in the true sense of the word. With this one, we're moving away from analyzing and sharing with you a tool that will generate titles for you instead. In essence, title generators will use the same principles analyzers use to grade the titles you come up with and simply give you some options depending on the keywords you input. It's assumed all titles generated by this method would grade high on the curve with the same parameters.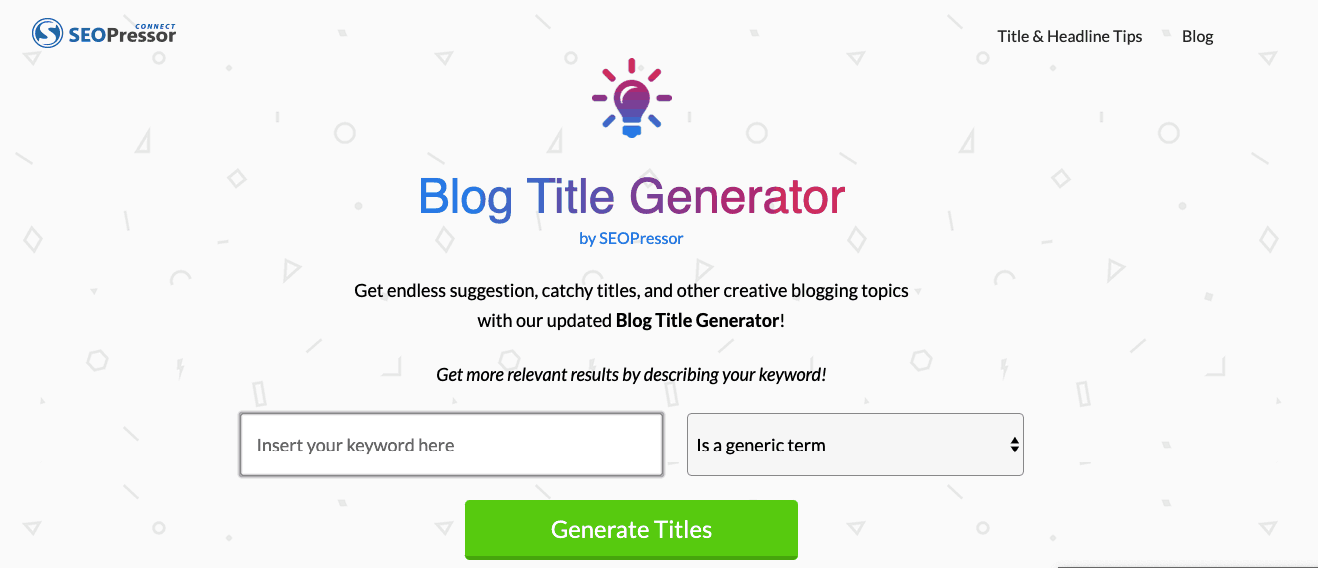 The Blog title generator present to us by SEOPressor expects you to just insert your core keyword and select what type of keyword it is – generic term, an event, somebody's name, etc. Once these few parameters are met, you're treated with numerous title options that are designed around using commonly impactful words in order to stand out.
You'll first be prompted with a selection of ten most optimal solutions, but you'll be able to generate more and more at the click of a button. For the example we used a staggering 1168 titles were generated, so you'll definitely have something to choose from and not just tie yourself to the first ten that are shown.
If you're ever in a creative rut, or just want to see if maybe your idea for a headline is an optimal one, be sure to check out this title generator.
Portent's content idea generator
Continuing with title generators, we have something truly unique in Portent's content idea generator. It works much in the same way as the just mentioned title generator – you enter your keyword. The main difference is the suggestions you get as a result. While title generators most often stick to a generic algorithm to give you solutions, here we have a case where a generator doesn't take itself, or the suggestions it produces too seriously. Just for an example, after inputting the keyword "marketing", the result we've got was – Homer Simpson's guide to marketing.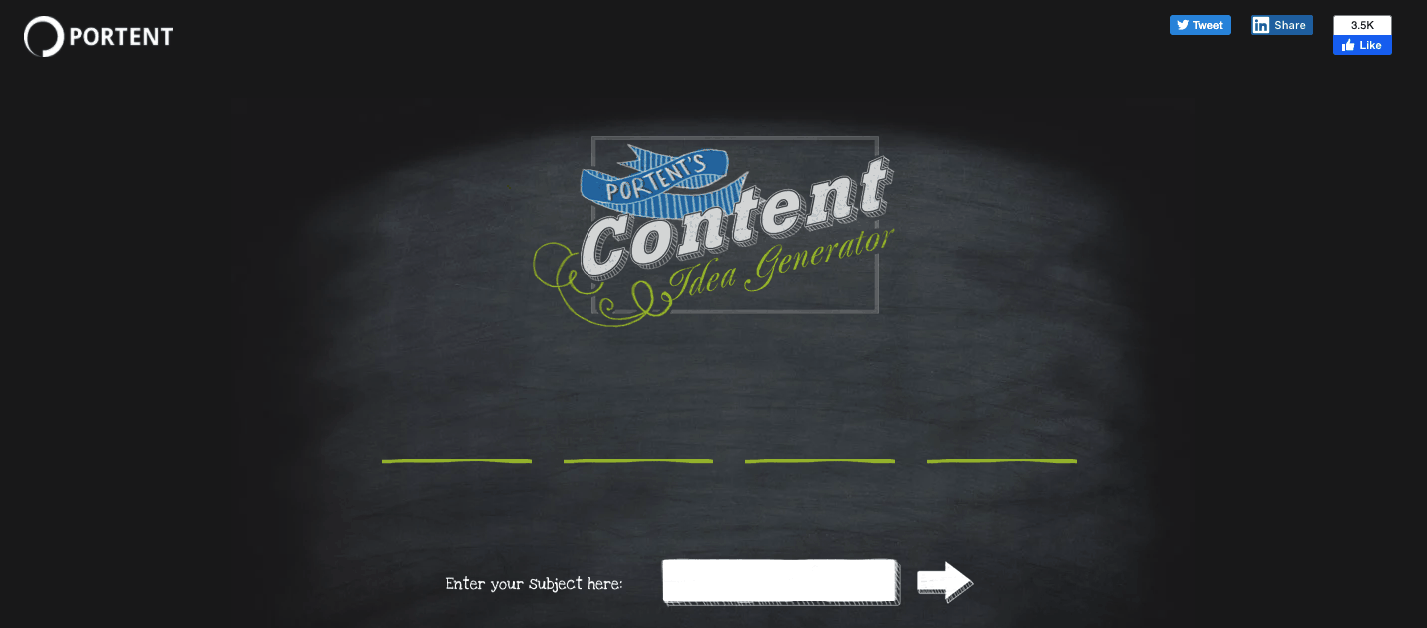 If you're confused by this, don't worry, we were too, but after some reflection, we've found it's a good thing. Even though it sounds insane at first glance, the title is actually bound to draw attention, let's break it down. First of all, you're using a widely popular term anyone can relate to. Secondly, the word guide, which with "how to" is a staple in searches. Finally, your own keyword is present. You'd probably need to work a little extra for your content to follow through on what your title is advertising, but hey, we're talking purely about titles here.
The great thing about this title generator is that it explains every word it uses, so every modern term, slang, or pop culture reference is there for a reason. You may not choose to go out of the box so much and stay with conventional suggestions (which are also featured), but as we've said, everything you need is there, and you'll be hard-pressed to find some other generator referencing Homer Simpson in any way, shape or form.
BlogAbout title generator
Even though every tool on this list can be used in any format that features titles/headlines of any kind, the BlogAbout title generator one is specifically designed to focus on blogs. The first thing it asks is for you to fill in what you want to blog about, and even here, you have preset options you can go through if you lack ideas. After you have your main theme set, you'll get headlines that are structured with blank spaces for you to input your own keywords. It's a really simple premise and has many options since there are numerous well and lesser-known phrases that can be "converted" to your specific needs.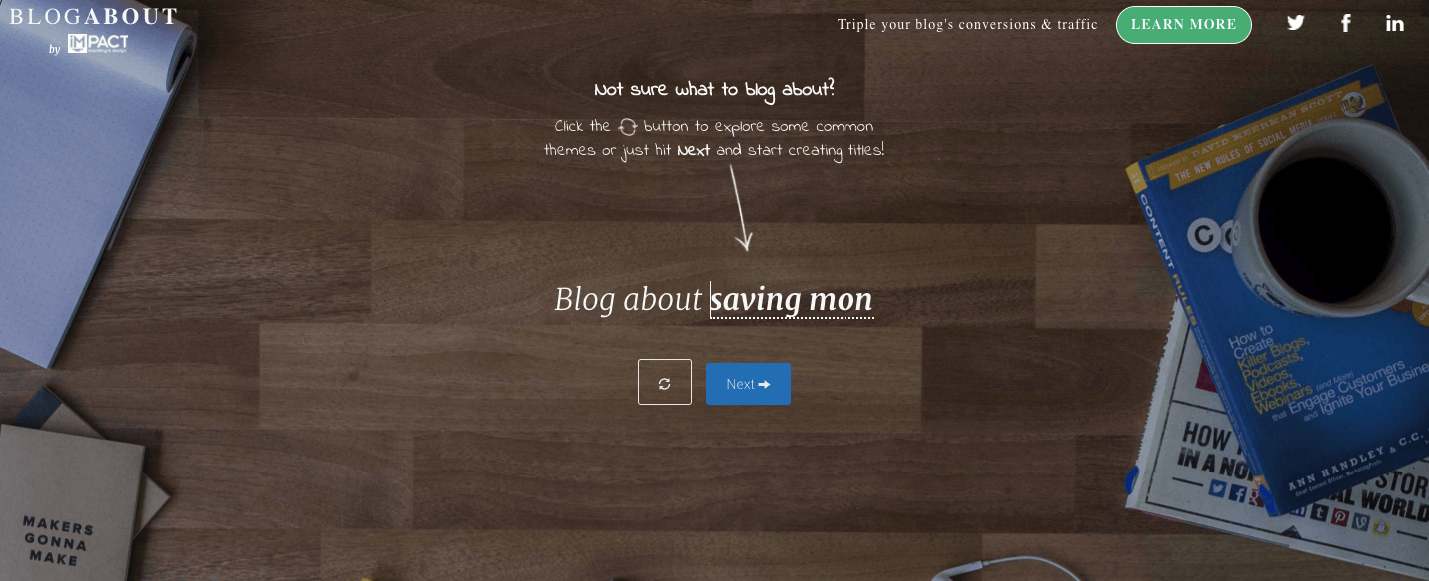 The best titles you come up with can then be saved in a similar way you save your favorites in web browsers. You'll be able to view all of them in the same place and quickly organize your future posts based on the list that's kept for you. All three of these steps will enable you to not only come up with relevant headlines but also give you ideas about what to write about if you're ever suffering from writer's block, making it the perfect choice for bloggers.
Speaking of writer's block, there is a neat notepad feature where you can express yourself by doodling appropriately referred to as "writer's block?". This is the only time we've seen a feature like this in a headline generator, and who knows, maybe it really can help in times when you're stumped. If you'll use it or not is up to you, but it's definitely something we've found that's worth mentioning.
Answer the public
Answer the public is a tool that approaches title generating from a different angle than most others. While the general idea behind generators is to use combinations of words governed by an algorithm that considers various factors, Answer the public takes your keyword and gives you data related to how it's used in search engines. The data you get back is pretty raw, and while it's daunting at first, after a few searches, you'll get used to pinpoint exactly what you need.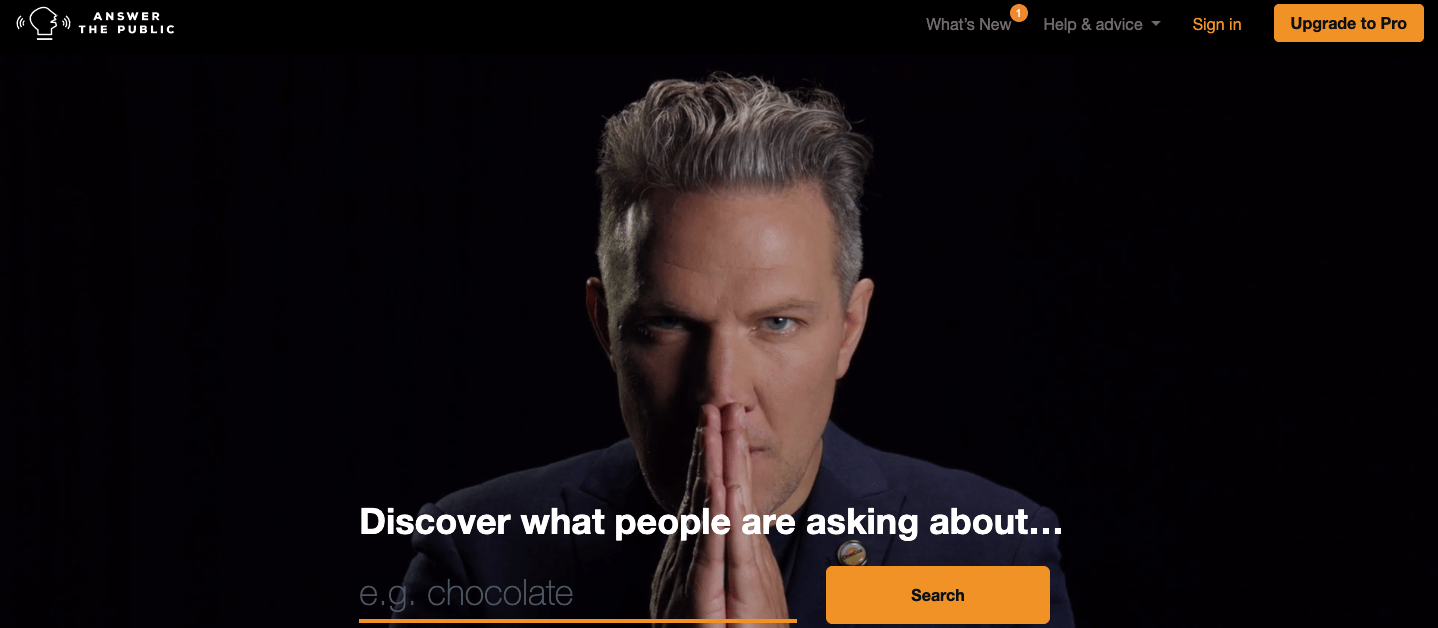 For our example, we've used the keyword "management," and we've gotten back the following:
72 question queries, divided into nine groups (how, where, will, can, when, who, what, why, are) – why management is important, how management works, what management style is best, etc.
Fifty-six queries using prepositions, divided into seven groups (can, near, without, with, is, for, to) – management for dummies; management can be defined as; management jobs near me, etc.
Twenty-four queries regarding comparisons, divided into five groups (or, like, and, versus, vs) – management like words; management and leadership; management vs. strategy consulting, etc.
Two hundred eight terms that were searched, sorted alphabetically – management accountant, management models, management training, etc.
Eight management-related terms that can be keywords or phrases themselves – management styles, management skills, etc.
As you can see, the amount of data is a lot to go through even in this condensed state, image going through everything. This is, at the same time, the selling point and biggest "flaw" of the tool. It's great to get back data you can then analyze, but this much can be overwhelming. Especially since there will be things that are featured multiple times through categories and others that are unusable (will management services or project management like Monday). Over time, however, as we've said, you will get used to where to focus your attention.
With its unique approach to analysis and versatility in how it can be used (for keywords, phrases, and titles), everyone looking to improve the way potential visitors get to your pages through searches will find something for themselves here.
UpWorthy title generator
We all like to have fun. The past six entries have been great tools that will improve your work and your web business. The UpWorthy title generator, however, won't do that – it's just for fun. Jumping on the clickbait culture wagon, you'll get a tool that generates (without any input mind you) sensationalistic headlines we all see every day in the corners of pages or pop-ups.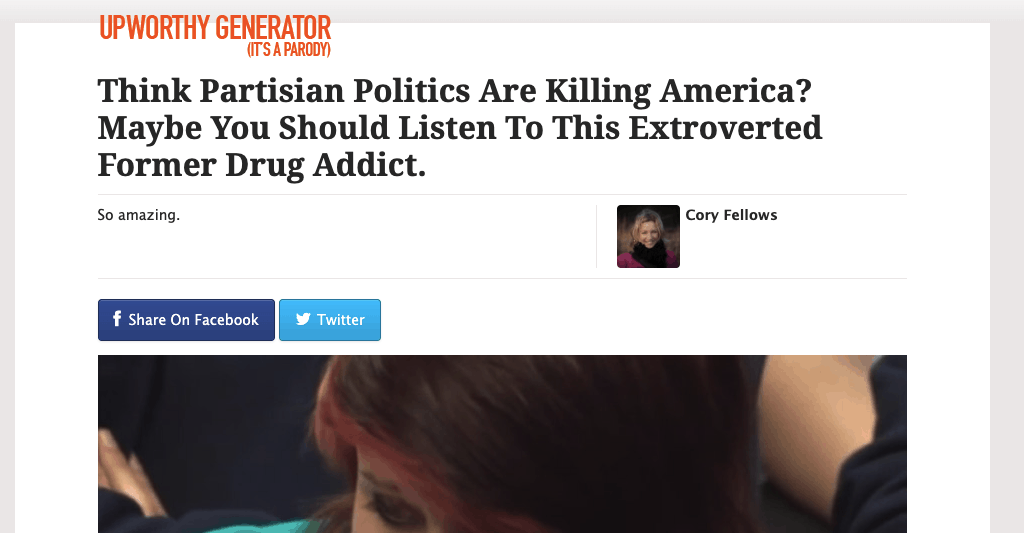 With just a click of a button, you're treated with marvels such as – "Some call it the miracle of life. They call it a travesty" or "Watch a trailblazing veteran become a role model in six words." We should also point out the database is quite extensive. We've used it around fiftyish times and haven't gotten the same headline twice.
If you ever feel like you need a laugh or have maybe come to accept the clickbait ways and need guidance, you'll be right at home with the UpWorthy title generator.
Final thoughts
We've said it going in, and we'll repeat it at the end – headlines are as equally important, if not more so than the content you're publishing. You simply need to attract visitors to your pages, and compelling headlines are one of the first steps you can take. Don't sleep on this – get your data, analyze it, and put it to work.
Latest posts by Matej Milohnoja
(see all)
Where Should We Send

Your WordPress Deals & Discounts?
Subscribe to Our Newsletter and Get Your First Deal Delivered Instant to Your Email Inbox.
Thank you for subscribing.
Something went wrong.