With SEM services becoming more popular every day, it is sometimes hard to be updated with agencies highlighting the way. In this article, we will give you a list of the top six SEM agencies and what they're offering, but let's first dig into the meaning of SEM.
What Is SEM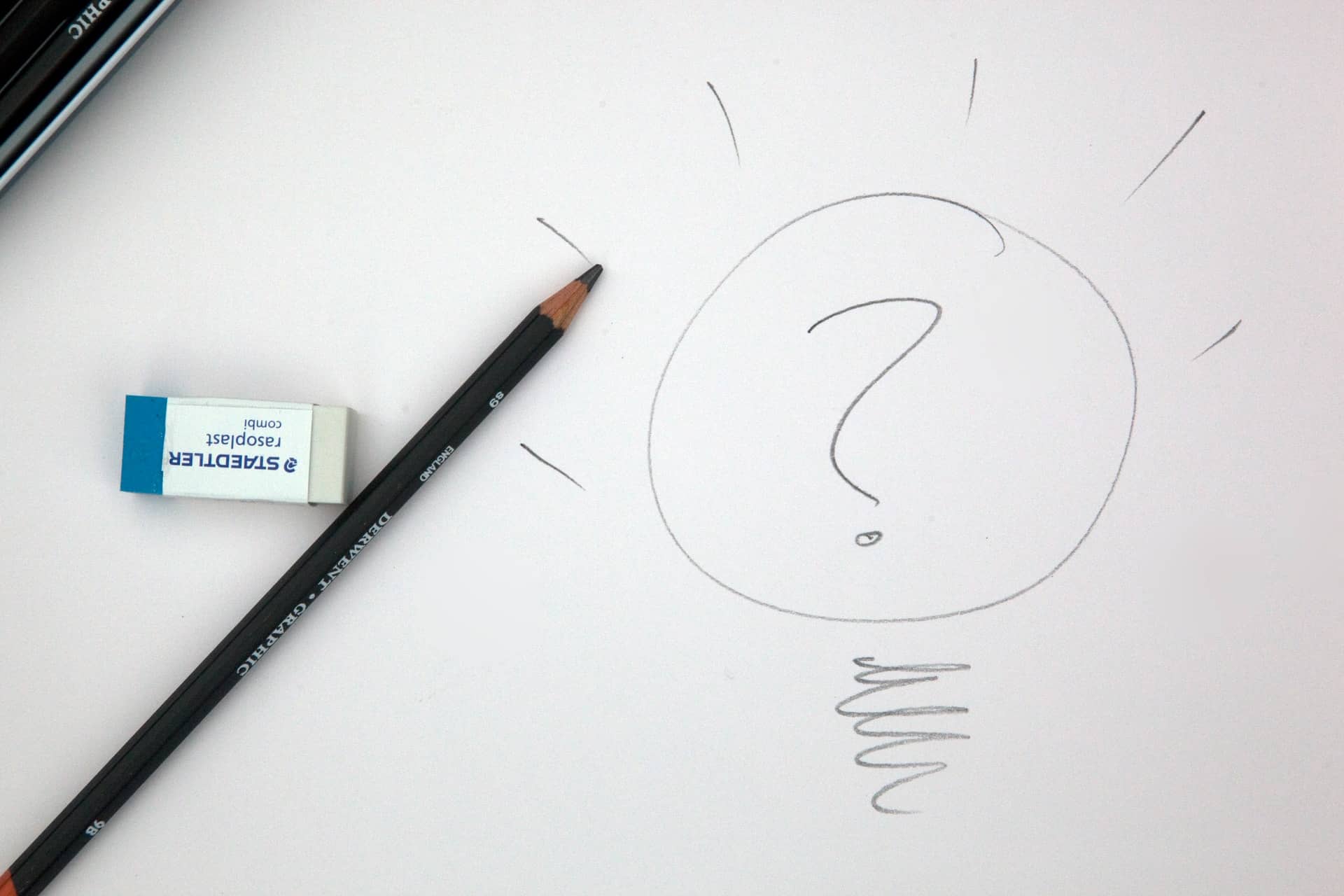 Search Engine Marketing (SEM) is a digital strategy that uses paid tactics to gain visibility on the search engine. It has proven to be the most effective way to promote a business and help websites achieve higher rankings on Google, Yahoo, and other search result pages.
Moreover, SEM uses PPC platforms like Google Ads and Bing Ads to use the available ad formats to reach the target audience. It also involves setting up, optimizing paid ads, and managing the account to increase conversions and returns.
What Are the Benefits of SEM
With Search Engine Marketing, you can be driving clicks and conversions in a brief period, while it can take up to months if you are using SEO. You can take complete control over when the ads show and who they show to, making the channel perfect for testing new strategies, sending traffic to a sale, or accelerating traffic during quieter periods.
With SEM, the advertiser pays every time the user clicks on an ad ( CPM – cost – per–click). Yet, they pay nothing if a user clicks on an organic listing that ranked due to SEO. In addition, it is effortless to test and refine.
Let's take a look at the top six SEM agencies we promised you at the beginning.
1. SmartSites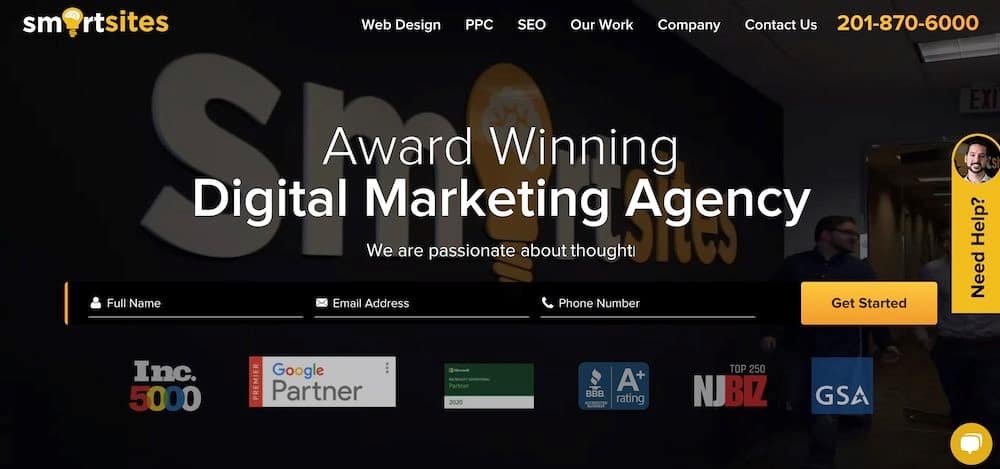 SmartSites is a full–service digital agency with its location in Paramus, New Jersey. It was founded back in 2011 by Alex Melen, and since then, it has grown into a team with nearly 100 developers, designers, writers, marketers, and problem solvers who work very hard to make websites successful.
SmartSites mainly focus on web design, PPC (Pay–per–click) marketing, and organic SEO. All those elements offer clients creative ways to build, plan and promote their website and make visitors stay longer on your sites.
2. Ignite Visibility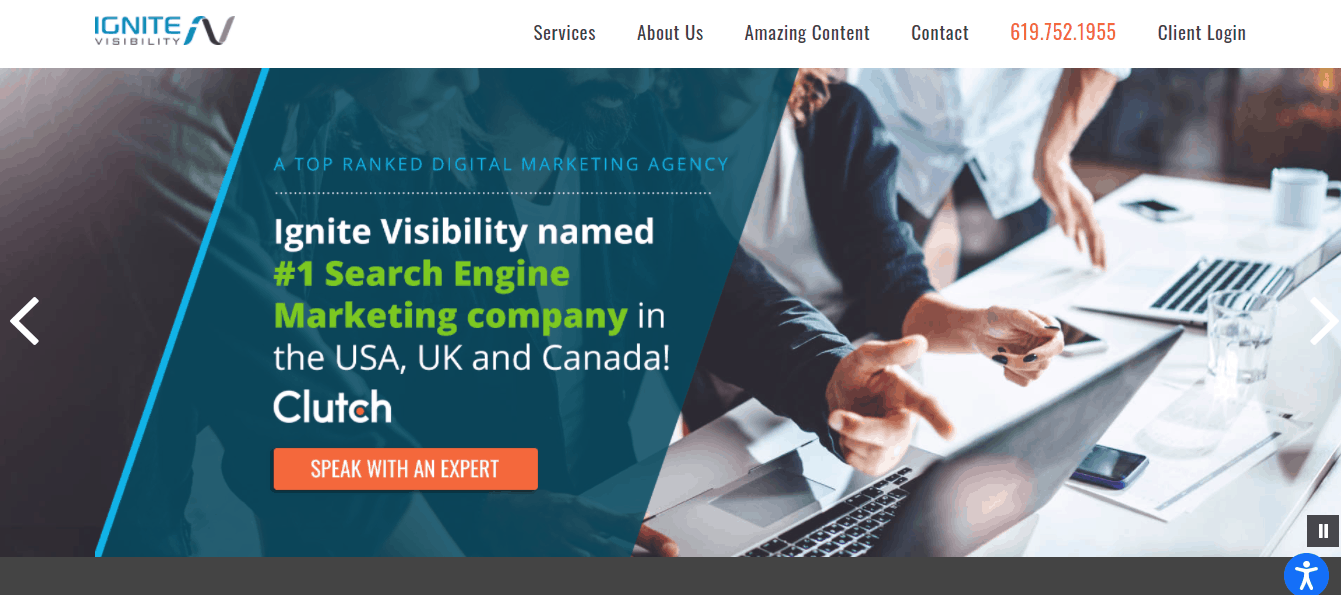 Ignite Visibility is one of the industry's best digital marketing agencies, specializing in digital marketing strategy, paid media, social media, email marketing, analytics, Amazon, and CRO.
Ignite Visibility is led by the leading industry expert John Lincoln and has over 110 full–time employees. It also offers its clients a proprietary digital marketing forecasting system that allows consistently hitting quarterly goals.
3. WebFX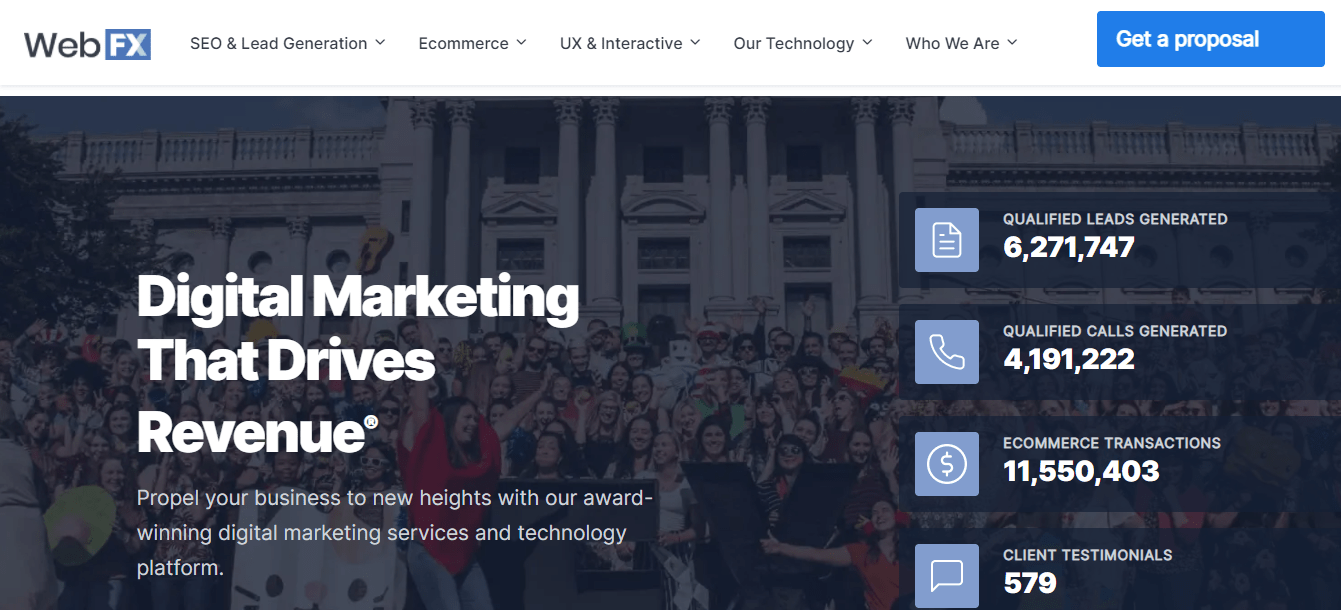 WebFX is a performance-focused digital marketing agency with a service designed to increase qualified leads, phone calls, and transactions for its clients. Founded in 1996 by William Craig and located in Harrisburg, Pennsylvania, they count on about 250 employees, primarily digital marketing, design, and development experts who serve customers through PPC web design and more.
WebFX also has partnerships with Google, Facebook, Bing, Salesforce, etc. Some of WebFX's clients are Verizon, Auntie Anne's, Buffalo Wild Wings, Fuji Film, etc. The agency is most represented in dental, eCommerce, legal, medical, business services, financial services, manufacturing, and retail.
4. Straight North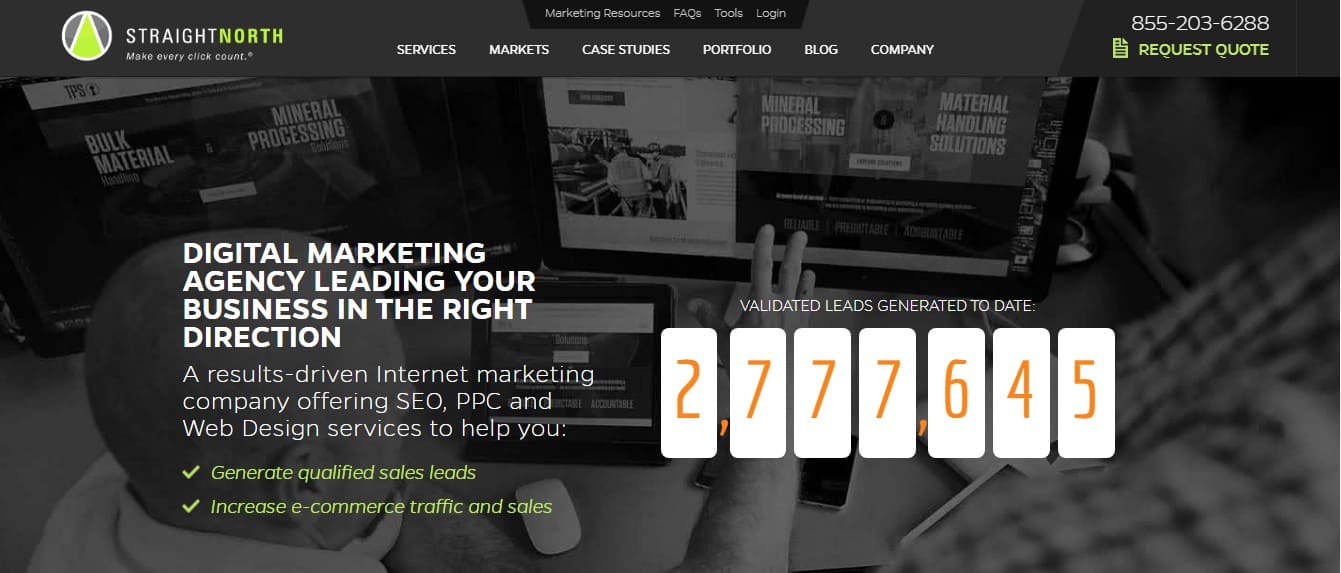 Straight North was formed in 1997 in Chicago as a full-service internet marketing company that can help you with SEO, PPC, website design and development, email marketing, and graphic design. They have over 100 full–time marketers who help B2B and B2C companies of all sizes to generate sales leads and e-commerce revenue.
What they offer you is a collaborative business style, technical expertise, deep experience in multiple verticals, team-based campaign execution, transparent reporting, and an unwavering focus on maximizing their client's ROI.
5. BeFoundOnline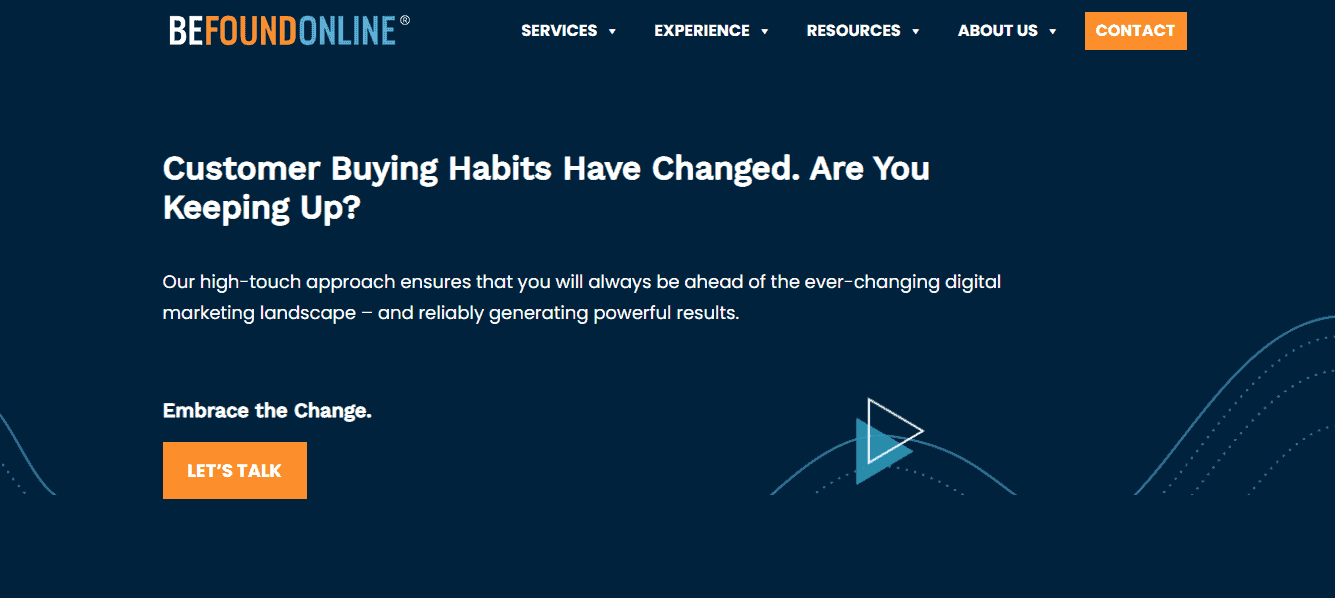 BeFoundOnline is a search agency found in 2009 by Steve Krull and Dan Golden, and since then, it has grown into a full–service digital marketing agency. They have their offices in Chicago, London, and Singapore, with a team of 70 people.
Furthermore, their primary focus is on SEO and PPC, but they also expand on social media marketing, conversion optimization, and content marketing. Some of their users are Nissan, StubHub, White Castle, Bai, etc.
6. SearchEnginePeople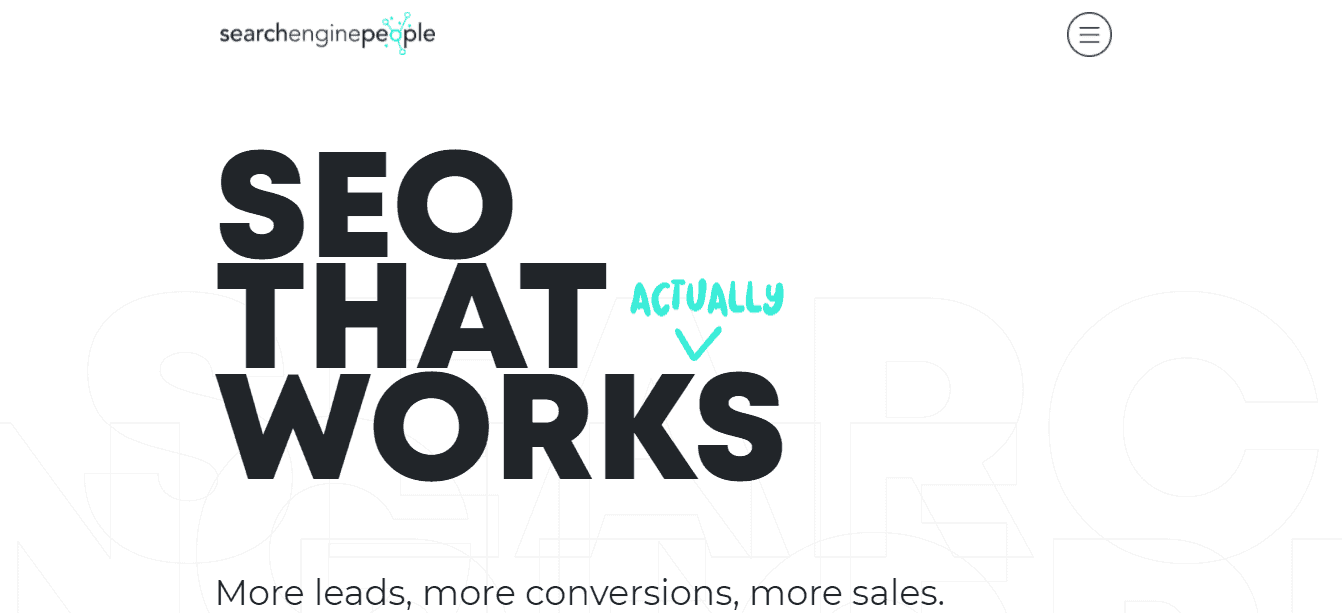 SearchEnginePeople is a digital marketing company located in Pickering, Canada, founded in 2011 by Jeff Quipp. It has over 60 employees and provides SEO, PPC, content marketing, conversion optimization, and digital strategy services.
SearchEnginePeople serves likewise small and larger companies in various industries that include business services, consumer products and services, hospitality and leisure, media, and financial services.
Conclusion
Search Engine Marketing services target consumers performing internet searches. Many consumers rely on search engines to find information about products and services, so SEM providers attempt to attract those consumers. In addition, they make online marketing more accessible and help your business stay competitive.
Latest posts by Nina Medanić
(see all)
Where Should We Send

Your WordPress Deals & Discounts?
Subscribe to Our Newsletter and Get Your First Deal Delivered Instant to Your Email Inbox.
Thank you for subscribing.
Something went wrong.