Statistics show that 61 percent of marketers use webinars in their content marketing strategies. And no wonder. Webinars, after all, provide your audiences with an audio-visual, interactive way to learn new things and to connect more personally with you as a trusted expert.
For you to run webinars efficiently, though, you need to employ powerful platforms that can meet your event needs — platforms like ClickMeeting. The browser-based app is an invaluable asset you can leverage to enhance the lead capture and nurture performance of your WordPress website.
This all-inclusive webinar solution for websites and companies looking to engage, convert and educate their prospects, leads, customers, and other audiences. The best part is, since ClickMeeting has a WordPress plugin, you can simply install the plugin into your website so you can run your ClickMeeting webinars embedded on your content pages.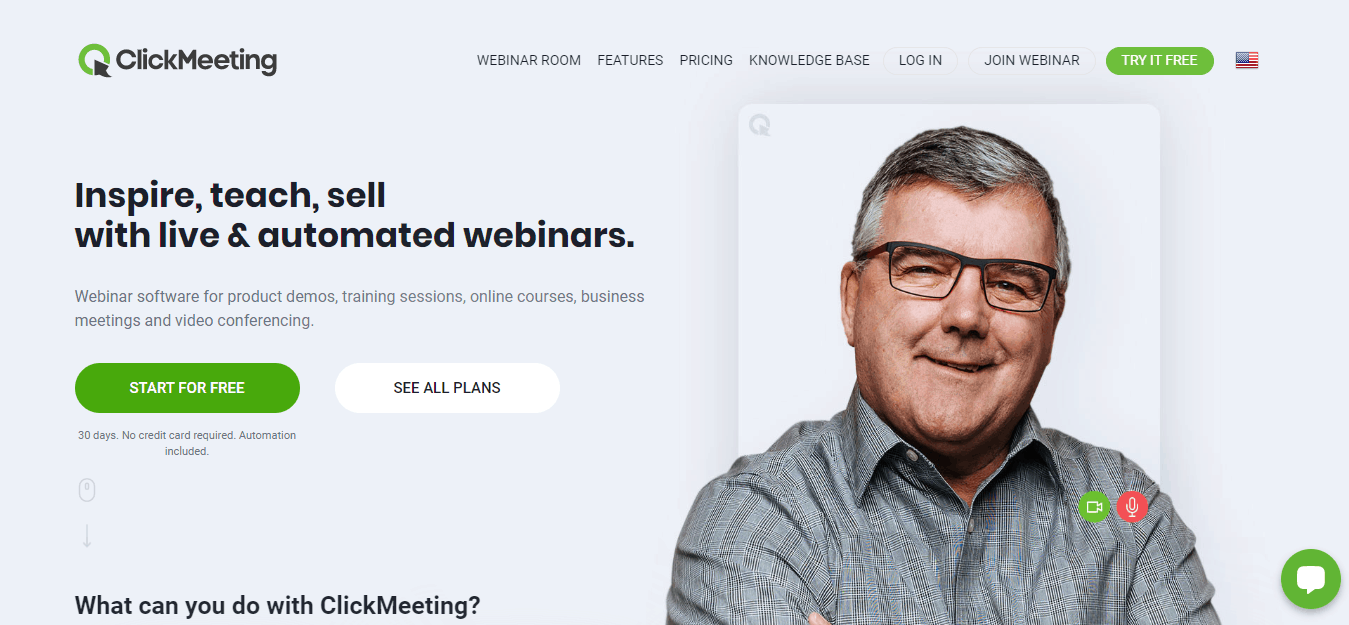 To date, the platform has hosted nearly 605,000 events worth 836,208 hours, with close to 17,568,000 attendees in 111 countries globally. It has also satisfied almost 148,000 users with its broad set of capabilities that make hosting webinars as easy as pie.
ClickMeeting lets you capitalize on and augment the power of webinars for various purposes.
Hosting webinars on ClickMeeting, with its robust features, can help you grow your client engagement and brand visibility, boost partnership opportunities, and even your direct revenue.
Let's explore three use cases of webinars on ClickMeeting that are invaluable for the success of your WordPress site.
1. Generate Leads
ClickMeeting can help you generate more leads for your WordPress website in several ways.
With this platform, you can record and launch free webinars about how to help your audience with their pain points.
You can set up question-and-answer portions through ClickMeeting's chat feature, with options for you to moderate, disable, delay your responses until a later time, and hold it live.

If you have a membership WordPress site, hosting a live chat on your webinar will be an excellent way for you to interact with your members in real-time and probe into their thoughts deeply.
From your live event dashboard, you can upload recordings, run surveys, and polls to get your audience's feedback and preferences. You can also insert call-to-actions (CTAs) at strategic times of your event.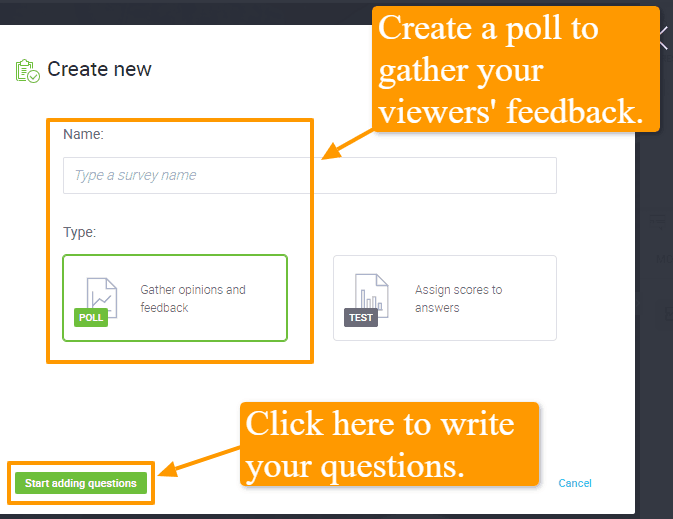 ClickMeeting even lets you customize your CTAs, create compelling buttons, and determine the duration for displaying them.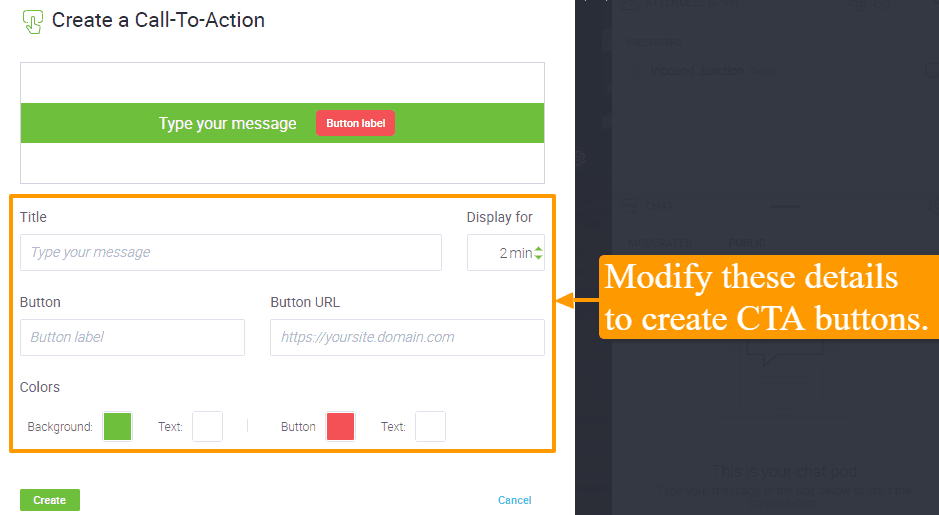 To start preparing your webinar, click on the Schedule Event button on your dashboard, or go to Schedule > Schedule Event. 
ClickMeeting will then ask you to customize your webinar name, from which the platform automatically modifies your event URL.
You can then opt to go for a live event, schedule your webinar as permanent, or pre-record a time-scheduled, automated, or on-demand session.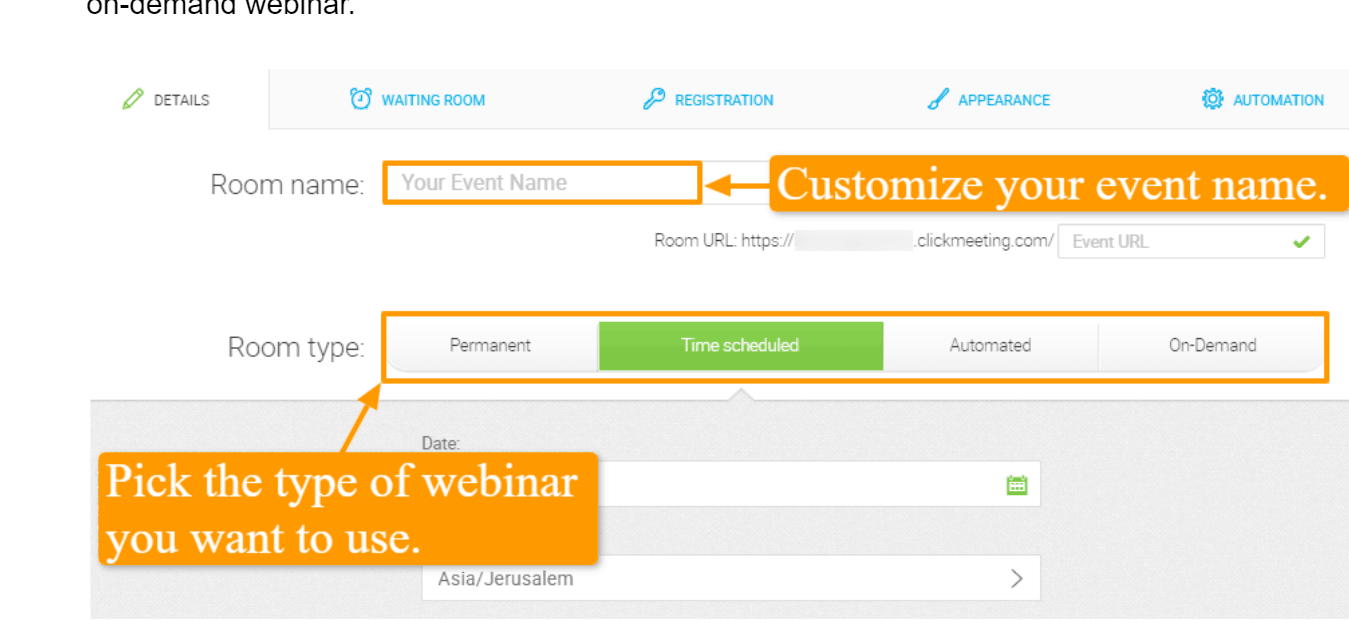 Permanent events remain open and accessible anytime. The time-scheduled option allows you to set your webinars at a specific date, time, and time zone.
If you aren't present on the day of your event, you can choose to automate or create on-demand sessions and let ClickMeeting run it according to your arranged schedule, flow, and other settings.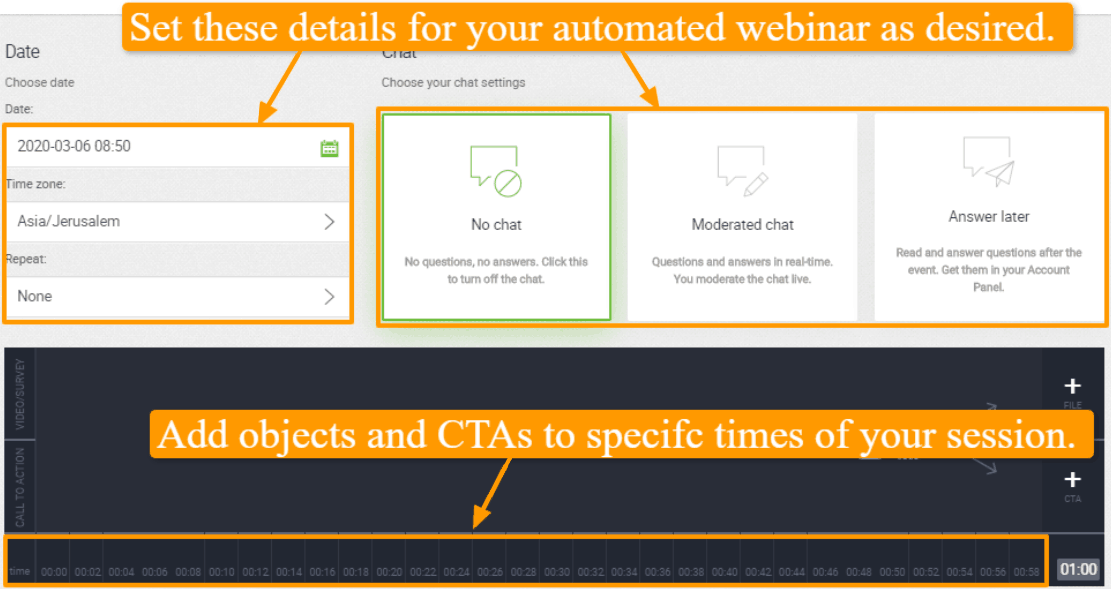 Now, let's say you're suddenly available to join, and you've already created your automated or on-demand webinar. Keep in mind that, for automated sessions, you can "take over" and step in live, but not for on-demand events. Plus, once you take over your automated events, you will lose the subsequent arrangements you've previously set. That means you'll have to run the rest of your webinar on the spot.
ClickMeeting also has a waiting room feature, a special subpage your viewers can see while your webinar hasn't started yet. There, you can introduce your objectives, credentials, announcements, program schedule or flow, additional resources, and other things your audience can expect from the session.
The waiting room is strategic for you to excite your prospects for your event where they can become warm leads after.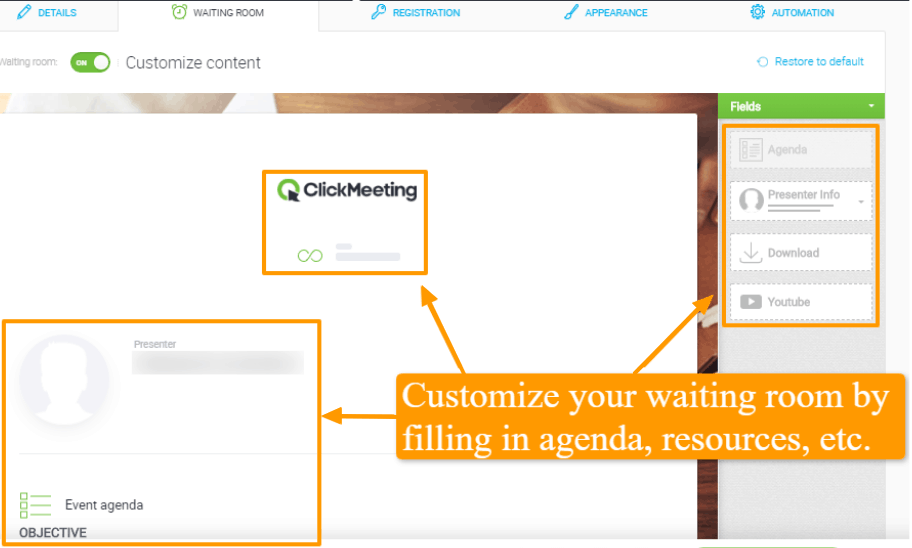 Now that you've designed your webinar and waiting room, you can ask your site visitors to sign up for your webinar. From the Registration tab under Schedule event, you can personalize your sign-up form to reflect your branding identity.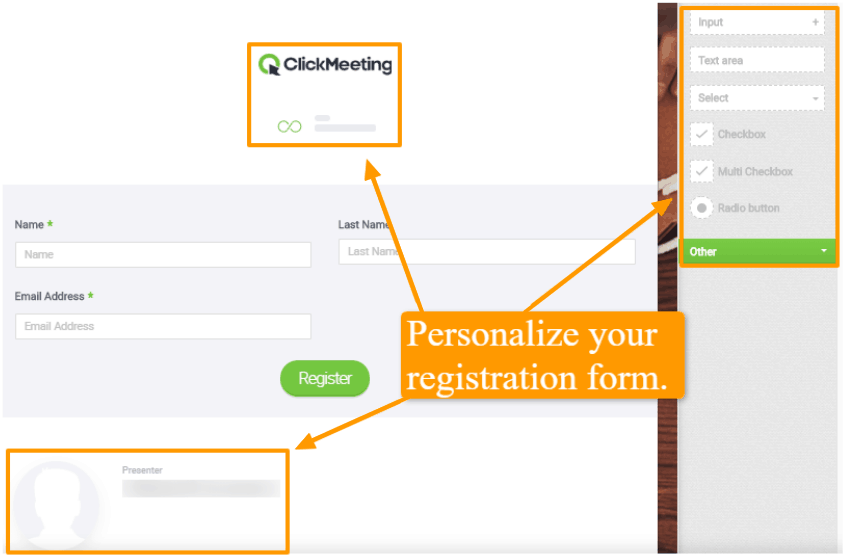 Once you have people on your list, you can continuously nurture your relationship with them so you can close them as paying customers down the line.
Finally, create a custom Thank You page when your prospects finish joining the webinar.
Doing so lets you leverage their attendance and give a final compelling impression, invite them to take more actions, and drive them to participate in your other lead-generating activities.
2. Product Demos
If your customers aren't familiar with using your product — whether it's a software program, drone, a make-up set, or anything else — you can use ClickMeeting to host a product demo video on your site, to showcase your products' capabilities.
ClickMeeting has nifty webinar features to help you do just that. Screen sharing, for instance, is ideal for demonstrating the use of software programs. With this feature, your viewers can see what also appears on your screen. This makes it easy for you to navigate your software tool and show them what they should click, where to go, etc.
You can also use Presentation to insert pre-made presentation files, videos, recordings, and any other applicable programs.
With it, you can showcase relevant slides with insights, supporting statistics in stunning graphs, tables, and charts, and more.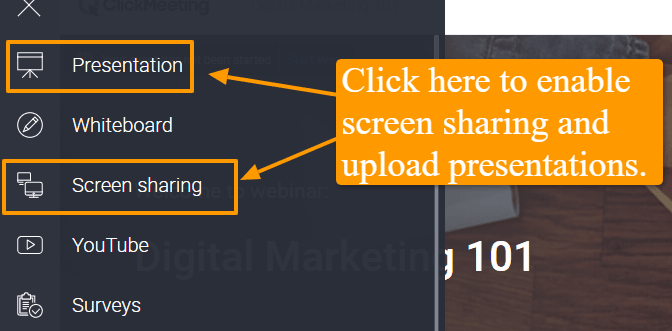 The Whiteboard feature is also helpful when you want to visually present your ideas through hand-drawn illustrations, image files, shapes, and others.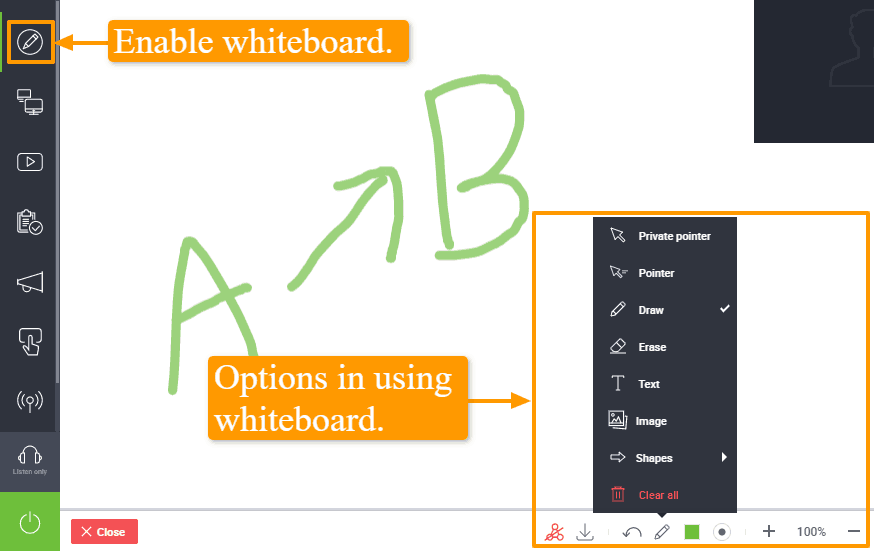 The idea here is, the more your audience is familiar with how to use your products, the more appreciative they become, making it easier for you to sell them more products in the future.
Or, they'll likely refer your product to their networks, because they have a better understanding of your products' capabilities.
3. Streamlined Client Onboarding
Instead of spending countless hours talking to your new clients about your business or workflow, you can record a webinar, embed it on your site, and share it with them.
To do this with ClickMeeting, you can employ permanent or on-demand webinars that newly onboarded clients can freely access anytime. You can even maximize the waiting room, presentation, whiteboard, and other relevant capabilities to enhance your discourse.
With these features, you can illustrate your product concepts and facilitate focused discussions as you share screens, documents, and presentation files. You can also facilitate lively interactions using the previously mentioned ClickMeeting chat features.
Now, if you have clients who can't speak in English, you can take advantage of the simultaneous chat translation.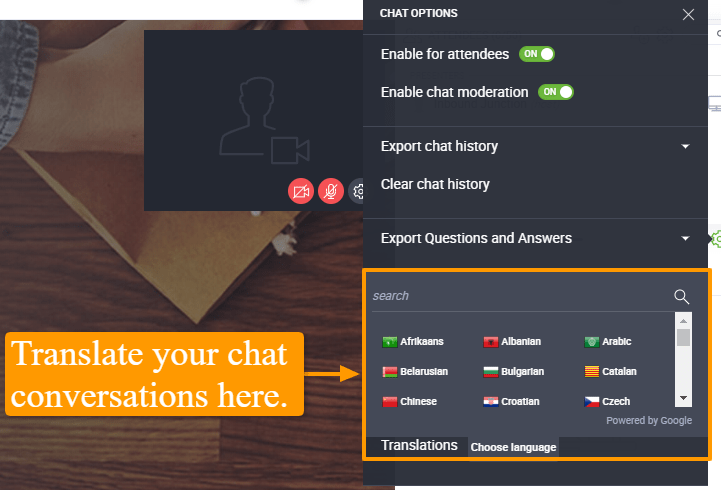 When you enable this capability, Google instantly translates the questions and answers into any of the 52 major languages worldwide. You can also view both the original and translated text. Through this feature, you can have a continuous discussion flow, deliver and receive messages in real-time, and expand to a multinational clientele.
Lastly, customizing thank-you pages, along with sharing additional resources, can help you kick off the next steps after onboarding your new clients.
How Do You Install the ClickMeeting Plugin?
To integrate ClickMeeting into your WordPress site, you need to go first to your WordPress admin account.
On your dashboard, go to Plugins > Add New, and search for ClickMeeting. Select the ClickMeeting Integration version available.
Click Install Now to activate the plugin.
Then, to embed your webinar into your WordPress site, type this in your WYSIWYG editor: [clickmeeting lang="en"]https://myaccount.clickmeeting.com/myevent[/clickmeeting].
What's Next?
From pre-event preparations, running webinars, to post-event activities, ClickMeeting insightfully covers your most significant event needs with its advanced capabilities, making it an invaluable asset for your WordPress site.
By using ClickMeeting, you can streamline your webinars as part of your marketing strategies, turbocharge your website's performance, and ultimately reach your business goals over time.

Latest posts by Editorial Staff
(see all)
Where Should We Send

Your WordPress Deals & Discounts?
Subscribe to Our Newsletter and Get Your First Deal Delivered Instant to Your Email Inbox.
Thank you for subscribing.
Something went wrong.