Shipping is one of the essential components of an eCommerce store. And, it is one of the most challenging aspects to manage for a store owner, alongside with branding and content producing. If you're on the hunt for proper software to boost your visibility and easily handle all aspects of your brand, Brandox is the tool to add to your repository and complement it with a tool like Frase that uses AI technology to assist you in creating SEO-focused content and approach your audience the proper way. But when it comes to shipping, there is a range of requirements that vary for each eCommerce store based on their customers and products.
A store owner needs to offer an optimized shipping experience to its customers, as it is one of the determining factors for customer loyalty. If you have a WooCommerce store, you can find several plugins to help you execute your shipping strategy. In this article, we will list out some of the best free shipping plugins for WooCommerce.
ELEX USPS Shipping Plugin
USPS is one of the most popular shipping carriers in the United States, so you probably need ELEX USPS Shipping Plugin. Naturally, if you have a WooCommerce store based out of the US, you would want to integrate USPS services to your store. This plugin will help you display live USPS rates on your cart and checkout pages. When a customer adds a product to the cart, the plugin will retrieve and display USPS shipping rates based on the customer's location and other parameters. This will enable the customer to make an informed purchase decision knowing the exact shipping charges.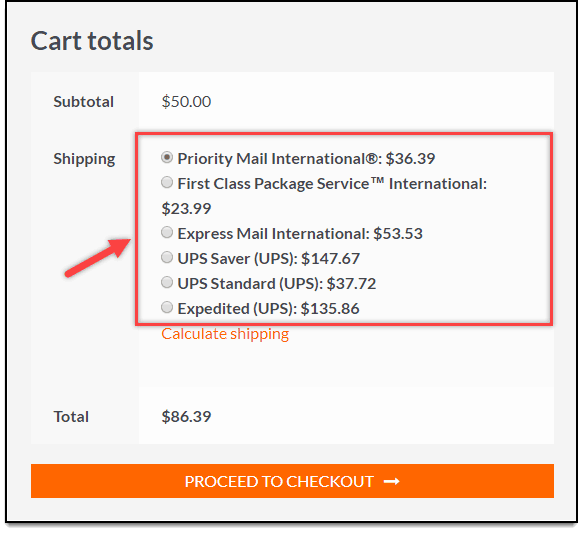 Features
Display real-time rates from USPS on cart and checkout pages.
Customize the displayed shipping method title.
Flexibility to display discounted rates or regular rates.
Option to display all the available rates or only the cheapest rate.
Control to restrict the USPS shipping method only to customers from specific countries.
If you are looking for advanced features like printing USPS labels with eVS postage, and box packing features, you can try the premium ELEX USPS plugin.
Table Rate for WooCommerce by Flexible Shipping
The default shipping settings of WooCommerce allows you to set up flat shipping costs. However, when your business grows, setting a shipping rate is not as straightforward as you think. You will need to make various considerations before setting up shipping charges. The Table Rate for WooCommerce plugin, by Flexible Shipping, will help you set up shipping charges based on conditions like product weight or cart value. It also helps you add extra charges to shipping costs based on certain conditions.

Features
Create unlimited shipping methods and costs.
Customize the title and description of your shipping method.
Determine shipping costs based on product weight or cart totals.
Apply both conditions together and sum up the cost.
Selectively display available shipping methods to registered customers.
Seamless integration with other plugins.
WooCommerce Weight Based Shipping
WooCommerce Weight Based Shipping is another popular plugin in the WordPress plugin repository that will help you set up shipping costs based on order weight and a few other conditions. You can create multiple rules based on your business requirements. It lets you set up flat rates based on your conditions, or you can use the flat rate and add a progressive charge as the weight of the order increases.  The plugin also lets you offer free shipping on your WooCommerce store based on a predefined set of conditions.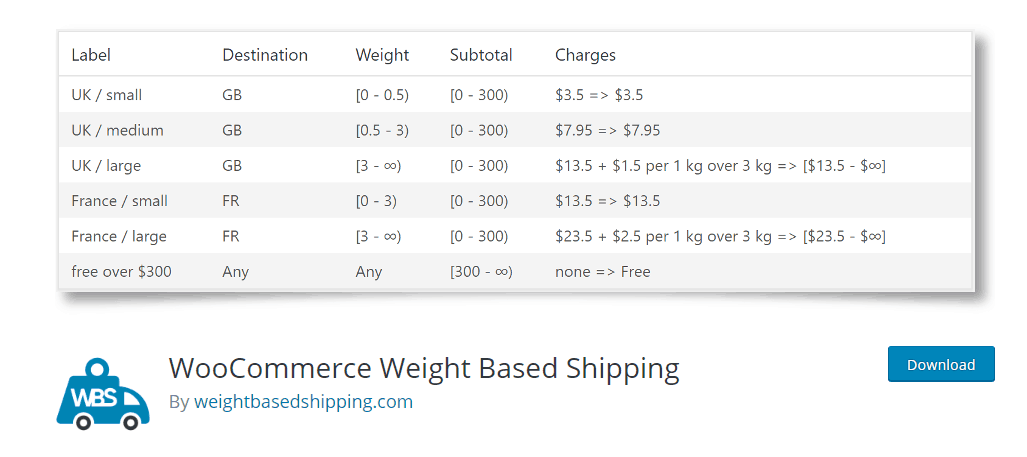 WooCommerce Advanced Free Shipping
As you know, free shipping is one of the most popular strategies eCommerce store owners use for a better conversion rate. However, you have to configure free shipping options carefully so that it won't eat into your profit margins. This is where the Advanced Free Shipping plugin can help you. It helps you set up a range of conditions to offer free shipping on your WooCommerce store. Within each of your shipping rates, you can set up multiple conditions to offer free shipping. There are several conditions available by default with this plugin, such as subtotal, quantity, user role, location, shipping class, product weight, etc.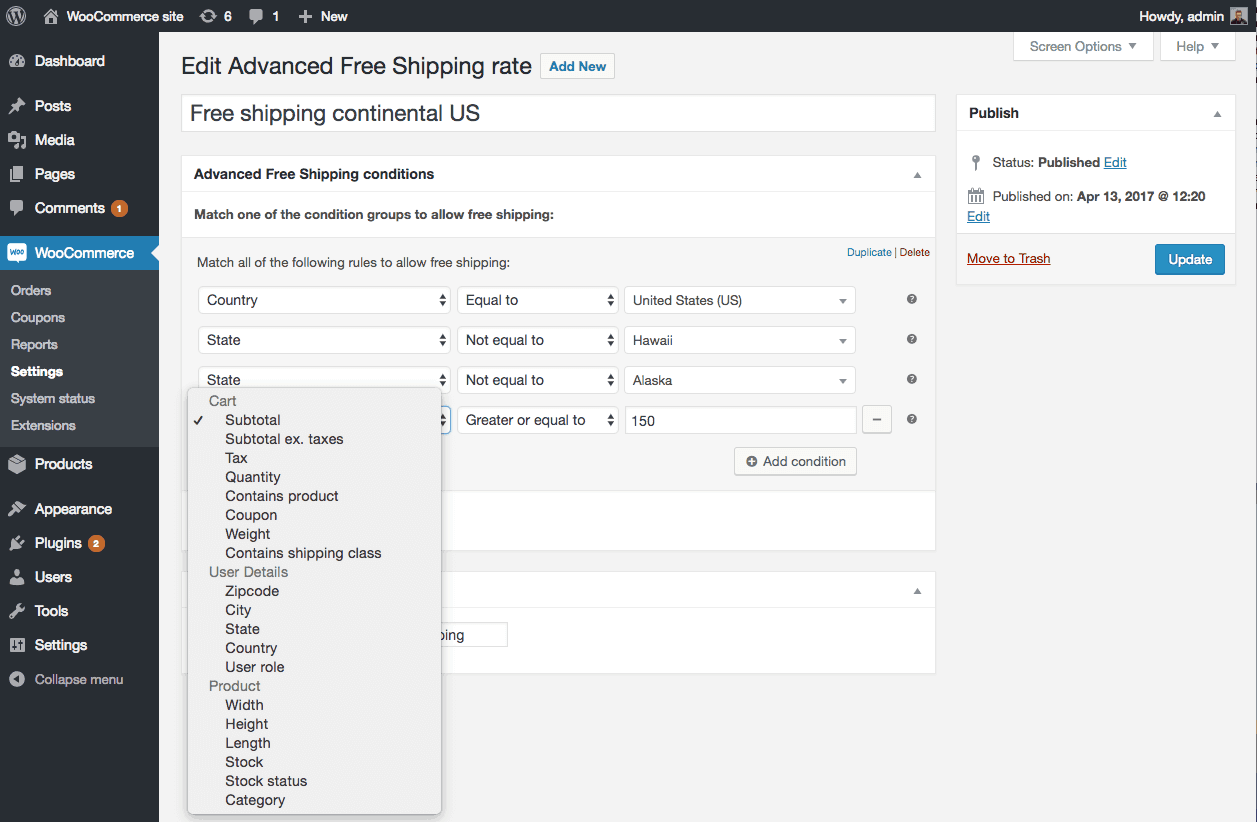 ELEX EasyPost Shipping Plugin
Integrating multiple shipping carriers can help boost customer experience in your store. A lot of customers will have their own preferences when it comes to shipping carriers. By offering multiple options to choose from, you are actually helping customers to choose the best available shipping option for them. The ELEX EasyPost Shipping plugin helps you display shipping rates of three popular shipping carriers on your cart and checkout pages – FedEx, UPS, and USPS.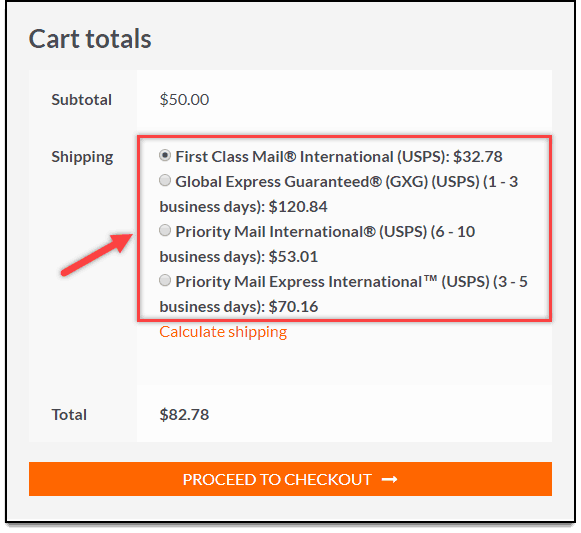 The plugin helps you choose between residential and commercial rates to be displayed on your store. It also provides an option to set up a fallback rate. This is useful if the API does not return a rate at some point, customers can still proceed to checkout by paying the fallback rate as shipping charges. Once you install the plugin, you will be able to choose a range of services from FedEx, UPS, and USPS to display on your store. The premium version of ELEX EasyPost Shipping Plugin has features to help you with box packing, printing labels, and shipment tracking.
WooCommerce Shipping
Powered by Jetpack, this WooCommerce Shipping plugin will help you print USPS labels right from your WooCommerce store. It helps you print labels at much-discounted rates compared to the general USPS rates. However, please note, this plugin is useful to you only if your store is based in the United States. Also, it will not help you display real-time shipping rates on cart and checkout pages. For that, you need to use a plugin that offers USPS shipping rates integration, like two other plugins we discussed above.

ShipStation Integration
This free plugin available on the WooCommerce Extensions store will help you integrate ShipStation services on your WooCommerce store. You need to have a separate ShipStation account to get access to the features. A ShipStation account will help you manage your order much more effectively. If you are selling through multiple retail channels, you will be able to manage them all from a single location. Moreover, you will find discounted rates from popular shipping carriers such as USPS, FedEx, UPS, DHL, Canada Post, Sendle, etc.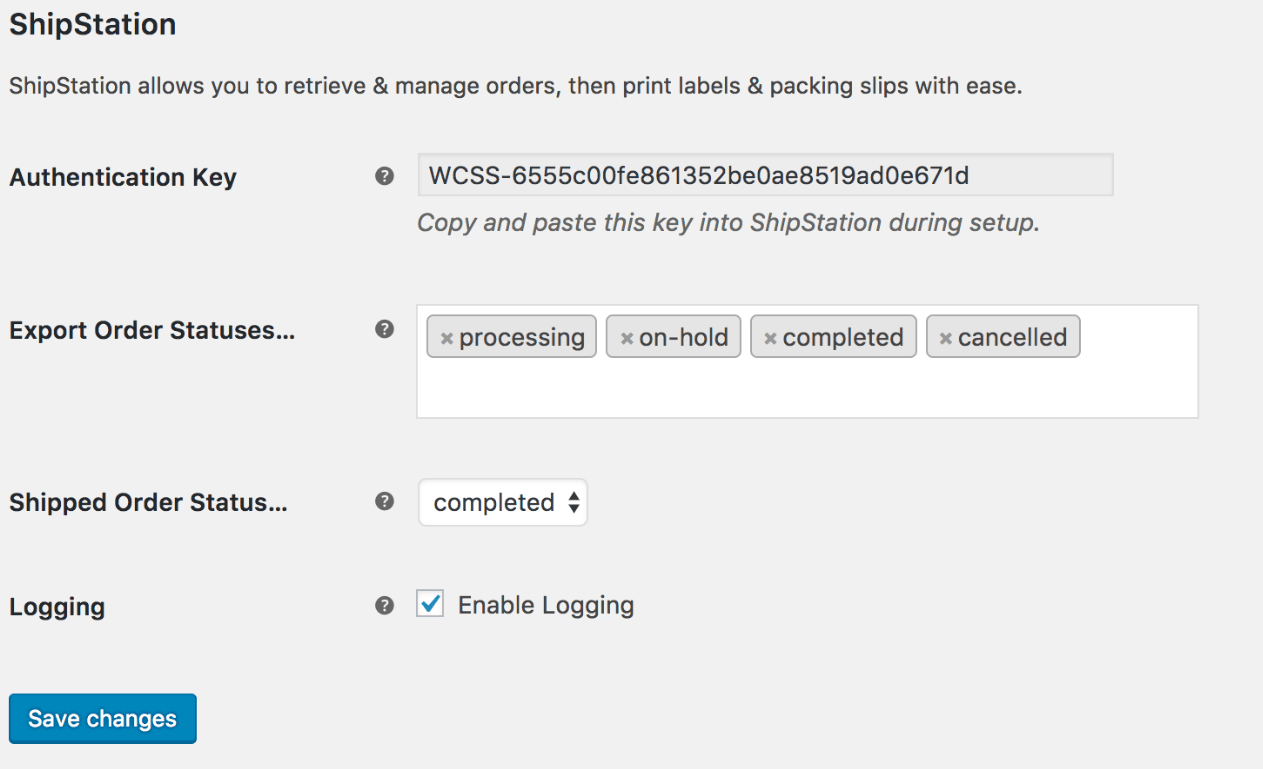 Furthermore, you can use ShipStation to customize notification emails, tracking pages, shipping labels, packing slips, etc. Overall, this service will make the order fulfillment process on your WooCommerce store cost and time effective.
WooCommerce Table Rate Shipping by JEM
If you are looking for free table rate shipping plugins, the WooCommerce Table Rate Shipping by JEM is a good one that you can consider. It is quite easy to set this up and provide a boost to your shipping strategies. The user interface is quite intuitive so that even users without advanced technical knowledge, too, can configure it easily. It offers hassle-free integration with your shipping zones and allows you to set up location-based shipping rules easily.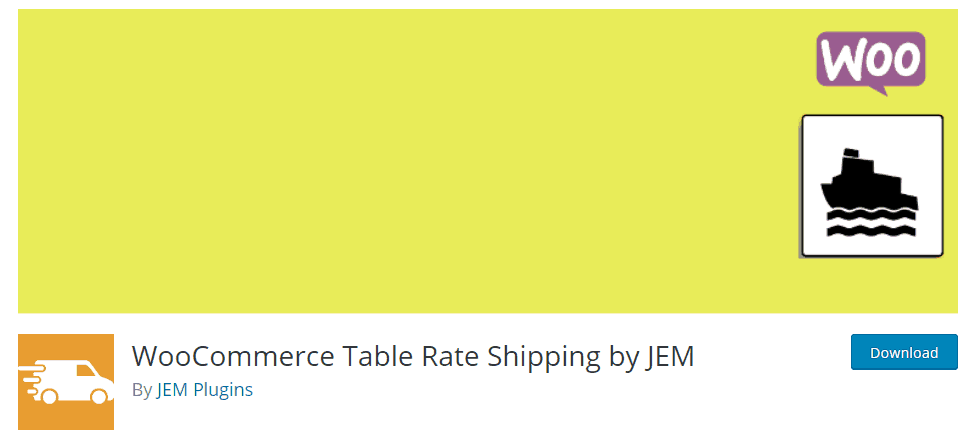 With the help of this plugin, you can set up shipping charges by total cost and weight. Also, you can decide whether to include tax to shipping charges or not. The plugin also helps you set up tiered shipping charges that increase progressively. It also lets you set up additional handling fees for your shipping costs. The pro version of the plugin lets you set up shipping costs based on shipping classes and product weight.
Booster for WooCommerce
Booster for WooCommerce is a plugin that will help you with several aspects of your WooCommerce store such as pricing, store management, payment gateways, email management, etc. It also helps you with shipping and order fulfillment. You can limit the display of specific shipping methods based on the minimum and maximum order value thresholds that you set up on your store. It also lets you selectively display shipping methods based on individual products, categories, or shipping classes. Moreover, you can also use user roles to decide what shipping methods to display.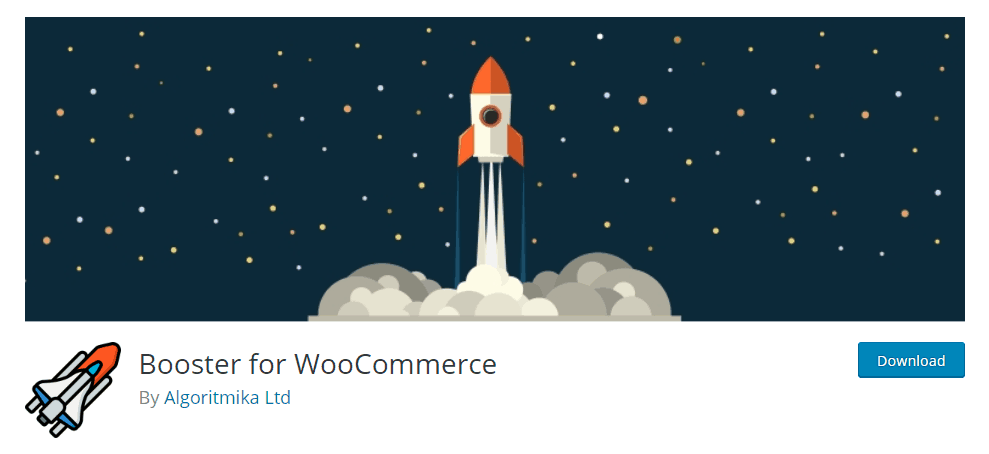 It also helps you customize the shipping calculator on cart pages and also lets you add a description to your shipping methods. Some of the other shipping related features of this plugin are options to set address formats specific to countries, create custom order status, etc.
Advanced Shipment Tracking
One of the essential features of a good shipping strategy is to provide shipment tracking information to customers. It will help customers have a clear idea of when the product will get delivered to them. The Advanced Shipment Tracking is one of the unique free plugins that help you provide shipment tracking information to your customers. Once the status of an order on your store is changed to 'Completed,' the customers will receive tracking details through emails. They will also be able to access the tracking information on the My Account section.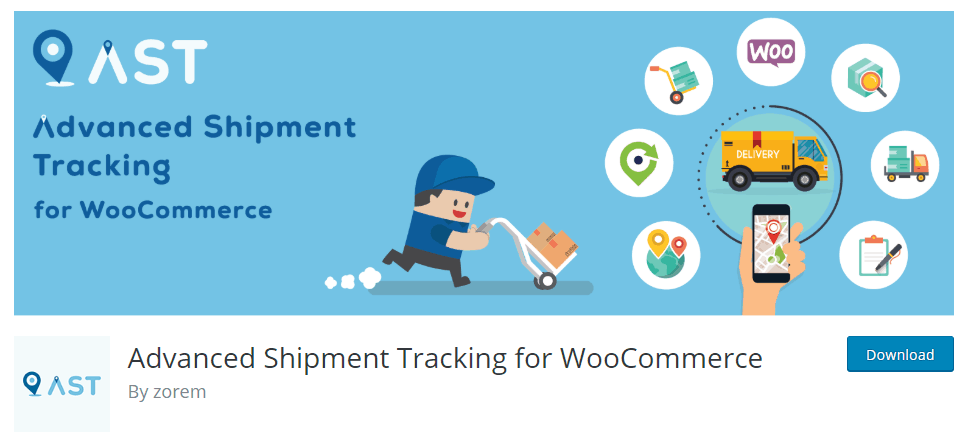 The plugin offers a pre-defined tracking information template of over 100 popular carriers. Based on the carrier that you are using, you can choose how you want to provide tracking information. If you are using a shipping carrier that is not available by default, you can add them. If you want advanced features like delivery status updates, you can integrate Trackship, which will automate the order management flow.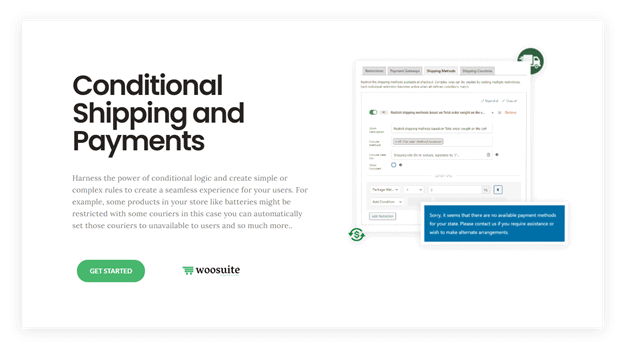 With the help of this plugin, you will be able to restrict shipping methods based on different parameters. This plugin lets you control payment methods based on who is the customer going through your checkout. For example, you can enable Paypal for retail customers and disable it for wholesale customers. This plugin provides you with a streamlined way to restrict the shipping methods, payment gateways, and shipping destinations available to customers.
Features
You can conditionally enable or disable payment gateways.
You can create a conditional rule to disable couriers that exceed specific country weight limits.
It is easy to control the availability of free shipping, as well as other shipping options.
You can restrict shipping methods based on conditions such as postcode, city, and so much more.
No coding is required to make payment options dependent on the shipping method.
You can create restrictions rules on a product level for greater control over the entire flow and user experience.
Pricing
The Basic version of this plugin is for $79/year for 1 site and comes with a 30-day money-back guarantee in case users are unhappy with this plugin. In addition to this, the Professional version is priced at $139/year whereas the All Access version is priced at $349/year.
Overall
We hope this article has provided a basic idea on the features of some of the popular free shipping plugins for WooCommerce. Depending on your customer feedback and sales trends, you can choose one of these options when you are starting out a WooCommerce-based online business. Leave a comment if you have a query.

Latest posts by Vijay Chelakkat
(see all)
Where Should We Send

Your WordPress Deals & Discounts?
Subscribe to Our Newsletter and Get Your First Deal Delivered Instant to Your Email Inbox.
Thank you for subscribing.
Something went wrong.