Over the last decade, the e-learning industry has been creating waves time and again; today, it is almost on par with the conventional classroom-taught courses across the world. In fact, the recent upgrades in the e-learning system ensure that the live learning experience is replicated exactly for even a student learning online.
As a versatile CMS platform, WordPress proves to be an apt choice for creating and managing the multi-faceted entity that is your e-learning system. The next, slightly more contentious, part is that of choosing your e-learning platform; considering the several aspects that it must cater to, you need to choose a robust, glitch-proof plugin. A good e-learning plugin gives you all the requisites you need to build an online education system, a great one like LearnDash helps you make your site so much more than that!
You would expect that to be the end of the major decisions, but hang on, we're still warming up! To use your chosen CMS and LMS platforms to their maximum potential, you need to choose a theme that lets you leverage all their features easily. This may seem obvious, but given the thousands of themes out there, each with their pros and cons, you can have a difficult time choosing one that suits your needs perfectly.
Coming to the e-learning realm, LearnDash supports some of the best functionalities you require for creating and managing course websites, complete with courses, blogs, discussions forums, student profiles, multiple instructors and more, and the theme that helps you navigate these with ease is Pathshala.
Built specifically for LearnDash, Pathshala (which aptly enough, means 'School') incorporates all the features that you need to create a perfect e-learning course.
The Advantages of a LearnDash-Specific Theme
There are some obvious advantages to having a LearnDash-specific theme, as opposed to a theme common to all e-learning platforms. Here we list out a few:
As Pathshala is tailored for LearnDash, there are no conflicts with features, or any additional plugins/LearnDash extensions you install, to integrate advanced items into your course.
You need not spend a ton of bucks every time, customizing the functionality you already have, to make it compatible with your theme.
The LearnDash-specific theme lets you add as many new functionalities as necessary, without messing up your website display or uptime due to incompatibilities.
Given these significant advantages, you can see why it is better to opt for a theme that makes your life easy as well as saves a pretty penny.
The Features of Pathshala
Pathshala packs a lot of essential features that every e-learning theme requires, even in its LearnDash-compatible avatar. Here is a look at a few of the major ones:
Built using the frameworks Unyson and Bootstrap, Pathshala has a very solid structure, which scales your website and plugins with ease. The robust design ensures that your website won't crash and break down even if you add multiple applications to your core plugin.
Creating courses, lessons, quizzes, achievements, certificates, and more becomes extremely easy with the combination of LearnDash and Pathshala, as you have the Visual Page Builder tool ready at hand. Build and customize pages, posts, and page sections, within a heartbeat.
Pathshala has an inbuilt breadcrumb navigation system, i.e. it shows the user exactly where he is on your website, Course category→ Course Name→ Lesson→ Topic, and so on, which threads your courses into a comprehensible whole.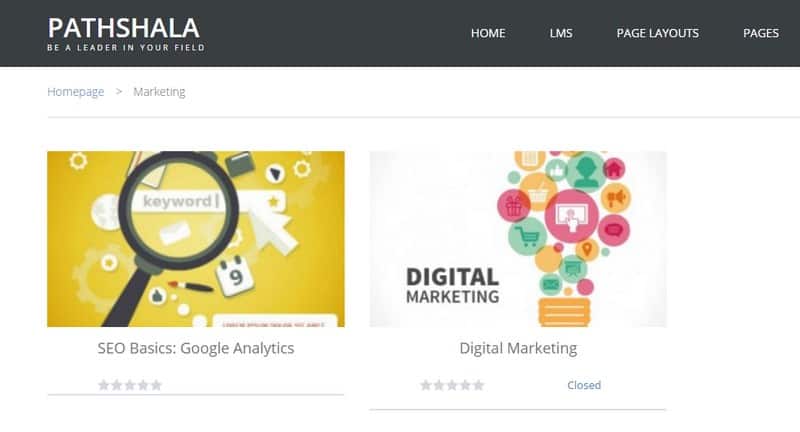 Dapper Sidebars and Responsive Display
As a rule, responsive themes are almost always preferred over non-responsive ones, as they save you all the trouble of having to design with two distinct viewing platforms in mind. Pathshala is no exception to this rule. The theme is completely responsive and makes use of dynamic, responsive sidebars, that readjust according to the display without disturbing the core structure of the site.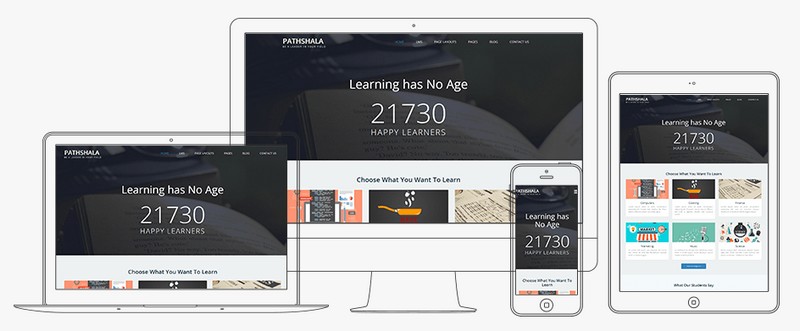 Pathshala has a one-click backup and restore policy, which ensures that your content stays safe all the time. Even in the unlikely case of a course breakdown, you can restore the previously stored version within minutes, to keep the site up and running.
The theme has innate SEO settings that guide you during the creation of the course. The advantage of having the settings ingrained here is that you can check the SEO compatibility of your course even as you draft it, instead of having to check it later when the course is complete, using an external SEO plugin.
Comprehensive Classification
Pathshala introduces the concept of Course Categories, which make finding courses on your website a piece of cake. The major drawback of most e-learning websites is that students do not immediately realize the number of courses offered, or find what they are looking for, due to poor presentation. The Course Categories functionality ensures that the student is directed to his field of interest right away, which in turn translates into increase in enrolment.
So much for creating and managing courses; when it comes to selling courses online, choosing a mediocre theme can open a huge can of code worms. Pathshala sidesteps this entirely by providing excellent compatibility with WooCommerce, WordPress' very own e-commerce platform, so that selling courses online, or even creating a course marketplace does not constitute a Herculean task!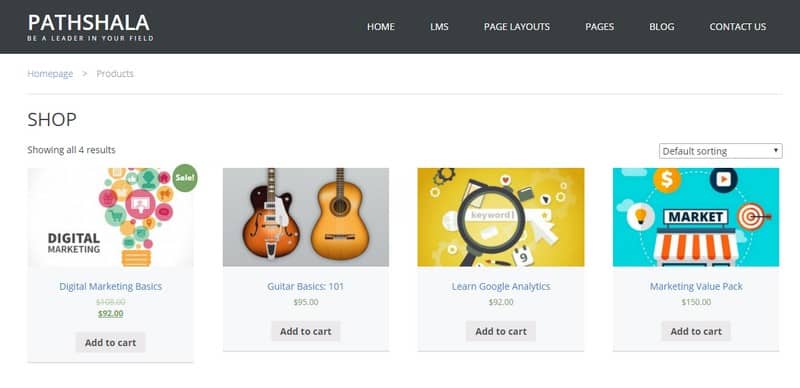 S their interaction with their teachers and their contemporaries. Keeping this in mind, Pathshala integrates with BuddyPress and bbPress, the two applications that help you build individual student profiles, chat rooms, and discussion forums for your members.
As a matter of fact, Pathshala provides for the LearnDash-BuddyPress integration plugin you need to set up BuddyPress profiles, along with the theme itself. This effectively lets you synchronize groups, provide quick-download options for student certificates, inspire healthy competition among your students with comparative course updates, and increase student engagement with collaborative learning.
The advantages here are two-fold; one, it makes your course more fun, as students learn to think and speak for themselves, two, there is a profusion of new ideas and feedback, which you can use to keep developing your latter courses!
The theme also has Font Awesome icons, using which you can display your social network integrations like with Twitter, Facebook, Pinterest, and more, to share information about the courses you offer.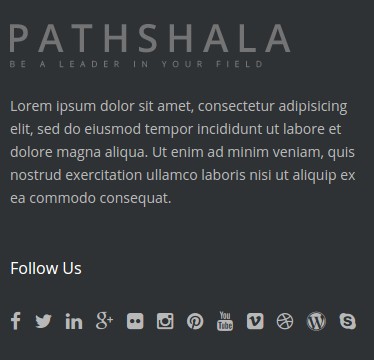 Customizable Colour Palette
The theme has four, inbuilt skin templates that can change the look of your site within seconds. If you are more of a DIY kind of person, Pathshala offers, even more, options for you to pick and choose from.
As evident from the features above, Pathshala definitely scores well as a theme for LearnDash. However, considering the proverbial other side of the coin, there are some minor shortcomings of the theme too.
For one, Pathshala does not have a Retina ready display, unlike themes like EduCampus. It also does not support Membership plugins, should you need to use one.
However, on the whole, Pathshala meets all the requirements of an excellent e-Learning theme and has well documented, workable solutions around its shortfalls. The theme is priced reasonably at $59 for a single site, which includes support and auto-updates for a year.
Where Should We Send

Your WordPress Deals & Discounts?
Subscribe to Our Newsletter and Get Your First Deal Delivered Instant to Your Email Inbox.
Thank you for subscribing.
Something went wrong.