What is one type of service that is thriving on the Net yet remains barely touched upon, giving you more chances to take the leading position?
Yes, you have got it right, that is directory! Well, as a matter of fact, when people's material life is getting better in many parts of the world, they develop the desire to improve their spiritual life as well. Achieve this by using the best products, eat at the best restaurants, spend time in the best hotels, etc.
But how to get all those best stuff, you ask? Through searching, of course!
That is why directory websites have been on the rise lately. However, building a directory website is a piece of cake, bringing it to the top is another story. While the market is still young and full of opportunities, any company or individual is able to take the chance and can make it to the top, certainly, with the help of the right WordPress directory theme.
Have you ever wondered how TripAdvisor and Airbnb got that far? Want to build a directory website so functional, so majestic and so successful just like them? You have come to the right place for an answer!
No more wasting time! People, please meet Qibla – The Superb WordPress Directory Theme, the one theme that had me in awe while exploring.
Qibla – The Story of Its Birth and the Journey to the Top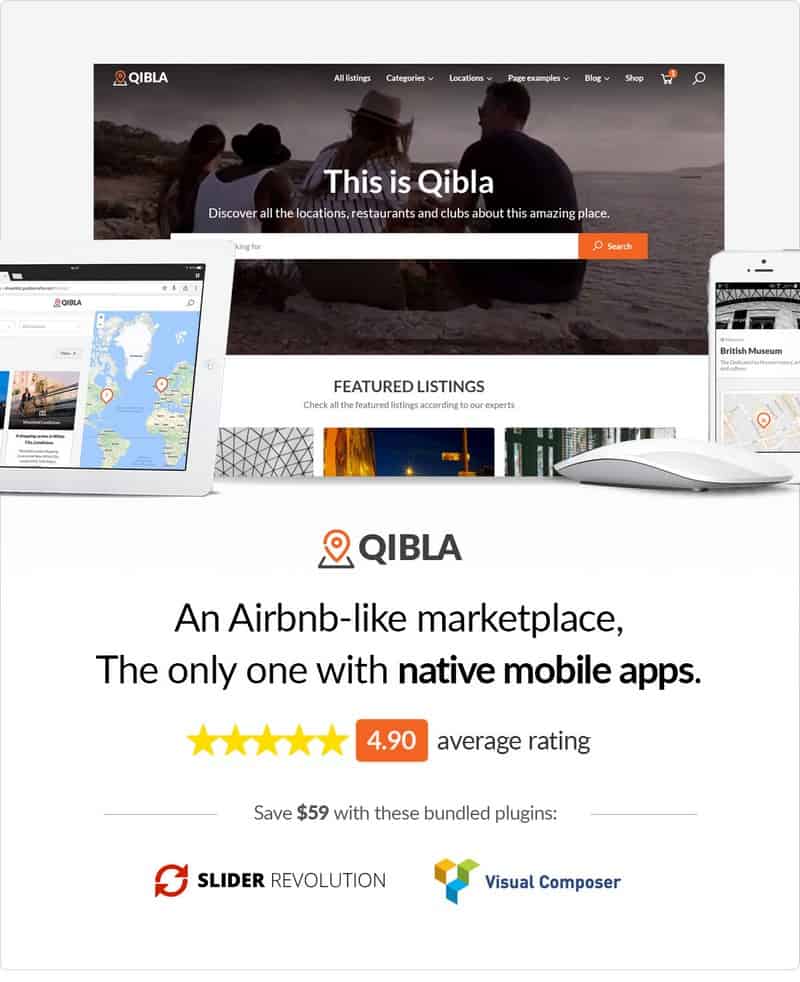 Behind every big name, there is an untold story of how it got where it is. The story of Qibla is the story of dedication, understanding and endless efforts. Why did I specifically choose these three words? Here is why:
Dedication: 2 years ago, App&Map company, the creator of Qibla, started in Italy by offering mobile apps for local business promoters. Not long after that, they were asked to make a mobile app related to directory theme, which was not easy to do since app and WordPress site content are usually developed in two different ways. Not giving up on the idea, App&Map decided to launch something to make up for it. That's how Qibla got its birth.
Understanding: Qibla is perfect for any type of websites, including tourism, real-estate or just directories. Although the theme does not use many plugins, its functionality is ensured. I will surely elaborate on this in the features section!
Endless efforts: To top the industry, every company has to pour its heart out. If so, what makes Qibla any more special? Well, if there is anything the team at App&Map cares about more than the products, it's definitely its customers! In order to maximize user experience, the team did put a lot of efforts into coding. They even went so far as to introduce the one-of-a-kind feature called Qibla2Mobile! Want to know what this amazing plugin can do? Please keep scrolling!
So many things left unsaid, huh? Be patient, because I am on my way to lift the veil! However, as there are so many things about Qibla that are worth your attention, why don't we spend some time figuring out several other praise-deserving features of Qibla?
Qibla – Theme Features
Qibla is super easy to use without any coding knowledge required! Whether you are a pro or you have just started using WordPress, you are guaranteed to rock the Internet with this theme!
The Powerful Admin Panel grant you full control over everything! So, work your magic however you like!
With this theme, you can import demo site with One-Click! Totally easy and time-saving!
Users can add their own listings too! How to do it? There is already a documentation for user add listing!
The Homepage Video background will make your website look 10 times cooler than it should be.
Qibla also offers Booking Functionality, aiming at increasing user satisfaction! Well, another functionality, another convenience!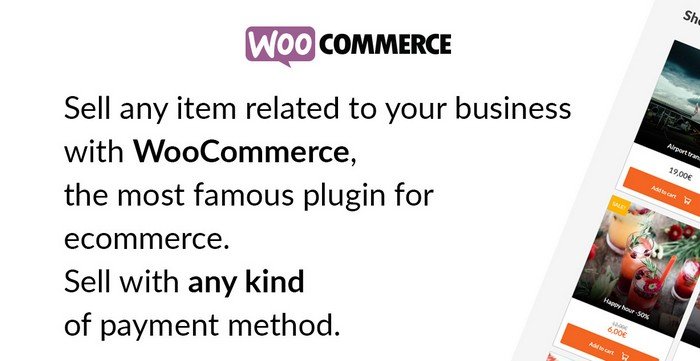 Woocommerce and Paypal Integration, ensuring fast and convenient purchase and money transaction!
Listing Locations shortcode is also in the package!
Of course, Qibla is responsive and mobile-friendly! Whether you view your site on a PC, laptop or cell phone, it will be perfect!
As extensive typography options are also included, you are entitled to multiple choices of texts! Make sure to go for the best ones!
Button shortcodes and Testimonials shortcode!
To comfort the most demanding customers, the creators include both Dark and Light headers.
Since Translation is always ready, you may have customers from all nationalities without any difficulty.
600+ Google Fonts, helping you reach beyond any limit!
Last but not least, Awesome Icon Font Pack, Foundation Icon Font Pack, and Lineawesome Icon Font Pack are all there! Super duper various choices huh?
Main Features
So, that's just the first look! Obviously, there is so much more to Qibla, which will surely make you go Wow! Interested in finding out? Follow me!
1. Mighty Theme with Powerful Listings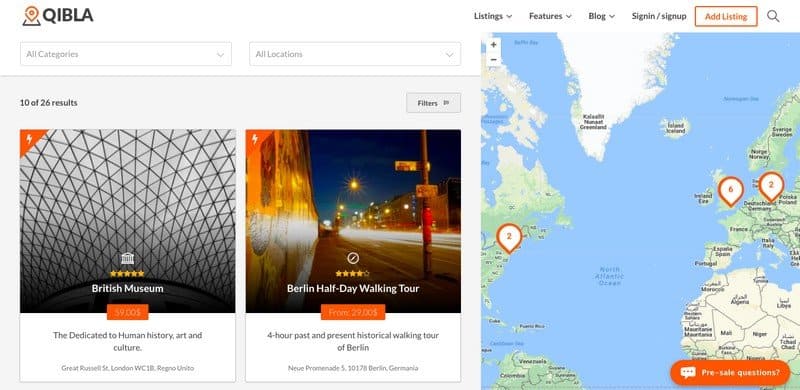 Qibla is an amazing WordPress theme that offers you multiple choices of listings, found in All Listings, Activities, Berlin, Londinium, Nightlife, and Naxos. As all of these are set by default, customers can easily choose what they would like to explore this set of listings.
Not happy with what is seen there? The intelligent search bar will help! Simply fill in the categories (café, food, museum, etc.) and/or the locations (Berlin, Heerlen, New York, etc.) you want to explore and hit enter! Customers can also use the available filter to narrow down the search results if they wish to! For example, they want to find a restaurant with parking lots and allows pets? Just tick the boxes!
Sounds intriguing, yes?
While customers will feel over the moon with these listings, how about the website owners? The same! Besides being able to give out beautiful listings for customers, owners are provided with an extensive set of listing settings that help configure a listing page in a matter of seconds!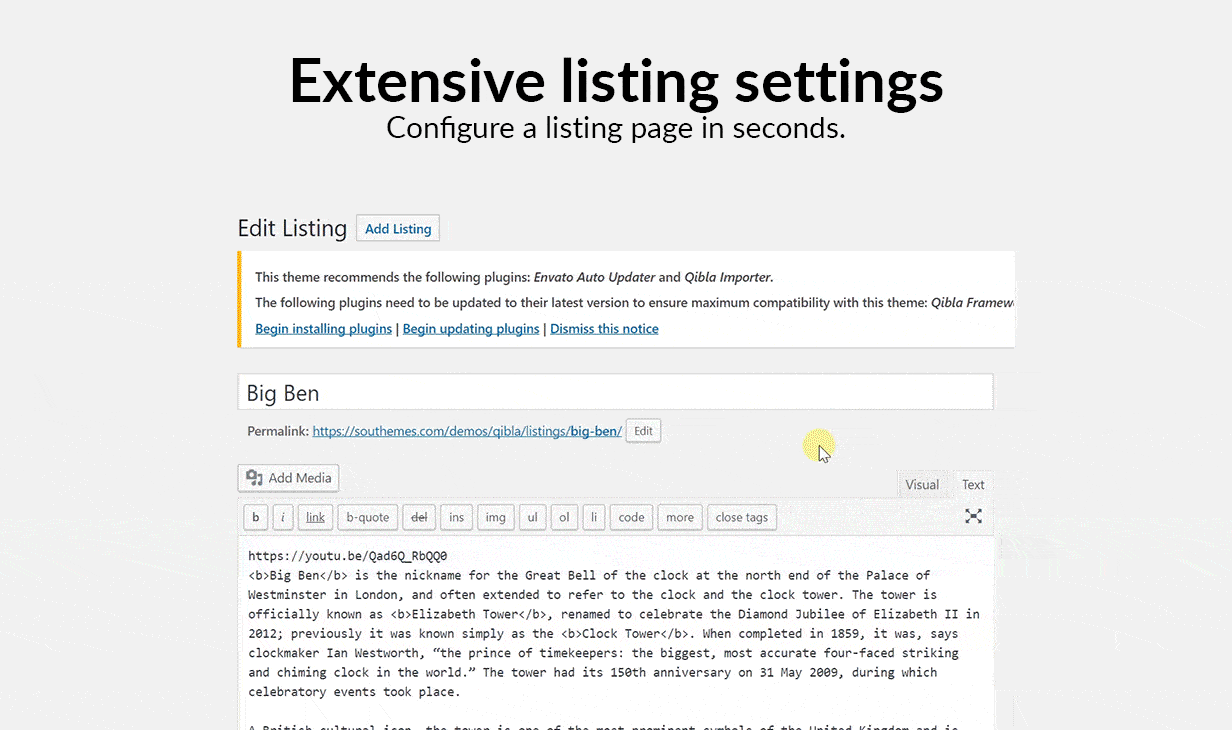 The drag and drop feature integrated means you can add your own listing in no time! So convenient, don't you think?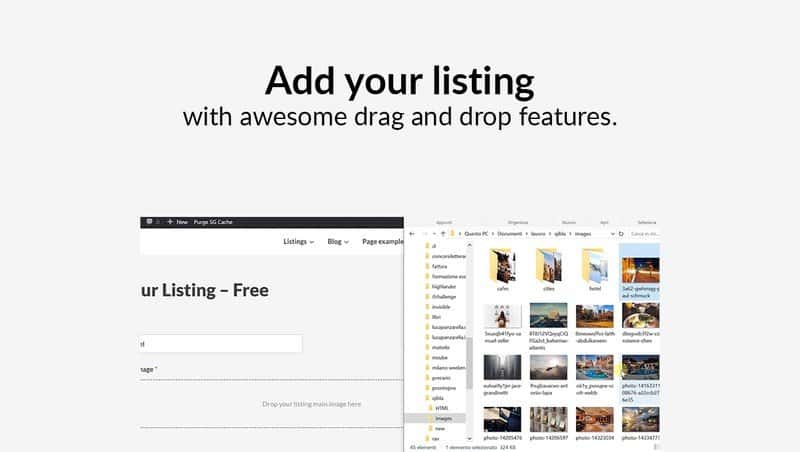 2. Beautiful Blog Types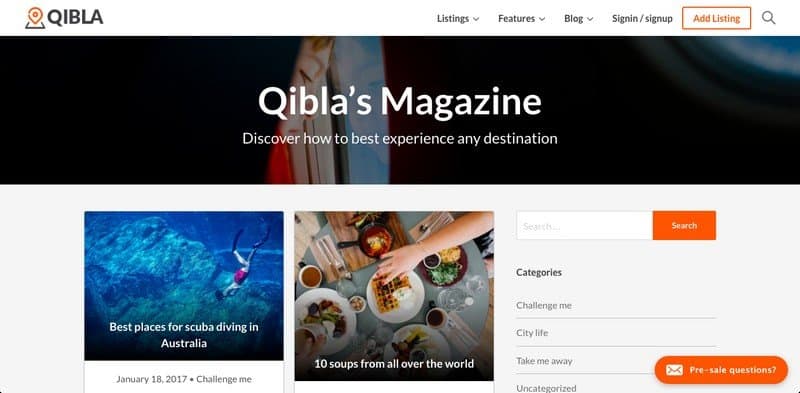 What I really adore is the fact that Qibla offers two blog types you will definitely love in order to satisfy the needs to share information by blogging. In the first blog type, customers can see the whole post laying before their eyes, full and in details. For the second one, they could also see the related posts, which is very useful if you aim at increasing the views of these posts.
In addition to two blog types, Qibla also provides the blog archive with Categories and Recent Posts, making it easier for customers to opt for a post.
3. Awesome Compatibility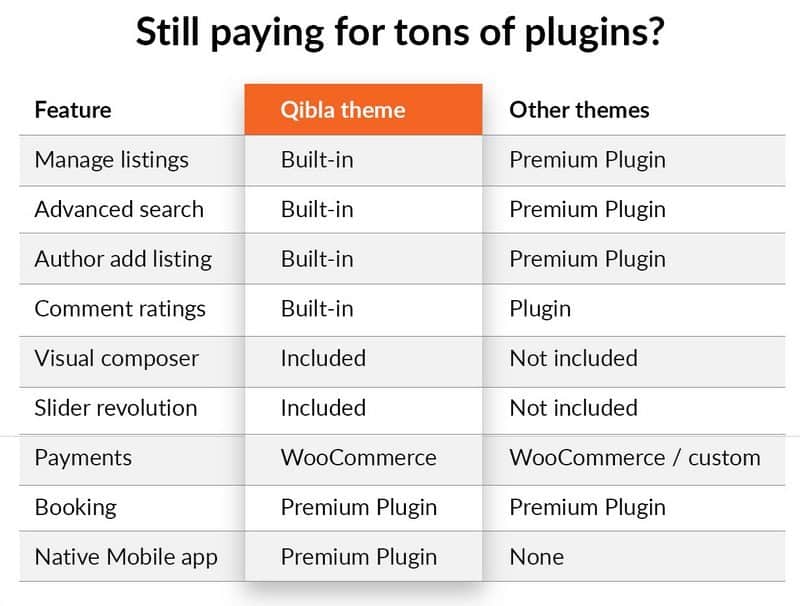 Aiming at perfecting user experience, the creators of Qibla intentionally made it compatible with various awesome plugins and extensions. Sit still on your chair, because this could blow your mind:
WooCommerce and PayPal: The duo carries the mission of making purchase process smoother than ever! With WooCommerce, the renowned e-commerce plugin, you can sell any item easily with any kind of payment method you wish.
Visual Composer: This famous WordPress page builder plugin is destined to raise your WordPress website to another level by letting you create any layout fast and simply with drag and drop! No more time wasted coding layouts manually, no more error with CSS and shortcodes because Visual Composer is here to help!
Slider Revolution: Said to be the most innovative and well-known WordPress slider plugin on the market right now, Slider Revolution displays your website content in the most beautiful way possible! Use the drag and drop editor to tell your stories!
Let me tell you, those are not all. However, to avoid ruining your surprise, I will just stop here and let you discover on your own!
4. Wicked cool Native Mobile App: Qibla2Mobile Plugin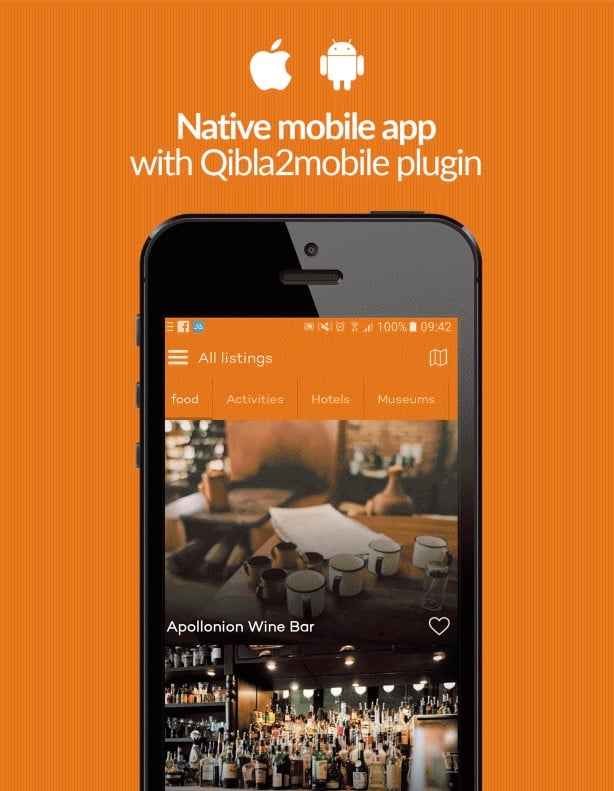 Just like my usual style, save the best for the last!
What is one feature only available with Qibla WordPress Theme that no other has? Ladies and gentlemen, I present to you: Qibla2Mobile, the wicked cool native app! This high-quality plugin allows users to transform all of their listings into a mobile app. What is more, the plugin will always synchronize with your listings without any coding knowledge required!
Costing only $29/month (rather than the original price of $49), the plugin is a real bargain if taking into account what it could do with your website!
What's New in Version 1.6?
There is one trait I truly appreciate in a person, as well as in any product or service, that is the endless will to improve themselves. For Qibla, we are sure to see that trait as they have just released the Qibla 1.6. Besides the two marvelous plugins, Slider Revolution and Visual Composer, which I have presented above, this version also includes such amazing additional features as:
Author order email: With this feature, whenever a date is booked and an order is completed, the author will automatically receive an email including order details.
Social plugin: Users are now able to log in with their favorite social network access details such as Facebook or Google.
Sticky header: To have a menu that is always on top, just simply set Sticky Header!
Review replies: Want to reply to a review left on your listing page? That is now totally possible with this new feature!
Support and Documentation
Seriously, you have to see what customers have got to say about Qibla! I know that all WordPress themes receive positive as well as negative comments, but let's just say, for Qibla, things are so much brighter! As many reviews have pointed out, the theme deserves 5 stars for customer support, which is described as "amazing", "impeccable" or "very fast", etc.
Problem arising? Simply go through its extensive knowledge base to see if you can solve it on your own. As the knowledge base is neatly organized with a search bar on top, you won't have to worry finding your way around it!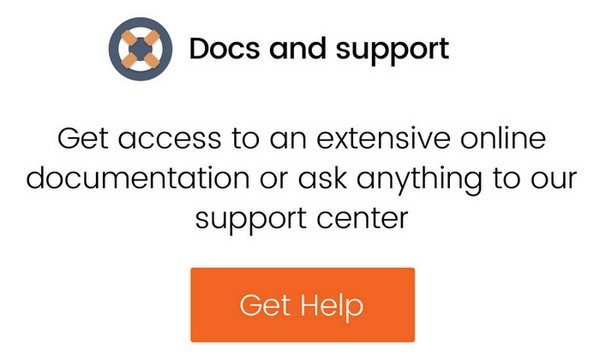 In case you cannot figure out the issue yourself, don't hesitate to get help from the devoted support team! After all, they are the reason behind the highly-praised customer support! Thus, just send them a request and let them get back to you as soon as possible!
Final Thoughts
Honestly, what else do you expect from a WordPress directory theme?
For what I have observed, Qibla has everything it takes to claim the first rank of its kind. Well-coded, beautifully designed, and undoubtedly able to cater to all listing needs. Qibla is obviously launched to satisfy the most demanding customers out there. In addition, its price is another thumb-up point, which literally gave me shockwaves.
Embrace yourself, for Qibla superb WordPress directory theme with all those features and functionality, costs you no more than $39! What a price, I must say! Oh, and don't forget that by purchasing the theme, you also get Slider Revolution and Visual Composer. Save $59.
Sounds too good to be true?
Hmmm, there's nothing I can do about it, but you can! Help yourself by visiting its Live Preview, and see why I decided to say what I have said above!
Where Should We Send

Your WordPress Deals & Discounts?
Subscribe to Our Newsletter and Get Your First Deal Delivered Instant to Your Email Inbox.
Thank you for subscribing.
Something went wrong.