Website builders allow you to easily build a website without needing to write or edit code. As you build your website, content management systems (CMS) allow you to view what your website will look like when viewed from a browser as you edit it in the CMS interface.
The best website builders have powerful tools and rich features. These include well-designed website templates and drag-and-drop editors that are easy to use. They also offer their users the ability to control multiple sites and integrate SEO.
Even though WordPress is the most popular choice of CMS, it is not the only one out there. The type of website you need to create should determine which CMS you choose. You also need to determine your budget, level of expertise, and the CMS's ability to meet your future needs.
WordPress Features and Drawbacks

When WordPress started, it focused on blogging but has since expanded into a full-scale CMS powering 20% of all sites.
Impressive WordPress features include:
Hosting – WordPress offers an all-in-one package with free hosting.
Fast installation and ease of use – You can have WordPress installed in less than five minutes, and you can use all its features without any technical knowledge.
Add-ons make it customizable – Whatever type of website you are creating, WordPress's plugins, themes, and widgets make it very versatile, and many are free to use. Whether your website is simple enough to build on your own or complex, requiring skilled developers, WordPress allows it to be customizable and extensible.
WordPress has thousands of graphics templates you can use to change the look of your site. Many of its themes have optimized versions allowing for consistency across all devices, and plugins can be added to make your website more functional.
SEO integration – Plugins help to optimize your content and analyze it for keywords, ensuring best SEO practices for your site.
E-commerce – You can create an e-commerce website with a plugin in WordPress.
Support – The WordPress community is huge, and they offer support if you need troubleshooting or tutorials.
Drawbacks that leave room for improvement in future versions:
Some of the free templates look very similar, and if you want to modify them, you need to know CSS or HTML.
Other CMSs offer a wide range of functionality, which you can get with plugins in WordPress. Unfortunately, choosing the right plugins takes time and increases the memory required by your website.
Protection and security can be a problem with WordPress, especially if you have many plugins that can easily be hacked. This is an area WordPress needs to work on some more. As a precaution, always keep it updated to the latest version and use a third-party security plugin.
Comparing WordPress to Wix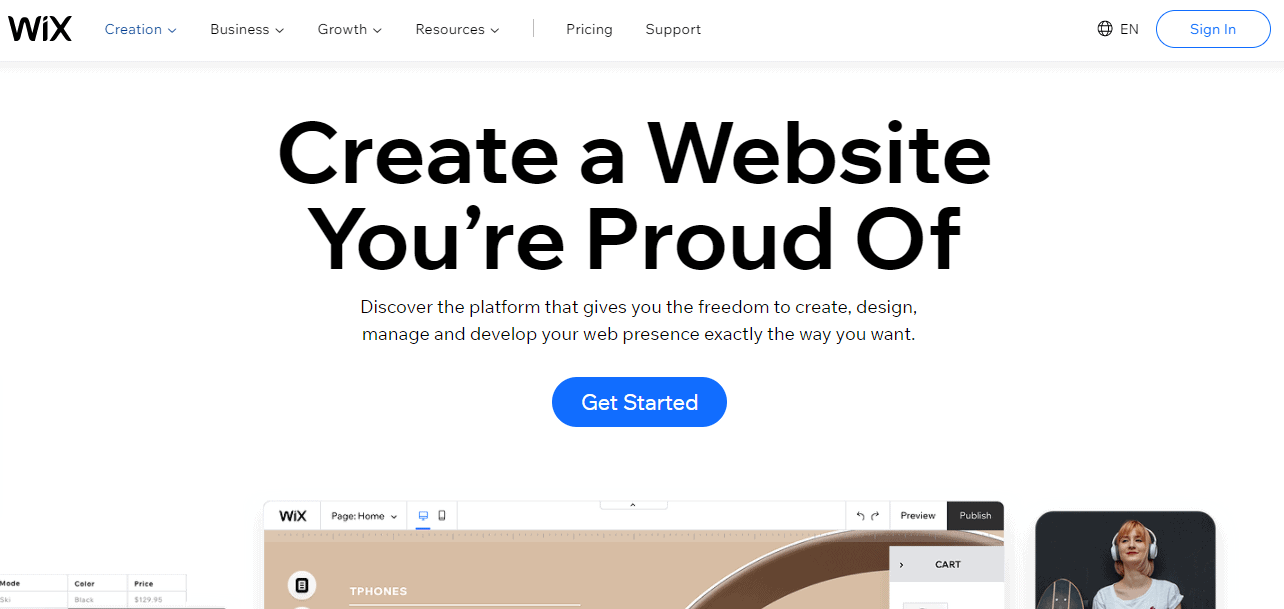 Wix is an all-inclusive website builder that has a free basic plan with no extra add-ons. This has on-page advertisements, and your site acts as a subdomain.
Unlike WordPress, where customizing requires some work and knowledge of coding, with Wix, it is much easier to build a website. You can drag-and-drop the elements wherever you want them. Expect the same design options in free and paid-for templates. Wix also has intuitive SEO, and many of its apps are industry related.
One of the drawbacks with Wix is that once you have selected a template, you can't change it. Your site's security is taken care of by Wix.
Comparing WordPress to Weebly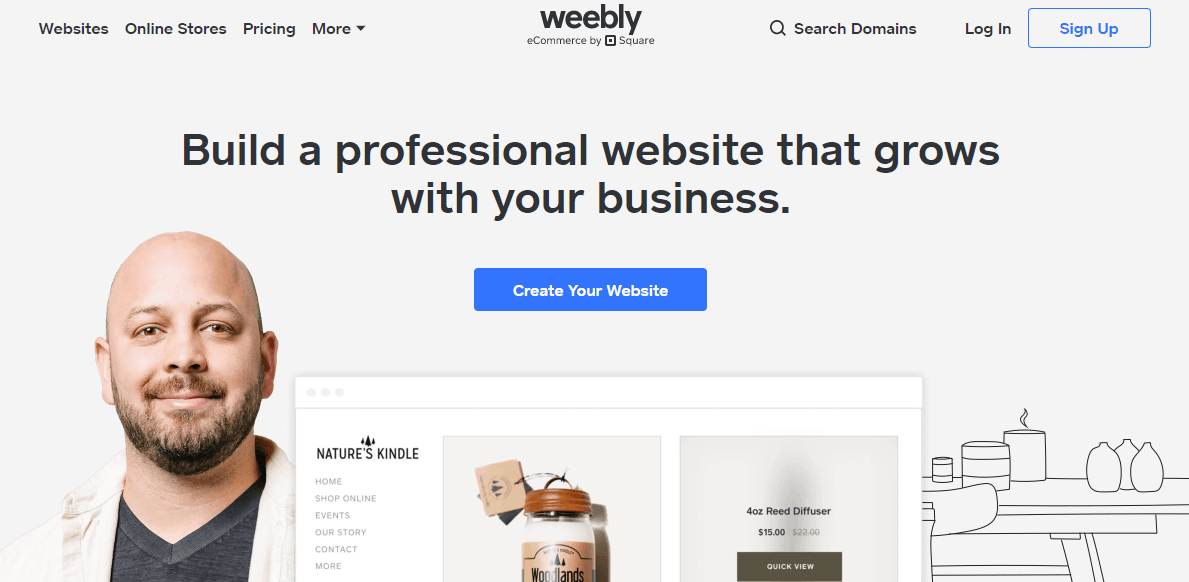 Weebly is much easier to use than WordPress and is great for both professional and personal websites. Weebly has over 55 templates that are segmented into categories. These are modern and responsive and can be changed.
It has an extremely flexible blog feature with many elements available for your layouts. Even though Weebly is not known as a specialist e-commerce builder, it is doing a great job with small and medium online shops.
Even though it currently does not allow you to set customer login for checkout and manual payments, Weebly was recently acquired by Square, so expect some exciting features.
Comparing WordPress to Squarespace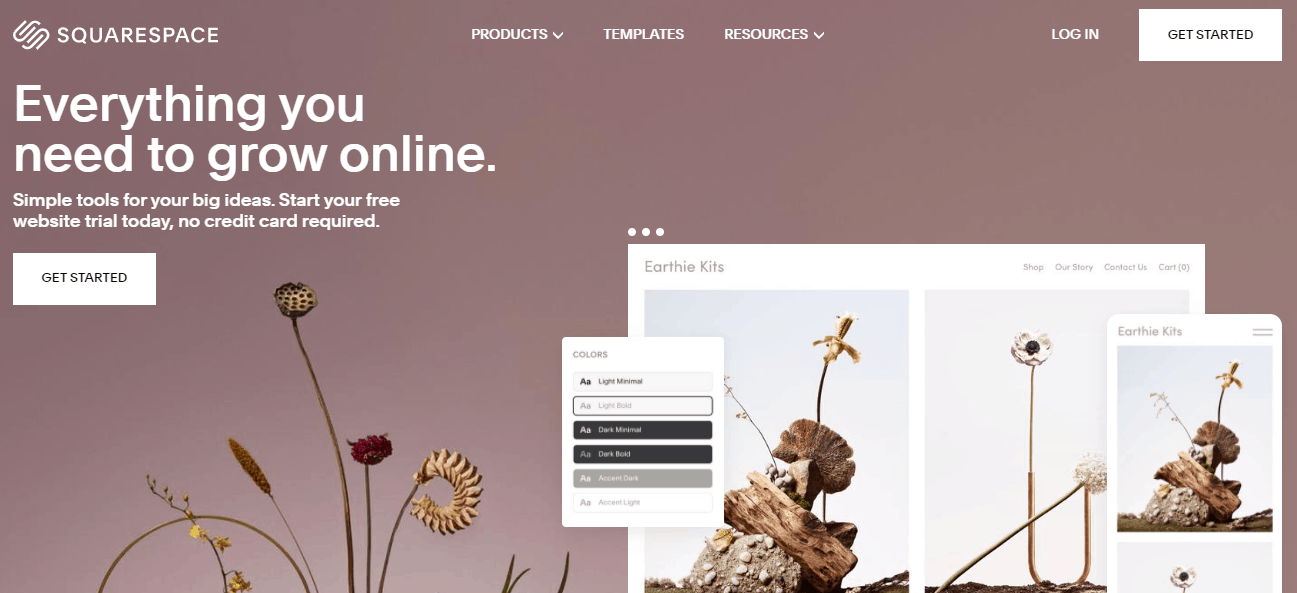 Squarespace is not self-hosted but includes the cost of hosting in the monthly bundle price. Expect to pay extra for additional Squarespace features because their basic plan is far less flexible than WordPress's.
The limited choices of Squarespace make it very easy to navigate and use. You can add videos, images, and files to pages with its drag-and-drop feature, but it is not as intuitive as WordPress. The design templates allow you to build a beautiful website, but customizing a template requires JSON and CSS knowledge. Flexibility is limited because you can only use the features and plugins that are built into Squarespace.
If your website is e-commerce first, then Squarespace is not ideal because it restricts you to products in a single space. Unlike with WordPress, you also can't create a secure membership website.
Your website's security is taken care of because Squarespace is an all-in-one platform.
Comparing WordPress to Shopify

Shopify has the most advanced e-commerce features and a user-friendly drag-and-drop system for designing websites. Its features include abandoned cart recovery, inventory management, discount codes, and security. Some of its advanced services are charged extra.
Tons of professionally developed themes are available, and these can be customized. However, major modifications need someone who knows Liquid, the name of Shopify's unique coding language.
Final word
Build a website with some of the best tools on offer today. Whether you own a small local business or a large brand, there is a suitable website builder that can meet your needs. The above website builders can also be used if you want a portfolio, blogging, or e-commerce website.

Latest posts by Editorial Staff
(see all)
Where Should We Send

Your WordPress Deals & Discounts?
Subscribe to Our Newsletter and Get Your First Deal Delivered Instant to Your Email Inbox.
Thank you for subscribing.
Something went wrong.