In our days it is very accepted and advisable to demonstrate one's stores online. The modern high technological world provides us with unlimited opportunities and makes our life easier. So for most people, it is easier to do shopping over online stores, because on that way we save our time. After creating your own online store, you will also need to develop it, presenting it to your visitors in original, attractive and particular way. So after creating your website's content, you need to think about the attractiveness of yours website as well.
In my opinion, in order to make one's website more eye-catching, various types of popups are one of the best solutions. For example, if you have limited offers for your consumers on your online store, through the popups you will have a lucky chance to show the release date of offers expiring. Or if you have prepared various types of sales, popups can help you to blow the visitor's attention to your sales offer.
When searching a plugin for making popups, you will surely find a great number of articles related to various popup plugins. What about me, I have chosen for my page the Popup Builder plugin, which offers numerous types of popups full of useful options, that are relevant for any type of web page. This plugin's popups are unique and are pretty easy to create, which in my opinion is very important, as you don't need to be a computer geek in order to create popups.
When choosing an appropriate plugin, one need to consider it's creativeness, as well as it should be attractive and very well systematized. So, I'll try to discover for you this plugin's powerful sides and why I've chosen right this plugin for my online store page.
Essential features of the Popup Builder plugin
The simple way of using is one of the advantages of the plugin. You don't need to be an expert for creating popups, and in addition, it takes only 5 minutes. So you will not spend a lot of time and effort to create it.
There are no difficulties during the installation, as it is quite easy and takes only a few seconds and clicks
The plugin gives a chance to create countless popups according to your need. So don't worry about the number of popups, chose as many popups as you want.
You will be enabled to make a choice among a number of alluring themes when creating popups for your web page. You can also choose in what effect a popup appears: shaking, flipping, bouncing and so on.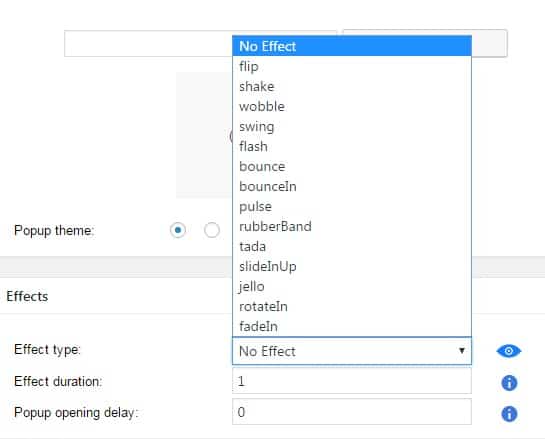 One popup can appear on the same page for several times if you need. So you can choose the frequency of their appearance without any problem.
There are also pro versions among the popups, but the prices are so affordable that you don't need to worry about them.
The next important advantage is the full responsiveness. So due to the very well designed pixel, your customers won't have any problem when visiting your web page.
General Options of the Plugin
One of the most effective sides of the Popup Builder plugin is its general options. Each type of popup, about which I'll speak a bit later, has its useful options, with which you can play after choosing the appropriate type fitting to your web page. Most of the popups open spontaneously, featuring as the best way to blow the attention of your site guests. Apart from this, the plugin gives a freedom to its users to select their desired color for the overlay and background, and change the size and location of the popup as well. You can also make a choice to show the "close" button or not.
Advanced Options of the Plugin
It is noteworthy that the plugin's popup are supplied with a number of advanced options among which you can make effective choices. For example, you can choose the time of popups appearing: while scrolling or after inactivity. You can also give a date range to the popup, which is a pretty effective option. Through this type of options, the popups closing can be disabled, or it can be automatically, according to your need.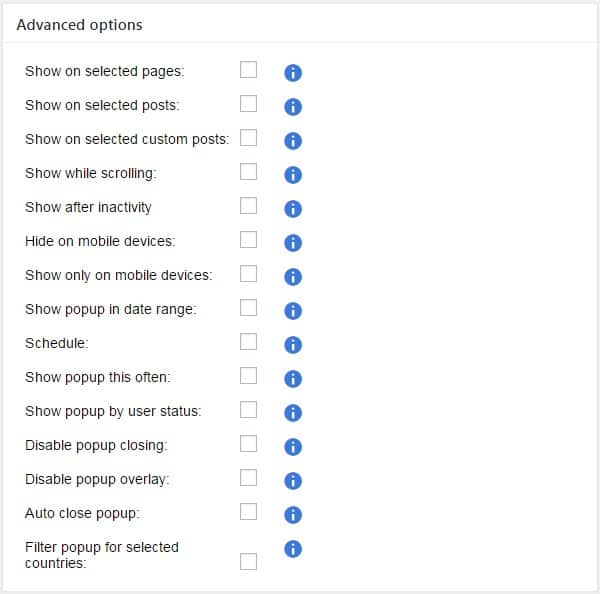 Types of Popups
Now I would like to introduce the other strength side of this plugin, which are the various types of popups with various functions and goals. Among the offered types you just need to choose the appropriate one for your site. As I've already mentioned all types have their options which give a chance to the plugin users to fit the chosen popup to their taste and website as well. With the plugin enables us to create good-looking popups with Images, HTML codes, Facebook's links, Shortcodes, Iframes, Videos, Socials, Subscriptions and so on.
As for me, I have chosen several types for my website, such as Image Popup, Contact Popup, and CountDown Popup. This types just reacted for those, who have pages of an online store.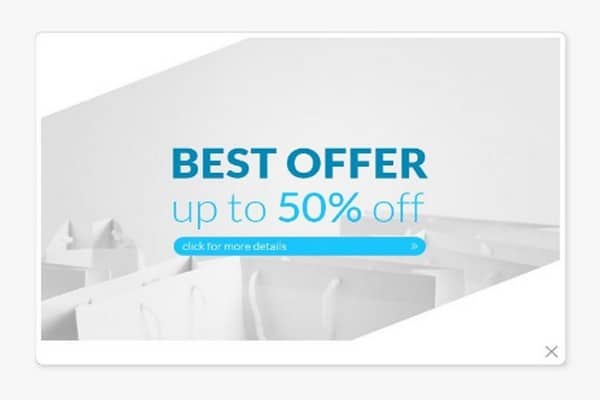 With this screenshot above I present to your attention an example of Image Popup, which I've created for my page. This type is proper for those, who want to represent something with the help of images. In order to create this type of popup you just need to choose an image and play with the rest of options, such as select a theme, color, size, etc, for your popup.
In order to be closer to my visitors and let them contact with me easier, I've created the Contact Popup, which is one of the best solutions for my page, that allows my page guests to communicate with me writing messages directly through the popup. When creating this pop-up, you can change the boxes of the text, choose what boxes the customers should fill. You can choose with which effects the popup will appear on the page, and give to the boxes beautiful colors, making them more eye-catching.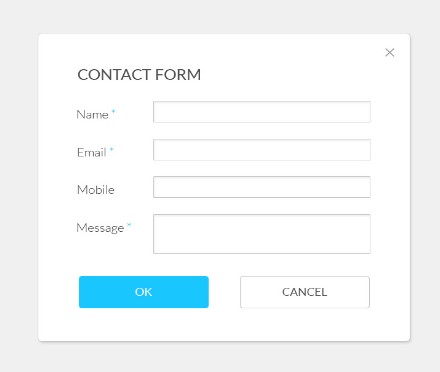 According to my choice, the visitors of my page can fill their name, email, number and message as well. I've chosen the blue for the button color, as it is more fitting to my online store's design.
The next interesting type that I've chosen is CountDown Popup. For example, if you have restricted offers for your customers, with the help of this popup you can show the deadline of the offers. In order to create this type you just have to appoint the date, hour, minute and second of the deadline. After doing all this, you just need to play with general options. In this type, you also need to choose time zone and language.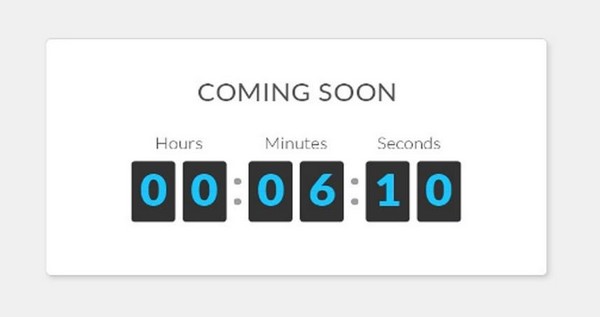 Besides this types, that I've mentioned, this plugin offers other attractive popups, which surely will interest you and will become successful instruments for making your page more viable and more social. All the types are good marketing tools. You can also create your own popup types, such as Video popup, Subscription Popup, Social Popup, Iframe, Shortcode and HTML popups, Restriction popup and many many other popups according to your page's need.
Now, when all the features and benefits of this plugin are mentioned, it is your turn to create amazing popups of your own with the Popup Builder plugin and have fun when creating. Be unique in what you do.

Latest posts by Anna Gasparyan
(see all)
Where Should We Send

Your WordPress Deals & Discounts?
Subscribe to Our Newsletter and Get Your First Deal Delivered Instant to Your Email Inbox.
Thank you for subscribing.
Something went wrong.