We all know that blogs are a great way to showcase images, but if your focus is photography, you'll probably need a bit more heft than is provided by a basic WordPress theme (even if they're super cool like Phlox). And that means using the magic of WordPress plugins.
Searching through the myriads of plugins, looking at the demos, and trying them each out can take a lot of time. So we've done some of the legwork for you. The plugins below are great for beginners but also work great for pros.
Creating an Image Gallery
One of the first things you'll need is some way to showcase your photos. There are few different ways to do this, but most include creating a gallery of some sort (or more than one). This can be done using the default WordPress media library, but that's neither the most efficient nor the most effective way to go about it.
That's why there are gallery plug-ins. There are many to choose from, both free and premium, but for beginners and pros alike, we suggest the Envira Gallery plugin.

Envira Gallery comes in both free and premium versions and varies depending on the number of features you're looking for. It works with both images and video, uses drag-and-drop, and is super SEO friendly. The free version comes with lightboxes (popups that feature your photos) and lazy loading (to speed up the rate at which your pages load).
The premium version comes with everything from watermarking and social media buttons to e-commerce integration. It's a plugin that can go as far as you need to go with your photos. Besides, it also has a ton of support and development happening around it—it indeed won't be becoming obsolete any time soon.
Price: The premium versions are from $29 – $299, but you can get just about everything they offer for $99. (The $299 is for developers.)
Catching the Eye with Sliders
If you're not really into going gallery style or would like a bit of variety on your site, then sliders are a great option. Sliders (automatically moving slideshows placed at the top of a page) are the bread and butter or portfolio sites and when used well can augment your site's appeal.
WordPress has many slider plugins to choose from, but our favorite is Soliloquy.

Soliloquy is one of the most accessible slider plugins to use and lets you and embed beautiful slideshows anywhere on your blog you want without having to touch a line of code. It was designed with beginners in mind, and you don't need to have any backend experience to use it.
It comes with templates, drag-and-drop functionality, and a full-screen lightbox mode.
Price: From $19 – $299, but you can get just about everything they offer for $99. The $299 is for developers. Beginners should start with the $19.
Keep your Site Load Time Down
We all know that the best photos are the largest and most detailed-filled, but that doesn't fly when making an image-heavy photography blog. Load times are particularly important these days, and even Google's starting to consider them in its ranking system.
So while you can (and should!) optimize all your photos for the web, if you don't want to manage the size before uploading, using a plugin to compress your images will make a huge difference. Our choice? Imsanity.

It's super simple and super fast—just let Imsanity know the maximum size you'd like the photos to be and anytime you upload one larger, it will instantly compress it to the size you specified. You'll never have to think about it again. For images already uploaded, it has a bulk re-size feature. Simple and painless.
Since most of us don't need high-res images in our blogs, it's worth a go.  What's more—it's free.
Protecting Your Images with Watermarks
Watermarks help protect your images against theft, and if you don't want to go through the work of adding them yourself, you'll want something that will do it for you in WordPress. You can get this in a premium version of the Envira Gallery.
But if you go with the free version or some other gallery plugin, you'll need something that stands on its own. That's where Image Watermark comes in.

Image Watermark is a free plugin that allows you to watermark all your images effortlessly. You can use either their default watermark or upload one of your own, and then choose the positioning, level of transparency, size and much more. It also allows you to disable right-clicks on images. It's all around excellent.
Creating a Story
If you're the type of blogger who wants to have stories accompany your photos, then you may want to consider Storyform.

The Storyform plugin allows you to arrange your text and images in a way that creates a beautiful, magazine-style layout. It uses full-screen, responsive pages that flip horizontally, and allows for multi-column articles and even animation. You can selectively choose which posts to apply Storyform to.
So some pages can be in gallery form and others in photo-essay form. If you're a storyteller, you'll want to take a look at this plugin.
Price: Free (Donations accepted)
Image Sharing Plugins—Your Ticket to Social Media Ease
If broadband, social media sharing is particularly important in your work (and you didn't invest in Envira). You might want to look at getting a standalone plugin for linking up your images with the top sites. We think Easy Social Share Buttons is an excellent place to start.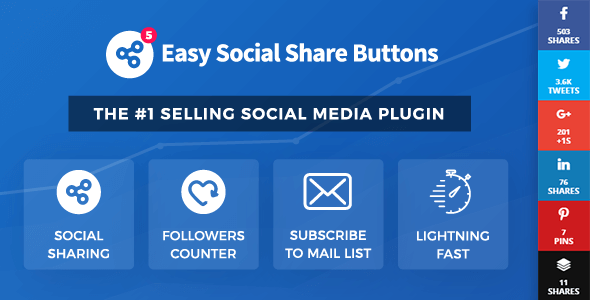 Though not free, Easy Social Share Buttons links you to more than 45 major social networks. It comes with over 50 templates. A vast selection of options as to where to place the buttons, and even includes animations. It's hands down one of the best social sharing plugins out there. And the price isn't so bad either.
Modula – A Really Easy-to-Use and Lightweight WordPress Gallery Plugin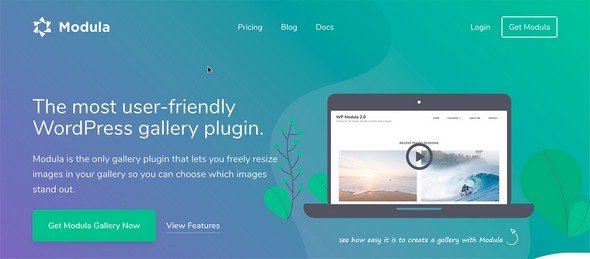 Modula is a powerful and user-friendly WordPress image gallery plugin. It gives you a wide range of flexible customization options so you can easily tweak your gallery to your liking. Unlike other available gallery plugins, with the Modula custom grid functionality, you can freely resize images within your gallery's container, even controlling their heights, widths and aspect ratio.
And, best of all, it's straightforward – all you need to do is switch a gallery from 'creative gallery' to 'custom grid' and start resizing and changing the dimensions of your images by clicking and dragging from the bottom right-hand corners of the photos in your gallery.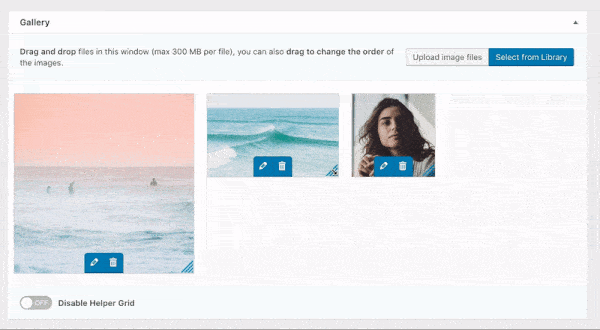 You're also additionally able to select from a whole range of built-in lightbox styles and hover effects to ensure your gallery adopts the look of the rest of your website. For more advanced users, Modula has an advanced customizations section wherein it is possible for users to add both javascript and CSS that can be applied to galleries separately.
Matched with their well-written documentation, they've created what we believe to be a genuinely wonderful user experience.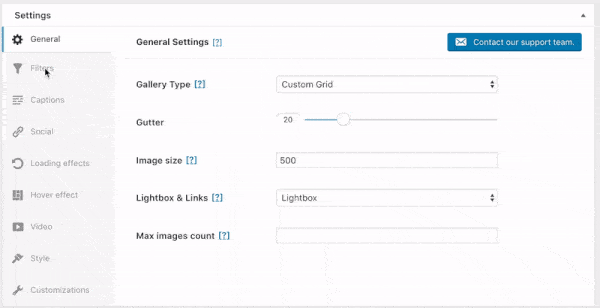 Modula is almost incomparable to other gallery plugins when it comes to customization and power. They offer an unparalleled amount of flexibility that we haven't found to be available in any other gallery plugins; it's straightforward to see why Modula is an absolute must-have on any list of WordPress plugins.
Notable Modula features:
The Modula WordPress gallery plugin is freely available on the WordPress.org plugin repository here, however, for those of you who are more serious about their gallery creation, want to add as many photos as their heart desires, sort images with filters, use 12 hover effects, and 6 lightbox styles- Modula's plans start at $29.
In Conclusion
There are undoubtedly other plugins out there, but unless you have a ton of time. It's best to start with trying out just a few. If you already use editing programs like Lightroom or Luminar, you can avoid the need for some of the other photo-related plugins (i.e., the ones providing filters).
Also, there are other plugins that help with SEO, spam, and other site functionality features. But for the photography blog part of things, these six plugins are a great starting point.
Latest posts by Max Therry
(see all)
Where Should We Send

Your WordPress Deals & Discounts?
Subscribe to Our Newsletter and Get Your First Deal Delivered Instant to Your Email Inbox.
Thank you for subscribing.
Something went wrong.