When it comes to showing a location on the map, Google Maps is the option most of the bloggers go for. And when you power up your blog with WordPress, it would be crazy not to use a plugin that's been built for that role.
It's been a while since we talked you through Google Maps Widget. We described it as one of the fastest Google Maps plugins for WordPress, and that hasn't changed. In the meantime, the plugin has evolved and became much better.
Google Maps Widget Plugin Pro Has Evolved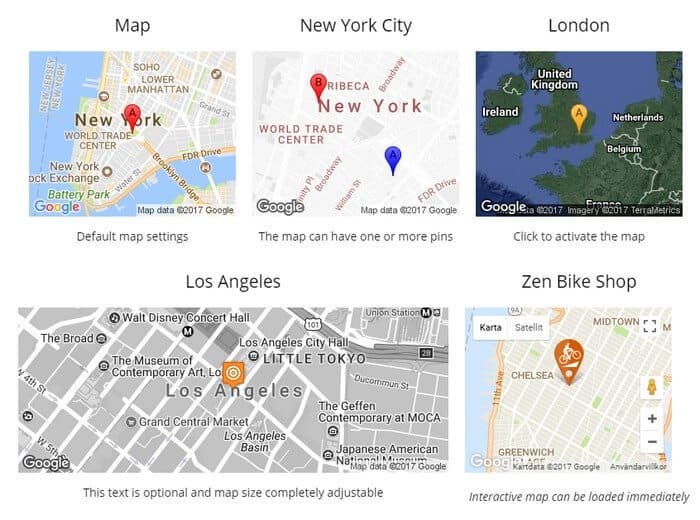 Since we have described Google Maps Widget Plugin in detail, today we would like to focus on the new update that's rolled out for the premium users. It's been a huge one since the users have got the chance to use a few new awesome features. Let us show you the new features.
Clustering
Google Maps Widget PRO supports multiple pins. To be more precise, it is possible to pin the unlimited number of locations and show it on the interactive map. As from now, those pins can be grouped together in order to create a much more organized map that your visitors will love!
By selecting the option, Google Maps Widget will automatically group the pins that are close to each other. There are three levels you can choose from, so depending on the option you set, pins will ungroup on different levels of zoom.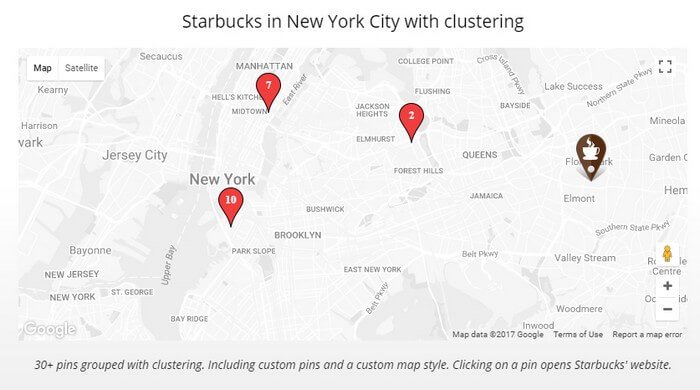 We've tested the feature, and it looks just amazing. Take a look at the screenshot, and you definitely shouldn't miss on the Starbucks example. What do you think?
Custom Color Styles
So far, it was possible to select one of the several color schemes that came preinstalled with the plugin. The new update changes the entire thing – you can now enter your own style and customize each and every color on the map!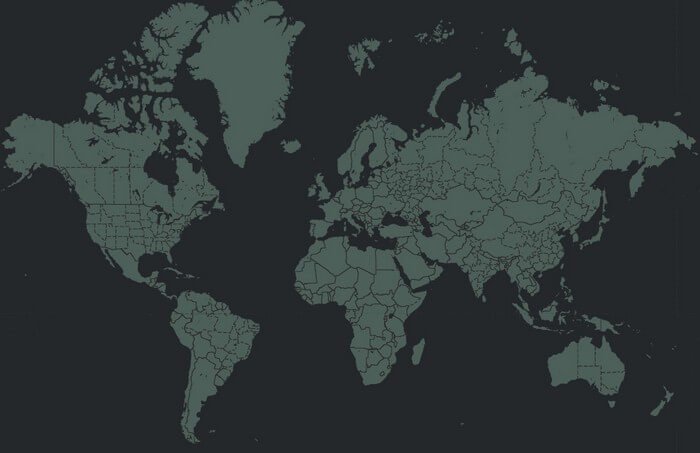 The plugin now supports styles from Snazzy Maps, and actually, any other map builder as long as the results are in JavaScript Style Array format. So, you can easily have the Assassin's Creed IV style map on your WordPress site.
Whether you are going to use online builder that feature neat graphical user interfaces or you actually know how to change the code to get the colors you want, you will love the new feature
Open Url Directly from the Pin
Each pin can now have an URL associated with it. Instead of linking from the description, it is now possible to click on the pin to follow an internal or external link. It might not sound like a big deal, but this is something many users wanted, and the developers granted their wish.
New Pins
Because using just the standard pins from Google would be boring, Google Maps Widget Plugin allows everyone to use custom pins. It's possible to colorize those standard ones, and even upload your own images that will serve as pins.
Now, the developers have added more than 200 new pins which bring the custom pins library to more than 1500 pieces on the shelf. Among those, you'll find pins for any business, location, and anything else that comes to your mind (there's even an alien pin).
Fixed Bugs
Updates can't go without fixing bugs. So, of course, the new Google Maps Widget Plugin has fewer bugs than ever, but we won't go into details – technicalities are kinda boring, don't you agree?
See Why Google Maps Widget Is Better Than Other Plugins
Summing Up
If you ever developed the need for having a Google Map on your WordPress site, Google Maps Widget is the plugin you have to check out.
The guys at Web Factory are currently running a giveaway on their blog, and one of the amazing prizes is the Google Maps Widget PRO Unlimited Agency license worth $99, so test your luck and you might end up having the plugin for free. Good luck!
Have you tried Google Maps Widget? How do you like the plugin? We would love to hear all about it in the comments below!
Latest posts by Ivan Jurisic
(see all)
Where Should We Send

Your WordPress Deals & Discounts?
Subscribe to Our Newsletter and Get Your First Deal Delivered Instant to Your Email Inbox.
Thank you for subscribing.
Something went wrong.