Streaming as a medium has exploded in the past couple of years. We've all heard about Netflix as a prime example of a subscription-based service, or Twitch as a platform that hosts third-party streamers covering a wide range of topics. So it's no surprise then that we're seeing more and more sites embracing streaming and building their whole premise around it.
Rather than opting for being hosted on a larger platform where there is a real chance your channel could get buried in the sheer number of available options. Creating a site where you'll be publishing your own videos will ensure the attention is solely on you and over time, once your audience grows, it might prove to be even more beneficial than using a conventional platform.
Now there certainly are numerous ways you can go about setting up a site of this sort, and in this article, we'll show you one way that we think is simple enough to use and provides you with everything you'll need in your endeavor.
Without further ado, we would like to welcome you to the WpStream review, where we'll take a deep dive into all the plugin's features and by the end of which you'll hopefully be persuaded to give this amazing plugin a shot.
WordPress based streaming made easy
To start of it's worth mentioning that, as its name suggests, WpStream is a plugin designed to work with WordPress. This shouldn't be a surprise since it is the most commonly used site development and management platform out there. Other than WordPress you'll need a couple of other things to use all features available, but we'll get to that.

To start everything off, you will need to do is install and activate the plugin like you would any other, and then connect the plugin to the service provider using the allocated login data.
Of course, you'll need to be already registered on their site in order to make this happen. Once you are connected it's time to set up your first channel. Believe it or not, it works very similarly to publishing any other content such as a new post or page.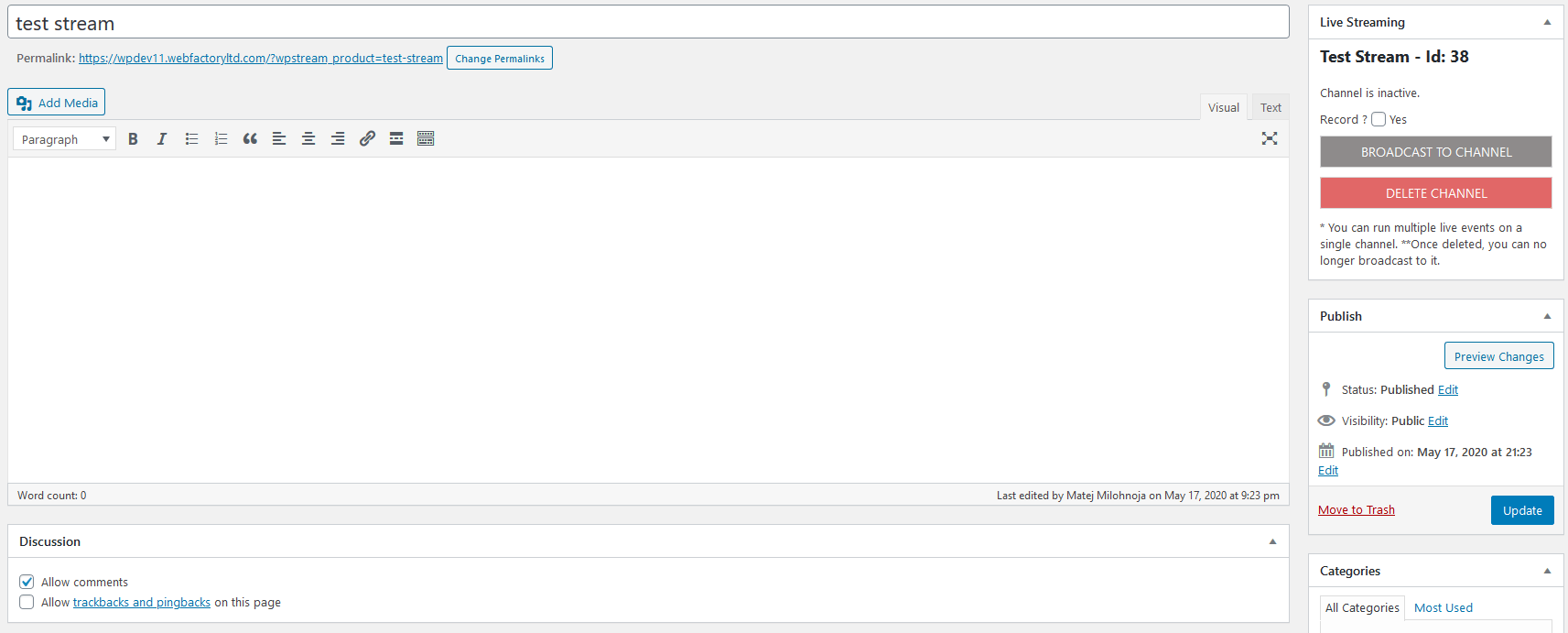 Next, you'll have to insert a name for your channel and then add the optional things such as a featured image, tags, a category, etc. – it's all rather straightforward.
Once you're done with all the essential data and have published the channel, you can then start broadcasting right from that page or you can go back to where you connected the plugin to the service. At this point, you should be able to see all the channels you have created and from there you can start a broadcast from any of them.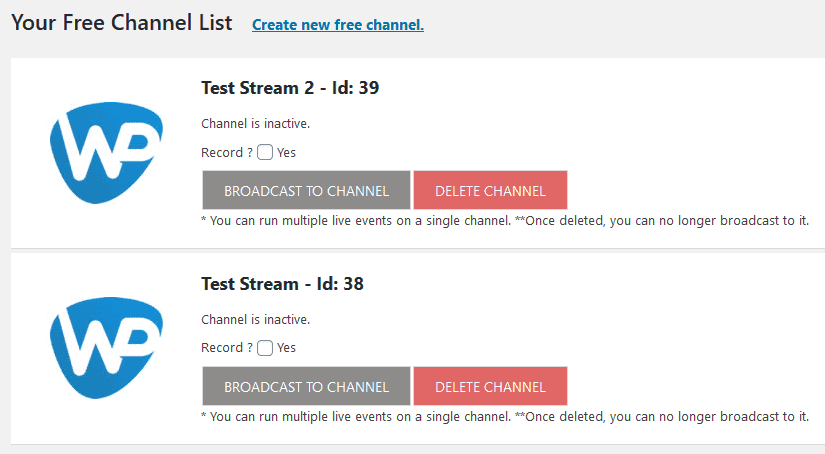 When broadcasting you will be able to choose whether to record the broadcast or not. Depending on your subscription plan you'll have a certain amount of storage allocated to you for recording and/or saving your videos (this will be explained more in detail in the payment section of this article) so be mindful when choosing when and what to record. Aside from that, the only other option you have here is to delete the channel.
Finally, it's time to broadcast. If you want to broadcast directly through the browser, you'll need to be using Google Chrome, since it's the only supported browser at the time this article was written. Alternatively, you can choose to broadcast through 3rd party software like – OBS Studio software. If you choose this option, there'll be a simple guide that will explain how to connect your broadcast to the software.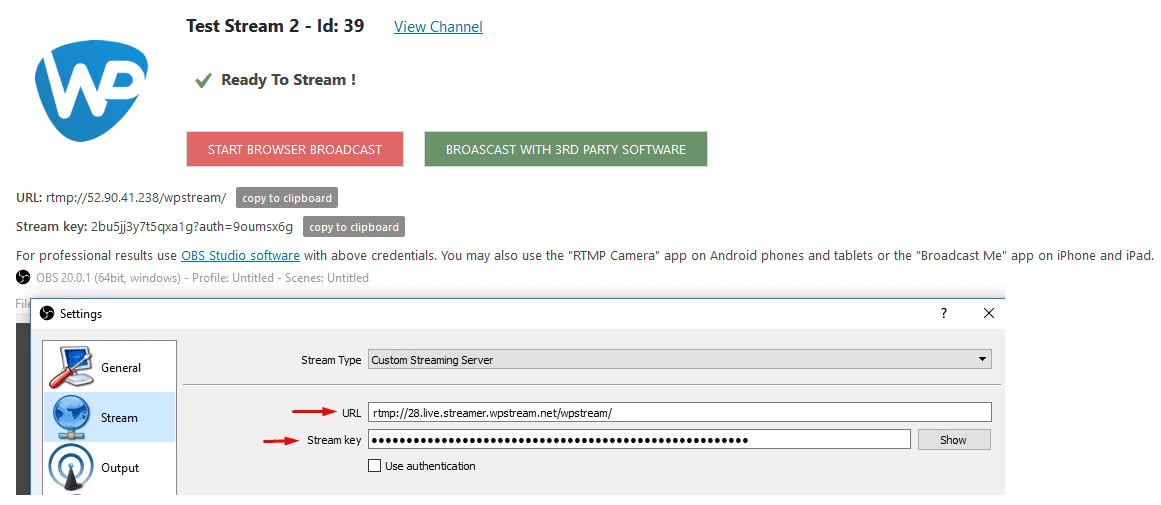 Once you have decided on an option, your broadcast is ready to start at a push of a button. When you start a broadcast, you will then be able to view it from the frontend just like your visitors would see it. That way you can adjust the video within the theme if needed. Furthermore, if you want to insert the video in any post, or page you've already created and published you can do so with a shortcode making the transfer seamless.
Monetizing your content
Sooner or later once you are up and running, you'll want to start making money directly off of the content you're publishing. There are two ways you can do this – through subscriptions or through pay-per-view. Both of these methods will require you to use an additional plugin – WooCommerce. With it your channels will be viewed as products and therefore you'll be able to sell them, instead of just publishing free content.
First, we will be covering the subscription method.
Subscription-based channels
Aside from the WooCommerce plugin, in order for you to have a subscription-based channel, you'll also need the WooCommerce Subscriptions extension. Once you have everything in place, you'll then be able to start charging a subscription for your broadcasts.

The process of creating channels now is a tad different. Like we've said now the channels will be seen as products, so you'll need to create them as such. If you've ever used WooCommerce you'll be familiar with the way this is done, but even if you haven't it's quite easy.
Simply go to the products tab and create a new one, give it a name and add any other element you wish, just as if you are creating a free channel (explanation already covered above).
The thing that makes it subscription-based is the product type i.e. simple subscription. After you have selected this be sure to fill out all the necessary fields, such as a subscription cost, length, free trial option, etc. Every element of the subscription is set here and because of the WooCommerce product designation, only subscribers will be able to access it.
With a subscription-based channel, you'll have all the same options that you get with a regular one, options like broadcasting through Chrome or a 3rd party software, and the option of deciding whether the broadcast is recorded or not.
One thing to keep in mind is that the recording option will now have an additional impact. When you offer a free stream, the recording of that stream is also free. Now that you're charging for a stream you will also get to decide if you'll offer recordings of the stream for free or if you'll make the content premium and offer it at a perhaps discounted price.
Usually, it's best to stay consistent. If you weren't charging in the beginning in order to build up an audience and now you suddenly do once you've reached your goal, you could risk losing that audience because you made them feel cheated.
A good rule of thumb would be that if you feel your content is relevant enough to garner subscriptions through just live broadcasts then keep the recordings free. On the other hand, if you think your content should be seen as premium, then you should charge for it from the beginning and stick to doing that. At the end of the day, you can always use various discounts to boost sales.
With subscriptions you need to be thinking long term, you're not selling singular products, you're selling a long-lasting service. That is why you will want all your customers to keep renewing their subscriptions. The only way to make that happen is to constantly be publishing quality content. Members that cancel subscriptions in most cases never come back so you need to keep that turnover down to a minimum.
Pay-Per-View Events
Creating Pay-Per-View events is done just like creating subscription channels. You'll first need to create a product through WooCommerce. However, this time, you won't be needing the Subscriptions extension.
The product type this time around is "Live Channel" and since it's a one-time paying product, there are fewer parameters for you to set up, namely just the standard and discount prices (with scheduling).
Once you've set everything up it's time to broadcast. You can run the broadcast directly from the product page or alternatively from the WpStream Pay-Per-View channel gallery, using the Chrome browser, or the already-mentioned 3rd party software.
Either way, you can, again, choose to record the stream for future monetization (regularly priced, or discounted), or offer it for free. The broadcast will be available for purchase to anyone that visits your online shop.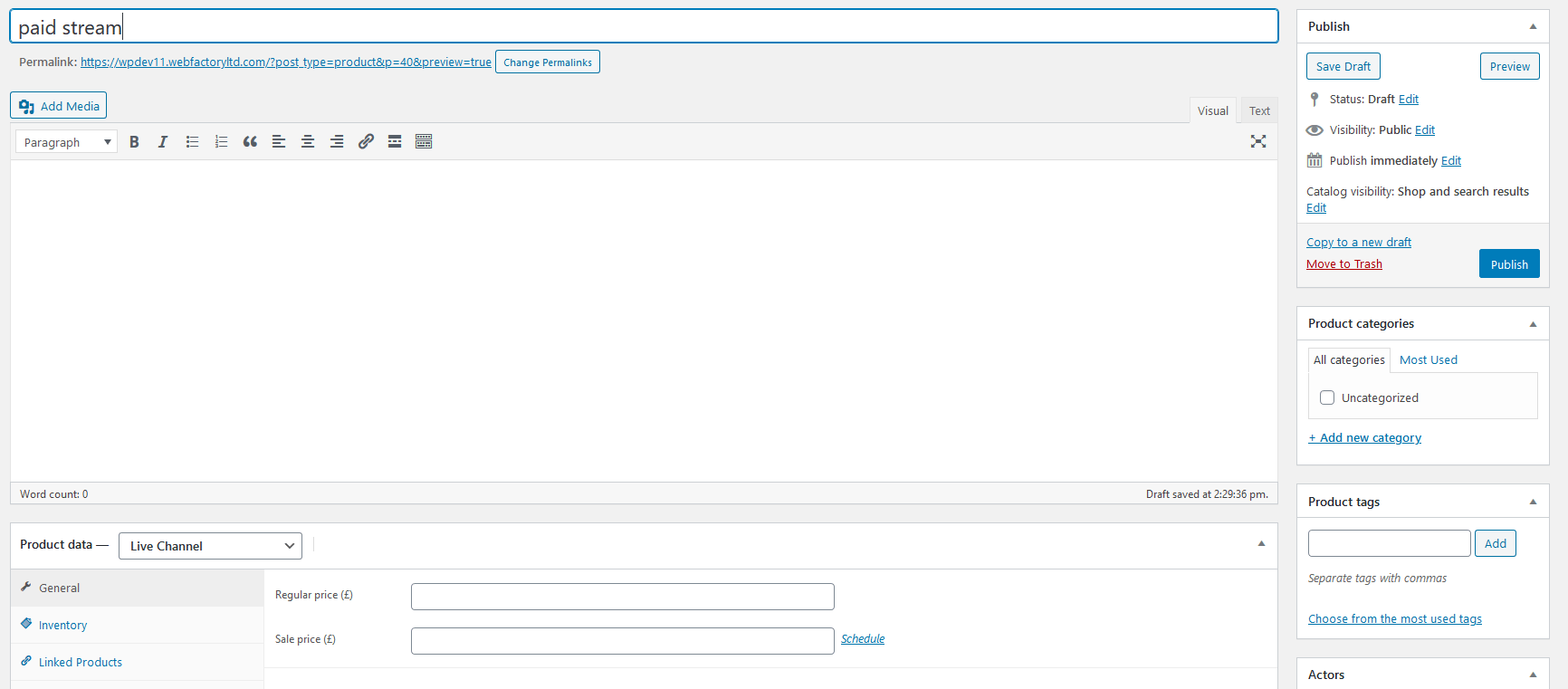 It's a good idea to offer discount prices to those that buy events long before they air (be sure to make this abundantly clear and visible to everyone) with the prices going up as you near the air date. This is a usual practice through which you reward those that pledge their money before everybody else and it can be a great strategy for improving the stream in case your budget increases beyond your original plans.
Also, don't be afraid to take advantage of timed discounts. Once people find out that you're giving them away at regular intervals they'll then come back to check every once in a while, to see if anything is available and will, in turn, give your site much-needed traffic. Just think about how many times you were browsing aimlessly and then purchased something simply because it was a deal too good to pass on.
Building a steady following is very important for subscription-based services because in order for them to succeed they need to attract members for the long haul. Selling pay-per-view broadcasts is much more short-term because singular products are bought, prices are generally lower and there is much less commitment needed from potential customers.
We're not saying you should offer products of sub-par quality, but even if you don't meet the expectations once or twice, the newer things that you put out will be completely separate from that so you will have plenty of chances to make up for the few misses you made.
Pricing
WpStream offers a rather extensive free option. In it you will get access to all features that are available in the premium tiers, but with certain limitations. This will be a great way for you to see if this plugin is exactly what you are looking for.
Often, features are hidden behind paywalls so you can't get a real sense of what you'll be getting for your money. But WpStream won't do that, instead, they will limit your storage space and video quality but will allow you to fully experience everything the plugin can offer you.
One thing we do need to point out is that even though the free version encompasses all the features, it is only intended for testing. If you're looking to run a serious streaming site, you'll need to invest in one of the four premium tiers available: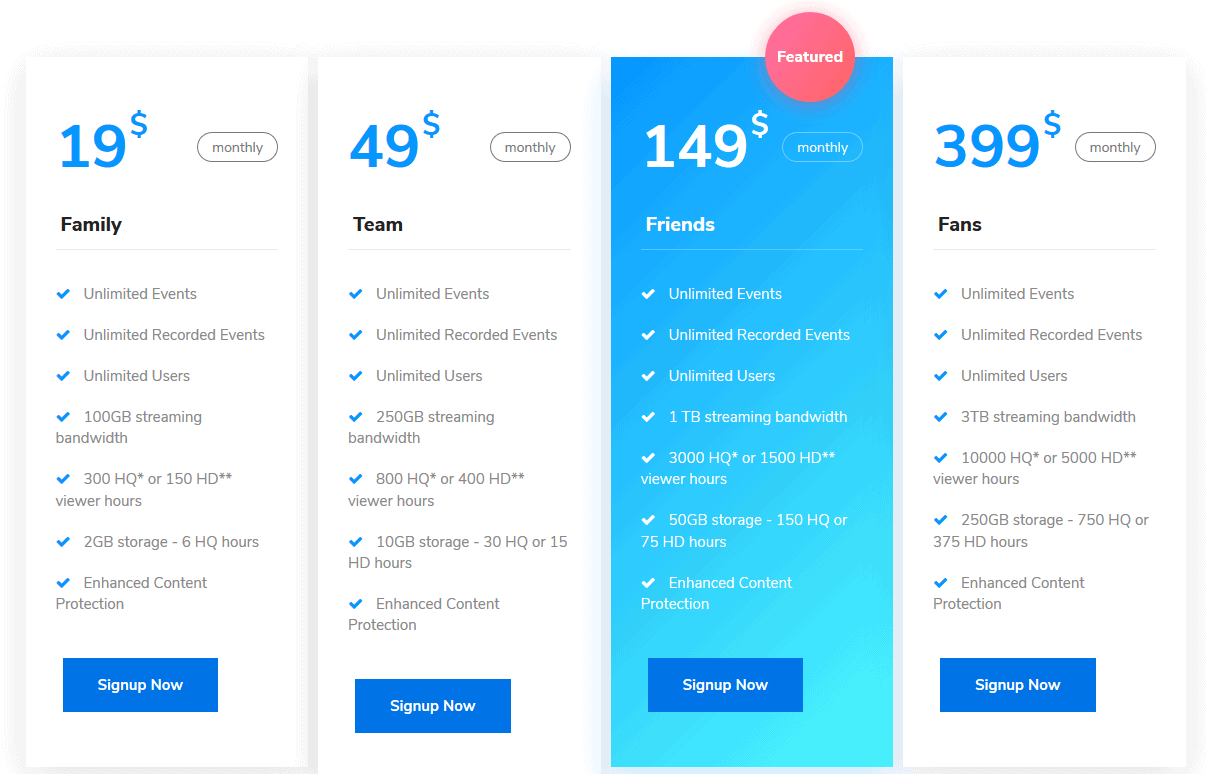 In case you're unsure which tier to go for can always start out small with the lowest one and then work your way up once you start publishing more content and garnering more revenue for yourself.
Another thing that should be addressed is the need for WooCommerce in order to monetize your whole business. This shouldn't be a problem availability-wise since WooCommerce is the most widespread webshop plugin out there, but there is the matter of it being an extra cost. Namely, although WooCommerce is free to an extent, there are advanced features that come only after you've become a paying user, features such as enabling subscriptions which is one of the core staples of WpStream.
Truth be told these aren't huge expenses that will eat up a significant portion of your budget, but since you will be dependent on the features that come after paying those expenses, we thought it would be wise for us to al least mention them.
In any case, be sure to check out the official pages for more info about premium tiers.
Final thoughts
WpStream is a plugin that will open a whole new market for you, a market that is rapidly expanding.
For a while now, there have been sites that provide similar services but everything has been kicked up a notch with the absolute explosion in popularity of Twitch. Who would have ever thought that a streamer like Ninja would be on the cover of magazines and committing to exclusively stream on a particular platform, all while getting the amounts of money that he is?
Our advice for you would be to get on the streaming bandwagon and ride it to glory while the demand for live content still growing. To help you do that we can't think of a solution better than WpStream.
Go on and check it out, we promise that you won't be disappointed!
Latest posts by Matej Milohnoja
(see all)
Where Should We Send

Your WordPress Deals & Discounts?
Subscribe to Our Newsletter and Get Your First Deal Delivered Instant to Your Email Inbox.
Thank you for subscribing.
Something went wrong.