No matter what kind of business you own, excellent customer service is one of the essential things. If your customer is in any shape or form experiencing troubles with your product, and can't reach you directly, then you will have a problem. The customer experience will be terrible, and we all know that you do not want that. We all want to provide our users with excellent products and excellent support for them!
Thus, numerous types of support systems have been created throughout the years, but one that stands out the most is the live chat option. That option has made clients feel seen and heard in the exact moment, and the customer experience drastically changed. Nobody likes to write an email and wait for 2-3 business days to get a mail-back.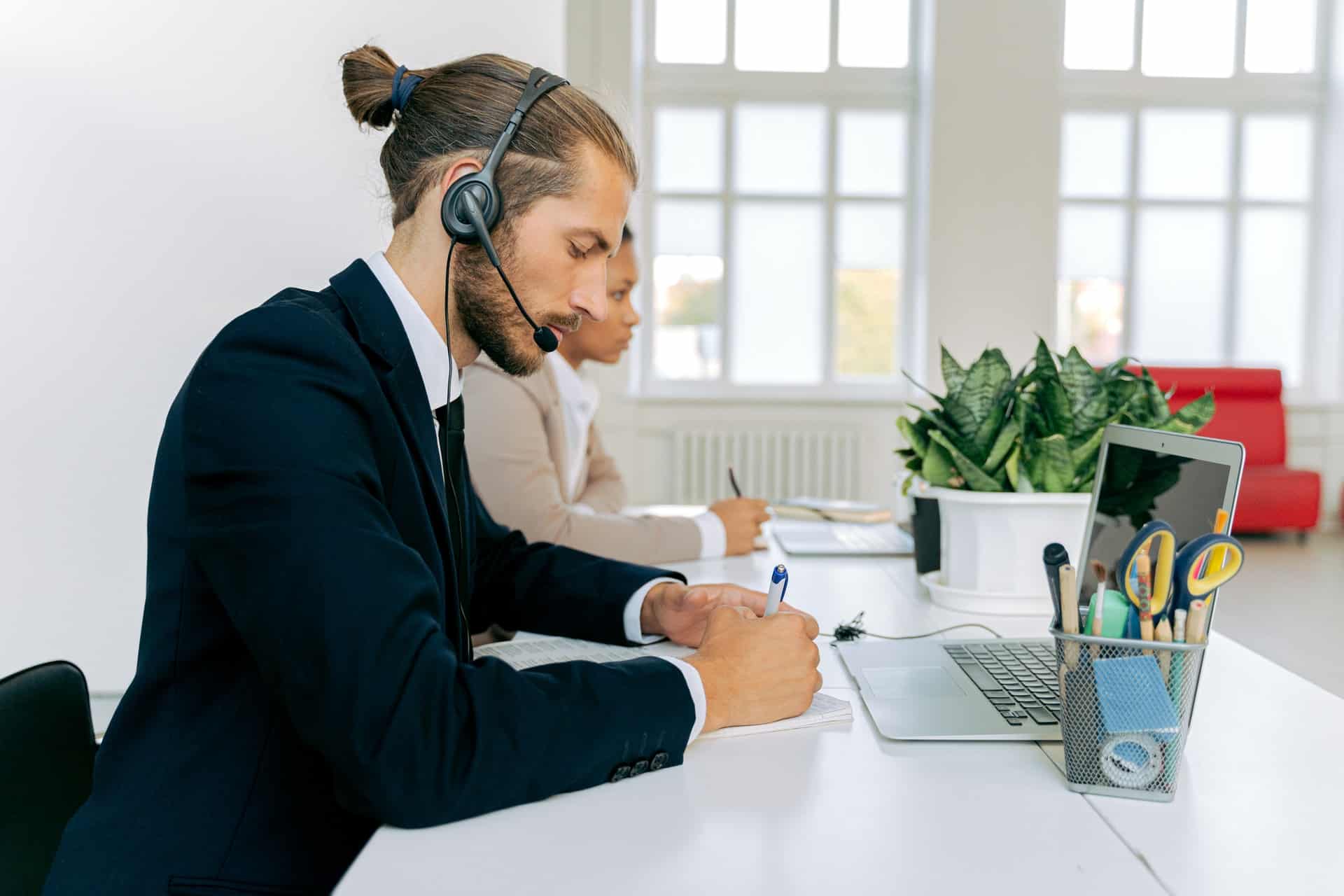 Now, millions of sites are using the live chat option to provide excellent support to their users. Which, in the end, gave them satisfied customers, new clients and uplifted their branding. The sites offering live support have put the bar so high that websites that don't have that are experiencing unsatisfied customers and angry emails.
People don't like the traditional way of communicating with companies, such as phone support or email.  And we all know why it is that. It is because live chat is quick, efficient, and is done in real-time, which is something everyone loves!
Moreover, we all wanted help the moment everything crumbled because being in limbo is frustrating and exhausting. Therefore, there are many plugins for WordPress that will give you the option to have a live chat, but one sticks out, and we are here to present it to you!
Without further ado, let's jump in and review the fantastic plugin by the name of 3CX Live Chat.
About 3CX Live Chat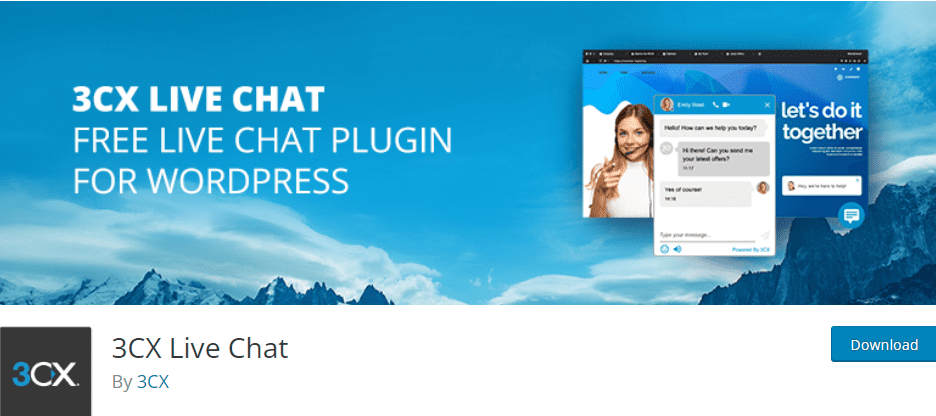 The handsome devil that will help you bring your customer support to the next level is the 3CX Live Chat. It is a WordPress plugin that allows you to have complete control over building your chat system. One of the fantastic things is that this plugin will allow you to support via phone calls and video chats.
So, if your customers want to describe the problem in the smallest detail live, they will have the option to video call or a regular call. This option is something that differents this plugin from the rest of their kind. However, it is no secret that it has many other vital features such as the offline messages having their storage system, you can add polls or surveys to the chatbox, and all talks are saved in a database.
It also gives a basic user interface to all its players, including salespeople, admins, and consumers, plus you can customize the chatbox however you want it to be. Besides, you can create as many agents as you want for handling phone calls or live chats. You can accept and decline conversations, and it supports animations.
Now, in this article, we will show you how to use this free live chat plugin so that you can start chatting with your customers with this 3CX Live chat and boost your customer support in no time!
Setting Up the Plugin
The first thing that you need to do is to go to your WordPress dashboard. After that, you need to go to the Plugins section and search for "3CX Live chat". Then, it is the same process as for any plugin, install it and activate it.
Select Channel
The first thing that you will stumble across after the activation is to select a channel. It is the crucial part of your decision-making, where you can choose between two options.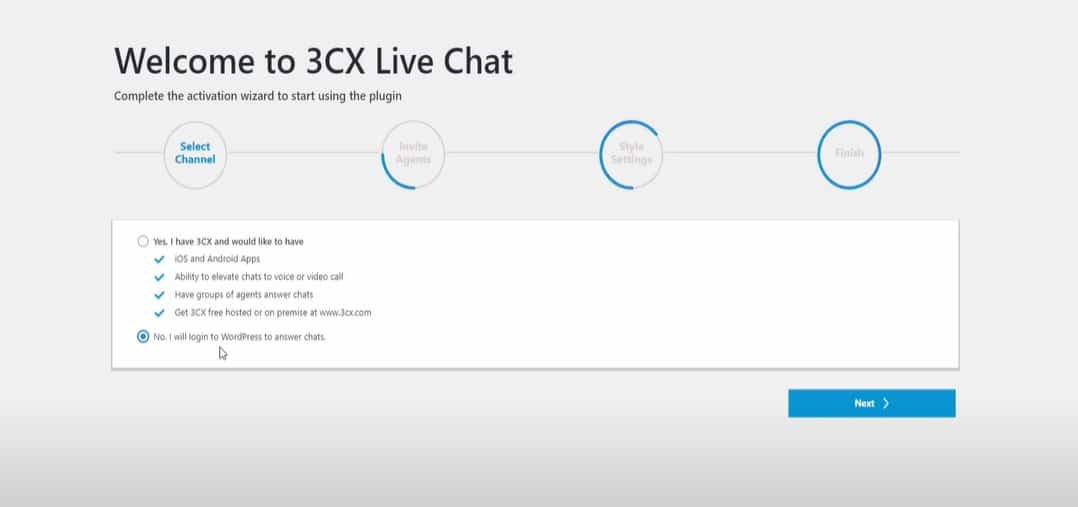 The first option is the 3CX service. With this option, you are allowed to transfer your live chats to a video call or a voice call. The live chat option and the phone and video options are free for the first year. 3CX will host your chat instead of you in this option and allow you to use the iOS and Android applications.
The second option that you can choose is your WordPress which means that you will be self-hosted. This option is also free for one year, but the setup is easy, and you will have it up and running with this option in 5 minutes.
Invite Agents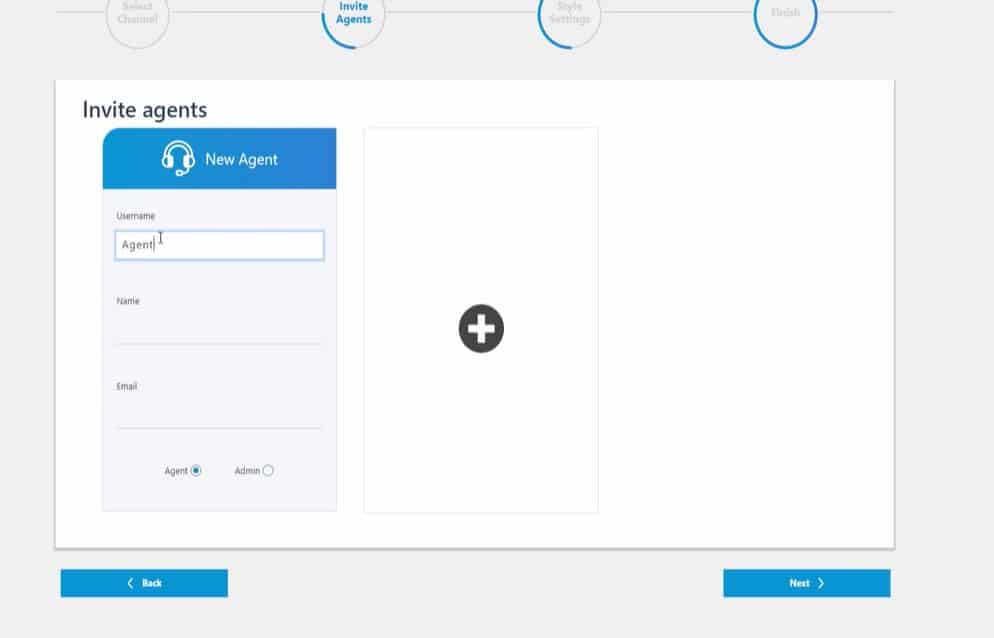 After you have chosen the most suitable option for you, you can start creating a new agent. It is a pretty simple process, where you set up a username, name, and email and choose between options of Agent and Admin. You can also add multiple agents all at the same place in just a few seconds.
Style Settings
Style setting is one of the things where you can have a lot of fun. Here, you will be able to customize the way you want your chat to look. You can go for the route to brand it as you brand your website and make it look like it was always supposed to be there.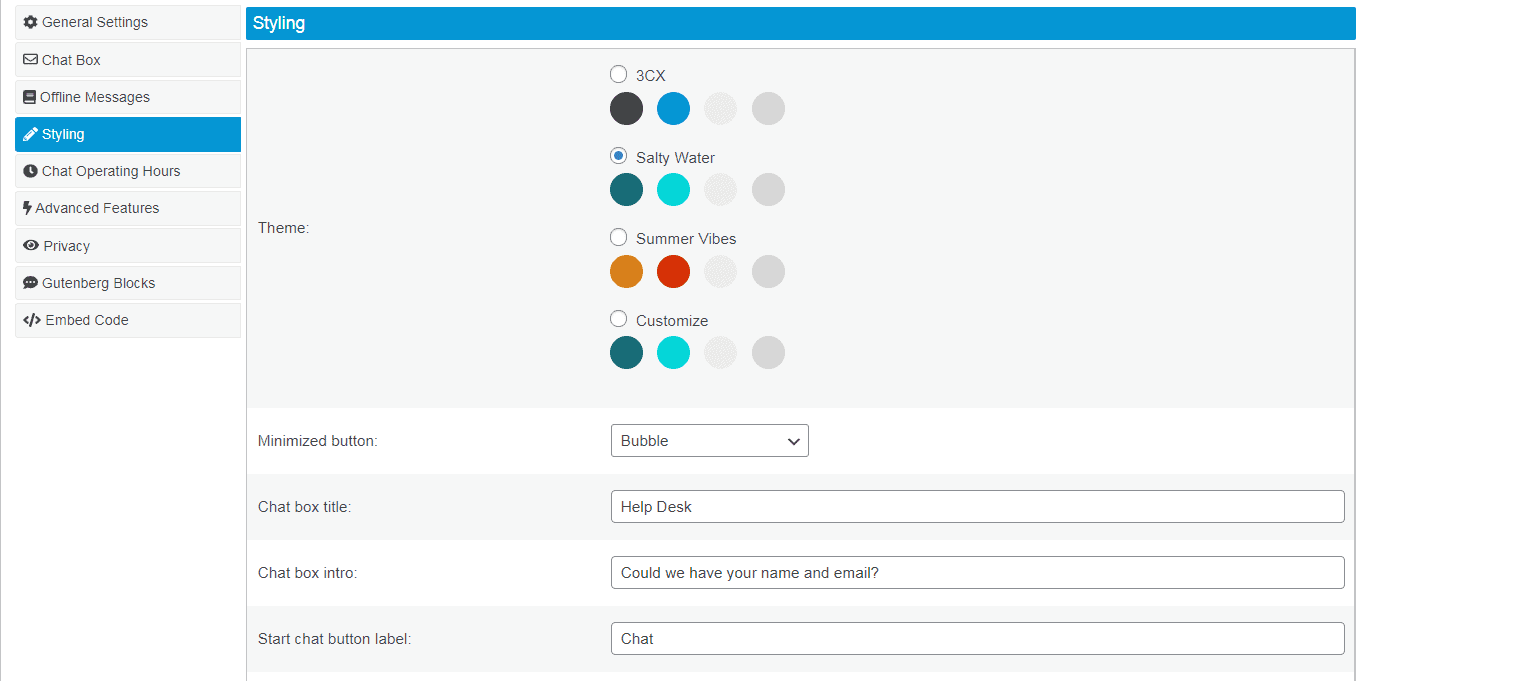 In addition, if you get bored or want to change it, you will always be able to do so. After setting up your 3CX account, you will need to connect it to the service by adding a URL that you can find in the 3CX cloud dashboard.
Advanced Options
After everything you have done and completed the setup procedure, you will be granted a more advanced options section by navigating to Live Chat Settings. Here you have a lot of helpful information that you can use to customize the live chat the way you want it to.
Some of the options that you can use are:
Disable live chat option on mobile devices
Chose the hours when the live chat is available
Enabling Google Analytics
Decide on which sites you want your chat icon to be visible
Allow disabling the live chat on specific sites
Offline message management
Adding GDPR compliance
If the customer is logged into WP, the live chat name and email are automatically filled
Show or hide "Powered by 3CX."
Chat Styling
If you want to style your chat additionally, you will have two options to do so: "Styling" and "ChatBox." In the ChatBox settings, you can fully customize your box, and it has a variety of options, from changing icons to positioning.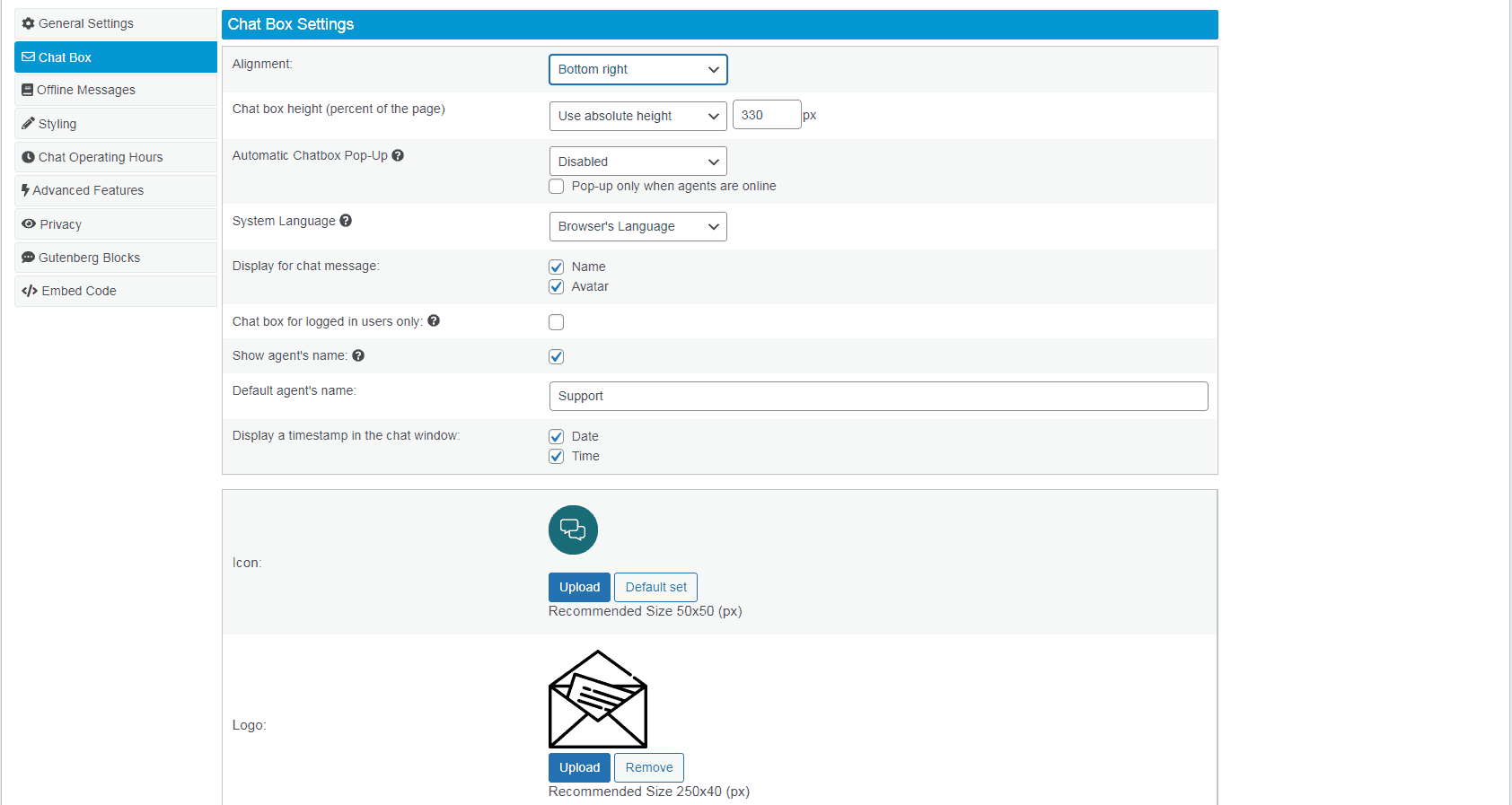 After that, you have the "Styling" option that will allow you to change up the chat box title, change colors, welcome message, and add the auto-response to the first message, etc.
If you look into the settings, you will find some other options such as:
Configure the new time when you are available
Enabling video and voice calls
The opportunity to allow Gutenberg blocks
Define the behavior of the chat when you are not online
Now, the chat should appear on your WordPress site. You should see it in the bottom right corner of your website.
Call and Video Options
To have this feature, you must configure it to have the option to transfer from a chat to a call (voice or video). The way to do that is through the settings that we went through earlier. But here is a reminder: Live chat -> Setting -> Advance features in your WP dashboard.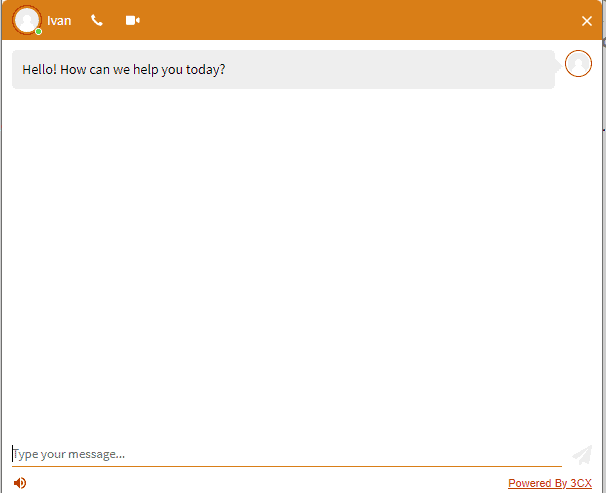 When you enable this option, during the chat with the agent, if the customers want to call you, they will have the option in the upper left corner. One of the great things is that you can connect this plugin right to your mobile phone. That way, you will be able to answer calls without having to spend all that time staring at your PC.
To do so, you need to go and download the mobile app by the name of 3CX. This app is available for iOS and Android as well, and you can get them if you click on these links right here for Android and here for iOS. After all the standard procedures of downloading the app on your phone and opening it, you will scan the WR code.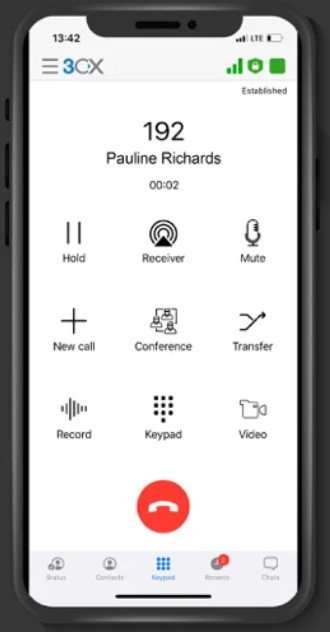 Then, you will get a welcome email from 3CX. The program will ensure that everything is working correctly by asking you to perform a test call.  If you can hear back what you are saying in the test call, then the app is working correctly, and you are ready to take the phone and video calls from your customers without a problem.
3CX Dashboard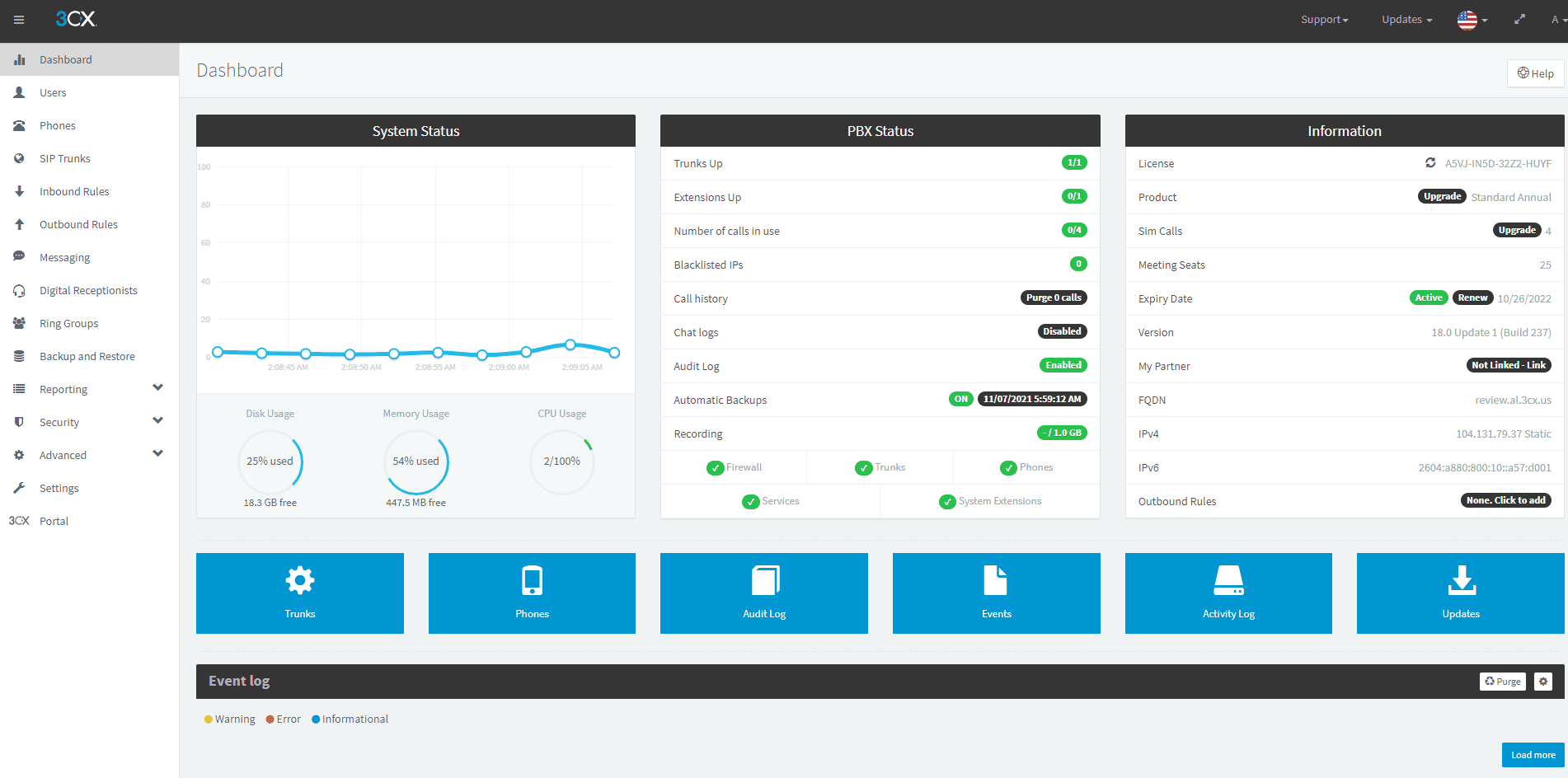 On this fancy dashboard, you will see all the essential statistics and details that you want. You can see how much disk memory you have used, CPU usage, your IP address, backup, and chat logs, call history, and similar things.
Nevertheless, there are some additional options such as:
To add new phones
To add new users
To add new groups
Backups and restores
Security options
Adding digital receptionists
Reporting
Pricing
This little fellow of a plugin is a freemium plugin with all the features we have listed in this article. If you go to their website, you will notice that the first year is free. If you are a new customer who just joined the free standard plan, you will get a year's worth of 3CX communication software plus hosting.
After the year has passed, you have the option to continue with 3CX's free Standard license. But, you can also upgrade to a premium license if you want to have the 3CX hosting or if you need more capacity for your calls. Also, if you are not interested in using their communications services(phone and video conversations), you can use their standalone plugin for free.
Final Words
To conclude this review of the 3CX Live Chat, we must say that this plugin is one of the most flexible live chat systems you can find on the internet. It gives you the option to host it on your own or on the cloud, which is impressive for a plugin of this capacity. Besides, it gives you many customization options and freedom to do with the design what you want.
On top of everything, the chance to transfer live chats to phone calls or video calls is simply perfect for any business. Every business should put its customers' needs first, and that's why providing it with a great deal of support is crucial. It will enhance customer experience and increase engagement, and to do that, the solution, for now, is a live chat that you can get from 3CX.
Latest posts by Asmir Karailo
(see all)
Where Should We Send

Your WordPress Deals & Discounts?
Subscribe to Our Newsletter and Get Your First Deal Delivered Instant to Your Email Inbox.
Thank you for subscribing.
Something went wrong.