Being the most used Content Management System (CMS) in the world, it's no surprise that it's a great target for hackers and criminal actors attempting to exploit vulnerabilities. The good news is that there are numerous WordPress security plugins available to assist you to fortify your website and prevent it from various forms of threats.
In this post, we will look at the top 5 security plugins for WordPress in 2023 to help you secure your website and keep it running smoothly. These plugins are ranked according to their features, performance, usability, and user reviews.
When it comes to WordPress security, here are some crucial points to consider:
Maintain WordPress, themes, and plugins: Updating your WordPress core, themes, and plugins regularly will help keep your website secure. Updates that address security issues are frequently released by developers, and failing to update can leave your website vulnerable.
Always use strong login credentials and avoid using common phrases or personal information. To develop and maintain complicated passwords, consider utilizing a password manager.
Install a security plugin: Security plugins like WP Login Lockdown, WP Force SSL, and Sucuri Security can help identify and prevent assaults on your website. These include firewalls, malware scans, and brute force security.
WP Login Lockdown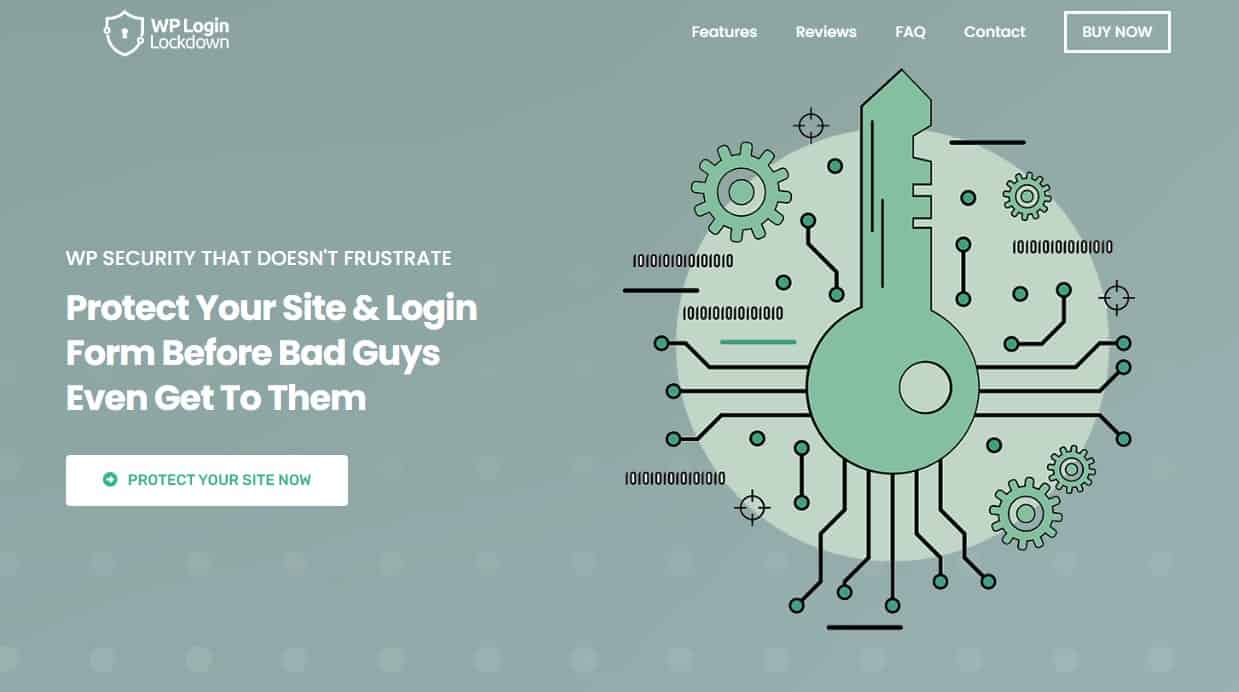 WP Login Lockdown is a WordPress plugin that is aimed to improve the security of the login process. The program includes several features that help to avoid brute-force assaults, login attempts, and unwanted access.
WP Login Lockdown's ability to block access to the login page based on an IP address or geographical location is one of its notable features. This implies that only authorized users will be able to access the login page, and any unauthorized attempts will be promptly blocked.
Furthermore, WP Login Lockdown has a function that limits the number of login attempts, making brute-force attacks more difficult. The plugin also tracks all login attempts, including failed attempts, and notifies the website administrator via email.
The configuration options of the plugin are simple to use and allow for the customization of numerous security settings. It also offers the ability to use two-factor authentication (2FA) and CAPTCHA to further increase login security.
WP Login Lockdown provides a free version with rudimentary security features. Users must, however, purchase the premium version, which is fairly priced, for enhanced security features such as IP limitation, country restriction, and automatic notifications.
Finally, WP Login Lockdown is a dependable plugin for securing WordPress websites' login pages. Its feature set offers a variety of options for safeguarding the login page and preventing unauthorized access.
These are some of the features offered by the plugin:
Options for customization: The plugin allows users to change the logo, background, and CSS styling of the login page. This allows website owners to keep their branding consistent while also improving the security of the login page.
WP Login Lockdown includes a user-friendly interface that makes it simple to configure and manage security settings. The dashboard of the plugin displays a summary of recent login attempts, including the user's IP address, location, and login status.
IP and country restriction: The IP and country restriction functionality of the plugin allows website owners to restrict login page access from specified IP addresses or countries. This can help prevent brute-force attacks and other malicious login attempts from recognized sources.
WP Login Lockdown provides email notifications to website owners for every failed login attempt, allowing them to take the required steps to prevent unwanted access.
Two-factor authentication: An optional two-factor authentication function is included in the plugin, which adds an extra layer of protection to the login process. Users have the option of enabling two-factor authentication using email, SMS, or Google Authenticator.
CAPTCHA integration: To prevent automated login attempts, WP Login Lockdown connects with many CAPTCHA plugins, including Google reCAPTCHA.
WP Login Lockdown provides exceptional help to its users via a dedicated support forum and email. Furthermore, the plugin is regularly updated to guarantee that it is compatible with the most recent version of WordPress and remains safe.
Overall, WP Login Lockdown is a complete plugin that offers a variety of security features for WordPress websites. The plugin's sophisticated security features, customization possibilities, and user-friendly interface make it a popular choice for security-conscious website owners.
WP Force SSL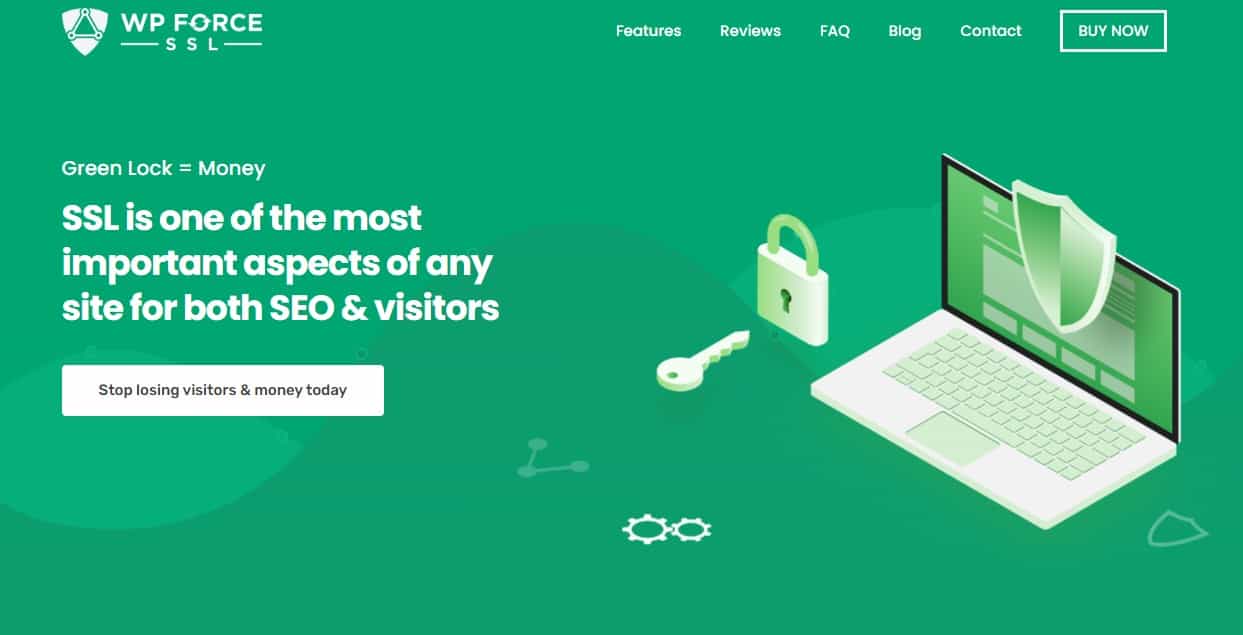 WP Force SSL is a plugin that makes it simple to implement SSL on your WordPress website. SSL (Secure Sockets Layer) is a security technology that encrypts data sent between a user's browser and a web server, preventing hackers from intercepting sensitive information such as passwords and credit card numbers.
WP Force SSL is a WordPress plugin that can be installed and activated on any WordPress site. When you install it, it instantly redirects all traffic to your website's HTTPS version, guaranteeing that all communication between your users and your website is encrypted.
WP Force SSL's primary features include the following:
WP Force SSL is simple to install and can be found in the WordPress plugin repository.
Automatic Redirection: Once installed, WP Force SSL automatically redirects all visitors to your website's HTTPS version.
WP Force SSL contains a mixed content fixer, which ensures that all material on your website is served over HTTPS, even if it is embedded from third-party sources.
WP Force SSL's settings can be customized to match your individual needs, including the ability to exclude specific pages or posts from being forced to HTTPS.
WP Force SSL is compatible with WordPress Multi-Site setups, guaranteeing that all sub-sites are also converted to HTTPS.
SEO-Friendly: Installing SSL on your website will improve your search engine rankings, and WP Force SSL makes sure that all HTTPS pages are properly crawled by search engines.
WP Force SSL provides technical help to its users via email, guaranteeing that any issues or inquiries are resolved as soon as possible.
Overall, WP Force SSL is an effective tool for ensuring the security and privacy of your WordPress website, as well as increasing search engine rankings and user experience.
Wordfence Security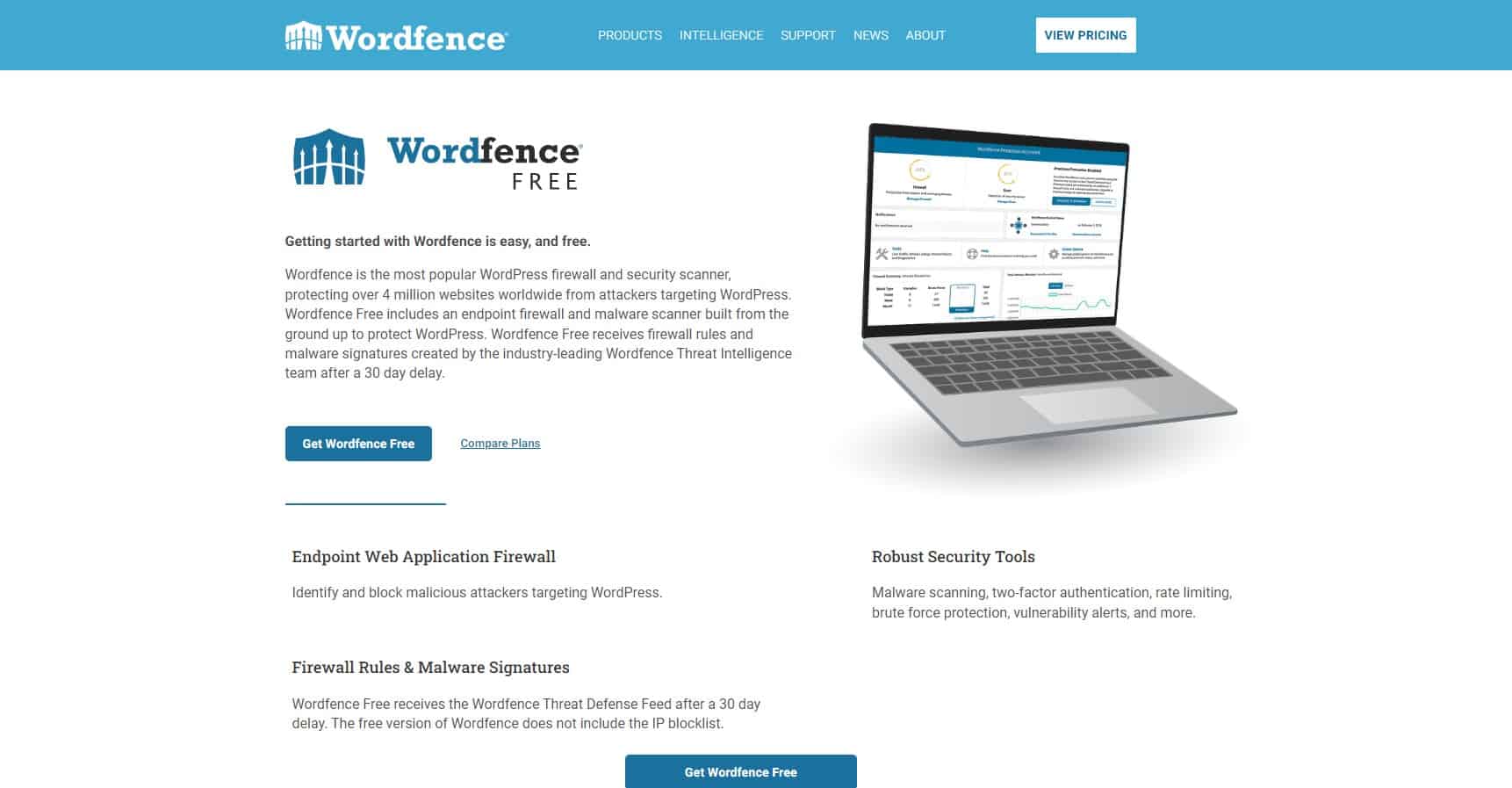 Wordfence is a WordPress security plugin that protects against hackers, malware, and other cybersecurity risks. With over 4 million active installations, it is one of the most popular security plugins.
A firewall is included in the plugin, which monitors and filters harmful traffic to your website. It also does malware scanning, which scans your website for malware infections and alerts you if any are discovered. The scanning is done in real-time, and any malware discovered is quarantined or deleted automatically.
Wordfence also includes login security capabilities that protect against brute-force attacks, password guessing, and other login-related threats. It supports two-factor authentication, which provides an additional degree of protection to your login procedure.
One of Wordfence's distinguishing features is its Threat Defense Feed, which is regularly updated with the most recent threat intelligence from the Wordfence team. This feed contains information about new malware signatures, malicious IP addresses, and other security threats, which aids in keeping your website safe from the most recent attacks.
Wordfence is simple to install and operate, with a user-friendly dashboard that displays all of your website's security statistics. It is compatible with the majority of WordPress themes and plugins and does not slow down the speed of your website. Ultimately, Wordfence is a must-have security application for any WordPress website owner looking to safeguard their site against cybersecurity risks.
All-In-One Security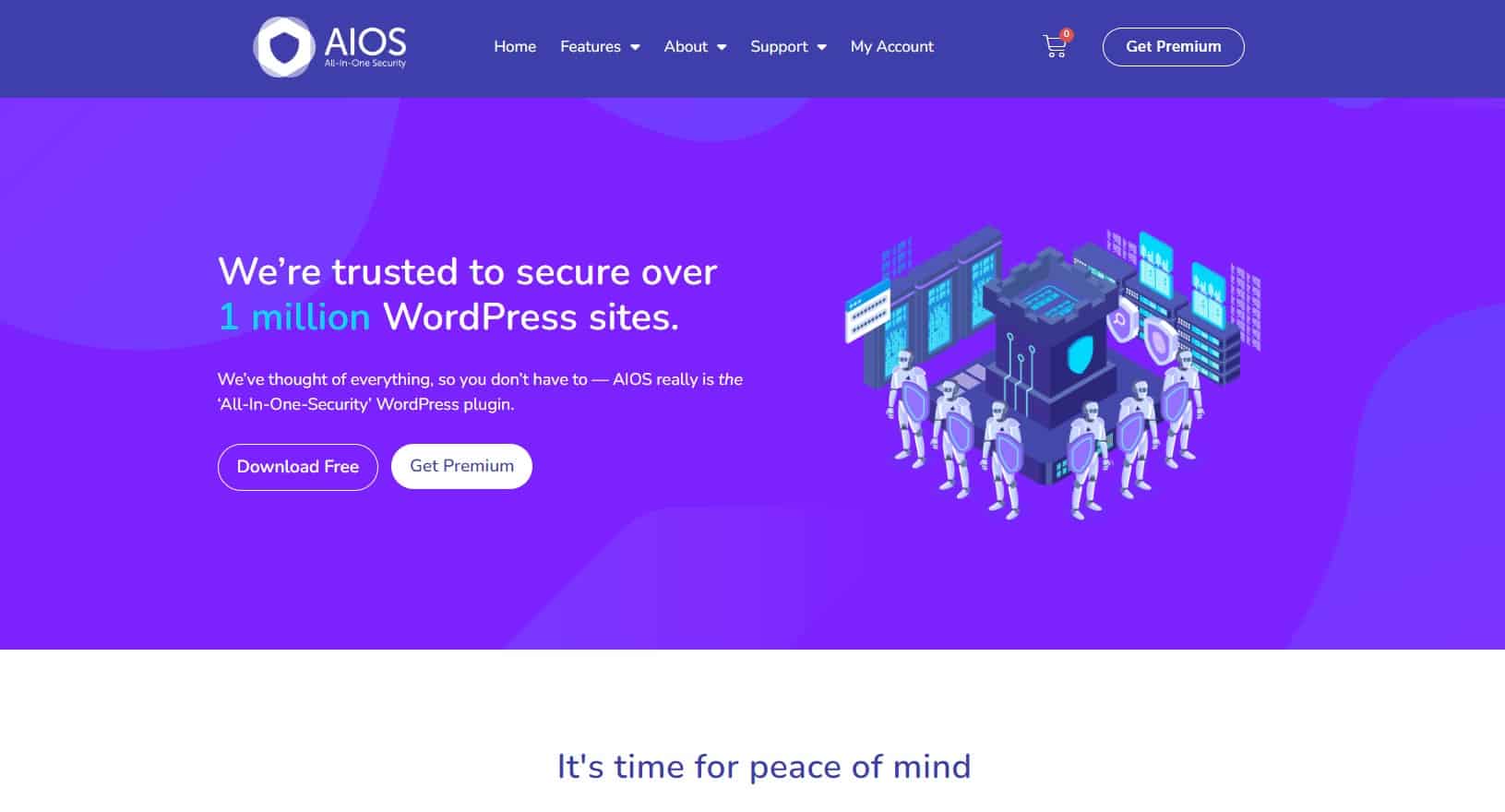 The All-In-One WP Security and Firewall WordPress plugin is a popular security plugin for WordPress websites. It provides a complete collection of security measures to safeguard WordPress sites against many sorts of online attacks, such as hacking, brute force attacks, and malicious bots.
The plugin is simple to install and includes a user-friendly dashboard that allows users to tailor their security settings to their own needs. It has several security features, including user account security, login security, database security, and file system security.
The firewall security provided by the plugin is one of its notable features. The firewall prevents harmful traffic from gaining access to a website, hence preventing hacking attempts and other security issues. The plugin also includes a scanner that detects and recommends ways to address vulnerabilities on a website.
A login lockout function, which restricts the number of login attempts and blocks IP addresses that fail to log in frequently, is another prominent feature of the All In One WP Security & Firewall plugin. Users can also use the plugin to block questionable IP addresses and better manage user accounts.
Overall, the All-In-One WP Security and Firewall plugin is a fantastic solution for anyone trying to secure their WordPress site. It is simple to use, effective, and routinely updated to keep up with the latest security threats.
iThemes Security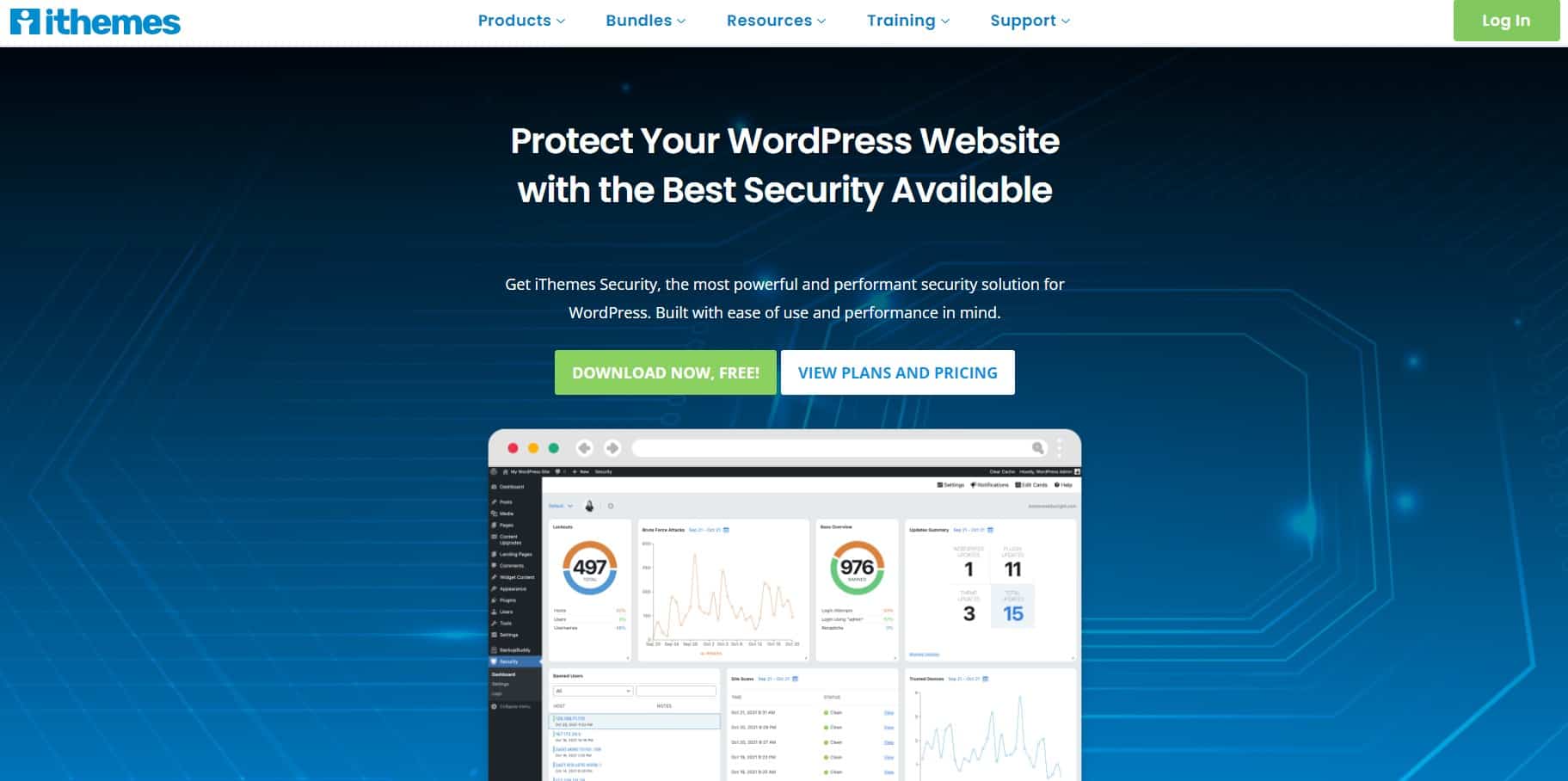 Better WP Security, currently known as iThemes Security, is a free WordPress plugin that assists users in protecting their websites against a variety of online threats. Since its original release in 2011, the plugin has had over one million active installations and has been continuously updated.
Users can utilize Better WP Security to install a variety of security features, including malware scanning, brute force protection, two-factor authentication, and IP blocking. Database backups, file change detection, and Google reCAPTCHA integration are also included in the plugin.
Better WP Security's user-friendly interface is one of its main advantages. Users can quickly access the plugin settings to enable or disable various security elements based on the needs of their website. Furthermore, the plugin provides thorough logs and reports, allowing users to monitor the security activities on their websites and discover any security vulnerabilities.
Overall, Better WP Security is a dependable and efficient tool for safeguarding WordPress websites against cyber-attacks. It's free to download and use, with the opportunity to upgrade to a paid version for extras like scheduled malware scans and priority support.
Conclusion
Finally, in today's digital landscape, the security of WordPress websites has become increasingly crucial, and using security plugins can be an efficient approach to defend your website from cyber threats. We have produced a list of the top 5 security plugins for WordPress in 2023 after researching and assessing many possibilities.
These plugins include malware detection, brute force protection, two-factor authentication, IP blocking, and other features. While each plugin has its own set of advantages, the ideal option for your website will ultimately be determined by your security requirements and preferences. It is critical to remember that security plugins should not be your only line of defense for your website and that you should also incorporate additional security measures such as strong passwords and regular upgrades.
Latest posts by Muhamed Delihasanovic
(see all)
Where Should We Send

Your WordPress Deals & Discounts?
Subscribe to Our Newsletter and Get Your First Deal Delivered Instant to Your Email Inbox.
Thank you for subscribing.
Something went wrong.