WordPress is a dynamic platform, and you should invest time now and then to stay up to date on the latest evolution. Even the most skilled developers spend time and resources to sharpen their WordPress skills.
Learning by doing is the most efficient method of learning to code, including WordPress development. However, it's not enough! Read blog posts to learn news from the community or secret tricks and tips to become a WordPress guru. Luckily for you, by subscribing to the WP Newsify Newsletter, you will receive latest WordPress articles right in your inbox! We promise that we will send valuable information and useful tips only.
Learning by watching is another method that is suitable for WordPress addicts. There are tons of videos showing various techniques, methods or tricks. The real issue is identifying the sources and curating them. For instance, YouTube is full of videos ready to be consumed by WordPress addicts. Here is a list of ten YouTube channels for WordPress users curated by us, so check them out!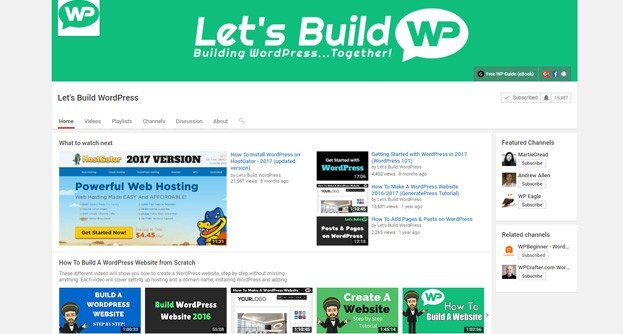 This is the proper channel for beginners who need concise videos showing how to achieve basic things such as changing the password, embedding a YouTube video, or creating a custom menu. The majority of the videos uploaded here are under four minutes length, so you won't waste your time by watching boring introductions. The playlist titles are suggestive—"Simple WordPress Tutorials for Everyone," "How to Build a WordPress Website from Scratch," and "How to start a WordPress blog". Unfortunately, the channel's owner doesn't post videos constantly.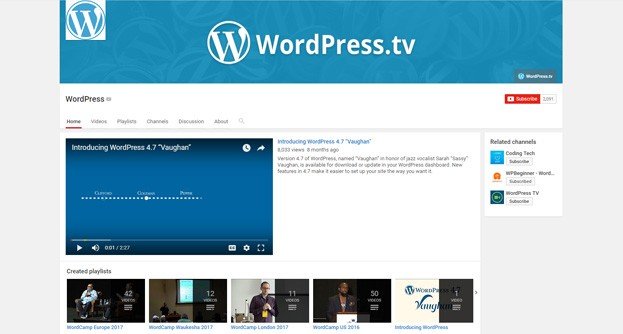 This YouTube channel isn't cut out for pragmatic people focused on improving coding skills. In spite of that, plenty of videos from WordPress.tv are valuable. This channel is home to presentations from various WordPress meetups. Matt Mullenweg (WP founder) is just one famous WordPress expert whose keynotes are featured on WordPress.tv. His insights are useful and give you a strategic overview of the present and future of WordPress.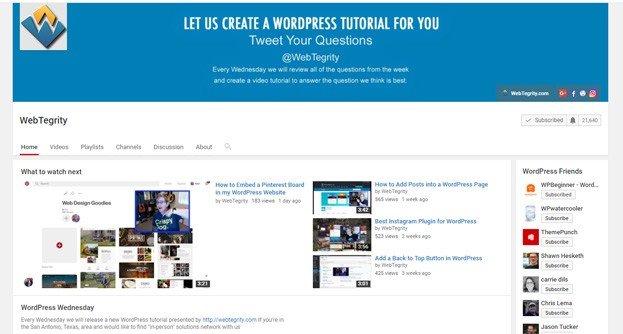 Visit WebTegrity each Wednesday to check out the latest uploads. The YouTubers behind this channel upload a short video showing WordPress magic tricks each Wednesday. This channel is made up of valuable playlists such as "SEO Tips and Resources," "WordPress How To's," and "WordPress Menus". The video explanations are pretty clear, but if you have any problems, you can engage with the authors by leaving a comment. I noticed that WebTegrity's members reply to the most users' comments.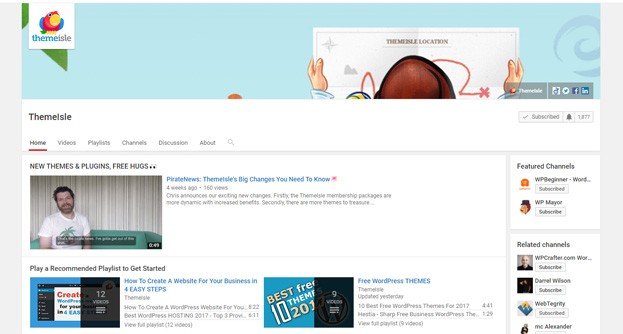 ThemeIsle's blog is a precious resource for WordPress beginners, and its YouTube channel does the same job. "WordPress Plugins" is a playlist regularly updated with useful videos explaining the role of particular plugins and how to set them up. Other videos show you how to customize your theme or how to fix common errors.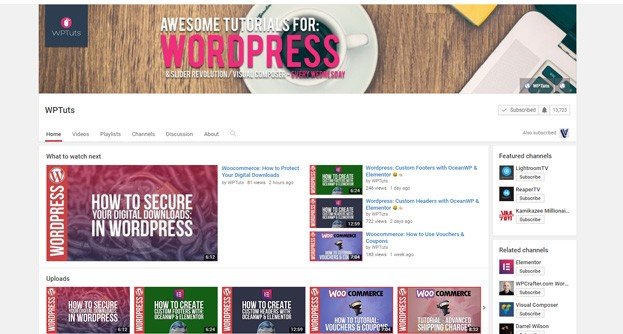 Configuring various plugins seems like a simple task. Still, many WordPress users often don't correctly configure many plugins and don't get the most out of them. Security or page builder plugins fall into this category.
WPTuts is the ideal place to find the real power of complex plugins such as Elementor, WooCommerce, Visual Composer, or Slider Revolution. This channel has a playlist for each of them. Plus, completed guides for both beginners and experts are available. "How to build a professional website from scratch with WordPress-2017" (1 h 52 min) and "How to build complex web pages with WordPress, Visual Composer & Slider Revolution 5" (33 min) are two videos that should be on your radar.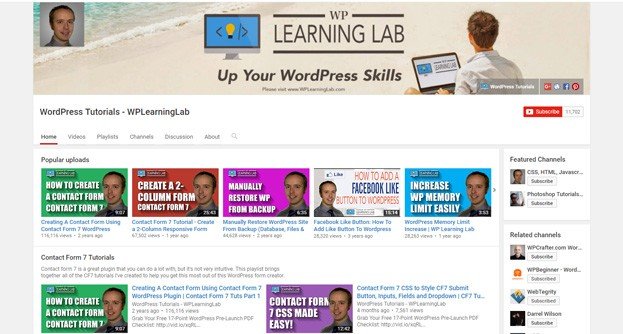 WPLearningLab is a YouTube channel for average WordPress users. It has videos covering a vast area of topics, from security to admin tweaks. It's a good place to sharpen your WordPress skills and get insights about what's new in the WordPress universe. The channel admin uploads new videos on a regular basis; he really cares about his YouTube presence.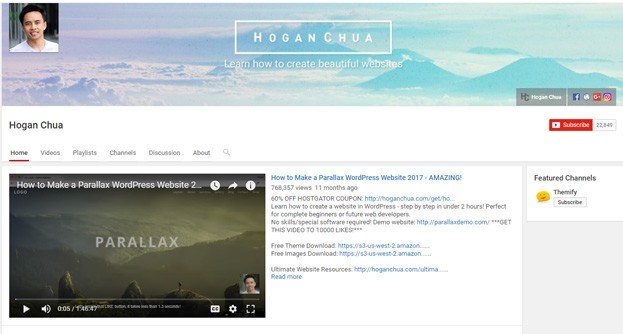 Hogan Chua isn't a channel featured on other lists of YouTube recommendations for WordPress users. However, his works deserve your attention. He hasn't uploaded many videos, but the ones he has uploaded are genuinely masterworks. These videos will take you from zero to hero; each step is carefully explained. Hogan teaches you how to create a WooCommerce website in two and a half hours, how to make a blog in two hours, and how to make a WordPress site in three hours.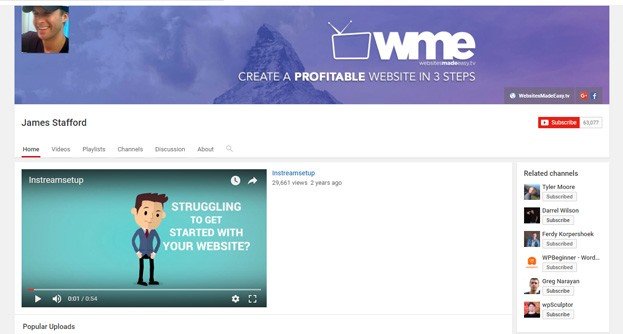 James Stafford has created a similar channel to Hogan Chua's. His videos are long and insightful—he covers all the potential issues you may have. He has also uploaded short videos teaching useful tricks. This mixture of short and long videos is a good approach to satisfy the tastes of all YouTube viewers.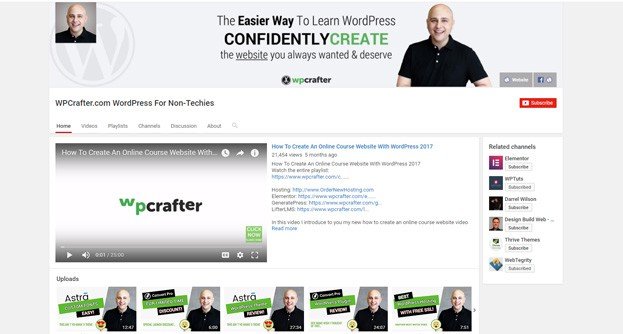 WP Crafter aims to help non-technical WordPress users get the most from this platform. It consistently features videos that streamline the maintenance of a WordPress website. Furthermore! The videos practically cover everything about WordPress and other related topics, such as hosting, web tools for webmasters, affiliate marketing, and theme and plugin reviews.
Wrapping Up
In conclusion! The human brain processes visuals 60,000 times faster than text, and we learn faster from what we see than what we read. These stats also show that watching video tutorials is a game-changer in how we can learn new things. I strongly recommend you start allocating some time to check out these YouTube channels. I hope that my suggestions work for you, but feel free to leave a comment with your favorite channels.

Latest posts by Daniel Pintilie
(see all)
Where Should We Send

Your WordPress Deals & Discounts?
Subscribe to Our Newsletter and Get Your First Deal Delivered Instant to Your Email Inbox.
Thank you for subscribing.
Something went wrong.