A plethora of bloggers have written terrific pieces of content about setting up a WordPress blog. These guides are golden for less trained users who want to create a blog. But bloggers have written significantly fewer blog posts about selling your WordPress blog.
It's true that way more people launch a blog than sell one but selling a site is a serious matter.
Do you think that selling a blog isn't as serious process as selling a brick and mortar business? WPLift, a blog heavily visited by WordPress developers and bloggers, was sold for $205,200 in 2016. Yeah, it was a six-figure business.
The truth is that only a very few blogs are six-figure businesses, but selling a blog is undoubtedly a weighty process.
While each blog requires a unique approach if you intend to sell it, this comprehensive guide is a good start.
How to Value a Blog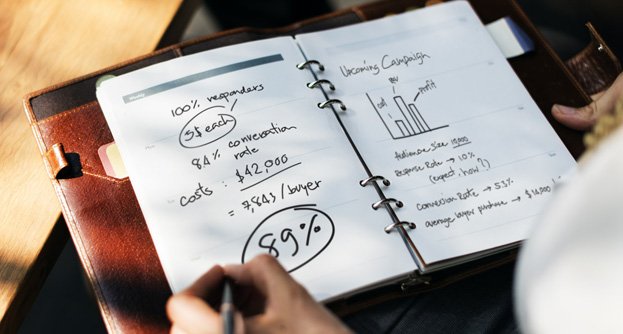 You can't sell a blog without doing a proper valuation. You will lose money by setting a low price tag, and nobody will buy it if you ask for too much. A balanced evaluation is non-negotiable.
There are a few methods of valuing a website. The most frequently used by site dealers are asset methodology, multiple-earning methodology, and comparable methodology.
The asset methodology determines the price of a site based on the money invested (themes, plugins, hosting) and capital assets, such as original content, email subscribers, and the rate of conversion. This method is used for sites that generate no revenue.
The multiple-earning methodology is the most used. It establishes the price based on a simple formula:
(12÷36) x Monthly Profit = Sale Price
Even though this method relies on a math formula, the results vary significantly. In plain English, the same website may cost $1,000 or $3,000. A site's value depends on not only the monthly profit but also many other factors that are included in the multiple factors (12÷36).
Unfortunately, blogs are seen as risky investments, and the various factors are usually lower than the majority of sites. On average, app, e-commerce, or SaaS websites are valued higher than a blog. The multiple factors are influenced by the site's history, income diversity, topics, traffic, and so on.
The comparable methodology is efficient and straightforward. You visit several marketplaces, search for similar sites, and set your site's price based on their prices. Related sites should have the same prices—it's common sense.
How to Sell Your Blog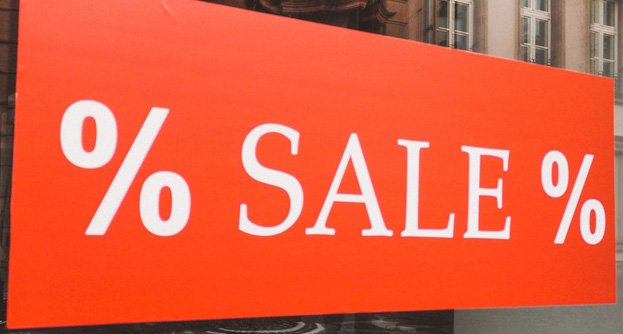 The proper exit makes the difference between an entrepreneur and an amateur blogger. Ideally, your exit should be prepared months in advance. The better you prepare your site for selling, the higher the price will be. The amount of work required is colossal, but it's not rocket science. Here are a few tips to keep in mind:
1. Improve the Blog Design
The design of a site is responsible for the first impression, and there is no second impression in the online world. A clean and modern blog layout is more sellable than a dull and boring design. Revamp your blog before posting it for sale. It will attract more eyes, increasing the chances that you will sell it quickly and at a reasonable price.
2. Increase the Traffic
It's easier said than done, but try to increase the number of visitors. A heavily visited blog is a precious asset. The traffic generated proves the excellent quality of the content. Organic traffic is more valuable than any other form of traffic. Do reliable keyword research, create good content continually, make it relevant to your audience, and promote the posts.
3. Grow the Passive Income
Money attracts money, and a blog with a steady flow of passive income will attract many buyers or dealers. It's pretty hard to craft a strategy to grow passive income, but you have to try. Passive income influences the monthly profit, which is an essential factor in getting a reasonable price.
4. Improve the Site's Performance
Luckily for you, developers have crafted many tools to improve site performance. You have no excuse if your site is performing poorly. Test the site's loading speed and use plugins to make it faster. Don't forget to use a caching and a security plugin, and there is no need to mention that the site for sale should be mobile friendly.
5. Prepare Complete Documentation
Buyers need concrete data, so give them what they need. Prepare all your documents to prove the website's age, traffic stats, money generated, initial investments, and so on. Real data provided by third-party entities must back any of your statements. On top of that, people will consider you a reliable seller if you submit data for all the details.
Places to Sell Websites
You can put a banner on your site informing visitors that it's for sale, but it's unlikely that you will sell it that way. There are a few forums where you are allowed to tell people that you're selling your WordPress blog, but these methods are risky because you don't have any verification mechanisms.
Mainly, you provide the buyer with the site's credentials, but the buyer might not pay for your asset. Of course, you can ask to use an escrow account to safeguard the transaction.
There are a few marketplaces that guarantee the handling process. Check these out if you are interested in selling or buying a site.
Flippa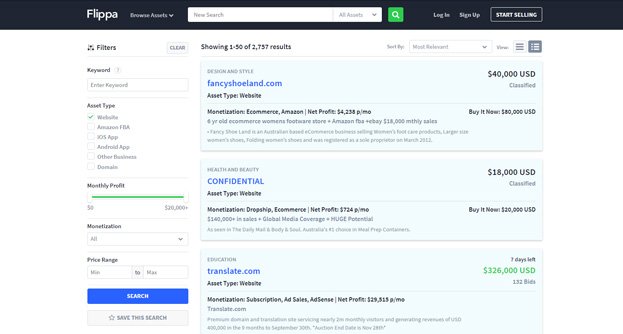 Flippa is probably the most famous place for selling websites, but you can also buy or sell online businesses, apps, and domains. This service is no longer a place for selling starter sites. Instead, it lists tons of profitable online businesses generating tens of thousands of dollars in profits.
There is a place on Flippa for every type of site regardless of its traffic and profit generated. Adding a website for sale is simple, and it takes less than ten minutes, but the real problem is the pricing. Flippa used to change the pricing plans frequently, and currently, you have to pay $25 to list a starter site (a site that doesn't generate an income). I consider this cost prohibitive for new sites. Also, note that Flippa will ask for a 10% success fee when you sell the website.
Side Projectors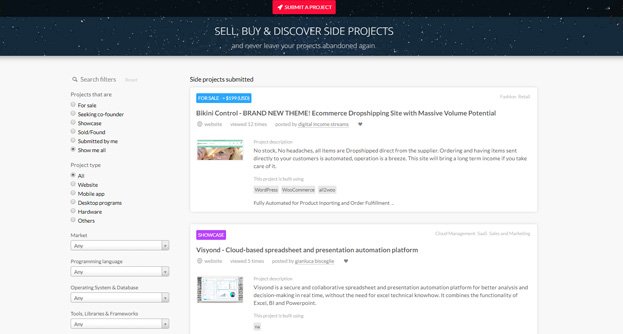 Side Projectors is a unique marketplace. You can list your project (website, mobile app, or desktop program) to sell or to find a partner. Its uniqueness lies in the fact that the team behind Side Projectors doesn't handle the site transfer. Side Projectors is only for connecting people, and it recommends using the services of an escrow site.
Empire Flippers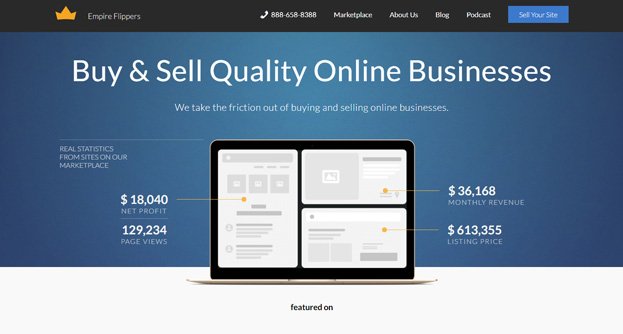 Empire Flippers is a place to sell sites that generate serious income. The dealers of Empire Flippers managed to sell 95% of all sites listed. It's almost guaranteed that you will sell your blog once it's listed on the Empire Flippers marketplace.
The listing fees aren't accessible to everyone—first-time sellers pay a $297 fee while repeat sellers pay only $97. The commission of a successful transaction depends on the site's price; for instance, Empire Flippers ask for a 15% commission for sites sold for under $1 million.
FE International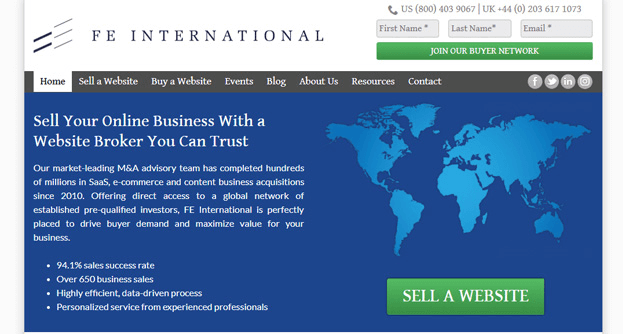 FE International is an agency that has specialized in selling websites since 2010. It's a reliable partner, but FE International collaborates only with substantial sites, so ask for their services just if you run a heavily visited blog that generates serious income.
Wrapping Up
Selling your WordPress blog isn't a simple task. Carefully read this article and apply the tips showcased to get a top price for your blog.
Have you ever sold a website? Did you use one of our recommended services? Drop us a line and share your experience.

Latest posts by Daniel Pintilie
(see all)
Where Should We Send

Your WordPress Deals & Discounts?
Subscribe to Our Newsletter and Get Your First Deal Delivered Instant to Your Email Inbox.
Thank you for subscribing.
Something went wrong.