Around 1,000 pitch decks are created every day in California alone. According to Docusend, investors get so many pitches that the average time on one pitch is only 3 minutes 44 seconds.
But why do you need to focus on creating a pitch deck for your website design? Here's why:
The competition in the website designing industry is fierce, and a pitch shows your professionalism
It gives a visual presentation of your services and how you are different from others
It gives a sense of clarity to your prospects
A well-designed and professional-looking pitch answer the most commonly asked question — Why should we choose your website design services over the competitors? But then, what does it take to create a solid pitch deck for your website design agency?
Pitching a presentation for a new website design can be more compelling with the support of a white label web design service. By showcasing their expertise and the benefits of their services, you can emphasize how their specialized skills can elevate the project, ensuring a successful and visually appealing website that aligns with your client's goals.
Seven Tips to Create a Solid Pitch Deck for Your New Website Design Project
Website design services give your prospects a visual presentation of what you are capable of and what you can do for their digital business. For your new website design, you can check perfect fonts just like high tide font. Presenting your web design through a pitch is not a breeze.
Below we have listed the top seven tips for creating a presentation for your website design that will surely attract your prospects. Without further ado, let's begin.
1. Start With a Brief Background of Your Company
Your focus should be on the problem-solving approach. However, your pitch should always start with an introduction. Give your audience a brief introduction of who you are, what services you offer, and what are your goals.
An introduction is a must. Your audience will be confused about your company and the services if they don't know who you are. So, always start with a brief introduction. Take Foursquare, for example. They have done it beautifully. The second slider has given a brief introduction of the company, what it does for people, where the headquarters are located, and who the owner is.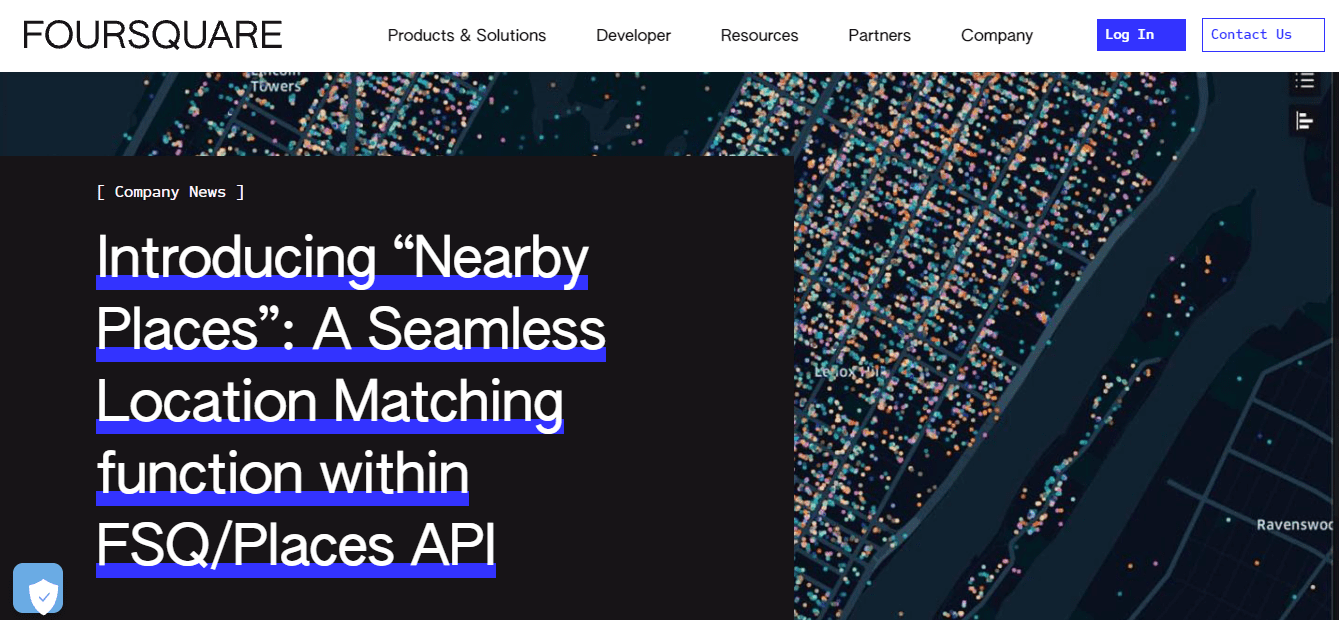 You can alter the format and create a unique page for an introduction for your business. Your audience needs to know what you do and where you are based. A one-slide introduction is enough. Make sure you provide sufficient information about your business before going ahead with the facts.
2. Add Facts and Figures
You can have ten slides showing the specialty of your services and what sets you apart from your competitors. However, it will be useless if the pitch sounds too boring to be considered. Give your customers a compelling story.
Something that keeps them hooked to the screens until they are done watching. A well-crafted pitch has a compelling story that builds user engagement. To make it look more professional and structured, give facts.
Hootsuite has done a tremendous job at creating a pitch deck. In the 12th slide of their pitch, they have given stats and figures showing the website rankings of different companies. It shows the website category and time per visit.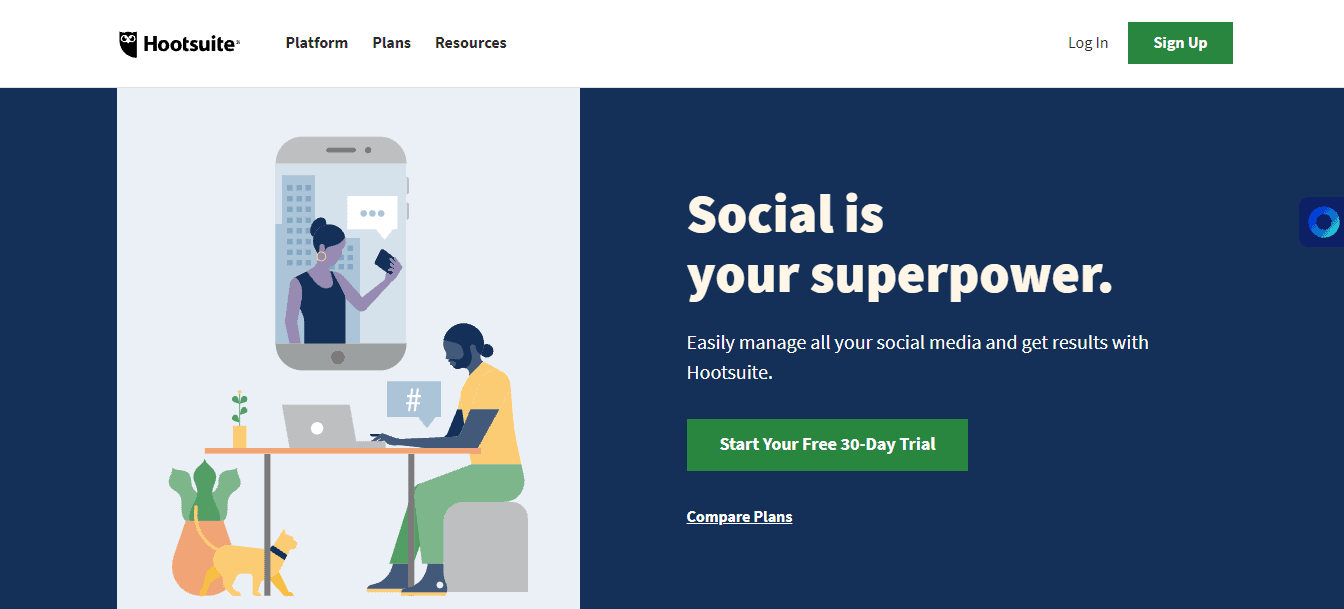 Once you have delivered an introduction, move on to the stats. We understand it is difficult for a startup to sell a pitch since you may not have achieved much. You can instead show the statistics of the web designing industry in general, as HootSuite has done in the above example.
Add information about how an excellent website design can grow your clients' business. Even if you are a startup, these generic facts and figures can add value to your presentation. It makes your pitch look more reliable and professional.
3. Show Your Web Design Service Offerings
This is the most important slide of your web designing pitch deck. Sure, the specialty of web designers is their artistic capabilities. That, however, doesn't mean you should fill all the slides with your designs.
Your audience wants to know how you can help them and build them a website that converts. They don't want just the design and artwork in your web design pitch deck. This is the part where you need to answer the question "what you have to offer to your clients."
Here's what you can list:
Website designing from scratch
Google analytics and reporting
Email template design
Sales presentation design
Monitoring your competition
Content marketing management
SEO for website ranking
Other digital marketing services
According to Alejandro Cremades, you need ten slides for an effective pitch deck. So, you can use two to three slides in a row for displaying the functions and services. Watch this slide by Launchrock, a company that helps its audience create a "launching soon" page for their upcoming projects.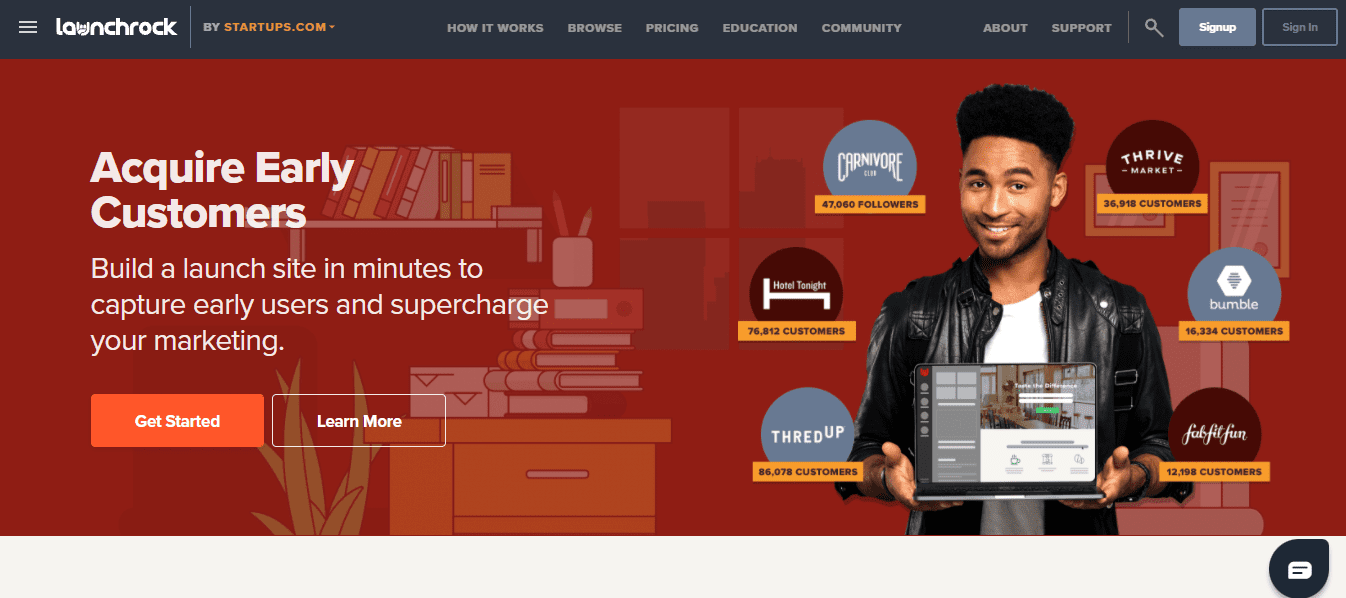 Launcrock has mentioned their services. They have kept the design simple and easy to understand. One look at this slide, and the prospects will know what services they can expect from the company. It is one of the best ways to present your services, preferably in a listicle format. Do not explain each service; just give your audience a hint of your functions, services, and what they can get from you.
4. Avoid Complex Jargon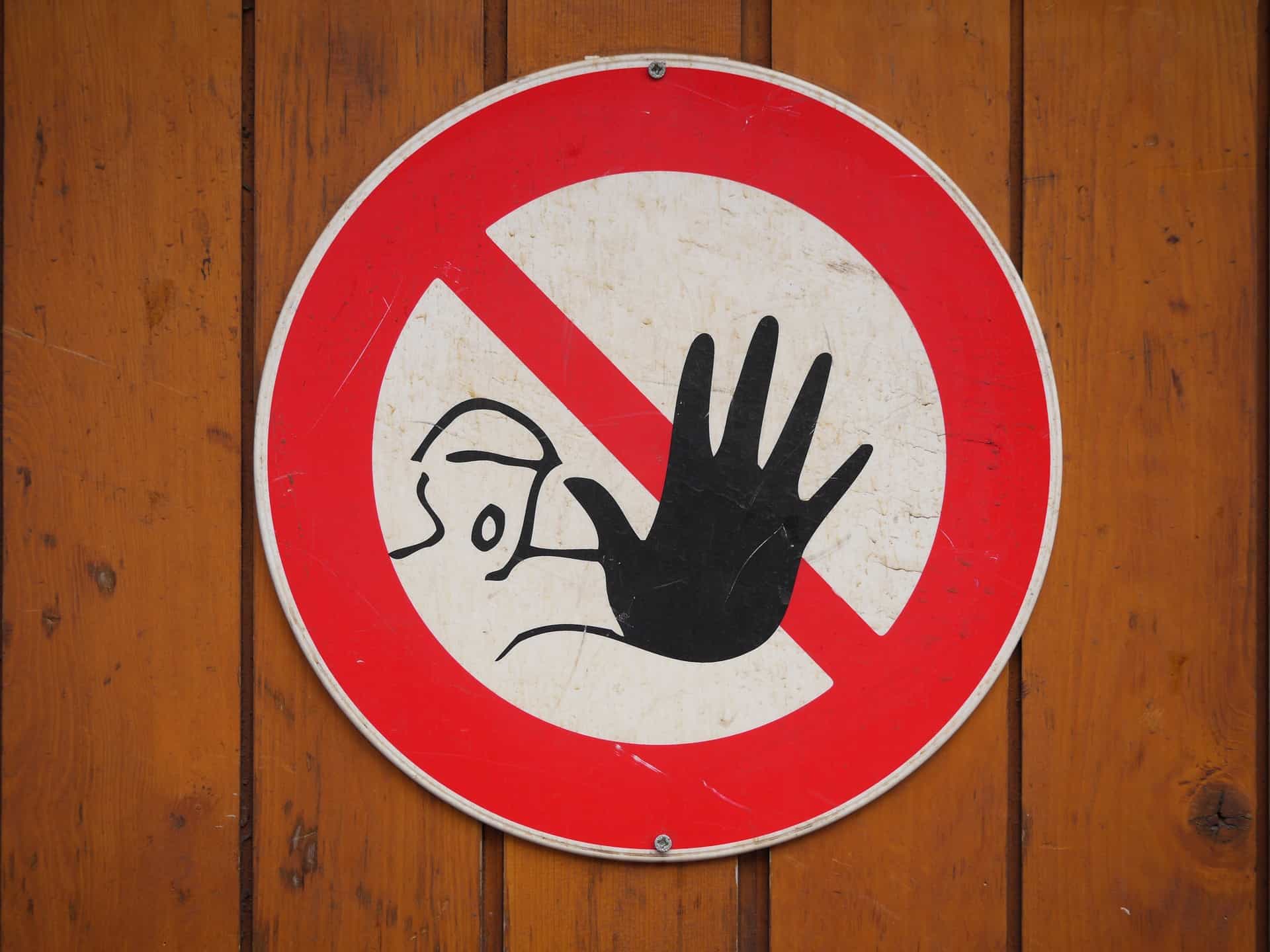 You must be an expert in website designing services — in both the front-end and back-end parts of web development. These are the people who work in website design firms. However, be aware that your audience may not be aware of all the technical terms you use in your industry.
If they find your pitch too complex to comprehend, it will not take them long to abandon your pitch deck and find another web designer or web design agency that explains things clearly and concisely. Create a pitch for people who have minimal to no knowledge of website designing.
They don't need the jargon in your sales pitch. Instead, they want to know how your web designing services are different from the competitors. How can you serve your customers? And, most importantly, what have you achieved so far, and what do you plan on succeeding in the coming years?
You can answer these questions in a compelling storytelling format. Add stats wherever necessary, but don't make the whole pitch deck about numbers and jargon.
5. Introduce Your Team
Keep one slide for your team introduction. If you are offering only website designing services, mention the head of the web design department. If the package covers SEO, SMO, SEM, and complete digital marketing service, list your team members who specialize in each service.
You can have two to three slides for the team introduction. The below example of Mattermark is a great example. If you check out each slide, you will see how nicely they have introduced each member, along with their achievements.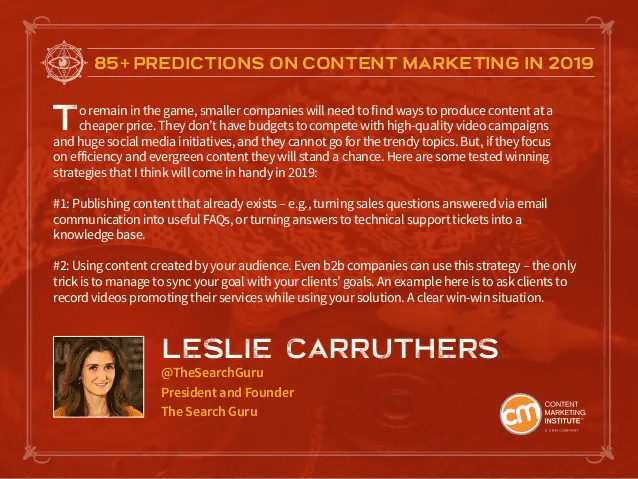 6. Display Your Previous Work
Nobody will trust your promises if they are not backed by examples of your past jobs. If you have already built a few websites for your previous clients, don't hesitate to show them in the pitch deck.
Examples add more value to your pitch; after all, it shows your audience your capabilities. Add a few pictures of the website designs you have created so far. Focus on websites with good domain authority, as it makes your services look more credible.
A pitch deck that's backed up with examples of your previous work looks more trustworthy. By posting the pictures of the websites you have designed for your clients, you can give your audience a better idea of what you can do for them.
Do not hesitate to show your achievements, even if there are only a few. Remember that you are selling your product to your audience, and this is your only chance to show your power and skills.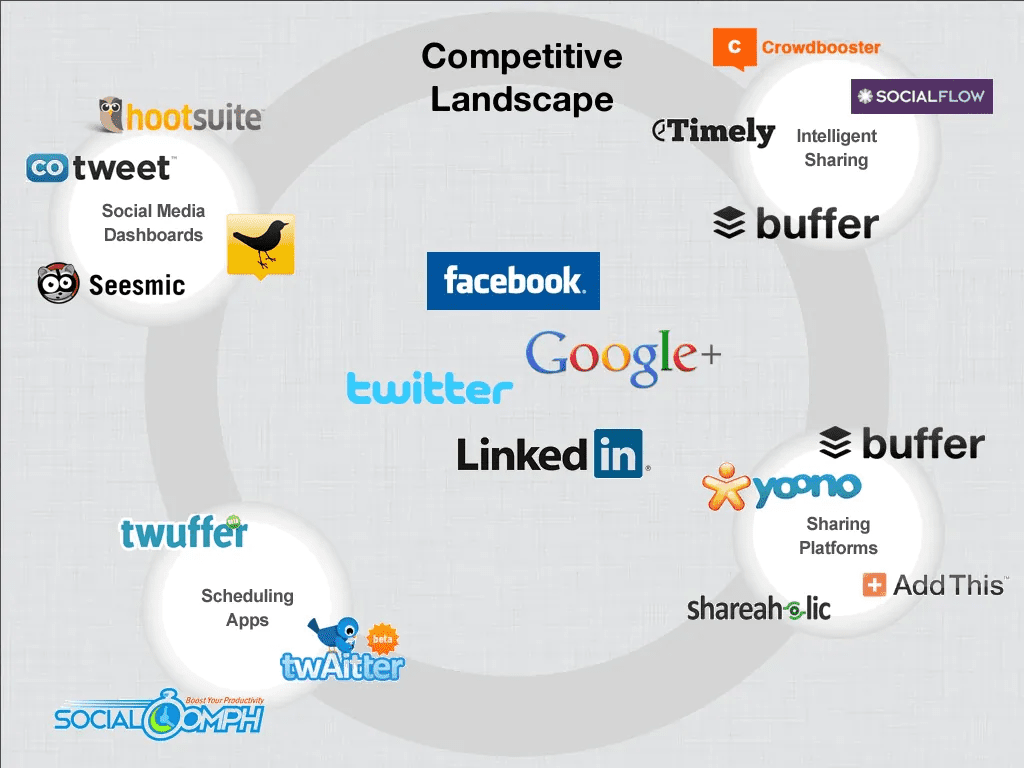 7. Use a Presentation Maker
Your sales pitch deck for web designing services is the visual presentation of your services and what sets you apart from your competitors. It shows your offerings, prices, functions, and achievements in a visual format. There is a good chance your audience will decide whether or not they want to do business with you after checking your pitch deck.
Consider using a presentation maker to create your pitch deck. If you can't make a custom-made pitch deck, create a presentation using a ready-made template instead. There will be plenty of readymade templates available on the web, and each of them provides enough ideas to come up with a solid pitch.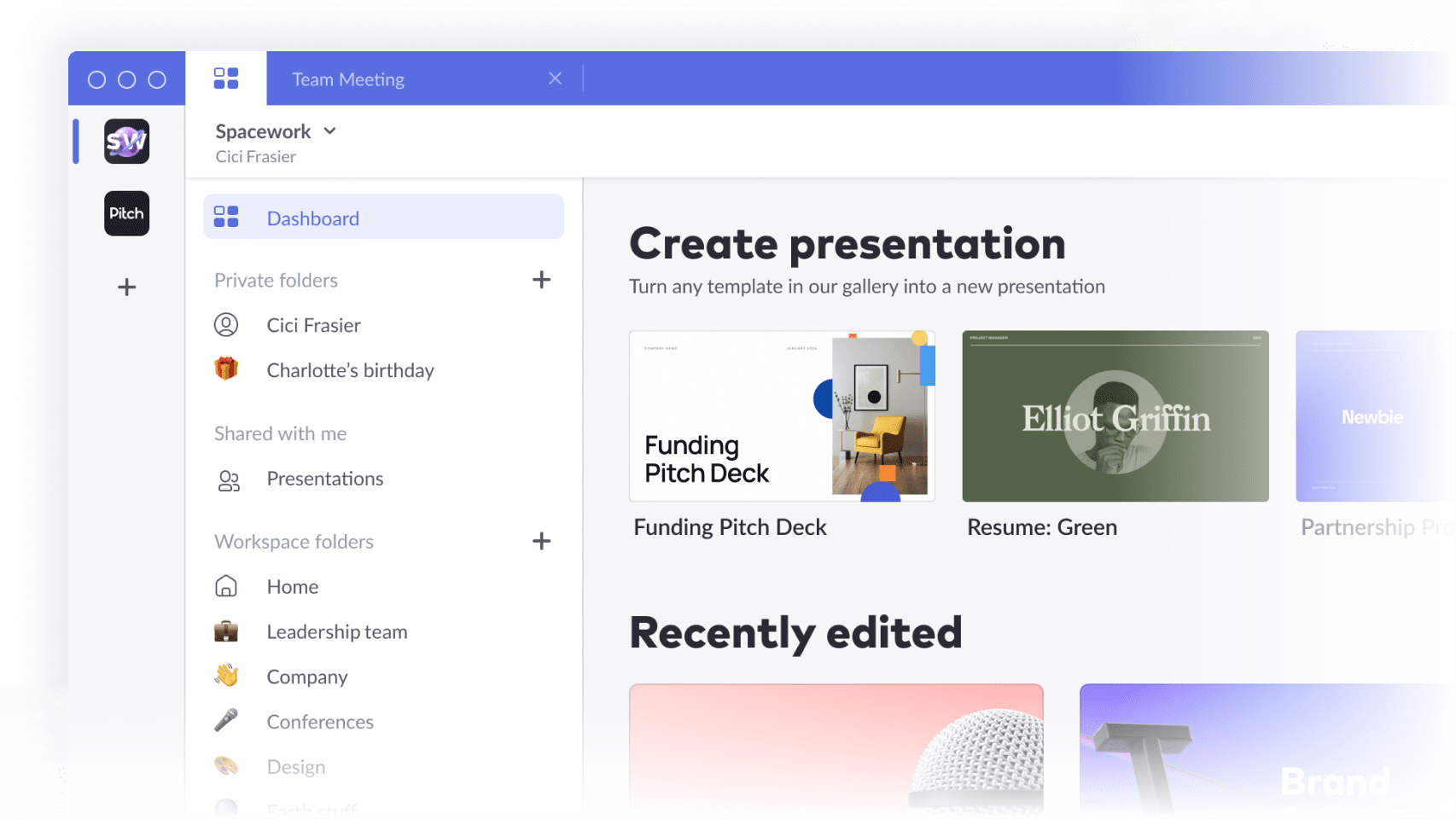 Getting started with a presentation maker is extremely easy. You can easily import from an existing Powerpoint presentation from the Pitch template gallery or start from scratch using a blank slide. You can customize your slides later, depending on what you include in your deck.
Quick Recap
Your presentation needs to be as detailed as your web design services. It should reflect how you work and what lengths you can go to solve your clients' problems and make them happy.
Here are a few things you need to consider when creating a pitch deck:
Don't make it look like a script
Limit the text and add more pictures and visuals
Keep the design simple and attractive
Don't go overboard with the fonts and photos
Add numbers wherever possible
Back it up with examples of your past work and current clients
Follow a problem-solving approach
Conclusion
Building a website is one thing, and pitching it is another. An essential part of your website designing services is building a solid pitch deck.
Have your pitch deck ready before you meet a client. Show this to your prospects either by putting it on your website or sending them individually over email. I hope it helps!

Latest posts by Editorial Staff
(see all)
Where Should We Send

Your WordPress Deals & Discounts?
Subscribe to Our Newsletter and Get Your First Deal Delivered Instant to Your Email Inbox.
Thank you for subscribing.
Something went wrong.