WordPress powers 28% of the websites over the internet and this fact is surprising enough to tempt us to dig deeper into the WordPress world. Back in 2003, WordPress gained repute as the best ever blogging platform and became an instant hit among the bloggers for its ease of use and multiple functionalities.
WordPress:
Not Just a Blogging Platform Anymore!
With time, WordPress grew from a blogging platform to a scalable and versatile web development platform or an open source CMS- as we know it today! It simply flourished into a more flexible and multi-functional platform. Plugins integrated with WordPress websites goes on to give a power boost to the functionalities of the websites in the most unbelievable manner possible!
WordPress development companies are minting million dollars by rendering services pertaining to WordPress theme customization and WordPress plugin development services using PHP.
This pushed me to give a healthy judgment of the WordPress plugin development companies out there in the million dollar WordPress development world.
Factors for the Judgement to Rank the Companies:
I checked out the Reviews and client feedback on the company websites.
Had a look at the portfolio section of the websites of the companies and the niches they have worked in.
Curious enough to give a check on the type of services the below-mentioned companies provide.
Now, let's have a look at this ultimate list of top 10 WordPress plugin development companies in 2017:
1. OSSMedia

WordPress, Drupal, Magento, and Joomla! Are their niches. The key focus of OSSMedia is end-to-end WordPress solutions and high-performance websites for their clients that skyrockets the online presence of an enterprise.
They have a dynamic and customer-focused team of developers and have rendered 10,000 projects in past 5+ years!
The portfolio is highly remarkable and their theory behind the WordPress plugin development services is really captivating! OSSMedia team strives to empower their client's websites with additional functionalities that a common theme can't provide for sure!
2. WordPrax

WordPrax– a premium US based web development company, rules over every other WordPress development company because of the plethora of services they offer. From PSD to WordPress services, theme customization to plugin development, they guarantee unparalleled quality.
What I liked most is the theory and vision for WordPress plugin development. The expert team at WordPrax believes in stretching the themes beyond their defaults. They strive to take the websites to an unmatched side. The portfolio highly impressed me. Client feedback is a great sight. With over 50,000 projects completed successfully in the past 15 years, WordPrax instantly becomes a pillar of trust and seamless communication.
Undoubtedly, WordPrax rules the roost among the other companies on the list.
3. ColorWhistle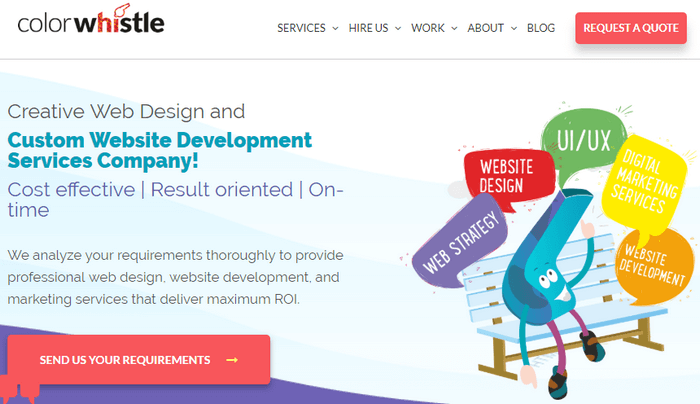 At ColorWhistle, they provide custom plugin development services. They have a dedicated team of developers who understand your business requirements and develop custom plugins. You can easily modify or customize your plugin even in the future. The plugins developed by their team will be 100% scalable and compatible with the latest version of your favorite page builder. Till now all of their clients are fully satisfied. They would serve even better in the upcoming years.
4. Designs2HTML

Sitting on the market for over 5+ years, Designs2HTML is an IT giant with a difference. They have over 3500+ customers ranging from startups to large enterprises. A striking portfolio didn't fail to highly impress me.
The utterly satisfied and delightful clients of this WordPress plugin development company bestow 10 on 10 on the company based on these factors:
Unbeatable dedication
Unmatched quality
Turnaround time
Uniqueness and creativity in customization services.
They provide complete WordPress solutions and thus, it's a highly reliable WordPress plugin development company that sits on number 3 in the list.
5. Markupcloud

A US-based web design and development company with some of the very best features. Their niche services revolve around PSD to Joomla, PSD to WordPress, PSD to Drupal and the like. Their comprehensive workflow, extraordinary portfolio, and splendid reviews won my heart and thus, this company sits fourth on this comprehensive list.
Since Markupcloud focuses on conversion services as well as WordPress-centred solutions, this company would be perfect for WordPress plugin development services. The company has been ranked A++ by their clients for their on-time delivery of projects!
6. Eight25media

An award-winning Silicon Valley-based web design firm- Eight25media is one-of-its-kind web design and development agency with its roots in Japan. What else caught my fancy on the website is 180-days free support and dedicated project manager. Also, they boast that their clients have raised $500 million in funding!
While I could hardly relate to this fact, they do provide WordPress plugin development services to their clients. Ans yes! They are voted as the number 1 agency in SF.
7. Macrosoft

Ranked #6 on the list, Macrosoft is a WordPress development company that focuses on cost-effective customized secure websites made in WordPress.
A team of web designers and developers outsource the development work and they also render WordPress theme customization services, PSD to WordPress conversions, WordPress plugin development etc. Apart from this, they also provide WordPress website maintenance and enhancement services.
Although I wasn't able to locate any impressive reviews and feedbacks from their clients on the website, I see that they have a good list of clients named American Electric Power, Entrust, Green Mountain Energy and the likes.
8. Webdev Studios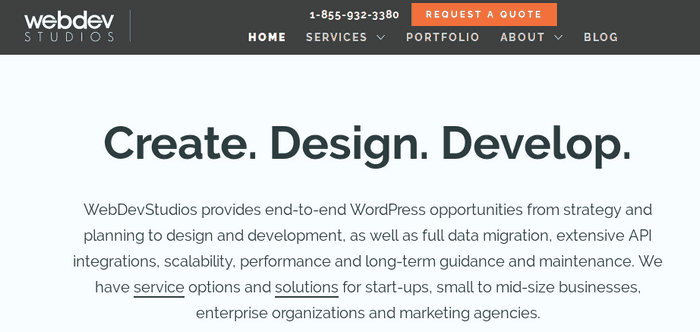 Webdev Studios is a WordPress developing service provider. Their customized services are their USP because they provide customized WordPress services to their clients in a timely manner. Whether it's custom WordPress development or plugin development or theme integration and customization, Webdev Studios also provide consulting services.
The creative team at Webdev Studios suggests additional features along with custom WordPress plugin development services.
9. Baymediasoft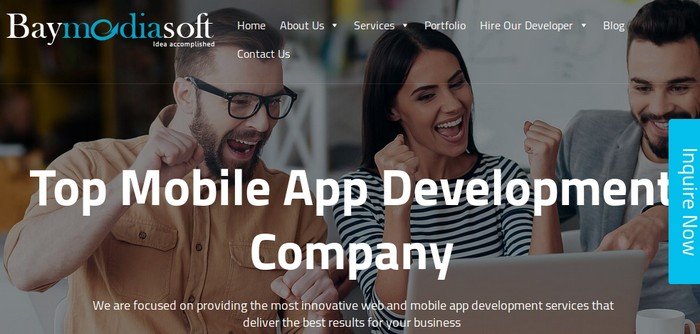 Customer satisfaction is one of the USPs of Baymediasoft. It is a California-based web design and development company with over 400+ clients. They specialize in WordPress development services including WordPress theme customization and plugin development. They are customer-focused and have a high rate of satisfaction among their clients.
10. Markupbox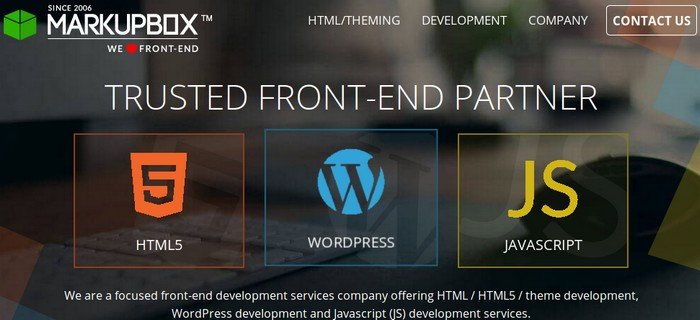 The team at Markupbox is expert at front-end development which includes service offerings like HTML/ HTML5 theme development, WordPress development, and Javascript development services. With 10+ successful years and 7200+ completed projects, they have a client base of 6000+ customers and 200 employees. Their step-by-step approach to every project is worth admiring.
11. Inflexion Interactive

Inflexion Interactive is an award-winning company with bold and breathtaking projects at hand, they believe in yielding best results, revenue and brand value. A digital marketing as well as web design and development agency with medium to very large scale enterprises as their clients. They have some case studies up on their website that you can have a look at before hiring them!
Winding Up
In conclusion! So, here is the exclusive list of the ultimate top 10 best WordPress plugin development companies of USA. Go ahead, take a wise decision and give a second thought before investing in your hard-earned money.

Latest posts by Juana Steves
(see all)
Where Should We Send

Your WordPress Deals & Discounts?
Subscribe to Our Newsletter and Get Your First Deal Delivered Instant to Your Email Inbox.
Thank you for subscribing.
Something went wrong.