Designing Over the Years
The development of WordPress and all things around it doesn't stop. Just like the way you design a WordPress website. When I started with WordPress back in 2008, Kubrick was the default theme and the only way I knew to manipulate the design was by editing the style.css or the theme template files. It never stopped me from trying to build something that looked and worked well, but it took some time.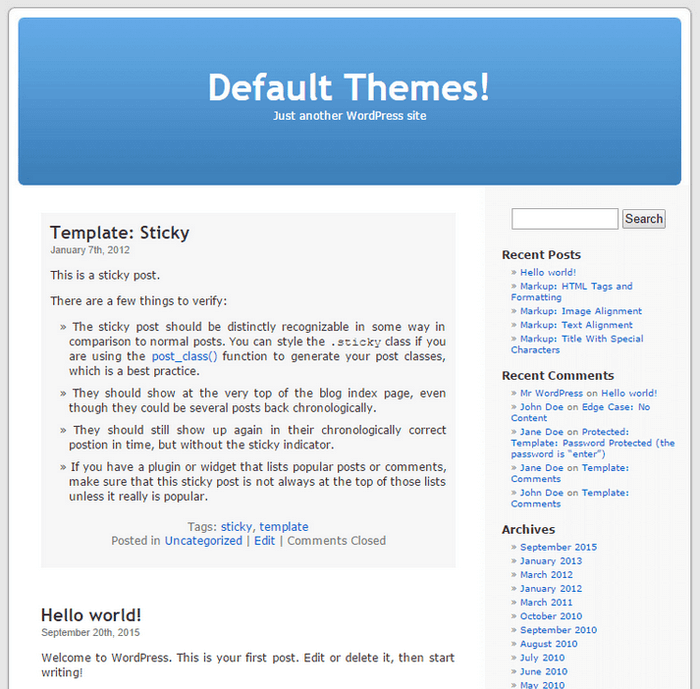 The other option was to find a theme that met my demands the most and uses that without any adjustments. I have used that strategy a few times.
After the introduction of the customizer, things got. Now it was possible to style a theme, although it is always limited to designing the parts the theme developer has made compatible with the customizer.
One option was never for me: building a custom theme. Lack of skills and time, although I can handle CSS and have a little knowledge of PHP. Having a third party build a theme was too expensive.
Page Builders
Some five years ago the first page builders were introduced. A plugin that made it possible to build any page in WordPress the way you want. Mostly they came with premium themes and often were limited to only work with themes from the same developer. A few were actually capable of being used with any theme.
It didn't take developers too long to extend the possibilities of the page builders. They became visual page builders, meaning you can build and change a page and instantly see the result. Save the changes and your visitors can also immediately see the new or changed page.
Other developers started creating plugins that could extend the page builders to help you make your designs even better.
But still, only pages could be designed with the page builders, visual or not. And always within the basic structure of the theme, you're using.
Page builders were also known for the extensive load of JavaScript and CSS, as well as writing a lot of options into the database. This meant bloated pages and rising page load times. For me, this was a reason to stop with a few of them.
Moving on
As for every new development, things have to find their way. The idea of a visual page builder is great. Especially when your not really a designer or programmer, but still want a unique design. Developers made their page builders better. And even took performance into consideration.
And Then Came Elementor

While searching for something WordPress related on the Internet, I stumbled upon Elementor WordPress plugin. At that time the latest addition to the world of page builders. Interested as always, I went to the website of Elementor. And got interested. The specs looked good, the ideas for the future promising, the opinions about a good page builder convincing.
So I installed the Elementor WordPress plugin on a staging environment and started to build my first page. And I liked it! It is easy to work with, relatively easy to learn and, because it's a visual builder, results were instantly visible. This plugin I could work with. I even built two similar pages, one the old way, and one with Elementor, to compare performance. It made no difference.
A growing number of theme developers make their themes compatible with Elementor. But it should work with any theme, according to Elementor. Because I wanted to switch themes anyway, I chose OceanWP (free version) as my new theme. It's a great combination.
Waiting for Extensions
Other plugin developers had picked up Elementor and started to develop extensions for it. Which is a great compliment for the developer of Elementor! But I kept missing a few major options. Options that kept me from using Elementor in a production environment. I work mainly with posts and archives, and at the time Elementor and all the other page builders couldn't help me with those.
The Waiting Paid Out
In the course of 2018 Elementor announced a few major improvements. Elementor would be able to make templates for posts and archives, headers and footers. And by using the Elementor canvas instead of the default theme template, you get complete control over the design of all elements of your website. Only drawback: these features were only available in the Pro version of Elementor. So I paid the fee and started working with Elementor Pro.
The difference between the free and Pro version of Elementor is substantial. Although you can do a lot with the free version, and for many people, it will be sufficient, the Pro version is really next level.
Advantages
Designing your pages, posts, archives, and other parts and adding dynamic content is very easy with Elementor. By saving these designs as page templates or section templates, you can embed them anywhere or use them to completely override the theme design. You can use a page template for just one page, a selection of pages or all pages. Or create a post template for every custom post type you use.
Some Great Features
Design all parts of the website, including posts and archives. This is done by adding Dynamic Data to the template.
Save designs as page templates or section templates, reusable on every page.
Global widgets.
Show or hide elements of the design on desktop, tablet, and mobile.
Lots of third-party add-ons, although some of them get obsolete as soon as Elementor adds it to the plugin.
The Theme
Choose a well written, fast, lightweight and secure theme that works well with Elementor. Although the developers claim it works with all themes, test the theme you use in combination with Elementor to be sure. I can recommend OceanWP and I use it on all the sites I maintain.
For all features of the free and Pro version of Elementor WordPress plugin, just look over here.
A New Level
Because of all the features Elementor offers, you can't call it a page builder anymore. That is why they call it a theme builder these days. Although that isn't completely true: you will still need a separate theme, that contains the basic WordPress template structure and carries the design you build with Elementor.
The Future
Elementor keeps getting better and bigger. The latest addition is the WooCommerce Builder. Design your webshop any way you want.
I hope Elementor will improve even further and will be my primary theme builder for a long time. If only I could persuade the team behind Elementor to have their blog posts featured on World of WordPress. Which by the way is completely built with Elementor!
Can Everybody Work With Elementor?

Well, yes. Elementor is very easy to work with, a nice clean interface, extensive documentation, and countless articles have been written about it. But just like with any other application, you need to know how to apply it.
In general, building and designing a WordPress website requires knowledge of a lot of things. No matter what you build, some basic rules always apply. You need a theme, plugins, security, performance, design. You have to understand how everything works and how everything works together. Otherwise, you will get lost, and using a theme builder will only complicate things.
It took me a while to completely understand Elementor. And still, I discover new options and new ways of applying all the features. It never ends, just like the development of Elementor itself never ends. But for me, it's the number one page/theme builder!
Why I Wrote This
You can find plenty of reviews about Elementor. Also, enough sales talk. I wanted to share my experience with Elementor WordPress plugin as a user, especially because I don't have a background in design or coding.
A theme builder like Elementor gives people like me an opportunity to get better in designing a WordPress website and let the software do the techy things for me. Web design is not my core business and maybe never will be, but I love WordPress and really like to do most things by myself.

Latest posts by Ronald Heijnes
(see all)
Where Should We Send

Your WordPress Deals & Discounts?
Subscribe to Our Newsletter and Get Your First Deal Delivered Instant to Your Email Inbox.
Thank you for subscribing.
Something went wrong.