If you're a WooCommerce store owner, you need various types of plugin for your website. And product feed is pretty important for you. To stay in business you, have to promote your product in multiple merchant shops and websites. And product feed lets you do that easily.
Of course, besides a product feed, for promotion, you could use something like found.ee.!


Although it has a weird name, found.ee. is a very useful tool to have. What it will do is enable you to design and run ads on websites like NYTimes, TechCrunch, GQ, etc., for the fraction of the usual price.
But the opportunity to advertise yourself/your business is not the only thing that found.ee. brings to the table. Ad performance tracking, branded links, geo-targeted landing pages, segmentation, and retargeting is also part of the package. A truly amazing ad platform as you can tell.
But enough about that, let's go back to product feeds.
Why use product feed? Because your friend Google or any other merchant shop doesn't understand your language. For them, you have to specify your product details in XML, CSV, or TXT format. It helps you with
Getting your products listed in merchant shops like Google, Amazon, PriceGrabber, etc.
Getting listed in other comparison shopping engines.
Increase your visibility over more channels- more people see your products.
Allowing your affiliates to sell your products more quickly.
Information about all your products is consistent across all selling channels.
There was a time when you have to give manual input all your product data. Then came the product feed plugin. With its help, you can create your product feed in an instant. In the WordPress plugin repository, you can find plenty of product feed plugin. And most of them have a hard to understand user interface (UI), even the most famous one has objections about its UI.
That's why today I will talk about Best WooCommerce Product Feed plugin. It helps you create one or more optimized product feeds from your WooCommerce products easily. It has the easiest user interface among all of the product feed plugin.
Let's dig into it…
Best WooCommerce Product Feed's Feature List
Before going into the details, we should look at the features of this plugin. Looking into the features, you will know if this plugin is worth your time or not.
Features
Intuitive user interface
Create feed Up-to 2000 products in the free version.
Unlimited feed creation for Pro-Users.
Has setups that meet the requirements from various merchant stores.
XML and TXT formats.
Create custom product feed.
Feeds are also accessible via HTTP or HTTPS. So that supported merchant can quickly and automatically fetch product feed using given Feed URL.
Attribute Prefix and Suffix. You can add Marketing or Promo Text with Product Title, Description And it's also possible to add Price symbol, currency code with the price.
Create custom field names.
Map your categories to those of other channels, such as Google Shopping.
Use advanced commands to optimize your product feeds while creating or exporting.
Remove the chances of feed specifications errors by matching merchants' feed import requirements.
This plugin supports several merchant shops. And developers behind this plugin working on more merchant shop affiliations. Here are the major ones:
Google Shopping
Amazon Seller Ad
eBay Commerce Network
Nextag.com
Pricegrabber.com
Kelkoo.com
Bing Ads
This plugin also has multilingual support. So you will be able to show your product in different languages without any problem.
How to Generate WooCommerce Product Feed Using Best WooCommerce Product Feed
Before you start, you should install WooCommerce and upload all your products in your store. I have set up a test site with dummy data imported on the website for the review purpose.
First of all, go to WordPress admin menu > Plugin > Click Add New in the left corner.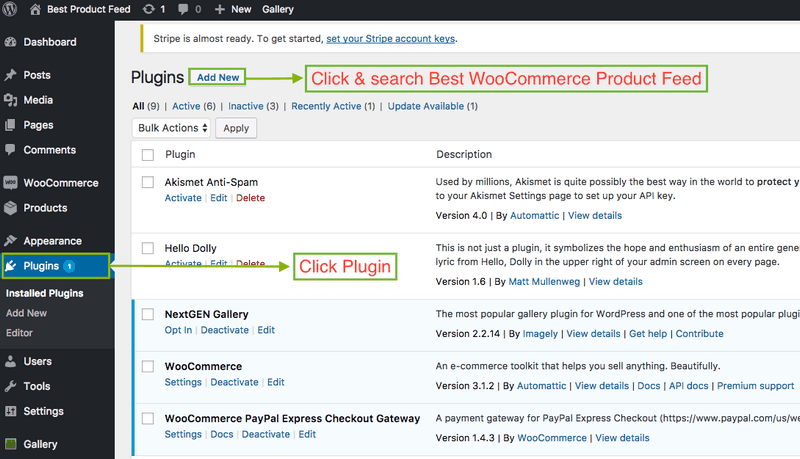 Or you can Upload the plugin to the /wp-content/plugins/ directory through FTP. After installation a new menu 'Product Feeds' will appear in admin screen from where you can create and manage feeds.
Add New Feed
On WordPress admin menu you will find a new menu named 'Product Feeds' hover over it and click to Add New. You will go to a new page.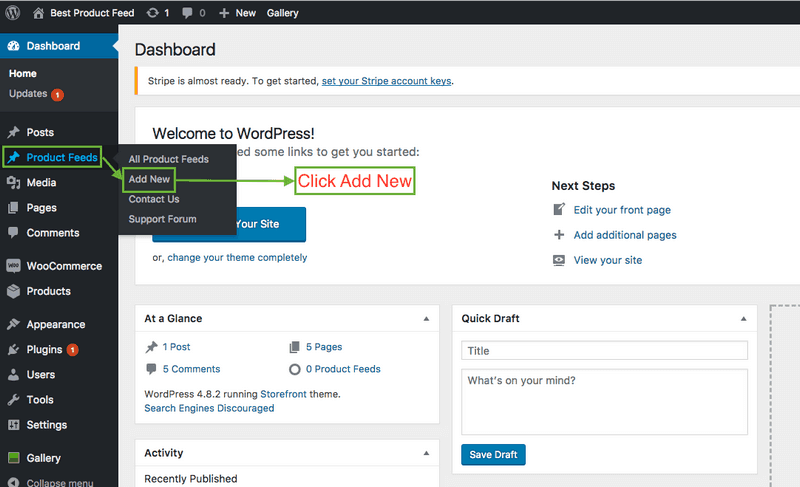 Then Give your feed a title. You can select whether to make feed for all of your products or some of the products. If you want to create the feed for selected products you have to do category mapping.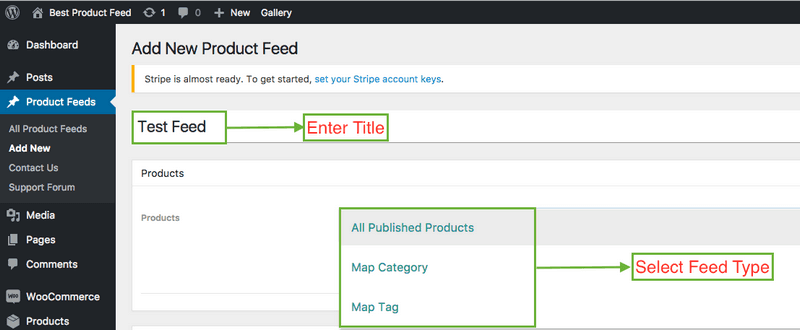 You can use either map all of your products by selecting "All Published Products." Or, you can get more granular and configure specific categories and subcategories for each category on your WooCommerce store by choosing category mapping.
For category mapping, select the "Map category" then select categories and subcategories for the feed.
Even you can make product feed depending on products tag. You have to select the "Map Tag" option for that.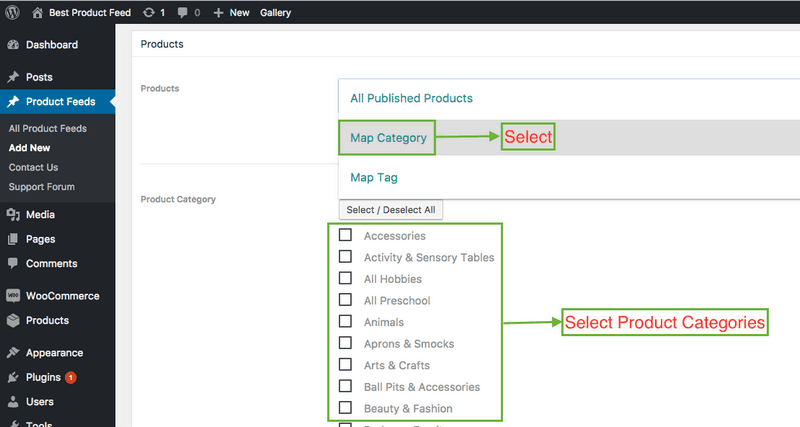 Once you select default feed type or category mapping, you have to select merchant type. Depending on your merchant type you have to choose your feed format. For Google Merchant Shopping it's predefine on XML. For other kinds of merchant shop, select preferred one.
And as you choose the merchant type the plugin will load required setups automatically, saving you time.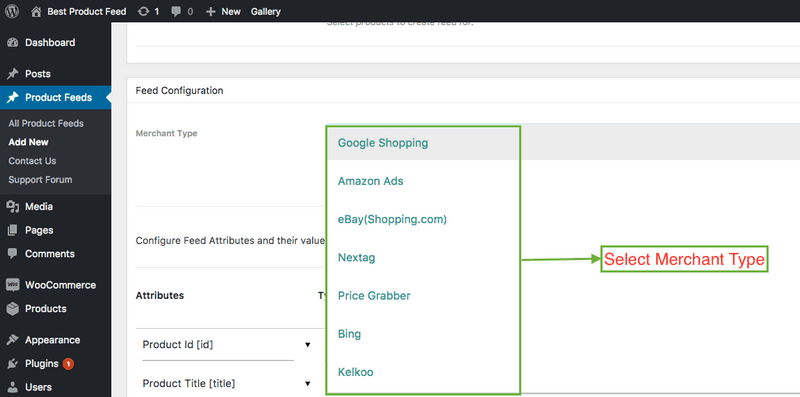 You can see that you can be accurate and specific in this process. Your selected product feed will not only show up in your the feed but also you can add new attributes in the feed. And you can also customize attributes as you like. Its all depends on how you want it to be. You can also sanitize you feed with this plugin.
For example, if you want to remove space from your product title select "Remove Space" on "Output Sanitization."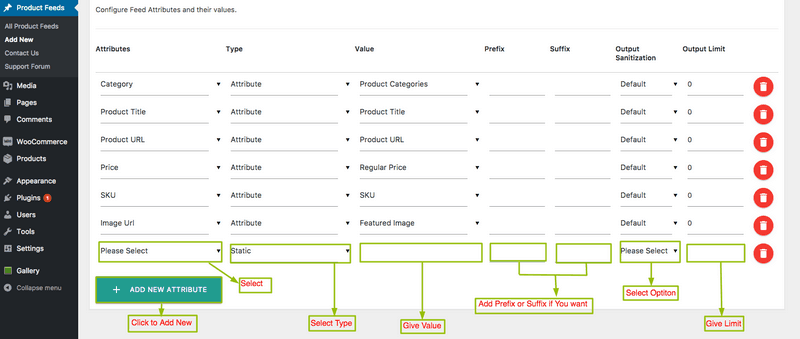 You've finished doing all the tweaks and customization. Now you can publish your product feed. Just hit the publish button situated on your upper left corner. Then you will find the "Download" and "View" option. You can download and view the feed. Easy!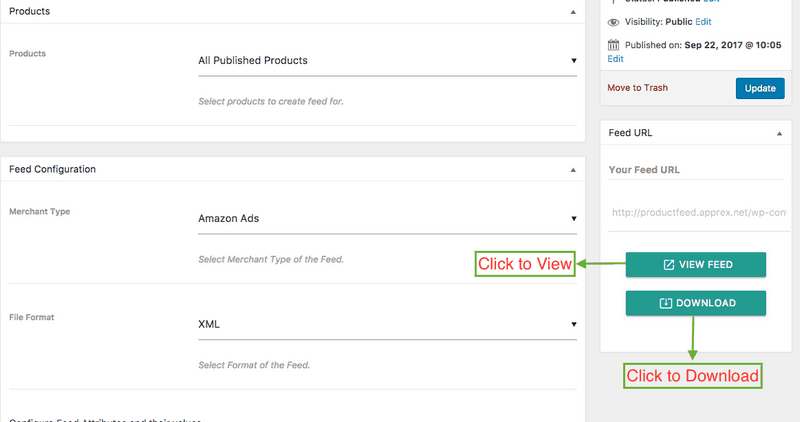 Is It Pricey?
In comparison to the time, it will save and features you will get, this plugin isn't pricey at all. You can find two pricing (both for single shop) option on the developer's site, and the pricing is affordable for you if you regularly create product feed. Depending on your need you can either choose the Monthly option or the Annual option. But going with the annual option can save you some extra money.
There is also a free version available for this plugin. You can find it on the WordPress plugin repository or its official website. You can enjoy all the features available in the premium version. But the drawback is you can only generate feed up to 2000 products on the free version.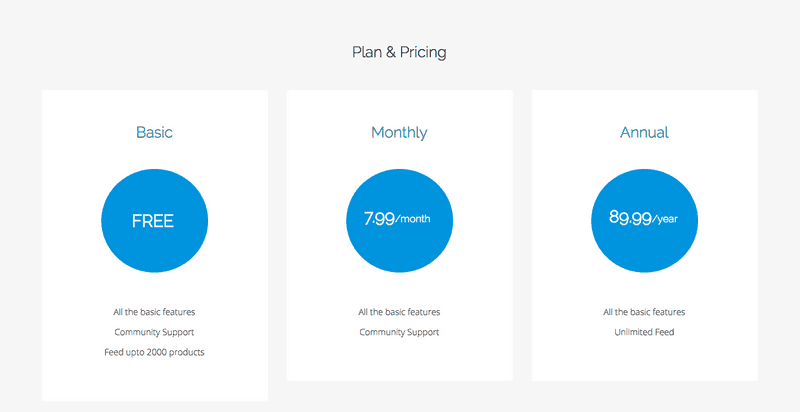 My Thoughts on the Plugin
Affordable: This plugin is affordable in comparison to the other plugins available in the market. You are getting a feature-packed plugin within your budget. For example, if you want to generate the feed for all channels you have to pay extra on other plugins.
Compatible: Best WooCommerce Product Feed plugin is compatible with any WooCommerce theme and plugin. So you don't have to worry about the look of your website, and your site won't break after you use this plugin.
Customizable: You can customize your product feed depending on your need. While many of the product feed plugins don't give the freedom, this plugin provides freedom as you like.
Easy to Use: I think this plugin is quite easy to use and cleaver. It turns what would otherwise be a complicated process into a simple process of drop-downs and text boxes.
Time-Saving: This plugin saved my time while I used it. It has some predefined attributes and setups that meet the requirements from various merchant stores. So if you select any merchant type, the needed attributes will load automatically. Which will save you an enormous amount of time?
For these reasons, if you want to build a product feed for your WooCommerce store, I will definitely recommend you to give a look at Best WooCommerce Product Feed. And you don't have to wait for their demo version as there is a free version containing all of the features.
Latest posts by Omar Faruque Simanta
(see all)
Where Should We Send

Your WordPress Deals & Discounts?
Subscribe to Our Newsletter and Get Your First Deal Delivered Instant to Your Email Inbox.
Thank you for subscribing.
Something went wrong.