Every graphic designer needs a bit of help now and then. This is where the online community comes into play. Thanks to numerous freebies that can be found scattered on the Web, graphic designers can speed up their workflow and become more productive. However, there are also other reasons why graphic design freebies, and articles like one, are of high value:
Seeking Inspiration: We are sure that you've encountered the hardships of finding inspiration online. Even though you can find millions of great examples, they don't speed up your workflow. By downloading freebies and editing them, you won't only benefit by being more productive. Instead, you might get a smart idea of how these design resources for free can be used to push your skills further.
Learning How Things Work: Students learning the basic principles of graphic design shouldn't rely on books alone. The most valuable knowledge is gained through practice. Graphic design freebies can be used to inspect how things are created using Illustrator or Photoshop. You will learn how to materialize your idea only by dissecting another professionals' work.
10 Graphic Design Freebies
Without further ado, let's jump to 10 graphic design freebies that have the power to speed up your workflow.
Mascot Creation Kit
These graphic design freebies allow you to add a touch of personality to your projects. No matter if you're creating a website interface or a local business' pamphlet, a mascot can be a personal touch that creates a connection with customers.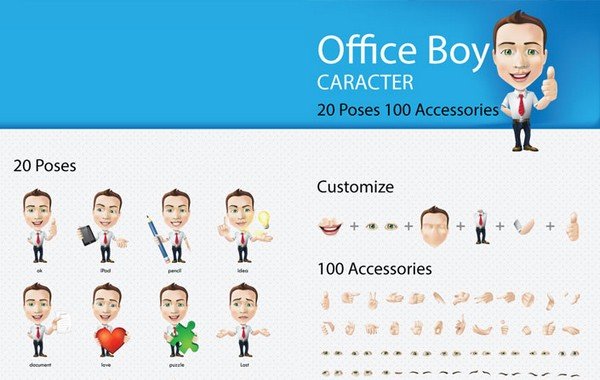 Use of mascots isn't anything new when it comes to advertising. They can be used to showcase a product, or to connect with a particular target audience. Also, they are also useful for showing an individual product's benefits. If you think about it for a second, you'll probably remember a few of the notable mascots like the Michelin Man, Tony the Tiger (Kellogg), Ronal McDonald, or Duracell Bunny.
This Mascot Creation Kit helps you build a human-like mascot using different facial features, poses, and accessories.
Click here to download the Mascot Creation Kit
Autumn Pack Freebie
Here in the northern hemisphere, we're slowly starting to see brown leaves on the streets – which means that the autumn is upon us. So, why not celebrate this festive season with a brand-new pack of autumn-themed graphics.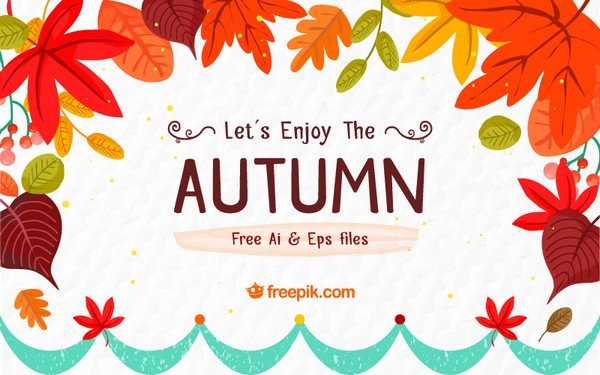 The Autumn Pack Freebie brings eight different card designs, six patterns, and four backgrounds. They come in the AI (Adobe Illustrator) format, which means you can dissect them, modify, and use any element that you like.
You will end up with 18 files but remember that these contain hundreds of individuals items like different kinds of leaves, pumpkins, mushrooms, animals, stormy clouds, and more. You can use these items in your own design and come up with something unique. Don't miss this great opportunity.
Click here to download the Autumn Pack freebie
Arrow Icons – Ultraviolet Style
This freebie brings more than 90 icons ready to be used in projects as navigation elements. Here you'll find four large groups of icons that come in many different variations. Some of the ways these can be used are sliders, website navigation, app navigation, as well as within individual graphics elements that come with filtering or sorting options.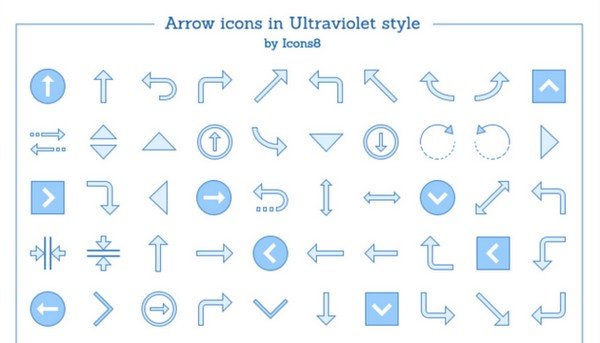 Also, note that this set is designed in a so-called Ultraviolet style. They all come in blue by default, but you can modify them any way you like. In addition, they come in four different file formats: PNG, SVG, PDF, and fully editable EPS.
Click here to download the Ultraviolet Style Arrow icons
Densia Sans by Harbor Type
Typography can make or break any kind of project. No matter if you're building a website's interface or a print poster, typography is what provides a personality. During the last couple of years, we've seen the rise of compact and thin fonts that are also very legible. This is the case with Densia Sans – a free font you'll find by following the link under this segment.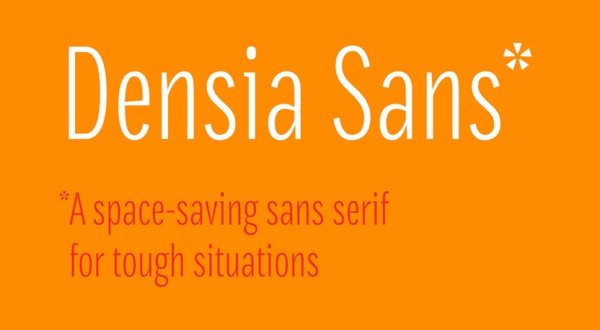 Even though it comes free of charge, Densia Sans features 820 glyphs. Due to its structure and aesthetics, this font is the perfect choice when you have a lot of text that you don't want to look dull. It saves some space, without sacrificing legibility.
Click here to download Densia Sans
Platforma for iOS – A Trial Version
When building an iOS app prototype, wireframes are usually the first step towards the final product. However, wireframes often need a lot of time and effort to be built. This includes creating graphics and animating them to show your clients how they move and act. You can save a lot of time and increase your productivity by having a set of high-quality wireframes that serve as templates.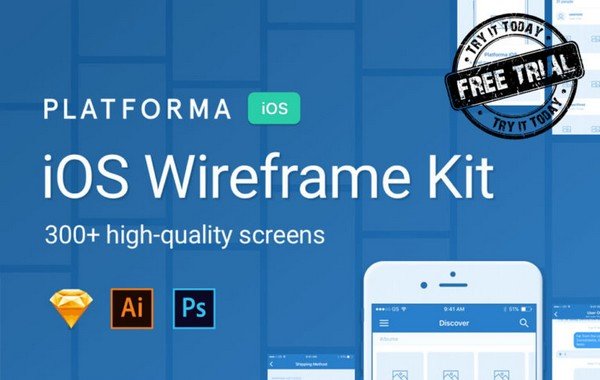 Platforma for iOS includes 300 screens – fully designed and ready to be processed by applications like Sketch, Illustrator, and Photoshop. However, please note that this freebie is a trial version that comes with 32 screens. This is more than enough to get your project up and running.
Click here to download Platforma for iOS
Lightroom Presets Bundle (15 Presets)
Lightroom presets are files that come with a pre-defined set of photo adjustments. You can look at them as smart filters for your photos that can be edited further. You can easily install and organize them within Lightroom, as well as save them for later use.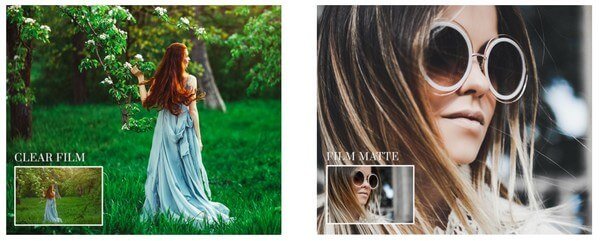 This freebie brings 15 presets that can be used to enhance colors, create focal points, add texture, and highlight details. Some of the most interesting presets are Kodak – which can turn your photos into old and classic-looking, as well as Old Cinema – which adds layers of texture, blur, and colors.
These presents are not limited in any way. You can use them with any version of Adobe Lightroom, as well as with any types of images (including RAW).
Click here to download this freebie
18 Free Vintage Photoshop Actions
Photoshop Actions are similar to Lightroom Presets. They can be used to turn your photos into stunning works of art by applying a set of predefined adjustments. However, Photoshop Actions are comprehensive tools that allow you to go into details of your photo. This is why having preloaded Actions is always a good idea.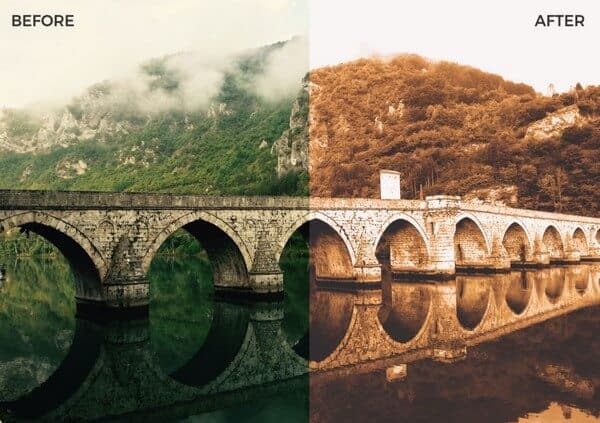 This freebie brings 18 Photoshop Actions that can be used to apply vintage-looking aesthetics to your photos. Some of them are capable of turning your photos into sepia-colored images, while others imitate cameras from the 1970s and 1980s.
Click here to download 18 Free Vintage Photoshop Actions
Create a Perfect Photography Website – eBook
The importance of having an online presentation is imperative for any aspiring photographer. However, photography portfolio websites can often be tricky to build. This is because this kind of sites is used to show photos without allowing them to be downloaded. Instead, you should create an online shop and sell your photos.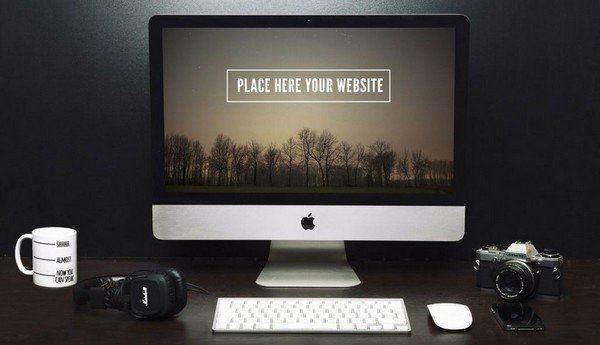 This eBook, published by Zenfolio, will take you through every step of the way. You will learn how to define your website's design, organize your photos, set up an online shop, and protect your work. Finally, a chapter on Search Engine Optimization will allow your website to get much-needed organic traffic.
Click here to download the free eBook by Zenfolio
Compact One – One-page WordPress Theme
As you surely know, WordPress offers both free and premium-priced themes. However, the selection of free themes can often be underwhelming. This is why freebies like this one should not be overlooked.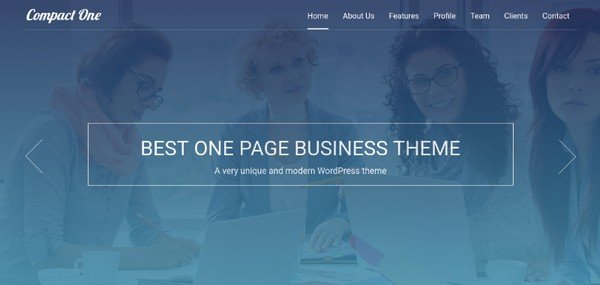 Compact One is a one-page WordPress theme that checks all the right marks. It's responsive, easy to navigate, brings a modern design, and it is multi-purpose. We also shouldn't forget to say that it brings an excellent selection of elements like sliders, preloaded graphics, and progress bars. This is everything you'll possibly need to design a fully-interactive website. We believe Compact One is the perfect one-page theme for any business organization.
Click here to download Compact One
700 Web Development Icons
Every Web developer knows how tedious it can be to find placeholder icons before coding their functions and behavior. In many cases, Web developers have their own set of icons that are used as placeholders before replacing them with custom-designed ones.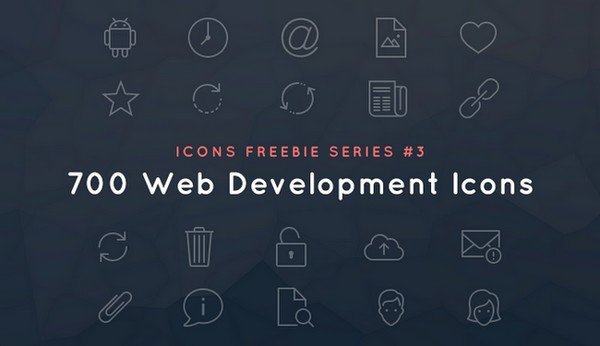 This set of icons contains 700 beautifully designed icons. More precisely, there are 100 different categories, where every category has seven variations. You will find icons for various functions like Up, Down, Refresh, Home, Add, Download, Search, Share, and Social Media Icons. Every single one of those comes in 4 different sizes: 16px, 30px, 40px, and 80px.
Click here to download this fantastic series of freebie icons
In Conclusion
We hope that you've managed to download at least a couple of graphic design freebies listed in this article. Hopefully, they'll enhance your workflow and help you get the job done faster. Make sure to stick with us since we'll be bringing more freebies soon.
Where Should We Send

Your WordPress Deals & Discounts?
Subscribe to Our Newsletter and Get Your First Deal Delivered Instant to Your Email Inbox.
Thank you for subscribing.
Something went wrong.