Guest posting is a great marketing strategy to get more visitors – regardless if you are accepting guest posts on your site, or publishing your articles on someone else's.
Not only is it great to collaborate with other bloggers, but it will also bring you some high-quality links that will lift you up in the eyes of the almighty Google.
Ultimately, it takes a lot off your plate – even though people are very enthusiastic about sharing their knowledge on a topic, so starting a blog is easy. Still, it can become a demanding job after a while, and you might not have a fresh view on the topic every now and then. That's when other authors can jump in and help.
With their articles that are published on your site, you will still be providing great content to your visitors, which you haven't had to write yourself. Still, the most important benefit of guest posting is the traffic that comes with it. If you publish your article on someone else's site, their audience will get to know about you, and if the post is good, follow you back to your site. It works the other way around, too.
In short – if the author is an authority in the niche and knows what he or she is talking about, the visitors are very likely to follow them around.
So, if you ever decide to accept guest posts on your site – make sure that you give the credit where credit is due. This is common courtesy after all, but it is also a great way of bumping up your blog's traffic, credibility, and, ultimately, Search Engine Result's Position!
Why and how should you add author boxes?
Giving the credits to your authors is a really nice thing to do for them!
Considering how many websites ask for full rights over the material sent to them, it can be difficult to build a portfolio and show off your skills to potential employers for new writers looking to make a living out of it.
And it is a nice thing for you, as well, if we are honest. You will attract new writers since everybody is looking for some exposure, especially when they are starting out.
If experts get the chance to promote themselves on your blog, they will jump on the opportunity, too. But, all in all, with all the writers and their articles, you will also gain a lot of new traffic. With strategically placed internal links and your own impeccable content – you have a high chance of getting new loyal readers!
Now, when it comes to how it can get tricky, especially if it is in WordPress. Not all of the themes have or support this feature, so unless your whole business idea revolves around guest posts and you planned them in the first place, you will probably be destined to use a plugin.
It is safe to say that there are one too many plugins available, and it stands true for Author Box plugins as well. To save you hours of hunting for the right one, here is our recommendation: the Simple Author Box plugin.
Sit tight, because we are about to show you how to handle and add author boxes on your site with this plugin in no time!
But first, let's get to know more about Simple Author Box!
What is Simple Author Box?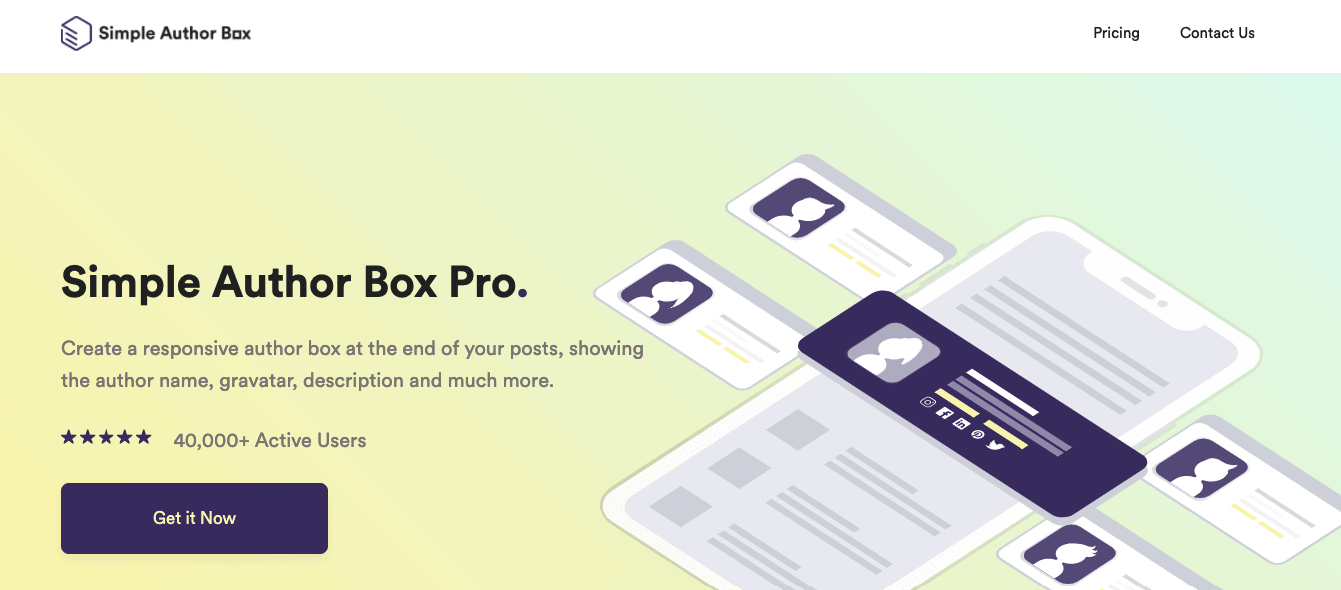 Simple Author Box is a WordPress plugin that helps you add a fully responsive author box at the end of the post. It will look gorgeous on any screen, from mobile phone to a desktop computer. It offers all the tools you would need to create author boxes, that will, in the end, provide all the relevant information about your authors.
Unlike other plugins available out there, these boxes are not an eyesore and fully complement your site as you are getting the full control over all the customization aspects of it.
Apart from being beautiful and responsive, it also provides you with plenty of new opportunities that don't come naturally for WordPress. From adding guest writers to your posts without having to create users accounts for them, to assigning multiple authors to a single article, this plugin has you covered.
Now, let's get into more details about what the plugin offers and what it can do for you.
What are the features of Simple Author Box?
The important thing to pay attention to is that Simple Author Box comes in both free and PRO versions and the features between the two vary. Both of them are excellent, with the free version doing a great job, and the PRO version essentially doing the job much better.
The main features that you will be able to find in both the free and PRO version are rather useful, and even if you were "stuck" with just those, you will still be good to go, and you'll be able to achieve your goal.
Still, if you are worried about the aesthetic appeal and need more functionalities, then you shouldn't skip on the PRO version. But with both versions adding an awesome author box is as easy as possible, the only thing that varies is the customization options.
The Main Features
The main thing that Simple Author Box does is add an author box to your post—a piece of cake for this plugin.
Included in the author box added at the end of your post is the gravatar of author's choosing, their name, their website, a short biography, as well as social icons that they can use to promote themselves, their work, and the fact that they are being published on your site.
The thing you will notice first when you go into the plugin's menu is the "preview" box. It looks black and white, and not really fancy, but once you set everything up, it will match the overall vibe of your site.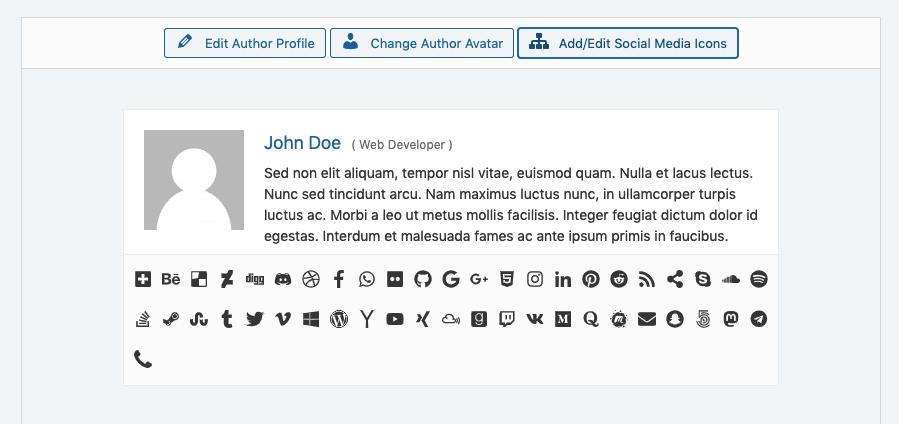 The very next thing that you will notice is quite the crazy amount of social media icons you have available. Just the sheer amount of promoting options for your authors will have them lining up with great content for your site. You don't have to use them all, of course, but the more links you provide for your authors, the better!
From there, underneath the "preview", you will be able to twist and tweak the author box features, which are separated in four, or five tabs, depending on the version you are using.
Let's go through each of them.
Settings
The first tab is settings, which contains all the main changes you might want to make.
Here, you can choose whether to add the author box manually and whether you would like to show the box at all if the bio section is empty. Also, you can choose whether to include the author's email and social media links or not, and if you would like to open the links in bio in another tab.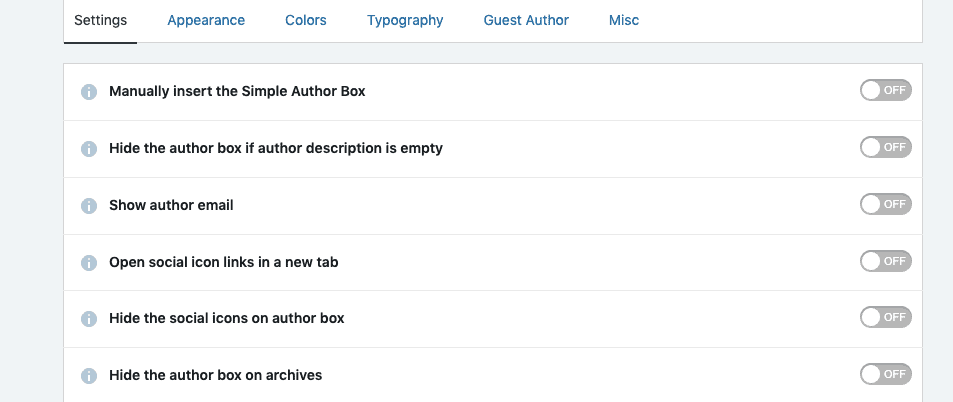 If you are using the PRO version, you will be able to find some additional goodies here that can help you turn these author boxes into something that is as complementary to your site as possible. For example, you get to choose the position of the author box. Is the author's bio intended for adding to the credibility of the article? Then there is no need for it to be under the post when it could be on top!
Lastly, in this section, you can choose if you would like the author's name to link to somewhere instead of including the eyesore of a link into their author box. And also choose to show the author box on specific pages, with specific categories, and tags as well, which adds a plethora of options for your site.
Appearance
The next stop is the appearance tab, which will help you tweak the appearance settings of your author box so that it can match the overall vibe of your site.
Here you will find padding options, margin options, and the option to adjust the border width.
Along with that, you can choose the avatar image style, which could be circle or square, and also decide whether you would like to add the author's website to the box, and the type of social media icons you will present within it( pick whether you would like them to be symbols or colored).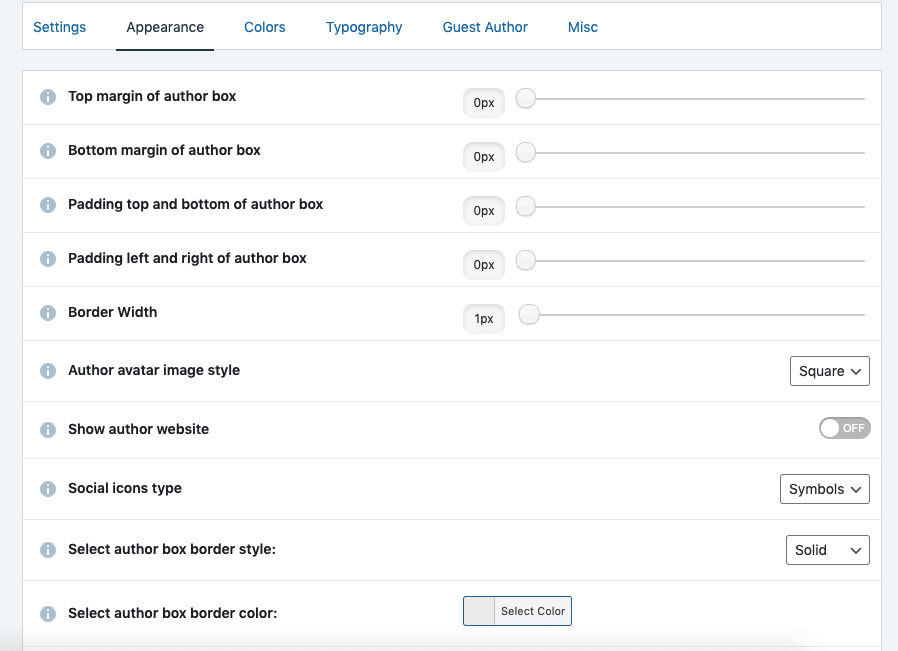 With the PRO version, of course, you get a bunch of other appearance options that can come in quite handy. For example, you can modify the box borders – from their position to their color and style.
Besides that, you can pick from up to 10 various styles to help the box match the overall look of your site and remove the brackets in the title.
Colors
The next tab is the colors tab, where you finally get the opportunity to make your author box a natural part of your website, rather than an eyesore.
The truth is, most of the coloring has already been done for you. How so? Well, because the plugin takes a hint from your theme about the colors and uses it to customize the author box. So, even if you don't change anything in the color section, the plugin will do its best to match the overall color palette of your WordPress website.
Still, if you want something else, in the colors section, you will be able to find the color picker for every aspect of your Author's Box: the author's name, border color, background color, paragraph color, link color… you name it – you can change its colors here.
The PRO version takes things a step further with the Color Pallete choice as well, since it allows you to set it up in no time – just pick a palette from the dropdown menu, and you are good to go.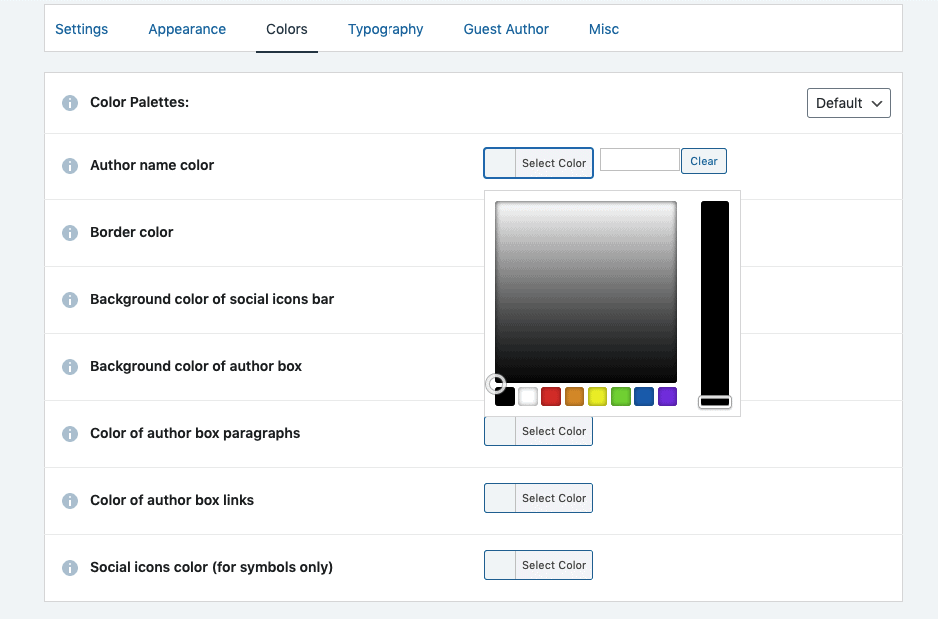 Typography
The next stop is typography, which is incredibly important if you are using special fonts on your site.
Just like the plugin will assume colors that match your theme, this stands true for typography, too.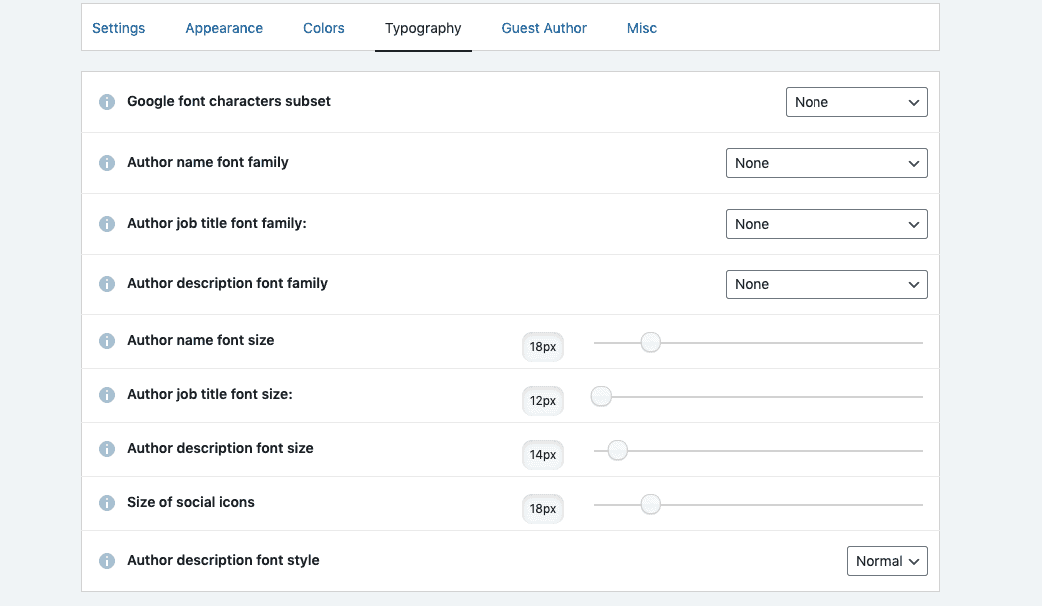 Still, if something is bothering you regarding the typography, you can effortlessly edit it here. Choose the Google Font characters subset, pick the font family for the author's name and bio, select the size, and ultimately, even edit the size of the social icons.
On another note, the PRO version adds a couple of additional customization options for the job title that it provides next to the author's name. To be more specific it allows you to choose the font family and the font size for this element too.
Guest Authors
This tab is available only to PRO users, since adding Guest Authors is one of the major differences between the versions that is well worth every cent.
If you are accepting guest posts on your site, you will soon get tired of creating user accounts with WordPress so that you can use them as authors. This is where this PRO version saves the day – under the Guest Authors tab, you can allow guest authors on your site!

This allows for a much quicker creation of authors. Meaning you can effortlessly assign them the credits for their pieces without going through all of the trouble of creating user accounts on your site for them.
In here, you can also set them up as co-authors, in case you ever cooperated with them on a post. This is very useful because it is great to be mentioned and given credit to if you have dedicated time to work on something!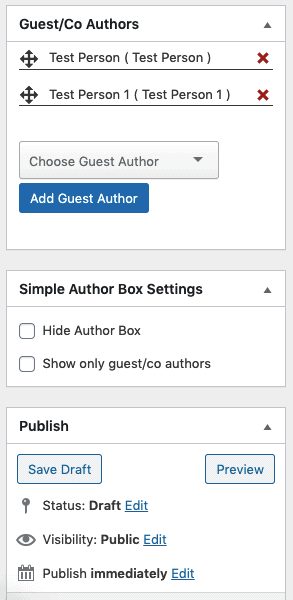 Assigning them is a piece of cake – simply select the authors from the dropdown menu on the upper right corner of your editor and you are good to go!
If you don't have them already included on your site – you can effortlessly create a new author from your editor.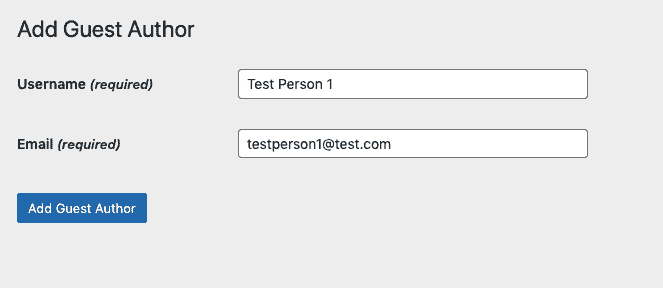 Bonus Features with the PRO version
If you are adding an author box using the Gutenberg editor, there is no need to worry. This plugin comes with its own block, so you will see no struggle in adding the author box to the site.
The Author Box widget is another aspect of the premium version you could be grateful for. The opportunity to showcase your most popular authors through a widget on your site brings a lot to the table.
You will be able to get returning readers for specific authors that are contributing to your site and get your readers to stay longer on your site if they like what a particular author has to say.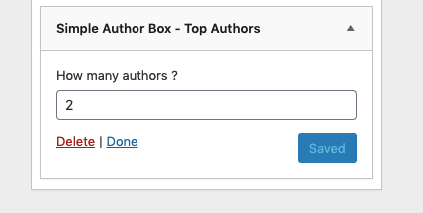 We all know that Google looks into Time Spent On Site when awarding us with our search engine rank, so this is an opportunity not to be missed.
Adding the Author Box to any post, page, or custom posts with a single click is a dream come true for many WordPress website owners, considering that it does take another plugin to actually display it.
Adding new users constantly in order to be able to credit them properly is time-consuming, and can create an overall mess on your site. But with this plugin, everything is a single click, apart from the customization options.
Of course, just like with any other WebFactory plugin, you can rest assured that if something doesn't work the way you planned it, there is an excellent support team at your disposal.
If you are new to WordPress, this is an important aspect to consider, since it can save you many hours spent on figuring stuff out by yourself.
In the end
Unlike any other Author Box plugin available on the market, Simple Author Box Pro gives you full control over your author boxes.
If your site has plenty of authors, or if you are accepting guest posts on your site, this plugin is a must-have.
Its Co-authors feature is really something great since it allows you to divide the credits when the situation asks for it, and in turn gain even more credibility for a particular blog piece.
The possibilities to customize each author box on your site may be limited with the free version, but with the PRO one, they are almost endless.
All in all, if you have more than one author on your site, you should consider relying on Simple Author Box. The benefits it brings to the table are not something to miss out on!
Latest posts by Dzenana Kajtaz
(see all)
Where Should We Send

Your WordPress Deals & Discounts?
Subscribe to Our Newsletter and Get Your First Deal Delivered Instant to Your Email Inbox.
Thank you for subscribing.
Something went wrong.