Drawing tables on paper by using a pencil is pretty much easier but what about on web using WordPress?
Creating tables and using it on the web is a great way to display data in a tabular format. For presenting a huge amount of data on your site. It's obvious to have a tabular presentation of data to your target audiences.
A table can be used in so many different ways on your site. But the thing is the lack of support in creating tables from core WordPress is a big downfall. Fortunately, this is where plugins come into existence and playing a major role in creating the table using WordPress.
These days plugins are an indispensable part of the ecosystem of WordPress and they cover the necessary features that the core requires. There are numerous table plugins in the WordPress directory. But again, the problem is which plugin should I choose from the mess.
Today, in this post, we will go through some of the best WordPress table plugins list that may resolve your confusion of choosing the right one. Before going into the list, I am defining what the table plugin is?
WordPress Table Plugins 2019
Basically, a table plugin is a piece of software containing a bunch of features and functions of table creation that can be added to any WordPress based website. Essentially, plugins are used to create and manage tables on your site.
Now, to make things easy, I am listing 10 table plugins first, then we will go through one by one demonstration. Here is the list:
Now, let's get into the detailed observation each of the plugins that might help you in choosing one from the list.

1. Ninja Tables

Ninja Tables is a robust freemium table plugin that provides you with tons of features and functionalities with a most user-friendly interface. I put the plugin in the top position as it's the most fast-growing table plugin with a 20,000+ active installation in the WordPress directory. You can get the pro version directly from the official website of the plugin. Most importantly, Ninja Tables plugin is performing well constantly providing the most affordable services.
You can hardly find any table plugin like this that fully responsive with a smart breakdown facility. But Ninja Tables plugin bears such an awesome feature within itself. For the most modern table plugin responsiveness is a vital issue as mobile users are increasing day by day. Using Ninja Tables plugin you don't need to worry about responsiveness at all.
Moreover, some plugins provide a responsive feature by adding additional plugins or add-ons that cost extra money and penny. But Ninja Tables provides you with a fully responsive outlook in an extensive way. The thing is you don't need to know any coding knowledge for having those features on your tables.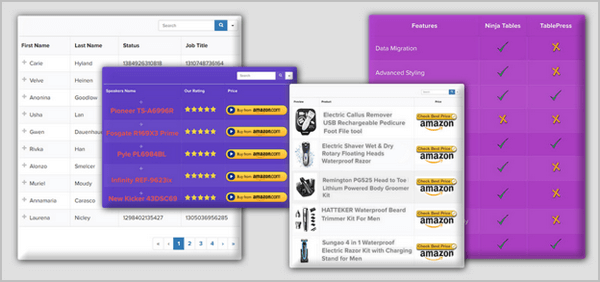 Using Ninja Tables you can integrate your tables with Google sheets and WooCommerce as well. There are plenty of options for styling your tables with custom CSS facility. You can have an import and export facility, can import data from other table plugins as well. Here are some of the core features of the plugin:
Features
Created Fully Responsive Tables.
Easy- Simple Table Configuration.
Mobile Friendly Table.
Table Duplication Facility.
User-Friendly Interface.
Export-Import Facility.
Pagination Facility.
SEO Friendly Table.
Short-code Friendly.
Custom Filterable.
Import Data from Others Table Plugin.
Custom CSS with Versatile Table Decoration.
Details Documentation.
Cross-browser Compatible.
Dedicated Support.
In pricing, the plugin is affordable and cost-effective. You can get multiple plugin's features buying only one plugin. The Pricing of the plugin starts at $39 and ends with $199.
2. TablePress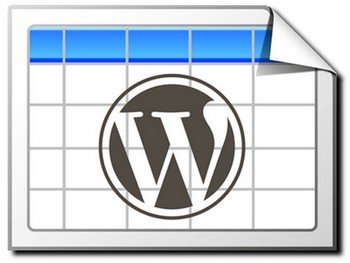 This is a simple free WordPress table plugin that is best suited for basic table creation. This plugin got its popularity as it comes in the marketplace earlier part of the table plugin market. Before appearing as TablePress the name of the plugin was WP-Reloaded.
The plugin provides shortcode facility and you can add any of the created tables anywhere on your site simply using a short-code. You also get the export-import facility using the plugin.
Using TablePress, you need to add an add-on to get the full responsiveness feature on your tables. Moreover, the plugin offers a couple of add-ons to add the extra functionalities to your table.
Features
User-friendly Filtering.
Custom CSS Feature.
Export-Import Facility.
By Default Not Fully Responsive.
Extra Add-ons Supported.
In costing the plugin is completely free of cost.
3. wpDataTables

This is one of the most promising freemium table plugins in WordPress. You can get the lite version of the plugin with minimal features. But premium one lets you create and customizable tables on your tables. All you can do without learning HTML CSS. Most importantly, you can create a different chart using the plugin.
You can import data to external sources and you also can export data from external sources using the plugin. The plugin provides you with multi-lingual support for its users. You also can get custom CSS support and JS support as well. Key features of the plugin are given below:
Features
User-friendly Interface.
Shortcode-friendly.
Multi-lingual Support.
Custom CSS.
Import from Different External Sources.
The plugin provides you with unlimited ways of table customization in styling and fonts as well. Back-end customization facility allows you to connect tables with MySQL.
In pricing, the plugin costs $55.
4. League Table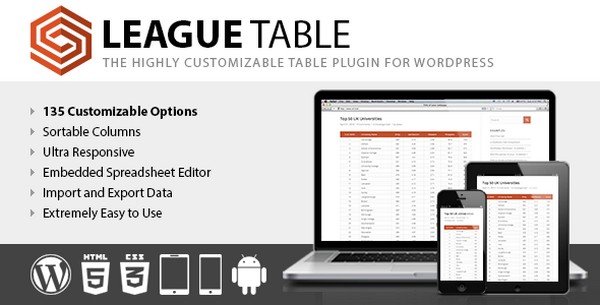 This is a premium plugin that was essentially developed for sports-related websites. Although the plugin was made for sports purpose it still serves the general table purposes as well. After releasing the plugin, the customizing option has improved much to maintain a proper balance in business or personal usage.
You can have a responsive outlook using the LeagueTable plugin and you can use tables any part of the pages. Moreover, the plugin is shortcode friendly and you also can put shortcode any part of the page where you want to display the table.
The plugin is not compatible with the import/export facilities but you can use any third-party tool for having such an import/export facility. Even, if you want to configure responsiveness of any part of the table you can such easily.
Features
Can have Responsive Layouts.
Shortcode-friendly Tables.
Documentation and Support are Awesome.
Widget Facility.
Easy Customization Facility.
The pricing of the plugin is $23.
5. Ultimate Tables

If you want to create a minimal data table, you can use Ultimate Tables plugins for your usage. Though it has 10K+ active installation and 4-star ratings, you can also use for a simple table usage on your site. That means unless you need to create large tables, this could be a smart solution.
Using Ultimate Tables plugin you can have pagination friendly tables on your site with a sortable data structure. But you can sort data only in the backend. You will get multiple skins with different types of usage.
Features
Simple Interface.
Easy to Use.
Pagination Friendly Tables.
Sorting Facility in the Back-end.
Multiple Skins.
Text Messaging Facility.
Alphanumeric Ordering Facility.
The plugin costs nothing means it's a free plugin.
6. Easy Table

Easy Table is a free WordPress table plugin that is used to create tables on your site. It's a simple table that facilitates you to manage any kind of table on the web. The plugin has over 60k+ active installation with 4.6-star ratings.
One of the most important features of the plugin is that you can use WordPress visual editor while creating any table on your website. You just need to add data and shortcode only.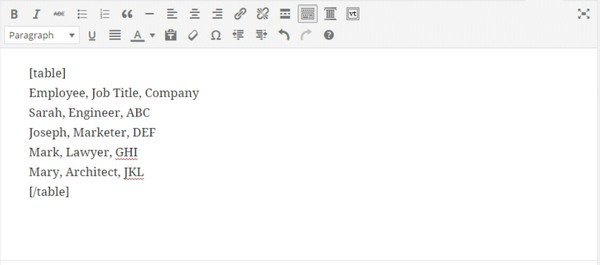 You also find the pagination and the basic search capability. It is also possible to import tables in CSV format. Though the plugin isn't an extremely sophisticated plugin you can use the plugin in any kind of basic need.
Features
Easy to Use Interface.
Very simple minimal design pattern.
Import through CSV.
Two basic skins – Cusco Sky(blue) and Minimal(white).
Display tables in Posts, Pages, and Even in Widgets.
Data Can Read from CSV File.
In Pricing the plugin is completely free.
7. Table Maker

This plugin can be the right tool for creating simple tables on your site. Easy to use plugin interface as it's handy to work with simple table making. The plugin is specially used for displaying comparison tables. You can easily add columns, rows, header color, headings, subheadings and even all types of data in the most effective way among all plugins.
You can simply build pricing tables using the plugin. Using the plugin you can control and fill everything you want. If you want to edit any individual cell, just click on the edit icon, then everything will be done.
Features
Not Fully Responsive but Have the Responsive Option.
Shortcodes Friendly.
Simple Interface.
Easy Customization Facility.
Optional Center Alignment.
Predefined Icon.
Import XML/CSV Files into the Tables.
In pricing, the plugin is completely free of cost.
8. Magic Liquidizer Responsive Tables

Magic Liquidizer Responsive Table freemium plugin allows you to create simple tables and transforms the simple HTML tables into a structured mobile responsive format. You can easily create and manage data using the plugin.
This is a very lightweight table plugin that manages table data especially table contains a large amount of data like texts, images, and so on. The plugin provides a smart view of the table data and it also collapses the columns into rows. You can get navigation and custom media queries in the pro version.
Features
Render Responsive Outlook LIke Images, Navigation Menu etc.
Advanced SEO Features.
Supports Landscape and Portal View.
Cross-browser Compatible.
In pricing, the plugin costs $49.
9. Data Table Generator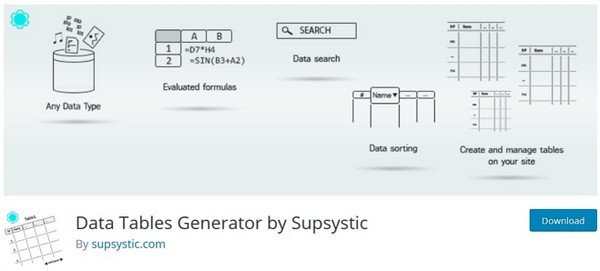 Data Table Generator is a simple table plugin that allows you to help to create responsive tables developed by Supsystic. This plugin provides its users interactive user experiences. It renders interactive graphs and charts on the tables.
Using the table plugin you also get the sorting, pagination, filtering, and so on. The plugin is a responsive table builder WordPress plugin. It has many features and functionalities to make the table more dynamic.
Features
Front-end Table Editing.
Export From CSV, Excel, and PDF.
Render Diagrams, charts, and Graph.
Allow WooCommerce Integration.
SEO Friendly Data Table.
Import from Google Sheets.
In pricing, the plugin is free to use.
10. Posts Table Pro

This is an unconventional table plugin that provides you with a twisting experience as a whole. Using Posts Table Pro, you don't need to enter data into the post manually. Instead of doing so, the plugin creates tables simply based on existing WordPress posts, pages, or custom post types.
Moreover, the plugin allows you to give ample flexibility while you want to display data as a post or custom post types. You can specify how many rows to be displayed on a certain page. You also get the filtering facility in the post by tag or category.
Features
Turn any kind of post and pages into a table data.
Searchable, sortable and filterable Table Can be Created.
Also can add multimedia on the table.
You can get a responsive outlook.
Well Documented and Dedicated Support.
Advanced Custom Fields Support.
Fine-grained Control.
In pricing, the pricing of the plugin starts at $89.
Final Thought
Creating tables on the web always is boring but if you use a quality tool this can be fun doing. You can use any plugin from here listed in the above that could worthy enough to serve your purposes.
For me, I always personally highly recommend you to use Ninja Tables plugin for your website. This plugin is super dimensional in type and lots of features and functionalities within itself. Moreover, Ninja Tables plugin is the fast-growing plugin in the WordPress directory in 2018 and seems that it will go into 2019 in a more prolific way.
Hopefully, this article helped you to identify the right plugin for you. Now it's your choice to give it a go. I just have made my recommendations, to make things easy for you.

Latest posts by Sazzadul Bari
(see all)
Where Should We Send

Your WordPress Deals & Discounts?
Subscribe to Our Newsletter and Get Your First Deal Delivered Instant to Your Email Inbox.
Thank you for subscribing.
Something went wrong.