Complying with the standards set in the Americans with Disabilities Act (ADA) isn't just a suggestion for web design agencies, website owners, and developers. It's a civil rights law that requires all places of "public accommodation," which includes the internet and websites, to provide equal opportunities and access to persons with disabilities.
If your web design agency is creating websites for your clients that don't comply with the ADA, you could be putting both your clients' and your agency's reputations and credibility at risk — not to mention the potential lawsuit that could stem from non-compliance to the ADA.
Automated web accessibility platform accessiBe, however, can be your solution.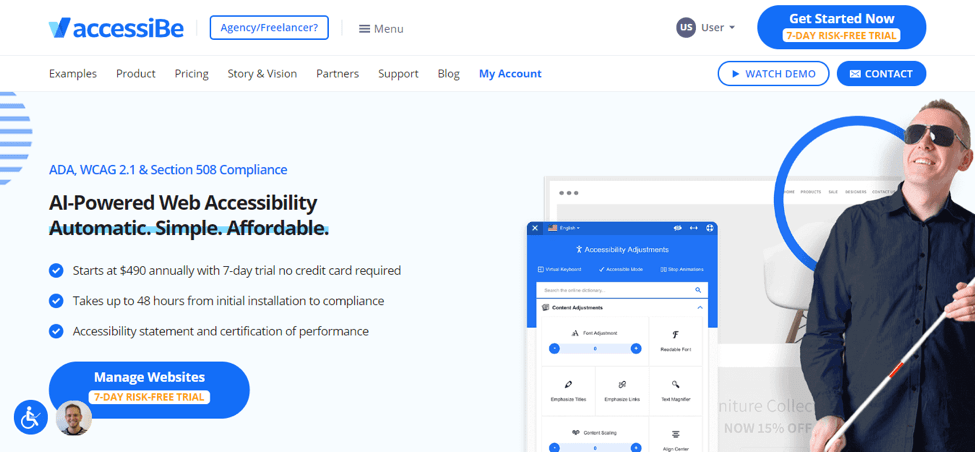 With accessiBe's AI-powered platform, achieving ADA compliance and accessibility for your design agency and your clients' websites can be faster, easier, cost-efficient, more sustainable, and a lot easier to pull off.
As to how exactly can accessiBe can help you, that's what we'll be looking into in this accessiBe review.
Why accessiBe?
Although required by law, achieving ADA compliance and designing accessible websites for users with disabilities can be a complicated and costly process.
Plus, you're not just designing for accessibility, but you'll also need to ensure your websites meet your clients' requirements, match their brand image, and will help them achieve their business goals.
accessiBe can make this possible by making the websites you build for your clients fully accessible and compliant with the ADA and the Web Content Accessibility Guidelines (WCAG) 2.1.
The platform includes two components that work at the same time to make your client websites compliant and accessible.
accessiBe's foreground application provides simple accessibility adjustments that relate mostly to your client website's user interface.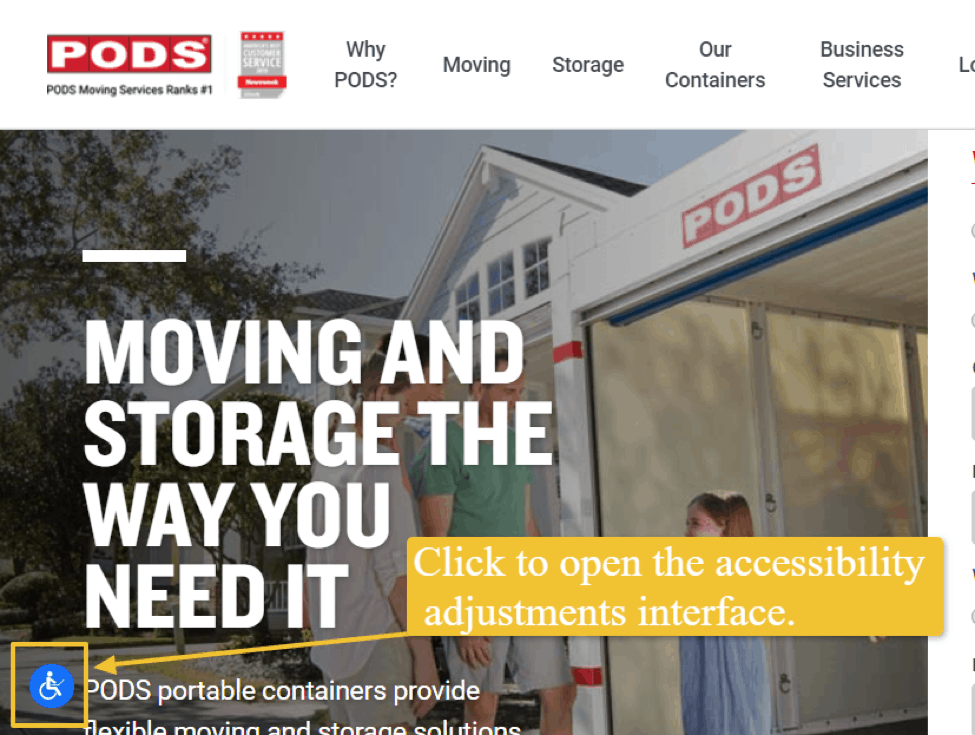 With this functionality, users with disabilities can make adjustments to your client websites according to their disability and preferences, such as the option to pause animations for people with epilepsy.
The second component is accessiBe's background application that uses AI technology for keyboard navigation functionalities and screen reader optimization — which are mostly used by blind people and those with motor impairments.
accessiBe's background app uses machine learning techniques to analyze and learn the website's functionalities, structure, components, and more.
It then applies different behaviors, and Accessible Rich Internet Applications (ARIA) attributes based on accessibility guidelines and best practices.
Now that you've had a glimpse of what accessiBe can do, let's dive deeper into its functionalities and features, and how they can help you create ADA compliant WordPress client websites.
1. Adhere to web accessibility standards and legislation.
Although WordPress provides an Accessibility Handbook that can serve as a guide to web designing for accessibility, including best practices for web accessibility and tools for making accessible client websites, ADA compliance is much more complex. The ADA provides general requirements for compliance but does not give specific (adequate) technical guidelines for websites yet.
However, the Web Content Accessibility Guidelines (WCAG) 2.0 Level AA has been used as a reference by US courts as a standard to assess the accessibility of websites.
This means that although the ADA grants your agency flexibility in how you make accessible websites, adhering to the WCAG 2.1 (the latest version) Level AA success criteria can be your safest approach to complying with regulations.
accessiBe can take away the complexities of ADA compliance for you by using various technologies, including AI and automated solutions, to make your client websites fully accessible and compliant with the WCAG 2.1 guidelines.
accessiBe's AI technology scans and analyzes your client websites every 24 hours and automatically makes adjustments for accessibility without you needing to go in and manually code in everything even when the site updates daily.
With accessiBe, you can ensure that your client's WordPress websites comply with the ADA and other web accessibility regulations.
2. Provide an accessible interface
For your web design agency to be ADA compliant, you'll need to ensure that your client websites are accessible to everyone — including people with a wide range of disabilities.
This means that your client websites need to have accessible elements and components that allow users with disabilities to browse through and use the site with ease.
accessiBe provides a solution through an interface that lets users with specific disabilities adjust your clients' websites user interface and design them based on their personal needs.
accessiBe's accessibility adjustments interface offers a wide array of capabilities, including color adjustments that allow users to choose color contrast profiles — which is useful for people with color blindness and other visual impairments.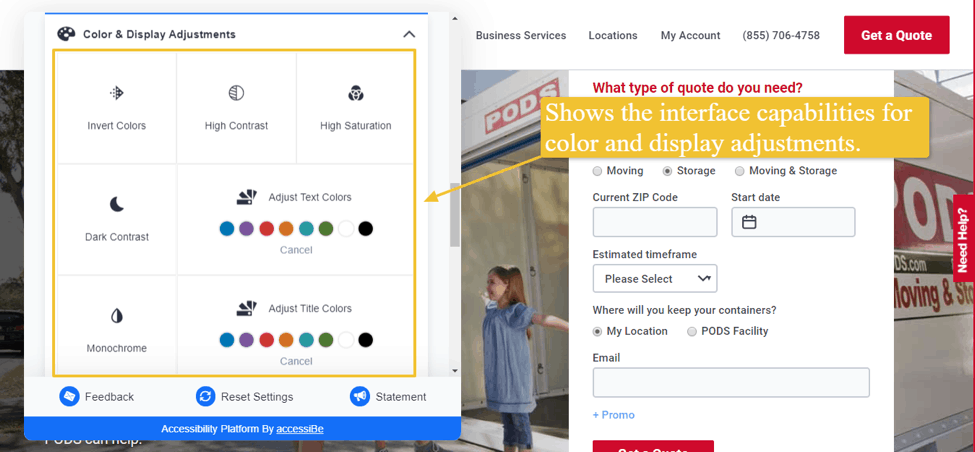 The accessibility adjustments interface offers more functionalities such as audio muting, content highlighting, font adjustments, and other additional features like changing cursor size and color, enabling a virtual keyboard, and more.
With accessiBe, you can make sure that all the user interface components of your clients' WordPress websites are accessible and ADA compliant.
3. Automate web accessibility
Ensuring your agency and your clients are ADA compliant is a time-consuming and resource-draining process that requires a great deal of work.
This is because your client websites are bound to go through updates, and you'll be adding new content now and then — which can disrupt or remove the accessible features and elements you've manually set up.
accessiBe's automated solution can do the heavy lifting for you through the AI technology that the platform uses for screen reader optimization and keyboard navigation functionalities.
accessiBe's AI learns your client website's structure and components and uses the ARIA set of attributes to provide meaningful data for screen reader software.
The AI also scans the site's images and gives accurate, meaningful image-object-recognition-based ALT text tags and descriptions.
Plus, it uses Optical Character Recognition (OCR) technology to extract embedded texts within your web images — allowing for accurate "reading" for blind users using screen readers.
To optimize for keyboard navigation, accessiBe's AI adjusts the HTML of your client websites using JavaScript code and adds different behaviors to make the site operable through a keyboard.
Plus, with accessiBe provides a content-skip and quick navigation menu for keyboard users that allow people using keyboard navigation to get to their web intended pages without having to go through the entire site.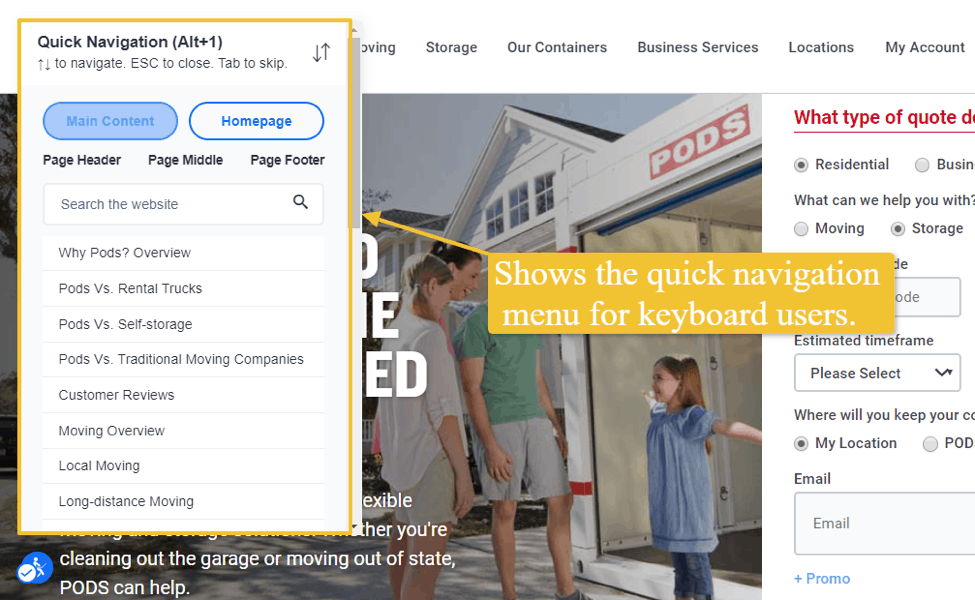 accessiBe makes all of these and more happen on the fly, and you won't even need to make manual adjustments for accessibility — which helps ensure that your client websites remain fully accessible and ADA compliant at all times.
 How to install accessiBe
Integrating accessiBe into your clients' WordPress website is easy to pull off.
You need to create an account with accessiBe, click the "accessiBe embedding" link, then copy the script.
From your clients' WordPress website, go to the Dashboard, click "Add New" under Plugins, search for "Insert Header and Footer," and click the "Install Now" button.
Once done, go to Settings on your WP Dashboard, click the "Insert Headers and Footers" option, paste the implementation script from accessiBe in the Main field, click "Save," and in 48 hours, your clients' website will become fully accessible and ADA compliant.
Bottomline
Working with accessiBe can require a bit of an investment, but it's money worth spending on a fully automated solution that will make your web design agency and clients ADA compliant – minus the labor-intensive aspect of making accessible websites.
Plus, accessiBe offers a Partner Program that will earn you a 20% commission of the purchase value when you refer your clients.
The program also offers a white-label scheme for resellers, affiliation, and collaboration through courses and events, and more.
You're helping more clients build accessible WordPress websites and run an ADA compliant web design agency at the same time.

Latest posts by Editorial Staff
(see all)
Where Should We Send

Your WordPress Deals & Discounts?
Subscribe to Our Newsletter and Get Your First Deal Delivered Instant to Your Email Inbox.
Thank you for subscribing.
Something went wrong.