Cloud storage is a resource for storing your data online. It offers you storage services in return for a monthly or yearly subscription.
Depending on what cloud storage service you pick, you will get many great features enabling a simpler and faster way of storing your data.
You can store anything, including text, images, videos, or any other file format.
Cloud storage service providers ensure proper data management, backups, and remote access. Access your data from any device; all you need is an internet connection. Just make sure you have Aura's integrated security on all your personal devices. Plus, you can make your data available offline as well.
Users need to be sure that their cloud storage service provider fits the following requirements:
Security – Security depends on how well data is encrypted. It is important that you feel safe online and that measures are taken to ensure access control and data privacy protection.
Ease of access – You can access your data with ease from anywhere. Speed is also a reason why more and more companies are using cloud storage.
Storage durability – Whether you lose a device or any other mishap happens, your data will not be lost.
Any device that might be used to store data will become a burden to carry around. So, why not choose a great cloud storage service instead?
A Few Great Cloud Storage Services for 2021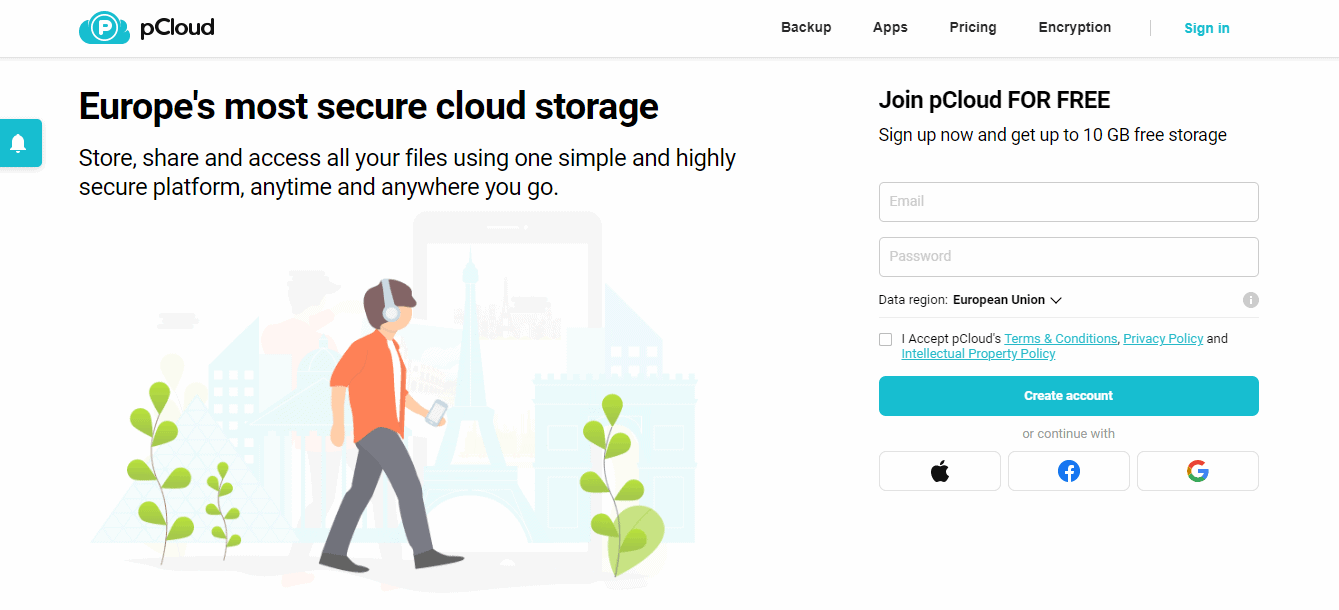 pCloud is a great way to keep your files such as images, videos, music, and documents stored and synchronized across all your devices.
You can store any file you want without worrying about its size or type. You can share files as well, with simple sharing options.
Features:
Data protection according to Swiss laws – Switzerland-based team, with strong IT skills, following strict Swiss laws.
Available on every device – You can navigate between pCloud for Web, pCloud Drive, and pCloud for Mobile.
Easily accessible – With the search, filter, and trash options, it will be easy to find, edit and delete files.
Secure location of servers – The servers storing all the data are in a highly secure location.
Security – pCloud cares about your safety, so any information stored is safely transferred through TLS/SSL encryption.
Various file-sharing possibilities – There are options such as Invite to a folder using which you can share folders by inviting users, Shared links using which you can set up a link for a specific file and make it visible to those who open the link, and Direct links using which, through the public folder, you can create direct links to particular files.
Pricing:
Premium (500GB) – 175€ one-time payment
Premium Plus (2TB) – 350€ one-time payment
Family (2TB) – 500€ one-time payment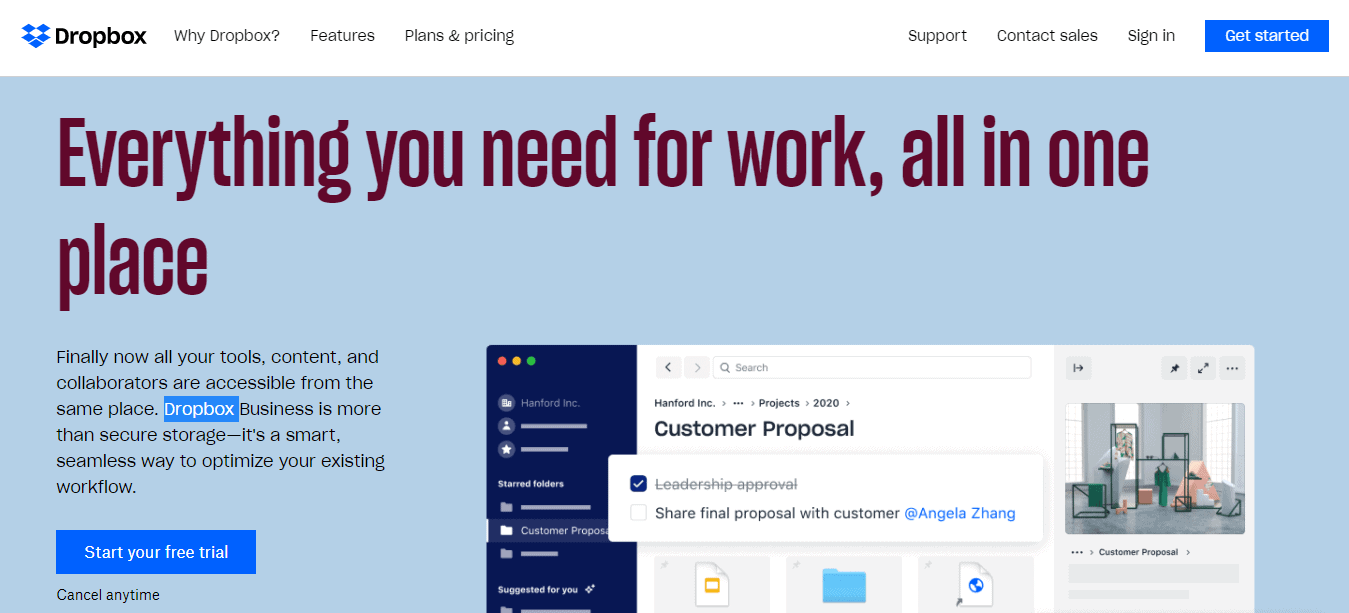 If you're running out of storage on your personal computer, Dropbox is an online cloud storage service that can help you with that. It is available on Windows, Mac, or any other platform. Dropbox is basically "a box" where you drop off your files.
Features:
Work remotely – Accessible from anywhere, anytime.
Organize shared family files – Keep your family connected by providing them with the right service to store and share memories.
Increase productivity – This cloud storage provider lets teams collaborate with ease.
Easily and securely deliver projects – Once a project is complete, you can password protect it before sharing, or you can set some other requirements to make sure the files are secure.
Sync passwords – It's easy to sign in from any platform.
Recovery – Don't worry if you accidentally delete or lose your work; with this service, it can be easily restored.
Management – Manage your team by monitoring their activity.
Simplify your electronic signature – Organize and safely store your electronic signatures.
Pricing:
Personal (1 user, 2TB) – $11.99/month
Personal (6 users, 2TB) – $19.99/month
Professional (1 user, 3TB) – $19.99/month
Professional (3 users, 5TB) – $45.00/month
Professional (3 users, as much encrypted storage as needed) – $75.00/month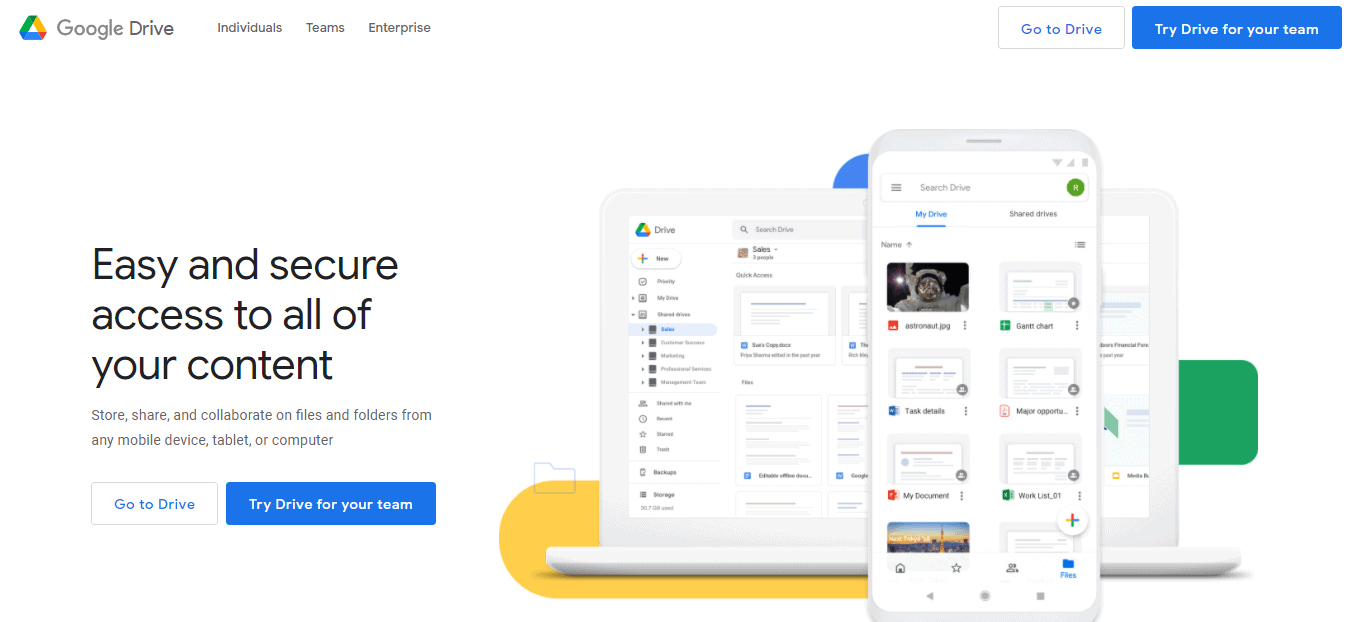 If you have a Google account, then you're already halfway there. Google Drive offers the service of storing your data online. It supports all types of files and is accessible from any device. With it, you can organize your files by keeping them in different folders.
Features:
Collaboration between different Google apps – Google Docs, Google Sheets, and Google Slides are easily accessible and great to use while working in teams.
Works great with existing tools – Microsoft Office will be at your disposal 24/7; plus, there is support for 100+ file types like PDF and CAD.
Google Search and Google AI support – It is powered by the same tools you use every day.
Automatic drive updates – Any changes you make will be automatically updated.
Shareable drives – Easy to share files, and once shared, easy to access.
Prevents data loss (DLP) – Google Drive can scan files and can block anyone from accessing those files.
Data available offline – No internet connection, no problem; you can still edit files on your Google apps.
Pricing:
Business Starter (30GB cloud storage) – $6/month/user
Business Standard (2TB cloud storage) – $12/month/user
Business Plus (5TB cloud storage) – $18/month/user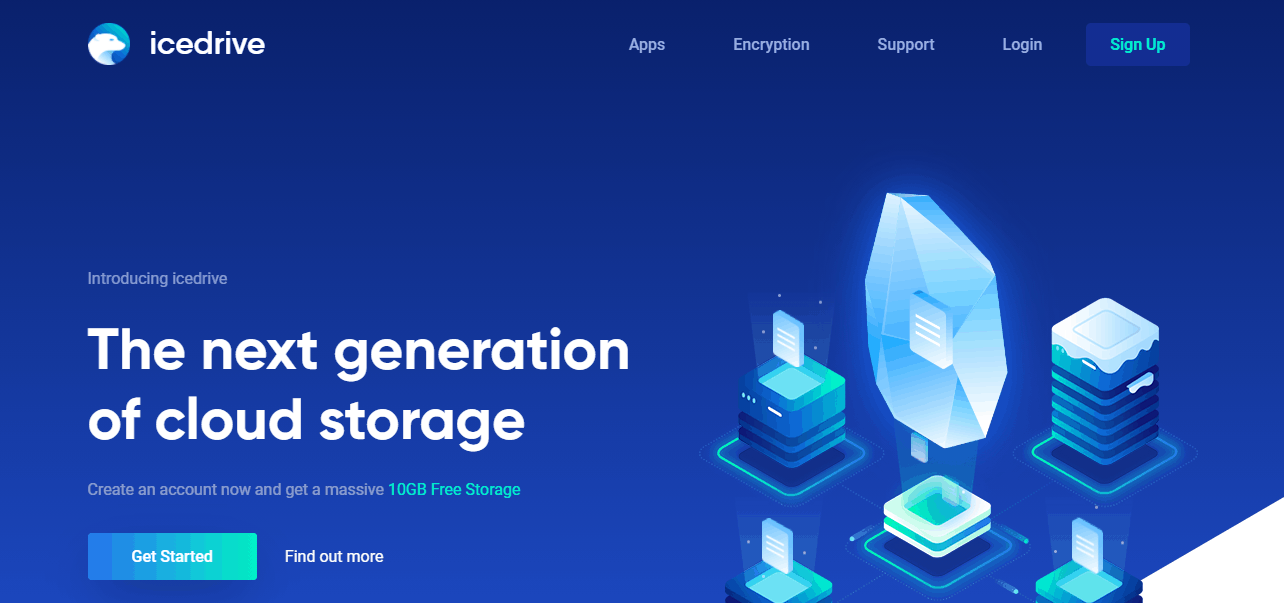 Icedrive is a great place to store and manage your files. From its great encryption to its massive storage, this service won't disappoint you. Plus, there are buckets of bandwidth.
It's easy to share files with Icedrive, but make sure your files are secured with password protection, so only people who have a password can access them.
Features:
Cloud storage coverage – It is easy to operate.
Availability – Whatever works for you will be an option with this provider.
Range of cloud storage apps – It doesn't matter what platform you work with or from where; Icedrive has got you covered.
Nonstop growth – Constantly evolving, Icedrive makes sure it's on top of things, technology-wise.
Pricing:
Lite (150GB storage, 250GB monthly bandwidth) – $1.67/month
Pro (1TB storage, 2TB monthly bandwidth) – $4.17/month
Pro+ (5TB storage, 8TB monthly bandwidth) – $15.00/month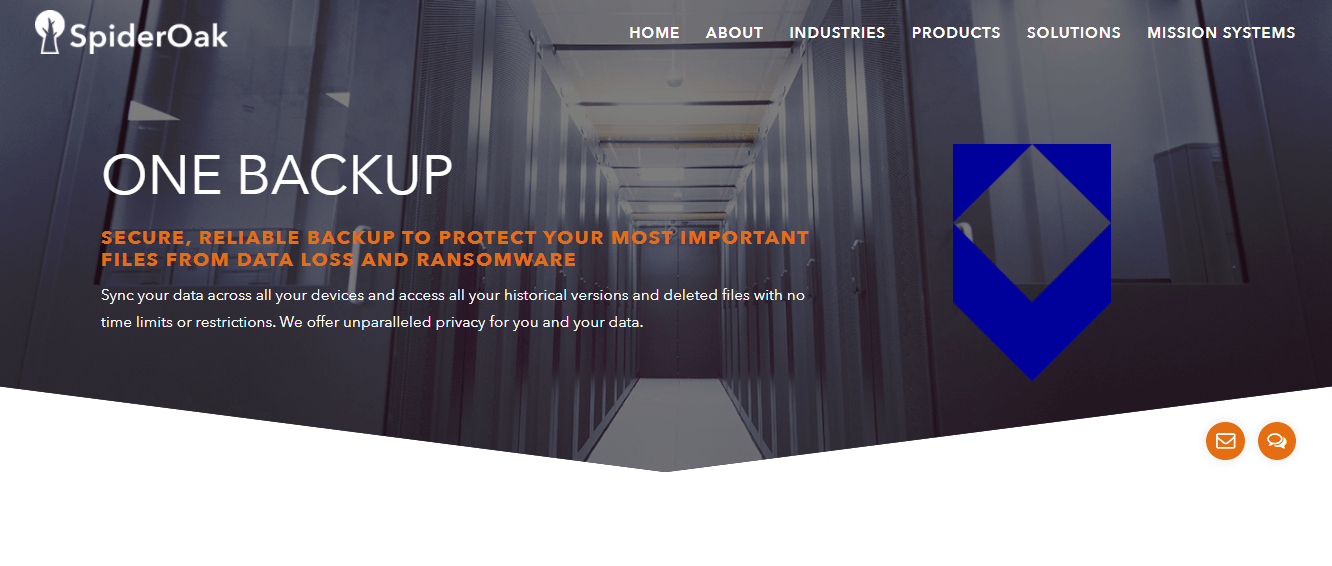 SpiderOak One Backup is a cloud storage service that lets you store files online with great privacy.
Sync your data, and you won't have to worry about losing it. With this service, you can access any historical version of a lost file and recover it.
Features:
E2EE – Your data is secured with end-to-end encryption.
Recovery – In case of lost data, you can easily restore it.
Available for different devices – It supports Linux, Mac, and Windows and allows you to sync data regardless of what operating system you're using.
Secure file sharing – Share data with others through a simple link invitation.
Privacy – You're in control of your data; no one can access it unless you want them to.
Pricing:
150GB plan (unlimited devices) – $6/month
400GB plan (unlimited devices) – $11/month
2TB plan (unlimited devices) – $14/month
5TB plan (unlimited devices) – $29/month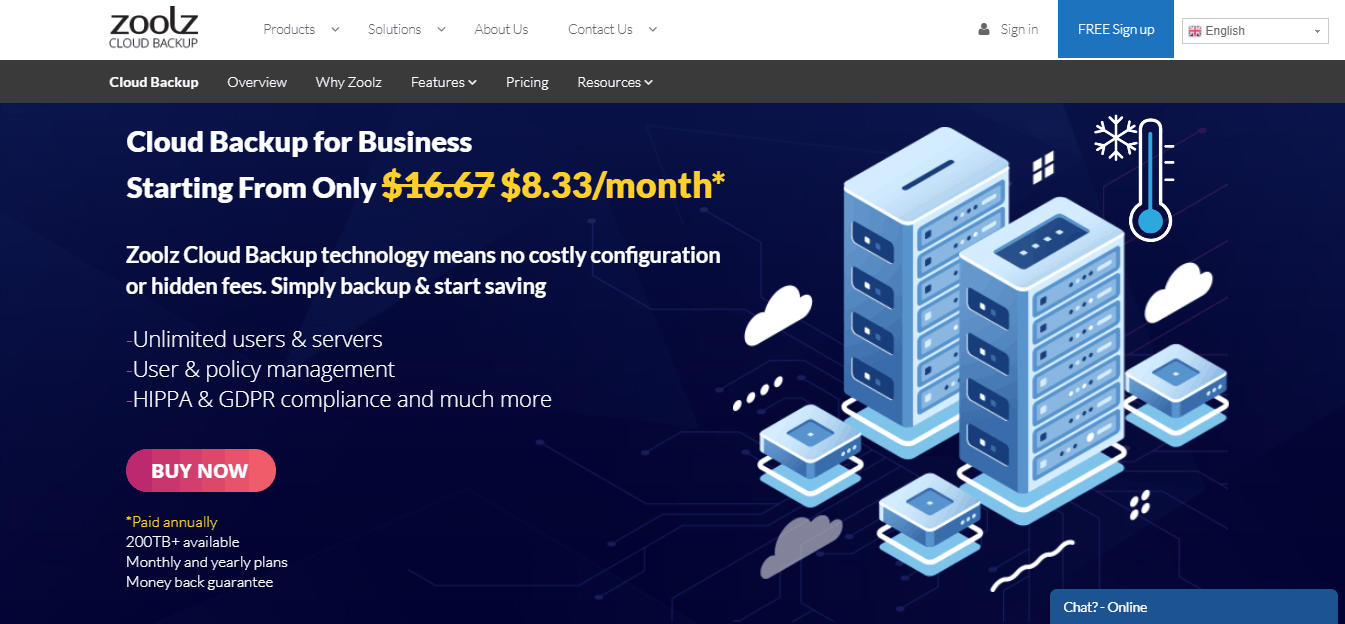 Zoolz Cloud Backup is a cloud backup service for both businesses and individuals. It allows you to backup both computers and servers.
Features:
Data protection – Makes sure your data is safe by backing it up, no matter how large it is.
Instant backup – Backup instantly and restore remotely.
Security – Files are protected with military-level AES encryption.
Easy management – Multiple admins support and the ability to support 100s of users.
File availability – Any file you need is one click away.
Works great with mobile apps – It won't affect your mobile device performance, no matter how large the files are.
Report – You can monitor the usage of storage and bandwidth and receive system alerts.
Restore – Easy to restore data.
Windows servers – 24/7 data protection.
Vast data coverage – Has 3 levels of deduplication (company, machine, and global level).
Pricing:
1TB plan – $99.99/year
2TB plan – $199.99/year
5TB plan – $499.99/year
10TB plan – $999.99/year
20TB plan – $1799.99/year
50TB plan – $4499.99/year
Conclusion
To be able to access your data from anywhere in the world used to sound like science fiction, but now, it is our reality. Any of the mentioned services will likely meet your needs; but, it's up to you to choose what suits you best.
Latest posts by Jasmina Halilovic
(see all)
Where Should We Send

Your WordPress Deals & Discounts?
Subscribe to Our Newsletter and Get Your First Deal Delivered Instant to Your Email Inbox.
Thank you for subscribing.
Something went wrong.