Webinar marketing is an essential method for B2B businesses, and many consumer-oriented brands are using it to enhance the purpose of their B2C marketing campaigns.
Particularly in the present – due to COVID-19, which has caused many businesses to change sales and events that took place in-person to virtual environments.
Webinars allow you to establish a personal connection with your audience and respond to their questions on a larger scale. With automated webinars, it is possible even to hold them even while you're asleep.
Why Do Webinars
Webinar marketing has become among the top well-known and effective methods of promoting companies online today.
Here are a few reasons you should think about webinar marketing:
The audience is attentive! According to GoToWebinar, participants don't fall off during long webinars. Participants will attend approximately 70 percent of a webinar that lasts 90 minutes. A typical webinar participant will stay up to 54 mins!
51% of the people who visit an online page that promotes webinars end up signing up to attend the event!
It is estimated that webinars convert 19% of the users. The webinar could generate an impressive amount of income for your company based on the product you're selling.
Eight Webinar Software Services of 2022
I've spent the time trying out each webinar software for my use. My hope for this listing of top Webinar Software Tools to be useful.
1. Demio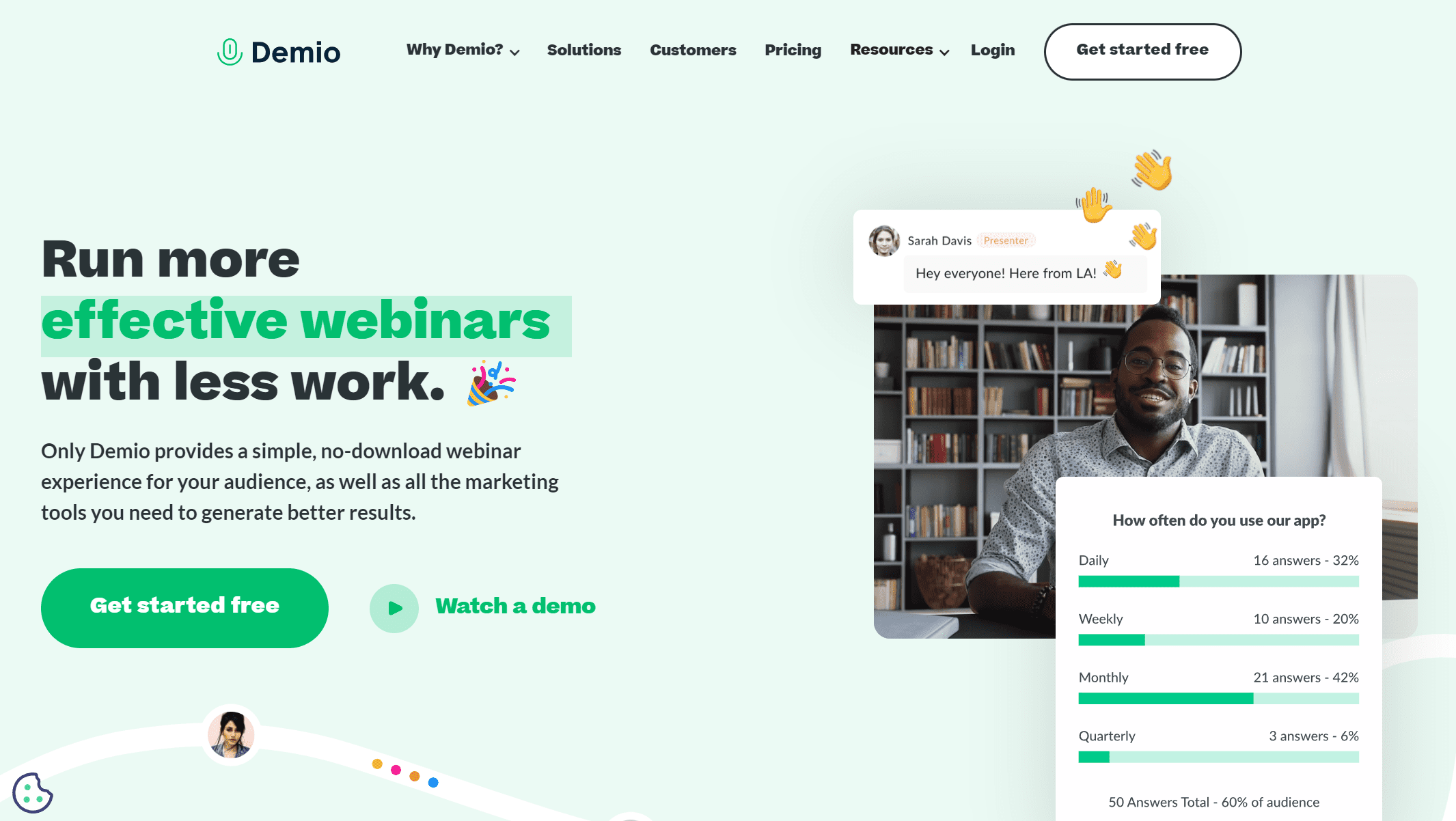 Demio is among the top webinar platforms that are available. Through the epidemic, it has thrived, changed, and kept pace with the ever-growing demands of marketing teams who are being made to join to be online.
While other platforms are old-fashioned and haven't kept up with the latest trends, Demio offers a modern and robust platform.
In contrast to many webinar platforms that provide live or automated webinars, Demio provides both in addition to the hybrid mix of recorded and live recordings.
Throughout your webcast, Demio allows you to create interactive polls, promote campaigns with call-to-action buttons, distribute live documents or run Q&As.
2. Zoho Meeting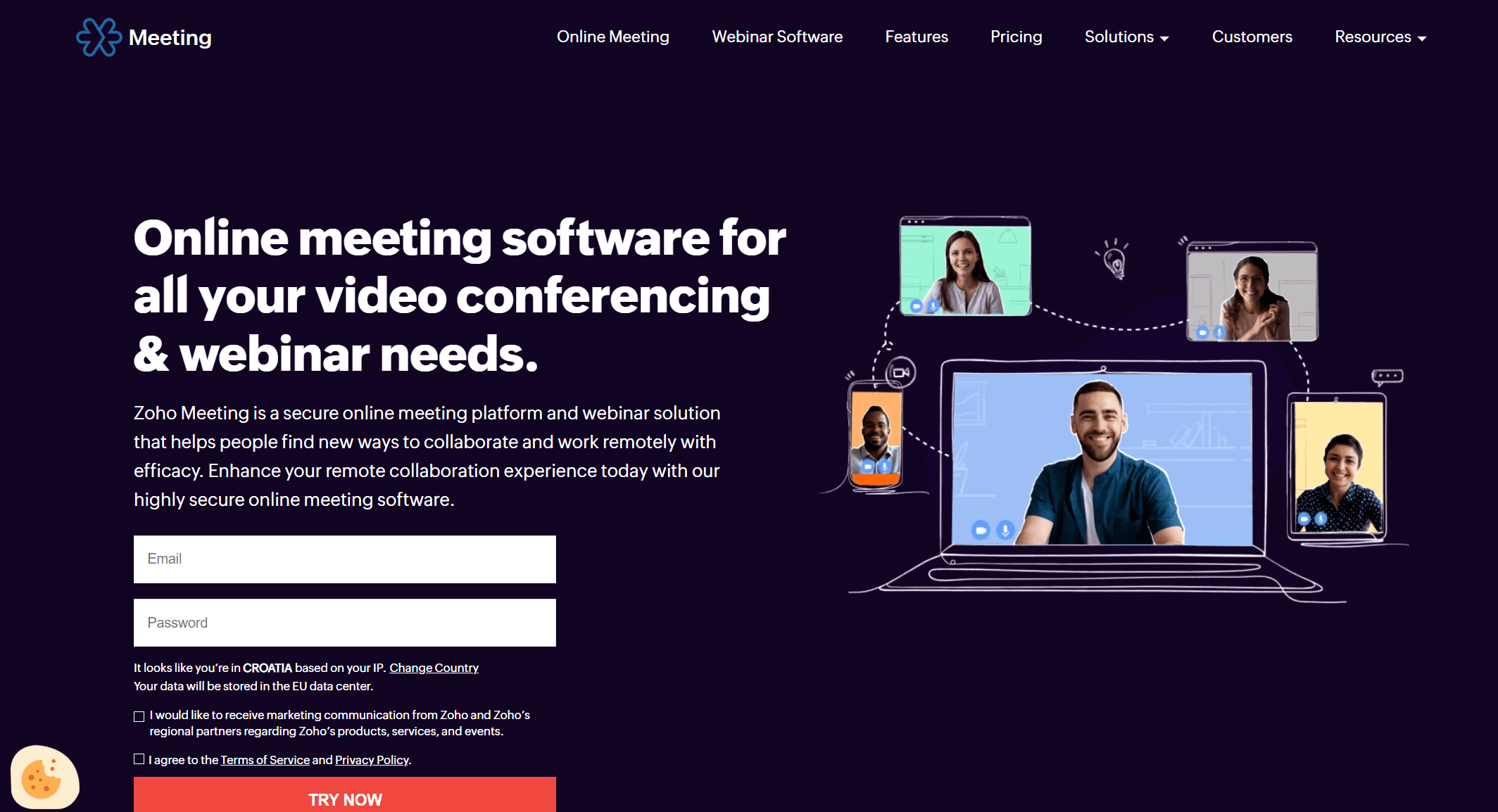 Zoho Meeting is web conferencing software that provides video conferencing and a webinar solution, making it a perfect 2-in-1 solution. Zoho Meeting is simple to use by small and large-scale businesses alike.
It is ideal for remote support, basic teams, collaboration with colleagues, applications-based demonstrations, and webinars. Great video conferencing options like display sharing, moderator control (to facilitate safe meetings), and live chat.
Ability to answer questions or broadcast messages, poll, or even turn attendees into presenters or allow an attendee the ability to "raise a hand" and talk during the webinar
The recordings online are available to share by sharing a link to your attendees or via the MP4 format available for download. There is also an option to embed your registration form onto your website so users can sign up for the event by clicking a button.
3. Riverside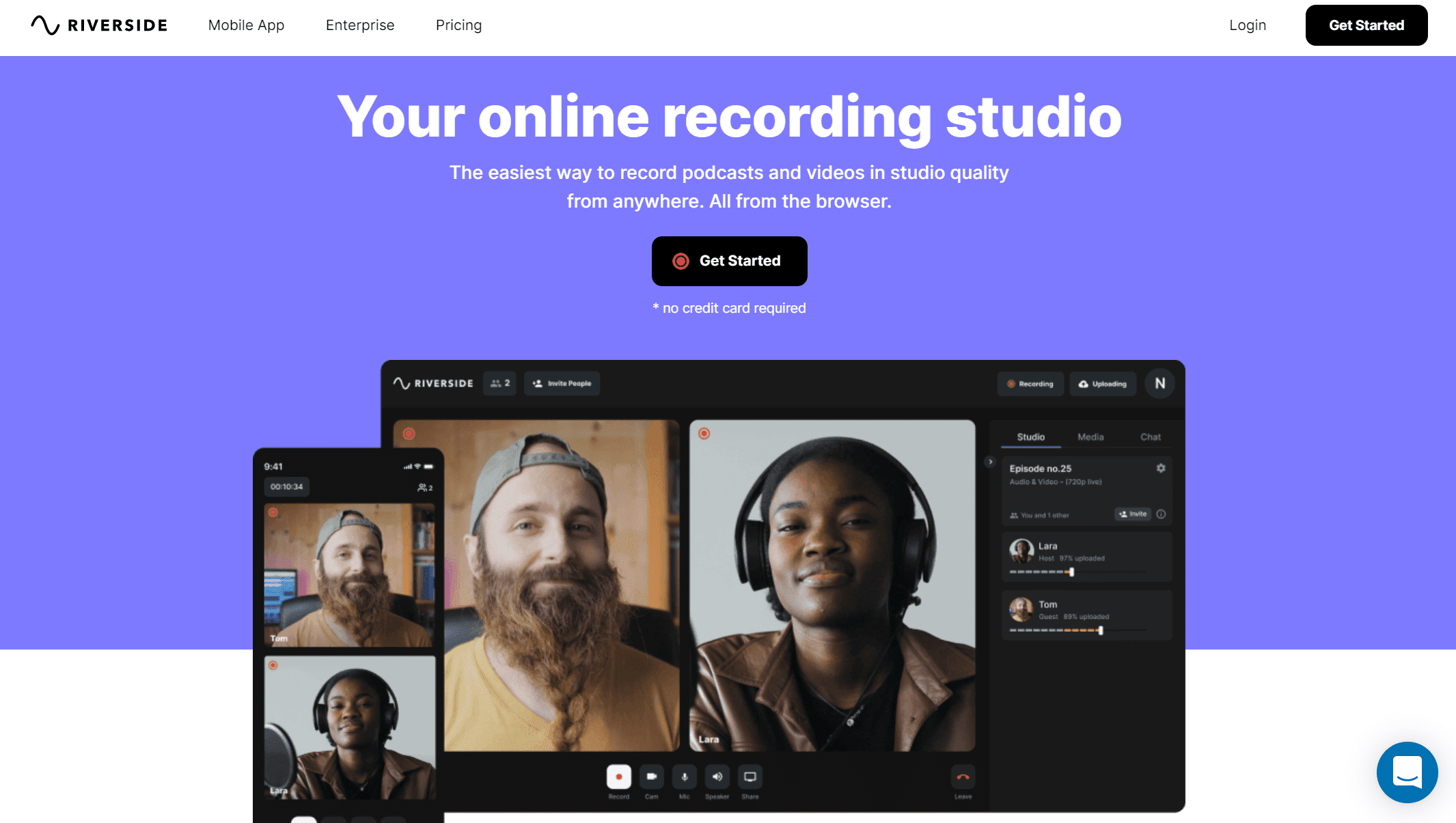 Riverside is a great software solution for large businesses that want to organize webinars. It has various features, including the capability to record webinars that have uncompressed, clear audio recorded locally at 48kHz.
With the Magic Editor, you can modify your content and transform your webinars into well-structured ones. The Riverside editor ties all your recordings locally but simultaneously splits the video and audio channels, allowing you to edit them separately.
Invite your guests to record every event, any time, and anywhere. It's easy to begin recording within a few seconds, making it a simple program to use in various situations.
4. WebinarGeek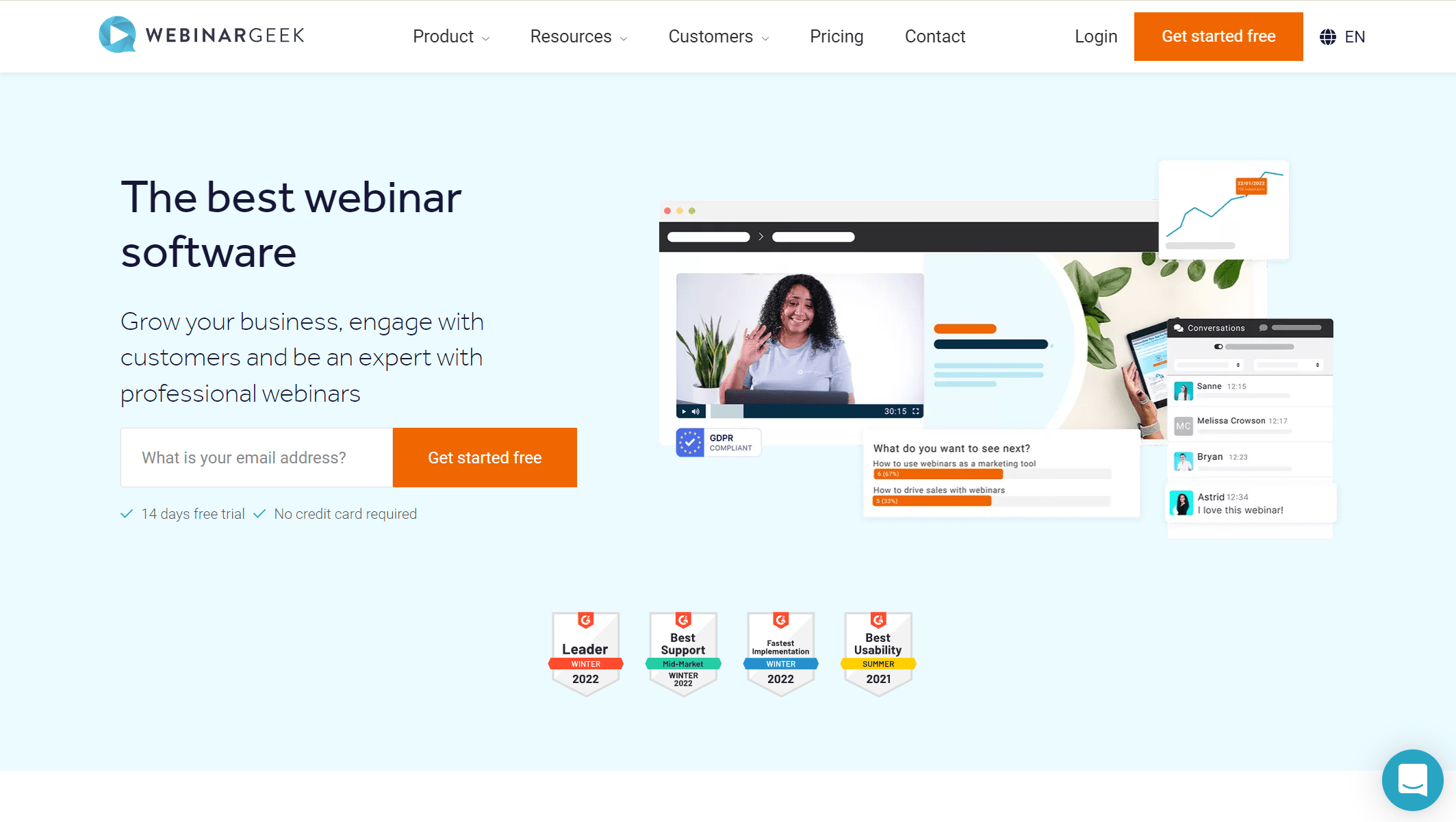 I've discovered WebinarGeek to be among the top webinar platforms available. I love it since it's the sole GDPR-compliant webinar software provider. It's very simple and easy to host webinars, and it's web-based, so there's no requirement to download any special software. You can host an online webinar in just two clicks.
Live chat and call-to-action buttons allow you to interact with the audience playfully. Statistics can give you exactly what participants thought of the webcast, and you could even create your follow-up with the information you collected during the session.
5. Livestorm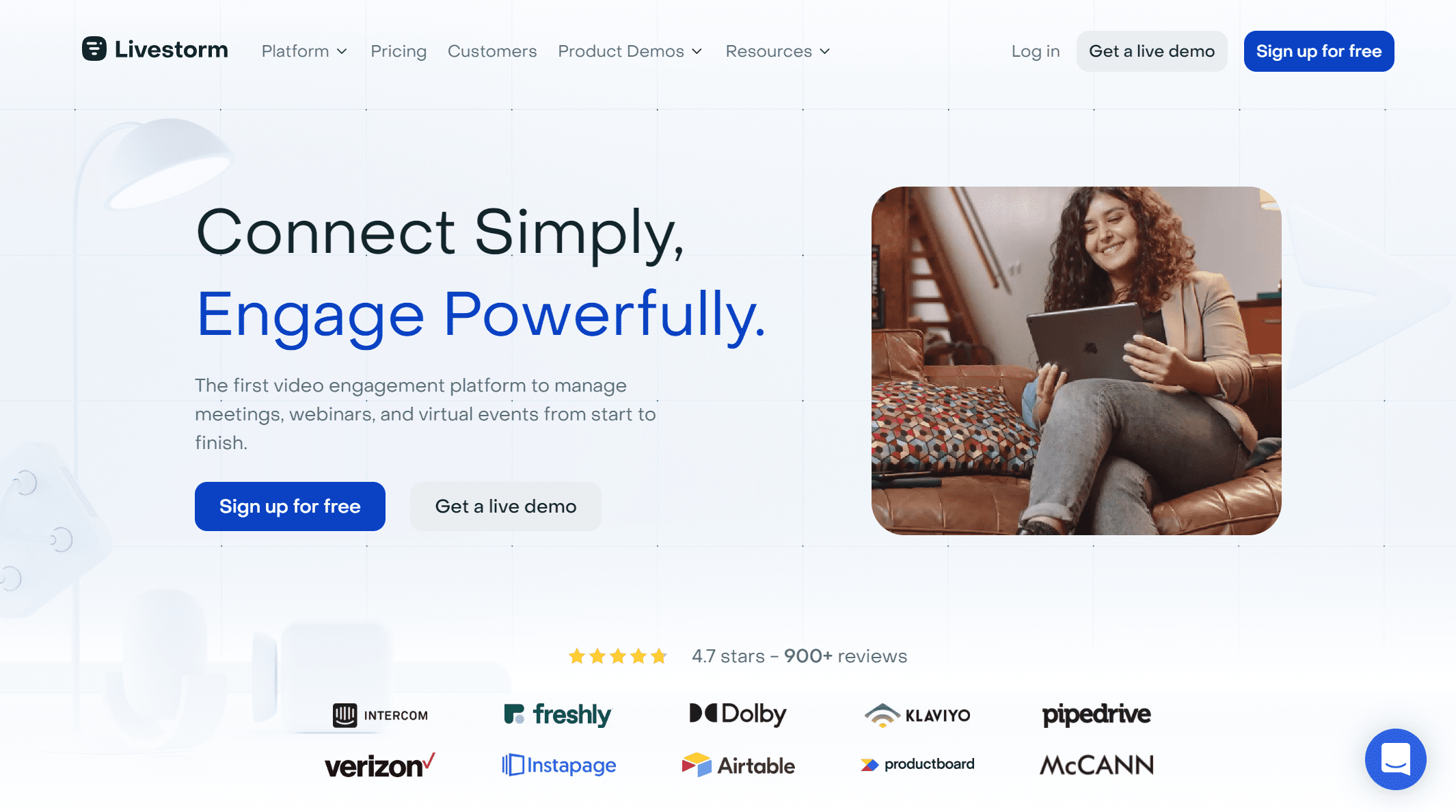 Livestorm is among the few platforms for webinars that go beyond an effective marketing tool. It still provides all the features you'd think of (automation sequences and automatic replays); Livestorm has many more features.
For instance, Livestorm can also be used to host demos and meetings with up to 12 participants – and it can be integrated with tools for collaboration like Miro to enhance your virtual team meetings.
The platform is beautifully constructed and offers a fantastic user experience, from the page for registration and the live webinar experience.
6. WebinarNinja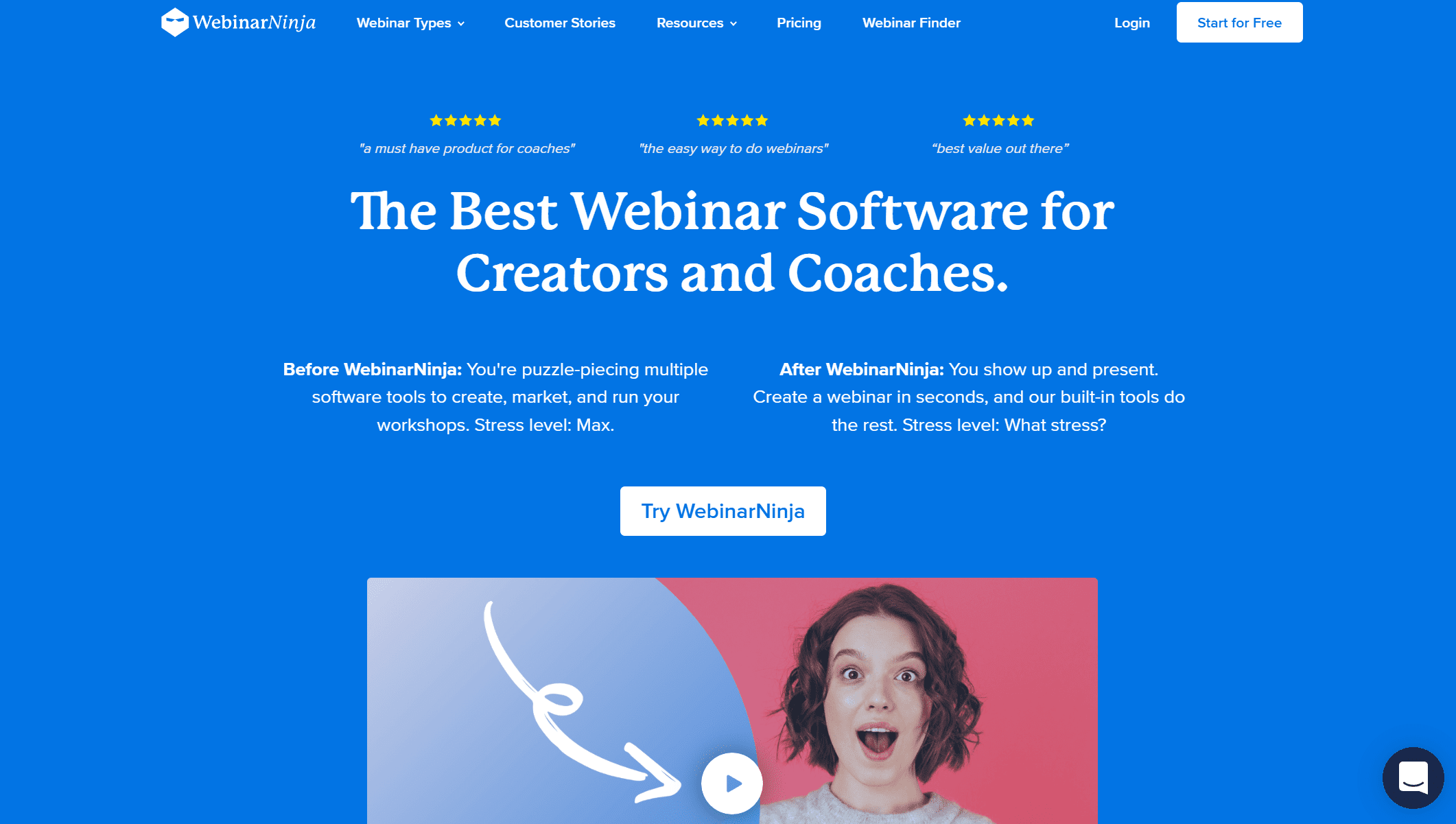 WebinarNinja is a complete web-based platform for webinars that lets you host Live, Automated, Hybrid, and Series webinars. You can upload slides and share them as well as share your screen. You can also hold live chats, use questions and answers, conduct polls, and show special deals.
The platform is based on the most advanced live video technology, WebRTC, to ensure that your high-definition webinar broadcasts and audience interaction are always live and without delay.
The software allows users to automatically send reminder and confirmation emails to attendees and follow-up emails to attendees and non-attendees.
7. GetResponse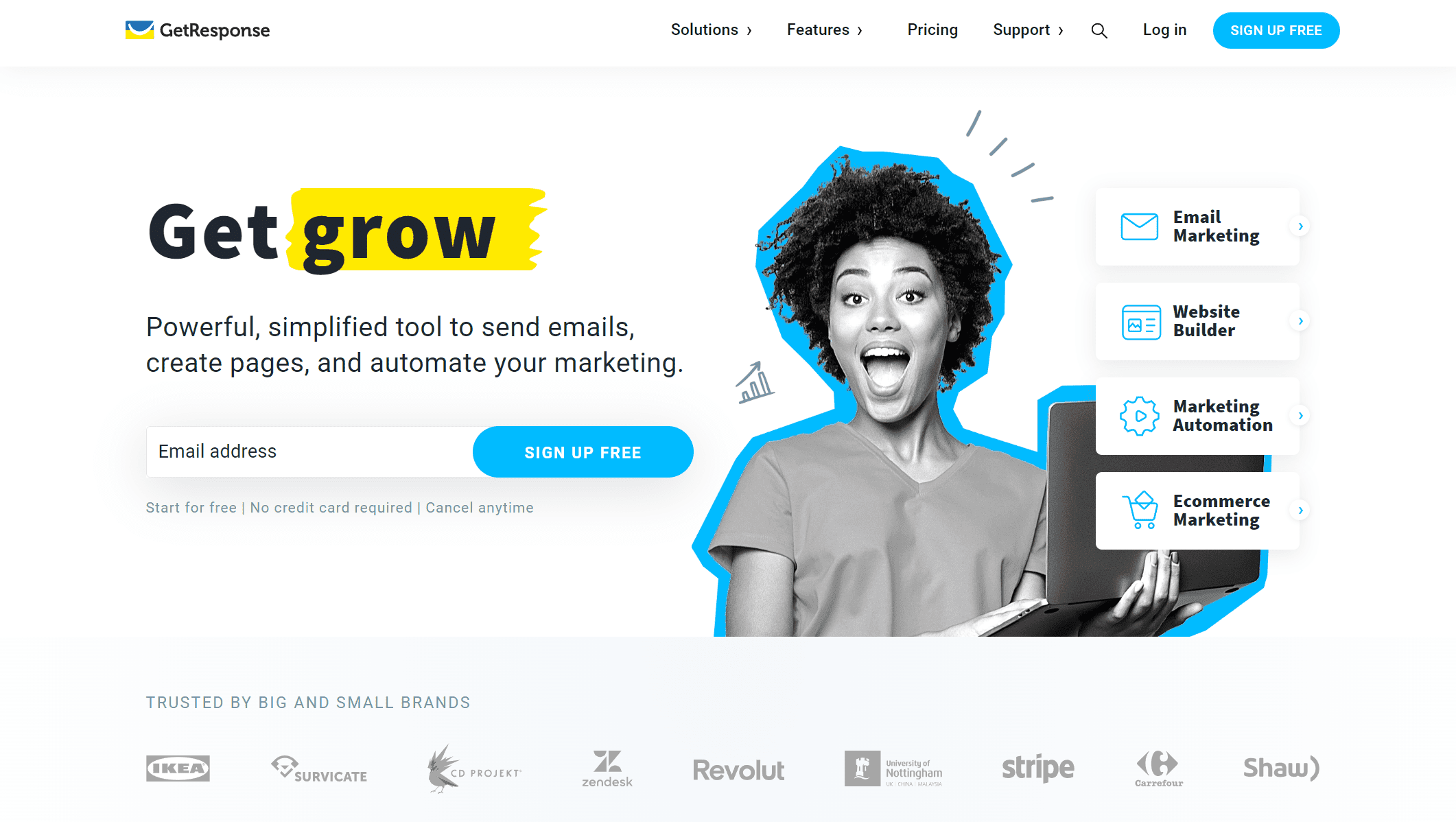 This all-in-one solution is not just the webinar platform but a range of marketing tools like auto responders, custom email templates, list segmentation, and list segmentation feature. This makes it possible to integrate the database of emails and webinar tools under one umbrella.
In the end, the account holder can organize webinars for members, send reminders to them, and then post the webinar on social media.
Additionally, you can use the registration function to collect new emails and send thank-you emails automatically to the registered users.
8. EasyWebinar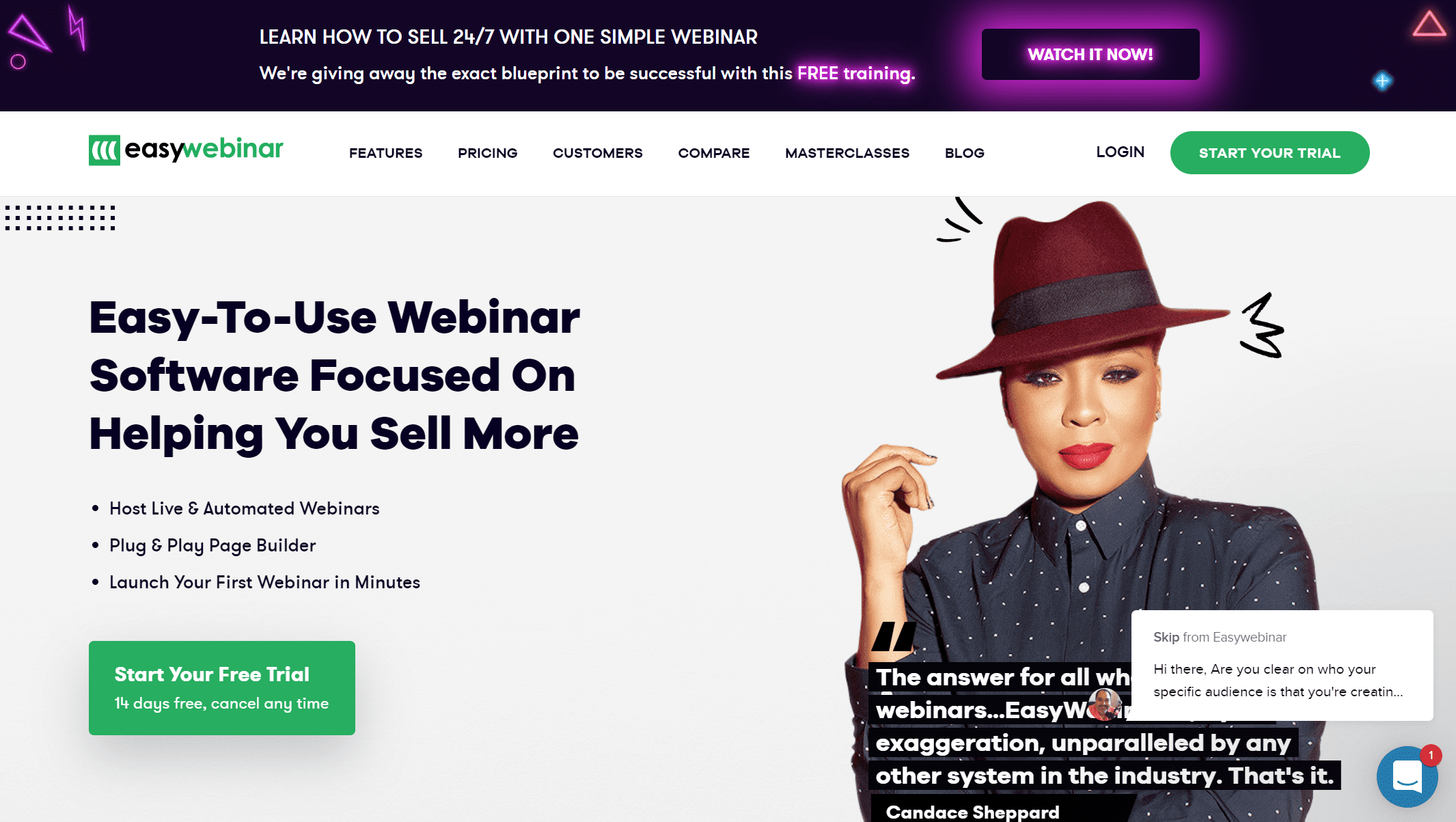 EasyWebinar is a user-friendly cloud-based webinar platform that comes with marketing tools so that you can interact with your customers, automate engagement and make sure that every campaign is optimized.
The no-delay, high-definition live webinars can accommodate up to 4 presenters. You can also transform any participant into presenters, conduct polls, show special offers, and chat live in live streaming. Live streaming is available via YouTube and Facebook and also recorded the live stream for later reuse.
The automated webinars look and feel like live events; however, you can utilize them to schedule them on demand when visitors visit your site or plan an annual event.
9. LiveWebinar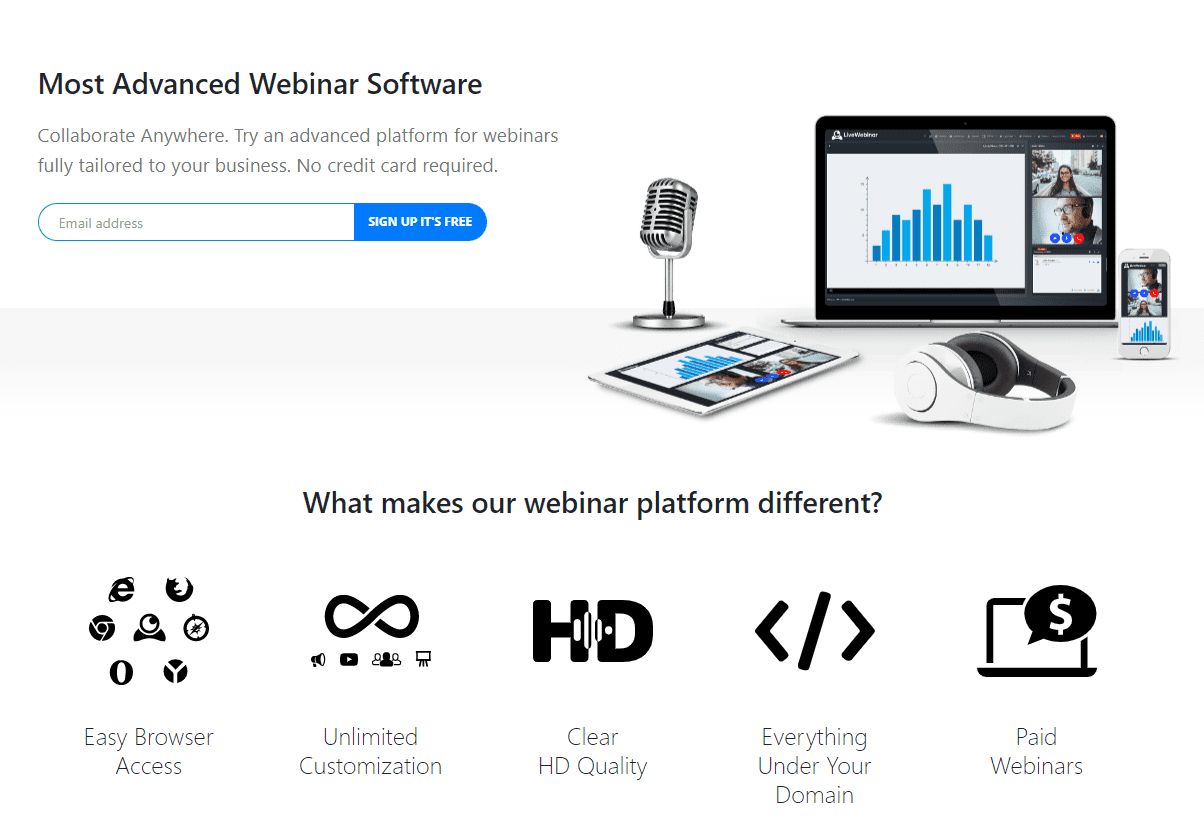 LiveWebinar is a user-friendly web conferencing tool that combines video conferencing and webinars. It's perfect for remote support, team collaboration, product demos, and webinars. With LiveWebinar, you can share your screen, moderate meetings, and chat with attendees in real-time.
You can also engage your audience using interactive tools such as polls, Q&A sessions, and the option for attendees to raise their hand and speak during the webinar. LiveWebinar offers everything you need to conduct successful webinars and video conferences.
Overall, LiveWebinar is a powerful web conferencing solution that provides all the necessary features to conduct successful video conferencing and webinars for businesses of all sizes.
Conclusion
Webinars have seen a rise in popularity in recent years. There are a lot of interesting stats which suggest that they will continue to grow.
Webinar software has moved from cumbersome, expensive installations to modern, sleek web-based browser platforms. Many webinar platforms today have a variety of features and features at a competitive price.

Latest posts by Editorial Staff
(see all)
Where Should We Send

Your WordPress Deals & Discounts?
Subscribe to Our Newsletter and Get Your First Deal Delivered Instant to Your Email Inbox.
Thank you for subscribing.
Something went wrong.