When a website crashes, that can have serious consequences for everyone involved. It is absolutely imperative that the malfunction is dealt with quickly so that the website suffers as little as possible and that its visitors don't get any unpleasant messages like the 404 error when they come.
The problem with this, though, is that you may not always immediately be aware that a crash has happened. That means you could be losing valuable time instead of getting to the bottom of the problem. Fortunately, there are tools that can help you with that, and we are about to discuss one of the best ones on the market. Read on!
The main features of Better Uptime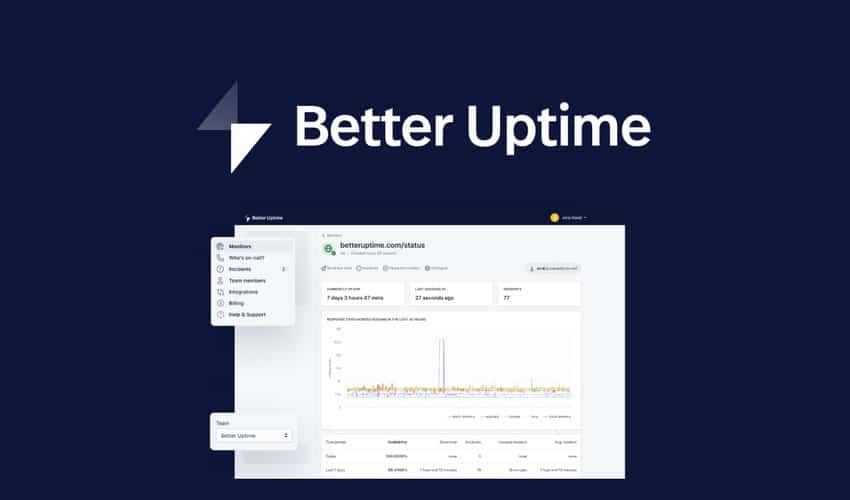 If you want to make sure you can always react immediately if a problem with your website's uptime occurs, Better Uptime will equip you with all the tools you need for that.
First and foremost, it will alert you to a crash via several different methods, including phone, SMS, e-mail, and even Slack. So, there's no way you're unaware if something happens.
However, this software does much more than just notify you about a crash – it will explain in great detail to you exactly what happened and when. You see, Better Uptime will also send you a screenshot of the error messages that have appeared so that you know exactly what to expect and what needs to be solved.

Furthermore, it will also show you step by step, literally second by second, what was happening with your website at the time when it went down. So, if you're a developer, you will surely appreciate the fact that you know about the problem even before your client finds out anything about it and that you always know EXACTLY where to look for that problem. But that's still not everything you can do with this tool.
Excellent communication
Better Uptime also allows you to communicate with the rest of your development team efficiently, which can be incredibly important when resolving an issue. You can easily notify the person who is supposed to deal with the problem by initiating a call with them, and they can easily let the rest of the team know they're working on it with a single click.

In a matter of seconds, work on the problem can begin and the coordination between people working on it will be impeccable. And if the person who should be working on the problem cannot be reached, you can easily alarm the whole team to get things rolling.
Once everything is taken care of, it is very easy (and probably wise) to make a note of the problem, describe it and say how you resolved it. That way, everyone will know what to do if the issue arises again.
Communicating with your visitors
Of course, you shouldn't forget about your visitors either if the problem you're dealing with is more serious and may take some time to fix. Let the people visiting your website know that you are doing your best to resolve the issue by creating a simple but effective public status page.
With Better Uptime, this page will also be branded so that the people seeing it know you're taking things seriously and that they are dealing with a reliable and serious brand. This can go a long way in building their confidence in you, especially if you manage to sort things out reasonably quickly.
Other notable features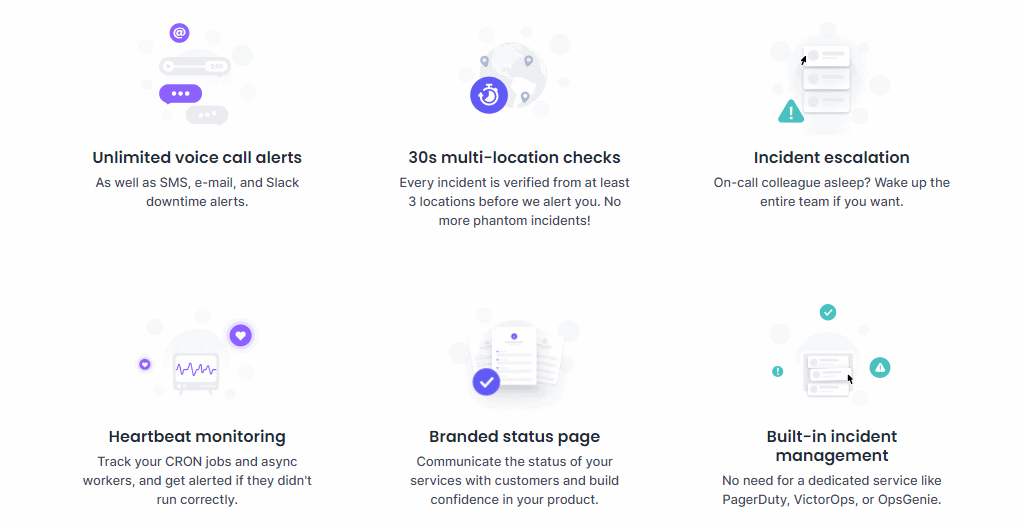 It should also be said that this tool works splendidly with a whole variety of different apps. More than 100 of them, to be exact.
From Zendesk to Prometheus, from Datadog to Heroku, you can incorporate Better Uptime seamlessly into your infrastructure. Not only that, but you can actually raise an alarm through one of these systems very easily.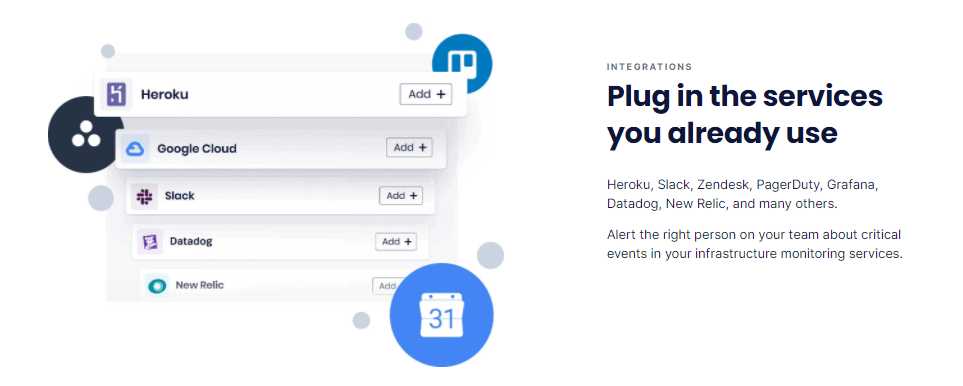 It is also possible to blend this with your calendar. That way, you will be able to reach the ideal person for the job at the perfect time, thus making your team even more efficient.
Finally, it should be said that using Better Uptime is quite simple. The interface is quite intuitive, and you will get the hang of things very quickly, even if you're a complete beginner in using this kind of tool.
Out of all the advantages this product has over the competition, this is perhaps the most important one, because all those great features lose a lot of their value if you can't reach and use them to resolve a problem quickly. Therefore, if you're looking for an alternative to products such as UptimeRobot, this is most certainly it, if not something even better.
Pricing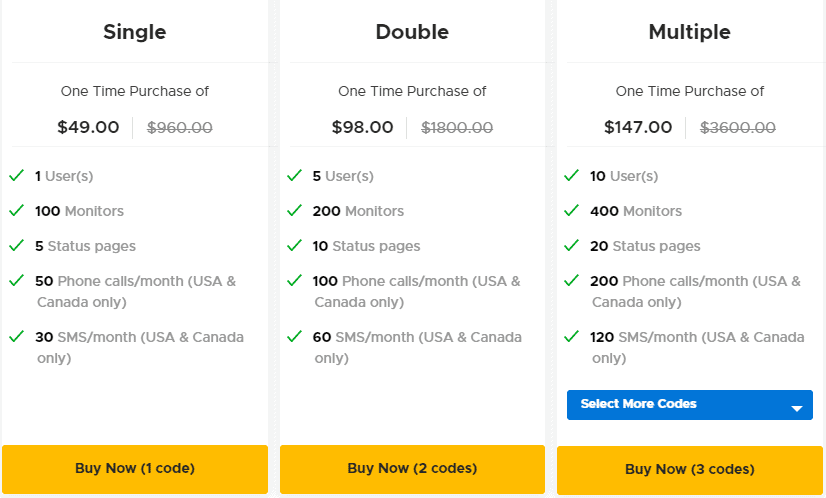 Finally, we have to say a word or two on this product's pricing. You can purchase a code for it, i.e. a single product, on AppSumo for 49$, but if you opt for more you will get better deals such as more available calls, SMS messages, status pages, etc.
What is particularly important to emphasize is the fact that you're not paying for a subscription of any kind here – one payment and you will have lifetime access to Better Uptime.
If we compare that to the aforementioned UptimeRobot's PRO plan, we will see that Better Uptime gives you a much better deal. UptimeRobot PRO sets you back seven dollars every month, which means that within seven months you will reach the price of a single code of Better Uptime. And then you still have to keep paying if you want to keep using it.
The numbers are pretty clear, and Better Uptime gives you at least an equally good (although many will say an even better) product for a lower price.
Conclusion
As you can see, there is no doubt that Better Uptime is the product you want to monitor your website(s) with. If you're a developer, and especially if you're an agency, you need a reliable way to immediately react to any problem that occurs, and things simply don't get much better than this.
Not only are you immediately notified, but you can also pinpoint where the problem occurred and when with just a few clicks and notify your team about it. Get this product and make sure both you and your clients don't have to panic whenever a crash occurs.
Latest posts by Marko Domljanovic
(see all)
Where Should We Send

Your WordPress Deals & Discounts?
Subscribe to Our Newsletter and Get Your First Deal Delivered Instant to Your Email Inbox.
Thank you for subscribing.
Something went wrong.