Running your own webshop is not always easy. You need to figure out a way to stand out from the crowd, attract potential customers and convert them into actual buyers. Therefore, you will need to be knowledgeable when it comes to marketing tools.
Growmatik is one such tool, and it can help you a lot in your business endeavors. The number of features you get from this product is actually quite impressive, and you can automate many of them that will provide your visitors with a highly personalized experience. This makes your website so much more efficient.
But let's not get ahead of ourselves; there is a lot of ground to cover in this Growmatik review.
What is Growmatik?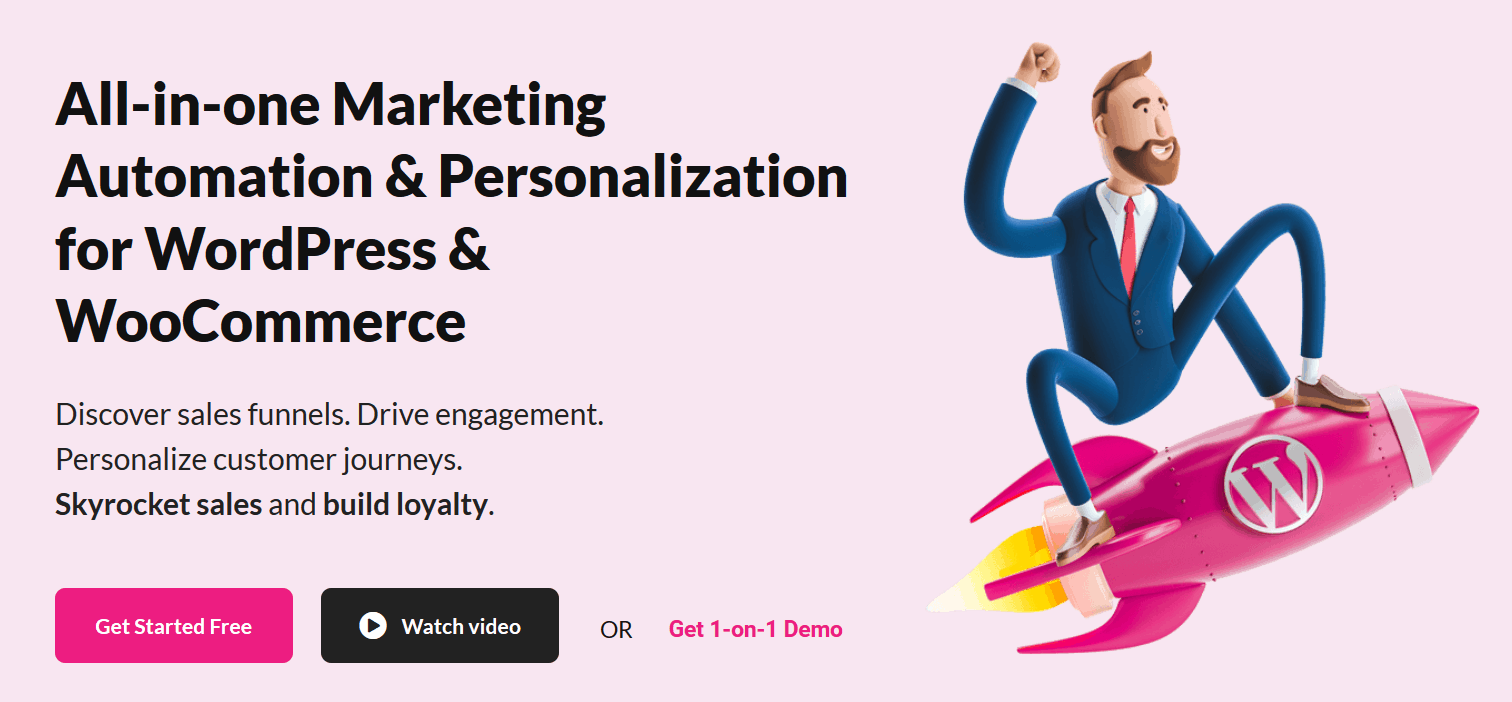 In a sentence, Growmatik is a cross-channel marketing platform for WordPress and WooCommerce. But this is not just your ordinary plugin but rather a complete service that covers all the hidden costs and requirements other similar products often miss.
And how does it work exactly? Well, the tool collects data about your customers from three different sources – your website, e-mails, and pop-ups – and then uses that data to create personalized content. This content is based on more than 50 behavioral attributes, so you can rest assured that the potential customer will be approached in the best possible way.
And the best thing is that this can all be automatized. All you have to do is set up the parameters, and the tool takes it from there.
Main features
So, as we said, Growmatik will collect data about your customers in a very thorough manner by examining their behavior on the three aforementioned touchpoints. But what's amazing about that is the fact that this data is then used to directly address your prospective buyers through any of those same touchpoints.

For example, you can create a pop-up for high-value users informing them that they are eligible for a discount, hand out coupons that way, or do something else entirely. And this experience can be personalized for every user! You can show them a product they would probably be interested in, send an e-mail with a promotion at exactly the right time, or even personalize a webpage so that each person sees products or posts that correspond to their interests and behavior.

And once you have all that set up, you can measure the results through detailed analytics, which allows you to discover the most successful funnels.

Drag-and-drop builders in Growmatik
With the excellent drag-and-drop builders that Growmatik has to offer, you can easily create intriguing pop-ups, e-mails, or even whole web pages without any coding knowledge.
To start, just click on the Workshop button and choose what you want to create. You will then be taken to the templates page, where you can choose one that suits your needs best. But, the great thing about these templates is that they can be customized very easily and in a variety of different ways, so you are by no means restricted by them.
You can easily add content to whatever you create just by clicking the big plus icon and then adding whichever feature you need. These can be images, coupons, text, buttons, or even social media links, whatever you need.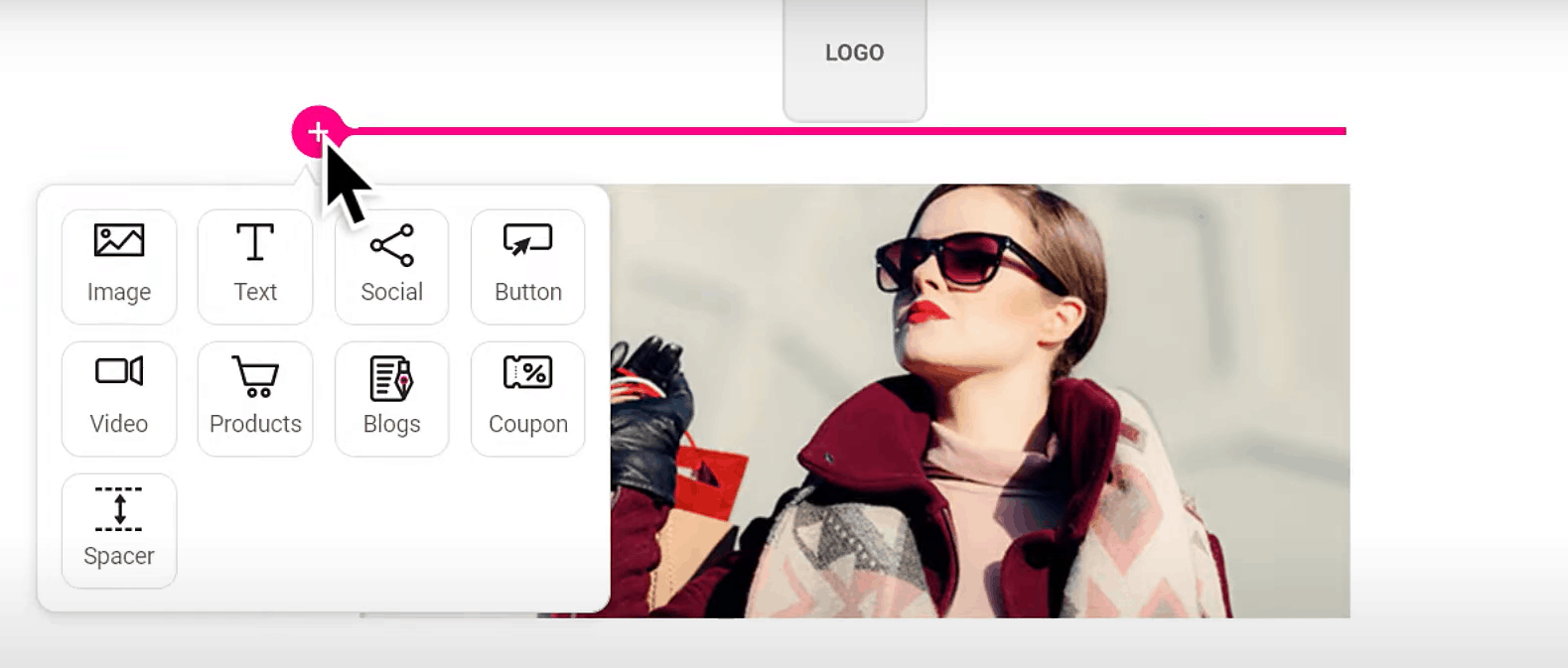 Obviously, you can edit and delete elements just as easily, and the end result will be something that sways your prospective customers to make a purchase.
The whole process is easy, intuitive, and actually quite fun, so you can have a great time creating something you know will delight the people who visit your site or receive your e-mails. However, this is just one of many interesting features Growmatik offers.
Other features
But how does the automation here work exactly? It's actually very simple, and everything is done from one dashboard!
You just have to create simple IF this THEN that commands that can be used on a particular occasion or just for your site generally. For example, IF it's Christmas, THEN show pop-ups with discounts, or IF the user likes shirts, THEN personalize the homepage. This way, you can create detailed recipes for your website in a flash, or you can use the ones that come with Growmatik.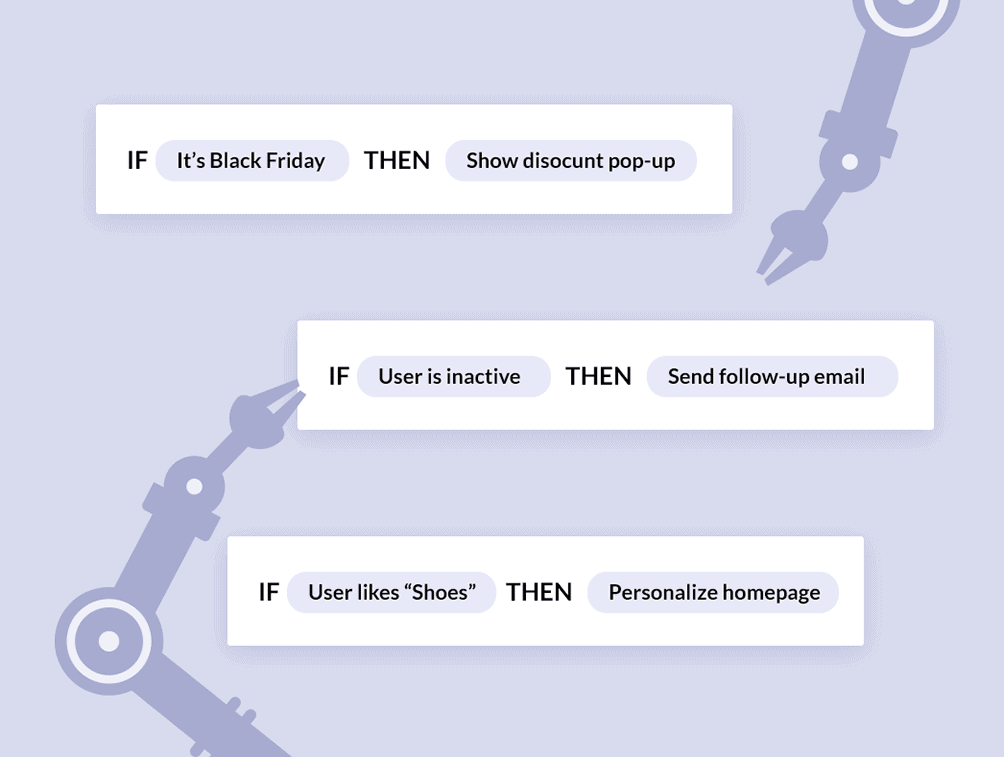 After that, you can see how every automation is doing through the analytics section, plus you can view the journey your customers undertake via a special page.
We also need to say a few more words about the personalization process because it's so very simple to do. If textual marketing is your thing, you can use more than 30 different dynamic keywords to make your content more effective, or you can create dynamic product lists by using lists of products related to the one the user has bought, show abandoned items, related discounted items and so much more. And there's no coding skill required!
It should also be said that Growmatik works seamlessly with things like Ninja Forms, Elementor Pro, and several other form builders, plus it's compatible with WPFusion, meaning you can connect it to other WP plugins. That's what you get when you build something natively for WordPress.
Customers' journey
One special feature we'd like to highlight is the ability to track your customers' journey. There is an incredible amount of information you can extract here, from your top sources and locations to the channels people use to subscribe.
There are loads of funnels you can discover this way because Growmatik allows you to mix and match them to see how the people who come to your website behave. You can see which source works best for a particular location and what those people have done once on your website.
Advanced filtering gives you plenty of options here, which is extremely important if you want to fine-tune your website according to a certain group's needs.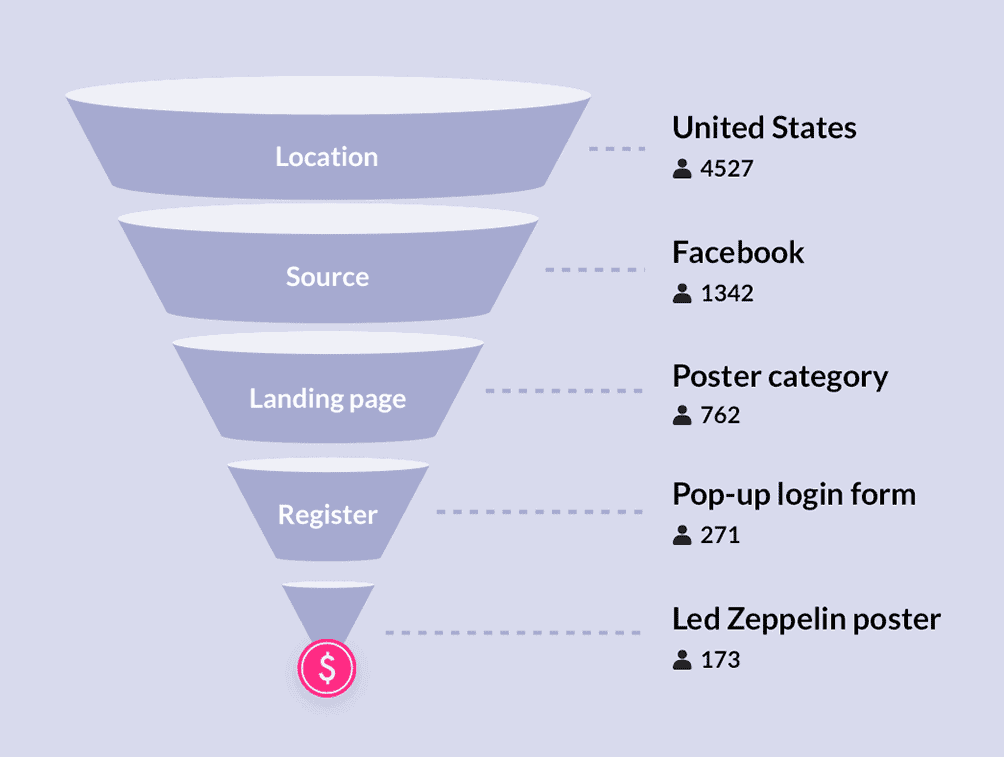 Oh, and the numbers you get will dig deeper than most analytics because instead of just counting sessions, you will actually be analyzing genuine leads here. That's a huge difference.
Anyway, the potential you get with this tool cannot be overstated, and you can extract exceptional value from it, especially when it comes to the tool's free version. But more on that in the next part of the review.
Pricing
Surely, this must be an expensive product considering all of the features we've mentioned? Well, think again! Growmatik's free version is probably the most comprehensive in the business, giving you access to 15,000 e-mails, 2000 subscribers, and 10,000 personalized website visits every month! Therefore, if you're still a fledgling business, this product will surely help you get off the ground, and you won't have to pay a cent!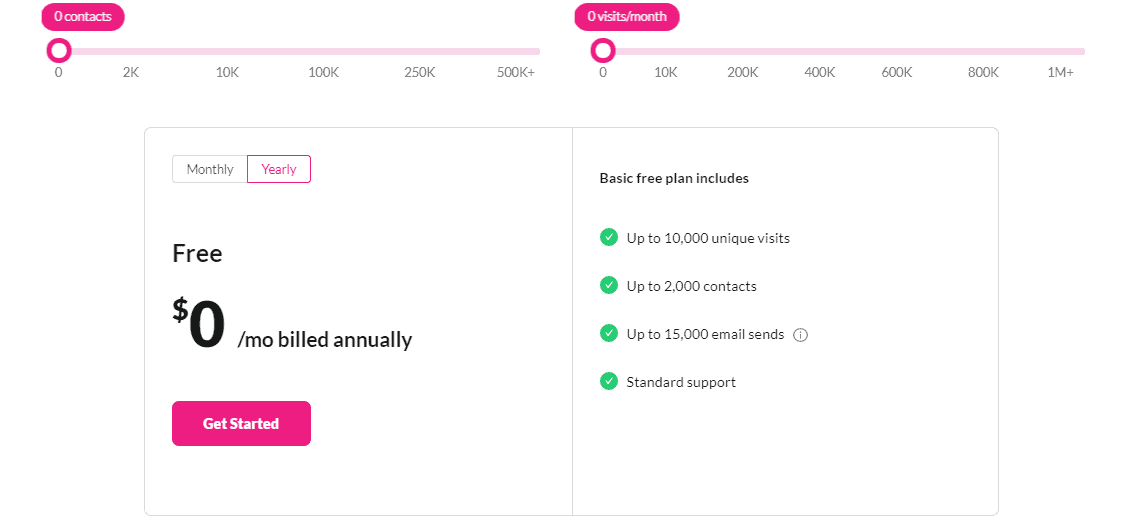 However, if you need more, the price will depend on the number of visits and contacts you have. You can pay monthly or annually, but the latter option will bring you a significant discount. Furthermore, you will be able to apply Growmatik to an unlimited number of websites and will receive top-tier support along with that.
It should also be noted that if you're looking to send more e-mails than what your plan provides, you can always buy additional ones – just 80 cents per additional 1000 e-mails. A fair price, don't you think?
How does it compare to the competition?
Obviously, Growmatik is not the only marketing tool out there, so it seems fair to compare it to its competition directly, and this is where things get really interesting.

When you compare it to Groundhogg, for example, you will see some major differences. Growmatik's prices are much lower for starters, and they include SMTP mail integrations, something Groundhogg doesn't have. Furthermore, all Growmatik's features are available across all packages (you just pay for how much you use them), whereas with Groundhogg, you unlock new features when you go through tiers.
On the other hand, if you compare this product to If-So, you will once again note lower prices. But Growmatik has the advantage here in terms of the amount of personalization you can do because If-So doesn't move past text in that regard. Not to mention that If-So has a limited number of domains you can use it on, and you have to dig into your website's code for that. Growmatik is much simpler to use.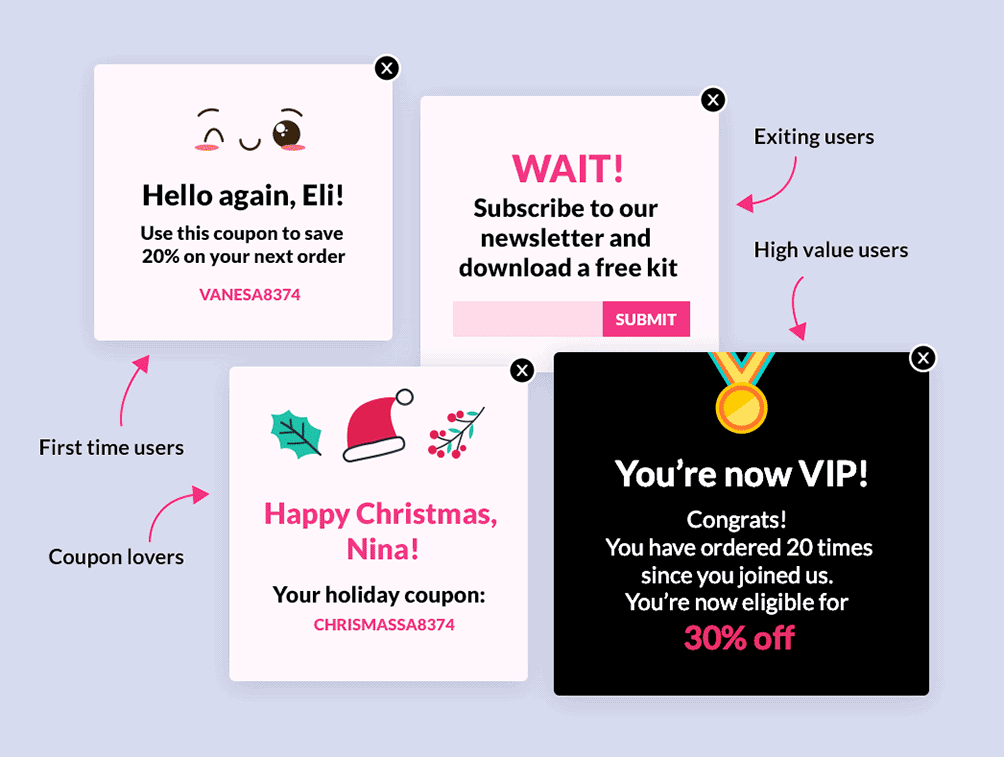 ActiveCampaign does a good job of keeping up, but it lacks the option to implement dynamic lists and requires help from third-party apps to complete some tasks. It too is more expensive, and its free version will only last you two weeks, whereas Growmatik's is unlimited in that respect.
Finally, if you compare it with Logic Hop, you will see that Growmatik stores your data until you deactivate your account, whereas Logic Hop keeps it only for a few months. Dynamic lists cannot be implemented, and pop-ups, as well as e-mail marketing, are also out of the question with Logic Hop.
In short, Growmatik offers the most and charges the least, so the choice should be simple.
Conclusion
We will end this Growmatik review by stating that this is an incredibly useful tool for an online store. The ways in which you can use it to approach your prospective customers are very impressive and bound to yield results, and you really don't need a lot of coding knowledge to set any of the features up.
This way, you get to know the people who come and visit your website and can thus offer them a much better service, which leaves all parties satisfied. Think about it – wouldn't it be cool if you came to your favorite shop and everything was tailored just for you? That's exactly what this platform helps you achieve: a unique experience for every shopper.
However, apart from the personalization, automatization plays a great role here, too. You will be able to set up pretty much any process you like, from when and how pop-ups appear to the way your website changes for every user. Again, no coding skills are required!
And when you wrap everything up in a good pricing deal that includes a huge free package that is more than enough for every new shop, you get a marketing product every entrepreneur should have. So try Growmatik for free now, and you won't need any other marketing tool ever again!
Latest posts by Marko Domljanovic
(see all)
Where Should We Send

Your WordPress Deals & Discounts?
Subscribe to Our Newsletter and Get Your First Deal Delivered Instant to Your Email Inbox.
Thank you for subscribing.
Something went wrong.