Choosing the best platform for developing a website is one of the challenging tasks for beginners, especially if there are myriads of options available on the web. But when it comes to the most user-friendly website development solution, then people usually get confused between WordPress and Wix. Both have their own advantages and disadvantages.
While WordPress is the most popular content management platform across the web, Wix is considered as the best website building tool that hosts over 80 million of websites. Both of them have great potential to help you build a powerful website on the fly. But still, it becomes difficult to pick out the best solution that can meet all your specific requirements with ease.
WiX vs WordPress?
If you are also confused between these two platforms, then you should take out some time to read this blog post. Here we bring you a comprehensive comparison between WordPress and Wix to let you make the best decision quickly and easily. So, let's get started!
1. Meaning
WordPress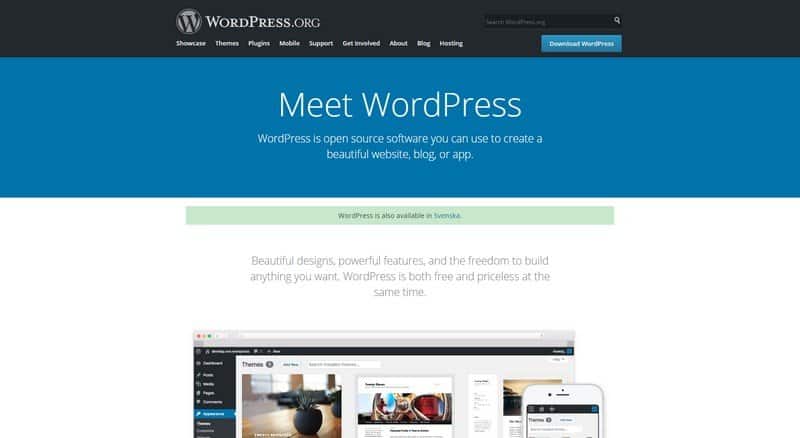 With over 27.4 % market share across the web development industry, WordPress has become one of the best CMS platforms for all types and niches of websites. The platform is built with PHP and uses MySQL, HTML, and CSS to let people build interactive and impressive websites from the scratch with ease.
It is a free open-source platform that comes with a whole slew of themes, plugins and out of the box functionalities to let people build websites, without ever getting their hands messy in coding. Yes, it's true. Both an experienced developer as well as novice user can create and customize a website with ease.
Wix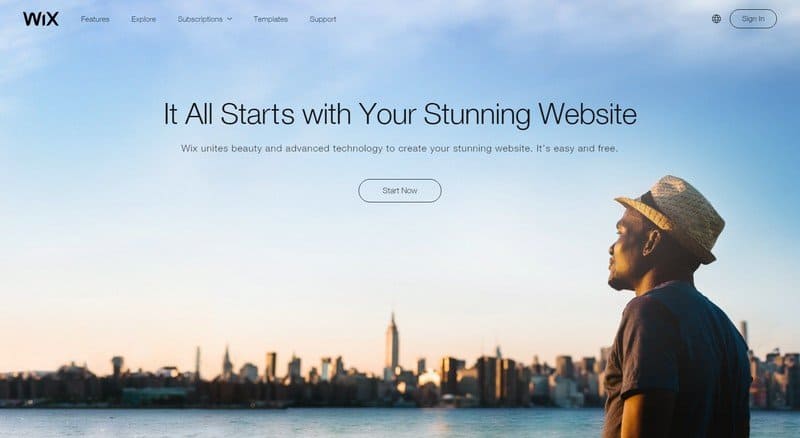 Wix is a free website building tool that makes it super easy to create HTML5 based websites using drag and drop tools. It comes with tons of exciting features such as eCommerce functionality, responsive design, 525+ HTML5 templates, 223 apps, 24/7 customer support and a lot more.
As a website owner, you don't need to dive into any complex web design/development procedure or use coding – just use drag and drop builder while creating your website.
2. Content Creation
WordPress
Use the Visual editor (WYSIWYG) to add, create, customize, and delete content for all your posts and pages on the go. Adding media files such as images, audios, videos, etc can easily be done from the backend of the WordPress site.
It also includes the text editor to let you add your own HTML coding or modify the content as per your need. Plus, you can install a reliable plugin to enhance the functionality of your default visual editor. This means creating, posting and maintaining content on WordPress is easy and flexible.
Wix
Wix lets you drag and drop the content on the frontend of your site. Even, you can't create your pages and posts – as there is no backend. If you want to write content, you can use the WYSIWYG interface on the go. And if you want to add images or other media file, just drag and drop where you want it.
3. Themes/Templates
WordPress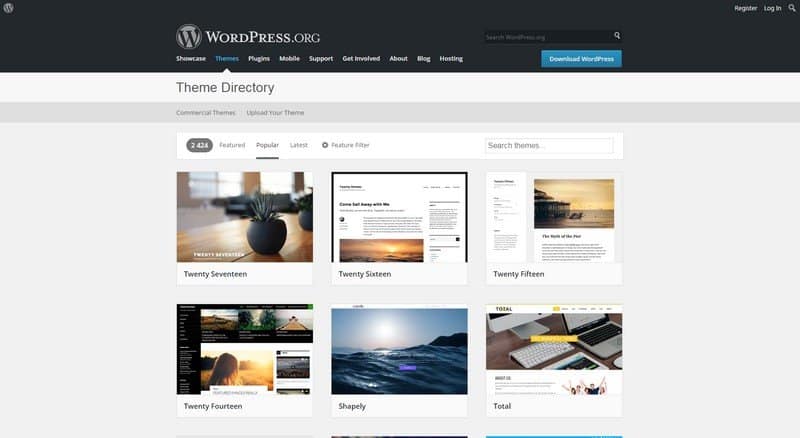 WordPress has more than 3000 beautiful themes in its official themes directory. You will get both the free and paid themes that can help you enhance the overall design of your site, without any coding. Although there are plenty of free themes, you should go for premium one (range from $15 to $200) to boast advanced web design features and customization options.
WordPress themes not only help you build anything (be it a magazine, photography, travel, art, education, lifestyle or eCommerce website), but also lets you create responsive, retina-ready, SEO-optimized and multi-lingual web design.
They come with multiple column layouts, header, and widgets design options to empower you to create a site the way you always wanted.
Wix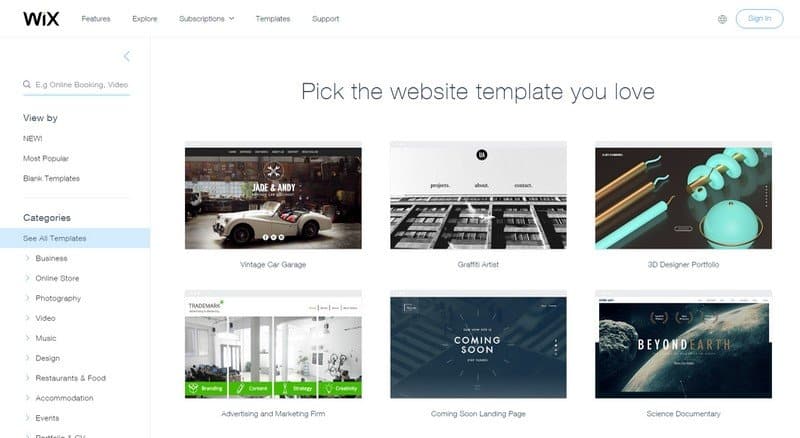 Wix comes with 529 HTML5 templates that can help you create anything using the most suitable template for your business. They are free, reliable and of high-quality. Even, you can customize them using the drag and drop editor.
But you can't access the HTML or CSS technology to further customize them. And the worst part is that you can't change the selected template with the new one. In fact, you don't get plenty of options as compared to WordPress themes – which is another major disadvantage of Wix.
4. Plugins/Apps
WordPress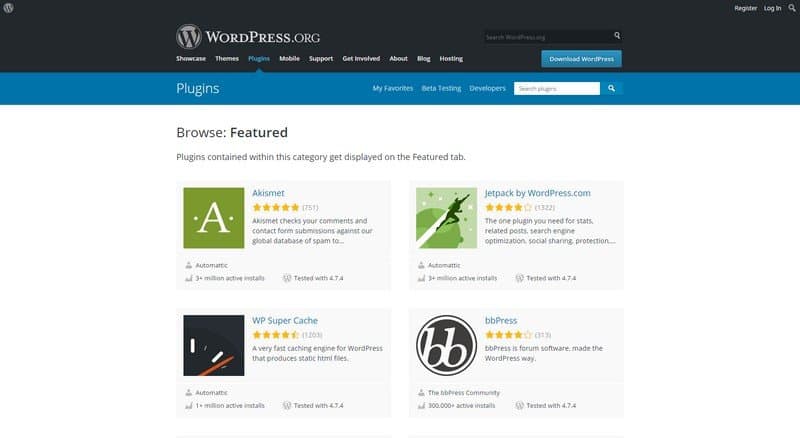 Extending the functionality of a WordPress website becomes super easy with highly-powerful WordPress plugins. There are more than 30,000 of plugins (both free and premium) available in its official plugin repository that you can choose as per your requirement.
These plugins help you enhance the functionality of your sites such as performance, SEO, security, contact/subscription/registration form, social media icons, and a lot more, without even touching a single line of coding.
Wix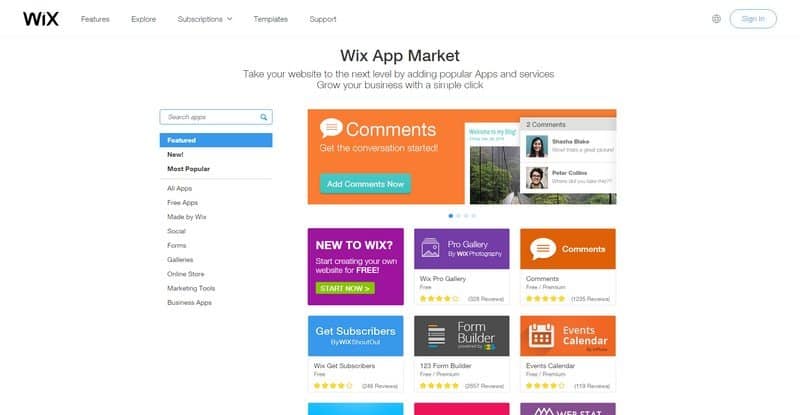 As compared to WordPress, then Wix has only 223 application in its app market. Although it has both the free as well as premium apps, you won't customize your site's functionality the way you would do on the WordPress platform.
5. Updates and Maintenance
WordPress
The best part about WordPress is that it frequently releases its latest version to introduce new features, modify the existing ones, and to fix security and other issues. Even, you can update your WordPress themes and plugins on a regular basis with their respective latest versions to avoid hacking attacks.
You will get notifications whenever the latest version is out. You can update your site manually after backing up all your database and content_files. So, we can say, WordPress takes a huge responsibility to help you maintain your website, installed themes and plugins with ease. You can even use a backup plugin to create automatic backups on the frequent basis.
Wix
You don't need to update your core Wix site manually – it automatically does it for you. Wix will take care of your site, installed templates, and apps and do all the heavy lifting in terms of maintenance on your behalf.
6. Technical Support
WordPress
As WordPress has a huge community of web developers, designers, coders, and programmers, you will get best technical support whenever you needed.
If you get trapped in between the WordPress development process, you can get support via WordPress forums or documentation instantly. You can ask your queries related to WordPress installation, customization of themes and plugins or other aspects by submitting forums or exploring documentation. But sometimes it becomes difficult to find the solution because of tons of information available in the WordPress forums and documentation.
Wix
Since you don't need to contact third party developer or hosting company, getting support is easier in Wix. It also includes forums, articles, and videos that can solve your problems quickly and easily.
Final Outcome
WiX vs WordPress? Both the platforms are good to start off a first web business. As a beginner, you can use Wix that can help you create a beautiful, functional and feature-rich website, without any coding. You can create and add content using WYSIWYG editor, templates and apps will be updated automatically, and the best part, you will get the technical support 24/7 hours.
But as your web traffic, as well as business, grows, you will need more control, more flexibility and other customization features, which you will get only with WordPress. Everything on WordPress will be in your control – be it a selection of a hosting plan, themes/plugins/core WordPress upgrading, security enhancements and a content creation. You can create your site the way you want, without any heavy lifting. You will get more choices in the form of themes, plugins and customization options, and also get 24/7 hours technical support.
So, make the final decision after analyzing your business nature, niche, and determined goals.

Latest posts by Lucy Barret
(see all)
Where Should We Send

Your WordPress Deals & Discounts?
Subscribe to Our Newsletter and Get Your First Deal Delivered Instant to Your Email Inbox.
Thank you for subscribing.
Something went wrong.