Looking for a plugin that grants you the full control over your WordPress website? Dreaming of building any layout you can imagine without any coding knowledge whatsoever? My friends, you have come to the right place!
Welcome to the latest article of "Visual Composer: A WordPress Page Builder for any Theme and Layout"! Speaking of Visual Composer, I believe you have heard the name somewhere along your WordPress journey, right?!
This amazing page builder developed by WP Bakery has made a name for itself and become one of the top plugins since it was introduced in 2011. According to statistics released in 2015, the plugin reached the milestone of 20,000 million sales in March 2014. Around that time, it was integrated on over 300 premium themes on Theme Forest, installed into over 65,000 websites all over the world. Such marvelous figures, aren't they?
Finishing reading this brief introduction, do you want to get to know more about the plugin? I suggest you should say yes because you are so close to possessing one of the most satisfying plugins I have ever worked with throughout my whole life. And to tell you the truth, that is clearly not an exaggeration at all!
That Visual Composer is a top popular plugin is now indisputable, but do you wonder if it satisfies all your needs in a page builder plugin? I do not know exactly what each of you desire in such plugins, but I do guarantee that if Visual Composer ranks 2nd, then nothing of the kind ranks 1st! Now, let me guide you through the Visual Composer exploration journey, in which I will elaborate on its general information, its main features and some final thoughts.
General Information
Price:

$34 for regular license
$170 for extended license

Created on 22 May 2011, Last Update 21 November 2016
Compatible browsers: IE1, Firefox, Safari, Opera, Chrome and Edge
Compatible with WPML, WooCommerce 2.5, 2.4.x, Gravity Forms
Latest version: Visual Composer 5.0.1
With over 45 content elements coming in the Visual Composer package, you are allowed to make magic to both the frontend, which is your website and to the backend, which is your website's WordPress admin area. In addition to the amazing 40+ content elements, 60+ pre-defined layouts that take seconds to add, 150+ third party add-ons and 40+ unique grid design templates, the plugin offers unlimited design options, saves time and has an easy-to-use interface.
And that is just the beginning of this greatness! Why? Because right after this, I invite you to come to the Main Features party!
Main Features
1.Front End and Back End Editor 2 in 1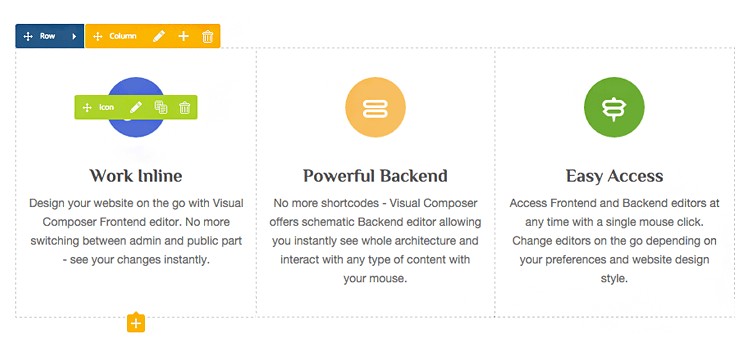 This feature enables us to build responsive websites and control them easily without any programming skills or knowledge required. It also allows us to switch between different devices to check the appearance of the contents on a tablet or other mobile devices. Specifically, with this Front End Editor, you can:
Add and drag elements around the screen and establish layouts on your WordPress website easily and quickly;
Decide the type of elements you add and highlight them with distinct colors to improve user experience;
Create responsive pages with new design controls.
2. Content Elements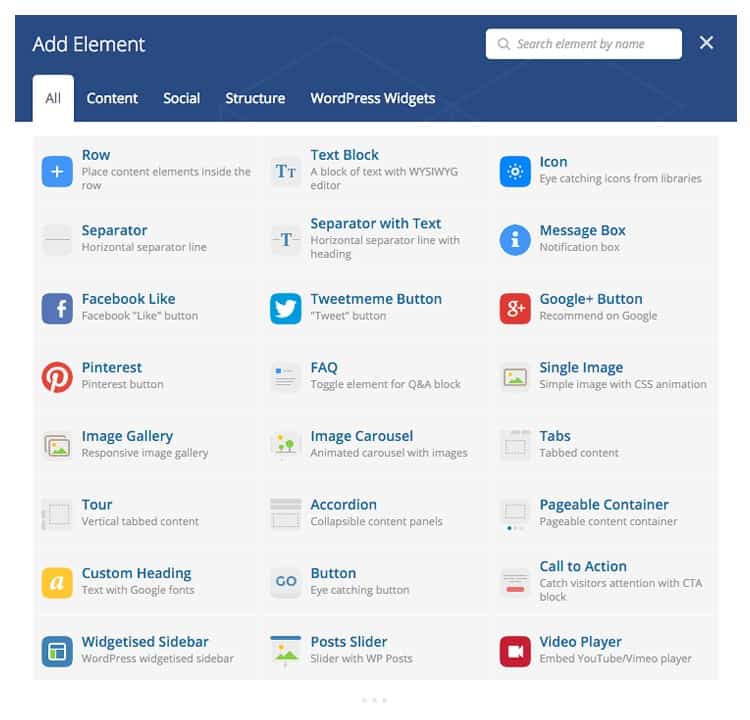 I know I have mentioned the amazing 40+ content elements, but I have not explained how "amazing" they are, have I?
Carefully crafted by web design masters, these built-in contents have the power to offer users various options in order to make any layout of your dream become possible. What is more, you can create the most complicated layouts in minutes thanks to these content elements without resorting to any line of code.
Not satisfied yet? How about the 200+ Visual Composer add-ons that bring hundreds of other content elements? With the assistance from these goodies, all you have to do is to drag and drop, and you will have a fully ready WordPress website. In case you do not want to build the website yourself, there are always pre-defined templates to utilize! These 60+ templates cater for every essential section of a website. What is even better is that you can use these pre-built templates to create your own in order to reuse the content.
Now, let's take a quick look at the built-in content, shall we? Here we have Text block, Pie Chart, Separator, Text separator, Message box, Facebook like, Google+, Pinterest, Tweetmeme, FAQ, Single image, Image gallery, Tabs, Tour section, Accordion, Icon, Posts slider, Widgetised sidebar, Button, Call to action, Video player, Google Maps, Raw JS, Raw HTML, Flickr widget, Progress Bar, Row, Empty Space, Custom Heading, and so many more!
3. Skin Builder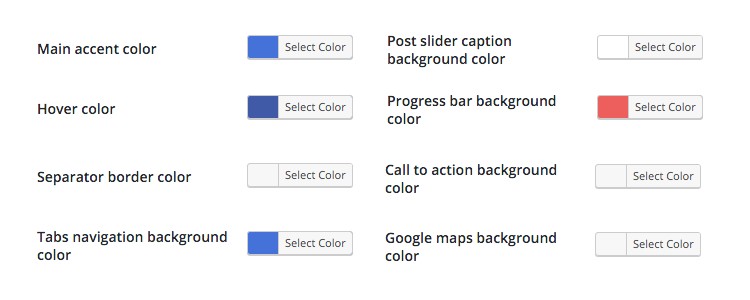 Want every website of yours to be one of a kind?
Easy! Use this built-in skin builder to make some adjustments to the Visual Composer elements. Doing so will help you create a website that is a perfect match with your brand identity. The great part is that you can change the appearance of your websites within seconds! How to make that happen? Well, first, you take a look at the skin builder option and decide the parts you want to have influences on, then you can combine your WordPress theme with your custom Visual Composer powered skin to give birth to a brand new design. That is to say, this Visual Composer skin builder could be the best alternative for those who have no programming skills or simply want to save time!
4. Responsive Pages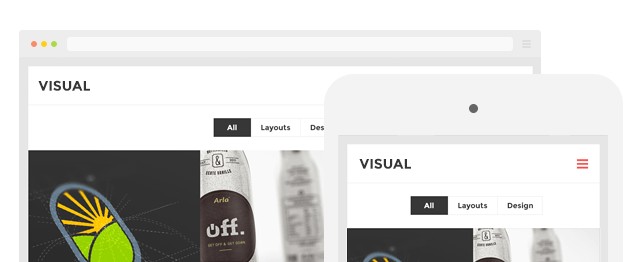 The responsive option offered by Visual Composer means that your content can be accessible on any kind of device, ranging from desktop to tablet and mobile phone. Of course, no extra programming is required for this feature. More interestingly, you can control how stacking functions on different types of device, at the same time defining offsets and hiding specific elements on chosen devices.
Furthermore, you need no knowledge about UI, Visual Composer will create a pro UI looking website for you! You can also forget about the media queries, all you need to do is choose the device type and then fine tune the settings you wish! Giving your users the best readability and user experience will be easily accomplished with this responsive feature.
In case you do not wish to have a responsive design, well, you are free to switch off responsiveness in the settings page!
5. Extend Visual Composer
As Visual Composer is extremely friendly to both user and developer, extending it by adding new content elements is super easy to carry out. Visual Composer was developed with thoughts given to the needs of the third party developers and theme authors. Therefore, if you want to further extend your Visual Composer-supported WordPress theme, you can do so right from your functions.php file by modifying default content elements or adding your own shortcodes to the Visual Composer's drag and drop interface.
Clueless about how to work that magic? Well, the answer is to use built-in methods to guide the Visual Composer how it should work with new content elements or shortcode in this case. Within a few minutes, you will successfully extend Visual Composer. However, remember to use the well developed and structured API to expand your or your customers WordPress borders.
6. Advanced Grid Builder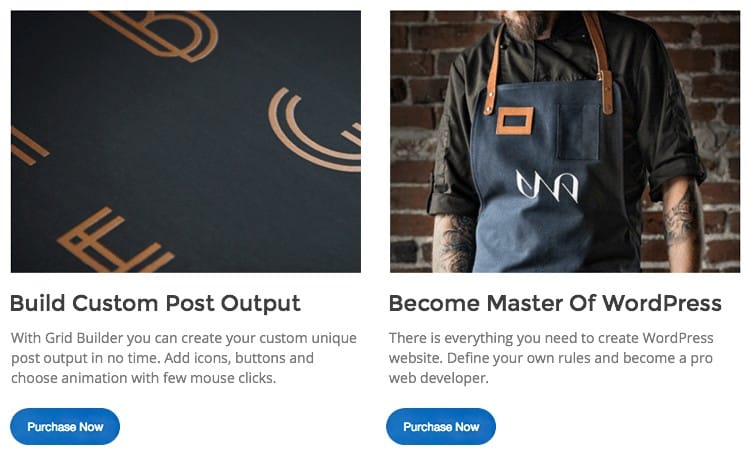 Apart from the awesome features above, Visual Composer also offers modern Grid Builder and grid elements. These goodies serve to display posts, portfolio, media or even custom post types easily and in the most breath-taking way. Having more than 40 pre-defined grid element styles, content elements and grid options, Visual Composer never fails to prove it is the best one of its kind. Such activities as controlling gaps and width, adding filters and paging from pre-defined styles, filtering and controlling output, etc. would be easier than ever. Use the new Visual Composer grid and build anything you want!
To give you the best experience, Visual Composer has categorized its grid elements into different meaningful groups which have distinct options:
Post Grid
Post Masonry Grid
Media Grid
Media Masonry Grid
With this feature, you can display your portfolio, blog posts or media gallery within a few clicks. As Visual Composer grid elements work perfectly well with custom post types, especially the renowned Woo Commerce, you can show your products in a beautiful grid or list by using predefined grid element or modifying it as you wish.
Final Thoughts
Of course, there are many more features of Visual Composer that I have not mentioned in the part above yet also truly amazing. What I want to convey is that choosing Visual Composer can really be one of the best decisions you ever make in your WordPress career! To finish our article, let's have a quick review on everything we have gone through:
Price: Compared to its competitors, Visual Composer is so much cheaper yet have a lot more features!
Features: Do I need to start over again? No, I suppose, since I have introduced to you almost all the nice features of the plugin. Except from the two downsides (the lack of options to insert widgets and the occasional temperamental function of the front-end editor), I see no reason to turn down such a page builder plugin!
Usability: "Easy-to-use" is the phrase I definitely use to describe the interface on the back-end and the front-end of the plugin!
Support: WP Bakery offers great support for whoever purchase their pride-and-joy. That is not to mention the regular updates with bunches of new features!
Speed: Some people wonder if these many content elements will slow down their websites. The answer is absolutely no! Thousands fastest websites on the globe use Visual Composer, so you can count on me when I say every element of it loads very effectively!
Above there is everything I have to say about one of the greatest inventions of the WordPress community, now it is your time to decide whether to join this greatness. In case you still need to be convinced a little more, why don't you try and feel for yourself?
Where Should We Send

Your WordPress Deals & Discounts?
Subscribe to Our Newsletter and Get Your First Deal Delivered Instant to Your Email Inbox.
Thank you for subscribing.
Something went wrong.