Speaking from my experience: whatever kind of business empire you want to build on WordPress starts with one simple element: a WordPress landing page.
Why is it so important? – you might ask. Well, let me explain shortly: First, it removes distractions that may prevent your visitors from taking the consumer action – if led to your site's homepage, a customer may spend time wandering around rather than do one thing that is important: convert – a landing page will solve that.
Secondly, it can help generate leads and collect demographic data by giving out forms for visitors to fill in.
Thirdly, it performs something called closed-loop marketing, using CRM software to make full use of your site while tracking information about your audience. Finally, besides converting leads quickly, resulting in higher sales, it also reduces your bounce rate!
You see, having a landing page for your business is essential, but do you know what is even more essential? It's picking the right landing page WordPress theme since the right one will manage to perform everything mentioned above smoothly and effortlessly.
Well then, how right is right? Surely something that always looks amazing, easy-to-use, packed with all necessary features and most importantly, adding more values to your empire – something like Pergo – More Than Just Another WordPress Landing Page Theme!
What Is Pergo and What Does It Do?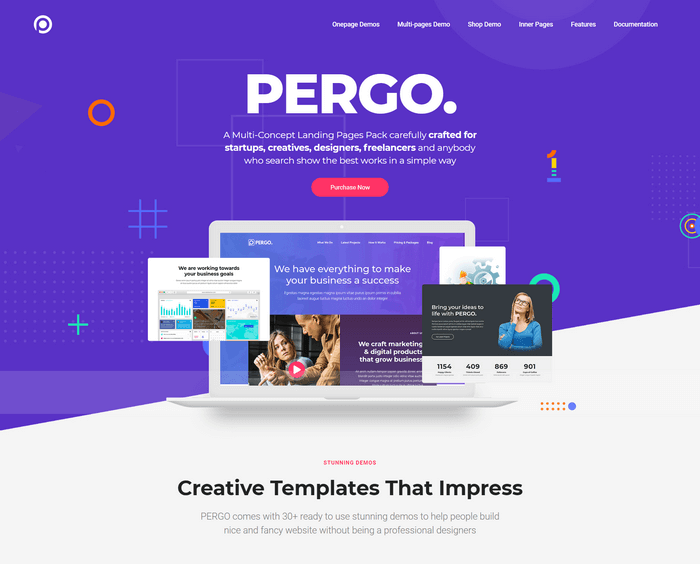 Aiming at giving WordPress users, who wish to start a business, a variety of choices no matter which niche he/she is going to set the heart on, Jthemes proudly presents Pergo – a multi-purpose WordPress landing page them which is going to fit any business website regardless of its niche.
Whether you're a freelancer making money online, or a designer looking for new job offers, or a startup craving for contracts, etc. – whether you invest yourself in medical & health, construction, insurance, e-learning or consulting field – Pergo can help!
What does it do to help, anyway? Excellent question! Well, I believe the answer could be found if you look closely to several cores features down there:
Unlimited Color Presets will give you unlimited choices of colors, allowing you to style the landing page all you want while ensuring it looks fabulous!
Drag-n-Drop Page Builder makes it so easy to build your WordPress landing page just within clicks of the mouse!
Numerous Google Fonts and Font Awesome Icons let you decorate your landing page with flexibility according to your creativity.
WooCommerce Integration: Online trade has never been so easy with the help of the renowned WooCommerce plugins.
Fully Responsive: Rest assured that your landing page will look perfect on any screen, from PC to tablets and cell phones!
Translation Ready: Customers from all over the world? Don't worry! Pergo makes sure the expand of your business will reach any foreigner visiting!
Google Analytics Available: Getting statistics, insights and analyze them will be handled smoothly with Google Analytics!
Hmmm – you're wondering what more we can offer? Keep on scrolling fellows! Those are just some of our best features – the better is still remained to be seen!
Main Features
Since there are so many to talk about when it comes to Pergo and I clearly cannot detail them all, I will selectively introduce some best features that deserve the brightest spotlight!
1. 30+ Layout Styles Ready to Pick
What I first noticed about Pergo is the fact that its creators always strike for the better. For the sake of their customers, they tirelessly advance the WordPress landing page theme by adding more and more to the already-wonderful collection of layouts.
In addition to their 18 pre-built unique and modern demos, they have just added 12 more in order to give customers a wider range of choices. As a matter of fact, all of these layouts are carefully designed, well-coded and fine-tuned to every detail!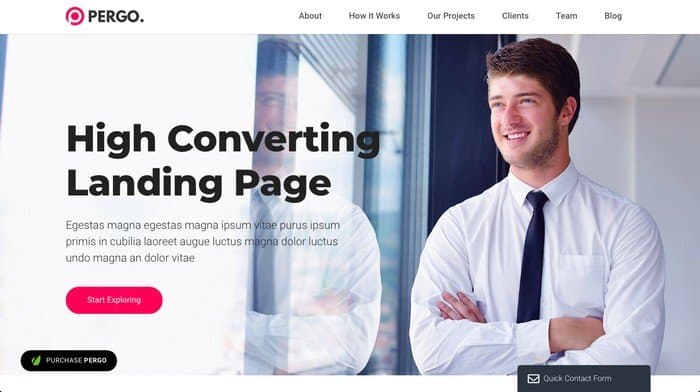 Business Agency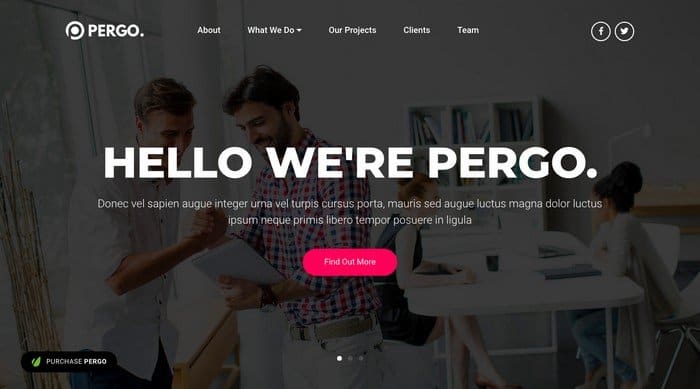 Design Studio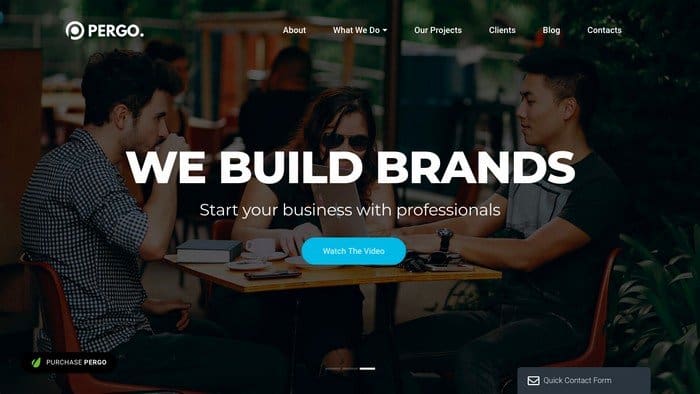 Creative Agency
Amazing isn't it? What is more, they also raise the number of UI blocks for better user experience. 80+ design blocks are readily awaiting you to use!
2. Unlimited Color Presets
Colors play a vital role in anything, especially for something that carries the mission of attracting people to it, like a WordPress landing page. Knowing that the Pergo creators have paid full attention to the color presets. Trying to give customers as many colors as possible so that they can have the landing page of their dream.
Just like layout styles and UI blocks, the color set has also been supplemented with many more colors, allowing you to style your WordPress landing page as you wish!
3. Brilliant One-click Demo Install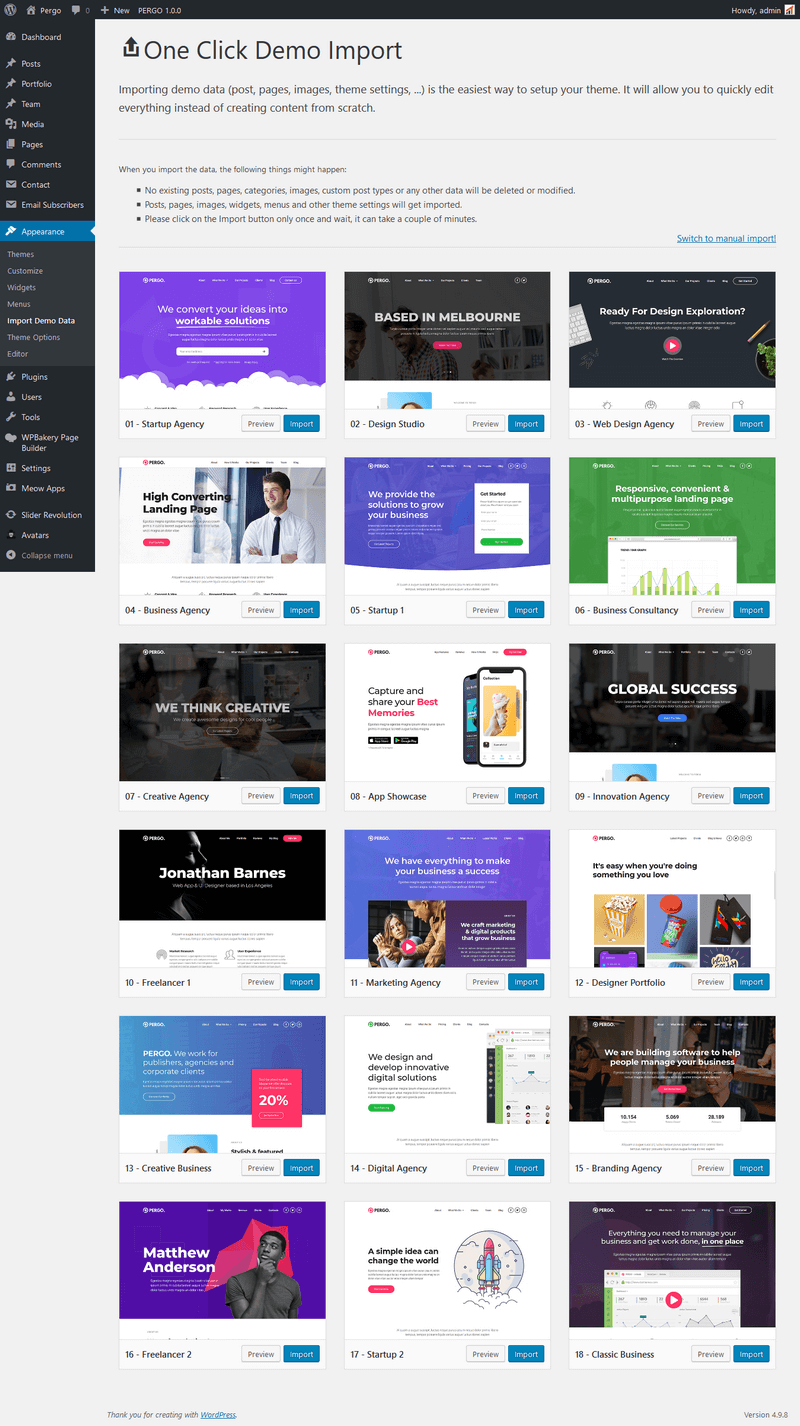 The one-click demo install feature allows customers to set up the theme within minutes. All you need to do is click the mouse and done, the perfect WordPress landing page awaits! Super time-saving, isn't it? Furthermore, it's also surely user-friendly, requiring no coding skills whatsoever to set it up!
4. Bundle of Powerful Theme Options
Each element of the theme is carefully packed with a whole lot of options, giving you so much room to maneuver. You will have the ability to customize almost everything thanks to the General options. Header options, Background options, Sidebar options, Footer options. Even options for Styling and Typography, etc.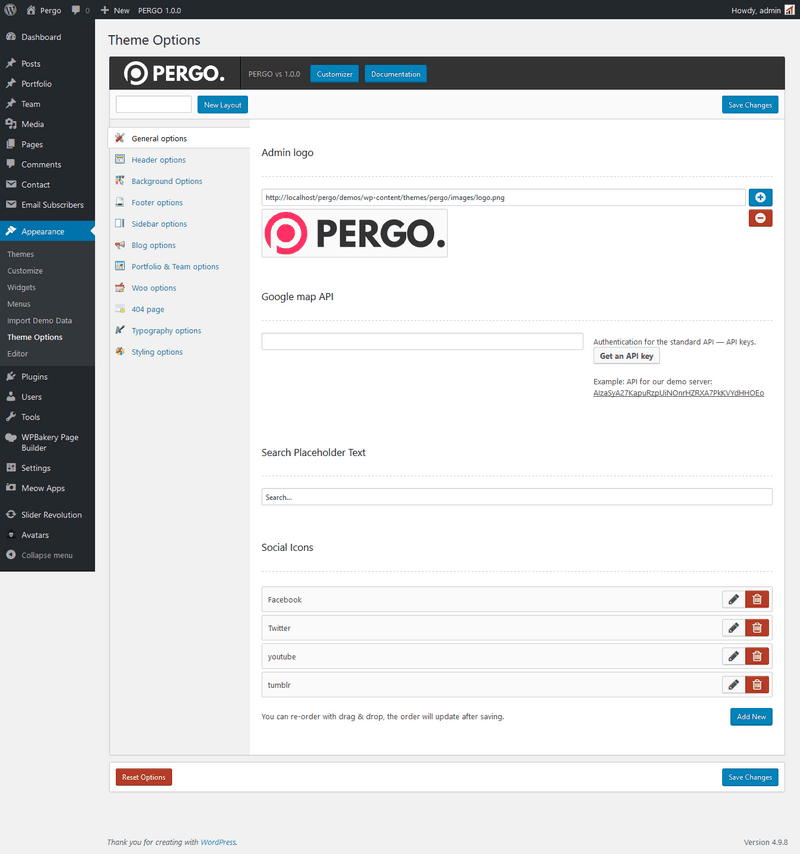 Theme Options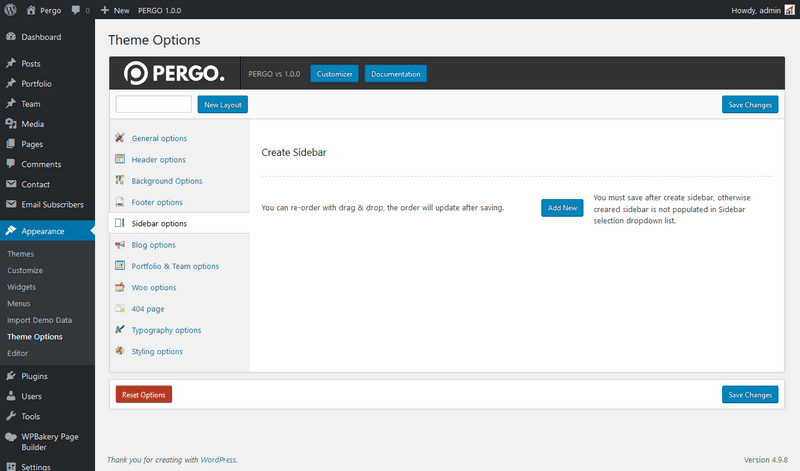 Sidebar Options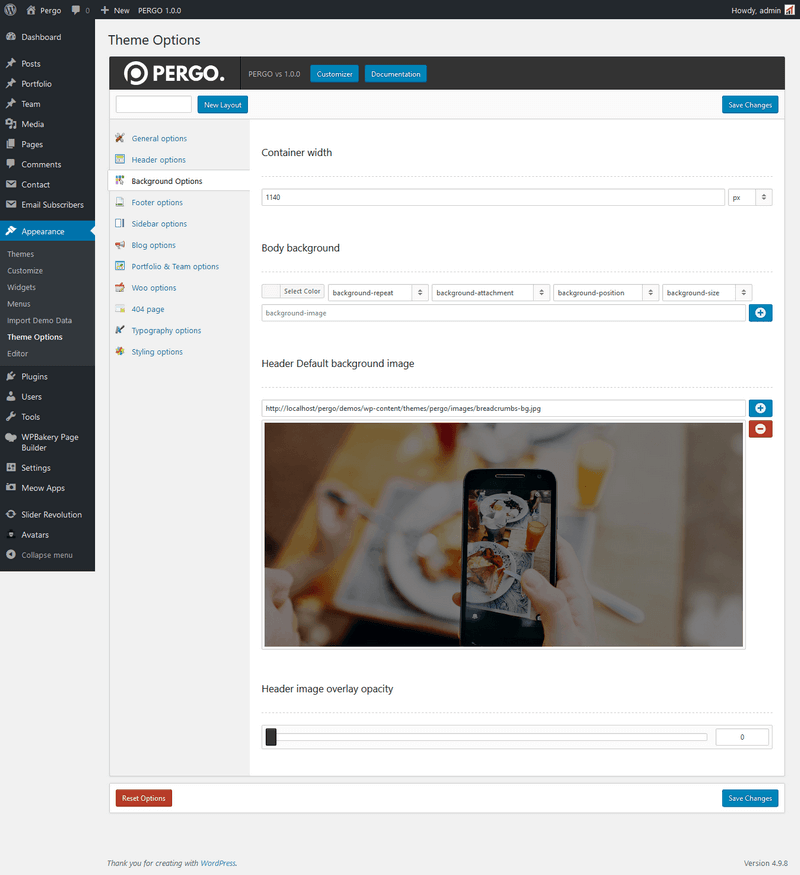 Background Options
More importantly, all these theme options are neatly-arranged so that you won't have a hard time navigating through them.
Superb Detailed Documentation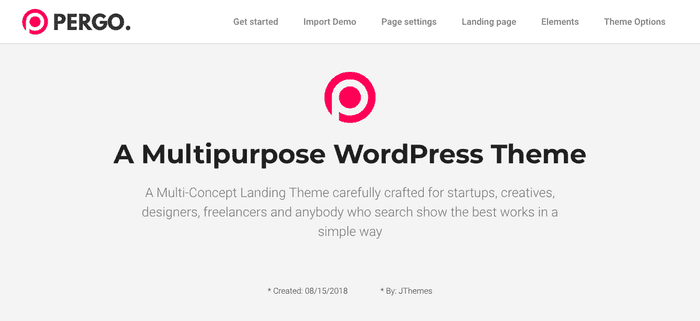 I believe how devoted the creators are towards their product can be reflected through how detailed the documentation is. For Pergo, the documentation is not only detailed but also presented in the clearest and most expressive way. From how to install and activate the theme to how to import demo, how to use the settings and the theme options, etc. – everything is carefully instructed with sample pictures.
Should there be any problem arise that cannot be found within the documentation. Feel free to contact Jthemes through means of the contact form! The support team will get back at you with solutions in no time!
Final Thoughts
Costing you only $39, much cheaper than an average WordPress theme, Pergo is truly a bargain! Not only is it nicely designed, well-coded. It is packed with all those amazing features that a WordPress landing page needs. It is also a shining example of a product made by heart.
Developed and launched by such a devoted team of Jthemes who obviously have put their whole mind and heart into the product. Pergo comes with one of the most thorough documentation I have ever seen, and also a dedicated system of support.
Actions must speak louder than words, right? Then, as you're here already, take the action and go see its Demos, you will have the decision of your own!
Where Should We Send

Your WordPress Deals & Discounts?
Subscribe to Our Newsletter and Get Your First Deal Delivered Instant to Your Email Inbox.
Thank you for subscribing.
Something went wrong.