Not just on WordPress, communication has forever been a necessity to all mankind. That is why it should receive full attention, online or offline!
Just imagine a day goes by without opening your mouth and talk, what a tragedy, right? Well, the same principle applies to the Internet as a whole and WordPress in particular! Thus, for those who spend the most part of their day working on WordPress, it's of utmost importance to have a plugin that allows non-stop and easy communication between them and their work partners.
That's why WordPress developers have never stopped researching and testing to bring out the most fantastic chat plugins for WordPress users.
Then, what makes a worthy chat plugin for all WordPress users? If you ask me, my criteria certainly include more than just an attractive outlook! Listen, for us WordPress residents who have to maintain communication with many at the same time every day, the right plugin has to ease us off that burden!
Moreover, it should be feature-rich, easy-to-use and helpful – that's a must! The appearance comes later, but definitely a plus anyway.
So, where to find such a cutie? Quadlayers has an answer: everyone, here is WhatsApp Chat Plugin – WordPress Communication Has Never Been Easier!
Why WhatsApp Chat Plugin?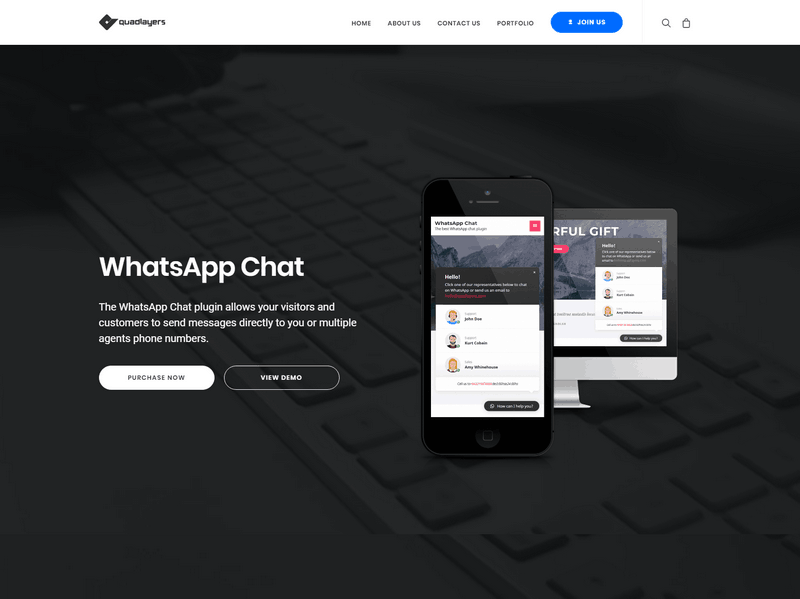 Normally to start off any review, I would explain to you what the plugin is about before going into details what it could do. But hey, now everyone knows what WhatsApp is, right? In short, WhatsApp today is undoubtedly the world's most well-known and loved instant cross-platform messaging application. Some say it's one of the safest ways to communicate too!
Since so many people use it, no wonder why WhatsApp is the most sought-after messaging platform for WordPress developers!
Quadlayers has an idea too! That is to transfer WhatsApp and its greatness into a plugin, bringing all of its functionality into something beyond through the WhatsApp plugin. So what does it do exactly?
WhatsApp button allows visitors to send messages to your phone number;
WhatsApp button and box colors help you customize due to your liking;
Contact box makes it easier to perform messaging;
You can also add a custom icon in the WhatsApp button all you want;
Or you can hide the button based on post types and taxonomies;
Two-button layouts are available!
You can place your chat in a vertical and horizontal position, whatsoever!
Adding rounded or square borders to your chat can be easily done;
Custom button text and Custom user message – everything is tailor-made for you!
If you opt for the Premium version, there are a lot more to tell:
 – The possibility to choose from more than fourteen icons for the WhatsApp button;
 – Full integration with the WordPress live customizer.
And so many more!
Sounds interesting, doesn't it? But hold your breath, that's just the basic. Now, we're getting to the real deal!
Core Features
The real deal, as promised! We're gonna take a look at WhatsApp Chat Plugin's very main features, those of both the free version and premium version.
1. The Ultimate WhatsApp Button and WhatsApp Chat
Included in both versions, these features are the basic ones in allowing you to experience WhatsApp chat for WordPress as fully as possible.
The WhatsApp button lets your visitors send direct messages to your phone number without any hardship. The setting up is also easy, you can find it in the admin dashboard within seconds. What is more, there are two different layouts to choose from, so don't worry if it gets boring!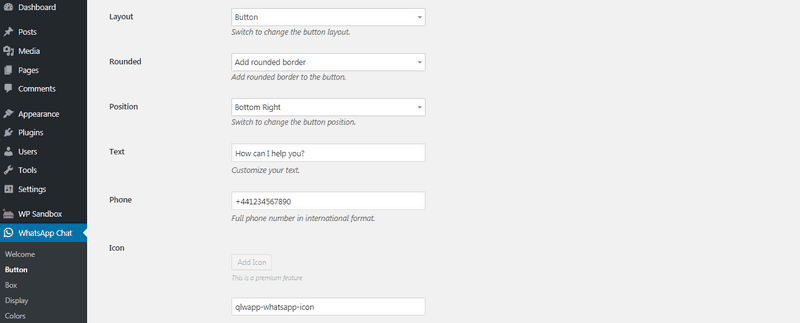 Meanwhile, the WhatsApp chat includes a box to display contact info and personalized message, helping you to easily make out who you are talking to! Just like with the WhatsApp button, this takes no longer than seconds to define and you yourself can modify such components as header and footer message, contact name, phone, work, avatar, etc.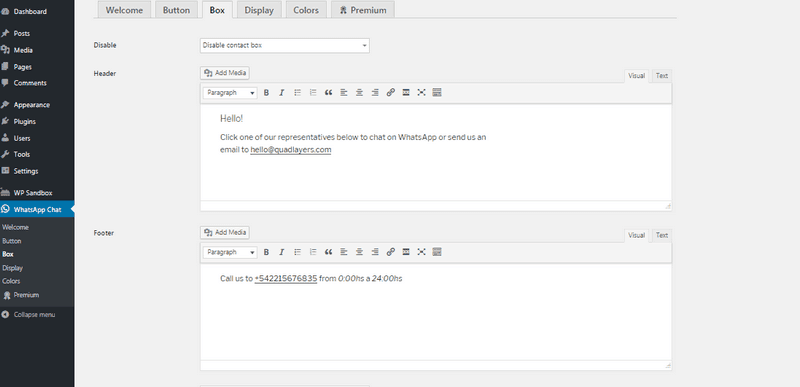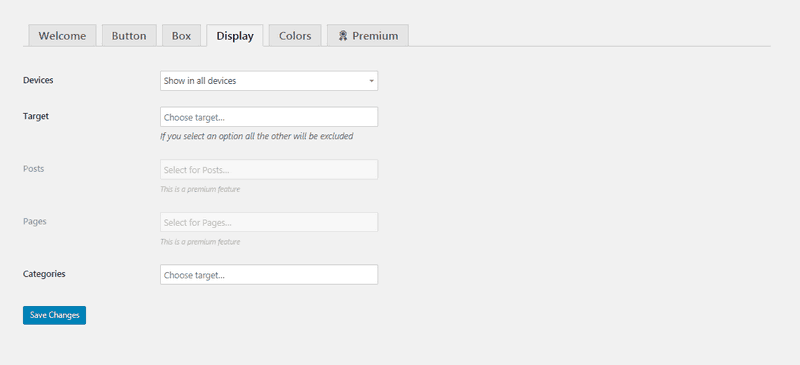 2. Accounts for Multiple Team Members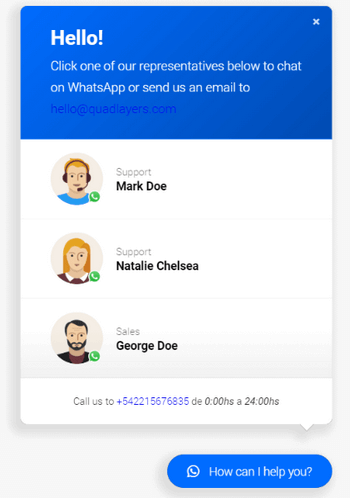 Basic features are already lit, but what makes me root for the plugin is one of its premium features – the multiple team member accounts!
Imagine how convenient it is for your visitors if they are allowed to contact different support team members: well, my guess is they will definitely love your WordPress site even more! With the WhatsApp plugin, it is absolutely possible!
You can include UNLIMITED agent accounts with their names and labels in the box, making it so much easier for your site visitors!
A direct ticket to the person they want to see is, undoubtedly, something any visitor would love to have!
3. Private Chatbox for Every Agent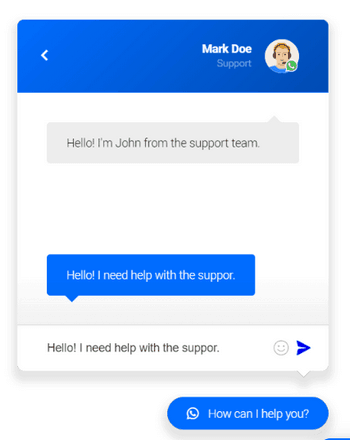 Of course, I cannot forget one more feature that I really appreciate, that is the chat box for each agent. Yes, the WhatsApp Chat plugin displays a chat box for each agent so your users can send their first message to each of them.
What is great about this feature is that:
It allows you to set a custom message for each agent, the message will be displayed on the chat box;
You will have the power to select the predefined user message to be sent to the agent phone number;
Also, this feature lets your users type their own messages and then send it to the agent phone number.
Sounds amazing, doesn't it?
4. And So Much More!
To list out everything that I feel super hyped about WhatsApp Chat plugin is almost too tremendous a job to do! That is why I just focus on the three main points above.
However, you must be aware that the WhatsApp Chat has so many more discover, such as: Editable text and color. Customizing and personalizing for your users; page targeting. Showing the chat box on a specific page, post or on the whole page; WPML compatible and GDPR compliance, etc.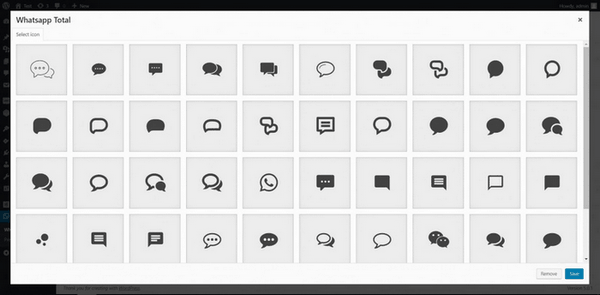 That's not to mention the devoted support team who will accompany you through ups and downs. If encountering any problem, you can always send a ticket and the team will come to your rescue right away!
Wrapping Up
With all of those marvelous features included, WhatsApp Chat Plugin by Quadlayers also offers multiple packages for different demands.
If you're not in need of so many features as well as support from the team, or you want to try it before purchasing paid version, you can go for the free version first.
If you're the owner of one WordPress site only, $10 is the cost for all of these awesome features. For the Agency and Developer packages with multiple sites, the price is a little bit higher but totally reasonable.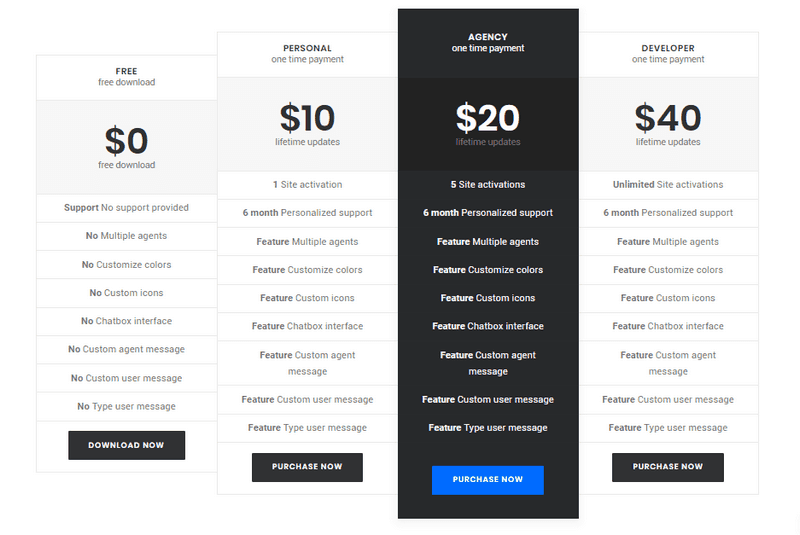 For everything I have presented above, there's absolutely no reason not to check out WhatsApp Chat plugin to see and feel for yourself. And if you have the same idea, feel free to visit its Demo!
Where Should We Send

Your WordPress Deals & Discounts?
Subscribe to Our Newsletter and Get Your First Deal Delivered Instant to Your Email Inbox.
Thank you for subscribing.
Something went wrong.