You have time? You can use the Internet confidently, and you want to make some money in your spare time?
I have two magical words for you: Affiliate marketing. Easily explained, the concept is that the business you do affiliate marketing for will reward you based on the traffic you help generate to a specific product or service they offer. Easy and fair enough, right? I see no reason why someone who has time and skills should not root for the chance!
Since many people think the same, affiliate marketing is not only a trend anymore, it is becoming a profession! So many people are taking it seriously in the past years that WordPress developers started to create numerous affiliate coupon plugins, leaving us with numerous choices when it comes to choosing a suitable one for our websites.
To use the right plugin will pave way for higher click-through-rates and conversions. That is why I highly recommend an affiliate plugin that will not only offer all the necessary functions but is also friendly, time-saving and easy to use!
In other words, my recommendation is Affiliate Coupons – The Money Making Assistant for WordPress Affiliate Marketers.
What Is Affiliate Coupons?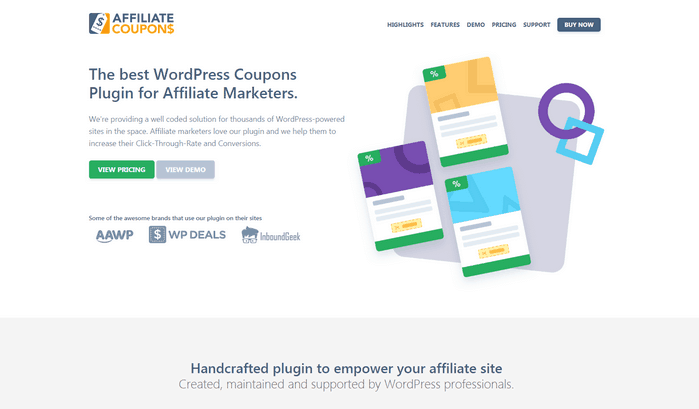 Simply put, Affiliate Coupons serves to help those pursuing the job as an affiliate marketer to increase sales and earn more money. We know running a WordPress website involves a lot of work, so let Affiliate Coupons take care of presenting your coupons and attracting customers!
With its amazing features as below, the plugin also increases your sites' click-through-rate and conversions, helping you to earn as much money as possible.
So what exactly does it offer that deserves so much praise? Let's check out its fabulous features below, shall we?
Core Features
I must say, to compare with other coupon plugins, Affiliate Coupons has a lot of features to cover, the most notable are:
Definitely responsive and mobile friendly;
The plugin can create vendors and predefine affiliate links as well as create coupons and link them to vendors;
It helps display your coupons via easy shortcode on the frontend;
Worried that your coupons look too ordinary? There are multiple options to present them in distinct ways;
Different built-in templates give you various choices;
Its ability to work with all themes is also a noteworthy feature;
You can customize all you want on the Configuration page;
There are also widgets for displaying coupons in the sidebar;
For the pro version, you also get:
– The Click-to-reveal features;
– Statistics and insights about the view, copy, and clicks;
– Custom templates;
– And so many more!
Marvelous, isn't it? Now it's time to get to know more about the features I appreciate the most, shall we?
1. Multiple Styles and Templates to Choose from
Affiliate Coupons offers the trio Standard, Grid and List templates for both free version and pro version. Every template of the three is already popular and favored by worldwide Internet users, so I assume there won't be any hardship using it to display your coupons and attract clicks. If you prefer something unique though, go for the pro version where there is the Banner template!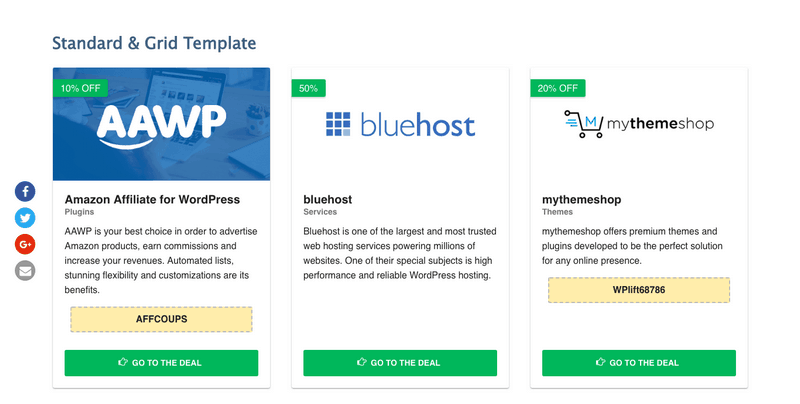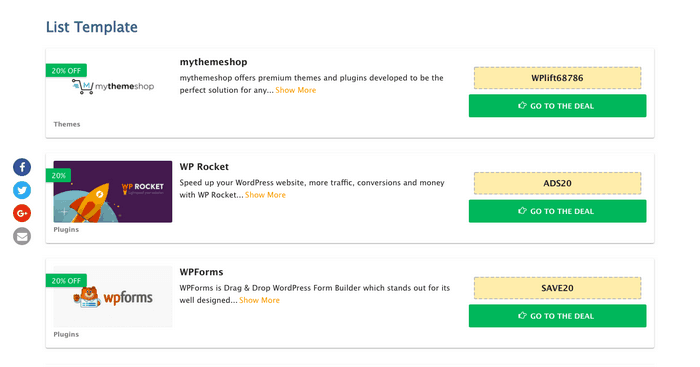 Standard, Grid and List templates for both versions.

Banner template for the pro version.
Also, the pack includes Widget templates for site owners to display coupons on the sidebar. There's also a small version, but you will have to upgrade to Pro in order to use it.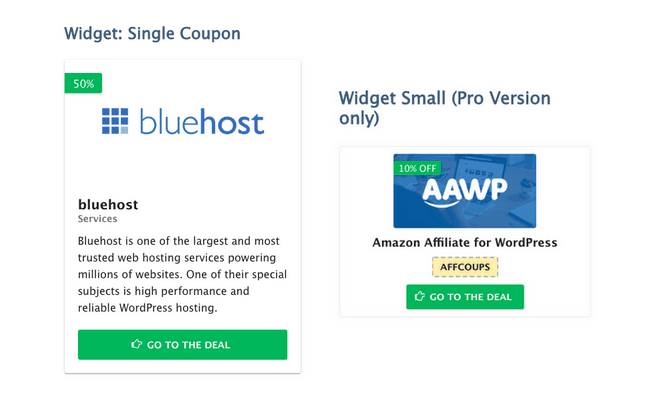 Talking about styles, with the pro version, you may opt for either standard, light or dark style for your coupons. Use them wisely to draw attention to what you'd like to display in the spotlight.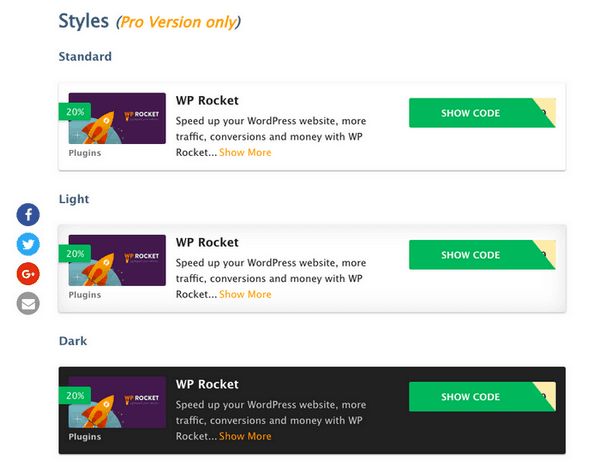 2. An Abundance of Well-coded Features
With Affiliate Coupons, you will be able to create vendors, create coupons and link them to vendors, predefine links, etc. all you want! Anything could be completed within clicks. The same with displaying coupons, as well as filtering, sorting their presentations with multiple options.
That is not to say, managing them is just as easy!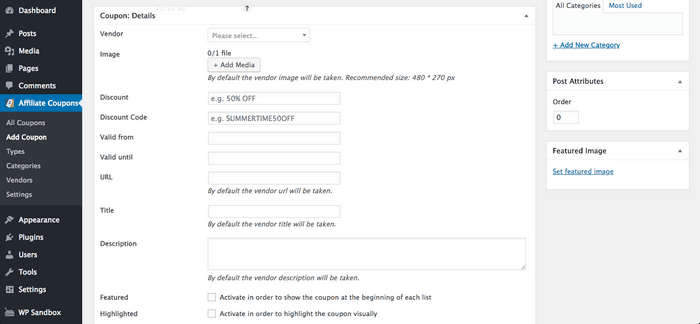 3. The Brilliant Click-to-Reveal Discount Codes
Now, this is why you should possess the pro version!
Offered in the pro version only, this feature proves to be very helpful in many ways. First thing first, it makes your coupon codes look "classy" because they require clicks to be opened, not readily shown like others. Secondly, since it comes with the click, copy, view statistics, you can also track down how well your codes are doing! Thirdly, it adds fun to the game and obviously helps the codes stand out!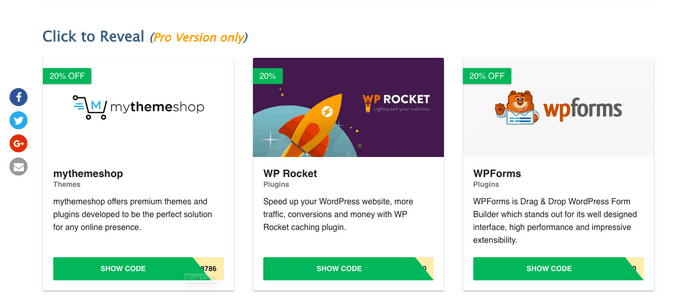 4. The Ability to Customize/Create New Templates
Another great news for pro version users: you are not limited to those pre-built templates! Upon upgrading to the pro version, you can either customize the existing templates or even create new ones due to your liking, both of which can be done in a matter of seconds!
5. The Coupon Detail Page
Another feature for the pro version users only!
Should you want to give more information on the coupons you're trying to attract customers to, a details page is something essential. This is where you can convince the customers how useful and beneficial the coupons are, thereby boosting the CTR and conversions!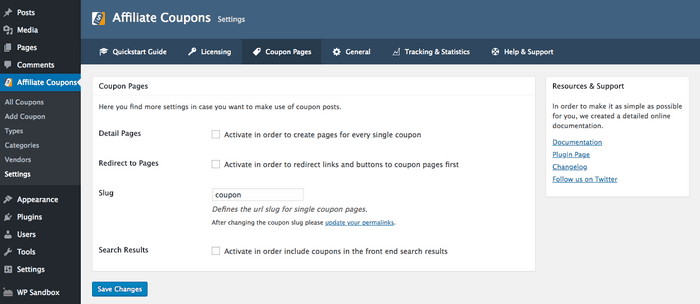 Detailed Documentation And Tireless Support
Upon installing Affiliate Coupons, you will find that the plugin is already packed with a quick-start guide: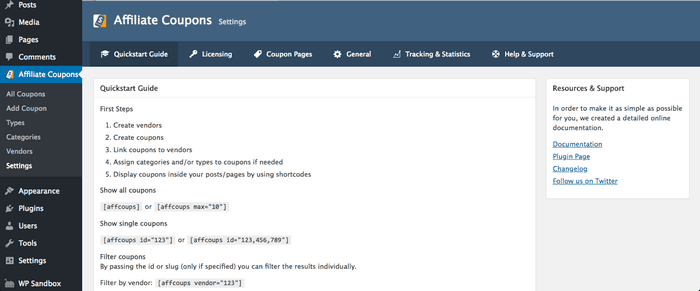 Once you need more information or encounter a problem while using the plugin, feel free to visit its Documentation! It seems that the Affiliate Coupons' creators have been very thoughtful when creating this page by categorizing information into suitable groups, including Pre-sale Questions, Getting Started, Functions, Trouble-shooting, etc. There's also a search box to make it faster and easier for you to search in emergencies!
Can't find the information needed to troubleshoot your problem? You can always open a ticket, the devoted support team will have your back right away!
Wrapping Up
All in all, I believe my words have been persuasive enough for you to take into consideration the wonderful plugin called Affiliate Coupons. Not only can it help you with money making by raising CTR and conversion, but it's also easy-to-use and doesn't cost you an arm and a leg like many others.
Priced with 3 different packages, Affiliate Coupons gives customers a variety of choices that fit their needs. Most importantly, with all the features and support included, I personally find these prices truly reasonable.

Been craving to have an assistant that helps boost income for your affiliate WordPress website? Take a look at Affiliate Coupons' demo and you will know where to find that dedicated assistant!
Where Should We Send

Your WordPress Deals & Discounts?
Subscribe to Our Newsletter and Get Your First Deal Delivered Instant to Your Email Inbox.
Thank you for subscribing.
Something went wrong.