The software industry is one of the most rapidly developing industries right now. It is bringing people of various skills and knowledge together to create amazing digital products and services. The fast development ensured that the industry one of the first to be profoundly affected by globalization, which brought both positive impacts and negative challenges.
Now, anyone involved in the software development business feels the effects of globalization. In addition to the increasing demand for talent and more sophisticated digital products, there's a growing need for highly skilled and organized project managers. Managing software development teams requires to be constantly connected with geographically dispersed workers and being able to engage them to maximize their contribution to project outcomes.
In this article, let's go over the positive impacts and challenges impacting software project management because of globalization.
1. Fierce Competition
Globalization is all about competition and finding ways to deliver digital products cheaper and faster. The amount of people working around the clock to deliver amazing products and services is staggering. More and more individual developers, companies, and countries join the global race for high-paying clients, development contracts, and recognition.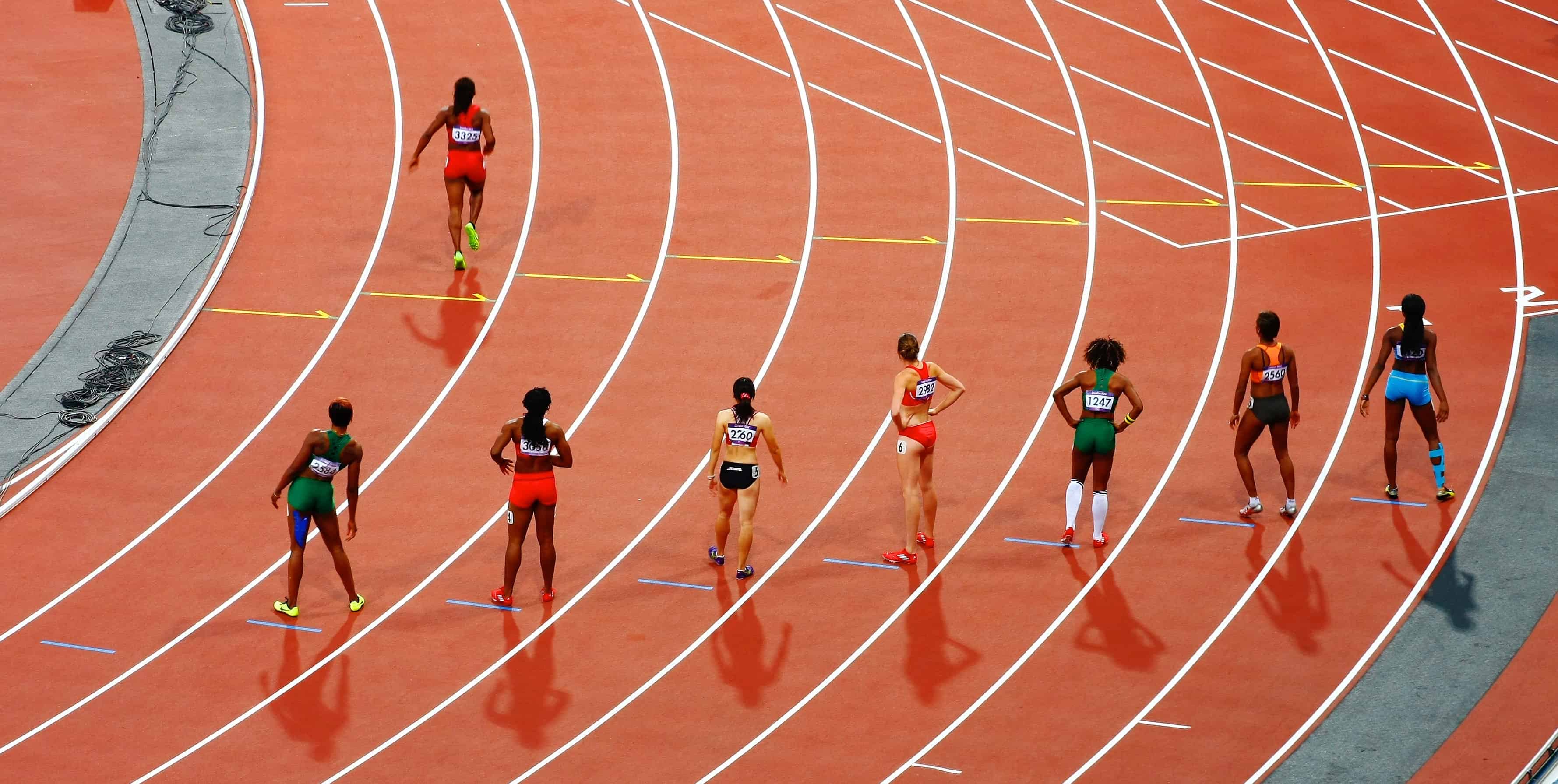 That's why coming up with an original idea for a digital product is extremely difficult. Even if you think that your idea is completely new, the chances are that there's someone already working on a similar project out there. Things can get even more complicated as there's no way you can know that a competitor is already ahead of you.
For project managers, the competition also means more work. To make sure that the project is successful, they need to work closely with all stakeholders and research the market to identify potential competitor-related business risks. It's also their job to let the developer team know about the potentially impactful activity of competitors. From there, the team takes appropriate steps to ensure maximized return on investment.
If a project manager fails to do these things, chances are their project won't be as successful as it could be because of the fierce competition.
2. Managing International Teams/Remote Workers
Basecamp, Google Hangouts, Slack. Within a decade, programmers and developers have created many communication and collaboration tools and platforms to keep themselves out of the office and to work remotely. They even use these tools to gain new knowledge and communicate. For example, there are many Slack channels for software developers where they share jobs, review codes, and ask questions.
No wonder that almost 55 percent of developers in the U.S. view being able to work remotely as the most important employee benefit. In fact, this perk outperformed such options as retirement benefits, equipment, and annual bonus.
Source: Statista
This brings us to the next factor that emerged in the last decade due to an increasing impact of globalization. With the rise of international companies and businesses employing people from different countries, more developers are working from home now. What's more, many are beginning to demand this perk from employers.
That's why a lot of software development teams now consist of people from all over the world, and many of them work remotely. As the technology unlocked access to international talent, businesses are very quick to scan the labor market and try to hire the most qualified individuals for their teams.
For project managers, this means more challenges, as they need to make sure that the remote workers are updated and stay engaged in the working process. For example, they often need to conduct online meetings with them, write reports, update project documentation and otherwise connect with remote workers. This is to make sure that they have the knowledge needed to maximize the probability of a successful project outcome.
That's where all those communication and collaboration tools come in, and project managers have to use them regularly to ensure that all remote workers are updated and engaged. Also, in some cases, project managers need to translate some of the project-related materials to other languages, and this is where online translation communities like TheWordPoint come in handy.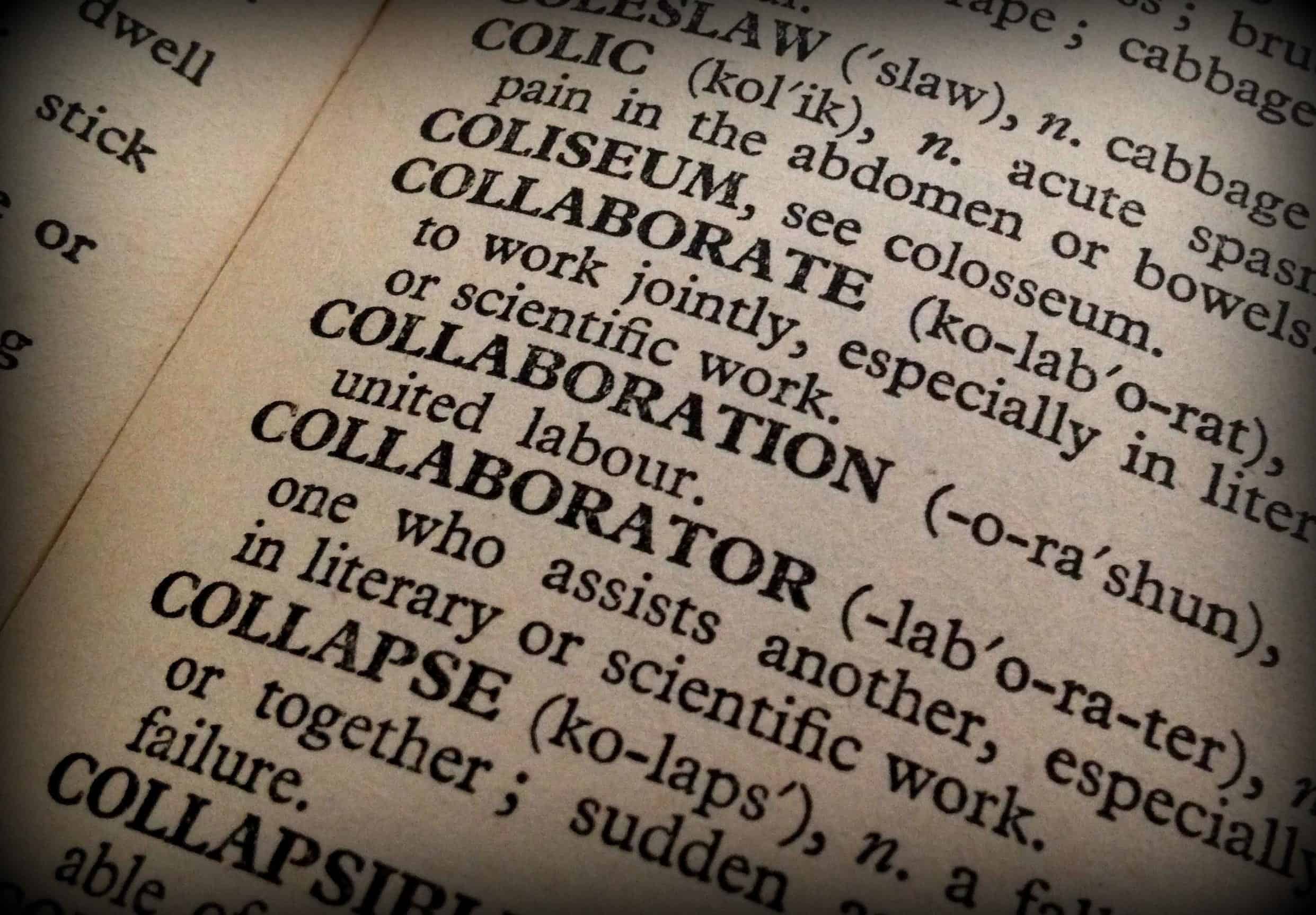 Moreover, managing collaboration with international workers can also be a challenge. People from different countries are often used to different legal restrictions, work environments, political situations, and even work approaches, so they may use various communication styles and tools. Therefore, it's quite possible that with the growth of the physical distance between team members, communication challenges may also grow as well.
3. Managing Virtual Meetings
This is another challenge that programmers helped to mitigate with tools like Slack and Basecamp. The cost of traveling to a meeting has significantly increased while the cost of having a virtual meeting has decreased. Therefore, project managers often need to use online communication tools to conduct team meetings.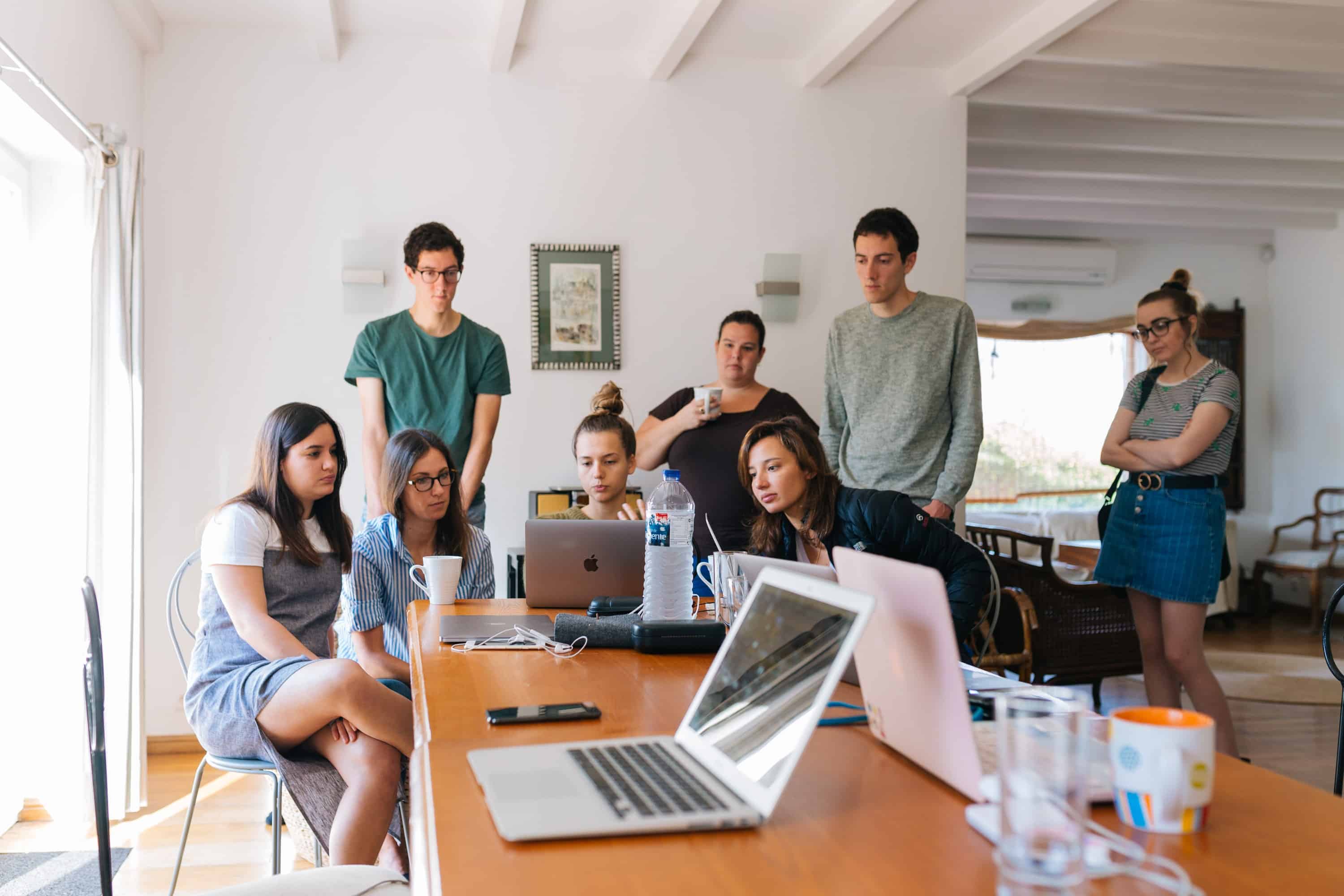 By using virtual meeting software, a project manager can connect and engage geographically dispersed workers, thus lowering the costs of communication and global collaboration. While meeting someone from a different country via a video call is convenient, managing collaboration and conducting various project-related activities could be a challenge for project managers.
For example, there's a risk of misunderstanding, the need to understand and take into account cultural differences, among other concerns. To mitigate this risk, a project manager can:
Develop and use an effective communication management plan that sets clear expectations from each team member for every meeting
Use instant messaging apps such as Messenger and Viber for quick requests and clarifications from team members
Allow time for casual conversations to encourage team building. Relationship building is a powerful tool against misunderstandings, so it should be used to help teams bond.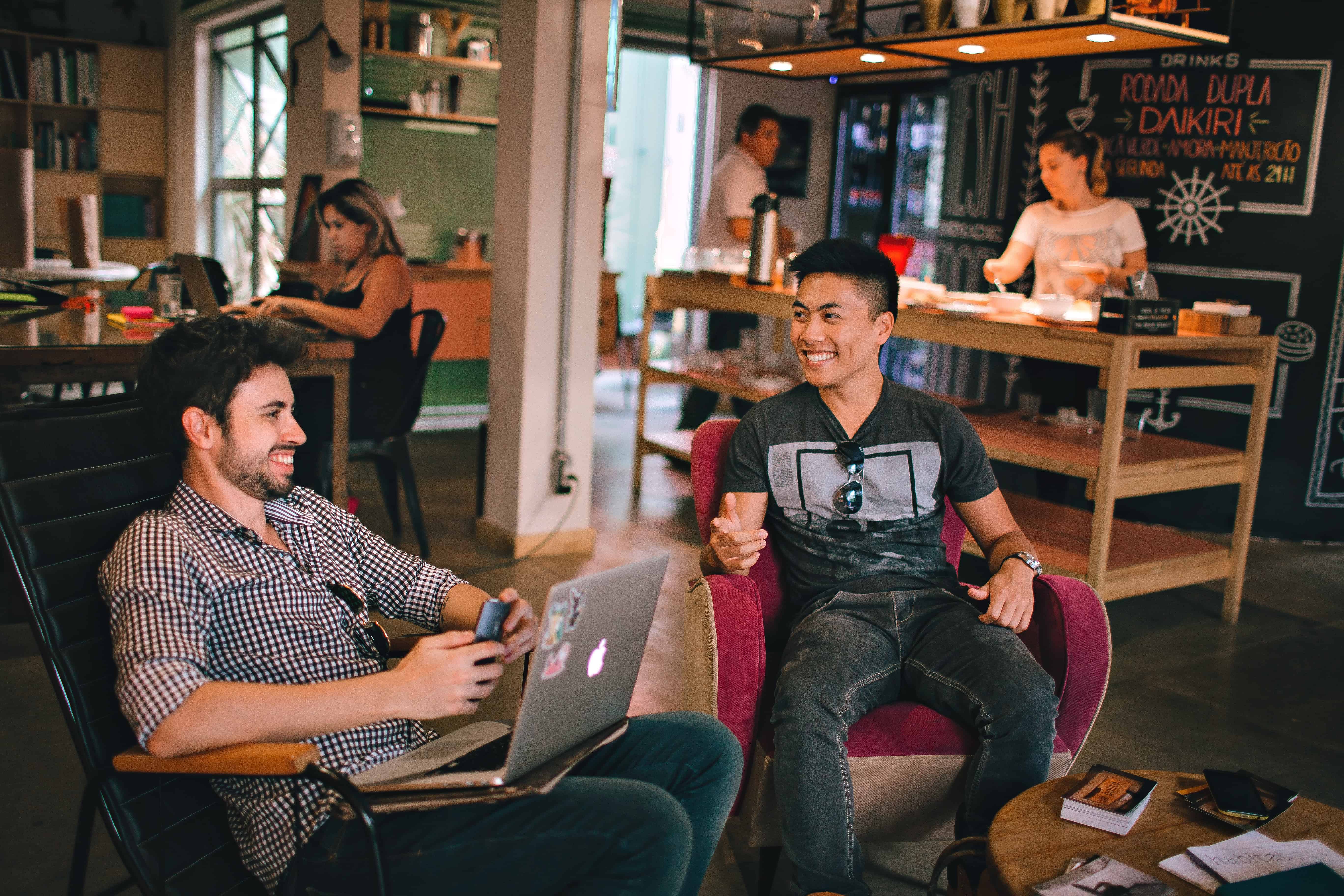 4. Team Forming
A project manager facing the task of forming an international software development team also needs to overcome additional challenges such as communication and collaboration.
Let's suppose that you're a project manager who needs to form an international team for a new software project. To make sure that the project is a success, you select highly skilled individuals from several countries, which means that a certain percentage of the team will be working remotely. While forming a team by using a skill-based approach seems like a reasonable one to choose, it introduces many additional challenges that need consideration.
For example, as it was briefly mentioned above, a team member who can work well may work and live in a different country, which may impose:
communication challenges for other team members as well as the team manager
language challenges because he or she may not be proficient in English. In fact, one Reykjavik University survey of project managers found language differences as the most impacting challenge when managing virtual teams (see the complete data below)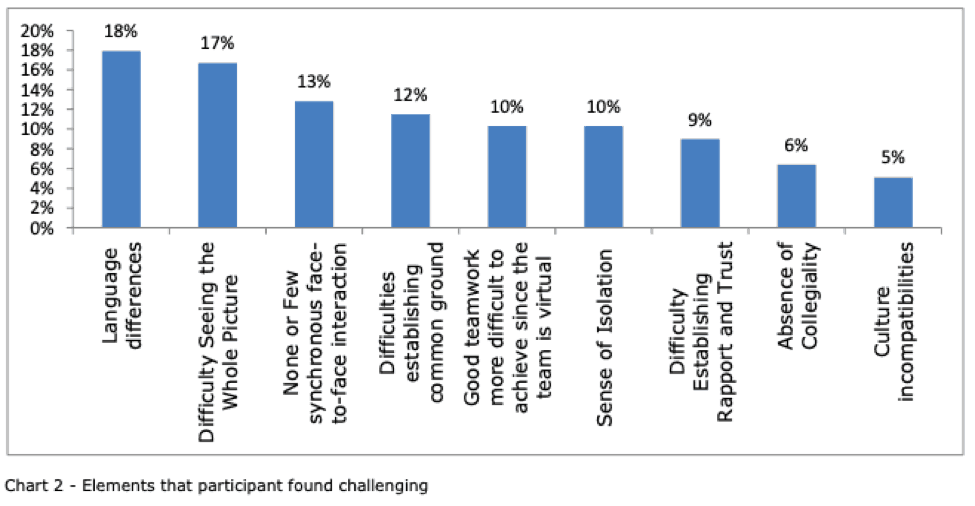 Credit: Ásta Hildur Ásólfsdóttir, Reykjavik University
Issues like misunderstanding because he or she may be accustomed to different work settings and approaches imposed by the company.
If a project manager doesn't address these challenges appropriately, the chances are high that cognitive challenges will increase as well. As 86 percent of developers now work remotely in some capacity, it's reasonable to claim that a lot of project managers out there face these issues. So, forming a team based solely on their skills and knowledge is a strategy that may introduce additional operational challenges for project managers during project implementation.
To avoid this, a project manager needs to understand the impact of cultural differences on teamwork and project success. Appropriate techniques must be employed to minimize the effects of the increased communication complexity as well as the potential impact of cultural differences. For example, the project manager may require team members to invest more time and effort in creating and understanding communication and messages from colleagues.
A Project Manager's Role is Expanding
Managing an international team of software developers is nothing but easy. Globalization has introduced many significant challenges for project managers, which they have to acknowledge and try to mitigate before the work gets underway. Clearly, their role is becoming more prominent, as they need to expand their skills to maximize the chances of project success.
Latest posts by Erica Sunarjo
(see all)
Where Should We Send

Your WordPress Deals & Discounts?
Subscribe to Our Newsletter and Get Your First Deal Delivered Instant to Your Email Inbox.
Thank you for subscribing.
Something went wrong.