You aren't new to the idea of using quizzes for capturing and nurturing leads, are you? However, did you know that quizzes can do wonders for you when it comes to upselling your online courses to past customers as well?
It makes a lot of sense to use quizzes for increasing your eLearning sales since they're pretty much a normal progression in the process of structured learning — it is a necessary step. One could even say that the experiential connection between quizzes and eLearning is inseparable.
When you weave in your upselling efforts into something as central as quizzes, your upsell becomes a seamless experience from your customer's point of view. The best part is, in-course quizzes don't just benefit your customers and improve your upselling efforts, but they also serve many other uses for your business, such as helping you segment your audience and create new courses to meet demand.
Let's dive deep into how effective quizzes can be to helping online course business owners generate repeat eLearning sales.
Traffic and Lead Generation Through Social Sharing
Depending on how creative you are at coming up with quizzes, you may be able to generate heaps of social shares, traffic, and even leads.
This isn't just a matter of theory, by the way. If you're like most people who frequent Facebook, then you have definitely seen countless quizzes from BuzzFeed — and how their quizzes easily generate shares and engagements.
Here's an example quiz from BuzzFeed.
After clicking through from Facebook to the quiz and answering all the questions, you notice a sign-up form at the bottom of the post.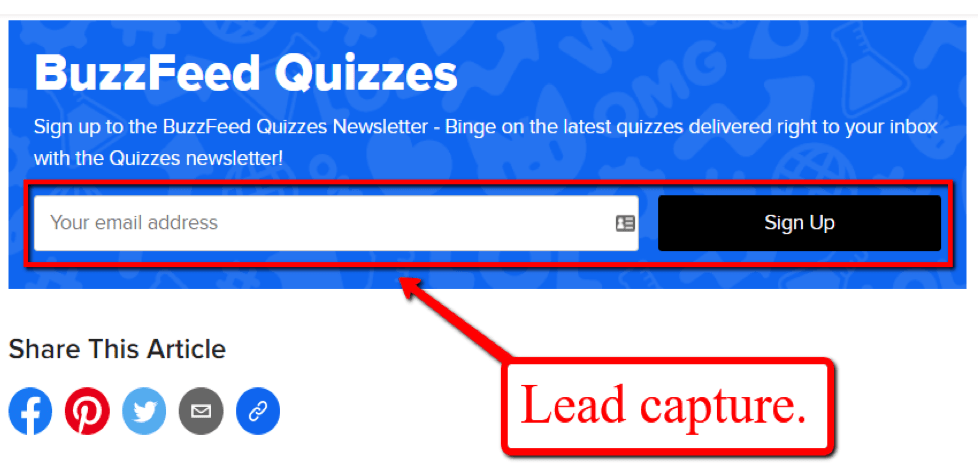 Pretty nifty, huh? BuzzFeed might not be about selling online courses or getting course sales, but the way they're using quizzes to generate engagement and traffic is quite ingenious.
Their methods of using quizzes are certainly worth learning from. At this point, you just need to do the same. Come up with a compelling quiz for your audience, direct them to your website, then add a lead capture element on your web page. Many online exam software even allow you to gate the results, so that people can only see what they scored after they opt in to your email list.
When creating a quiz that you hope audience members will post to their social media profiles, it's important to remember that people like sharing things that make them look good. So no matter what topics the courses you sell cover, make sure that your lead capture quizzes have congratulatory messaging on the results screen.
And if your courses are super niche in nature, then you might also consider creating quizzes that are less directly related to your course content, so as to maximize mainstream appeal. Even if you specialize in teaching people how to knit sweaters from their pocket lint, you can get more eyes on your brand messaging if you create a "Which Character from Game of Thrones Are Your Knitting Skills Most Like?" type of quiz.
You can use the same principle, encouraging people to "humblebrag" about their achievements and share them with the world, to keep the sharing going even after they've completed your course. Some course platforms allow you to set up a quiz as a type of "final exam," which unlocks a diploma that people can share when they graduate.
Reinforce Your Students' Confidence
If you want to influence your learners to sign up for more courses, you need to drive home the feeling that they've gotten tremendous value from the first course they've taken with you. The more they trust you and appreciate your courses, the more likely they'll be to sign up for more of your courses.
What better way to do that than to run quizzes after each lecture or unit of the course? When your students take a quiz and get good scores, it tells them that they've learned something from your training materials.
It also helps boost their morale, and it pretty much reinforces your learners' confidence, increasing the chances that they'll continue consuming your training materials until they finish.

If you want to engage with your students mid-course and help them get the most value out of your courses, then you can be proactive about messaging them about their quiz results. For example, if you notice a student getting multiple questions wrong on a specific topic, you can send them a manual private message and guide them to materials to help them catch up on the topic.
You can also reward your students with achievement badges for passing quizzes and completing modules, for recognizing their efforts and give them a little extra motivation to continue the course.
Dynamic Audience Segmentation for Upsells
Audience segmentation is another aspect that quizzes can help you with. You can group your learners based on their scores, their answers to certain questions, or based on the courses that they've already completed.
Let's say your online course business is about social media marketing, and you've created mini-courses about how to approach marketing on three key social platforms: Facebook, Linkedin, and Instagram.
Once the learner finishes one mini-course (the one for Facebook, for example), you can tag them so they are properly segmented, or you can add them to another email list that represents a group — which is still a form of audience segmentation. You can then set up an automated email campaign to offer graduates of your Facebook course a discounted deal on your Linkedin and Instagram courses. You can even set the campaign up so that people who got top marks on their assessment quizzes after each unit of the Facebook course receive a "special offer" designated for "rising stars in social media marketing," increasing the chances that they'll pay attention.
Or, let's say you've been operating these Facebook, Linkedin, and Instagram courses for a couple of years before rolling out a new course about marketing on Pinterest. You could send the same upsell offer to everyone who's ever taken any of your courses. But imagine the impact of emailing only people who learned the most from you about Instagram "shoppable" posts and offering them exclusive pre-launch access to your new Pinterest course, which includes extensive insights into "Shop the Look" ads.
This type of segmentation and targeted emails can be set up using integrations between your LMS, your CRM, and your email marketing tools. Other services might be able to handle more than one component of the strategy. If you use Kajabi to sell your courses, then you should be able to do it all without any extra wrangling, because Kajabi's all-in-one platform features integrated contact management, smart contact tagging, assessment quizzes and a "pipelines" module for marketing automation.
Just click one of the posts in your courses, click Automation, then set up the sequence of your automation.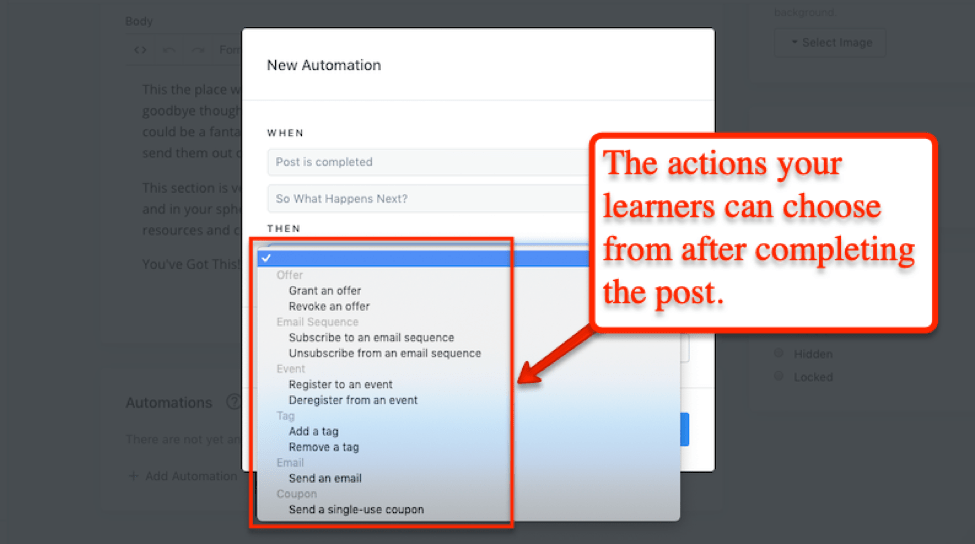 As you can see from the screenshot above, there are several actions you can predetermine once your learners are done with the post.
You can add them to an email sequence that adds continuity to the previous topic that they just completed. That way, you can further nurture your relationship with the learner; only, this time, your email sequence is set up to encourage them to sign up for your next course.
Here's an example. Let's say you have an online course on the basics of running a Facebook ad campaign. What you can do is create an automation that automatically tags the learners who completed the course, so in the future, you can send them an email about Facebook audience retargeting — a topic that's more advanced.
As for your learners who keep on asking you for certain course topics, you can also tag them so if you get the opportunity to create the online course in the future. You can send them an email about the upcoming course.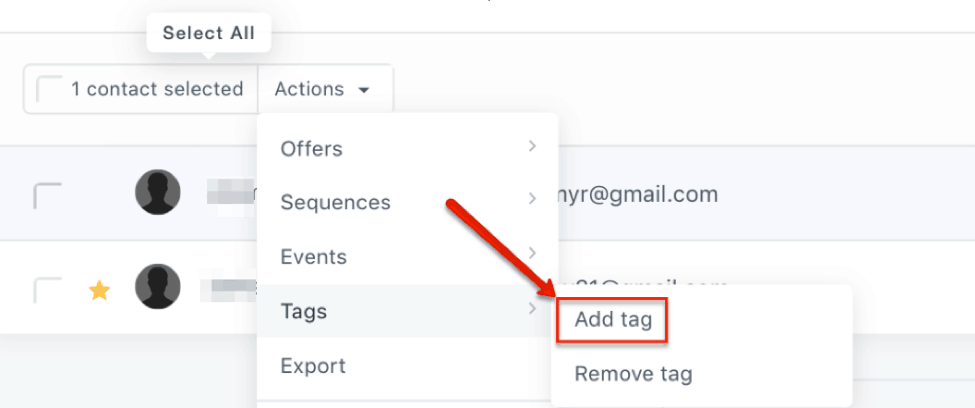 It's also worth pointing out that creating an email sequence with Kajabi is insanely easy.
From the Email Campaigns section, you can click "+ New Email Campaign" and select Email Sequence, and you'll be prompted to name your new email campaign. From there, you can start setting up your email sequence and add content.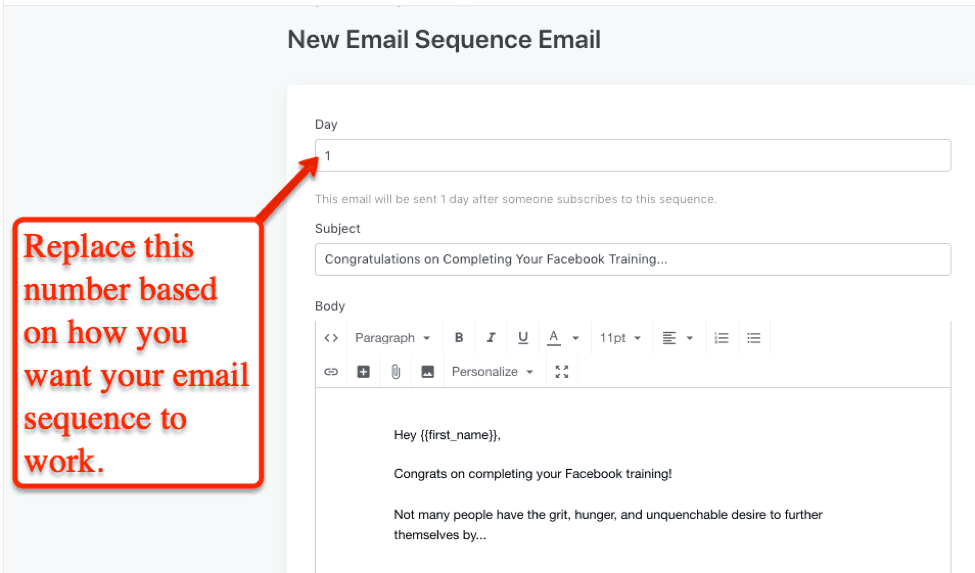 With an all-in-one platform like Kajabi, you'd be able to segment your audience in no time — let alone, automatically. This, then, puts you in a better position to sell your courses by directing your learners to an email sequence that's highly relevant to their situation.
Learn More About Your Audience
When course merchants use quizzes as assessments, you can generate massive amounts of data about their audience to learn more about their pain points, buying patterns, or quirks — basically, the pertinent details that they need to be able to close more sales.
There are a couple of ways to do this when you're using quizzes. For starters, you can add a section that straight-up asks your learners for their feedback on the course.
The feedback section doesn't have to be in paragraph form, too. You can do a multiple choice type question that asks your learners about which section of your online course were valuable to them, and which one's their least favorite.

Also, at the beginning of your assessment, you can even ask for some demographic details like what industry they're operating in right now, their job title, and their website. By obtaining these details, you'll have a better understanding of your audiences' dynamics — which then enables you to create marketing materials that would resonate well with them.
To better illustrate my point, here's an example. Let's say you have a course about lead capture best practices for marketers. At the beginning of your course, you can include a quiz that asks your audience about how many leads they generate per month.
You can then add ranges of 0 to 10, 10 to 20, and so on. Adding a field like that in your quiz will help you determine who among your audience is struggling with generating leads — since you can see who among them ticked the 0 to 10 option.
After obtaining that data, you can segment your audience by tagging them. You can then pitch them a lead generation course in the future since you know, with a good bit of certainty, that they're struggling with generating leads.
What's Next?
Have you been using online quizzes to get more customers for your online course business?
If there are best practices that you'd like to share on how our readers can get more out of their online quizzes, feel free to share your ideas below. Cheers!

Latest posts by Editorial Staff
(see all)
Where Should We Send

Your WordPress Deals & Discounts?
Subscribe to Our Newsletter and Get Your First Deal Delivered Instant to Your Email Inbox.
Thank you for subscribing.
Something went wrong.