Using geolocation services can be very important for website owners who want to create a more personalized experience for their visitors. This personalized experience can bring new visitors as well as retain existing ones. For example, having the website load in the local language, displaying the right currency, and other small improvements can be very helpful and welcoming to your visitors.
IPWhoIs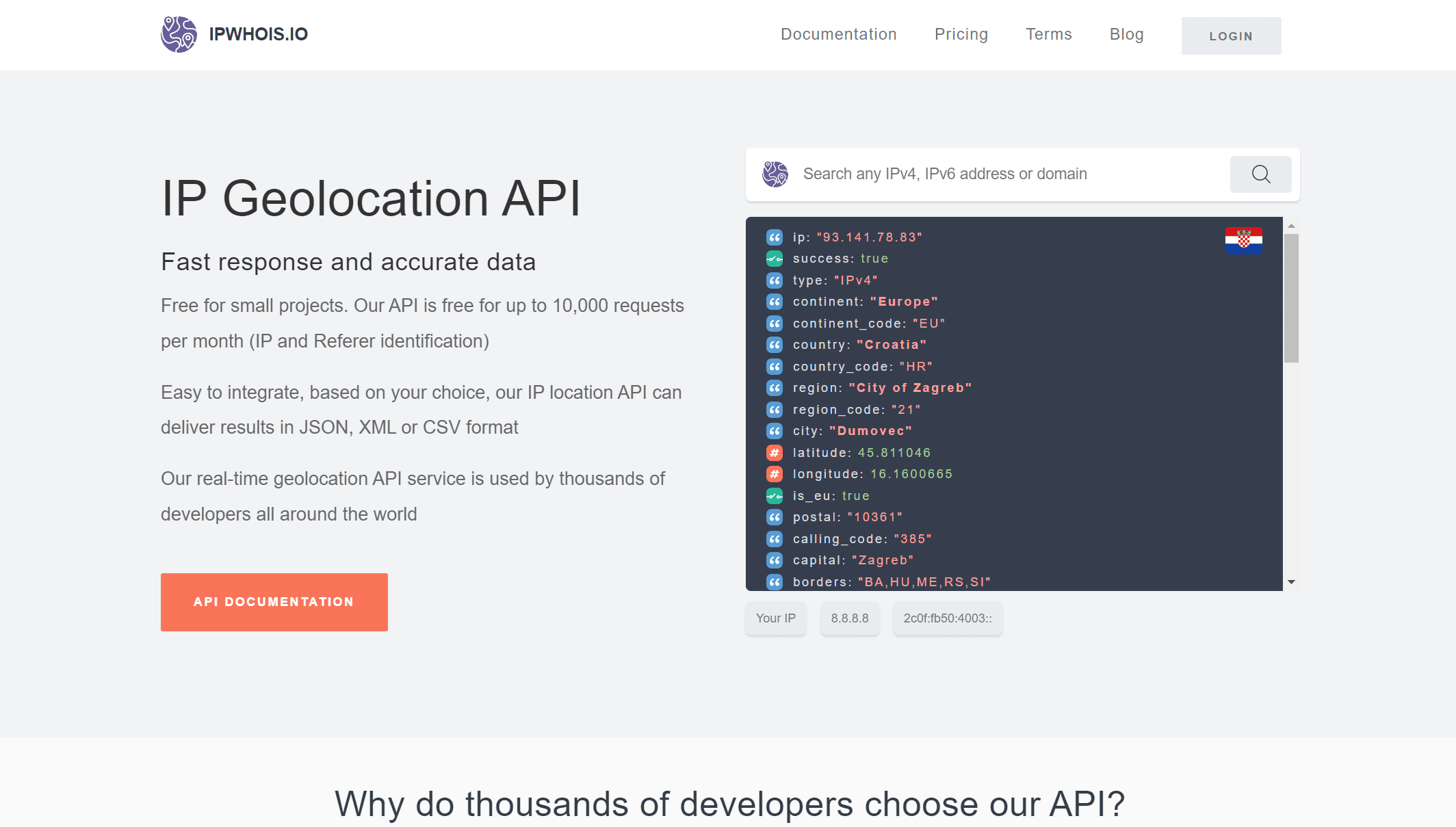 On the other hand, geolocation services can also help you decide if it is worth investing in additional languages. IPWhoIs is an IP Location API that allows you to do exactly this. The feature set and everything they offer is top-notch, and this tool is industry-leading.
IPWhoIs is an API service design for quick and easy integration of IP geolocation into any of your scripts or websites. There is no need to install or set up any local libraries or perform updates. Its neural network analyzes multiple sources and updates the database in real-time. On top of that, it is easy to integrate since you can choose to receive results in JSON, XML, or CSV format.
There are many use cases where IPWhoIs can be used. For example, filtering website traffic, customizing content based on location, displaying full country names, auto-completing forms, etc., are just some use cases where you can benefit from this kind of tool.
Using client location retrieved with IPWhoIs, you can improve on behavioral factors by displaying their local language, setting up advertising targeting, and filling in the form fields with the country name, city name, phone code, currency, etc. Plus, you can detect any fraudulent activity by comparing the provided information.
Also, if you are handling multiple time zones, you may encounter some challenging tasks as a developer. The IPWhoIs tool also provides a time zone API that returns data about the name of the time zone, time offset from UTC, and summertime, which you can present to the visitor In the format familiar to them.
Aside from those mentioned above, one great benefit is the possibility of displaying local currencies. You can get the currency name, ISO code, currency symbol, and the current exchange rate with the US dollar, thus automatically converting prices depending on the location.
Features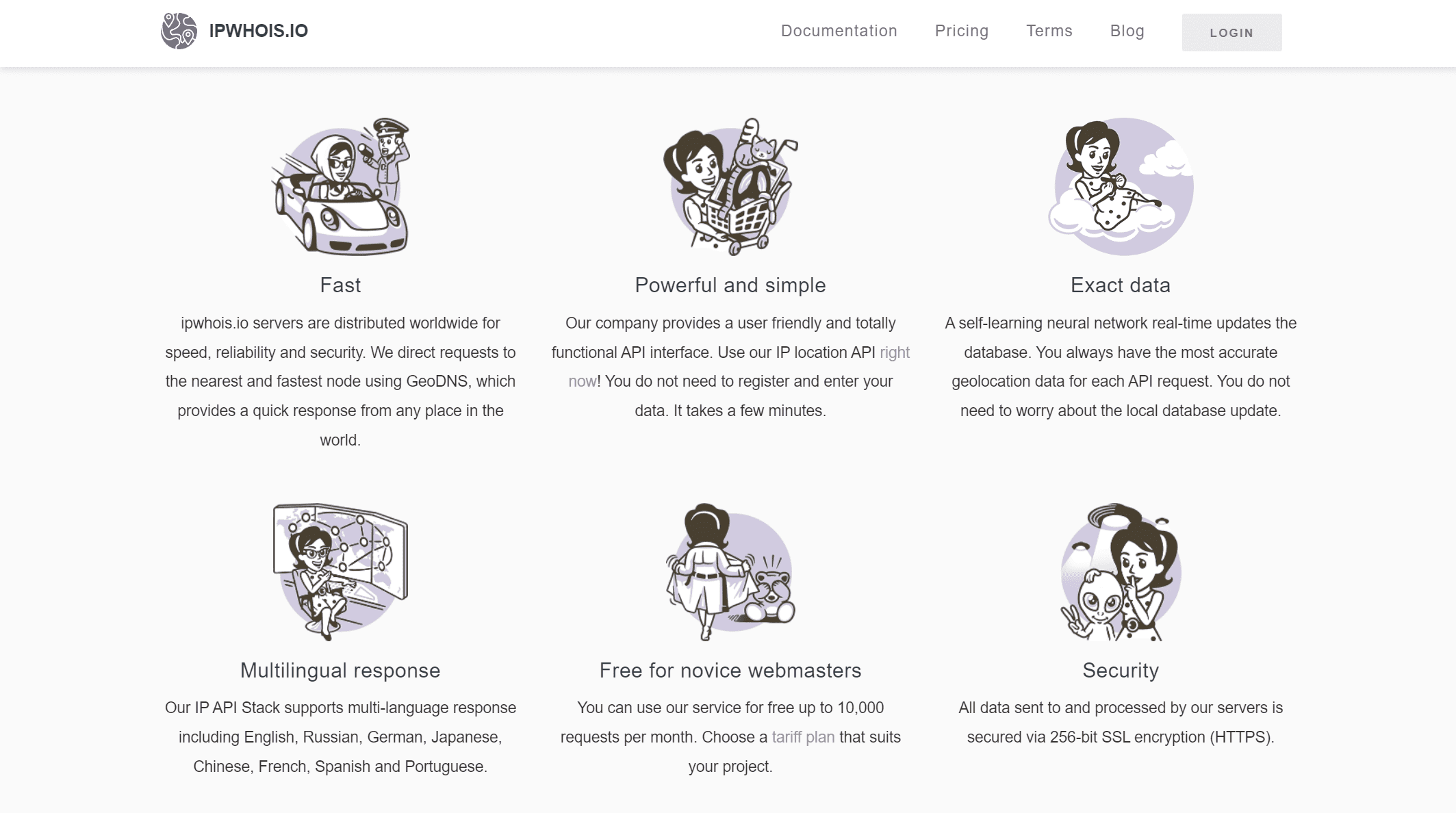 As with all online tools, we all want to see which features are offered and what we get for our money. Along with the above-mentioned potential use cases and benefits you can receive from this tool, we will also mention some of the key features offered with IPWhoIs.
Its servers are placed worldwide, which provides great speed, reliability, and security. This is accomplished by directing the requests to the nearest and fastest nodes using GeoDNS, providing a quick response from anywhere. The API user interface is intuitive and user-friendly, making it simple to use yet very powerful. Plus, you do not have to register to use it immediately.
The great and self-learning neural network is used to update the database in real-time to ensure the most accurate geolocation data for every API request, with the help of integration with multiple regional internet registries like RIPE, APNIC, ARIN, AFRINIC, and others. The API also supports responses in multiple languages like English, German, Japanese, Chinese, French, Spanish, and Portuguese.
On top of all this, the tool is free to use for non-commercial use and up to 10.000 requests per month. So, if you are interested in learning how the API works and implementing it on your website, you are free to do just that. Lastly, all requests and communication with the servers are secured via 256-bit SSL encryption, ensuring the highest data security. All of this communication has great performance, with the response time being up to 90 milliseconds, thanks to the network's constant expansion.
Pricing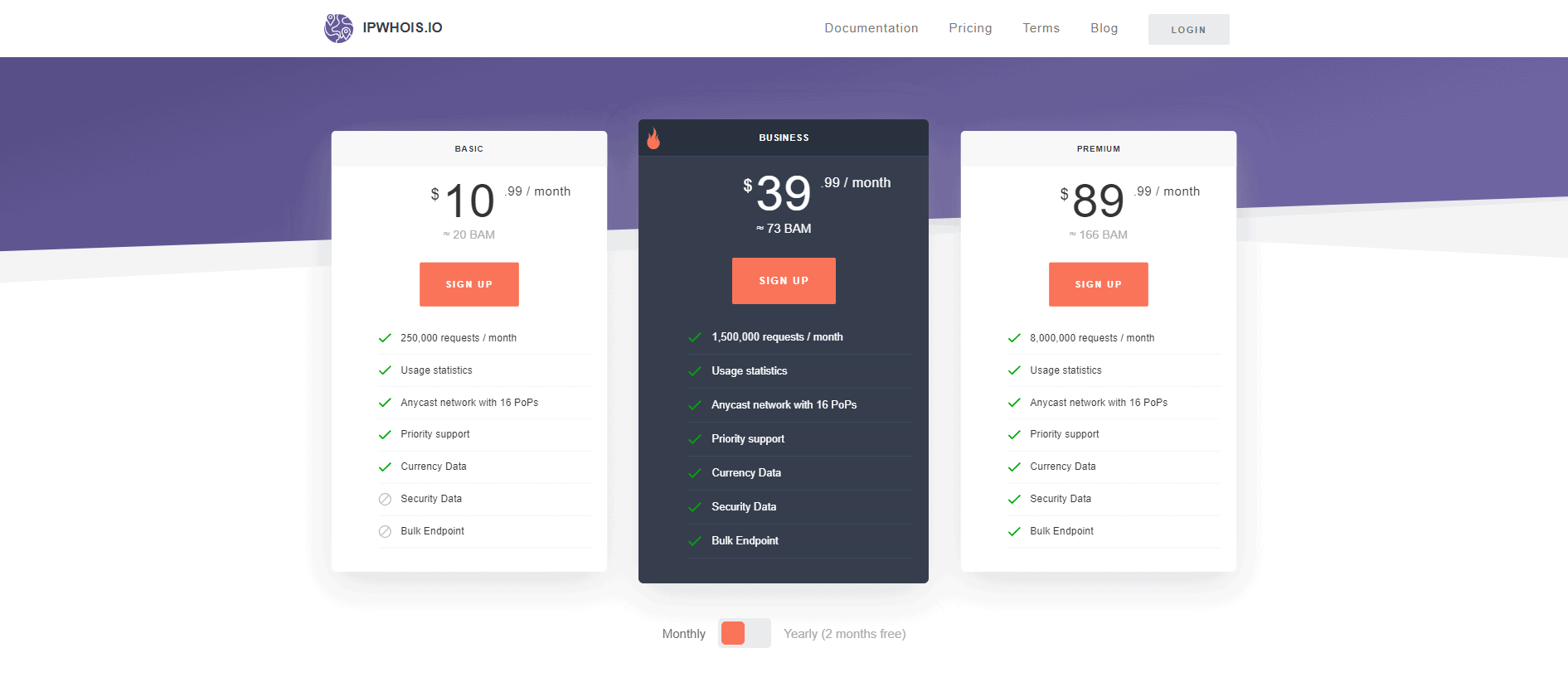 In terms of paid plans, there are multiple options with different feature sets. The first one is the Basic plan, and it costs $10.99/month with included 250k requests per month. As we mentioned earlier, the basic plan with up to 10.000 requests per month is free for non-commercial use.
Next up is the Business plan costing $39.99/month with 1.5m requests. And lastly, the Premium plan goes for $89.99/month with 8m requests. The full pricing list with included features per plan can be viewed here. After successfully subscribing to the API service, you will receive an access token via email, including the details on how to add the token to your requests.
Payments can be made via credit and debit cards, PayPal, Apple Pay, and Google Pay. All plans are renewed automatically, and you can upgrade, downgrade, or cancel your subscription anytime. Unfortunately, there are no refunds, but you can use the free version to try it out.
One of the best advantages this API tool offers is the possibility of using it for free without registration and wasting time. Powerful and optimized servers spread worldwide, and the updated database in real-time makes it a very fast service, with up to 90 milliseconds response times.
Additionally, you do not need any special skills to install and use the API on your website. There is no need for special video tutorials, extensive documentation, or any similar tedious task. You can pick up everything you need for your first implementation through the available documentation.
Conclusion
Keeping in mind the benefits of a tool like this, it is no surprise that geolocation services are becoming increasingly popular and an essential part of every website. However, many still do not like the process of implementation, mostly because they are not aware of the simplicity, specifically in the case of IPWhoIs API.
This lack of knowledge can lead to using third-party libraries that are often more complicated, require more maintenance, and offer lower quality service. This API offers the opportunity to try out this kind of implementation for anyone interested.
Geolocation services are becoming increasingly popular globally, in some cases even a must-have feature for any professional and successful website. This tool provides the ease-of-use and high personalization that can help users get accustomed to the service and even consider using it in the long term.
Latest posts by Muhamed Delihasanovic
(see all)
Where Should We Send

Your WordPress Deals & Discounts?
Subscribe to Our Newsletter and Get Your First Deal Delivered Instant to Your Email Inbox.
Thank you for subscribing.
Something went wrong.