PDF Drive serves as a valuable search engine for locating and downloading PDF files. However, encountering download issues can be frustrating.
In this guide, we'll explore common causes for PDF Drive download problems and provide practical solutions to address them.
Causes of PDF Drive Won't Download?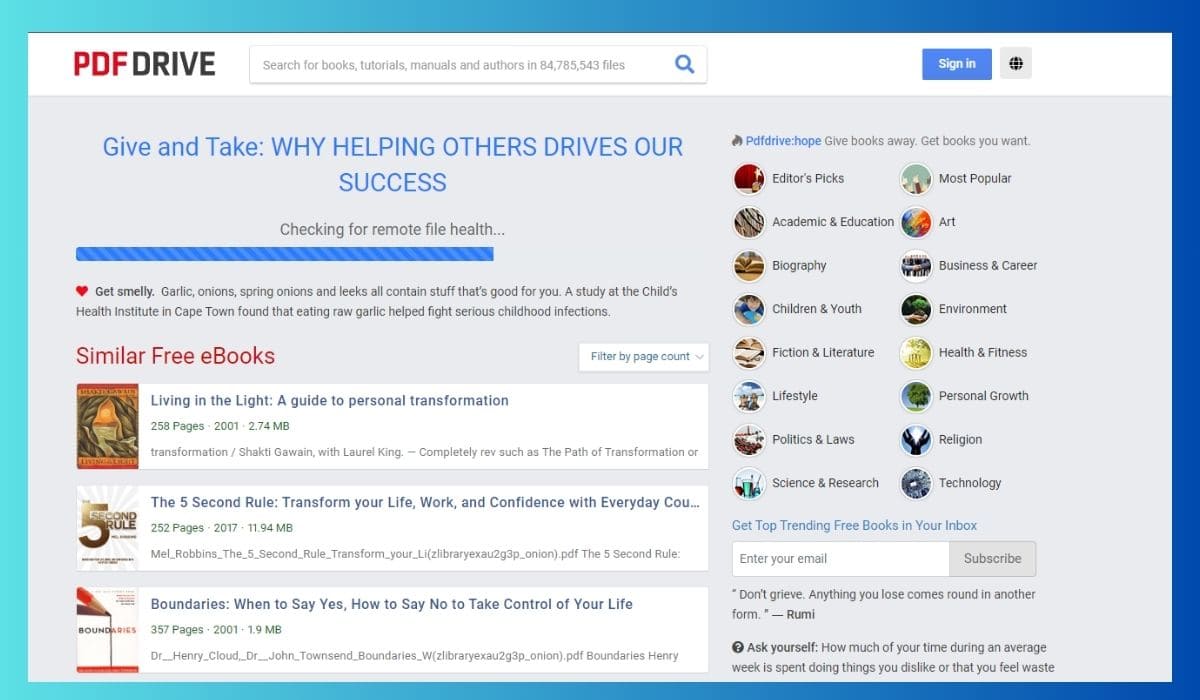 Slow or Unstable Internet Connection: A sluggish or unreliable internet connection can impede the download procedure. Downloads may fail or take an excessively long time.
Server Overload: PDF Drive's servers may experience high traffic, causing delays in downloads or making files temporarily unavailable.
Browser Compatibility: Certain web browsers may not fully support PDF Drive's download mechanisms, leading to download failures.
File Availability: Sometimes, the specific PDF file you're trying to download may not be available or may have been removed from the platform.
Stuck on PDF Drive Downloads? Try These Fixes
If you're facing the issue of "PDF Drive Won't Download," consider following these steps one by one:
1. Check Your Internet Connection
Ensure you have a stable and reasonably fast internet connection. If your connection is slow, consider upgrading or troubleshooting network issues.
2. Refresh the Page
Sometimes, a simple refresh of the webpage can resolve download problems caused by temporary glitches. Press "F5" or click the refresh button in your browser.
3. Use a Different Browser
If you encounter issues with your current browser, try an alternative such as Google Chrome, Mozilla Firefox, or Microsoft Edge. These browsers often have better compatibility with various websites.
4. Clear Browser Cache
Outdated or corrupted cached data can disrupt downloads. Clear your browser's cache and cookies, then attempt the download again.
5. Check File Availability
Ensure that the PDF file you're trying to download is still available on PDF Drive. Files may be removed or become inaccessible over time.
6. Download Manager
Consider using a download manager or a browser extension designed for managing downloads. These tools can often overcome browser-related issues.
7. Wait and Retry
If PDF Drive's servers are overloaded, waiting for a while and then retrying the download later may resolve the issue.
8. Contact Support
If all else fails, contact PDF Drive's support team for assistance. They can provide guidance or investigate specific issues related to their platform.
Conclusion
PDF Drive offers a vast resource of PDF files, but download problems can occasionally arise due to various factors.  By understanding the causes and implementing the suggested fixes, you can enhance your experience and ensure smooth downloads from this valuable resource.
Latest posts by Tony Mark
(see all)
Where Should We Send

Your WordPress Deals & Discounts?
Subscribe to Our Newsletter and Get Your First Deal Delivered Instant to Your Email Inbox.
Thank you for subscribing.
Something went wrong.