Everyone looking to start an online business, blog, or any website needs web hosting. What hosting companies offer their clients is a server where they upload their website and make it accessible to people browsing the internet. Now, the tricky part is picking the correct web hosting provider for your specific needs.
Unfortunately, many providers have the lousy practice of overselling you at every possible step, often resulting in you paying a lot more than you need. HostArmada, however, has proven that there is no need for you to compromise speed, security, or reliability and that you can get an affordable deal no matter what kind of website you are looking to host. With a vast array of solutions, HostArmada is perfect not only for new website enthusiasts but for established online business with moderate to a high volume of traffic.
Interestingly, their hosting solutions incorporate many features that people look for in the web hosting providers, and the price is shockingly affordable, which raises the question – are these guys legit? This article will aquent you to HostArmada, all their services, hosting plans, and features. Hopefully, you will be as impressed as we were when we heard about them, and you will have peace of mind when you pick them as your new website's home for the foreseeable future. Let's get started!
Who is HostArmada
If you have used web hosting for a while, you might be thinking – I've never heard of HostArmada before. Who are they? They are a brand new web hosting provider that launched in 2019 with one core purpose – to provide quality hosting services to website owners at an affordable price.
The crew that started HostArmada are all web hosting gurus with many years of experience behind their back. They have worked at famous web hosting companies, many of which people consider to be the best industry. They were not satisfied with the philosophy, practices, and values these companies stood for, and thus, HostAramada came into begin.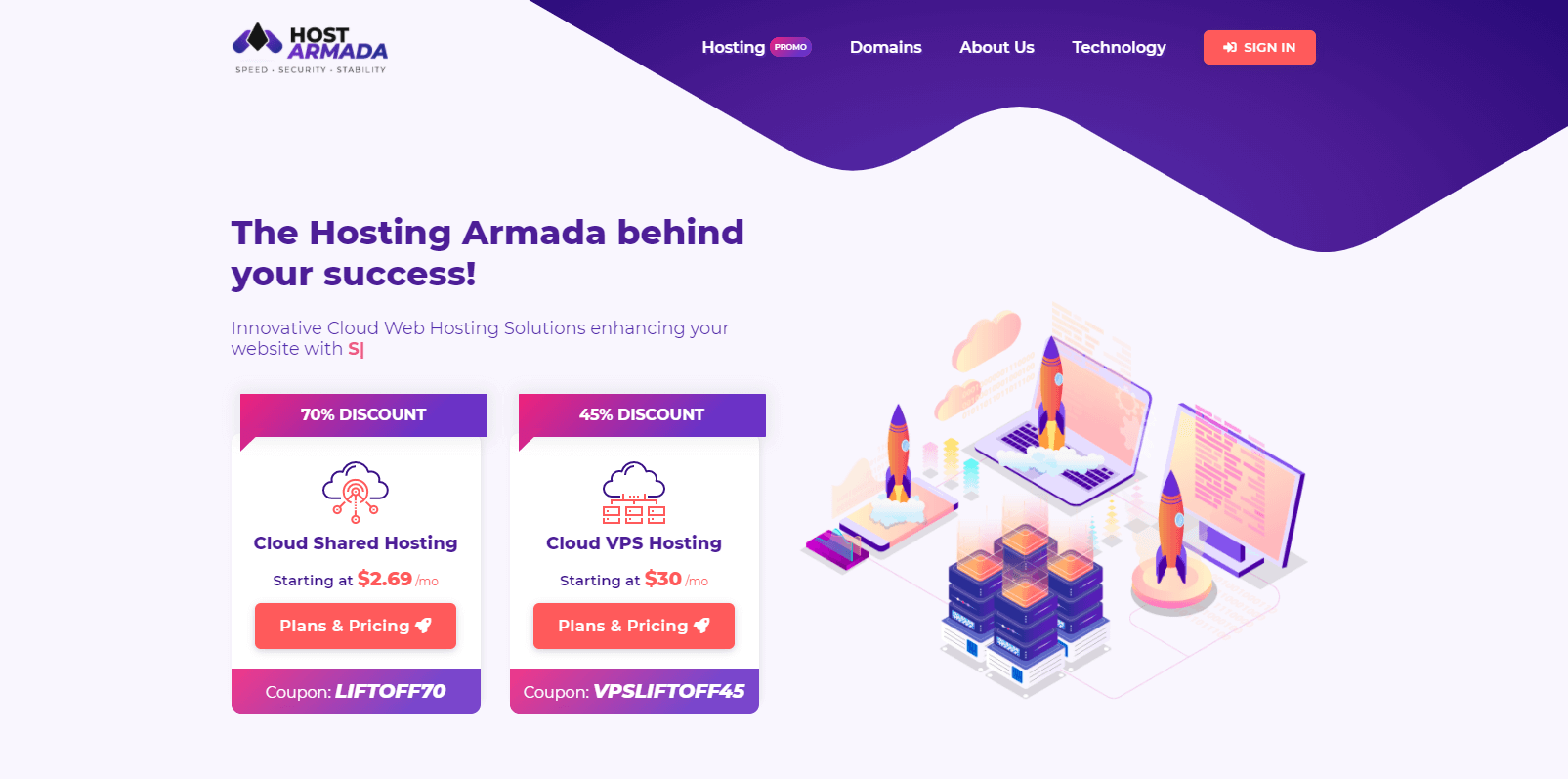 With a lot of experience and loads of innovative ideas, they promise to deliver a hosting experience that everyone can enjoy without the gimmicks most hosting providers use these days. From the moment we discovered them, HostArmada sold us on the idea, and in the coming paragraphs, we will explain precisely why.
HostArmada WordPress Benefits
As our website is WordPress-centric, we will focus on all the benefits HostArmada has for WordPress. However, these benefits count towards most open-source applications out there, such as Magento, Joomla, Open-Cart, and custom PHP-based apps.
All their services are cloud-based, which shows their commitment to providing a futuristic and reliable hosting platform.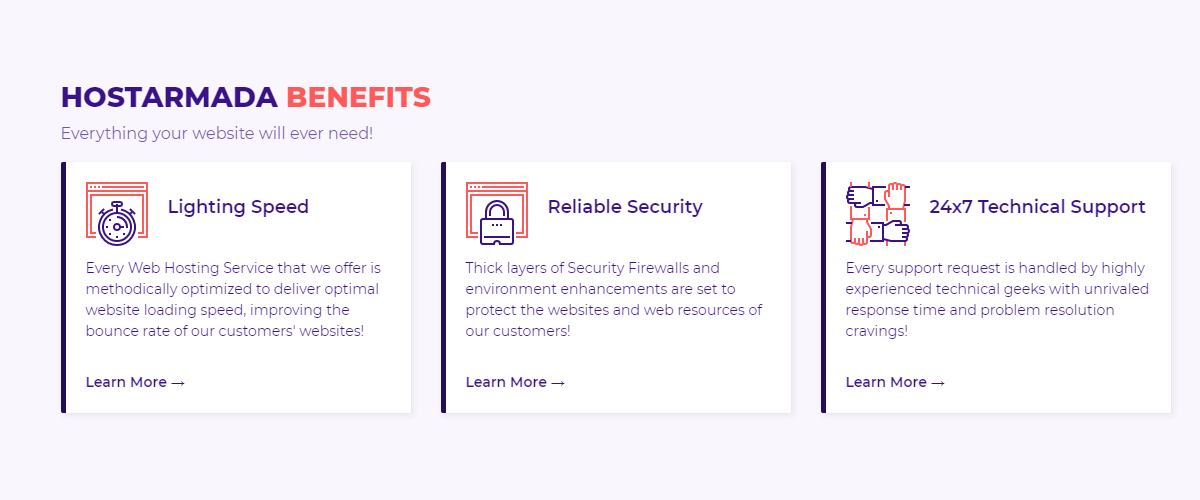 Speed
Speed is essential and very sought after by pretty much any person who has a website. Faster loading times raise your rank on Google, smooth out the user experience, boost website browseability, and reduce bounce rate. There is no harm in having a faster site, and if any web hosting company wants to win customers, they must think about how they can do that for their clients.
HostArmada is no stranger to this. They built and custom-tailored two separate server setups that offer a distinct speed-enhancing service that clients can choose based on their preference and current necessity. The technology used on HostArmada's servers is Nginx and LiteSpeed. Tons of articles online explain the difference between those, and you can find contradictory information regarding which one is better or faster. We tested both the Nginx and LiteSpeed variant, and as far as performance goes, both showed encouraging results.
Nginx is a lot more established and widely used across the internet. In contrast, LiteSpeed is relatively new, but its capability of handling high volumes of traffic while leaving the server's resources intact is impeccable. For most benchmarks you find online, you will see LiteSpeed pull ahead of Nginx both in its capability to handle more concurrent connections and in its ability to deliver content faster to the visitor's browser.
Another positive of the LiteSpeed webserver is that it includes cache plugins that interact perfectly with it for most open-source applications. This unison between the web server and the caching plugin boosts their performance tremendously and enables them to handle large quantities of traffic.
Here are the rest of the speed benefits of having your website hosted with HostArmada: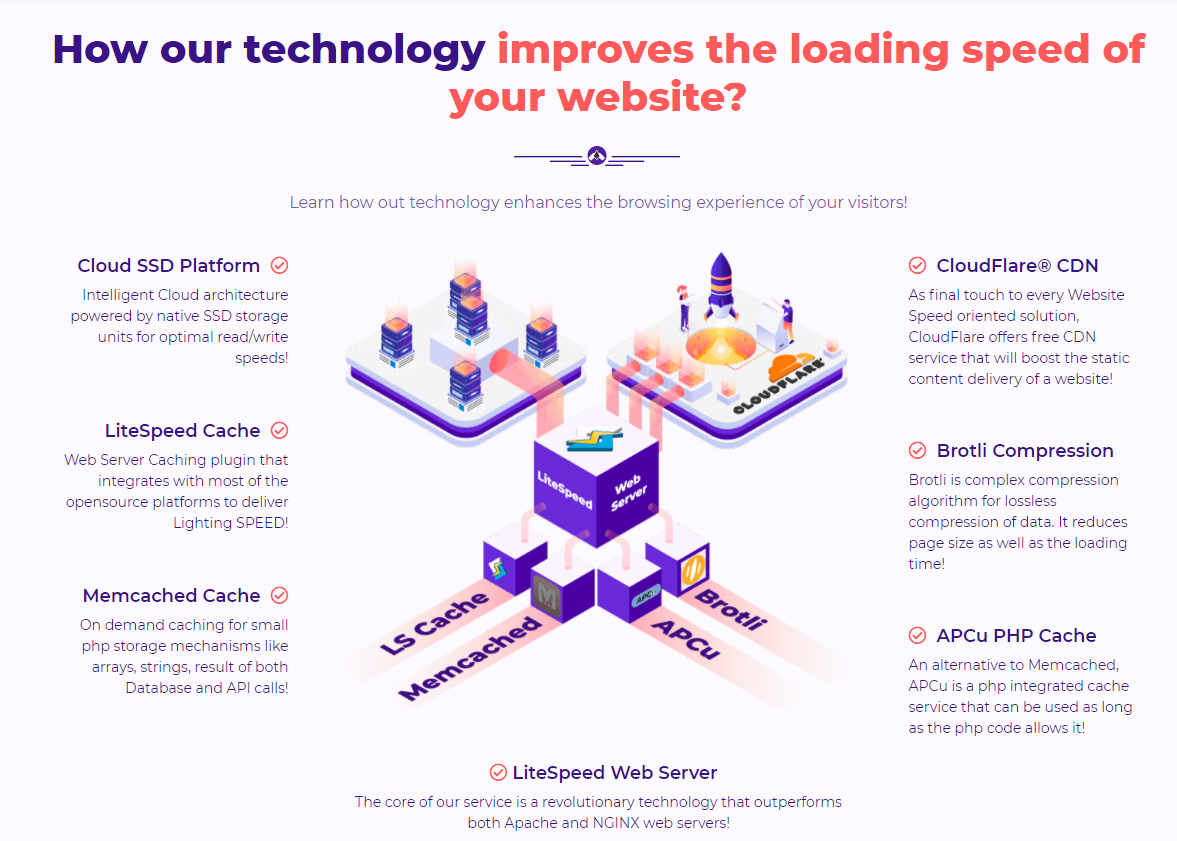 They use the latest available and stable hardware on the market.
All their server use pure SSD drives for maximum performance.
All servers use the latest and stable MySQL and PHP Versions.
Their control panel of choice is cPanel, which is the most used and most user-friendly hosting control panel on the market.
The Keep-Alive technology is active on all their servers.
Gzip compression enabled on all their Nginx servers.
Brothli compression activated on all the LiteSpeed servers.
HTTP/2 is active on all Nginx servers.
HTTP/2 over quic(HTTP/3) Active on all LiteSpeed Servers
LSCache plugins are available on all LiteSpeed servers.
APCu and Memcached are available on all LiteSpeed servers.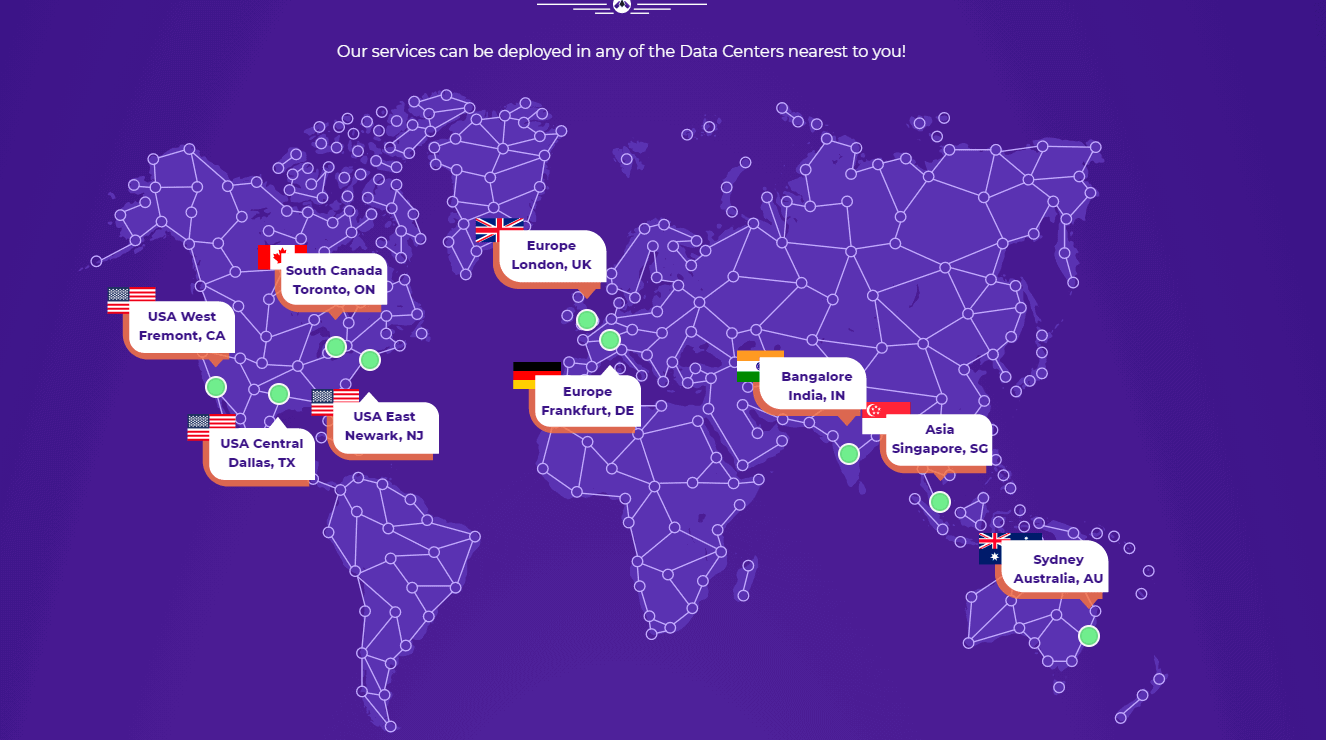 Security
Security freaks will be relieved to hear that HostArmada puts a large emphasis on security and takes it very seriously. They dedicated a considerable portion of their time and effort to think of a 360-degree security system that covers all possible loopholes and proactively monitors the environment. The most crucial thing they urge clients to do is to keep applications, plugins, and themes up to date and only use licensed and credible scripts to ensure their sites' safety. The truth is that no matter how secure a server is, poorly coded software can cause tremendous headaches.
Here is a list of security features available on HostArmada servers:
HostArmada keeps all the services and software on the server up to date with the latest security patches.
They have custom-tailored mod_security2 rules that prevent most malicious attacks towards the server, and are their system administrators continually update them as new exploits present themselves.
BruteForce protection is available on all their servers.
IP based firewall listening on all ports, which prevents malicious attacks before they even fulfill their purpose.
Their servers are fully compatible with CDN services such as Cloudflare, providing a great DDOS and bot protection.
A high-effective malware scanner is available on all servers that can locate very elusive scripts embedded deeply into your files.
HostArmada offers a reliable backup service that keeps snapshots of your hosting account's files and databases in a secure location. You can restore these backups with a few button clicks.
HostArmada offers free SSL certificates on all domains hosted on the server. SSL certificates encrypt the connection between the server and the user's browser.
All of their servers have CloudLinux offering the cageFS and Account isolation features. Both services remove the possibility of an infection spreading if one of the users is affected. Each user has its specific environment that cannot interact with its neighbors.
Each server has a WAF and a one of a kind Machine-Learning Ruleset constantly updating itself from a database that lists all known up-to-date exploits.
All HostArmada servers have a unique IPS/IDS system contributing to negation policies that prevent malicious attacks proactively. These attacks are then appropriately logged so the system administrators can examine each line and improve the protection even further!
LiteSpeed servers have Bandwidth and connection control. This feature will throttle any IP address if it notices that requests start streaming through its connection on the server.
LiteSpeed servers have specific checks in place that decode requests which attempt to access hidden files. In addition to that, the Lenght parameter of each request gets checked to prevent potential DDOS attacks.
LiteSpeed servers have protection against the so-called "buffer overflow" exploit, which aims to allocate the server's entire RAM pool.
LiteSpeed servers have increased brute-force protection services towards WordPress applications and, more specific their admin area.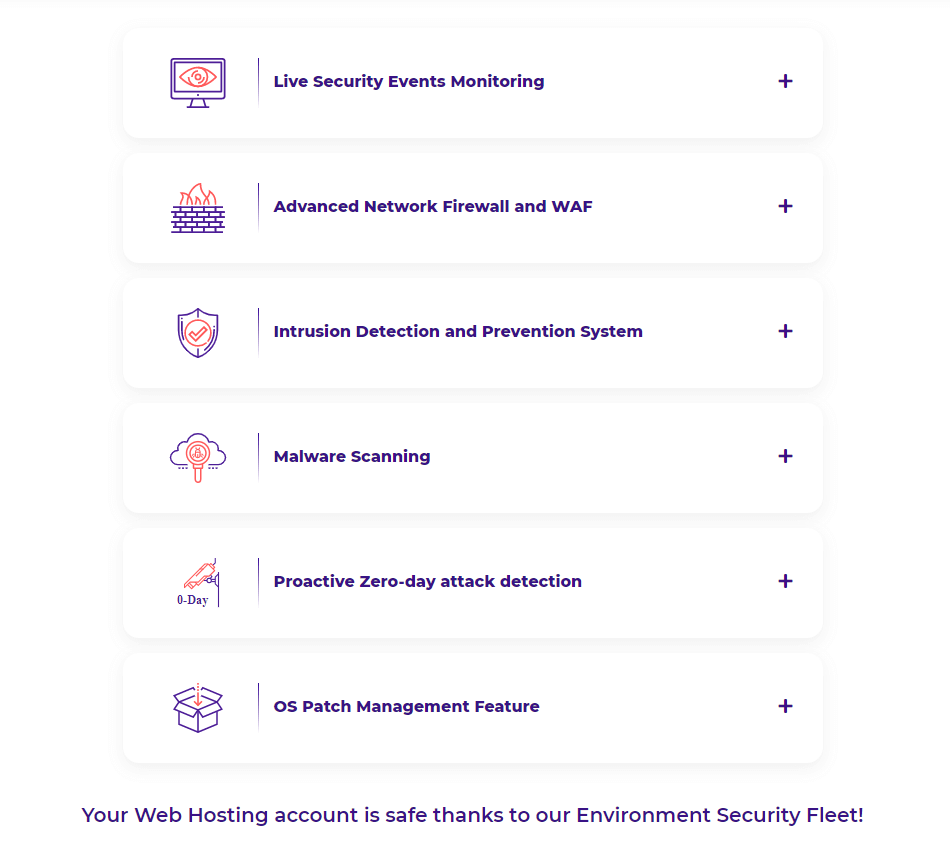 Pretty high-class security system, right? Feeling confident when hosting your project on a secured server feels very satisfying and lets you sleep peacefully at night.
Plans & Pricing
Now that we have gone over all the features you gain from using HostArmada's hosting services, let's review their plans and pricing and see how they do in those regards.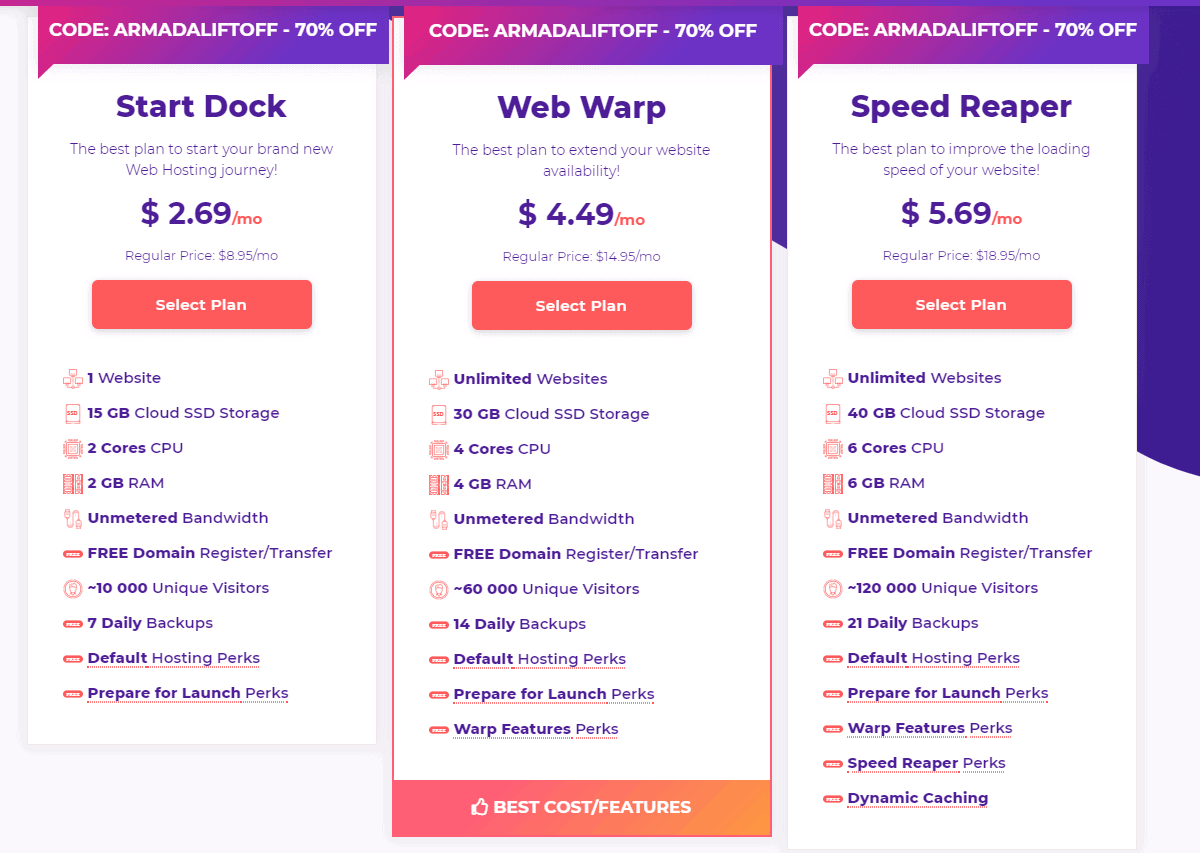 Shared Cloud SSD Hosting plans
HostArmada offers three shared hosting packages, each intelligently designed to cater to clients depending on their needs.
Start Dock
Their starter package, which is ideal for new websites, begins at the rate of $2.69 per month. This deal is incredible, considering all the benefits you receive both in terms of security and speed. This plan also comes with a free domain name registration/transfer to get you started. The web server HostArmada uses for this plan is Nginx, and they claim it can sustain up to ~10000 unique monthly visitors.
We recommend this plan to visitors who are just starting or have small, low-traffic websites.
Web Warp
Their second plan is a decent upgrade option if you use the previous or host more domain names under the same account. The price tag sits at $4.49 per month and offers double the previous plan's resources, which makes it great for websites with higher traffic. The free domain transfer/registration option is also available with this plan, and the web server of choice is Nginx. HostArmada claims it can accommodate up to ~60000 unique monthly visitors.
We recommend this plan to users that already have a small to medium-sized site and want to work on new projects.
Speed Reaper
Here is where things get premium. On top of the free domain and triple the Start Dock plan's resources, these packages have three times fewer clients hosted on them, and the actual server's infrastructure is more potent than the servers that the previous two plans occupy. This plan is the first featuring LiteSpeed and all its LSCache plugin options. HostArmada claims that this plan can handle up to ~120000 unique monthly visitors and is the plan we highly recommend going for due to its high speed, security, reliability, and crazy price tag sitting at only $5.69 per month.
We recommend this plan for pretty much anyone who likes fast websites and wants the maximum security and reliability level. Perfect for medium-sized to high-traffic websites and also online stores.
VPS Cloud SSD plans
These are the types of solutions you should be looking for when you have an established online business or high traffic website. It offers dedicated resources (CPU, RAM, and Disk Space) and all the resources are available only to the person who is using it, and he/she will not have to share it with anyone, like on the shared hosting server. These plans feature Nginx as their primary web server, however, their configuration is highly flexible, and HostArmada's experienced support team is willing to help the customer tweak it to his needs. These plans are also highly discounted at the moment, starting at only $30.22 per month.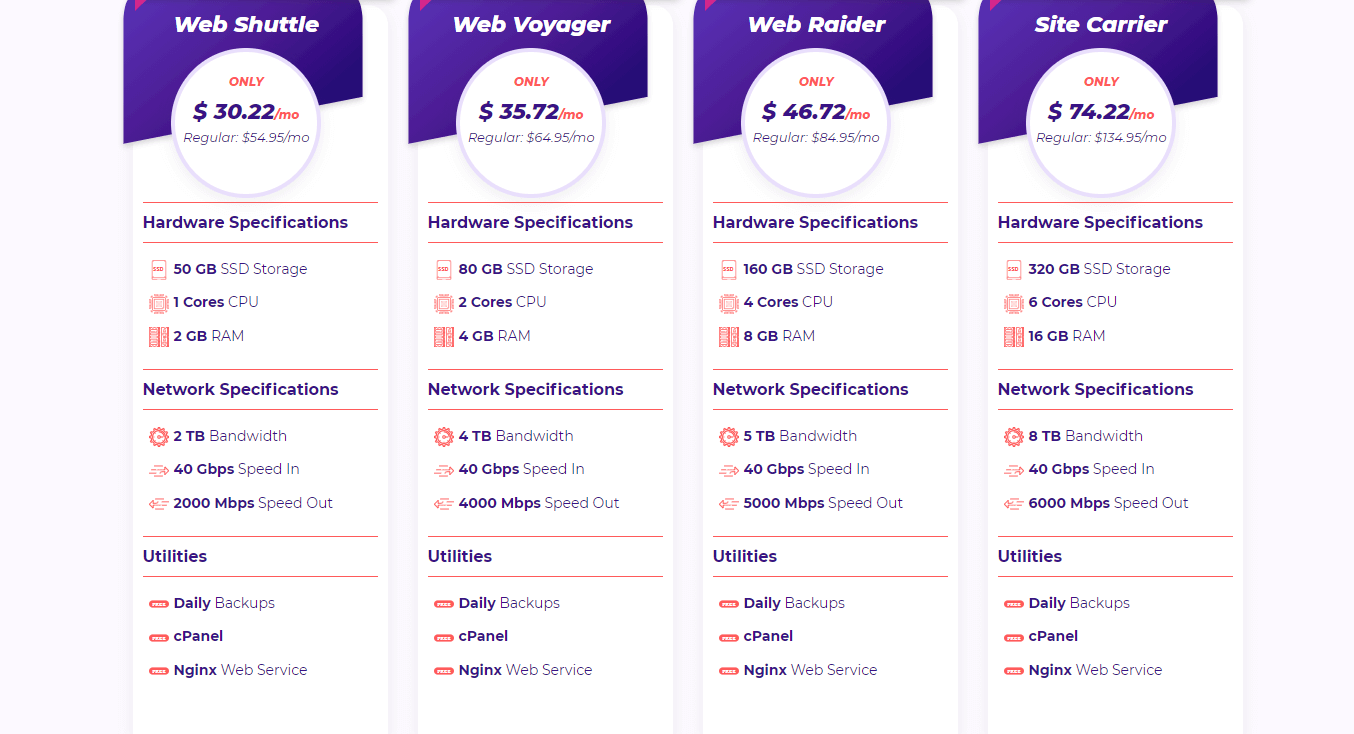 As far as we know, such a deal is unavailable on the market for a Fully Managed SSD Cloud VPS server. These plans are great for e-commerce websites and video and media streaming sites.
Dedicated CPU Cloud SSD plans
The last type of packages offered by HostArmada is the Dedicated CPU Cloud servers. In addition to the dedicated resources available and setup flexibility, these machines provide powerful CPUs that are great for websites that need a lot of computing power.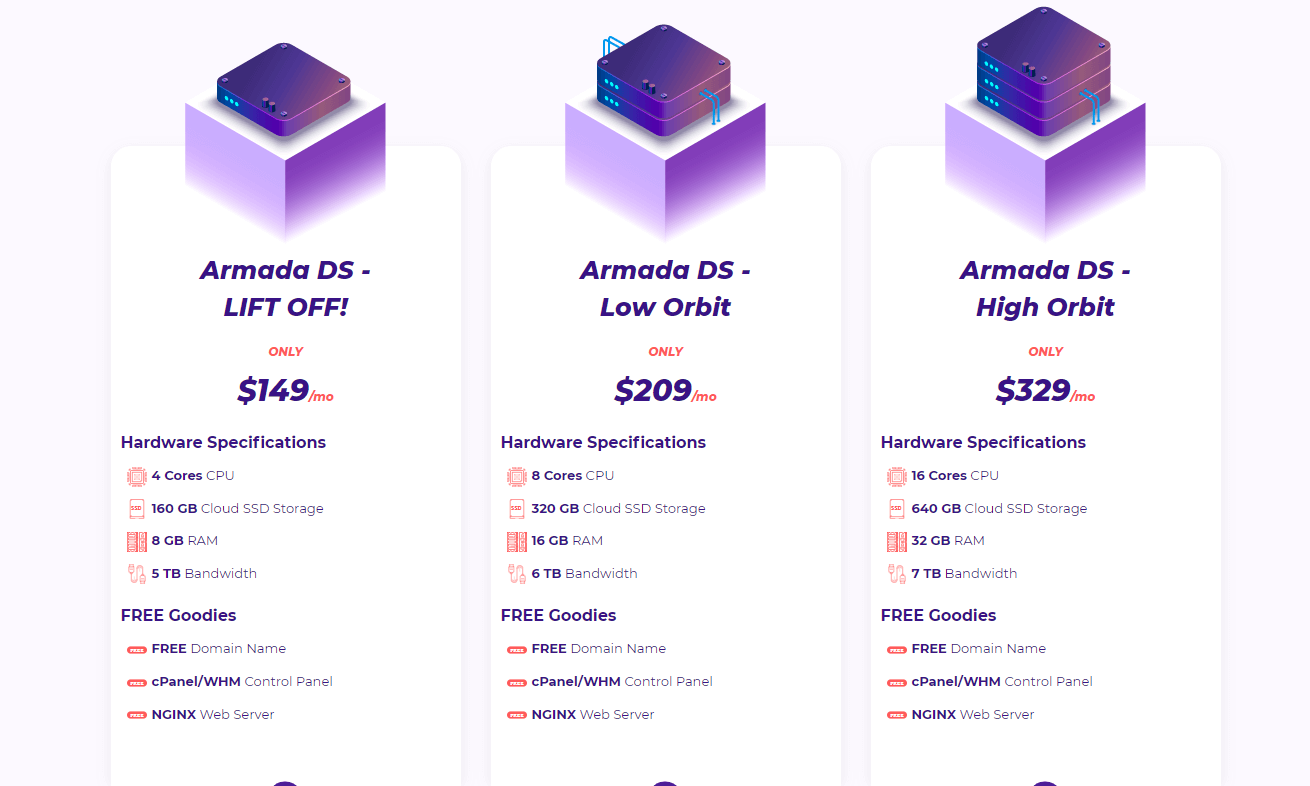 Their price starts at $149 per month, and we highly recommend them for customers with high-traffic websites such as webshops and media streaming sites.
Technical Support
Having outstanding technical support is excellent, especially if you have no experience with system administration, and you want to focus all your energy on building and evolving your brand. HostArmada has got you covered 100% here as well, as the massive experience brought with it a team of innovative and skilled technical magicians!
These guys have a ton of background in transferring, troubleshooting, and optimizing websites and are very kind and helpful, no matter the situation. They are very knowledgeable about the open-source application, and WordPress is their specialty.

The support team is available 24/7/365 via ticket, chat, and phone. Clients use the phone and chat for general and lesser technical difficulties. The ticketing system is where customers query for complicated and time-consuming technical problems that require the attention of the senior team. The response time for phone and chat is instant, while tickets are typically handled within 10 minutes.
Uptime commitment and money-back guarantee policy
HostArmada promises a 99.9% uptime guarantee to all users hosted on the server. This commitment is an industry-standard, and anything less would compromise the great list of features they have assembled.

The money-back-guarantee period is 45 days in which you can receive a full refund, should you dislike the service. There are no binding contracts attached to signing up with HostArmada, and the money will be returned directly to your card or PayPal account – depending on which payment method you chose – no questions asked!

Summary
Now, in case you missed anything during the review, we will summarize all the features offered by HostArmada here so that you can get a good idea of what you can expect:
Nginx and Litespeed technology
Multiple hosting plans that can appeal to a vast audience
Robust localization options with nine available datacenter locations
A Competitive price which is amongst the most affordable ones on the market
A 360-degree security system with proactive functionalities
Pure SSD drives on all servers for ultimate performance
Free website transfers, based on your plan
Free cPanel control panel
Free Softaculous (One-click installer)
Free daily backups, based on your plan
Free CDN integration
Free domain name registration/transfer
Free SSL certificates for all domains on the server
Free malware scanner
Free application, module, and plugin installation services
Free application, module, and plugin update service
Free 24/7/365 premium technical support available through phone, chat, and ticket
Free tutorials for WordPress and other open-source applications, cPanel, Mail, and FTP
An insightful knowledge base revolved around relevant hosting-related issues you may run into daily and information on resolving them
Final Words
Looking at the sheer number of features and the price tag attached to it surely makes you think that it is too good to be true. Frankly, we thought so as well, but after testing the service and checking things out for ourselves, we can safely say that if you chose HostArmada, you would be in good, capable hands, and you could end up sticking with them for the foreseeable future.
The potential is there, judging from the amount of knowledge, experience, and dedication that radiates from HostArmada. We are sure they could raise and become one of the industry's best available hosting providers.
If you are looking for a flexible, reliable, secured, and fast hosting provider, we urge you to give HostArmada a try and indulge in their premium, yet affordable hosting service.

Latest posts by Editorial Staff
(see all)
Where Should We Send

Your WordPress Deals & Discounts?
Subscribe to Our Newsletter and Get Your First Deal Delivered Instant to Your Email Inbox.
Thank you for subscribing.
Something went wrong.