MilesWeb is an Indian web hosting company launched in 2012. It has continuously developed since then, and it now serves over 30,000+ customers globally and provides a wide range of domains.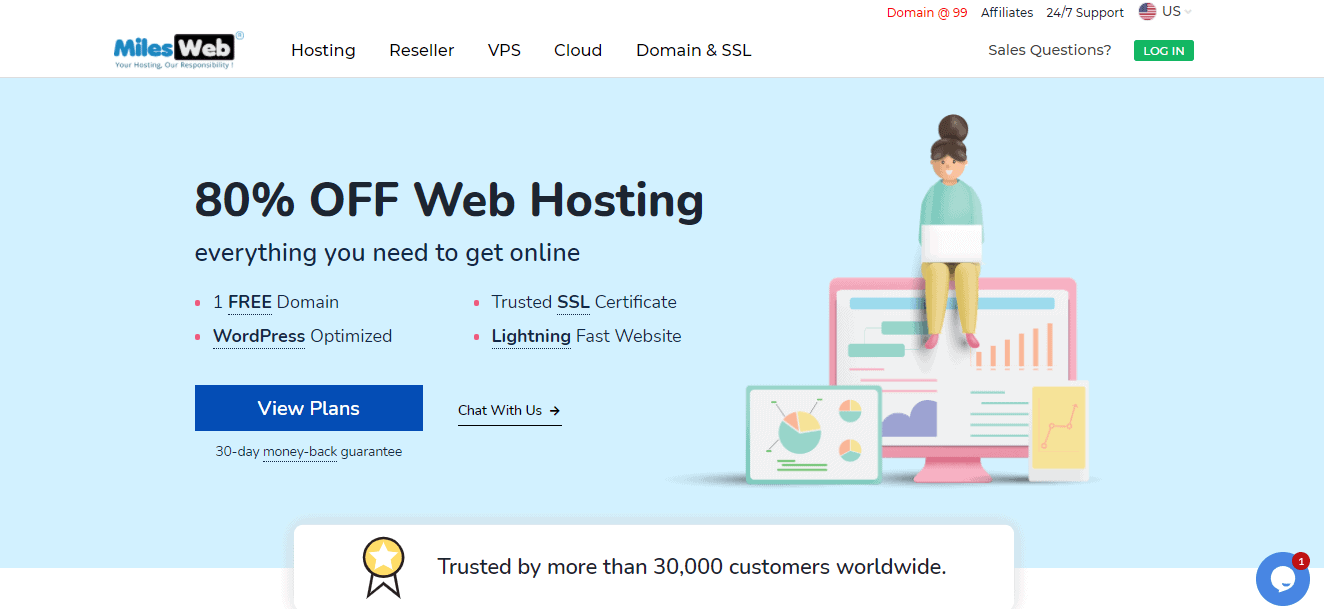 The expert support team is available 24/7/365. According to their service it seems, they also appear to place high importance on loading speed.
There is a lot to think about, and MilesWeb promises a lot of benefits. But is all of this true?
Talking about MilesWeb's WordPress hosting, they are a well-known and highly rated hosting provider in the WordPress association. They offer one-of-a-kind in-house WordPress speed and security solutions to ensure that your site is as quick and secure as possible. They are well-known for providing the best 24/7 assistance, which is why they are the most recommended hosting provider.
Areas We Have Investigated in Our In-Depth Review
Performance: The speed of any website is critical to its success. How quickly will your WordPress website load with MilesWeb?
Customer Service: Can you rely on their customer service?
Features: Do they provide all of the features and tools required to host your WordPress website?
Price: How much would it cost you? Are there any offers that you can use to save money?
MilesWeb has grown from a small web host to one utilized by over 30,000 users in just a few years, thanks in part to its WordPress-specific plans. It's no surprise that many new website owners find this to be an attractive alternative.
Performance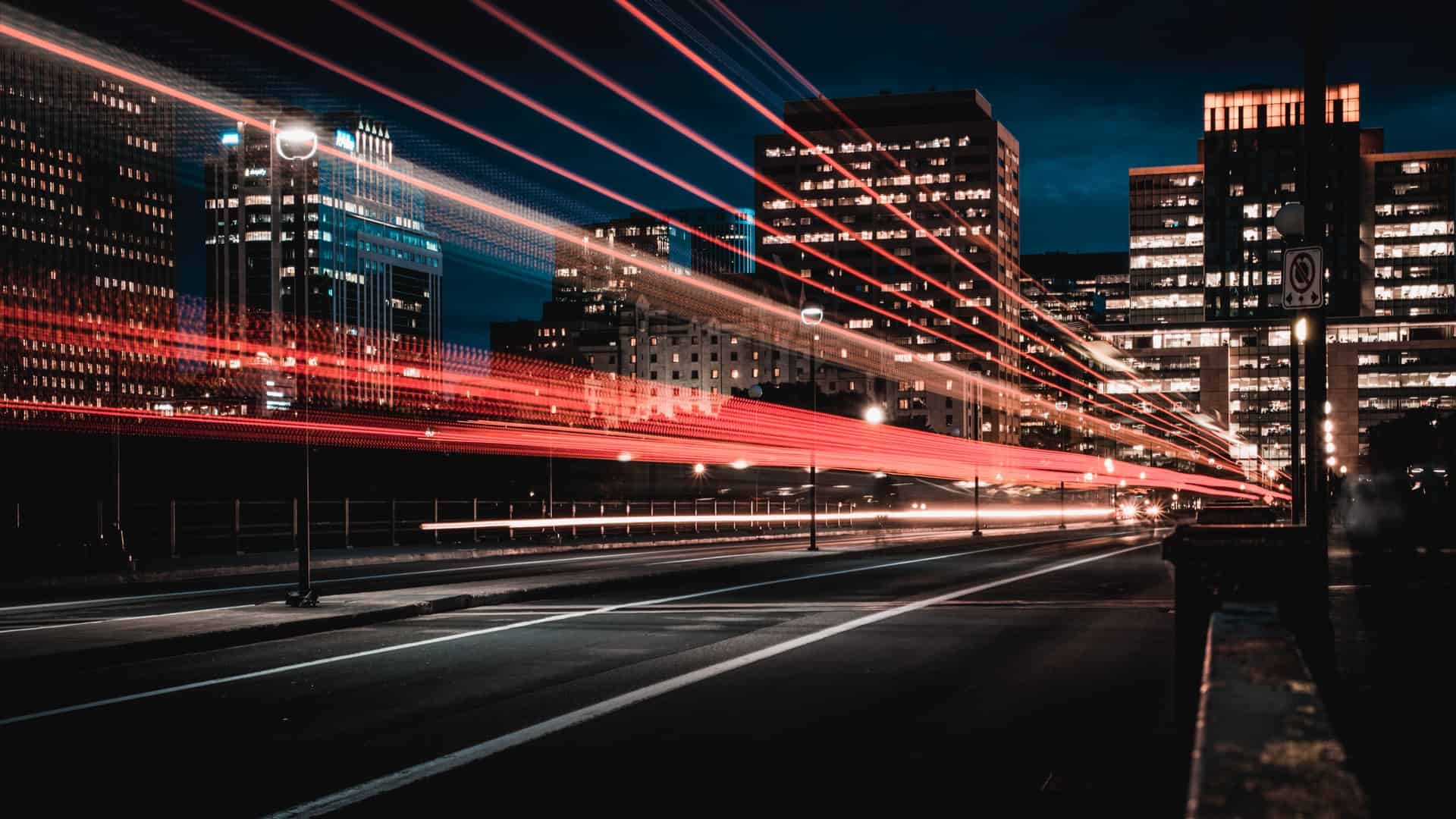 After all, having a speedy website is essential for giving your visitors a great user experience and keeping your bounce rate low.
MilesWeb, fortunately, includes the following performance-specific features:
Solid State Drive (SSD) hardware
99.95% uptime guarantee
WordPress optimized server
Unlimited bandwidth
Their server is fully optimized to provide your WordPress website better performance. The company guarantees a 99.95% uptime guarantee and the least page load time.
Uptime Tests With Pingdom
The server's uptime refers to the amount of time a server is functional and online. In general, it is expected to be as near to 100% as feasible.
Site hosted on MilesWeb's server passed the test by showing 100% uptime which is one of the best things you can get for the least amount of money.
The average uptime the company guarantees is 99.95%.
Page Speed Tests With Pingdom
We conducted a page speed test with Pingdom for a WordPress website hosted on the MilesWeb server. Overall, these results are reasonably satisfactory. The recommendation is that your server's loading time is under three seconds. Anything above that may harm your bounce rate.
With MilesWeb, the average load time is 500ms to 1.81s, which is quite good. Based on these findings, we can conclude that MilesWeb's servers are operating admirably. Also, the information determines that MilesWeb is likely to give adequate website speed.
Customer Support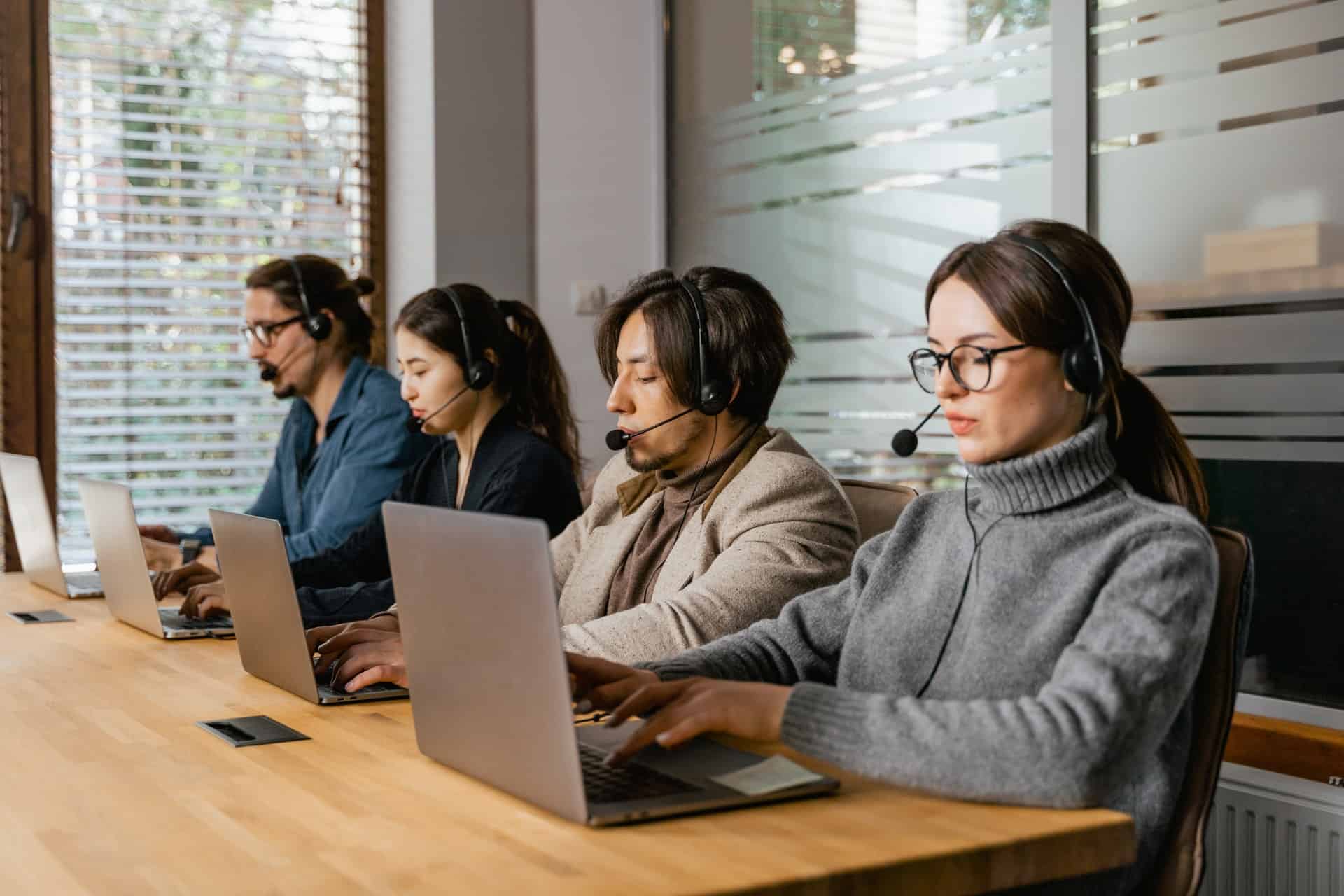 MilesWeb's customer care has a lot of positive feedback, especially from WordPress users. They excel at providing prompt, friendly, and educated service to their clients. Plus, they have dedicated WordPress support professionals.
Live chat, tickets, and email assistance are available 24/ 7/365 days. Their response time for live chats is immediate. Also, the email-based tickets receive their initial response in a few minutes.
MilesWeb has a wide range of knowledge base articles, including screenshots, videos, tutorials, and guides for users who like to resolve things themselves.
Features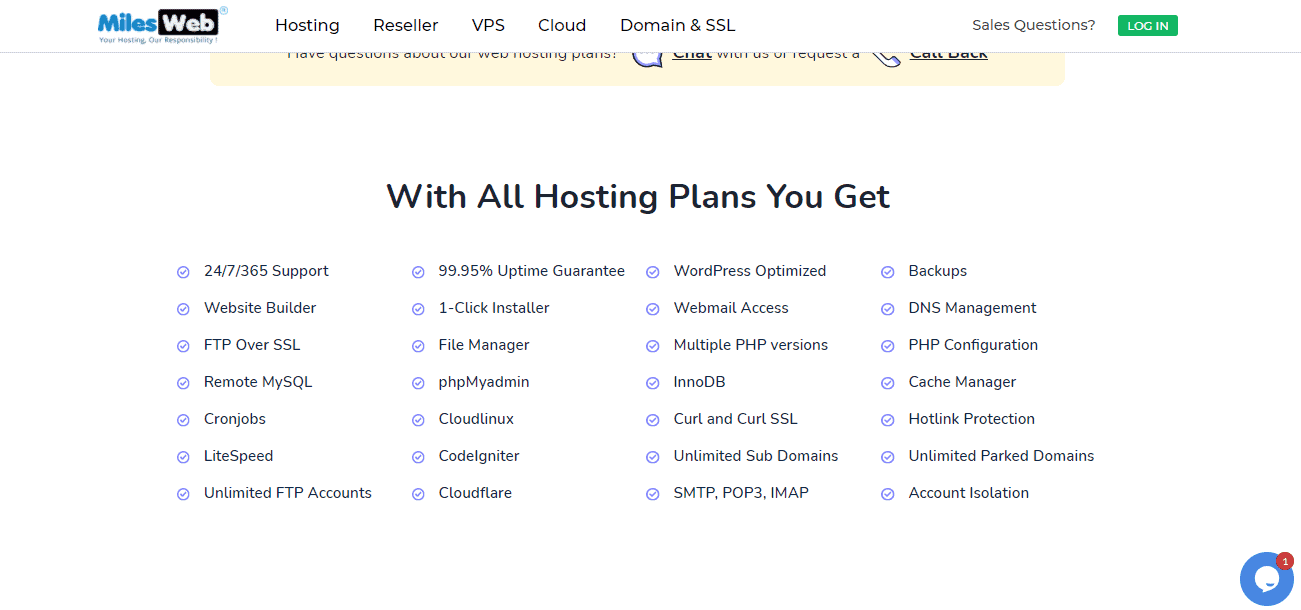 With all the WordPress plans, the company provides the best primary and exclusive features.
Basic features include:
The Swift & Turbo WordPress hosting plans include a free.COM domain. Although, their free domain offer is only valid for a year. You need to pay the renewal fees second year onwards.
Automatic WordPress Updates
You don't have to manually check for and install updates if you use the WordPress hosting platform. The tool at the backend of your site updates WordPress to the most recent version automatically. Furthermore, their technical experts keep track of new releases and ensure that crucial WordPress platforms, plugins, and other site-specific upgrades are loaded on your venue as soon as they are available.
You get a free SSL certificate with all the WordPress hosting plans. They are very keen on providing WordPress security. The Let's Encrypt SSL certificate helps to encrypt data moving between you and your site visitors. As a result, every site you acquire from us comes with its SSL certificate at no additional cost.
The SSL protects your visitors from attacks and provides a considerably safer browsing experience. It adds a little green lock in the upper left corner of your address bar that says "Secure," as well as your site gets a rank higher in search engines.
You get unlimited SSD disk space with the Swift and Turbo plans. All of their WordPress hostings include enough storage for your site's needs. The high-performance solid-state drive storage provides up to 200% more performance than traditional hard drives or so-called "spinning rust" drives.
All MilesWeb plans include a caching system for your dynamic content, which significantly increases speed. Their loading times are outstanding, as evidenced by the results of these tests.
WordPress's preconfigured feature makes site management a breeze. With each MilesWeb site, WordPress is installed using various authorized themes and plugins, which drastically reduces the time and effort required to set up and configure WordPress to function efficiently.
The data centers of MilesWeb are located in the USA, India, UK, Singapore, Australia, and Canada. It certainly gives you the liberty to choose the data centers near your audience.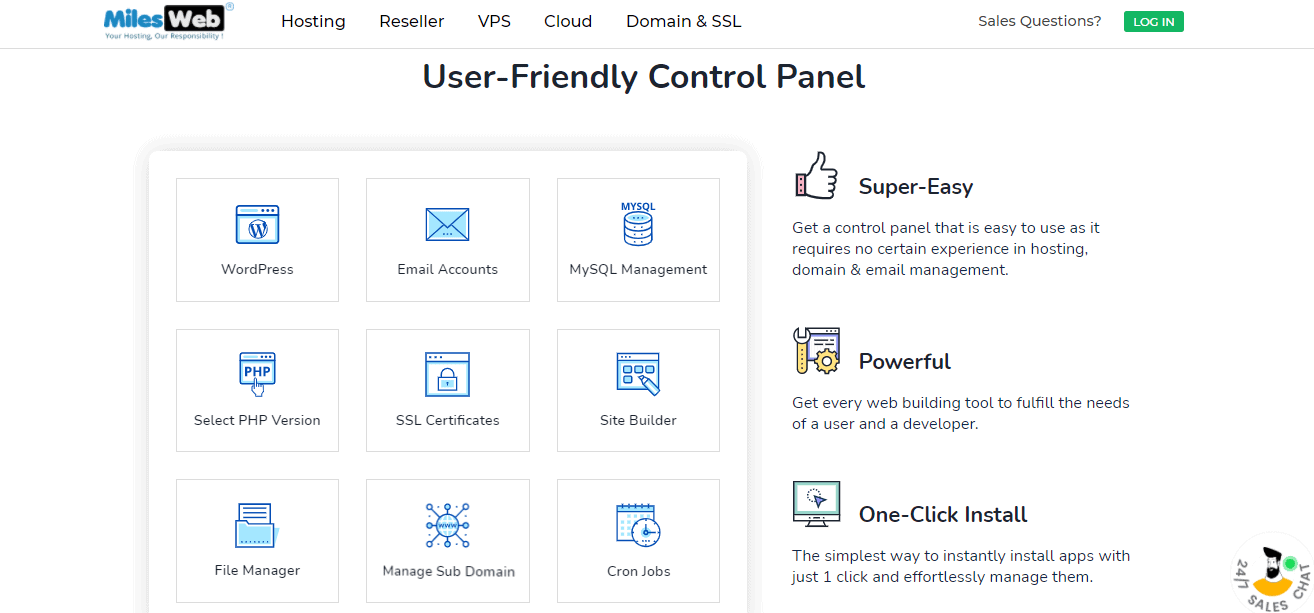 Exclusive features include:
Cloudflare Railgun
GZIP/Brotli Compression
SFTP Access
Dedicated WordPress Support
Daily Backups
CDN
Server-side Optimizations
Caching
Cloning
Why is CDN Necessary
A web hosting provider typically feeds your website visitors from a single location. No matter where they are, all users connect to the same server, which can cause content delivery delays for users who live far away from the primary hosting server.
CDNs overcome this problem by deploying many edge servers in various places throughout the world. These CDN servers cache static content from your website's origin/central server, store it, and then serve it to users when they want it.
One of MilesWeb's advantages is that it comes with pre-integrated CloudFlare's CDN – this is one of the most popular services. We must admit that the unlimited plans can have some restrictions, but they can still considerably enhance your loading speed.
Price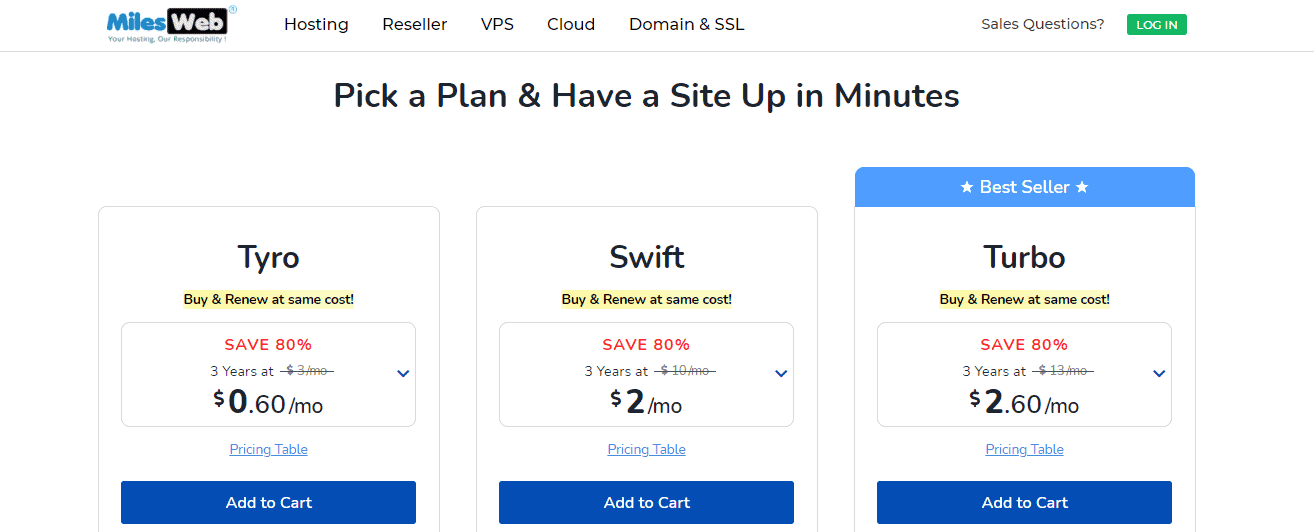 The most awaited and vital part when talking about the review of a company is one of the most crucial aspects for many people when choosing a web host. After all, great hosting won't help you much if it costs too much.
Keeping this in mind, MilesWeb offers some unexpectedly cheap hosting plans for the services it provides. They have three WordPress hosting plans: Tyro, Swift, and Turbo. The base plan Tyro costs you Rs. 40/mo for a three-year plan investment. The Swift plan costs Rs. 130/mo and the Turbo plan costs Rs. 170/mo, if opted for three years.
You get a massive discount of 80% for purchasing the plans for three years. Getting a web hosting plan for a more extended period is always a better option to cut down on paying monthly bills.
With all of their WordPress hosting options, MilesWeb offers a 30-day money-back guarantee. During this time, you are welcome to try out their services. If you cancel your account during this time, you will be eligible for a refund.
Summary
From all the tests and trials of using MilesWeb, we can certainly recommend you to use their hosting plans for your WordPress site. They offer sober pricing for all the hosting plans, plus you get the best possible resources and features with every hosting plan.
Latest posts by Nina Medanić
(see all)
Where Should We Send

Your WordPress Deals & Discounts?
Subscribe to Our Newsletter and Get Your First Deal Delivered Instant to Your Email Inbox.
Thank you for subscribing.
Something went wrong.