As the Internet has experienced its expansion, everyone is trying to get the best out of it and take their share of the "cake", so people have started to run similar businesses, "traditional" and online.
In all of this, marketing has generally taken on a new dimension and has found its way onto the Internet scene in various forms, including digital banners, Facebook, Instagram, Twitter, YouTube, email marketing, and much more.
Email marketing focuses on this text because it is traditional, although it is online and electronic. Many email delivery services mostly focus on this text because it is traditional, although it is online and electronic. After all, the message itself is a letter that can be sent for free, and the process is swift. It also allows sending the same letter to an unlimited number of people.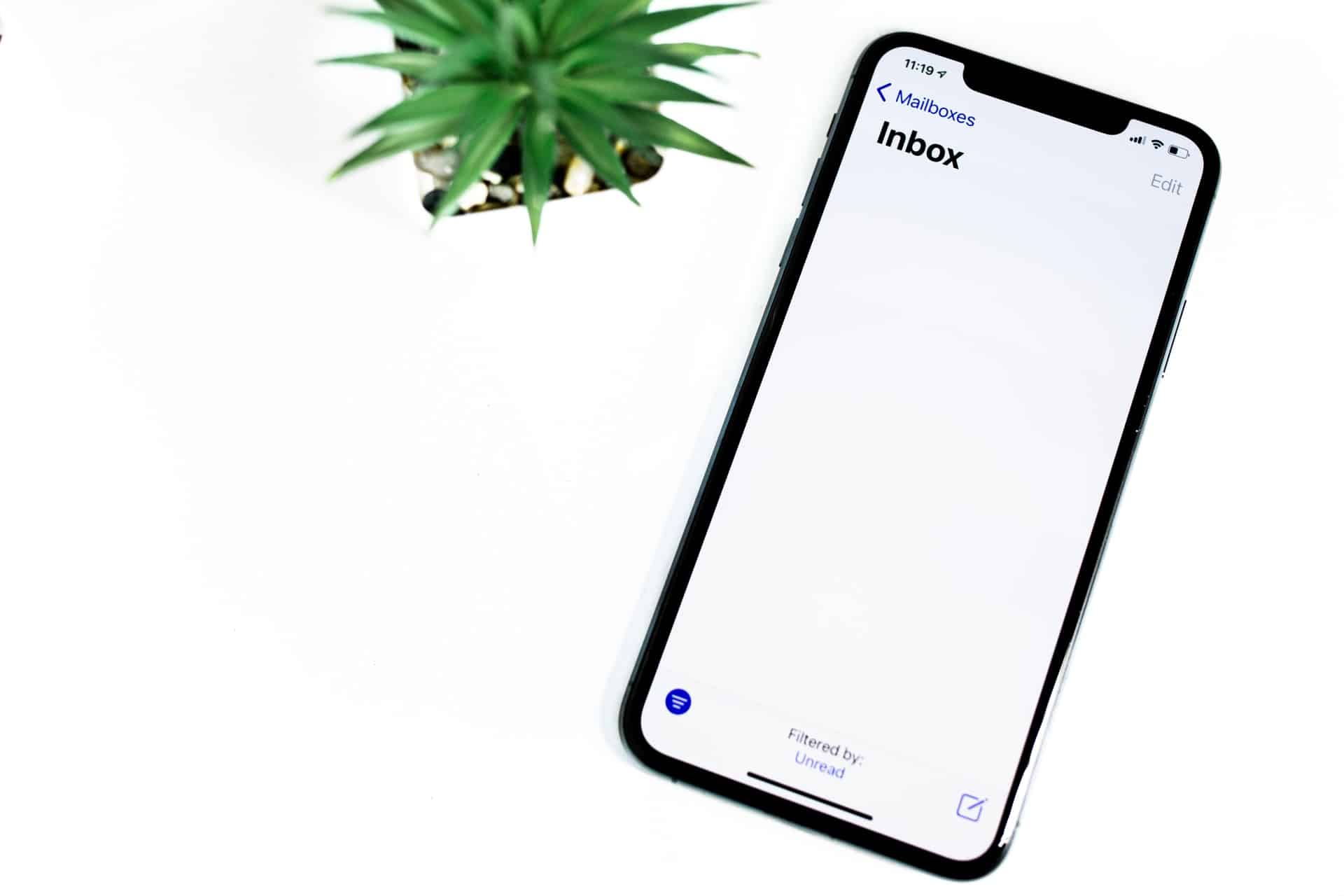 Although it is beneficial, it can do more harm than good to a business if not used properly. So keep reading and learn how to make emails work for you and protect yourself from negative consequences.
What Is Email List Validation, and Who Needs It
Email List Validation is a procedure that verifies email addresses from your mailing list, checking that those email addresses are valid and that it is possible to deliver the message to them.
Each of the email addresses on the list goes through a process that detects all typos, not separating the actual errors from those made with some intent and essentially intended erroneous instructions.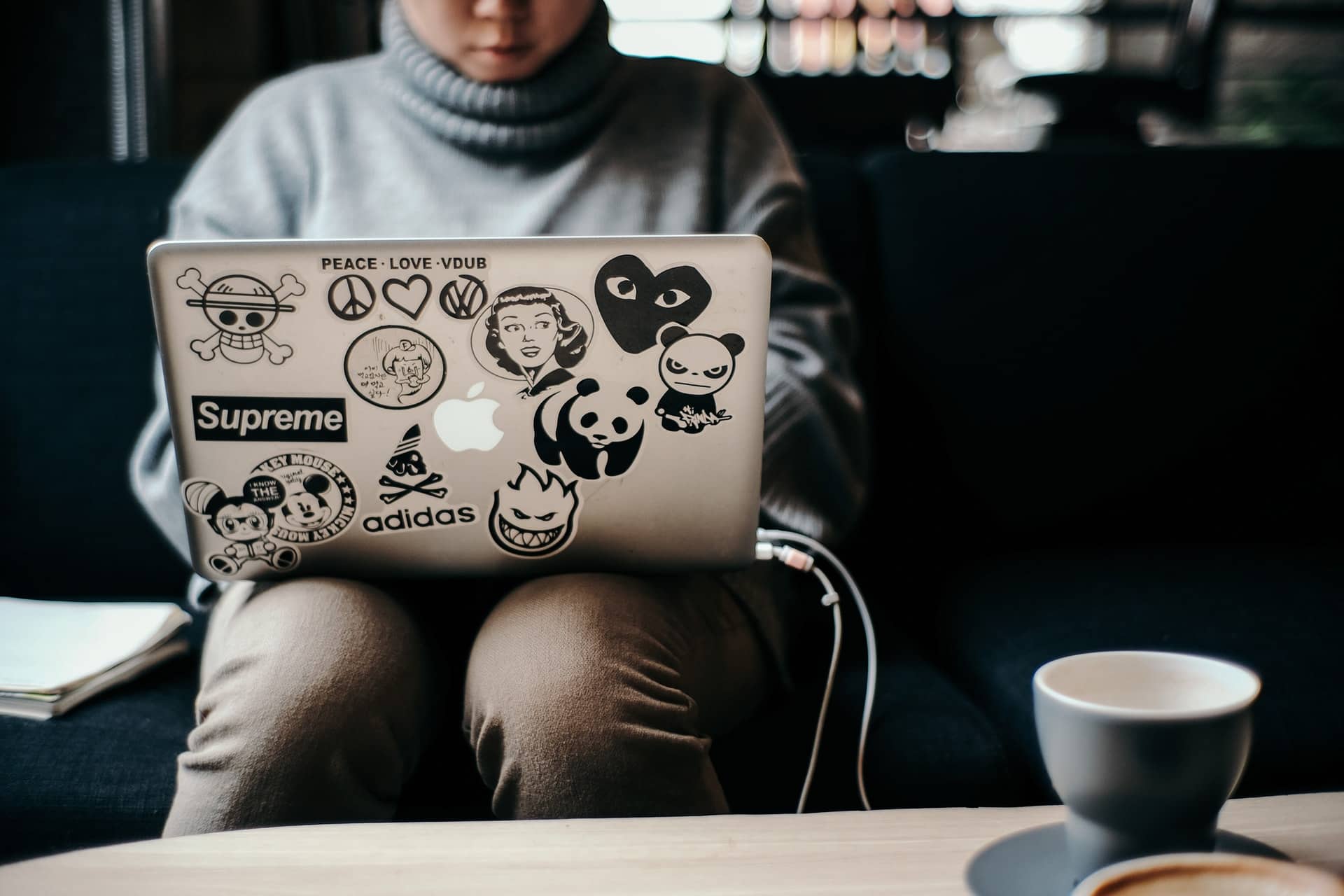 In addition, this procedure checks whether email addresses exist and if the domains under which they were created are trusted. As a result, your list will be clean and will do for you what you want – help you and your business grow.
Email List Validation, in general, is necessary; more precisely, it is considered a must for anyone who wants to utilize email marketing. Moreover, email campaigns are one of the best, most effective, and most popular marketing techniques to reach its end users, its customers and increase their number.
1. Abstract Email Validation API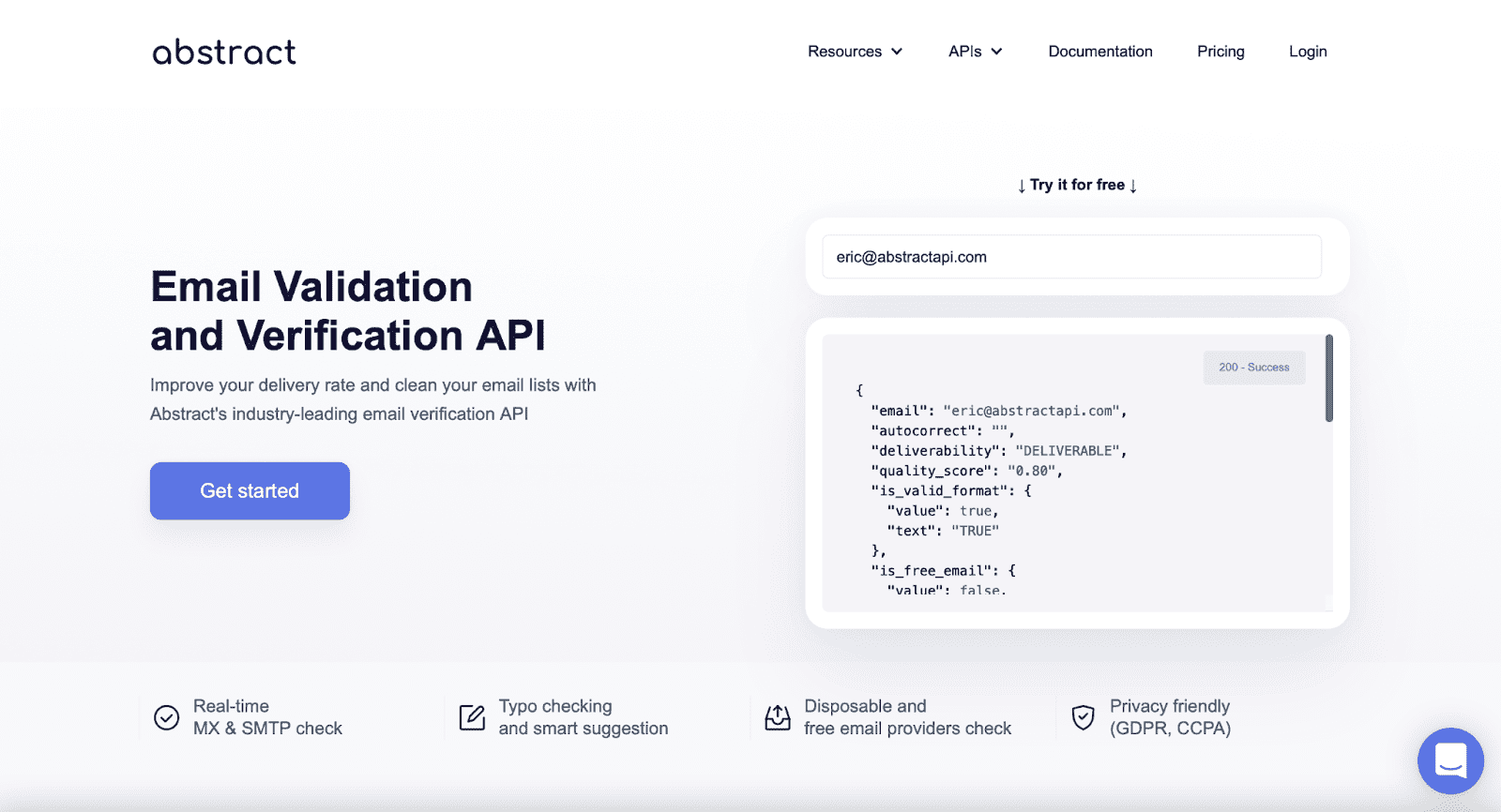 Abstract API provides an email validation API organized on REST principles which can help you validate emails in seconds. The email verification API can be set up using multiple languages, with step by step guidelines covered by their detailed documentation.
Use the email validation service for free with non-commercial use cases, or upgrade to one of the matching subscriptions to unlock thousands of included requests and premium features.
Bulk CSV upload is supported and returns the validation data in minutes. Explore Abstract's email verification API with the free trial, or try one of their many other APIs such as IP geolocation or phone number validation.
2. EmailListValidation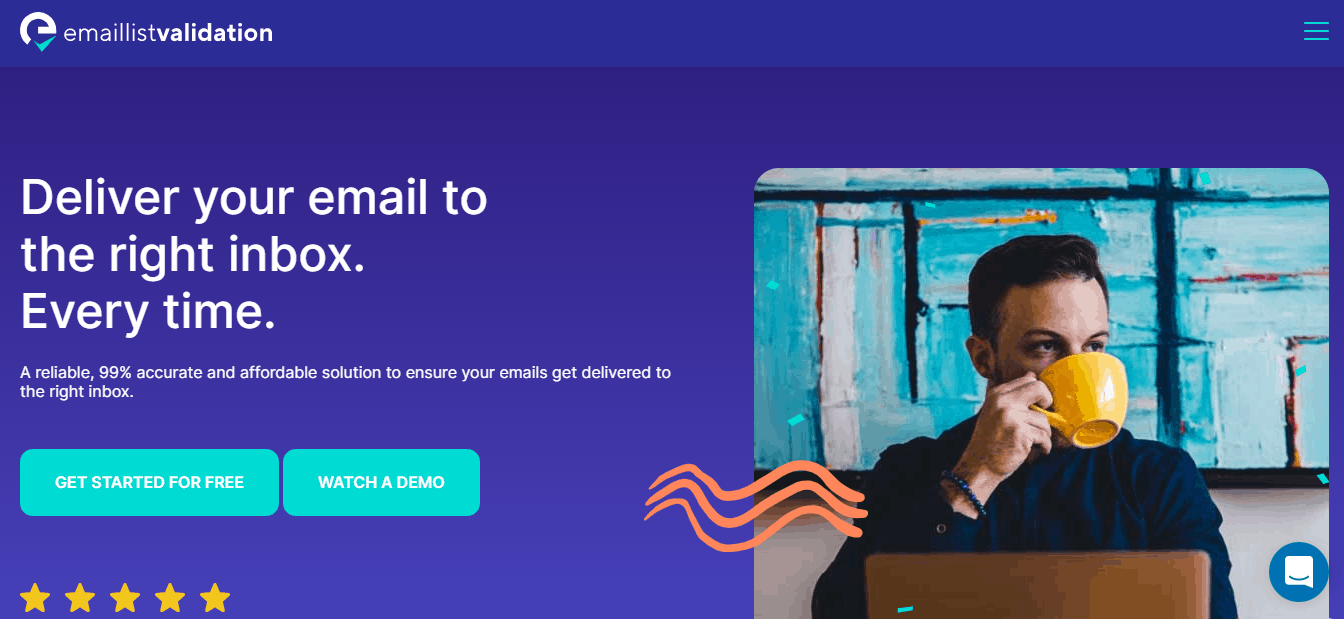 EmailListValidation cleans your mailing lists quickly and efficiently to ensure that your messages reach the correct inbox – your target group. In addition, it will help you avoid the penalty of being blocked by email providers, as your messages will not be continuously sent to invalid email addresses.
EmailListValidation allows you to upload the entire list to the platform or import it using CRM, thus avoiding the copy-paste process of each email address separately, which saves you valuable time. It also has "first-line protection," which is a real-time verification that filters email addresses directly in the signup boxes, preventing invalid email addresses from being on your mailing list.
In addition to the above, this tool is available in 4 languages. Another positive and handy thing is the ability to extract various reports and statistics related to your mailing lists.
3. ZeroBounce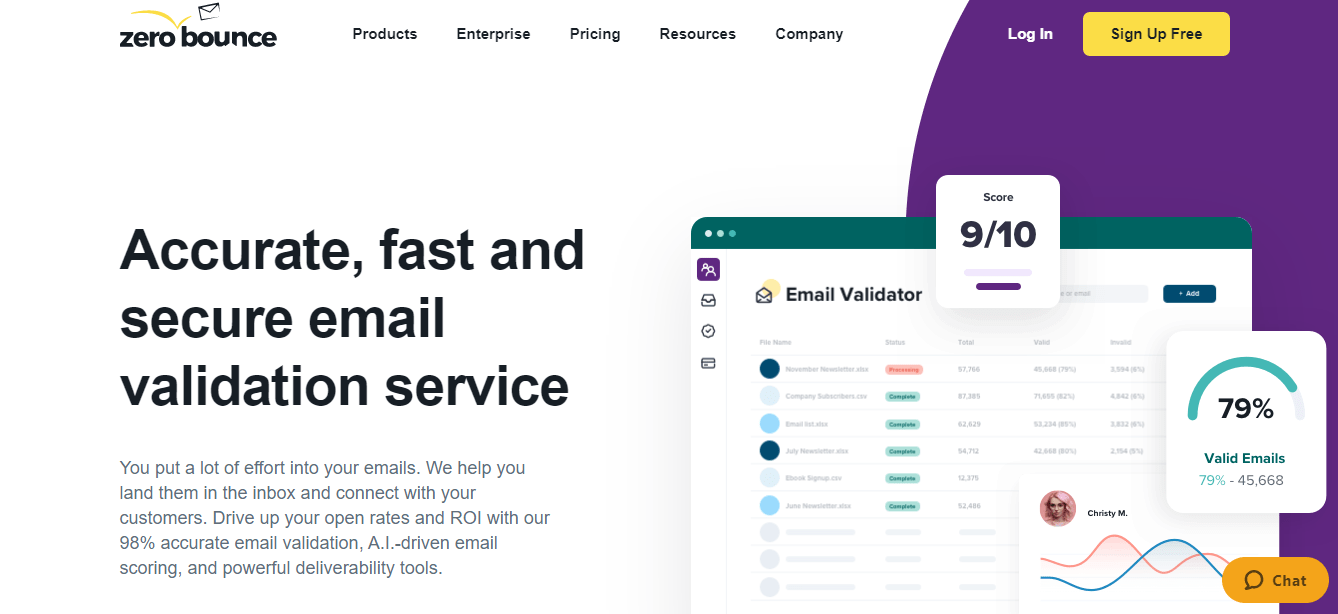 ZeroBounce is another email list validation tool that boasts the accuracy, speed, and security that your messages will reach the inbox of your customers and end-users. It is used by over 100,000 users, including Samsung, LinkedIn, Intel, etc.
Furthermore, ZeroBounce and its operation are based on a process that has four steps that are essential to perform to get the most out of what it offers:
Validate – run your mailing list through the email verifier and, get rid of bad quality contacts, reduce the number of bounces and improve metrics
Score – use the ZeroBounce Score feature to discover the actual value of an email address from your list. The higher the email address's score, the more likely it is that the email address owner will interact with the email received
Test – before you leave a message and send it to your end-users, use the email deliverability test to test the email and check where the email providers will place it in the inbox, spam, or not even deliver it
Monitor – using the blacklist monitor service that is an integral part of ZeroBounce, monitor your status on over 200 blacklists and be notified as soon as you are placed on one of them. This will make it easy for you to contact the company to be removed from the blacklist
4. NeverBounce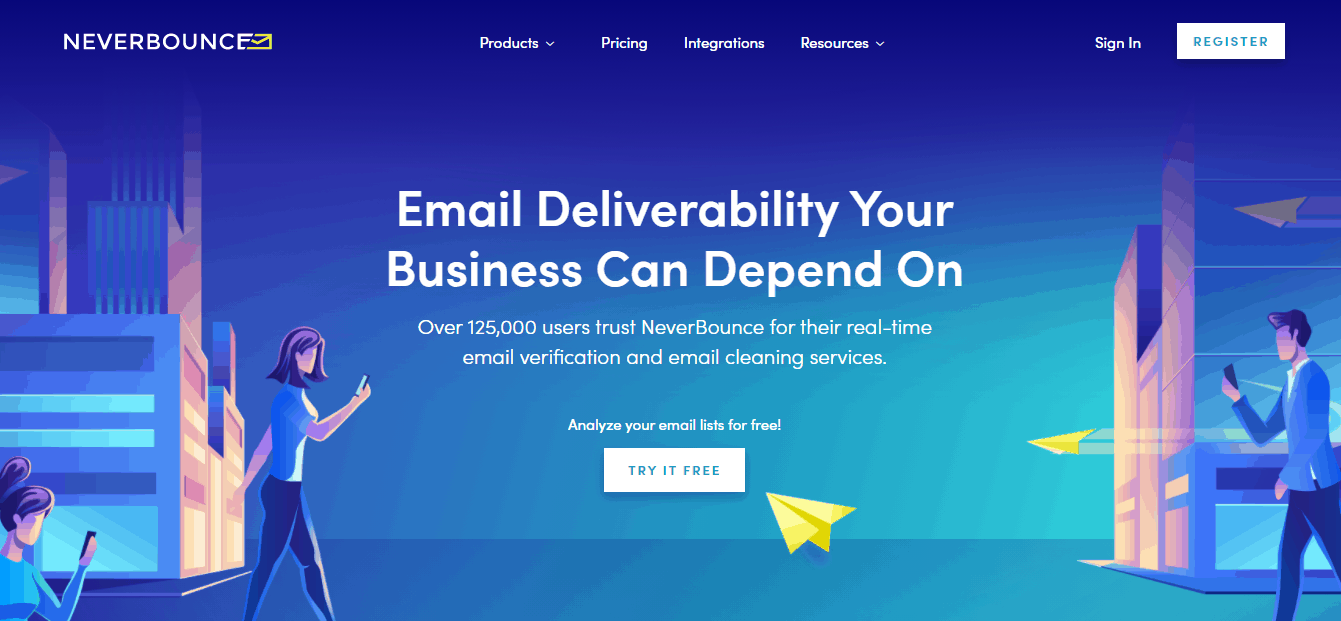 NeverBounce is an email list validation tool that offers real-time email verification and email cleaning services. It is trusted by over 125,000 users, among whom Dell and Uber stand out.
This tool offers three solutions for one goal, which are:
Bulk Email List Cleaning – upload a list of emails of any size or connect to over 85 integrations offered by NeverBounce. Then verify and clean your list and download your new, clean list
Real-Time Email Verification – it's always better to prevent than to treat, so it's better not to allow invalid email addresses to be on your email list. Add Verify to your registration forms or any place where you collect email addresses and prevent bad ones from finding their place on your list
Automated List Cleaning – for faster and easier email list validation, connect your email provider with automatic email list cleaning
5. Emailable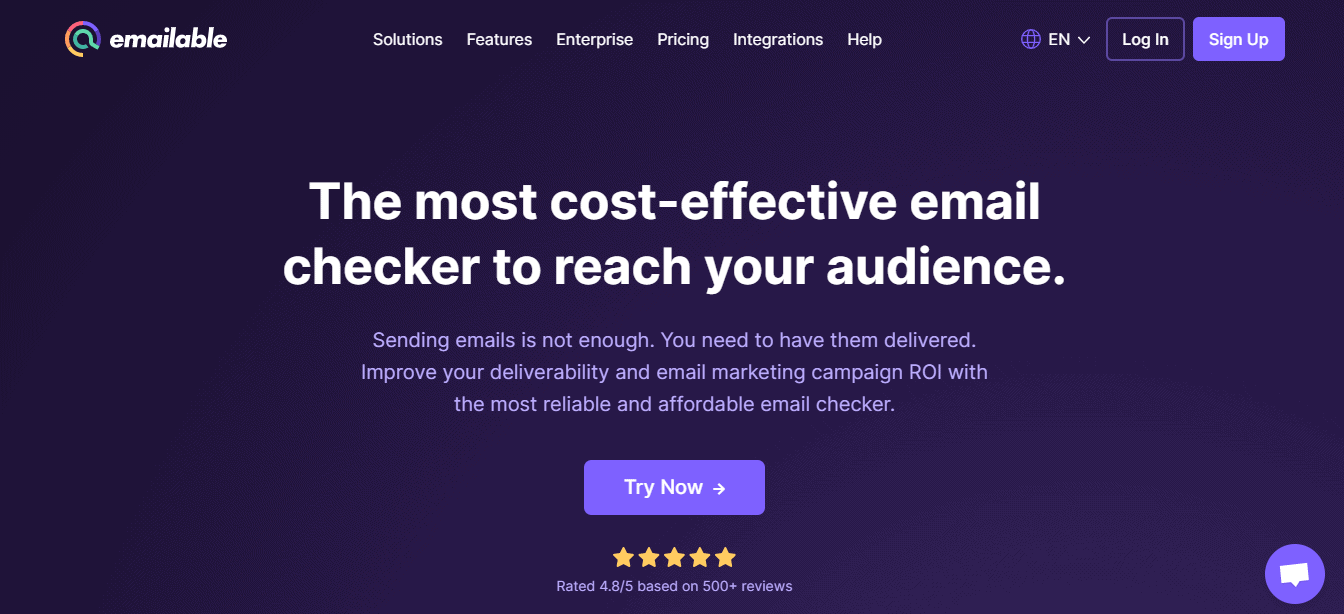 Emailable is an all-in-one email list validation tool with four crucial features; Bulk for cleaning your lists with ease, Monitor for automating your email verification, Widget for verifying emails at the point of capture, and API for developers and integrating with the development process.
It is trusted by thousands of users in over 170 countries all over the world. The best-known users of Emailable are Minecraft, Disney, Alibaba, and many more.
6. Proofy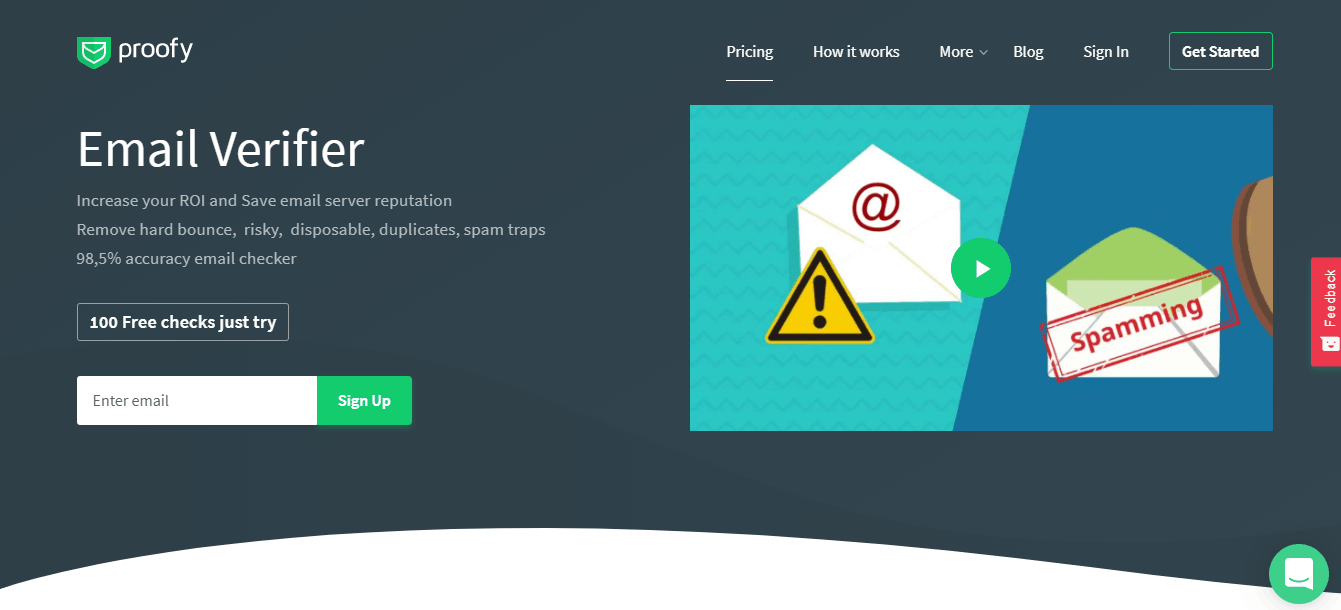 Proofy is another email list validation tool that includes many features in both free and paid versions. Some of its key features are duplicate email remover, domain validation, syntax validation, awesome support, and many more.
It is based on three things:
Syntax – check if an email address conforms to common standards
Domain – check if an email address is configured to accept emails
SMTP check – check if the user mailbox exists
Conclusion
To sum up, if you want to take advantage of email capabilities in marketing, be sure to use them in the right way. Do good to yourself and your business; use the email list validation tool!
When not using one of the email list validation tools, you will not benefit from an email campaign and will be exposed to harmful consequences like increased bounces and being blocked, which you don't want.
Latest posts by Amina Camdzic
(see all)
Where Should We Send

Your WordPress Deals & Discounts?
Subscribe to Our Newsletter and Get Your First Deal Delivered Instant to Your Email Inbox.
Thank you for subscribing.
Something went wrong.