When thinking of how to attract new visitors and how to lower your bounce rate, one thing is fundamental: the speed of your WordPress website. Your visitors are spoiled by one too many websites they have visited so far, and they were probably impressed with websites that load within a blink of an eye.
For sure, they expect this incredible loading speed from your site, too, and you should go the extra mile to please them. This will pay off in the long run much more than you can probably imagine.  There are many ways and tricks to improve your site speed score, but let's see first why you should spend your time and energy on it, before presenting you with another great solution.
Why site speed is important?
As mentioned before, your visitors are rather spoiled and they expect extraordinary performance. There is nothing wrong with that, as you should strive to improve your business at all times.
Estimation is this: If your website takes slower than 2 seconds to load, many, if not all visitors will head on to your competition which "Appreciates them enough so they don't have to wait". 40% of people abandon the website if it takes longer than 3 seconds to load, which is quite the percentage and goal to have in mind.
On the other hand, it has been almost ten years since Google announced that the website's speed will highly influence the search engine score. In short, the faster website the better the score is, and your website could compete for page one of Google's search result.
So, not only does your site speed affects existing users, but it also affects how people find you and perceive you. The logical conclusion: speed sells!
And to make sure that your business sells too, here is a plugin that can help you improve your website's speed. It is called Media Cloud, and it can help you keep your media and assets in the cloud, providing for faster loading of your website!
What is Media Cloud?
As said before, Media Cloud is a WordPress plugin that is going to help you immensely with speeding up your site, as it will, among other things, upload your media in the cloud. You can utilize any Cloud service that you would like – from Amazon S3, Google Cloud Storage, to DigitalOcean Spaces and many others on the list. Each of these services can help with storing and safeguarding your data, without any limit.
By switching to any of these Cloud services, you will quickly notice an improvement in over 400% boost for your upload speed thanks to Direct Uploads feature. On the other hand, once you start serving images to your visitors from the cloud, they will notice the new loading speed of your website! How to get started with this?
Getting started with Media Cloud is rather an easy feat. Just download it and install it. You will also have to activate it. However, once you have the plugin in your WordPress dashboard, you will need a couple of things to get the most out of the plugin. While there are a couple of features that will work with nothing else, the most important one that is bringing you incredible speed, will not.
What do you need?
Well, first, you would need a cloud. This plugin supports Amazon s3, Google Cloud Storage, DigitalOceanSpace, and a couple of other popular cloud systems. Each of them has their unique benefits, yet they will all provide you with exceptional speed. Still, take your time to ensure that you are choosing them wisely.
Media Cloud provides much more than simply offloading your media to the cloud.  
Check out the extensive chart
to learn what Media Cloud is capable of and how it compares against the competition.
You should then create an account in your preferred cloud. We will take an AWS account to use for an example, but you should go ahead and pick any other if you are more comfortable with other providers. Let's make a quick detour and set one up.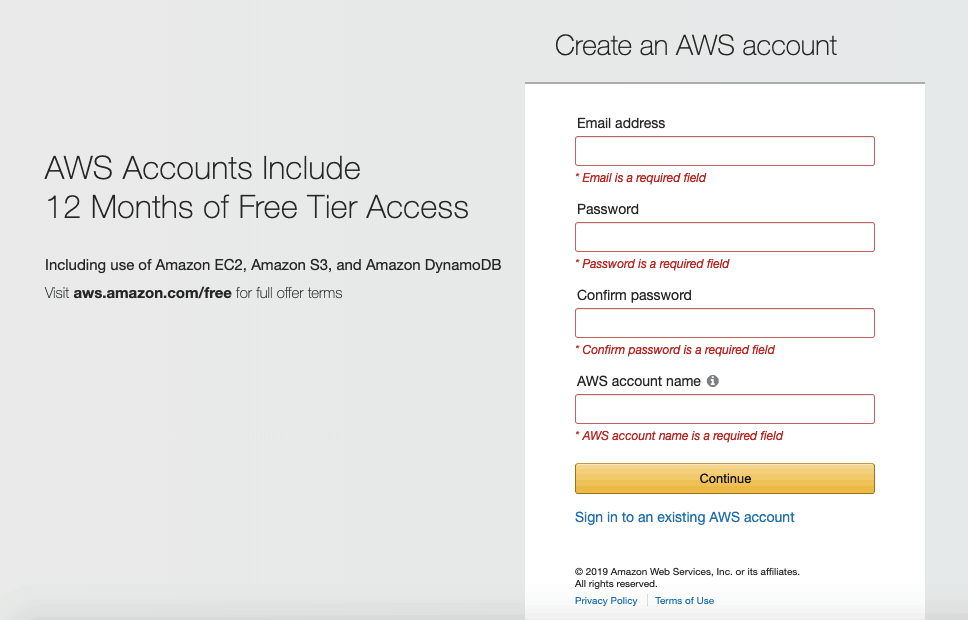 Luckily, setting up your account is a rather straightforward process, which requires you to fill in the needed information. You should name your cloud, add your personal identification information, billing information, and lastly, to pass an identity verification. While this may seem intimidating right now, the process is rather simple. On the other hand, it speaks in favor of security that your data will be getting once it is stored there.
When you fill in the needed information and this is done, which will take a couple of additional verification steps, you are going to need a bucket. Creating a bucket is rather easy. The Media Cloud's documentation provides an excellent tutorial on how to create one, check it out here.
Next, you would need to head on to your Media Cloud plugin, and fill in the necessary details: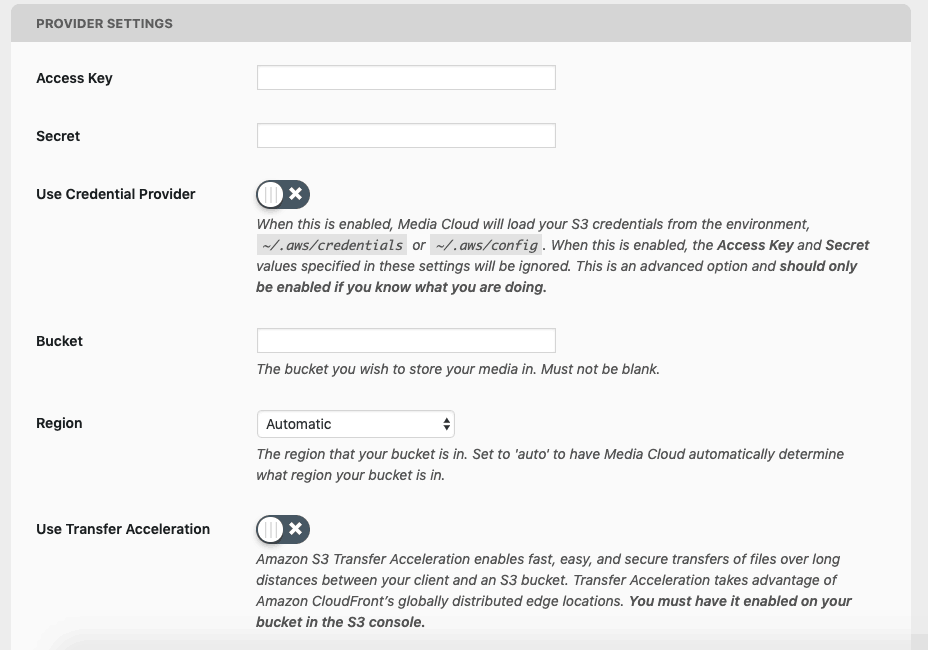 Add your access key, secret values, and the bucket which you created with Amazon. You are good to go!
Media Cloud Features
Now, you are all set up and are ready to start benefiting from this amazing plugin, in terms of speed. Still, there are many other features you could use. What are the other things? Let's see what other features you can use.
Easy Import of the Existing Media Library
If you already have an existing media library, you can effortlessly, and without any concern upload it to to the cloud. You don't have to sit and wait for it to finish to go ahead with your day, as it will do all the work for you in the background.
With this feature, all you have to do is to click a single button, and the plugin will do the rest. You can also start this feature from the command line, as this plugin has full WP-CLI support. If you keep uploading a lot of images and videos constantly, you can still use bulk import – just make sure to toggle on "Skip Imported" to make sure you don't get to store any duplicates in your cloud.

Another useful feature that goes along with this, is the opportunity to exclude thumbnails and other image sizes apart from the original image.
Process Your Images Automatically
Media Cloud has a couple of important integrations to consider and to take advantage of. With this plugin, you get the help of:
Amazon Rekognition
This straightforward and easy to use API can help you with the identification of any objects, people, texts, activities so that you can effortlessly analyze any image and video that you provide. It can also help you with a quick assessment of whether the content is appropriate to post.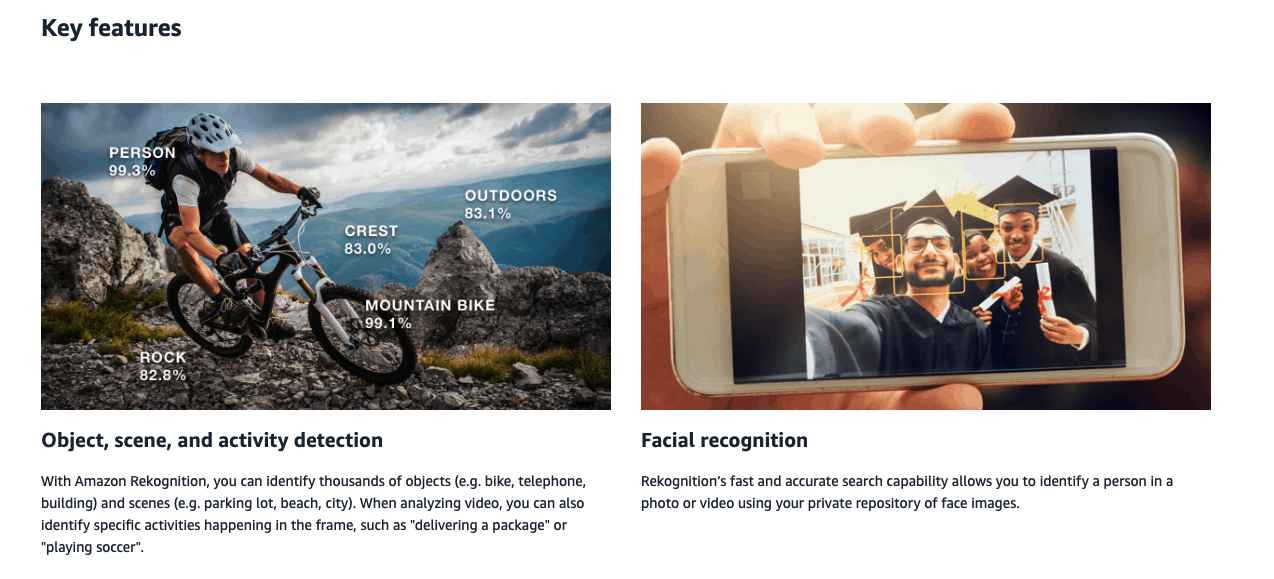 Google Cloud Vision
Maybe you prefer Google Cloud Vision? With it, you gain pretty much the same functionality that you get with Amazon Rekognition, namely the identification of objects, texts, and easy check for any inappropriate content.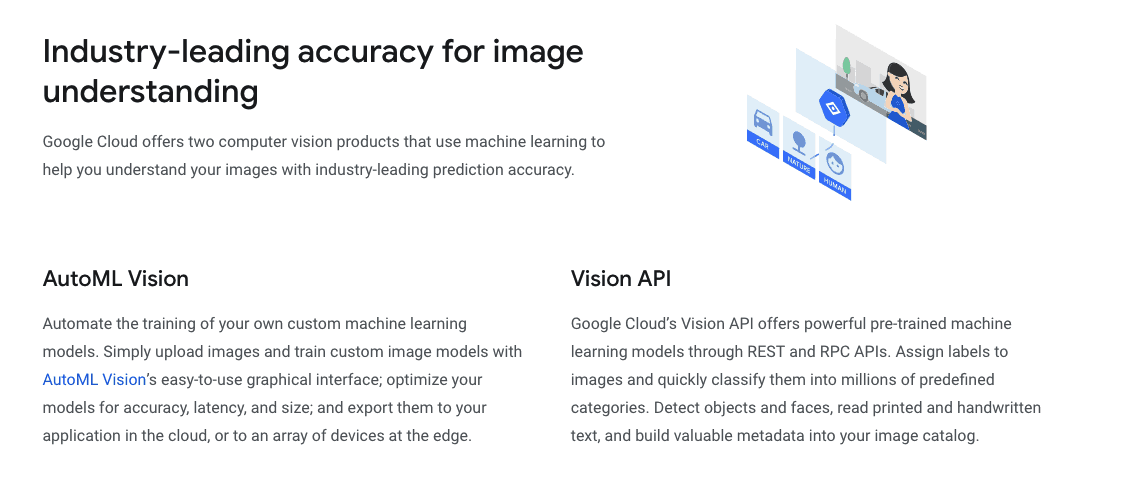 Advanced Image Editor
The only WordPress plugin that comes with an image editor. Impressive, right? Media Cloud allows you to tweak your images as good, and maybe even better, as you can in Photoshop or any of its alternatives. This feature is an incredible time-saver for anyone relying on quality images for their site.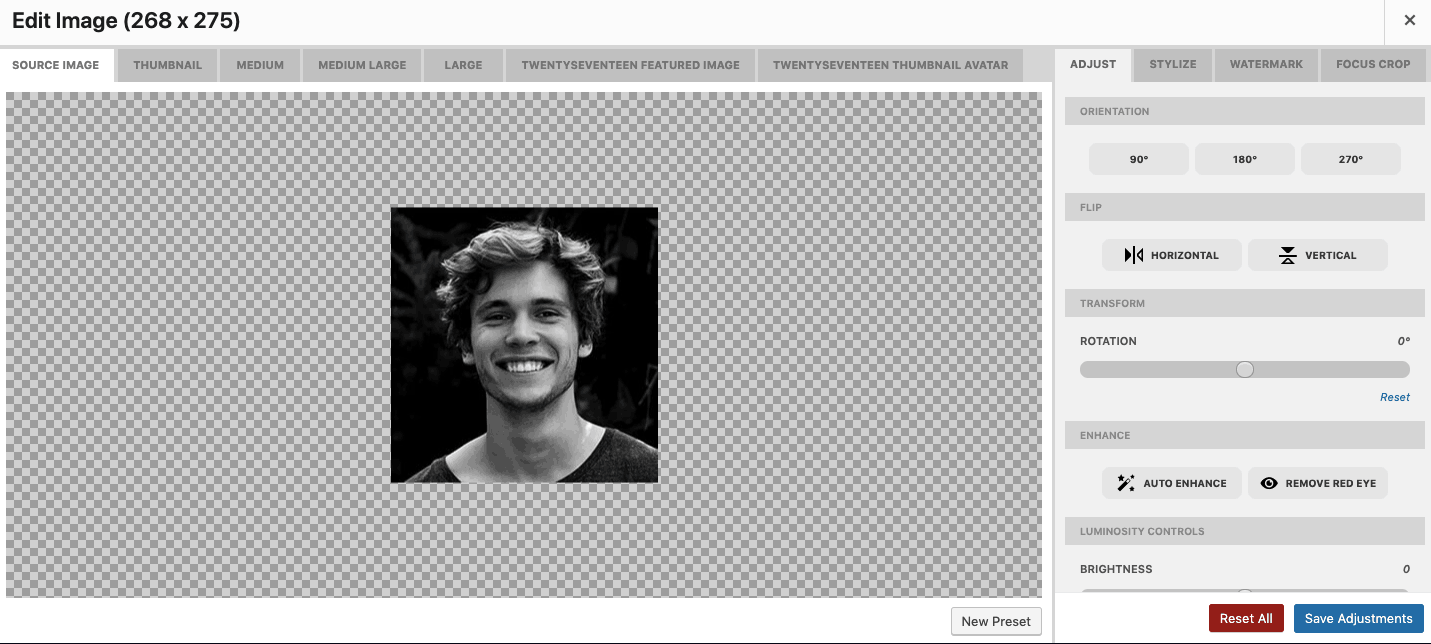 Just upload your images as you would normally do, and head on to Edit Image section. It will provide you with all the necessary options to edit your image to perfection. Set your preferred orientation, flip your image, or even "Auto Enhance" it.
The editing possibilities don't stop there, as you can use this editor to remove red-eye, control luminosity and color, and figure out the needed noise, sharpen and blur options. All you need for a perfect image for your site, without having to leave your WordPress dashboard!
Add watermark
There are many other options available through this image editor, and one of the useful ones is the possibility to add the watermark to your images. You can do this same from the editor, by simply uploading the watermark you would like to use.

This editor allows you to further customize the position of your watermark and fix its size with a couple of simple sliders. Considering how easy it is, spending a couple of minutes to put watermarks on your images can go a long way!
Support for Imgix
While the Media Cloud plugin can do wonders for your image-editing itself, once you go big, you might need a bit more help. The good news is that this plugin has deep support for Imgix, which is the CDN to use for image optimization. Why not use it to your benefit?

Not just Media
Not only images, but Media Cloud can also help you with your CSS and Javascript assets. By pushing your assets to the cloud, you get an additional boost in your site's speed. Getting this done is as effortless as everything else with this plugin.
What you should do to speed up the site by serving assets from the cloud is to enable assets in your plugin's setting options. Then, you will see additional options that you can use to handle your assets.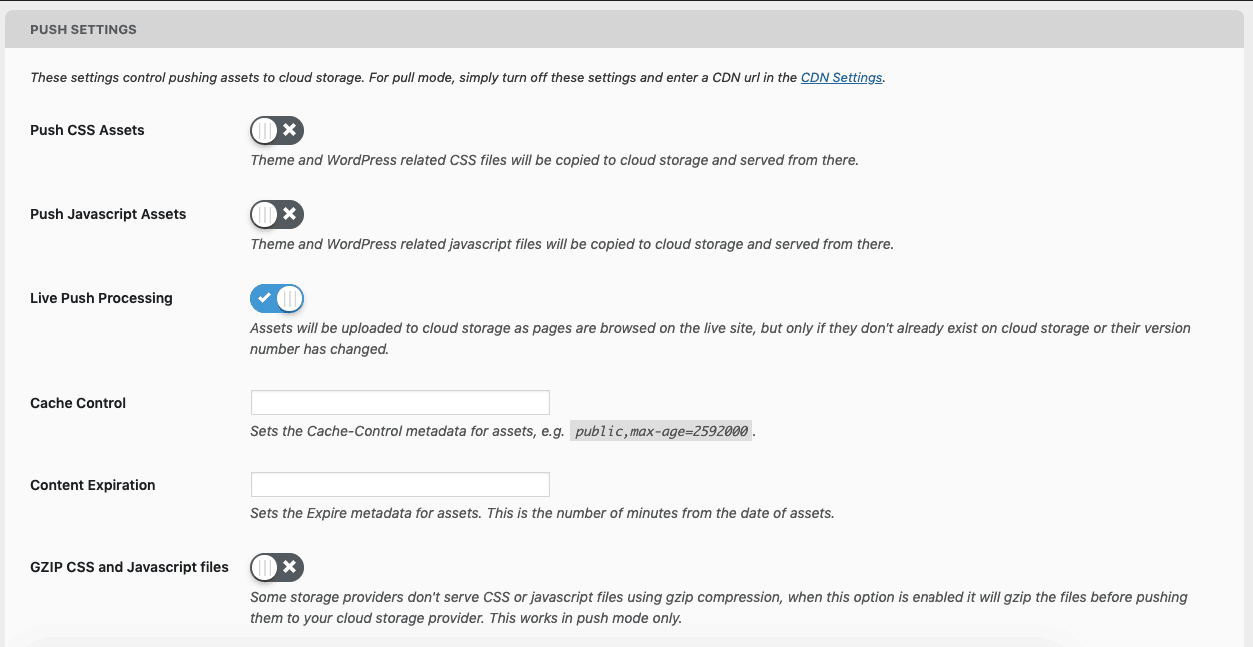 Enable CSS Assets, or Javascript Assets to make sure that it will be copied to the cloud. You can further enable Live Push Processing. It will make sure to upload anything that is not already in the cloud, and the newest version numbers. Control Content expiration and cache – all that from your WordPress Dashboard.
Image Cropping
Yes, WordPress does have a cropping tool already, yet actually getting stuff cropped is a painful process. If you entrust Media Cloud with your cropping troubles, not only do you get intuitive AI to help you out, but you also get a realtime preview of your cropping efforts, which it will save for future use.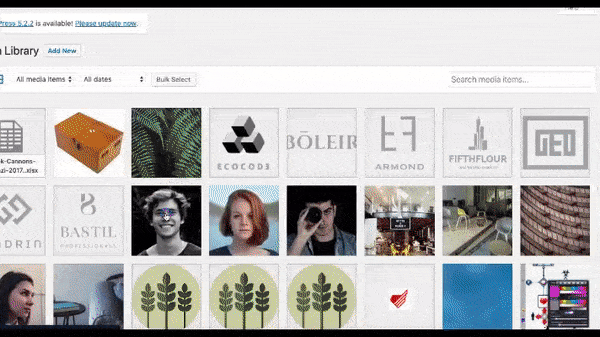 As soon as you activate it in settings, once you click on Crop Image, you will be presented with its intuitive cropping tool instead. With several options predefined ahead, you can crop your images effortlessly with predefined sizes. By selecting a specific tab, it will automatically crop to different sizes appropriate for your WordPress website.
You can also crop to the featured image preferred by the theme you are using, or create thumbnail avatar without going to any trouble cropping it manually! Pick a tab and click save!
Browse Storage without leaving WordPress
A great time-saving feature allows you to to handle your libraries and storage without having to spend too much time getting there. With this feature, you can upload or import items, delete and view items in the storage without having to leave your WordPress dashboard to do so!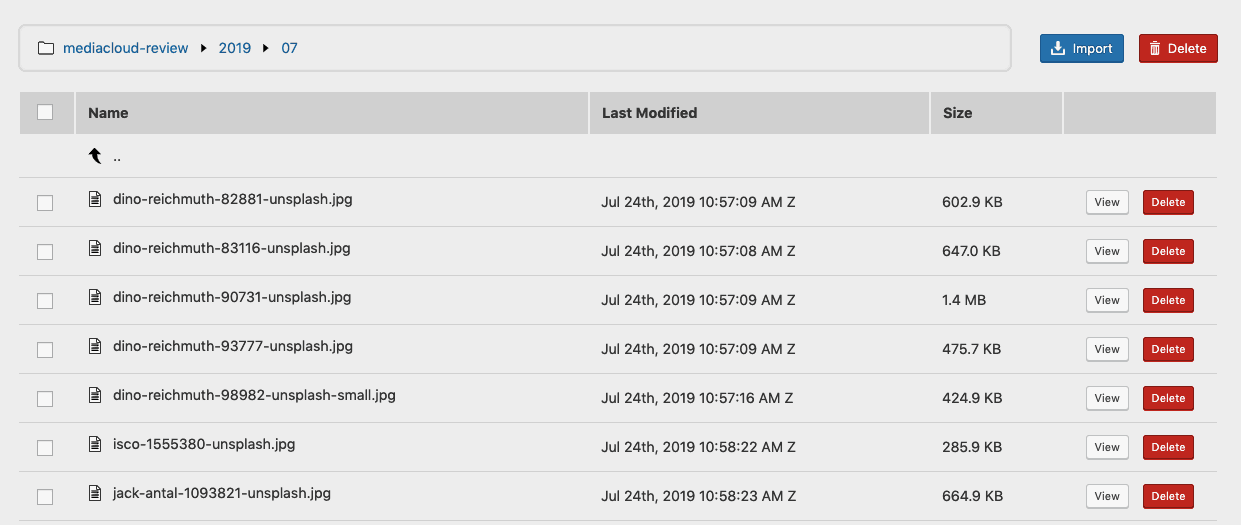 To use the benefits of this feature, all you have to do is head on to the Storage Browser. It will allow you to to check all the images and videos at one place. You can easily see the last time an image was modified and its size. Furthermore, you can view an image, and delete it effortlessly, if need be.
Features packages
As seen so far, Media Cloud's features can help you with one too many things – from speeding up your website to effortless optimization of images. So make sure to check out all three packages of Media Cloud. There is a free version, but there are also the basic one, pro package, and agency. Each of them is packed with carefully selected features so that you can get the most out of this plugin, regardless of which package you choose.
The basic package, priced at $3.99, comprises of the most basic, yet quite useful features, ranging from uploading the media to the cloud, to the watermarking. The pro plan has all of these useful features, but for $8.99, you would also get WooCommerce integration and cloud storage browser. And, if you are an agency and opt for an agency plan, you will get all the pro features for $23.99, together with priority support, and personal success manager.
To sum it up
With all the amazing features, this plugin gives you the ultimate control over your website's images and videos. Having them in the cloud, and delivered to your site's visitors, will do wonders for your site's speed, as you are no longer using your server to deliver them.
Another way to take control of your images is by editing them and making them perfect from your WordPress dashboard. You can edit them using the plugin's own editor to having IMGIX take care of that for you. As a result, the images are serving your website justice in both quality and speed.
If you are struggling with your website's speed, do install this plugin. Its help with the speed and quality of your images will bring many new visitors by your speed raking with Google, and help with the conversion of those new visitors into paying customers!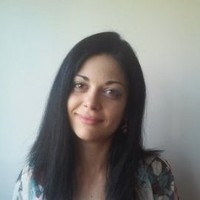 Latest posts by Vladana Donevski
(see all)
Where Should We Send

Your WordPress Deals & Discounts?
Subscribe to Our Newsletter and Get Your First Deal Delivered Instant to Your Email Inbox.
Thank you for subscribing.
Something went wrong.