Are you tired of your nine to five grinding? Can't stand the sound of your boss's voice no more? When the Monday comes, you're seriously considering moving to the mountains and taking care of a flock of sheep?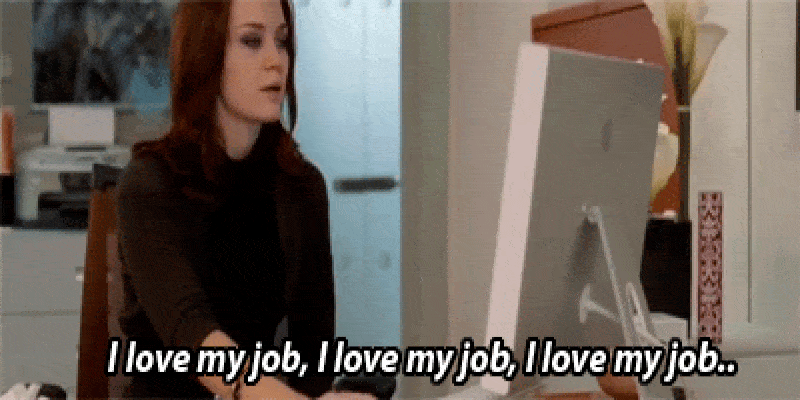 Luckily, we live in the era of the Internet, and replacing your 9-5 with another option doesn't necessarily require sheep (though taking care of them still equals the good amount of money in some part of the world). The internet allows you the opportunity to sell your products, service, or even knowledge and, therefore, to make a living out of it.
There are so many opportunities to make a living online. From selling your online courses, writing a travel blog, or starting your eCommerce business, there is no need for you to keep commuting and having to ask someone's permission to go get lunch. Being your own boss and making a decent living beats any old-school job you might have.
However, you have to know by now – you are not the only one to do it. The online business thing has been around for a while, and there are many people that find being their own bosses a dream come true. The competition is fierce. If you want to do it right, you have to dedicate a lot of time and effort to it.
eCommerce as the choice
E-commerce is the number one, go-to solution for everyone looking to make a living online. Regardless of what they are selling, as the selection of products is almost limitless, eCommerce is probably the obvious choice to go with. With over 80% of people all over the world making an online purchase this year, it is a market to get into.
It seems that everybody and their aunt have one these days. Many of those fail rather soon. Competing with Amazon or Alibaba seems almost ridiculous, but with the right tips, tricks, and action, you might be able to turn it into a living. To get started with, if you have never created or ran an eCommerce store, you might want to decide to go with WooCommerce on WordPress, because it hasn't got the steep learning curve, and you will probably be able to get a grip on it in no time.
You need to be able to get started quickly so that you can focus on what's important – beating the competition and selling more. Every second your store isn't online, you are losing potential target audience to your competition. Getting your store online is not as simple as clicking a couple of buttons. You need hosting, and you need a WordPress site. You need to set up security measures. It is so much you need to do to get started.
However, WooCart can help take a lot of that off your plate, trust us. So, let's check it out to get you up and running in no time.
What is WooCart?
WooCart is the out-of-the-box solution for each and every WooCommerce store. Not only will it get you started in no time, but it also comes with a set of features that will enable you to focus on your marketing strategy, increasing the visibility of your eCommerce store, and ultimately, selling more.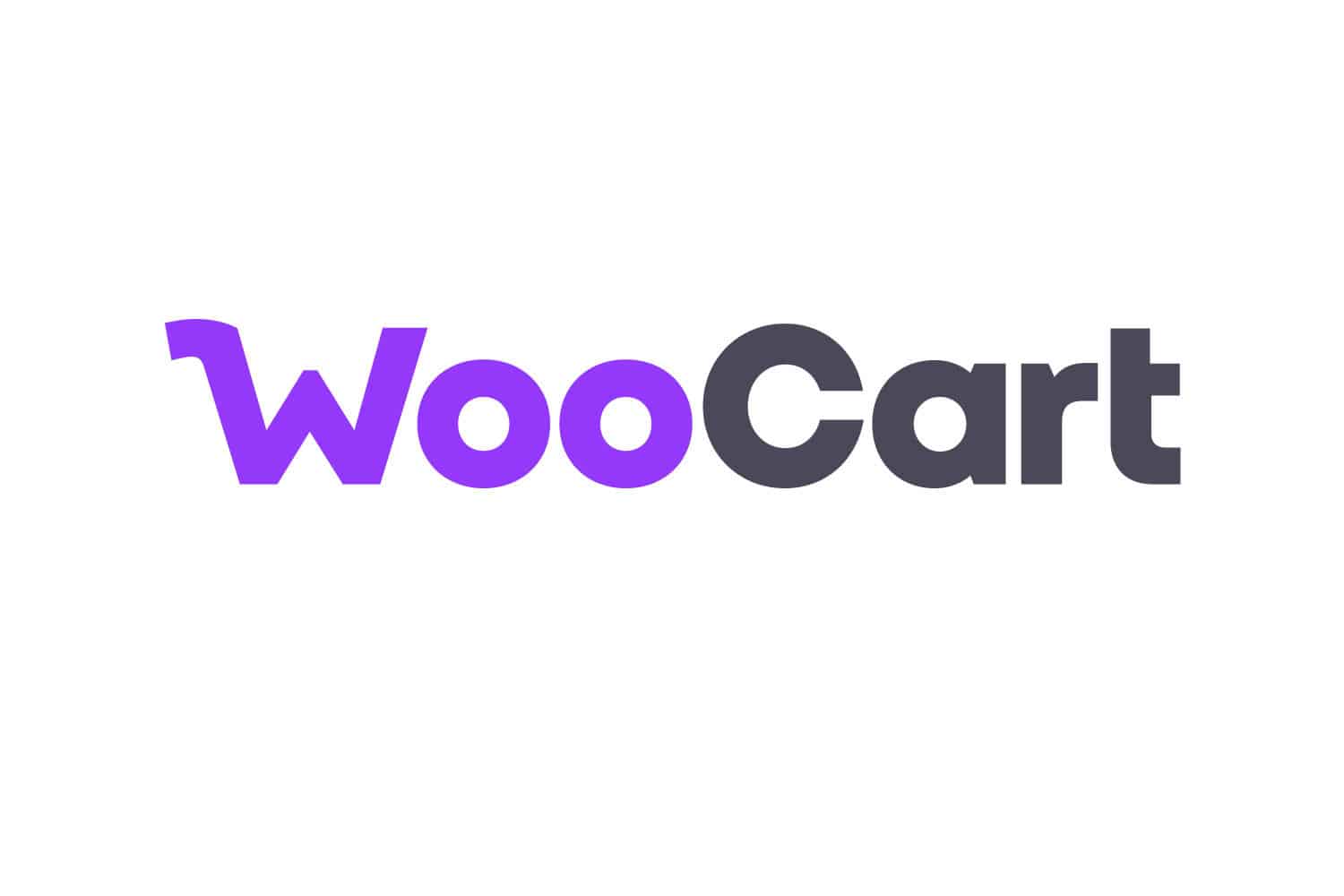 WooCart can help you with creating, hosting, optimizing, and ultimately, managing your store so that you don't have to go through any learning curve. Instead of wasting time figuring what on earth the hosting is, or how to update your site, you can focus on the statistic that really matters – what your audience needs, and how you are going to improve the sales.
Let's head on to the features, shall we?
Effortless WooCommerce
As this feature's name suggests, its purpose is to help you set up your WooCommerce store in no time and with as little effort as possible. With multiple different solutions that you will be able to find within this feature, you will see that building a proper store takes no more than a couple of clicks.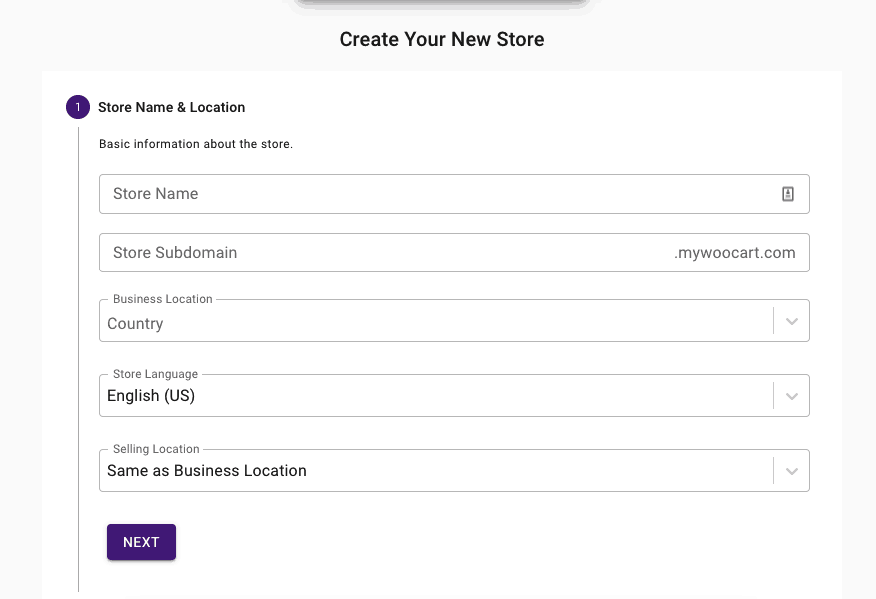 With WooCart, you will get a true wizard to help you out with setting everything up. Thanks to this wizard, you will be able to install WordPress without having to lift a finger. It will automatically install WooCommerce, too, to save you the trouble. It also helps with customizing the settings so that they match your country's requirements, such as currency, timezone, language, and many more.

Turnkey Store
Still, it wouldn't be of much help if it left you with a blank slate, now, would it? Turnkey Store will provide you with an instant online store. You can further customize it and edit the original configuration so that the end product matches your brand, style, and overall message you are looking to put forward with your store. Without any nerve-wracking, as it will take you a second to get a grip on this very user-friendly builder, which lets you accomplish all this within a couple of clicks, you will get a fully functional store with demo products in no time.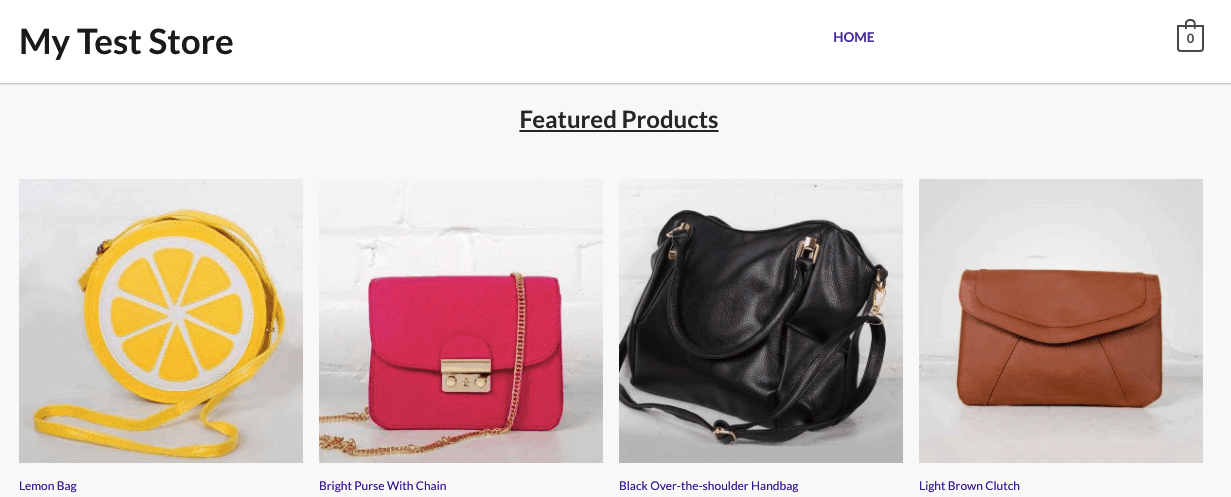 Incredible Speed
Everyone that says that speed doesn't matter is lying. Take yourself, for example. Would you dedicate waiting five minutes to do your shopping in an online store? Probably not. You expect it to load in a matter of seconds. Your visitors do too.
While there are many tips and tricks on speeding up your website, the key is in a good hosting provider. If you go with WooCart, unlike many other "WordPress optimized hosting promises", you will get a WooCommerce hosting. What does it mean?
It means that your store will get its dedicated server on Google Cloud servers, which guarantees amazing performance. It's where Google Search and YouTube are! What's more, the server has been optimized to run WooCommerce only, so the performance is unrivaled, and the maintenance is a piece of cake.
On the performance note
On the same note, with WooCart, you get KeyCDN powered CDN, which will help you smush your product's images and deliver them in a blink of an eye, without you having to lift a finger and do anything manually.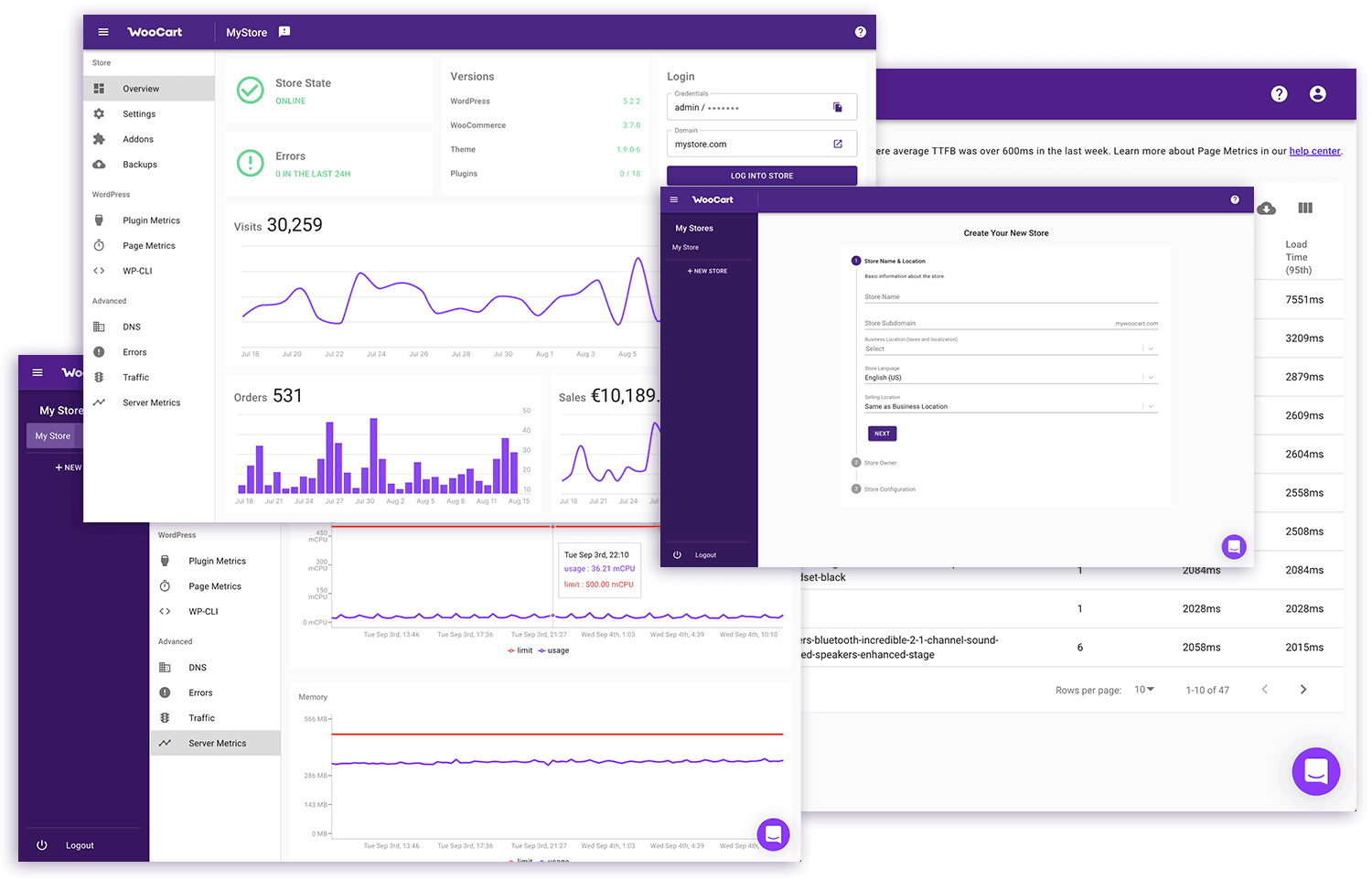 If anything on your website is loading slower than it should, you will get to know without having to search for it. This solution provides you with Page Metrics – a place where you can instantly, in no time, check which pages are performing poorly, and what is causing them to perform that way. It could be a poorly coded plugin or a feature that is not really compatible with everything else you've set up. Once you know the cause, you can take the needed steps to improve the speed even further.
Easy Testing
When speaking of making changes, the biggest mistake one can make is to make changes on the live site. It stands true for even pressing the "update" button! Especially those that are doing it for the first time. This is why you need a staging site, which is nothing more than a clone of your site, which is offline, and your visitors cannot see. In essence, it is the playground where you are allowed to experiment without doing any damage to your site.
For you to get a staging site for your site on WooCart, all it takes is a single click. Once you get it, you will be able to test new changes, update your site, add new features, or even try something entirely new without having to worry about its impact on your live site.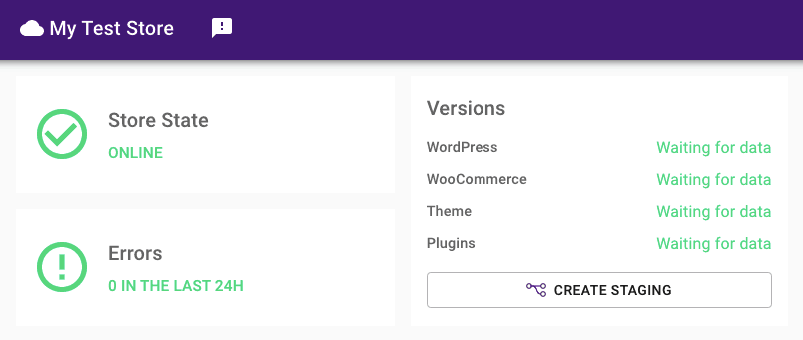 Even when you decide to hit publish on your new changes, you are still covered. WooCart will put your live site under maintenance, synchronize the new version with the old, and will publish your new site without you losing any data or customers. Perfect for beginners, but this is a feature that will even seasoned professionals find quite handy.
Simple Troubleshooting
You can set up everything yourself, and you can update and make changes whenever. However, if something goes wrong, another piece of good news with WooCart is – you still don't need a developer to handle the issues with your WordPress site.
With Simple Troubleshooting, you will be able to figure out what is misbehaving on your website on your own and fix common WordPress errors without spending any money or time looking for a developer to do it for you.
One of the most frustrating errors with WordPress is being unable to log into it! How do you fix anything when you can't even approach it? You use WP-CLI – the command-line tool, which can help you, with a single line of code, fix the troublemaking issue, and enable yourself back to your site. WP-CLI, however, does much more than that, as every developer would tell you. With a proper command, you can do almost everything on your site, instead of clicking on the available buttons.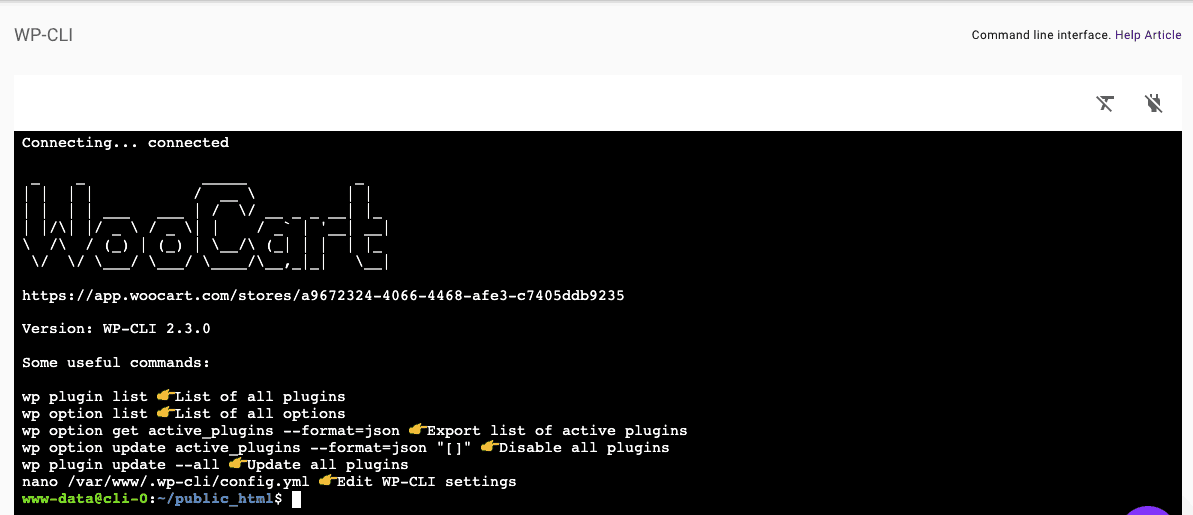 Error screens are another frustrating point of WordPress, as they leave you with the information that something is not right, but without any clue as to what. With WooCart, error screens contain IDs, so that you can find the mistake in the error log and fix it in no time. Error log saves a lot of time and effort to even seasoned professionals, so it will surely help you out in no time.

Free transfer
Do you already have a site with another host? Still no biggie. If you have noticed that your hosting option does not live up to its expectations, or is unable to handle the traffic to your site, you can still move to WooCart, completely free of charge.
What about security?
With WordPress websites getting hacked ever so often, and you are taking the client's money through it, this is an important question to ask. Still, the truth is, the security of your WordPress website is compromised only if you are unsure of what you need to do, so you don't do anything.
With WooCart, you get all the needed security set up for you. Let's get into more detail:
Free SSL encryption on every store
You will get the protection you need from any third party trying to eavesdrop on the information passed between your customers and your site with an SSL certificate.
No-hack guarantee
WooCart promises that your website is hacker-proof at all times. If misfortune happens regardless, they promise to clean it up for you.
GDPR compliance
In the era of GDPR, your site needs to be compliant as well, or you could be facing some serious trouble in court. WooCart preconfigures your site to ensure that it is GDPR compliant.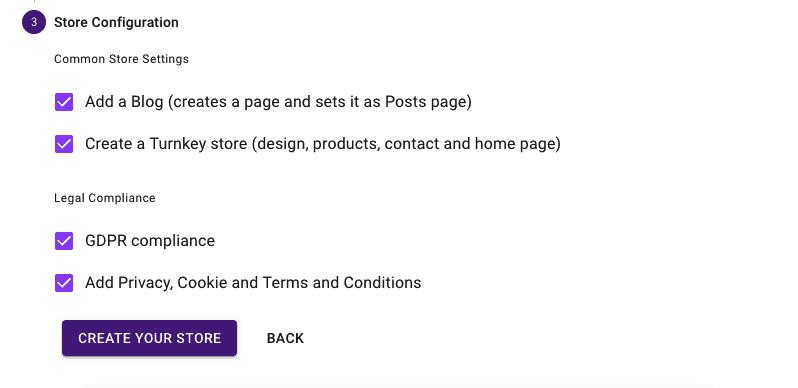 Daily backups
Even though you do get the staging site to play on and make a mess, daily backups are necessary in case of an accident. You need to know that the backup exists and that your site will be up and running in no time, even in the worst-case scenario.
One-click-login
With generic passwords being one of the main entering points for hackers, being able to login to your site through WooCart app prevents this opportunity for them.
Back to you
Overall, if you are looking to start making a living online with an eCommerce store, WordPress and WooCommerce are the tools you need to do it. With WooCart in the play, too, you will be able to start selling without breaking a sweat configuring or figuring any of it out.
With all the solutions you'll ever need to set it up and start selling, all you have to do is figure out which products you will be selling, and figure out your marketing plan. Sounds much better than your current job, now, doesn't it?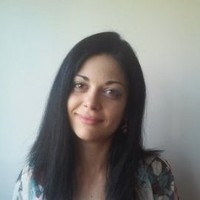 Latest posts by Vladana Donevski
(see all)
Where Should We Send

Your WordPress Deals & Discounts?
Subscribe to Our Newsletter and Get Your First Deal Delivered Instant to Your Email Inbox.
Thank you for subscribing.
Something went wrong.