Every website owner aims at getting more and more visitors, and that's not always easy. That's also the reason why we'll show you how to increase repeat visitors with a simple and cheap tool called follow.it.
Most visitors you get, only visit your page once, and after viewing the things they needed, they'll go away forever and probably never come back. When looking at statistics, around 70% of visitors that check out a website never come back to it, and as we all know, retaining visitors is key.
That is why we'll show you an easy way to make your visitors come back to your website.
Follow.it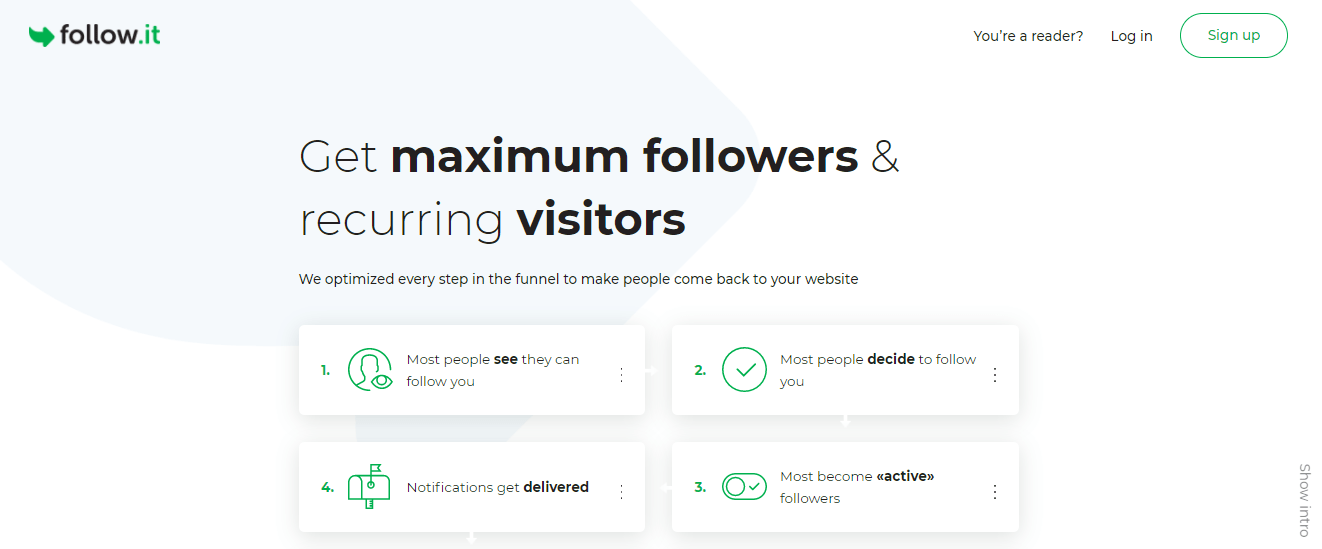 With over 100.000 websites using follow.it, you can be sure that you'll get lots of good features for a low price. If you are asking yourself "how does this tool even work" you'll have your answer in a second.
The first thing you have to do is type in your website URL into the field that you will be presented with, and after that, you'll have the freedom to choose how your subscription form looks thanks to follow.it's very well-designed custom subscription form builder.
With this builder, you'll have the ability to change everything from the overall size and color of the form to the custom text in the fields, which means that you can easily create a form that will perfectly match the design of your website.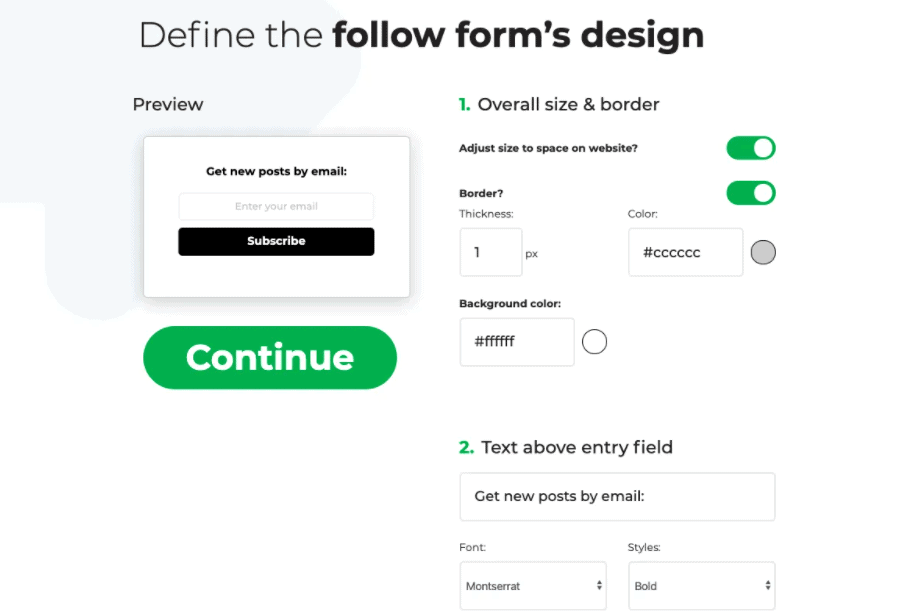 After you do all of that, your job is basically done. Follow.it will do all the hard work for you, meaning that most of the needed tasks are fully automated.
What's particularly good about this tool is the fact that they don't actually try to "bait" visitors into joining your subscriber list, but instead they give them an offer where they can choose what they want to follow, how they want to receive future updates, etc.
Now, if you are wondering what's happening on the other end and what people see after visiting your website, you shouldn't worry too much. Follow.it lets visitors of your website pick their own tags, keywords, authors, and even popularity preferences so they can tailor their experience and increase the chance of returning to the website.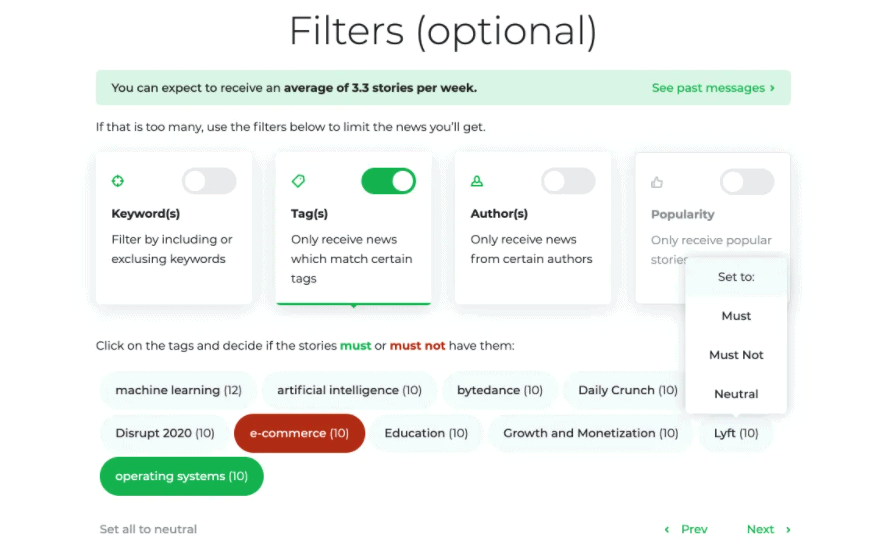 Besides that, your followers can also choose how to receive updates from a bunch of different ways such as email, news page, RSS feeds, and many more.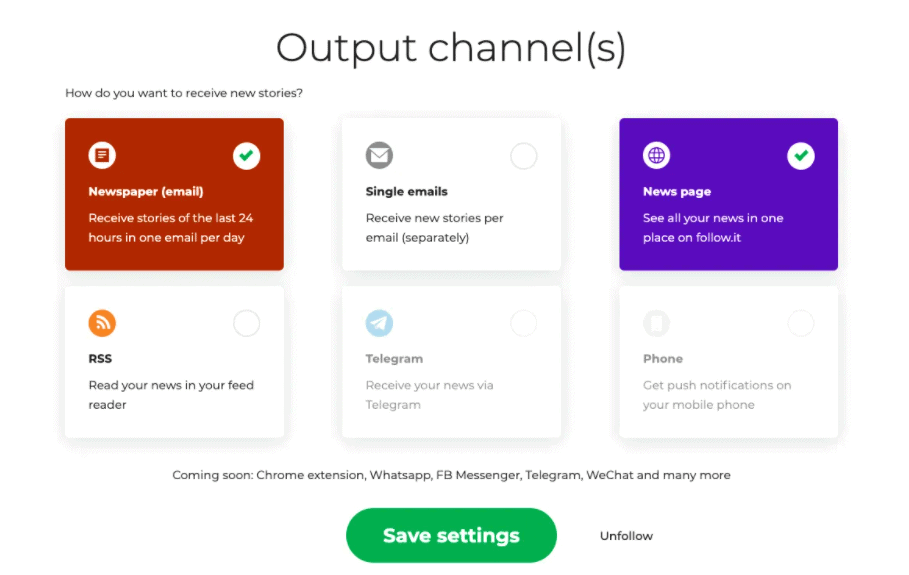 You might be getting worried now, thinking that your emails will probably end up in spam folders just like the emails of any other website that uses the same method, but it won't be like that thanks to follow.it's advanced sender reputation.
You'll also be able to use optimized delivery times and multichannel delivery which will maximize your chances of followers opening the email you sent them.
If we look back at the follow.it dashboard, one of the features we'll be able to see is the detailed analytics which will greatly help us with improving our ways of staying in contact with our visitors.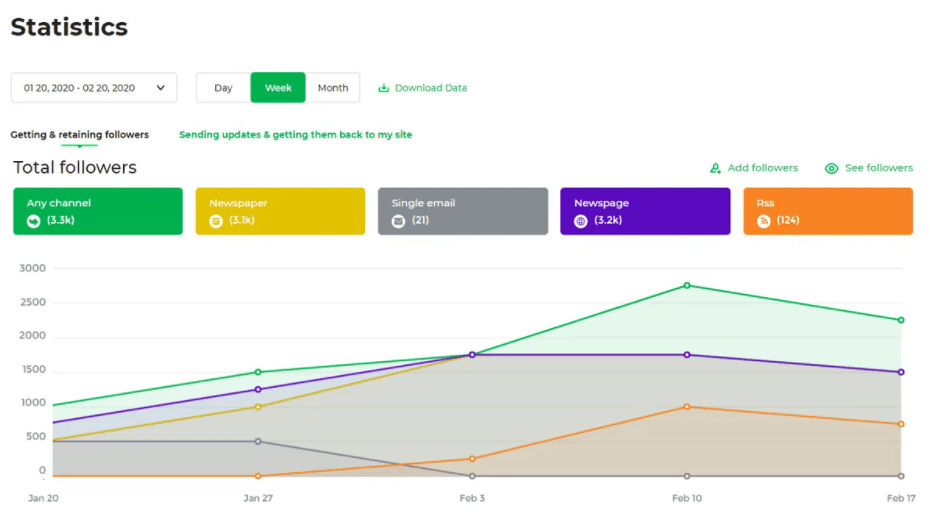 The stats that we just mentioned will segment subscribers by channel so you can see where your audience is. Also, there are sent message statistics that will show you how many people actually came back to your website.
Another good thing about this tool is the fact that it supports multiple languages, meaning that you won't see any problems even if your website is not in English, which is a big plus in my opinion.
This tool also works flawlessly with other plugins such as Shariff Wrapper so you don't have to worry about one plugin messing the others up.
So in a nutshell, with follow.it, we can deliver new messages via lots of different channels, do feed filtering, access followers' emails, import followers, set up alerts, make custom forms, do all of that in lots of different languages.
That's pretty much everything one would need in a tool of this sort, but what about the price?
Pricing
Since all good tools come with a price, follow.it does too.
The bare-bones plan is absolutely free but we recommend buying one of the other plans because, in them, you'll get features like access to statistics, ability to define redirects, alerts, subscriber support, and much, much more.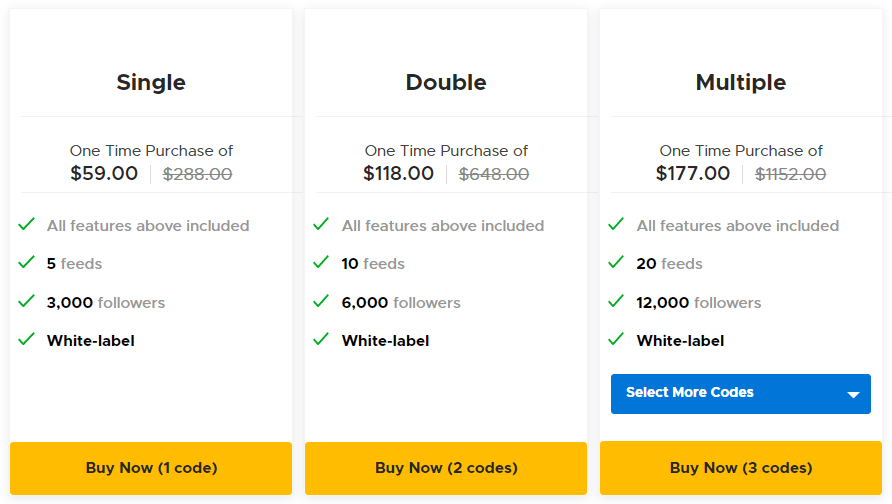 The basic plan comes in at $59.00 as a one-time purchase, and it will give you all the features we just mentioned along with 5 feeds, 3.000 followers, and a white-labeling option.
Besides the basic plan, there are also the double and multiple plans which come with an increased feed and followers count. And in case you are not satisfied with the tool after buying it, you are guaranteed to get your money back if you ask for a refund within your first 60 days of usage. You can refund your money for any reason you may have.
We also have to mention that all of this is GDPR compliant, so you won't have to worry about any legal problems.
Conclusion
If you are a website owner who is looking to gain more visitors and have them come back often to your website, don't look any further. Follow.it is an excellent tool that gives you features like delivery via all channels, feed filtering, importing followers, and different language support for a pretty cheap price.
Whether your website is small or big, using follow.it won't do you any damage and will help you at least a bit when it comes to gaining followers.

Latest posts by Editorial Staff
(see all)
Where Should We Send

Your WordPress Deals & Discounts?
Subscribe to Our Newsletter and Get Your First Deal Delivered Instant to Your Email Inbox.
Thank you for subscribing.
Something went wrong.