When you're looking to start a new site, or even raise an existing one to the next level you'll be looking to advance in multiple areas. Naturally, the first thing is the quantity and quality of the provided content – without this, there is really no reason to change anything. The second thing is the technical aspect, while the third part would be premium content (whether individual content or as a subscription).
Here, we'll be focusing on the second part of the equation, more specifically the hosting service. Although content is the most important thing of a site the underlying platform and infrastructure mustn't be overlooked. No matter how good the stuff you're putting out is if you and your visitors/members are constantly badgered by bad tech that leads to bad performance your visitor numbers will plummet.
When considering the platform one name jumps in front of the line, the most widespread and commonly used site management platform – WordPress. It's open source, it's free and you'll have practically innumerous plugins to help you enhance your site in various ways. If you opt for using WordPress, you'll need a hosting service which is compatible with the platform and precisely this is what we'll be talking about – Managed WordPress, a hosting service that's part of Liquid Web's service package.
What you're getting with Managed WordPress from Liquid Web
Before getting into how everything works from the backend on your part, lets first see why Liquid Web Managed WordPress Hosting is so good and what sets it apart from the rest of the pack.
Normally we wouldn't mention anything regarding financials right of the bat when considering the benefits of a service like this. However, one of the defining traits this Managed WordPress provides is generally totally opposite of what other providers are giving. Namely, there are no charges in any payment plan based on page view counts or traffic in general. This is exceptionally rare and is extremely cost saving compared to others where you do have limits. Those extra funds can, therefore, be used for improving other facets of your site.
Since we're already touching the financial side of the hosting endeavor it's important to note the price plan upgrade frequency or the lack of it in this case. If you're running a commercial site that generates revenue, chances are that you've been in a situation where your hosting provider has encouraged you to upgrade your plan as your revenue grew. The method in which way you can be approached on the subject varies from a benign suggestion on one end to speed and/or data limitations on the other. It's then good to know that if you're using this hosting service you'll never be pressured in any way to change your price plan. If you feel that it's time to upgrade, it's going to be solely your choice.
When we're already speaking of financials and pricing so much you should really check out the complete pricing plan.

There are essentially four tiers, with both monthly and annual payment options, with the annual options providing lower costs on a per month basis.

The great part is that aside from the iThemes Sync feature (that isn't included in the first tier) all others differ only in the number of sites, with all other features present no matter the tier. Again something not all hosting services provide.
It's also good to point out that migration to the service is free, so if you have a site that's already running on another hosting service you can transfer it for no cost and without any meaningful downtime. You're informed of every step taken through the migration process, but don't have to actually do anything manually, everything is taken care of for you. For sites that deal with daily relevant content, this could prove to be essential.
Moving away from the financial aspect you will want to know of all the options that open up for you with this service. You'll be glad to know full access to both the server and database is granted in full. The hardware those servers are using are all in-house. The data centers aren't outsourced and therefore they can be intensively monitored for optimal performance. Doing it this way they can guarantee lightning speeds thanks to technologies like PHP7, SSL, and Nginx alongside that extra bit of stability.
Features such automatic daily updates (kept for 30 days) and a staging site for tests are primarily targeted towards sites that are constantly in flux both with content they're putting out and software they're using. Basically the more you find yourself changing aspects of your site either fundamentally, or just on the surface, it's good to know you can always test it out first and, in worst cases revert back to an older build. Even those developers who are more involved than your average user are covered with access to tools such as SSH, Git, and WP-CLI. In other words, go nuts, there is a safety net to catch you if you stumble.
Aside from these, there are a couple of features that are common nowadays with providers like automatic SSL certificates and an enhanced support system. However, there is a tiny twist here as well. The SSL certificates are free of charge and the support team is off the charts. Managed WordPress provides 24-hour support 365 days a year by phone, email, and chat. Sooner or later you will encounter some problems, there is just no way around it – nothing is perfect. Because of this, it's imperative to have a fast and efficient support structure and staff in place in order to resolve any and all issues.
Working with Managed WordPress
As most platforms nowadays you'll be working from a Dashboard that will represent the hub for all your actions. The first thing you'll encounter when starting the platform is a display of all your sites where you'll be able to access them all in one place.

Upon entering the site management page you'll be able to oversee various site information as well as make certain changes in how it will be operated.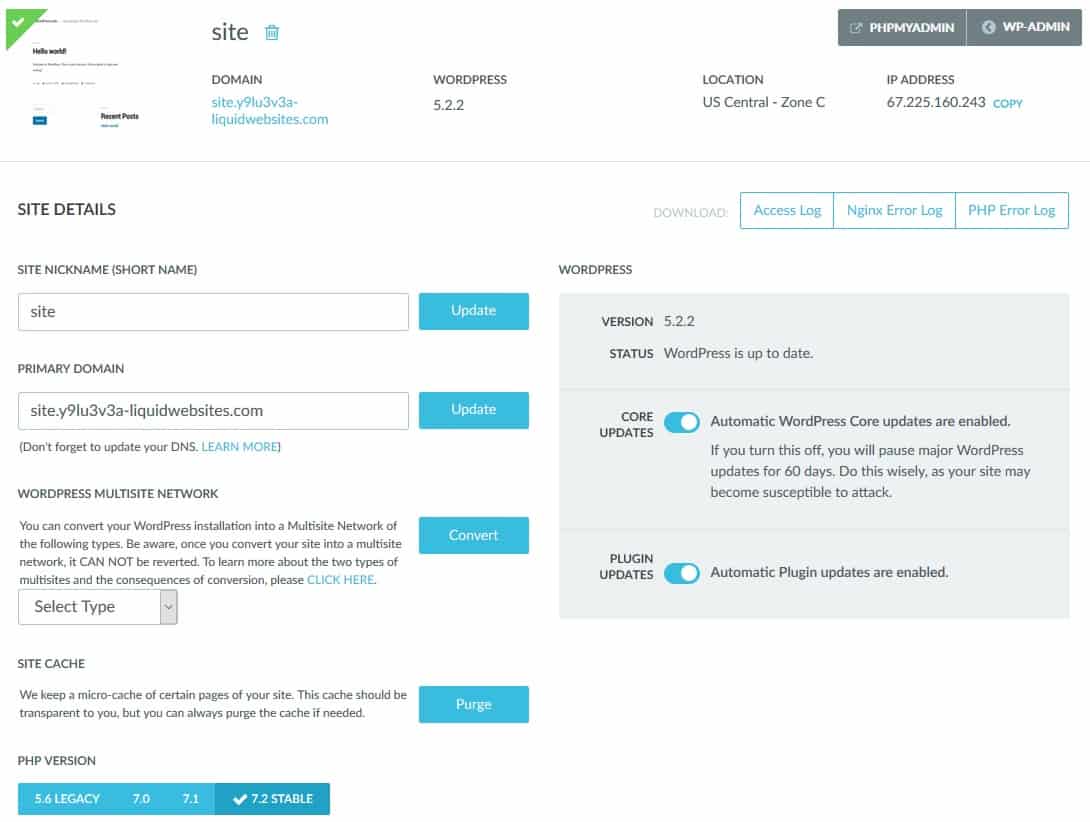 The thing that jumps of the page here is the update options, which are also one of the selling points of the whole hosting service. Namely, with Managed WordPress you'll be able to activate automatic updates for both official WordPress and plugin updates.
If turned on this means that you'll never again be using outdated software that can conflict with your work. The checks are done on a daily basis so everything us truly always up to date all the time. We've found this feature to be so helpful it's really a surprise other services aren't providing a similar feature. It lightens your load a great deal as you'll never be greeted with a notification that 17 updates are available when accessing your site from WordPress.
Along with the super useful automated updates, you'll also be able to add and/or change certain passwords for both frontend and backend users, create tags to better identify your sites and add stencils of your sites that can then serve as templates for any future sites you'll add to the service.

Moving right along the site menu, we get to set domain options, specifically alternate redirects you want your site to lead to in case you want your visitors to check out additional content. You'll be able to add multiple optional paths if you choose.

We've already touched a bit on the possibility of a staging site where you'll be able to create a testing ground for all your ideas and this is where you'll be doing just that. Before doing any major changes be sure to test them out here first to avoid any unnecessary complications regarding functionality.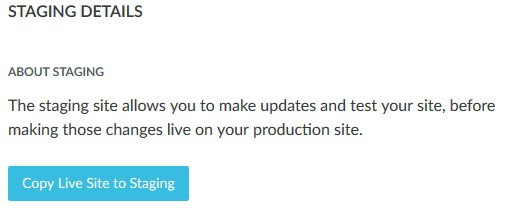 Don't worry if you do mess up something since you have the page backup as a double safety feature. Just like the automated updates, these are also done daily in order to keep the backups as up to date as possible preventing any unwanted data loss that occurs when reverting to a previous backup point.
If for any reason you want to make additional manual backups you'll be able to do that too at any point. All backups (regardless of creation) can be downloaded if the need should arise or if you just want copies of your old backups (older than 30 days).

The final site-oriented feature is the visual comparison where you'll get to see a screenshot of your site from the frontend before and after the automatic update of your plugins has been done. This represents a quick and easy way to see how your site reacts to the changes from a visitor's perspective and enables you to promptly change anything that might need to be addressed.
Support
We would not be making our due diligence if we didn't mention the exceptional support staff and support section in general. Again, issues are unavoidable in the long run and can quite commonly be out of anybody's hands, meaning there was no way to predict a specific problem before it actually happened.
You as a user of a service like will be able to sleep soundly knowing that whenever any kind of problem occurs there'll be someone ready to take care of it the moment you call/write. Aside from the fact that a live person is available to you 24/7, you'll find extensive guides and documentation to work out most of the little kinks on your own without even having to contact support.

You'll quickly find that within the knowledge database essentially everything is covered, from beginner's guides for those just starting out, through guides for specific aspects of their products, to a FAQ section where you'll find an answer in a matter of moments.
Finding the help you need on your own for smaller issues will not only be faster most of the time, but your own knowledge will grow and you'll be able to resolve more complex situations in the future.
Summary
The main things you should be looking for when deciding on a hosting service is speed, stability, and support. With Managed WordPress you'll be getting all of that and then some. The data centers aren't outsourced, so they can be constantly monitored to ensure top speeds, to go along with hardware stability.
Everything you do is backed up daily, so there is no risk of losing content and you even have a test site provided for when you're making bigger changes. You won't even have to bother with WordPress and plugin updates with the automatic update feature enabled. All of this guarantees that your site will always be up and running. Finally, the support is without a doubt one of the very best in the business with highly professional staff available to you at all times.
Taking everything into account there really isn't a reason why you shouldn't be using Managed WordPress as a hosting solution for your site(s). Also, don't forget to check & get info about the best hosting providers here.
Latest posts by Matej Milohnoja
(see all)
Where Should We Send

Your WordPress Deals & Discounts?
Subscribe to Our Newsletter and Get Your First Deal Delivered Instant to Your Email Inbox.
Thank you for subscribing.
Something went wrong.