"The tools you need to grow your business shouldn't put you out of business."
That's the mission at AppSumo, a deal site for entrepreneurs, freelancers, marketers, agency owners, and all-around hustlers.
It's kind of like Groupon but for lifetime deals on B2B software tools.
Sounds interesting, right? But it gets even better.
Recently, AppSumo has greatly expanded its WordPress tools game. In the past, they had various WP tools come through their site like essential addons for a popular page builder.
But now they have a page in their store dedicated to lifetime deals on WP tools.
While these deals are exciting, there is a catch: they don't last long. Each lifetime deal stays on the site for two weeks (or until it sells out). The most popular deals have a tendency to do the latter.
Pro tip: You can subscribe to the WP deals page (linked above) to get the latest plugins, themes, tools, and addons in your inbox — before they're gone.
So… what kind of WordPress tools are we talking about?
AppSumo WP Lifetime Deal: WP Scheduled Posts
Let's do a deep-dive into a useful tool that is currently available on the AppSumo site: WP Scheduled Posts.
WP Scheduled Posts is an editorial calendar plugin that helps streamline your content strategy and optimize productivity for your WP content ops.
If you have an extensive WordPress publishing operation or manage a team of content writers, this tool was made for you.
This drag-and-drop editorial calendar plugin helps you stay on top of your content team — and visualize your entire content strategy.
If you're the kind of person who publishes monthly daily, this tool might be the only thing standing between you and editorial nirvana.

Here's the quick TL;DR (too long; didn't read) summary from AppSumo
This tool was designed to help you:
1. Easily manage posts in the editorial calendar
WP Scheduled Posts simplifies the planning, creating, and scheduling of blog posts on your WordPress site. You can easily see and manage all your content in the Schedule Calendar view.
Create, edit, and move posts with this easy-to-use drag & drop tool. Drag drafts into the calendar to schedule them. Want to bump an article to next week? No problem.
2. Save time by editing content in the calendar view
Streamline your editing workflow and save time by editing a post's title, content, or photos in this view. No need to find "Edit post" and wait for the page to load, then add photos and click "Save draft," etc.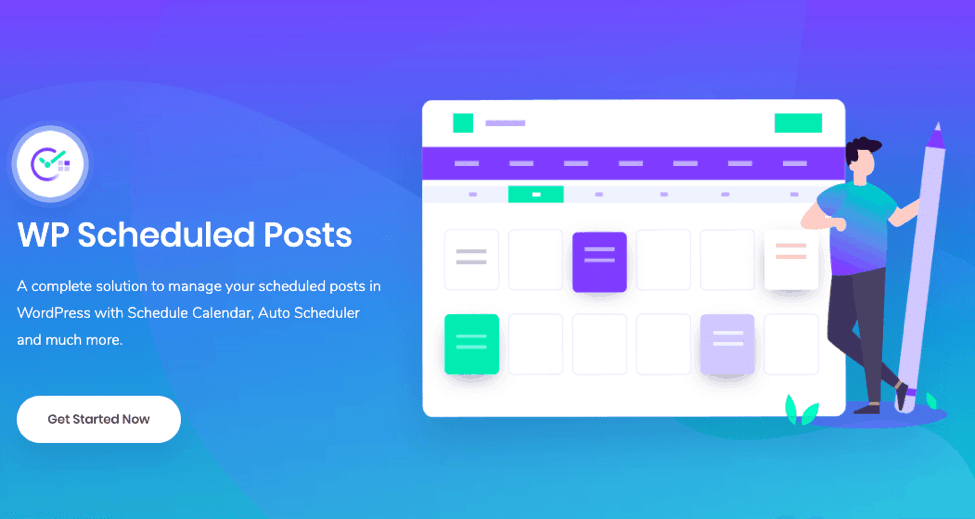 3. Plan content out ahead of time
One of the biggest benefits of this tool is that you can plan your content and schedule hundreds of posts ahead of time by specifying the time and date you want the post to go live.
Set it and then forget it. (Finally, go on that vacation that you've been dying to take!)
WP Scheduled Posts will automatically publish content for you. This can be a game-changer for teams who are still flying by the seat of their pants to get content published on time.
Get ahead of your content with this easy visual tool. 
4. Automate publishing
Schedule your WordPress posts in advance and visualize when posts are going out across days, weeks, and months. There are two different options for publishing your WordPress articles with WP Scheduled Posts.
When you normally go to Settings, where you publish posts immediately, you'll also have access to a WP Scheduled Posts tab.
Once there, you can select either the Auto Scheduler or the Manual Scheduler option. Here's the difference:
Auto Scheduler – This option is better for a more hands-off, automated process. Start by selecting your time zone, determining how many posts will go out on each day, and setting publishing time preferences.
Then when you're scheduling your next post – boom – WP Scheduled Posts will automatically show you the next available time slot.
Manual Scheduler – If you want more control, go for the Manual Scheduler. With this option, you'll select the time you want your posts to be published every day.
If you want, you can toggle the Activate Missed Schedule option to ensure a post will never go unpublished.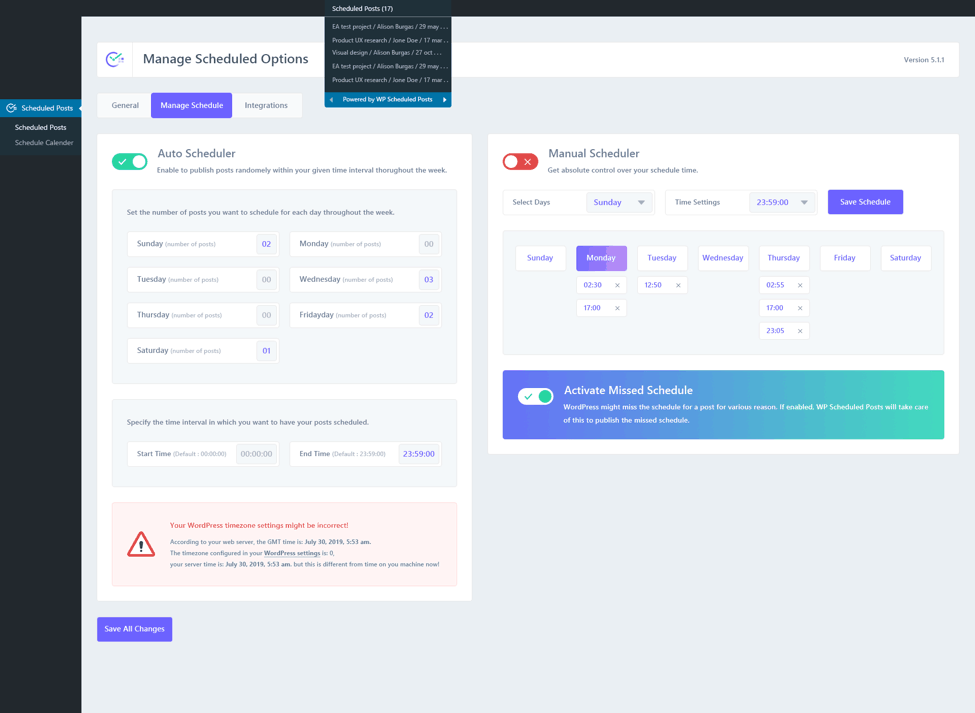 5. Instant social media sharing controls
Cut out the middlemen: WP Scheduled Posts integrates directly with Twitter and Facebook.
Once you set it up, WP Scheduled Posts will automatically share posts on your social media feeds. No need for third-party websites or another tool to do the auto-sharing on Twitter or Facebook.
6. Avoid missed schedule errors
When you schedule a WordPress post, that means your content will go live at a designated time… right?
But in WordPress, sometimes there's a problem and they slap you with the Missed Schedule Error. Another notification? Booo.
Because this plugin comes equipped with a Missed Schedule Handler, it will deal with any Missed Schedule Errors — so you don't have to.
7. Manage all your authors in one place
Keeping track of an ambitious solo content calendar is complicated enough, but throw in multiple writers and you definitely have some juggling to do.
WP Scheduled Posts will help you quit the spreadsheets and manage your posts with a convenient month over month view of all your content by all your writers.
8. Get a quick overview in the WP dashboard
This tool's Admin Bar and Dashboard widget give you a full view of your content so you can see the status of every post right in your WordPress dashboard.
Cut the crazy of your editorial workflow with this intuitive tool.
Coupon code not required, just open the link to learn more and get a lifetime deal on this helpful plugin from AppSumo:
Go to Deal – WP Scheduled Posts
What do you think? Let us know in the comments below or visit the deal page to see what Sumo-lings (folks in the AppSumo ecosystem) are asking, commenting, or revealing about this tool in the reviews and Q&A section.

Latest posts by Editorial Staff
(see all)
Where Should We Send

Your WordPress Deals & Discounts?
Subscribe to Our Newsletter and Get Your First Deal Delivered Instant to Your Email Inbox.
Thank you for subscribing.
Something went wrong.