Your priority as an eCommerce store owner is to build a sustainable online business that is both long-term and profitable. However, 90% of the eCommerce store owners fail in the first year and close their stores for good. The reason for the closure? These stores were not successful.
"Profit is what happens when you do everything right" – Yvon Chouinard.
Ecommerce, just like any other business, is a profit-focused business. However, to become one, it needs a few checks that, if aligned correctly, will lead to the success of the store and, therefore, more profit.
What do Ecommerce Stores want?
Store owners face struggles on a regular basis while managing their eCommerce stores. We have found some common problems that almost all store owners face. Based on these patterns, we have prepared a list of pain-points that, if addressed properly, can increase the success ratio of these eCommerce stores.
– Security
Every store owner wants to keep their online business secure from hackers and cyber perpetrators. Last year, almost 380 million stores were hacked in the USA alone. This number will have been even bigger if we consider the eCommerce stores operational in other countries. We can say that security is one of the biggest issues that eCommerce store owners face.
– Scalability
The second biggest issue of any eCommerce store is scalability.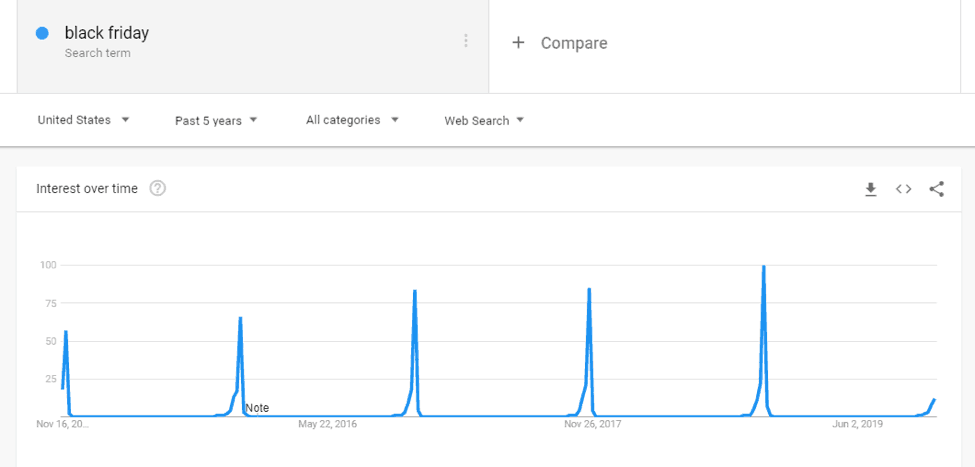 Screenshot of search term 'Black Friday' on Google trends
If you look closely at the pattern of how an eCommerce store receives traffic, it is mostly similar to the typical progress graph of any company. There are crests and troughs: the good days and the bad days. And then there are the spikes. During traffic spikes, an average eCommerce store can get almost four times the traffic that it usually receives regularly. As most of these stores are on shared hosting, their websites go down during traffic spikes, and they are unable to reap the benefits for their efforts.
– Better Management
Managing an eCommerce store alone is a daunting task. Most small business owners who operate their stores individually have to manage the hosting of the store as well. This means upgrading the caches, eCommerce platform versions, and taking care of other resources. This takes away most of the time that they could have spent in managing their eCommerce stores.
– The desire for Autopilot Mode
Although technology now exists that can help eCommerce store owners run completely on autopilot, even then store owners have to manage the logistics and operations side. Now, if a single person is managing the store, handling the marketing and management of the store will be difficult for him.
What Is the Solution? A Better Hosting
We observed that most of these solutions are linked to the type of website hosting they use. Most eCommerce stores are using shared hosting service, which is low cost but unscalable. Some of these stores are using VPS servers, which is scalable, but unmanaged and expensive.
So, what is the solution? Is there a cost-effective hosting solution available for eCommerce stores? The answer is Yes! A managed cloud hosting solution. A managed hosting solution will take care of the online store's servers, including the updates and everything that requires management. This will allow store owners to focus on what they do best, i.e. grow and scale their eCommerce stores.

Introducing Cloudways Managed Ecommerce Hosting
Cloudways is a managed hosting platform that provides its users with complete peace of mind by managing their servers so that they can focus on the operational side of their business. It is a completely scalable hosting solution that is both fast and secure. Users can start hosting multiple websites on a single server for as low as $10/month. 
The  list of problems Cloudways can solve include:
Helps Deal with Peak Times
Consider a single Cloudways server as a stretchable basket. You can add an unlimited number of items to it, and it will have space for more. Just like that, you can add an unlimited number of products on your eCommerce store hosted on Cloudways, and it will always have space for more. You can even scale your server through the vertical scaling option. You can add block storage to your server – all with the click of a button.

You will want your eCommerce store to remain online at all times so that your customers can visit it at any time of the day and make a purchase from your online store… Cloudways lets you do that. It creates backups of your data on different servers across the datacenter. This means the whole data center acts as a single unit. Even if one server goes down for some reason, your website will remain online. Moreover, CloudwaysBot will inform you regularly about the changes within your website. Hence, if, for any reason, your website goes down, you will be the first one to know about it through the CloudwaysBot.
On Cloudways, launching an eCommerce store is as easy as pressing the right-click button on the mouse. Cloudways offers a self-explanatory Graphical User Interface (GUI). You can launch the platform with a single click and then select your apps such as WooCommerce, Magento, Drupal, WordPress, or any other option of your choice. The launch process takes only five minutes to take your website live.
Security is one of the most pressing issues for an eCommerce store, and that is why Cloudways offers a FREE SSL Certificate for all. Cloudways users also get two-factor authentication, IP whitelisting option, and DDoS protection through Cloudways CDN. Moreover, Cloudways isolates all apps so that even if one app is compromised, all other data of the user remains safe. Users can also add team members through the Team Role feature offered by Cloudways. It allows them to delegate server management to other members of the team.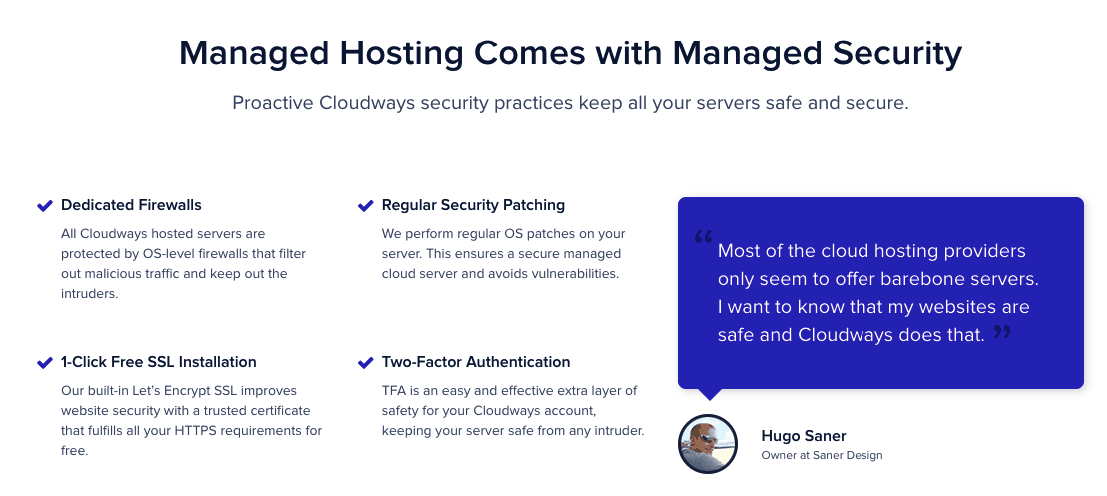 Users can count on Cloudways for all their hosted websites. Cloudways is already hosting hundreds of websites of multiple developments and marketing agencies. These agencies rely on Cloudways because of the freedom and flexibility it offers.
There isn't another managed cloud hosting platform that offers as many features as Cloudways does. There are a few 'managed' hosting solutions available, but either they lack the features Cloudways has, or they are just too expensive. With Cloudways, users can host their websites on any of the five infrastructure providers, including DigitalOcean, Linode, Vultr, AWS, and GCE. Moreover, users can launch a dedicated server on Cloudways.
The biggest pain of eCommerce store owners is to manage their servers. Not all store owners are tech-savvy. That's where Cloudways managed hosting services come in handy. Cloudways support staff handles the server-level errors, keeps their apps and resources updated, and provides them with real-time reports about the health of their servers.
Even if you search for a 'dedicated cloud server' on Google, you won't find a server that is available for less than $50. These servers are far more superior than dedicated servers because they are decentralized. This means they offer more uptime, better security, enhanced speeds, and are better equipped to recover from disasters. If that isn't cost-effective, then what is?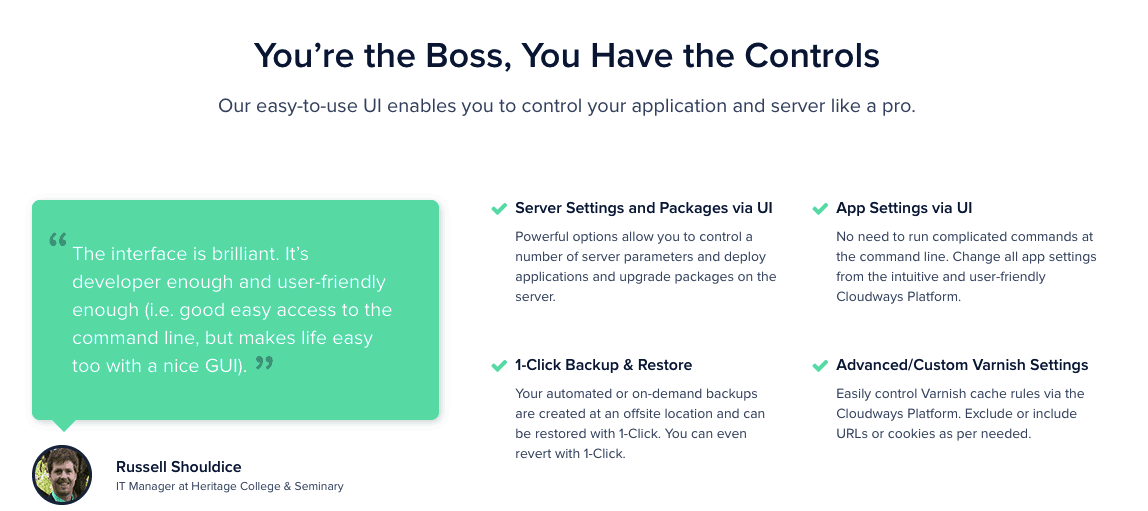 Data is essential for the success of any business, and the same goes for eCommerce. That is why Cloudways keeps a backup of all your data regularly. Even if you delete a server hosted on Cloudways, their support team will keep a backup for 15 days minimum. This practice ensures data integrity and protects your data from unnecessary loss due to human or machine error. Cloudways also offers to deploy an application directly from GitHub.
Is Cloudways the Best Ecommerce Hosting Solution?
As per our observation, Cloudways managed hosting solution fixes all the problems that eCommerce store owners tend to face related to server management and hosting. It provides them with more scalability, easier management, faster speed, better deployment options, flexibility in work, and, most importantly, room for focusing on their actual business.
Therefore, YES! Cloudways is the best eCommerce hosting solution for anyone who is looking for complete peace of mind.
Latest posts by Sajjad Shahid
(see all)
Where Should We Send

Your WordPress Deals & Discounts?
Subscribe to Our Newsletter and Get Your First Deal Delivered Instant to Your Email Inbox.
Thank you for subscribing.
Something went wrong.