WordPress is by far the most popular content management system in the world, powering almost 30% of all websites. The platform is simple and full of helpful tools that allow users to continuously improve websites. But there is a catch – there are almost 55 thousand WordPress plugins currently available.
Janice Farrell, a web design specialist at Best Essays, recently noted: "With so many tools with helpful but limited functions, website optimization becomes a complicated and time-consuming process. The only solution is to find an all-around plugin to cover the majority of features".
This is now possible with Coming Soon PRO Plugin.
It's an intuitive and easy-to-use tool that saves your time by offering an incredible variety of themes suitable for every business. If you've been struggling to find that one plugin to make your job easier, you should check out Coming Soon. Here are some of the features that make it so good.
50+ Professionally Designed Themes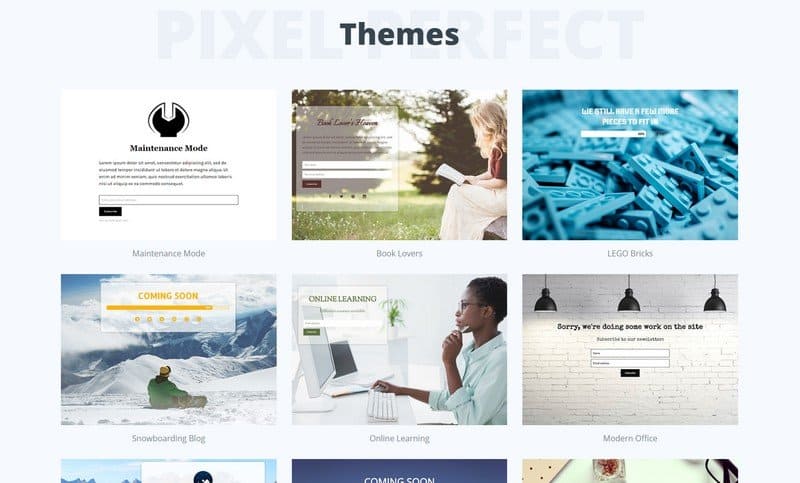 Coming Soon PRO gives users the opportunity to choose between more than 50 ready-to-use themes. All of them are crafted by professionals to match the standards of modern design, while you can also customize each theme so as to fit the style of your brand and its color scheme.
You can preview an entire list of themes and activate them from the plugin – it doesn't require extra downloads. If you choose a PRO license, you can count on 20 themes more. The purpose of such a big theme gallery is to avoid uniformity and provide users with different styles, branding ideas, and design solutions.
More Than 400 Thousand Free Images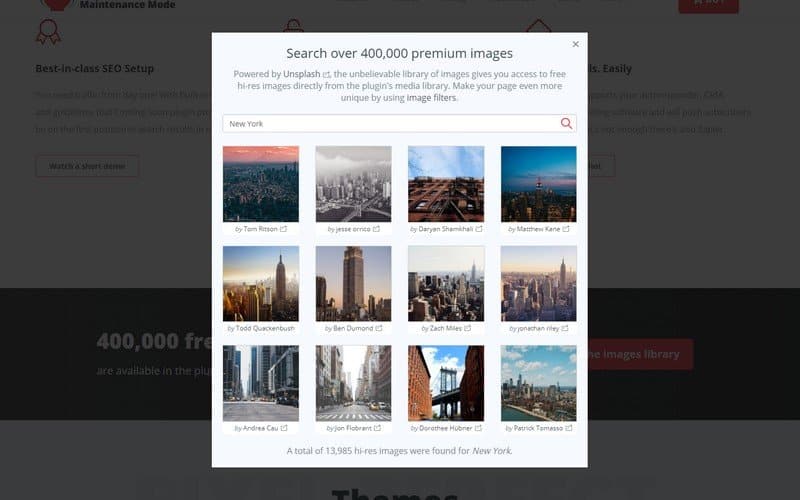 Coming Soon PRO has a large selection of high-resolution images that you can access directly from the plugin's media library. It consists of more than 400 thousand photos, so it's almost impossible not to find a nice option for your website. But even if you don't find an appropriate visual, you can upload one of your own photos.
You can navigate through the gallery to look for specific image themes. When you type in the search query, Coming Soon will display the number of results related to the search. You can choose from a static image background or animated video background.
You can play with background dimensions to display in original size, resize an image so it's fully visible, or cover the entire screen. The settings leave 9 predefined positions for background images, while you can also choose any background color to replace images.
Easy Access for Clients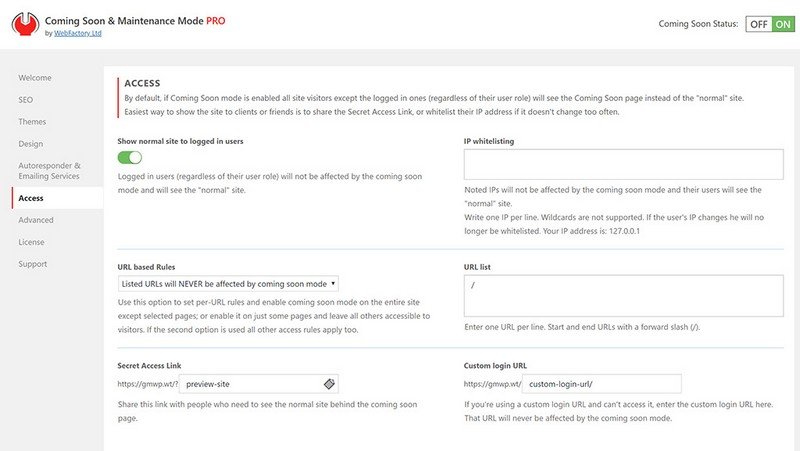 According to default settings, all site visitors except the logged in ones will see the Coming Soon page instead of the regular website. But you can reveal the real page to your clients by sharing the Secret Access Link to preview website.
Another option is to add clients' IP addresses to the whitelist. That way, selected IPs will not be affected by the "coming soon" mode and users will see the normal site. The only thing to keep in mind here is to write one IP per line and to let clients know that they won't be granted access in case they change IP addresses.
Coming Soon PRO also allows you to arrange the social media preview of the website. In case you don't want the "coming soon" page preview to be cached by Facebook and other social networks. You need to enable the option "Send no-cache Headers". As soon as you switch to the normal site, social media preview will be refreshed. Normal visitors won't notice any differences with the option enabled.
Best-In-Class SEO Setup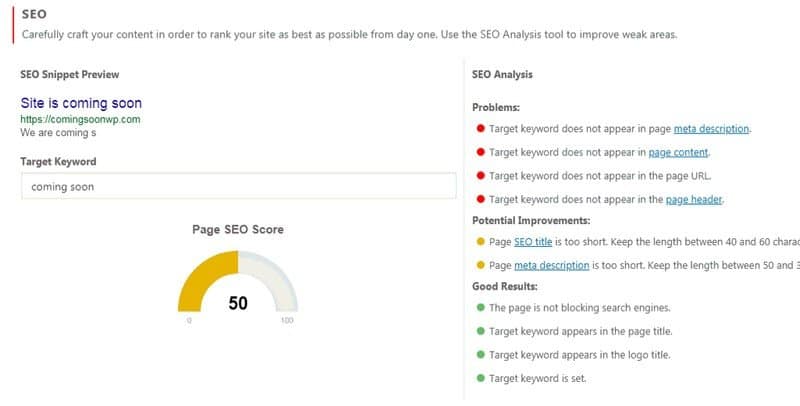 Coming Soon PRO is a real gem among WordPress plugins when it comes to search engine optimization (SEO). It has a number of features that give you the possibility to analyze the current SEO potential of the website and to give you inputs on how to improve it.
Here is the list of the most useful functions:
SEO Snippet Preview: It provides a real-time preview of how the site will look in Google's search results.
SEO Analysis: Coming Soon PRO runs over 20 tests on various aspects of your SEO and provides actionable advice. It suggests how to create a keyword-rich title and the corresponding meta description.
Exclude Search Engines: Using this option, you can show the normal site to search engines despite the fact that the "coming soon" mode is enabled.
Block Search Engines: There is also the possibility to completely blocks search engines by sending a "503 Service Unavailable" response.
Favicon Image: It shows a custom image in peoples' browsers.
Social Preview Image: You get to see the preview of your site displayed on social media.
Google Analytics Tracking ID: Coming Soon enables you to monitor and measure website performance with Google Analytics.
More Coming Soon PRO Features
Besides the 4 most interesting features, Coming Soon PRO has a set of other functions that provide users with simpler and more efficient WordPress website optimization. Design features are particularly useful because they allow users to play and get creative with page layout, logo, maps, headers, content, etc. The latest feature even allows you to animate the content on page load meaning your logo and title can bounce or slide in. Amazing!
There are also auto-responders, emailing services, and subscribe forms. While you can always rely on the plugin's built-in support for to troubleshoot potential problems. With all these features available. It is no wonder that most clients consider Coming Soon PRO to be the easiest and most intuitive plugin to hit the ground running for any site in development.
You can always start with the free version, and don't forget to check out the live demo of the plugin. What do you think about Coming Soon PRO for WordPress?
Latest posts by Warren Fowler
(see all)
Where Should We Send

Your WordPress Deals & Discounts?
Subscribe to Our Newsletter and Get Your First Deal Delivered Instant to Your Email Inbox.
Thank you for subscribing.
Something went wrong.