If you have a website, you should also have an email newsletter and campaigns. But when you have to write a thousand emails every day, it might be good to think about integrating an email plugin that will do the work for you. I'm sure you don't want to spend precious time creating and managing emails manually.
An email newsletter is essential for your business, not only because it is a simple way of distributing your content, but also because it can help you understand what kind of audience you have and what you want your target audience to be. It can also help you attract new customers, generate paying customers, and increase your revenue.
When choosing an email plugin that you want to use for your business, you have to look for one with features that can give you the most benefits. A good plugin should offer you the option to collect email addresses, templates for creating newsletters, and tools for scheduling, sending and tracking your emails. Additional useful features might include integrations with other software.
With an email plugin, you can generate leads, segment your contacts, and turn them into customers, all through your WordPress dashboard. So to help you with picking out a plugin, here are some suggestions that are definitely worth checking out.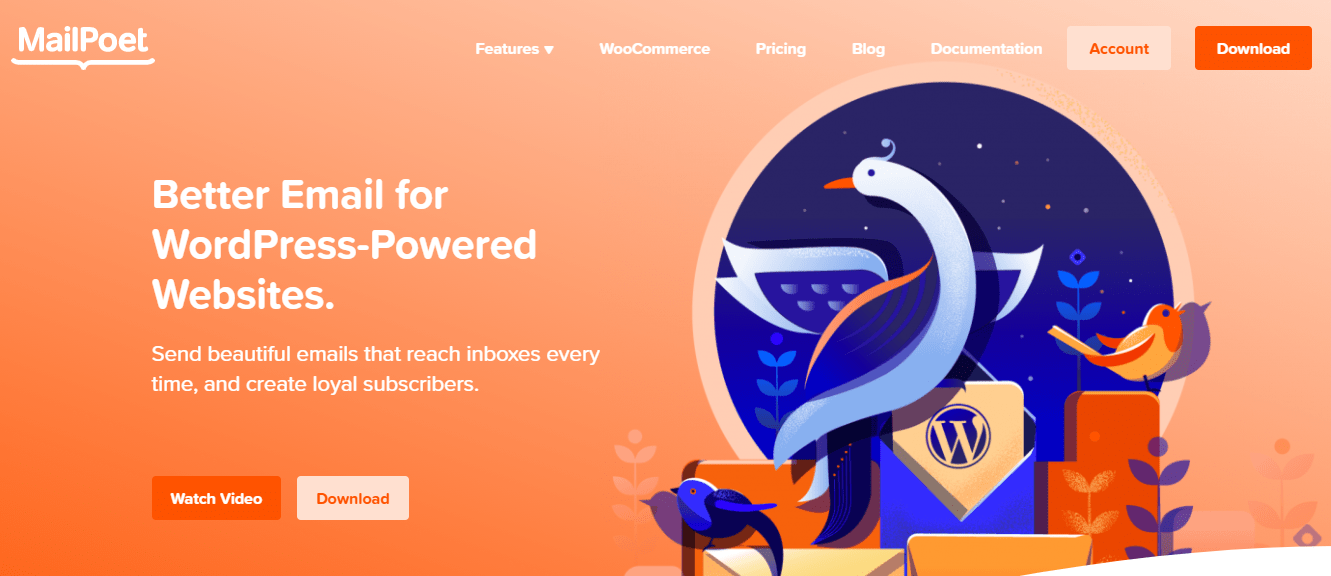 MailPoet is a plugin that helps you send emails right from your WordPress dashboard. And what can be simpler than that? It allows you to create and send different types of emails, such as newsletters, post notifications, and welcome emails.
You can see, in the image below, that when you open the plugin from the dashboard, you can choose what kind of emails you want to send out. Like I already said, an email newsletter is a perfect way to engage with your subscribers and generate new customers.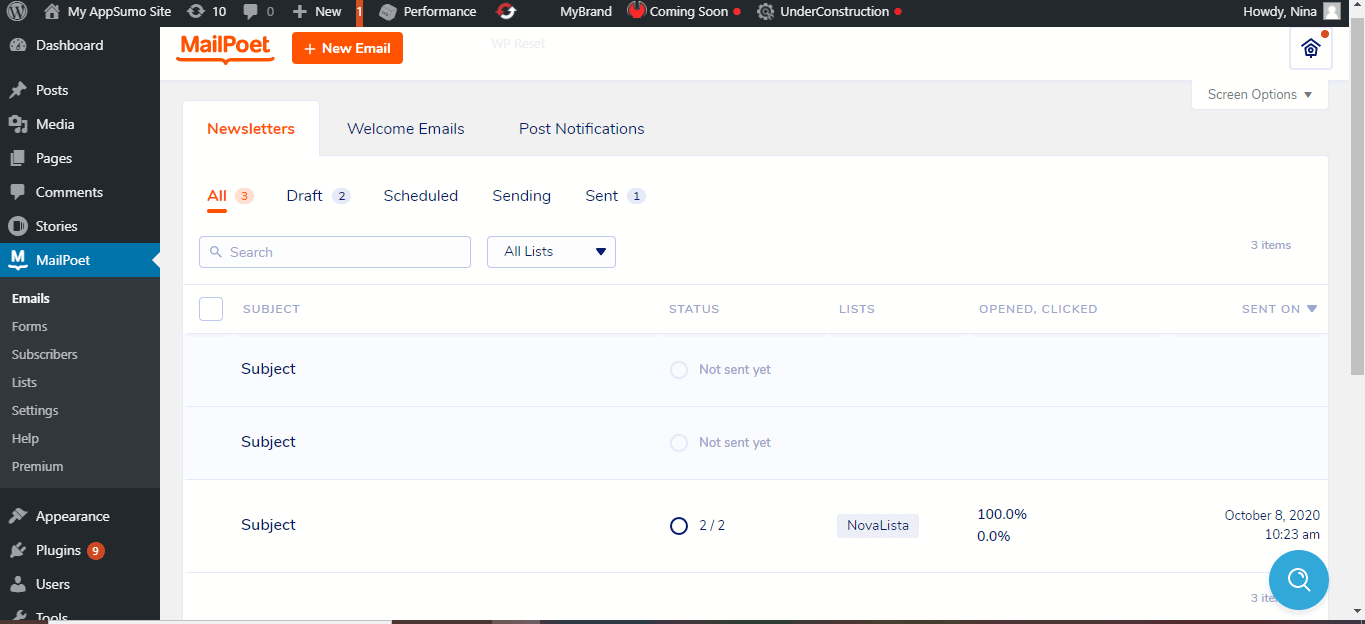 With the drag-and-drop editor, you can customize your newsletter to fit your brand and you don't need to do any coding. You can choose from more than 50 templates, and organize and format the content in a way that best suits your image.
The plugin interface is simple and intuitive, and you can import your posts easily. Just add your images, pages, or products to your newsletter and start driving people to your website. I mean, who doesn't like a visually appealing email in their inbox?
With MailPoet stats, you can track and analyze if your newsletter worked the way you wanted, see how many people opened the email, clicked on something, etc. All of that data will help you improve your future campaigns.
MailPoet also takes care of the messages that should be automated, such as welcome emails and last post notifications. With messages that are sent automatically, you save yourself time and increase website traffic.
You can design your own email or customize one of the already-made templates. You can also configure last post notification emails to be sent out immediately or on a daily, weekly, or monthly basis.
Welcome emails are a way for you to give thanks to your subscribers and show that you care about your customers, but that doesn't mean you have to send them manually. You can create a series of automated emails if you want to add multiple emails to your schedule.
Furthermore, you can also send first purchase emails, abandoned cart emails, and follow-up emails tailored for a certain category or product. Small things like that really create a good relationship with your customers.
MailPoet also allows you to create forms using which people can subscribe to your content. You want to be smart with the customization and the position of signup forms because they will determine how many subscribers you get.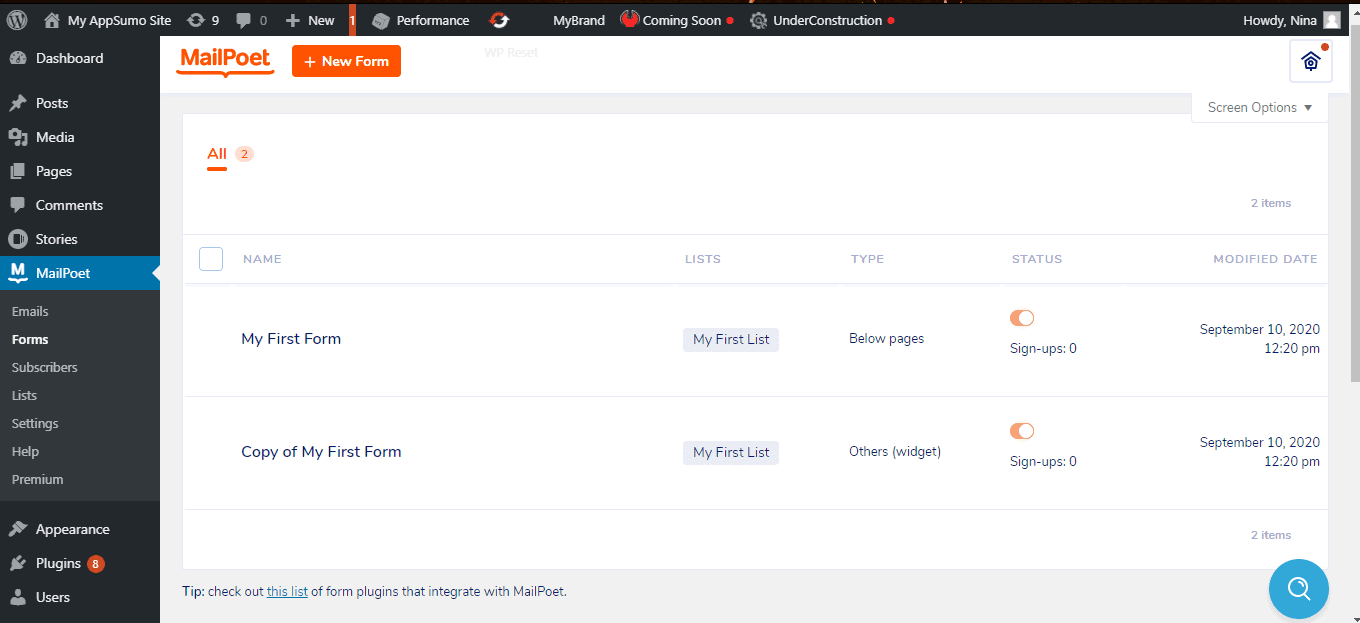 MailPoet offers a variety of different form types and position options, such as pop-ups, fixed bar, widget area, or the bottom of your page.
When you go to customize the forms, you can choose what fields you want to have included and also pick some extra ones. You could put just name and email fields, but maybe also birth date or location, whatever fits your needs.
You can also easily manage your subscribers, see who is active or who doesn't engage with your content. MailPoet has the option of automatically removing inactive subscribers for you to help improve your reputation and deliverability rate.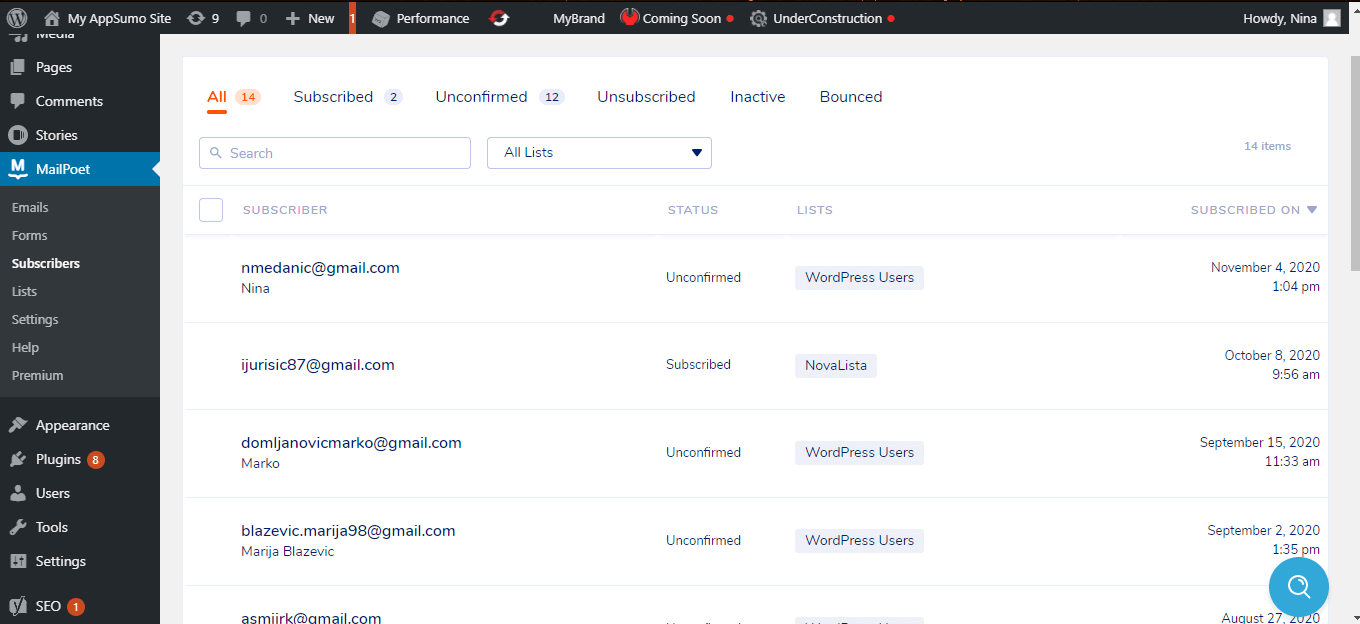 Even if your active subscribers are liking and engaging with your content, subscribers who don't engage with your emails can really bring down your rates. That is why you can even set the period of time that has to pass before a subscriber can be marked as inactive.
MailPoet makes sure that your emails actually reach your subscribers' inboxes and not spam. With MailPoet's Sending Service, you don't have to worry about your email not reaching its destination. Plus, you can send as many emails as you want, with no limitations.
MailPoet is currently available for $49 on AppSumo, as a lifetime deal!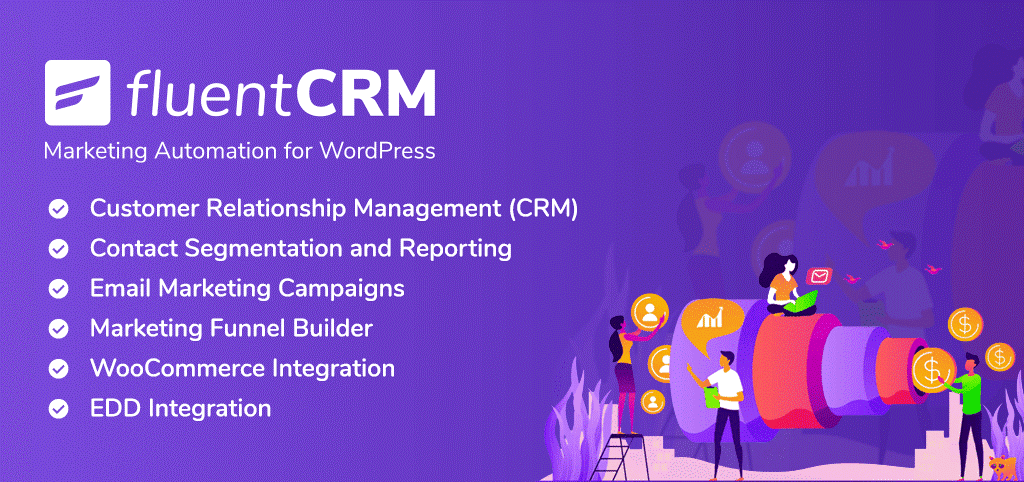 FluentCRM is an email marketing automation and CRM plugin for WordPress. Despite being a new tool, the plugin already created a buzz among many WordPress users. It comes with all the core email marketing features including lead generation, contact segmentation, email campaign management, email sequencing, and marketing automation.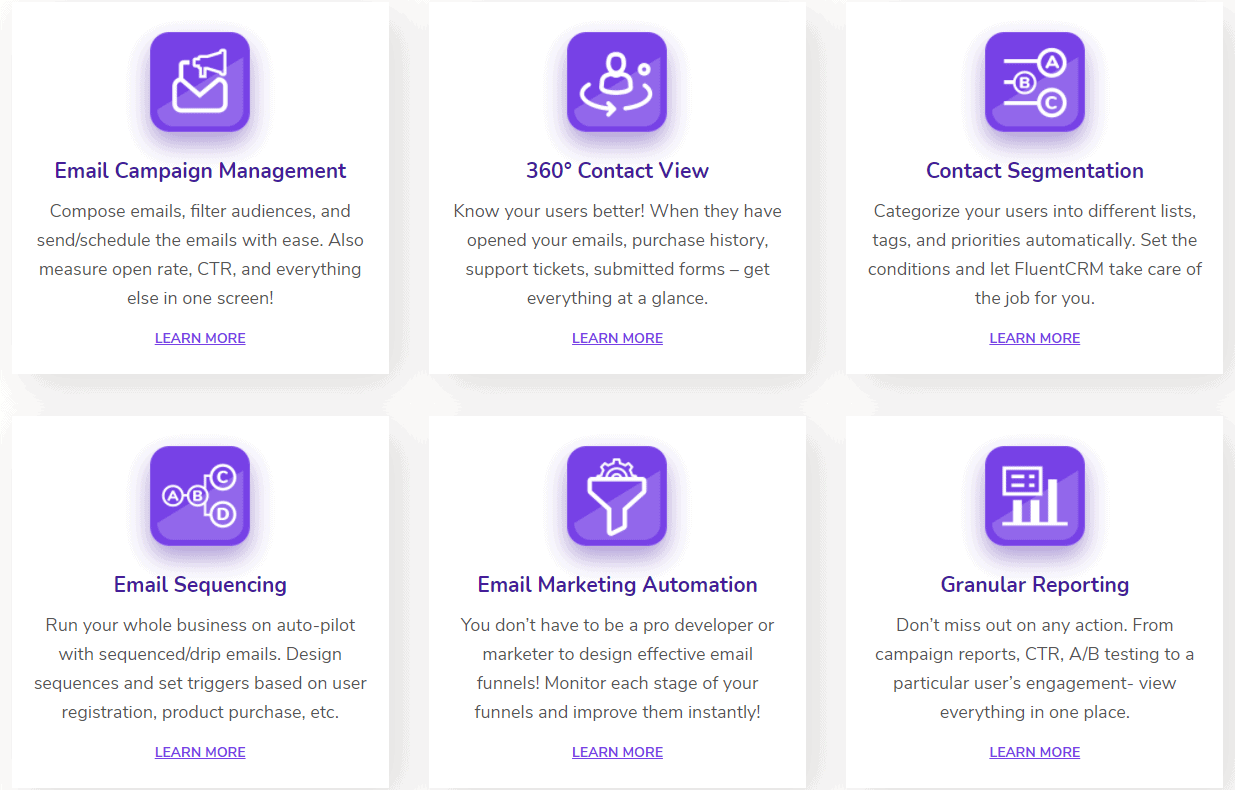 FluentCRM Features
With a smooth onboarding process, the plugin lets you get started in less than 2 minutes. Then you can import contacts or create forms to generate leads. Unlike MailPoet, the plugin utilizes Fluent Forms to create forms. However, the plugin's pro version allows you to connect any other form with webhooks so that you can store contacts.

While storing contacts, you can also segment them to later deliver targeted emails using email campaign management. It features a block-based email composer that lets you compose simple or HTML emails easily. To improve your email campaign's efficiency, you can use dynamic email content or A/B testing.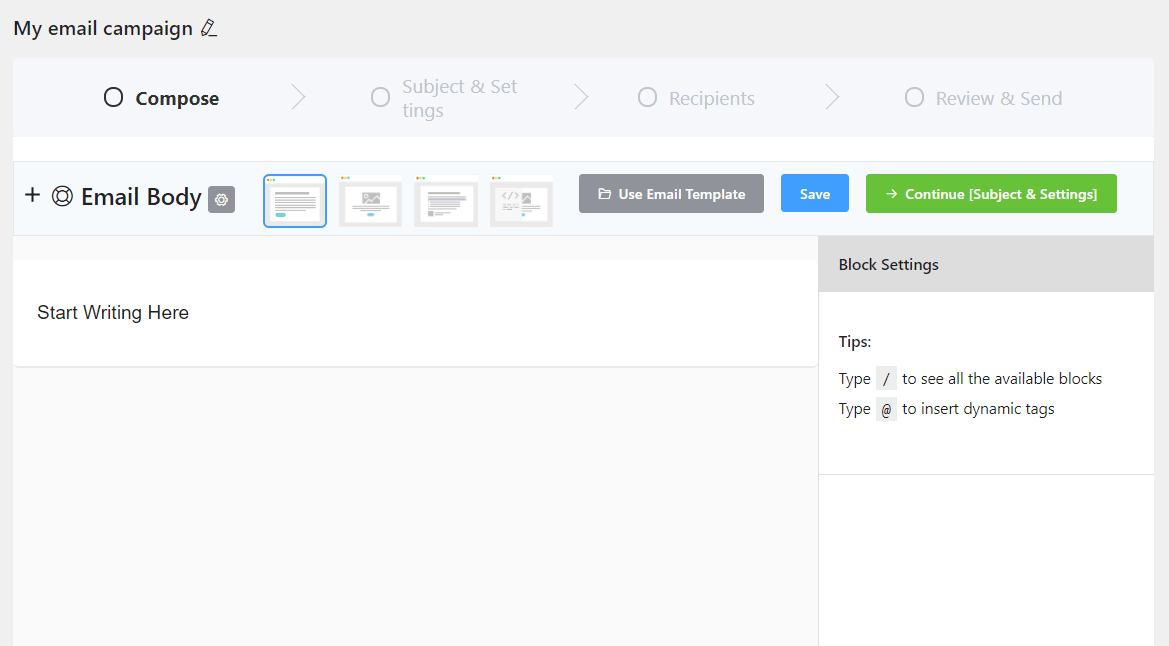 Next comes email marketing automation, the best feature of FluentCRM. This lets you set up automated emails for your audience based on various behavioral triggers. For example, if you're offering an e-book in exchange for someone's email address, you can set up a form-trigger automation that sends an email with a link to the ebook you promised your users.
Here's an example showing how this automation looks in FluentCRM: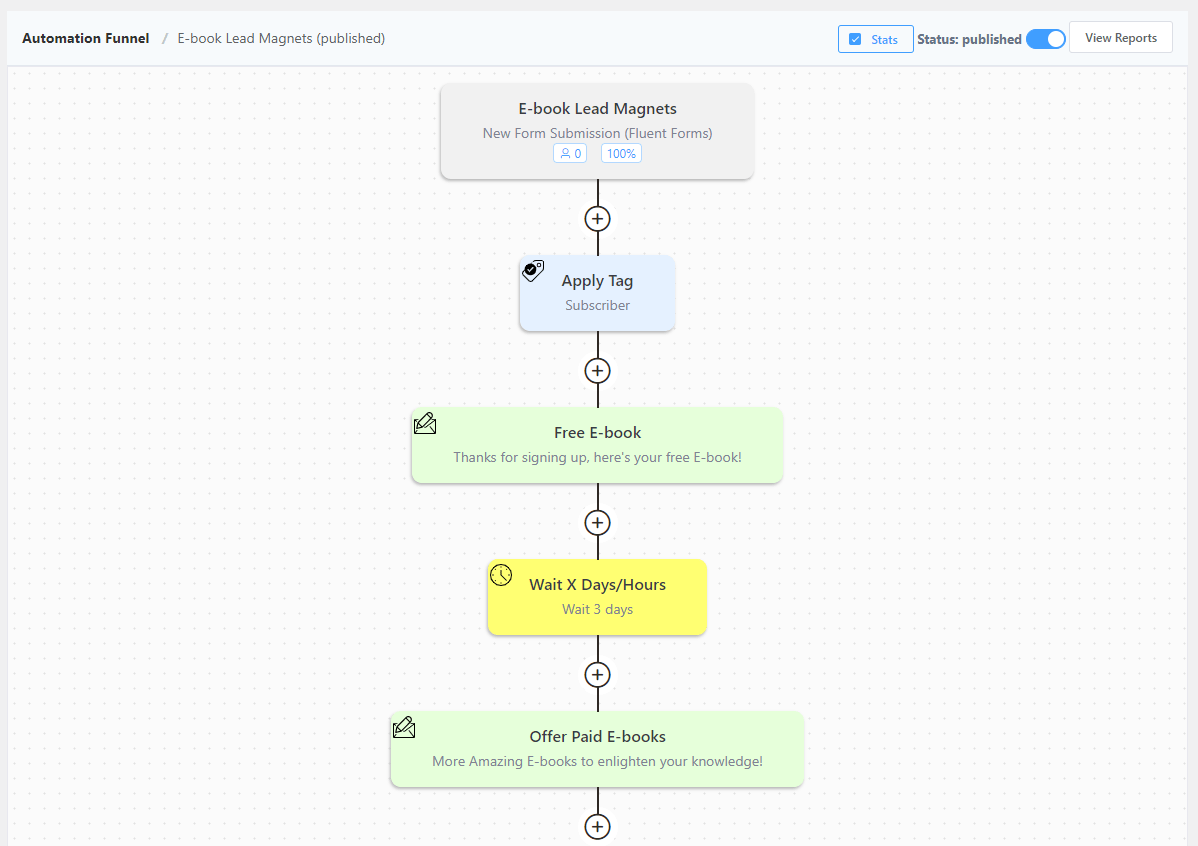 Notice that you can also add a tag, wait for a few days and send another email to sell premium e-books in the same automation.
This visual funnel builder, along with contact segmentation, email campaign management, and granular reporting make the free version an excellent plugin.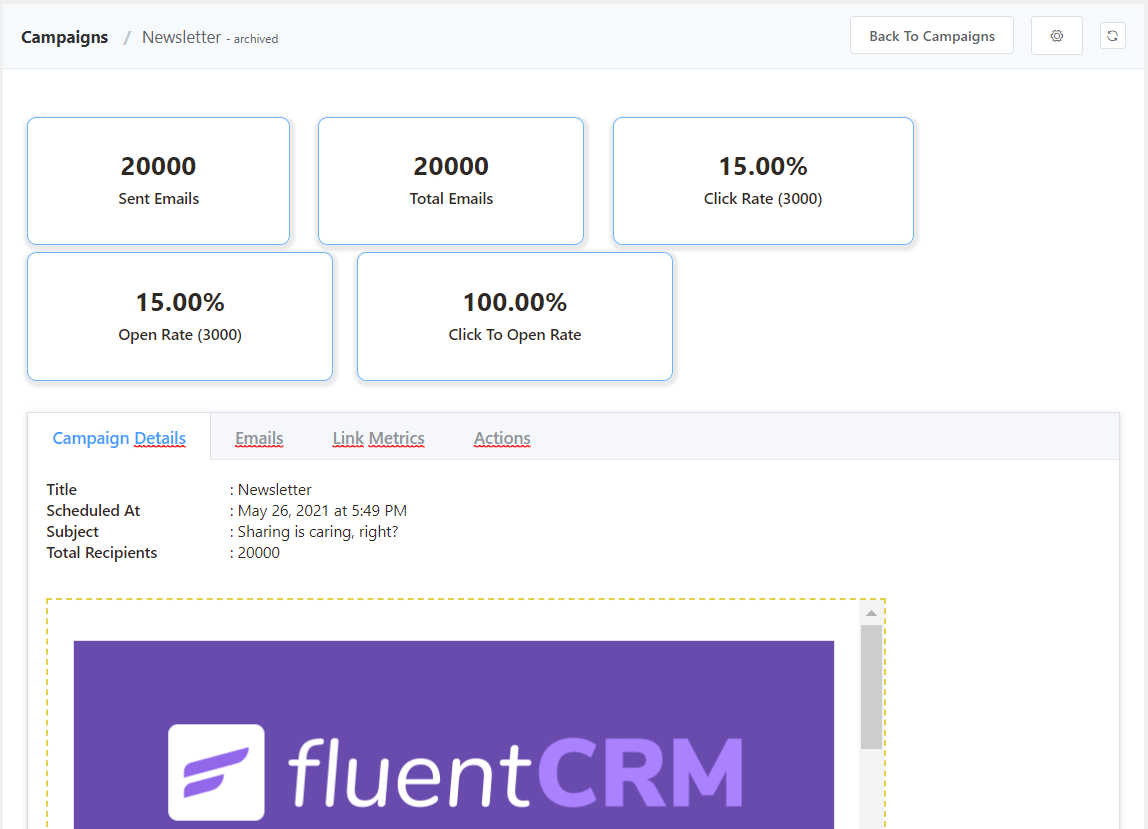 They also offer a premium version which lets you enjoy more features and integrations. FluentCRM's premium features include email sequencing, dynamic segmentation, and adds more features to email campaign management and marketing automation.
One such handy feature is conditional automation. This lets you create multiple paths inside your automation based on how your audience reacts. For example, if you've asked people to buy a product, you can define what happens when they buy it and what happens if they don't.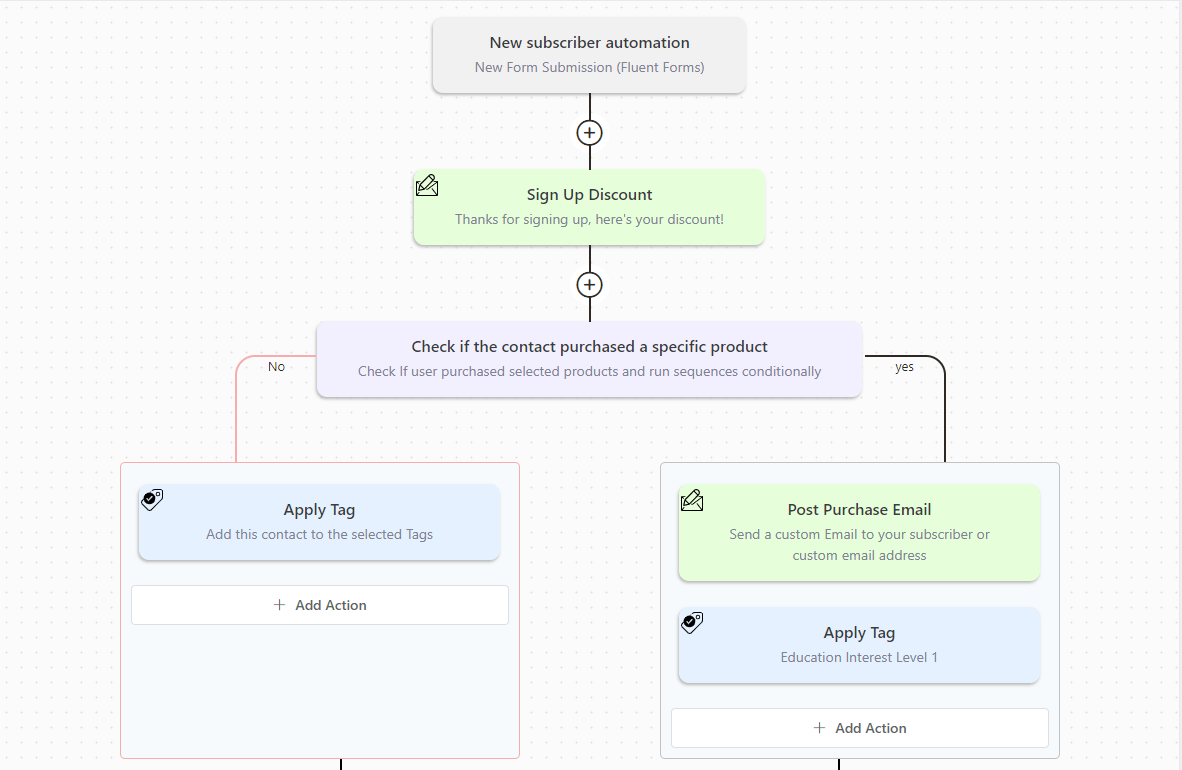 The premium version also has integrations with 15+ WordPress plugins. Most of them are eCommerce, LMS, membership, and affiliate plugins like WooCommerce, Easy Digital Downloads, LearnDash, LifterLMS, TutorLMS, WishList, MemberPress, Paid Memberships Pro, and AffiliateWP.
By upgrading to a premium license, you can add a lot of integration-based triggers, benchmarks, conditions, etc. to run efficient marketing automation within WordPress!
And the best part?
You can have unlimited contacts and send out unlimited emails with FluentCRM! Yes, the plugin is self-hosted and utilizes affordable external email services like Amazon SES, MailGun, SendGrid to send out emails. So there's no success tax for storing contacts and sending out emails.
With that being said, FluentCRM is a must-have plugin for growing small and medium businesses. No wonder, it was voted the best plugin in Torque's plugin madness competition!
The plugin is available for a pretty affordable annual fee of just $129. However, if you're running an agency, you can get a 5 site license at $249. The 50 site license is available for $499.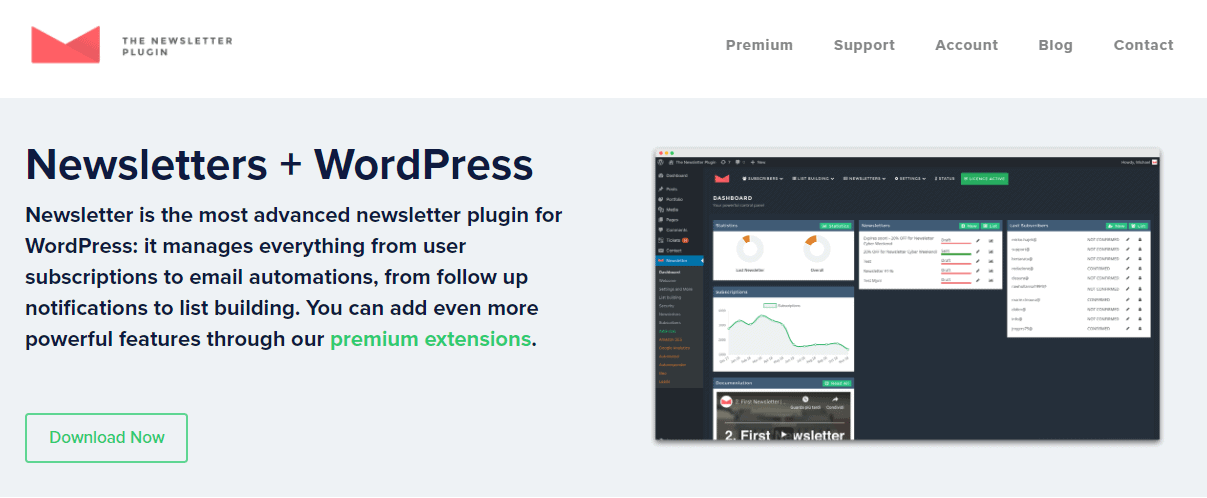 The Newsletter plugin is a newsletter and email marketing system for your WordPress site using which you can easily build lists, create, send, and track emails without wasting your time.
Newsletter offers the option to send an unlimited number of emails to as many recipients as you want without limiting your traffic. You can track your emails and get an insight into the total number of sent emails, who opened them, and who engaged with them.
Visual Composer, which is included in this plugin, allows you to customize subscription widgets, pages, and forms as well as gives you an option to customize themes to fit your brand and your needs.
Additionally, Newsletter also has an option for doing spam checks and delivery speed control. The plugin is perfect if you want to start out with easy-to-use features and a simple and intuitive newsletter composer.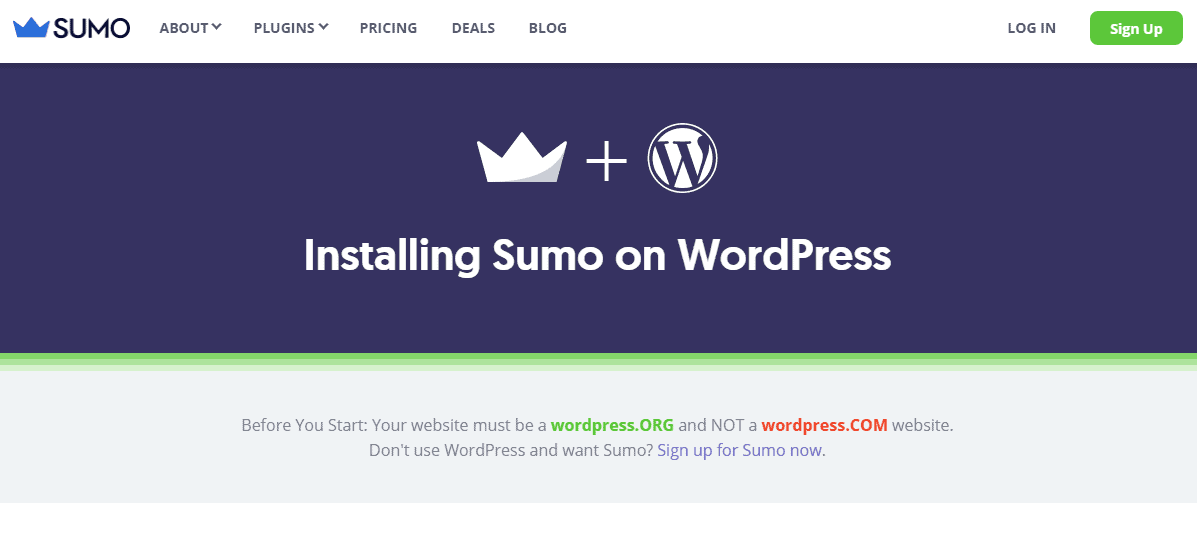 Sumo is a tool that can help you with growing your email list and, in turn, increasing conversions and generating more sales.
It allows you to create high-converting opt-in forms for the visitors that browse your content.
With timed pop-ups across the page, you can grow your email list and attract new subscribers. And once new visitors become subscribers, they get a welcome email that can be a one-time campaign or several automated emails.
With eCommerce integrations and features, you can send emails that alert customers when they have abandoned their cart, and with that, increase your average order value.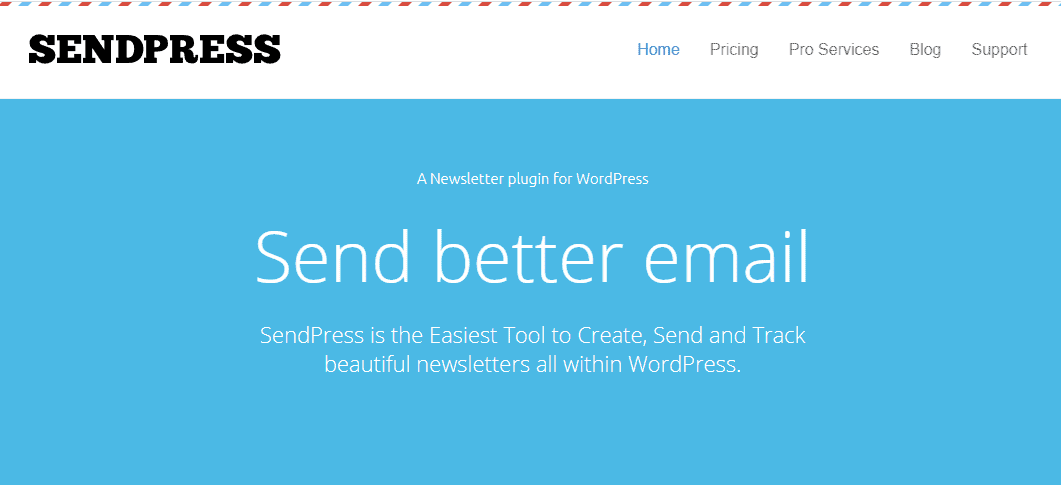 SendPress is an easy-to-use newsletter plugin using which you can create newsletter templates that suit your style, and you can also edit content.
It offers a number of features that help you design emails that are perfect for your brand and that will get you more engagement. Plus, you don't need to have any coding experience.
It also has an interesting feature called Auto Cron that makes sure your emails are actually sent and on their way to the recipients.
You can track opens, clicks, and get revenue reports. The number of subscribers and newsletters you can send is unlimited and you can easily sync WordPress roles to subscriber lists.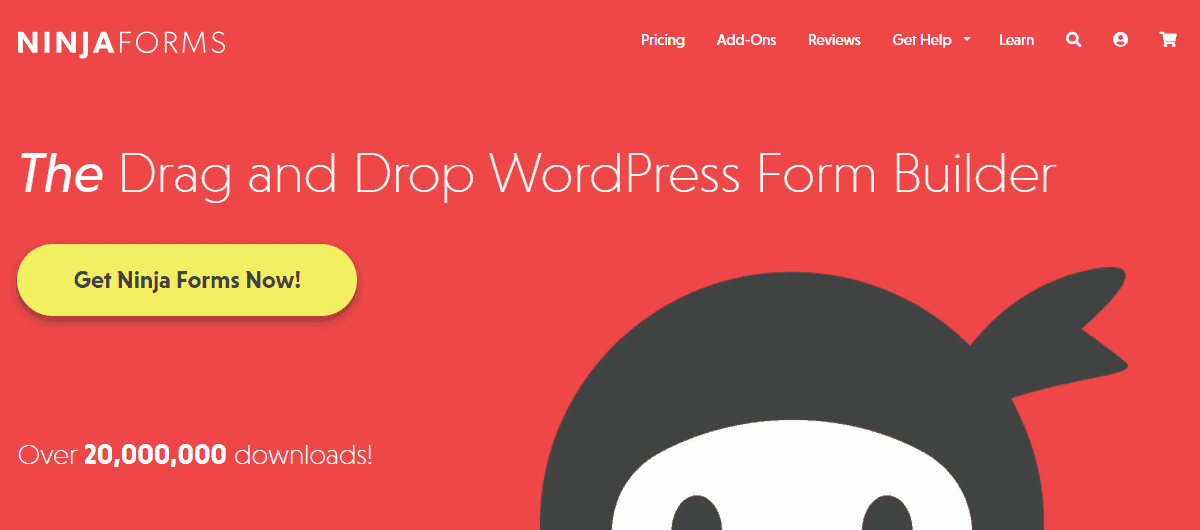 Ninja Forms is a plugin that is 100% beginner-friendly, so to use it, you don't have to have any coding experience and certainly don't need to be an expert.
You can design complex forms even if you don't really know what you are doing. There are drag-and-drop fields, row and column layouts, multi-page forms, and a lot more which allows you to make the most out of signup and lead generation forms.
The plugin also lets you make any form an upload form and users to upload files such as PDF and Microsoft Excel.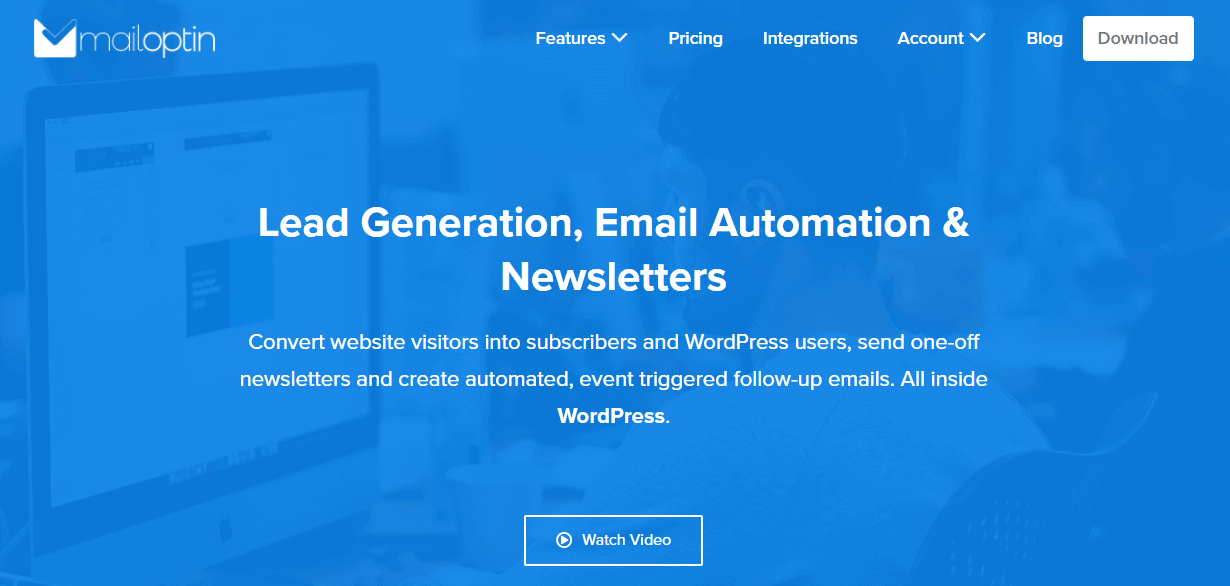 MailOptin is a form builder for creating email signup forms, user registration forms, and sending email newsletters.
MailOptin's email template builder allows you to create visually appealing email campaigns and newsletters that are sure to optimize your conversions.
You can set up automated new post email notifications, decide if you want to send them to all users or specific ones, as well as restrict emails according to categories and tags.
You can also schedule email campaigns daily, weekly, or monthly. And of course, you can send email updates and newsletters to registered users or subscribers.
Final thoughts
Creating an email campaign and sending it out can be a tedious task, especially if you have a large number of subscribers. I'm sure you don't want to waste your time on manually sending emails out when you can use a plugin that will do all of that for you.
Email newsletter plugins for WordPress are a perfect solution for creating and sending newsletters and other types of emails, but also for helping you generate new leads, manage existing subscribers, and analyze engagement.
MailPoet is a plugin that has a number of useful features and is also the only solution that removes inactive subscribers for you. That is why it is our favorite among the plugins mentioned!

Latest posts by Editorial Staff
(see all)
Where Should We Send

Your WordPress Deals & Discounts?
Subscribe to Our Newsletter and Get Your First Deal Delivered Instant to Your Email Inbox.
Thank you for subscribing.
Something went wrong.