Gone are the days where the job of course creators on your LearnDash site was restricted to only creating and editing courses. Today, they expect more authority allowing them to monitor, work, and help students immediately and efficiently.
By empowering your course creators, you will be able to encourage and develop trust with them, in turn, motivating them to work hard and stay with your business in the long run.
Having said this, it does beg the natural question – "How can I empower my course creators"?
Well, read on to find out about the seven ways in which you can empower course creators on your LearnDash site.
Seven ways in which you can empower your course creators
Made specifically for LearnDash, you can use WISDM's Instructor Role plugin, which acts as a multipurpose plugin that not only allows your course creators to create their own courses but also empowers them in several different ways. Take look:
1. Empower course creators with access to student reports
Remember how your school teacher would give you more attention when they went through your reports and found out about the particular chapter or lesson that was troubling you?
Now, in eLearning, it is quite difficult to have face to face personal conversations with each student but, this plugin, however, tries to bridge this gap by enabling your course creators to access each student's report.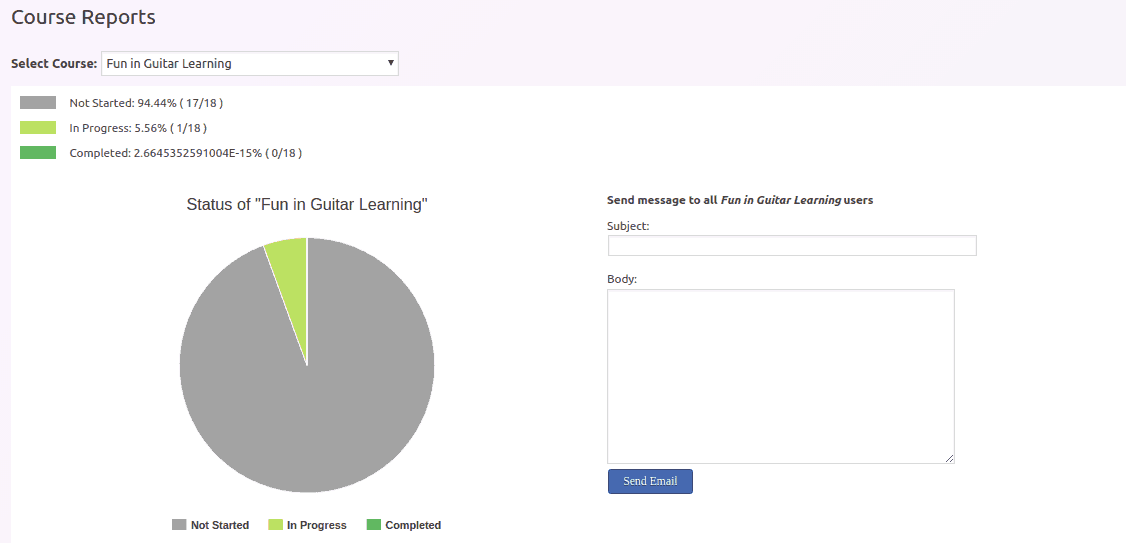 Let's take a look at the benefits of empowering your course creators with access to student reports:
Benefits of providing access to student reports:
Clarity on the actual progress – Providing access to student reports will allow your instructors to check how many students have completed the course, who is lagging behind, their progress and even download the course report, in turn, providing clarity on the overall progress of the student and enabling instructors to figure the content plan
Improve learning experience – The course-specific reports make it much easier to track each student's performance, identify their pain points (lesson/quiz), draw up solutions leading to personalization and ultimately, improve the learning experience for each student.
This is one of the greatest authority you can empower your course creators with to enable personalization, which will encourage your instructors to work on updating the course regularly and help students learn effectively.
2. Direct communication with students
"Communication is the key"; I'm sure most of us would've come across this phrase several times in our lives.
Well, with WISDM's Instructor Role plugin, you will be able to reap the benefits of the above phrase by allowing your instructors to directly communicate with your students.
This will help you in creating an ecosystem that is transparent and friendly. Let's look at some of the benefits of empowering your course creators with this facility.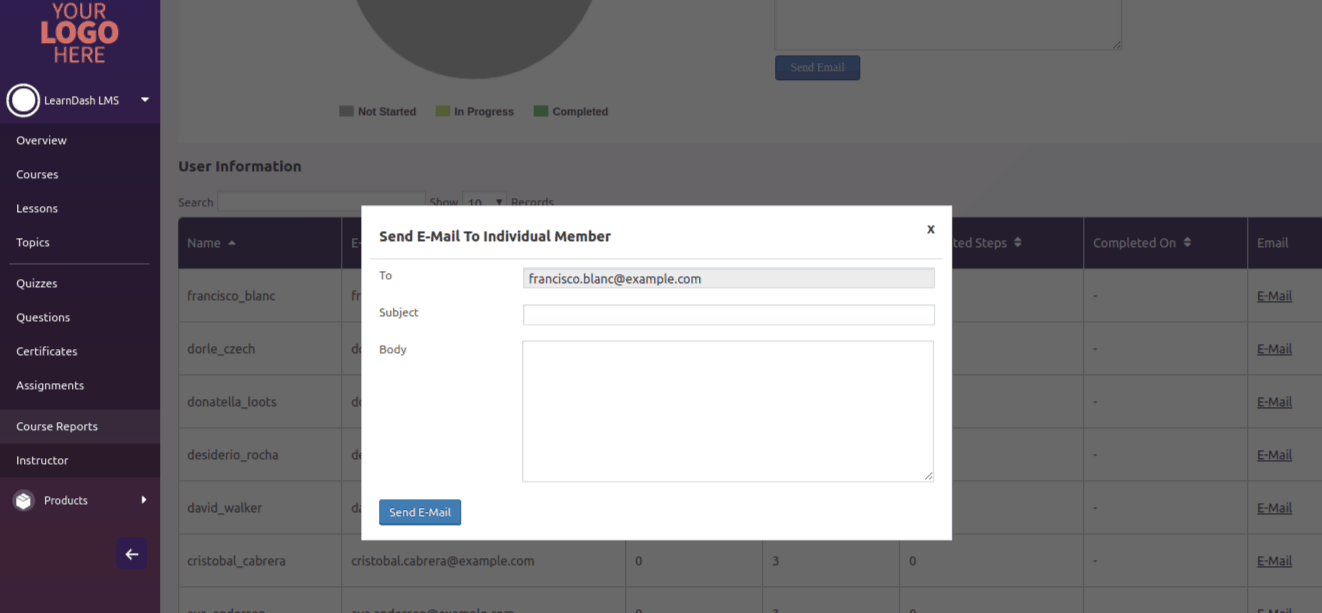 Benefits of facilitating student-teacher communication:
Quick feedback – Your course creators will be able to provide immediate feedback to students regarding their performance, thereby increasing engagement and dependability on your LearnDash site.
Quick update through notification – It makes it easier for the course creators to notify their students regarding any update about the course, examinations, tests, etc. via an email.
While leveraging this strategy can prove to be extremely beneficial for you, exercising this option will also help you in building trust with your instructors and improving the user experience for your students.
3. Assign multiple instructors to a course
Let's say you're offering a course like Chemistry. The course covers different areas like Organic and Inorganic chemistry.
Now, you can assign multiple instructors with the expertise to teach Organic and Inorganic chemistry, respectively.
Fortunately, with WISDM's Instructor Role plugin, you will be able to share and empower course creation responsibilities with multiple instructors within a course.
So, let's take a look at some of the benefits you can gain from this empowerment.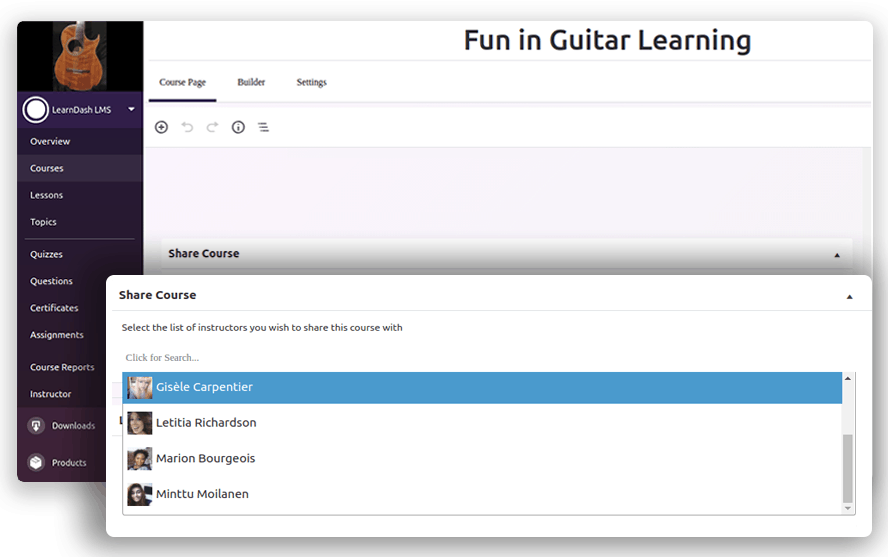 Benefits of empowering multiple course creators within a course
Develop quality content – Different subject expertise and their experience will help in developing quality content material that will encourage more students to take up the course, thereby increasing your revenue.
Reduce the burden off of your primary instructor – If a specific branch itself is big and complex, having multiple co-instructors will speed up and ease the course creation process, thereby reducing the workload off of your primary instructor giving them ample time to focus on other aspects.
Better course management – Having co-instructors will help in streamlining the course management right from the creation of courses to management of the students leading to a systematic flow of the process, eliminating confusion, and reducing human error.
With that being said, assigning multiple course creators will help you in paving a path for your business to create a deeper knowledge base within a course resulting in an increase in your revenue and reputation.
4. Notifying course creators regarding quiz completion and course purchase
In a sea of students, your course creator will not know if their student has completed the quiz or understand when their courses are being purchased unless they check the student's profile or their commissions.
We bet this annoys your course creators!
Now, imagine when your course creator receives an auto-email notification every time their student completes a quiz or whenever someone purchases their course.
Think about the benefits this will bring upon you and the course creator. Well, allow us to enlighten you: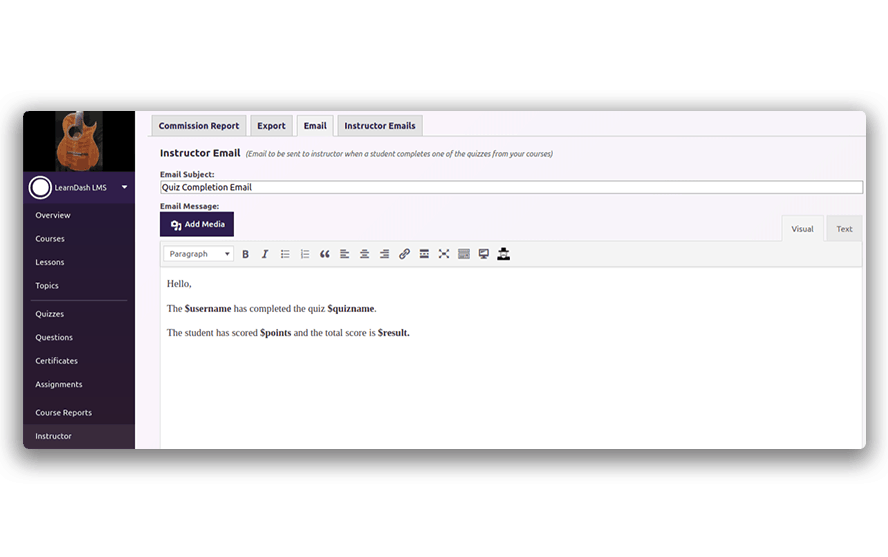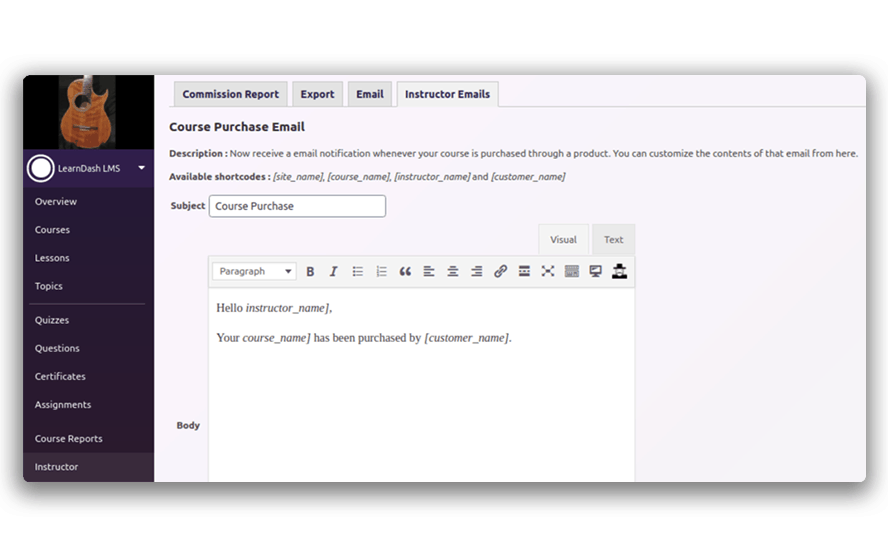 Benefits of sending an instant notification to your course creator 
Speed up assessment process – An email notification will allow your course creator to quickly assess the student's quiz and provide immediate feedback, which will enable the student to register this information and learn effectively from it.
Serves as a reminder – It may happen that your course creator is engrossed with other aspects of the course, and in such a case, an auto-email notification regarding quiz completion can serve as a reminder that can reduce delays in the assessment.
Helps in measuring strategy changes – If you've created a small introductory video or have offered discounts or applied any other strategies then, these purchase notifications will help your course creators to understand whether the strategy has worked or not.
Reduces effort – Your course creators don't have to log in every time to check if their course has been purchased or not thereby, reducing efforts on their end.
This instant notification strategy may seem like a small one, but, in the long run, it's these small strategies that will add up and align to contribute significantly towards the vision of your eLearning business.
5. Reward Course creators with commissions
For all the hard work your course creators put in, they'd only be encouraged to continue doing so if you reward them with commissions on their purchased courses.
We understand that offering monetary benefit is an obvious form of empowerment but, with WISDM's Instructor Role plugin, there's more than what meets the eye.
Your course creators will have a separate area to access their commissions' reports containing all the details regarding their commission and will have the authority to export the data as well.
Now, let's take a look at what benefits this empowerment can mean to you and your instructors:

Benefits of empowering course creators with commissions and other benefits
Motivate them to work harder – Offering a fixed percentage of commissions to your course creators on the purchase of their courses will motivate them to work hard with the same dedication, thereby increasing productivity.
Platform to showcase their abilities & personal development – Your instructors will be able to make a name for themselves if their course is being shared and spoken about by students allowing them and your organization to grow.
Automatic calculations of commissions – The plugin automatically calculates commissions every time a course is sold, thereby reducing the efforts on your end.
Automatic tracking of commissions – You and your course instructors can easily track commissions and access the commission history through the commission reports.
While monetization is one of the biggest forms of empowerment, however, it's always useful to ensure that you and your course creators have easy, systematic, and quick access to all the information regarding the commissions through the commission's report saving tons of time and effort.
6. A bird's eye overview of the course
There's nothing greater and better than empowering someone with convenience.
With WISDM's Instructor Role plugin, you will have the power to feed your course creators with convenience in the form of an intuitive learndash dashboard.
This dashboard provides your course creators with an overview of the entire course, making it easier for them to quickly glance at data regarding a number of courses, students enrolled, course report summary, commissions earned, etc.
They will be to view all such information from one place, giving them an idea of how things are progressing and flowing.
Empowering your course creators with a learndash dashboard will garner several benefits, take a look: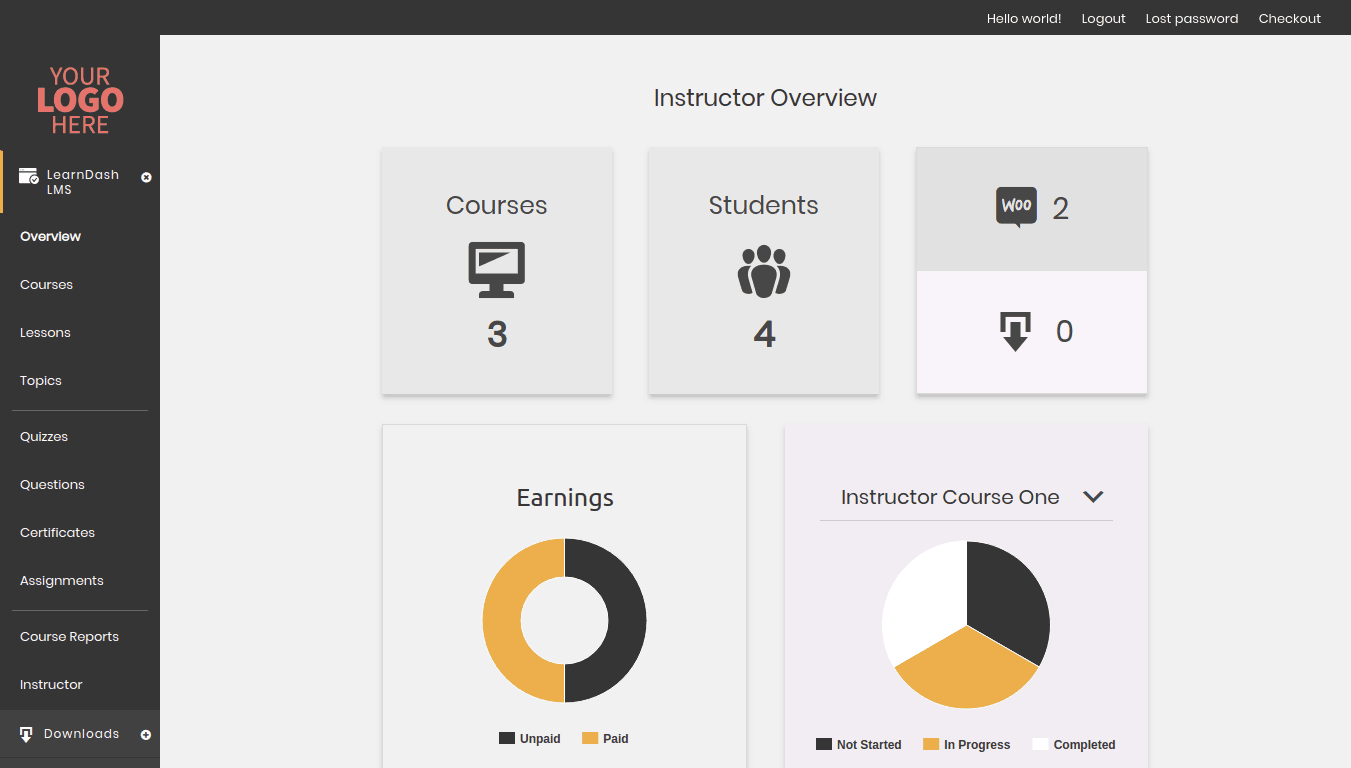 Benefits of empowering course creators with course overview:
Easy analysis – With all the course data available at a quick glimpse, it becomes much easier for your course creators to analyze aspects relating to course sales, student progress, total commissions earned, etc.
Quick decision making – Your course creators will be able to gain valuable insights about their courses, which in turn will lead to quick decision-making.
Better focus – The bird's eye view of the course will allow your course creator to focus better on the important problems and prioritize strategies accordingly to be in line with your business goals.
Save time and annoyance – Imagine the kind of relief your course creators will feel upon finding everything in one place instead of scrounging through the entire system. This will save them a great amount of time and will help them function without getting annoyed.
Great user experience – The intuitive dashboard will account for excellent user experience for your instructors.
Empowering your course creators with the bird's eye overview of the course will make it super simple for them to operate without getting annoyed.
7.  A user-friendly system for your guest instructors
When you invite guest instructors to create courses, you'd need to provide them a friendly system to operate on.
It may happen that many of the instructors may not be well-versed with WordPress; therefore, operating on it will naturally become difficult.
Hence, a good dedicated learndash dashboard of their own (which you've already been acquainted with in the previous point) will enable them to create courses smoothly without going through the WordPress complexities.
You read about the benefits your instructors will stand to get; however, at this point, we will be focusing on the benefits YOU stand to gain. Let's see:
Benefits of empowering your guest instructors with dashboard:
Total control – You will always be in control of the course creation process and management of students. Moreover, you will also have the option to approve or reject any changes made by the instructors.
No compromise on data – With a dedicated dashboard of their own, you can protect your data and LearnDash website security by restricting their access to the admin dashboard.
Increase in productivity – A clean learndash dashboard interface and user experience will lead to increased productivity of your business, ultimately leading to an increase in revenue.
Empowering your guest instructors with a friendly dashboard is of prime importance that will be useful in helping your eLearning business sail smoothly even through rough tides.
Conclusion
These are the seven ways through which you can empower and provide authority to your course creators.
In doing so, you will be able to develop trust and build long term relations with your course creators that will work wonders and go a long way in terms of achieving organizational goals.
The WISDM Instructor Role Plugin for LearnDash lets your course creators or instructors have complete access to these seven benefits, which will allow them to create and manage courses easily and help in elevating your online learning business without you having to worry about the course management responsibilities.

Latest posts by Editorial Staff
(see all)
Where Should We Send

Your WordPress Deals & Discounts?
Subscribe to Our Newsletter and Get Your First Deal Delivered Instant to Your Email Inbox.
Thank you for subscribing.
Something went wrong.