Creating and managing emails is a big part of every good marketing campaign. The first steps to creating such a campaign are building an email list and sending out a newsletter.
You might be thinking to yourself "why to bother with email campaigns when nowadays the best way to promote yourself is via social media". While social media is a good way of promoting your brand and business, that doesn't mean email should be forgotten. Actually, email has a larger reach.
You need an email for almost everything, even to sign up for social media. Email can be considered the currency of the web and anybody online has an active email address. Think about it, all of your updates are sent to your email, so it makes sense that email has a larger reach.
With email, you can be sure that your message is actually seen, unlike Instagram for example, where your post can get lost in a sea of other posts. Also, often, when the algorithm changes, so does the visibility of your posts. On the other hand, it's less likely your email will be lost and chances are the recipient will see what you sent them.
The goal of any of your marketing campaigns is to increase the number of leads, gain new potential customers, and with that, conversions. And email subscribers are more likely to click on your newsletter than your followers on social media.
When you see an email about a sale or new products you are more likely to see and click on it than you are when you see the same thing on Twitter. On Twitter, you might not even see the tweet, or the site could refresh making you lose the tweet.
Additionally, since email has a high ability to drive conversions, it also has a higher ROI. Emails are cost-effective, meaning you don't have to pay to create one and give you so much in return. You can be hyper-targeting with your communication because email allows you to send highly personalized and relevant messages. Again, your subscribers give you their permission to send them emails that they want to see and receive.
Why are emails important?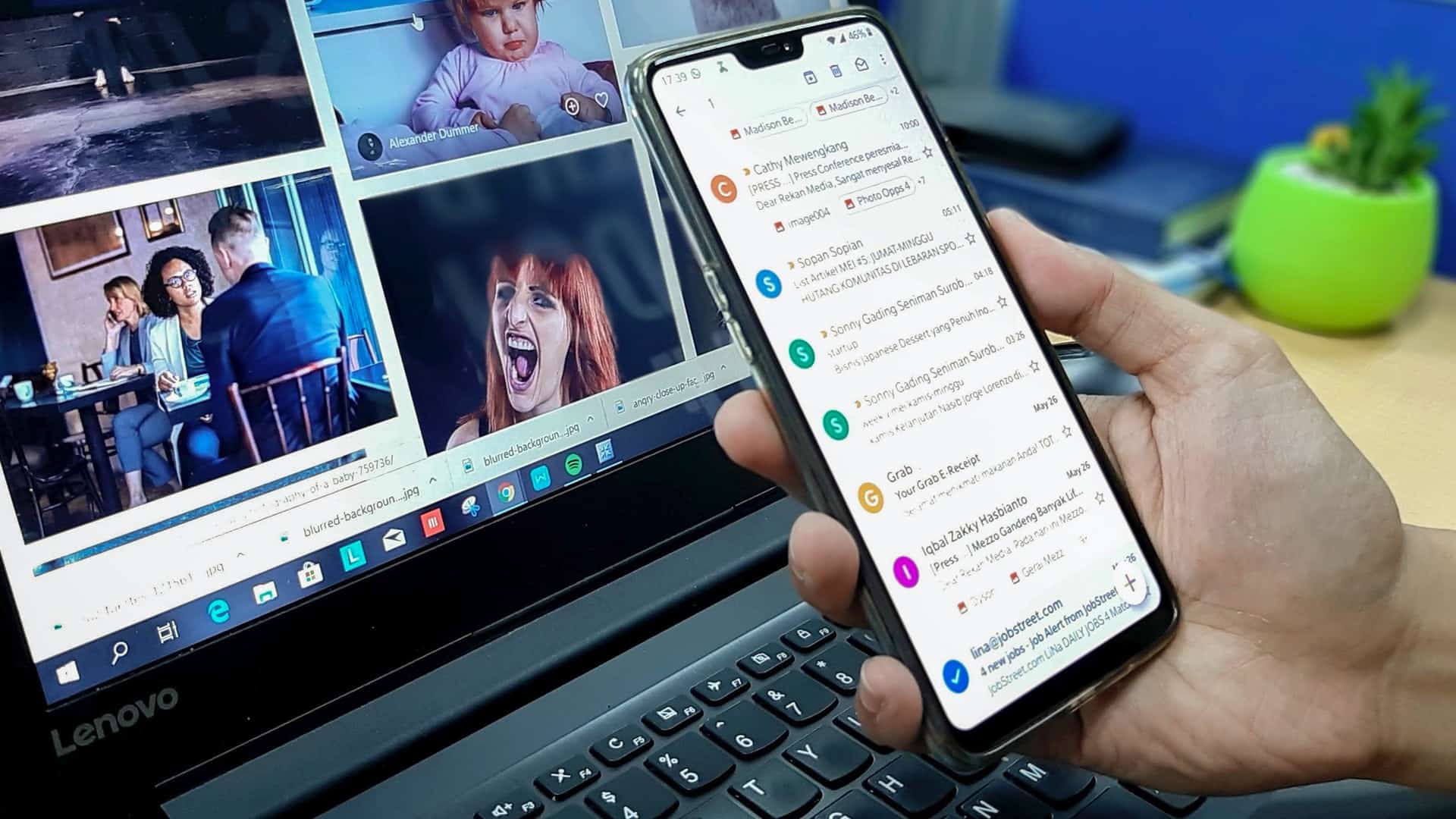 While social media is a place where people usually want to get away from business and get updates on their friends and family, email is a more professional medium where people expect to get information about products and services. Because of that, it seems logical to focus your marketing on an email campaign rather than promoting your products on Facebook.
Another reason why email is such a good marketing tactic is the fact that it is an open platform. It isn't owned or controlled by anyone in particular, and there are a number of services that can provide access to sending and receiving emails.
On platforms that are owned and controlled by a third party, marketers don't have a say in changes that are made to the platform. So, when you create an email list and build it, it is your own and you are in control of it.
Also, email has been growing consistently ever since the first promotional email campaign was sent out. This means that email has just been evolving and its longevity is a good sign that email is here to stay. You don't want to spend all of your time on a platform gaining followers only to see the platform lose hype. Building an email list is a long-term thing and will pay off and benefit you.
Of course, you want your email campaigns to be crafted in a way that will bring in new customers and more profit. So make sure that in your campaign you show authenticity and genuineness because people can recognize when a brand or a business is being money-hungry. Furthermore, it's better to have subscribers that stay because of your values and the connection they feel towards your brand/business.
But, having a large number of subscribers means you have a lot of emails to send out and a lot of addresses to manage. So it's not a shame to seek some help, on the contrary, having a plugin that takes care of creating, sending, and managing emails saves you time and lets you focus on growing and bettering your business in other ways. And that's where MailPoet comes into play.
MailPoet overview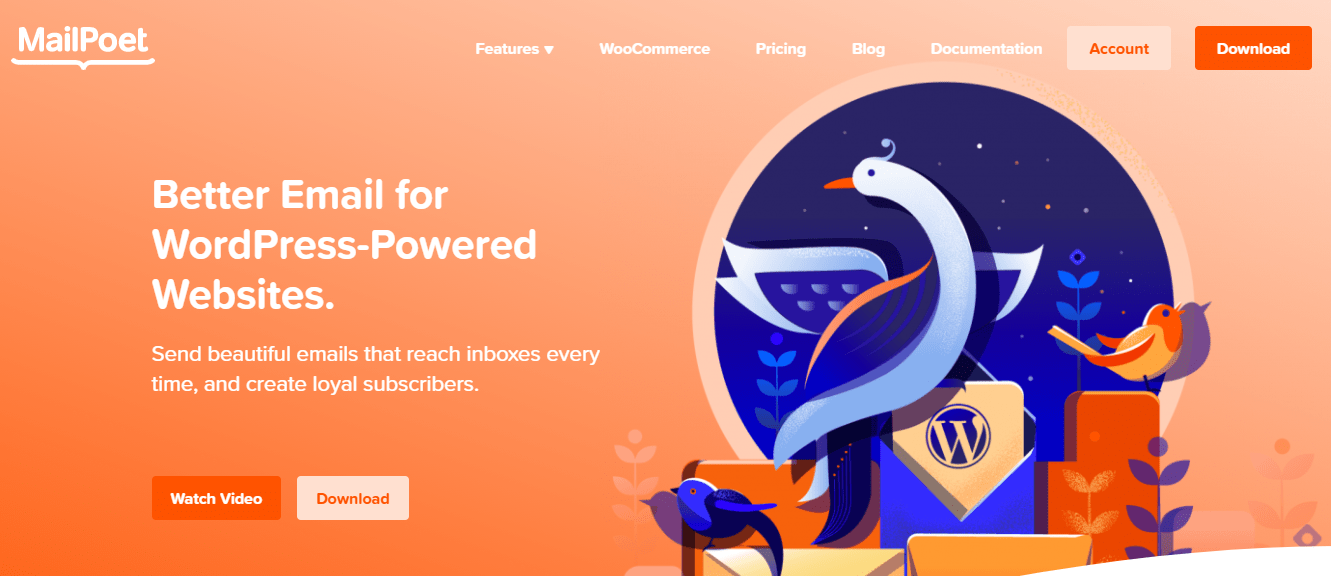 MailPoet is a plugin that has the goal of bringing back email in the control of site owners instead of having to employ a third-party platform. MailPoet is a simple and intuitive solution that makes sure your emails are delivered on time, every time you send them.
A variety of different features offered by this plugin will help you grow your email list, deliver emails, and increase conversions. The best part is that you don't have to leave WordPress to do it, everything happens from the WP dashboard.
An overview of what you can do with MailPoet:
create custom signup forms that suit your theme
segment subscribers into different lists
collect leads and subscribers in a database
automate certain emails
track your performance and analytics
customize the design and layout of your emails
Creating your newsletter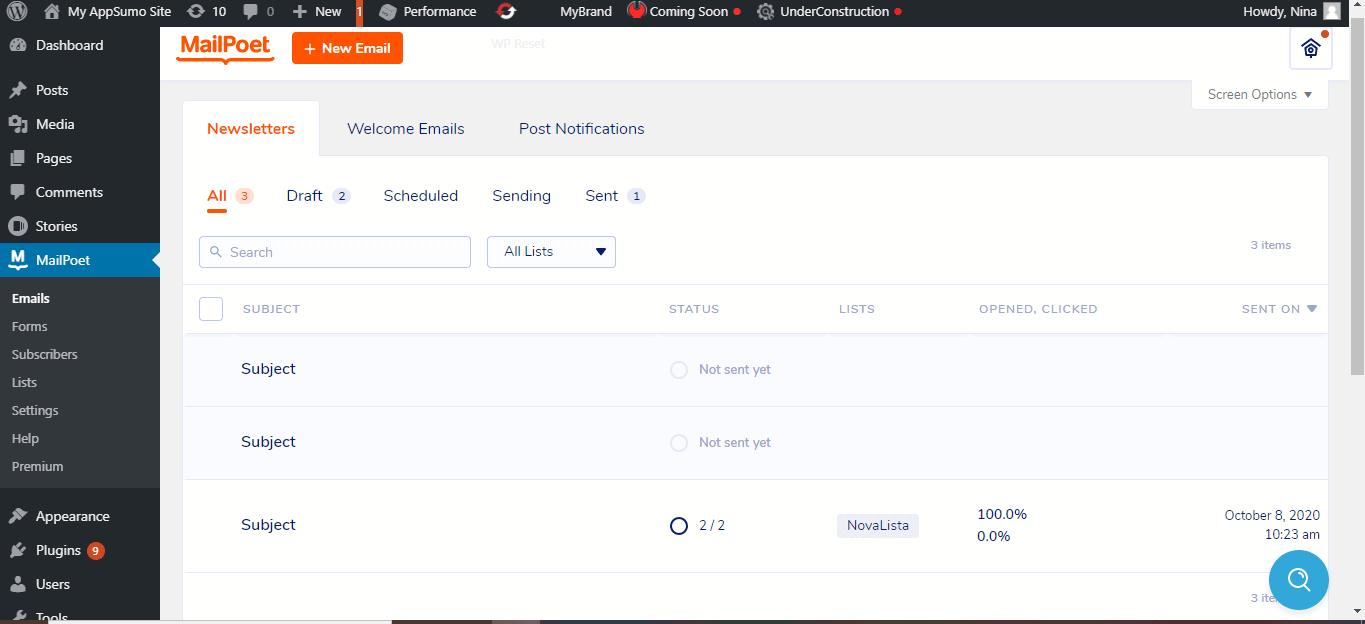 One of the email types that you can send out is a newsletter which is very important. With the drag-and-drop editor, you can easily customize your newsletter in a way that reflects your brand and shows your subscribers who you are. No coding skills are required and you are still going to have a beautiful newsletter.
You can choose your layout from more than 50 templates as well as organize and format the content of the email. Everything is clear and in one place.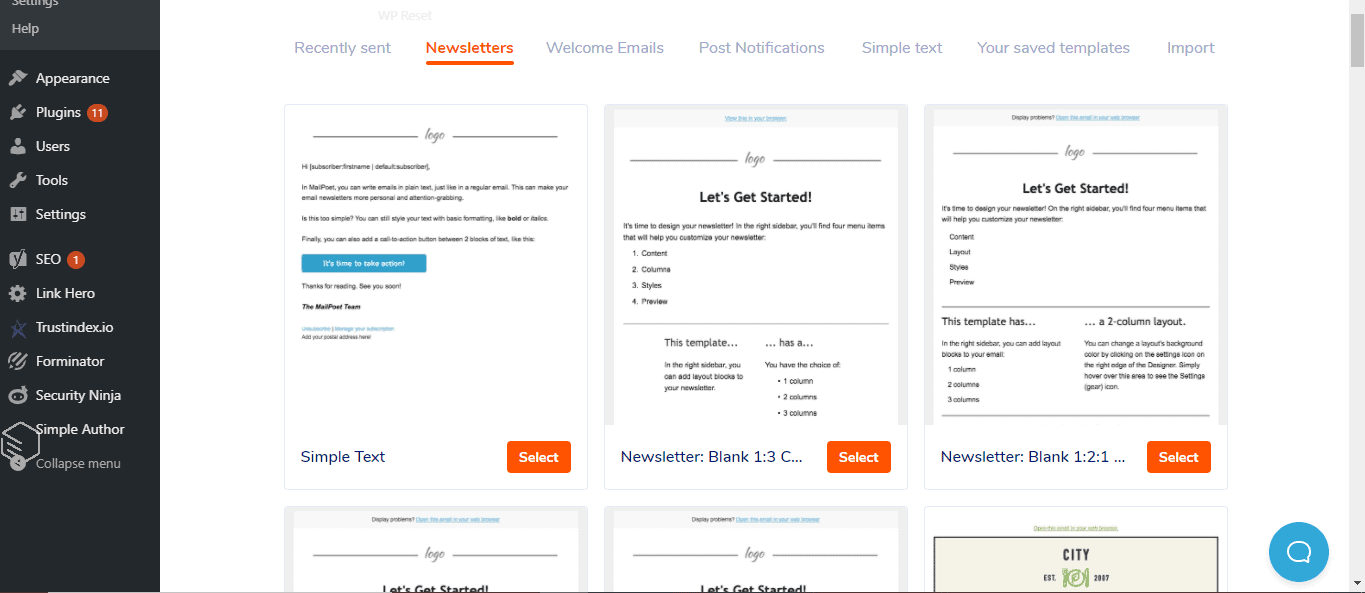 You can also add blog posts, images, or pages to your newsletter without having to copy and paste.
Sending out welcome emails
To give your subscribers a warm greeting, you have welcome emails. It's important to make a good first impression and welcome emails are one of the most engaging ways to do so.
With MailPoet, those are automated and can be sent out on a schedule that fits your needs. You can even add multiple emails to the schedule and create a series. A welcome email can be sent out immediately after someone subscribes or it can be delayed.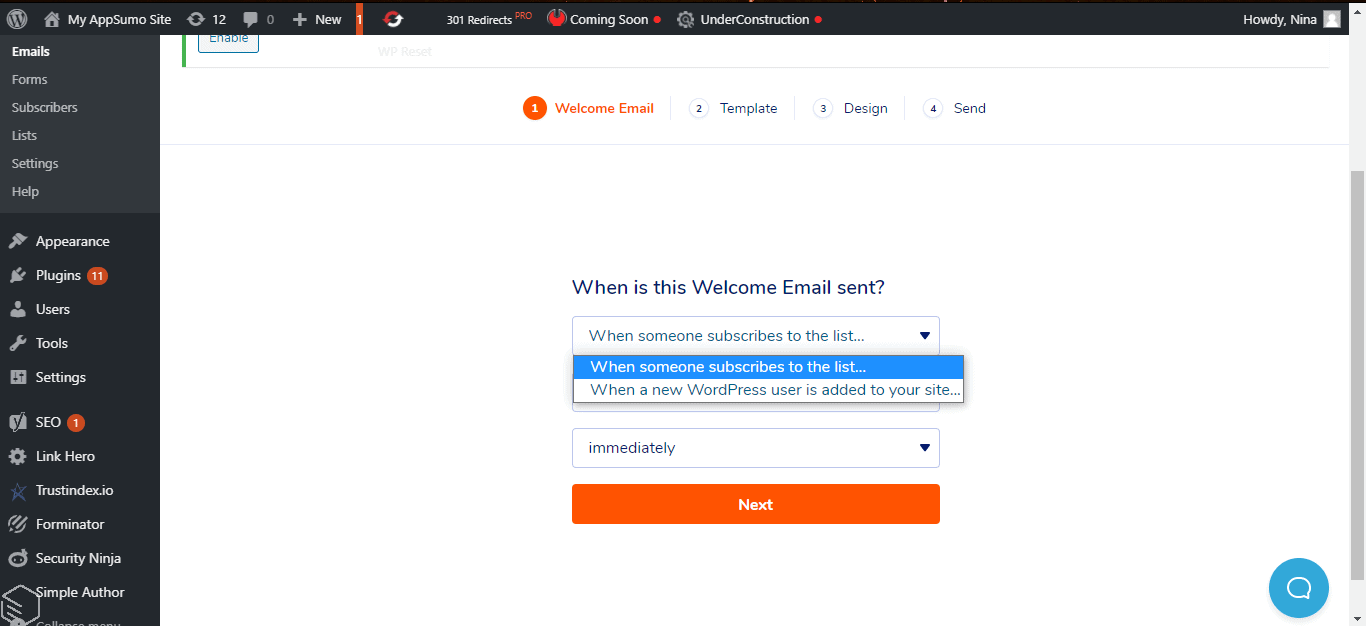 As you can see here, you can also choose whether an email is sent out when someone subscribes or when a new WordPress user is added to your site.
Notifying your subscribers about your latest posts
This feature is especially useful if you run a blog or put out consistent content and you don't want your subscribers to miss out on any posts. These emails can be sent immediately after you publish something or daily, weekly, as well as monthly.
You can again choose from a large number of templates and decide how many posts you want to include in the email. They can be from only one category or you can pick out specific ones.
Also, MailPoet uses Automatic Latest Content which directly picks out the latest post from the database and inserts it into the emails. So there is no need to set up RSS merge tags or leave the WordPress dashboard.
The design and layout of emails
Like I already mentioned, MailPoet offers more than 50 already-made templates that you can choose from. And with the customizable drag-and-drop editor, you can organize content whichever way you want to fit your brand.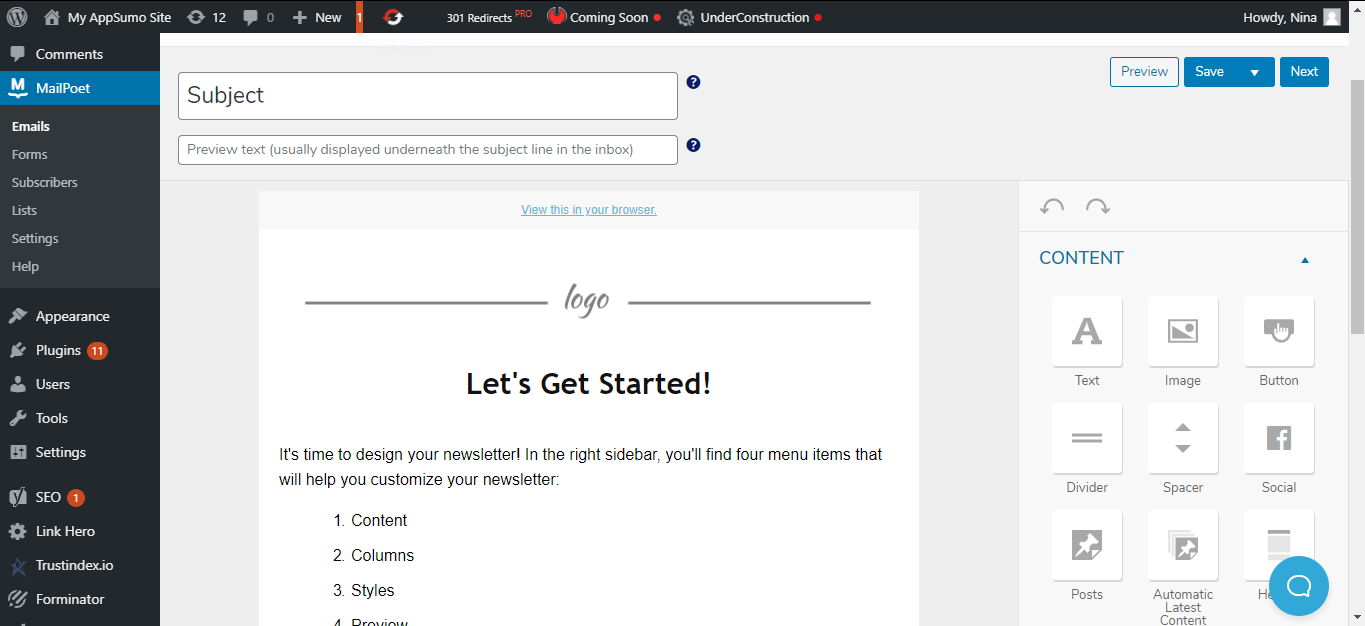 Once you have chosen a design and further customized it, you can simply add your logo and start sending your emails.
Organizing signup forms
Having a good signup form is the first crucial step of building your email list. The signup form should be visible on your blog and appealing to the eye.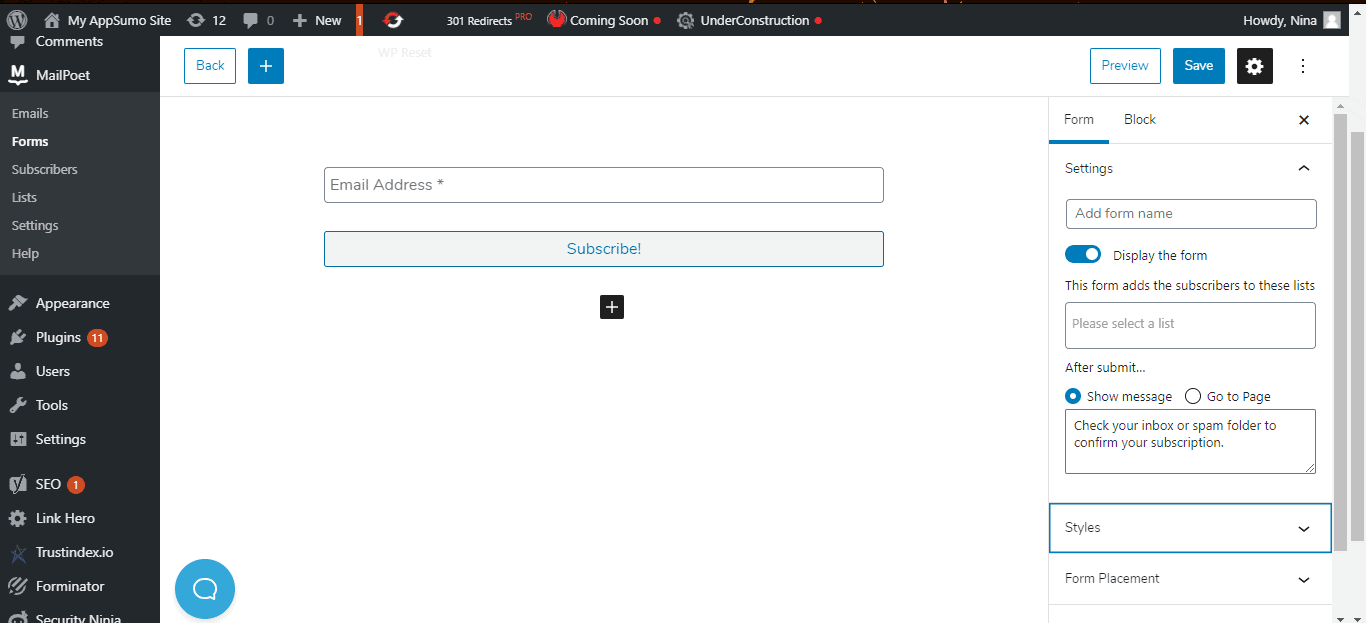 In the Forms section of MailPoet, there is an editor for your signup forms. Aside from choosing what fields you want to have included, there is also an option to decide on the placement and style of the form. So, instead of just having to type on their email address, your future subscribers can also be asked for some extra information, such as their birthday and location. You can even choose to display a message to your subscribers after they click submit which adds an extra layer of personality.
In the Styles section of form settings, you can choose what background color or image you want, as well as font, font size, and color. The ability to customize all of the details makes sure that every part of your website goes together and makes a perfect match. You can even choose the style of your button, which is a nice little detail.
There is also an option to choose where you want your signup form to be positioned, such as below the page, as a fixed bar, shortcode, slide-in, or a pop-up.
You can add your form on any page of your website with MailPoet's Gutenberg block. And if you already have a plugin that you want to create a signup form with, that is not a problem since MailPoet works well with different plugins.
List segmentation and making various subscriber lists
Another useful MailPoet feature is the ability to make segmented campaigns, or do targeted marketing. With list segmentation, you can improve your marketing stats and user experience which is important if you don't want to lose subscribers.
Making segmented campaigns means you can send emails based on behavior data. To be more specific, you can send emails to subscribers who opened your previous emails or personalized messages to users who clicked on a certain link or visited a certain page.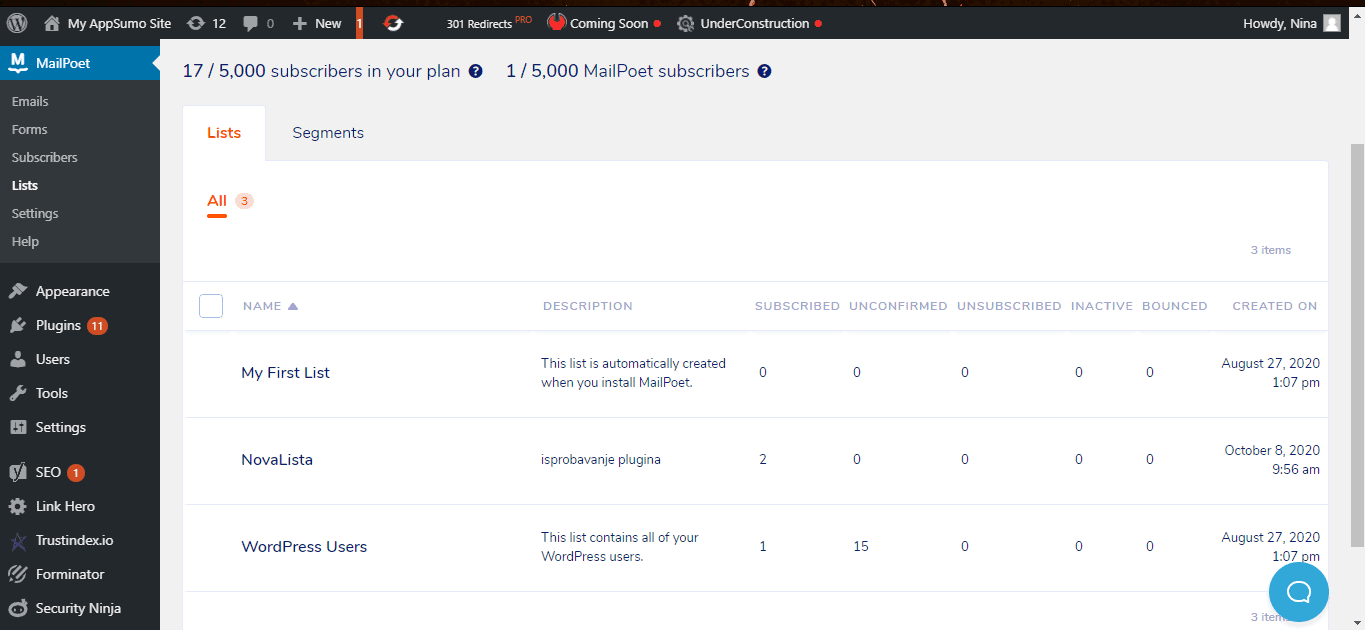 If you have a WooCommerce store, you can even automatically create campaigns based on the purchases your customers made or send them a first-purchase email. The good thing is, you are not limited to a certain number of lists so you can go crazy! Create a list for whatever you want and create as many you want. You can even include list segments in your signup forms and give your subscribers a choice from the get-go.
Adding users to a WordPress user list is an effective way of keeping up with your users if you have a website that is based on memberships. That way you can send all of the important emails in bulk. You don't have to manually add every single email address because they will get synced up when you start. And any updates or changes to the contact information will be updated in MailPoet as well. Once a user is added to your WordPress site, MailPoet will automatically ask them if they want to receive communication. By doing so, you won't have to worry about spam.
WooCommerce store owners can also create a WooCommerce customer list. Your customers can sign up to receive email marketing which will help you grow your subscriber list and customer loyalty. The option to sign up is not just for your users, guests can do it too!
Inactive subscribers are one of the things that can really bring down your performance, engagement, and deliverability. So the fact that MailPoet can remove them for you automatically is a lifesaver. Removing inactive subscribers is a smart move to improve your traffic, and now you don't have to lose precious time by doing it manually.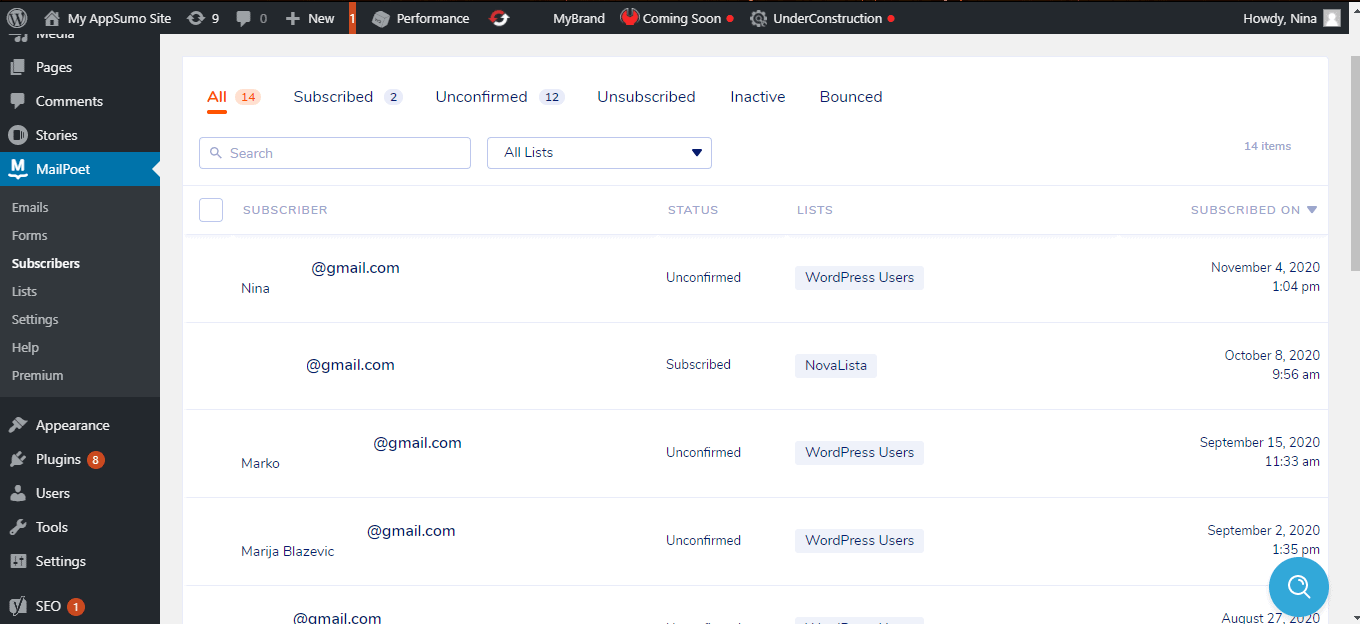 Features regarding WooCommerce and sales
MailPoet works very well with WooCommerce and has different features that you can utilize when sending emails to your customers. With MailPoet, you can send first purchase emails, abandoned cart emails, and product or category-specific follow-up emails.
You can automatically send a thank you email when a customer purchases something from you. Welcome and thank you emails will showcase your good customer service which in turn improves the user experience.
Using the editor, you can choose your design as well as when you want an email to be sent. Encourage users who are hesitant by sending them as many abandoned cart emails as you want with different delays. All further emails will be canceled automatically once a customer completes the purchase.
Product and category-specific emails are especially useful for increasing sales and keeping the customers satisfied. By sending them an email that is personal to their experience, you show that you actually care about your customers and have their wants in mind.
While the content of the email is incredibly important, the content won't matter if your email doesn't reach the targeted inbox. That is why MailPoet ensures that every one of your emails reaches the inbox and not the spam folder.
Also, because of the plugin's built-in SMTP service, you won't have to worry about your deliverability.
Lastly, MailPoet gives you an insight into how your email campaigns are performing and what you should do to improve them.
Pricing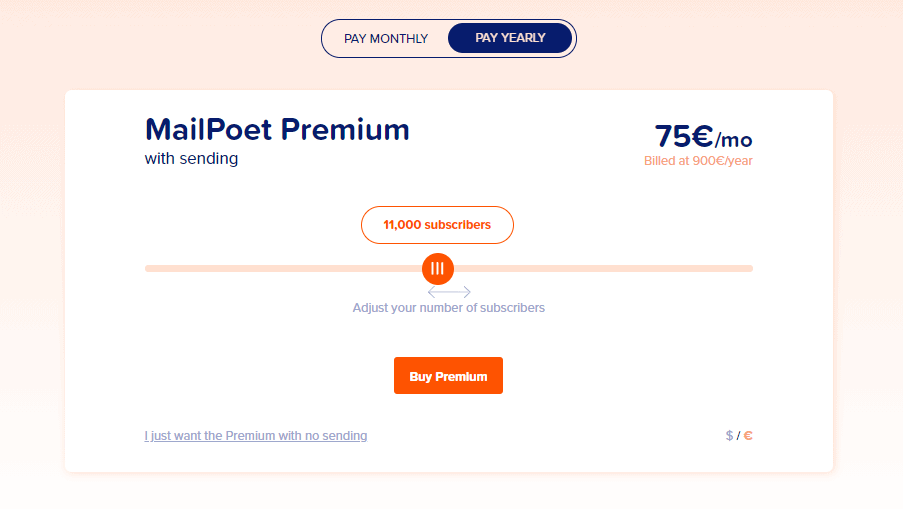 MailPoet's pricing plans differ based on whether you choose to include the sending service or not. With both plans, all features are free for up to 1000 subscribers. Above that, prices will depend on the number of subscribers you have.
Each plan has a 30-day money-back guarantee and can be paid monthly or yearly.
Final thoughts
As you can see, emails are a big part of any brand or business. Email campaigns increase traffic, generate leads, and turn potential customers into actual customers. However, it can be a hassle to do everything on your own.
MailPoet takes the weight off your shoulders and deals with everything related to your emails. All of the plugin's features are designed with your benefit in mind, to help you with creating, sending, and managing emails, while also keeping your subscribers in check.
MailPoet also works flawlessly with integrations such as WooCommerce and has a near 99% global delivery rate to ensure each of your emails reaches its destination. All in all, it is a plugin worth trying out.

Latest posts by Editorial Staff
(see all)
Where Should We Send

Your WordPress Deals & Discounts?
Subscribe to Our Newsletter and Get Your First Deal Delivered Instant to Your Email Inbox.
Thank you for subscribing.
Something went wrong.