If you're looking to set up a wholesale or B2B store with WooCommerce, you can choose from a variety of wholesale plugins that will transform your store. However, with so many options out there, it can be difficult to know where to start.
Let's take a look at some of the most popular extensions today for wholesale shops and what kind of features, options, pricing, licensing, and support you can expect.
In this article, we will explore some of the best plugin choices in terms of features and value added.
B2BKing for WooCommerce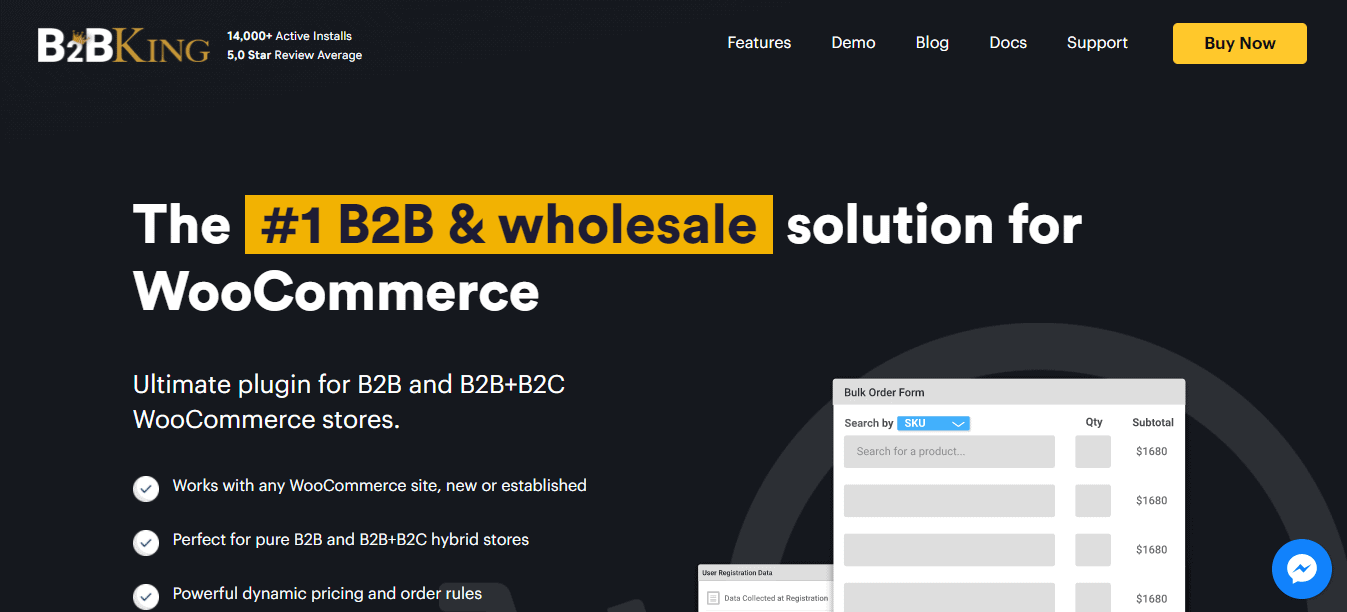 B2BKing is a complete wholesale plugin for WooCommerce with over 137 features that will completely transform a regular store into one that is fully-featured and ready for the unique challenges of B2B e-commerce.
Since its launch in 2020, B2BKing has quickly become one of the most popular options in this niche, been featured on the CodeCanyon frontpage, and reached thousands of customers through its free and premium versions.
The plugin's main strength is that it provides a large number of features, available through a one-time payment lifetime license, making it an attractive deal with a great value proposition.
Here are the plugin's main features:
Wholesale Prices by Group (Different Prices for Different Users)
Wholesale Order Form (Order in Bulk)
Request a Quote
Tax Exemptions (Display Prices Excl. Tax for Business Users)
Catalog Visibility Control for Products
Wholesale Registration (Custom Business Registration)
Dynamic Pricing and Discounts System
Tiered Pricing and Price Table
VAT Number Support and EU VIES Validation
Minimum Order Quantity and Amount
Hide Prices, Products, or Shop for Logged Out Users
Show Different Content To Different Users
Multi-User Accounts with Permissions Control
Other features include: coupon restrictions, shipping and payment methods control by user and group, product information table, adding taxes and fees, free shipping thresholds, and so forth.
Another thing that makes the plugin stand out is its extensive documentation, with over 50 in-depth articles covering everything from features and setup to troubleshooting and even code snippets that can modify functionality and adapt the plugin to specific shop requirements.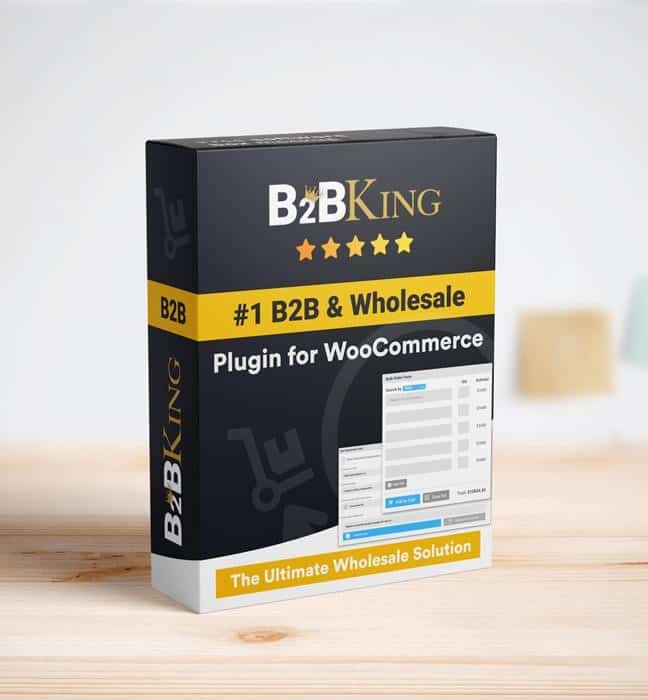 Easy Wholesale Prices
The plugin's user management system is based on groups: you can create any number of groups (such as Resellers, Wholesalers, VIP, or Agents) and set up unique prices for each group when configuring a product. This is an intuitive and easy to use setup. Each product and variation will have dedicated price fields for each group.
For instance, in the example below, Factories and VIP users have their own special wholesale pricing, as well as tiered pricing setups.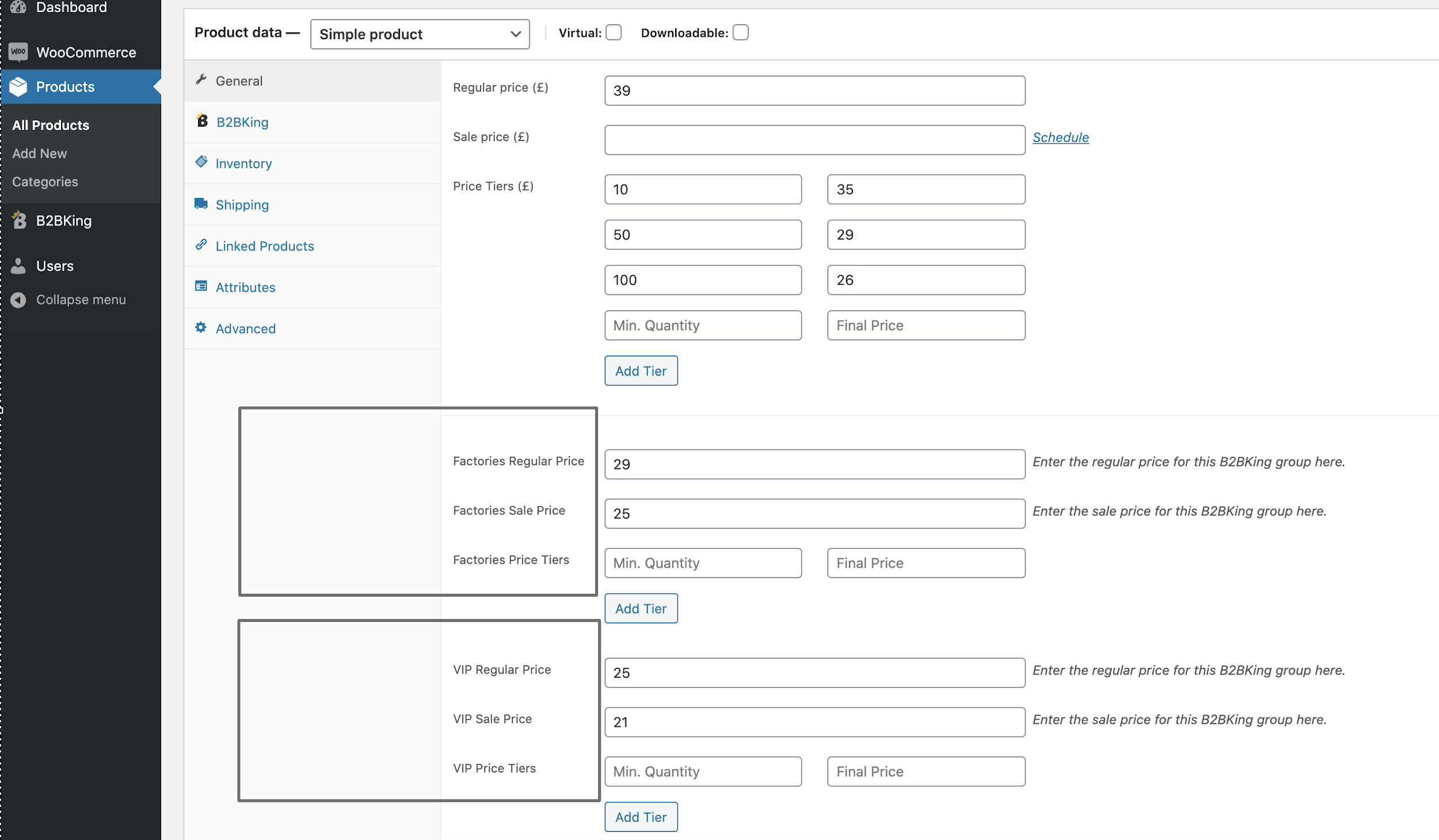 Business Registration and Approval
Through the business registration feature, the registration form can either be transformed to accommodate businesses, or there can be two separate registrations for business and individual customers.
Any custom fields and data can be requested during registration, and 8 types of custom fields can be created: text, number, phone, textarea, date, dropdowns, checkboxes, and file upload. File uploads are secured and can be used to request anything from business licenses to tax certifications.
Another important feature related to registration is the ability to approve customers automatically or enable manual approval and review. Manual approval can also be enabled by role. For example, customers can be approved automatically if they apply for an individual role, but if they apply for the wholesaler role (and special wholesale prices), they can be flagged for manual review and would not be able to login until approved. The screenshot below shows the user approval panel and user data.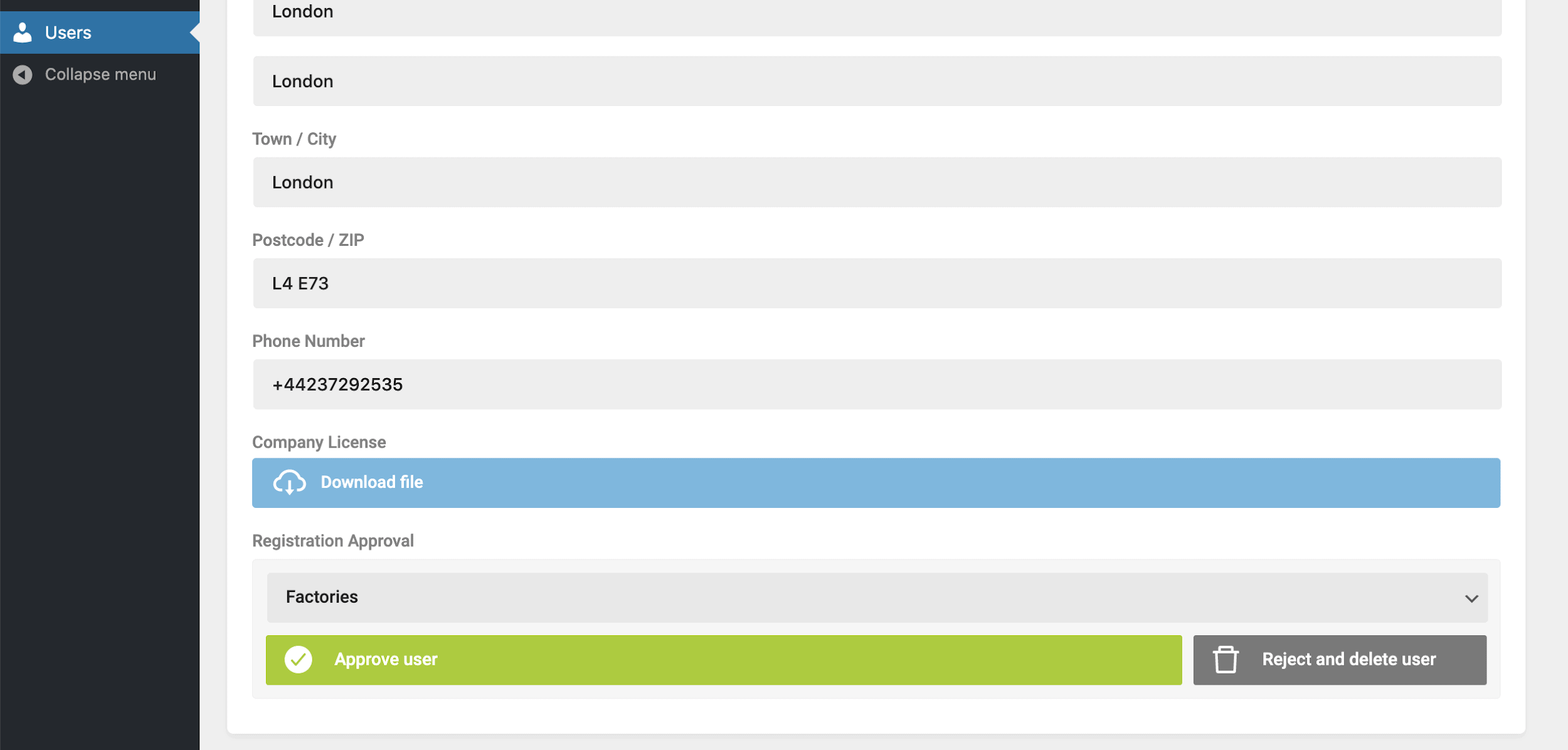 B2B & Wholesale Suite
Available for sale through the official WooCommerce store, B2B & Wholesale Suite is another great all-in-one solution.
Compared to B2BKing, the Suite is more user-friendly, easy to set up, and great for customers that want a powerful feature set but are not looking to get into the more technical aspects of store configuration. This is a great choice for those focused on selling and the business side of running a store.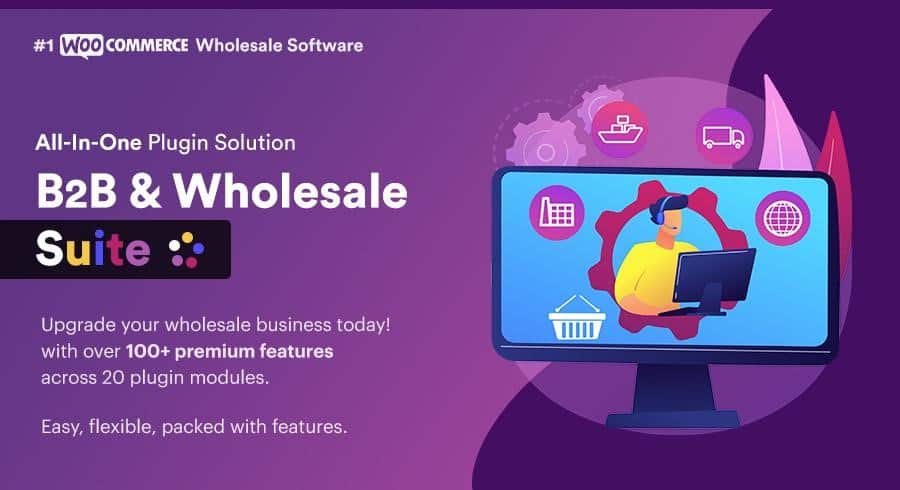 The Suite will enable many of the same features as B2BKing, such as wholesale pricing, tiered pricing, and business registration, but will also have individual differences, for example, more advanced quote requests but the lack of a dedicated business customers panel. Overall, we recommend this solution to store owners who prefer a business-oriented, easy to set up solution, while B2BKing is more customizable and better suited for technically-inclined users.
This extension also comes with a 30-day no questions asked money-back guarantee based on the WooCommerce refund policy. Therefore if you are unsure of your purchase, you can simply test the plugin directly in your store and then decide if the item will be a good fit for your project. Refunds are simple to get, so you can rest assured that you are covered either way, and your project will stay on the right track.
Support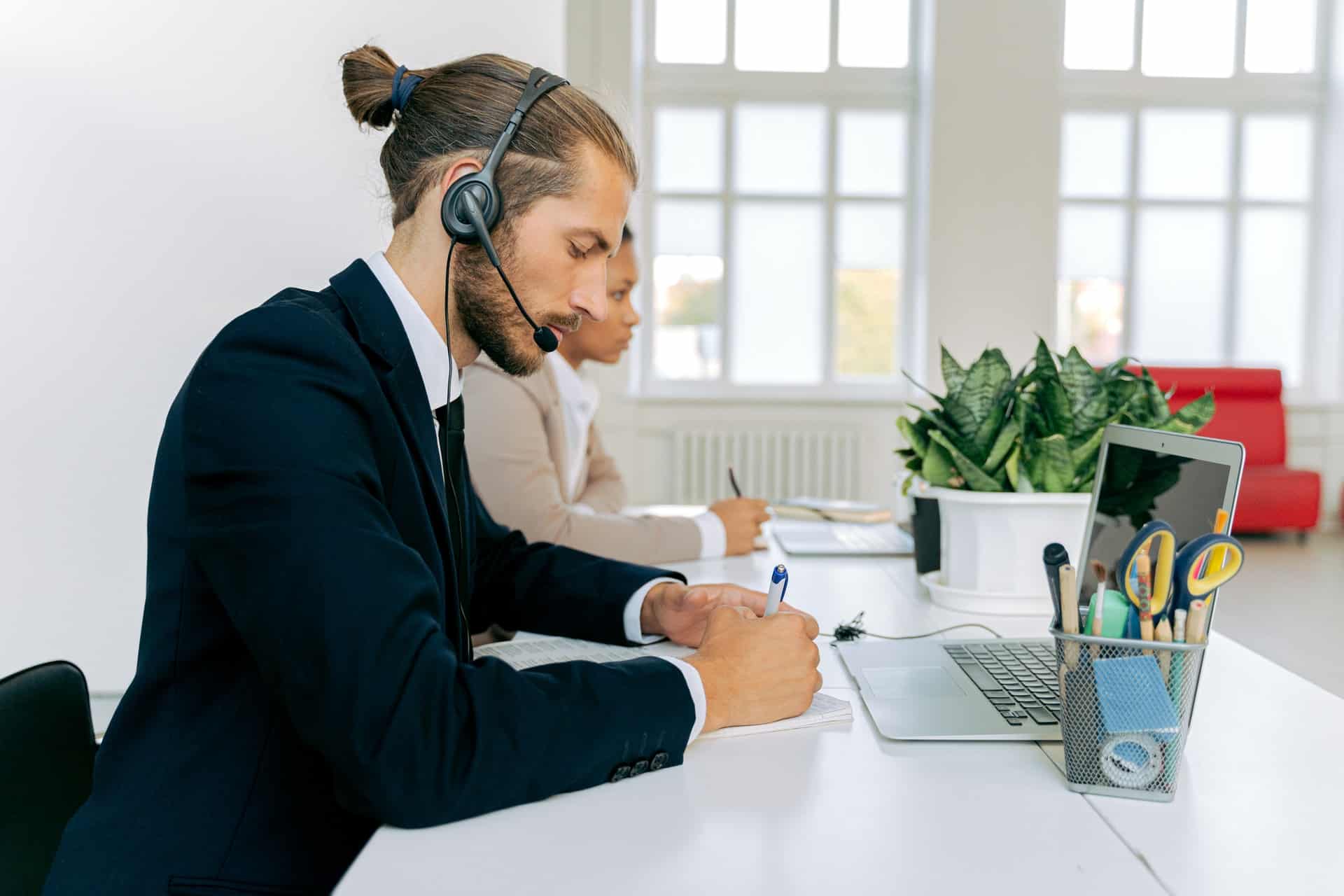 Both extensions above come with 6-12 months of included technical support that can be later extended. With an average of 5-star ratings and dedicated support centers, you can rest assured that there is assistance in case you run into any issues.
Final Word
With so many options and individual plugins on the market that can take care of every functionality, no matter how small, it can be tempting to set up a store by collecting dozens of plugins and struggling to make them work together. However, that is often a time sink and can also lead to technical issues and plugin conflicts.
Therefore we recommend looking at all-in-one solutions: these are seamlessly integrated and provide a large number of functionalities in a single plugin, reducing conflicts and increasing store performance, speed and conversions.
Both B2BKing and B2B & Wholesale Suite are great choices for those looking for a powerful wholesale plugin that will transform their store and get it ready for business!

Latest posts by Editorial Staff
(see all)
Where Should We Send

Your WordPress Deals & Discounts?
Subscribe to Our Newsletter and Get Your First Deal Delivered Instant to Your Email Inbox.
Thank you for subscribing.
Something went wrong.